There's no cell phone service on this winding Tuscan road. The trees bow above us like a cavernous canopy protecting our route from the midday sun. It would be easy to get lost up here, an hour's drive from what feels like anywhere. And for the owners of Villa Lena, the hotel and artist's residence, that was all part of the allure.
Opened in 2013 year by Lena Evstafieva, her partner Jerome Hadey, and Lionel Bensemoun, the villa is in fact several buildings, joined by a common theme—where ancient bricks meet modern artists. There are self-contained apartments, hotel rooms, vast communal areas, a restaurant with a chef-in-residence on rotation and a glassy pool with a panoramic view. Set in 500 hectares of woodland with olive groves, vineyard and impressive vegetable garden, the villa has, for the past three years, served as a not-for-profit artist residency. Each summer Lena, who still works as an art consultant, and her partner Jerome, a music producer, invite international artists, musicians, chefs, designers, architects and even foragers to come and spend a month or several. Once here, they engage in workshops, talks, exhibitions, performances—and day-to-day, find the tranquil space an inspiring place to create new work.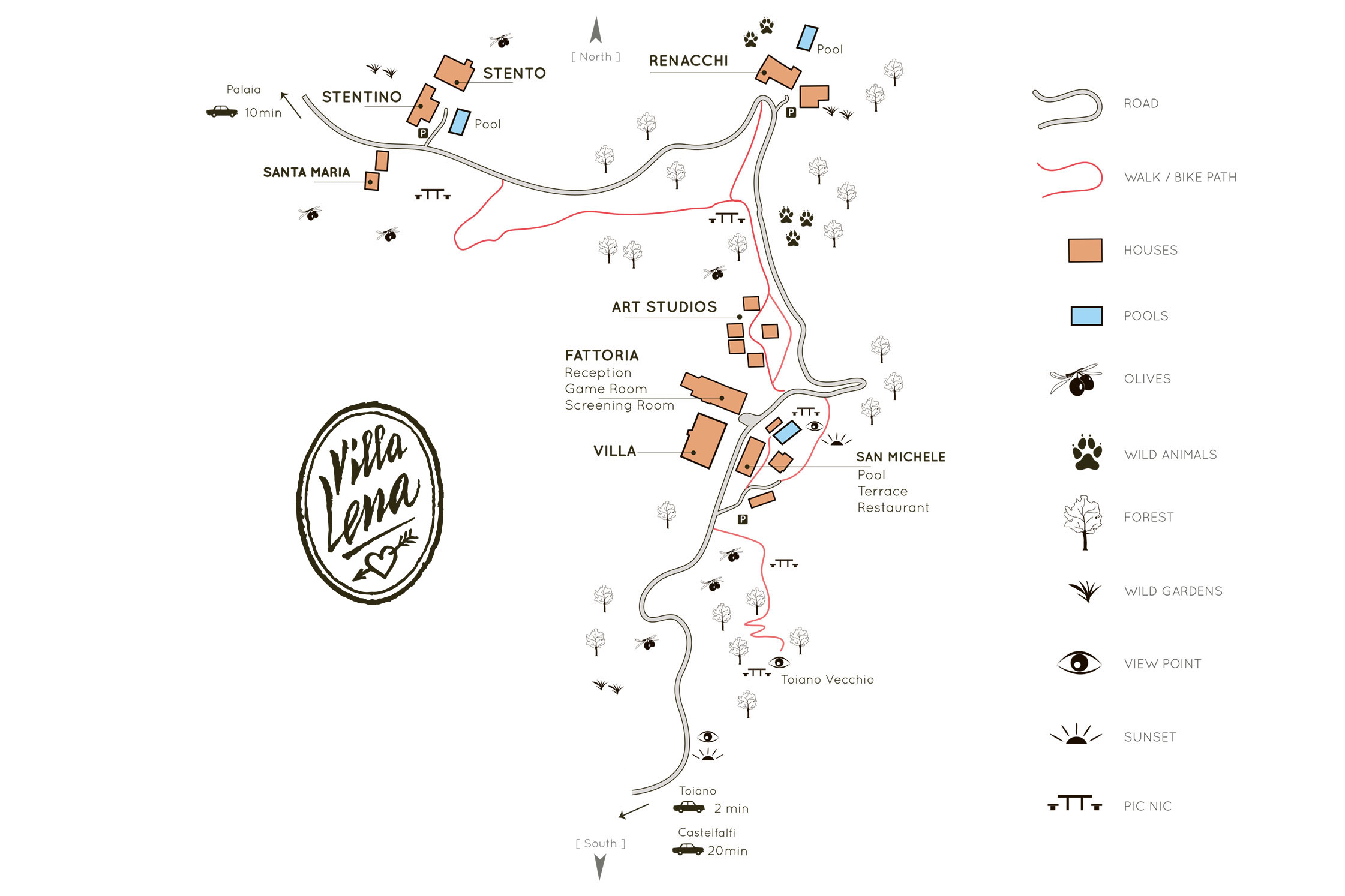 "I was secretly dreaming of being able to come and cook in Italy for a summer," says chef in residence Margot Protzel.
Bounding up to greet us, Giulette and Pan Pan (the in-house brown and white and ever-so-fluffy Lagotto truffle-hunting pups), lead us down to the back lawn for a welcome prosecco with all the current artists in residence. As we will come to discover, each specialize in a different discipline (eliminating any sense of rivalry) and will work both independently on projects as well as collaboratively over the coming months.
As we gather on the grass, the interdisciplinary artist Sharooq Amin recites some of her poetry. The Kuwaiti female artist, who was censored and banned in her own country for many years, strives to promote change in society. Her poem, Chiseled Linen echoes long after its recital:
---
like a peppery furrow shell
hanging a blue-striped ormer,
amputated, yet unrelenting,
you continue to hang linen;it
voiceless, still you scream;
vision ruptured by years of
a binding veil, still you see…
---
"I don't think we'll ever really be finished working on Villa Lena," says co-founder Jerome Hadey.
With the fading light, we head through the stone and marbled hallway to the communal hilltop dining hall for a feast of pizzas prepared by our chef-in-residence, Margot Protzel. The native New Yorker who previously worked at Franny's and Gramercy Tavern is well-versed in Italian cooking but, with produce abundantly available right outside the kitchen, she's able to create the freshest and most true to season meals for both guests and artists. "I was secretly dreaming of being able to come and cook in Italy for a summer and Alexis Delaney [formerly at Franny's and also a chef in residence at Villa Lena] brought me on board as she was here last summer and there was just no way I could say no!"
Every detail, down to the labels on the Villa's homemade wine projects the creativity that is sparked here. The logo itself is designed by André Saraiva who co-founded Le Baron nightclub with Villa Lena's Lionel Bensemoun. And Jerome's background as a music producer (previously at Universal Music) has evolved into the creation of a Villa Lena Recordings music label. "So far, we've had really wonderful musicians who have come for residencies," he explains. "Benjamin Clémentine was one—he won a Mercury music prize and wrote his entire album here."
But it all begs the question how a remote, dilapidated 19th century villa and its equally ramshackle out-buildings were chosen for such a project. "Lena's parents had bought this property with the initial intention of creating a luxury hotel. But after the financial crisis in 2008 they lost investors and asked me to help sell the place," explains Villa Lena's co-founder Jerome. "Lena and I fell in love with the place and decided to build something different." Their restoration work began and included the mammoth task of sensitively refurbishing the main house, building a new swimming pool and raised dining platform and transforming vast agricultural barns into functional studios for each artist to use. "I don't think we'll ever really be finished working on Villa Lena," he adds with a laugh. "Once you accept the fact it'll never be finished, it's ok! I mean, it's twenty times the size of the Vatican City!"
Thank you, Lena, Jerome, Katy and all at Villa Lena for a wonderful glimpse into your hotel and art foundation. Check out their website for more information on the hotel and to book a stay.
For more from Tuscany, see our FvF road trip feature where we traveled from Berlin to Pienza and back here. 
We caught up with three of the artists residing at Villa Lena in 2016 to learn more about their creative approach and what brought them to the Tuscan hills. Discover more in chapter two. And to find out more about the Villa Lena residency program, please visit their Foundation website.
Text:Andie Cusick
Photography:Greta van der Star & Robert Rieger