Smartphones, self-driving cars and artificial intelligence: The present is feeling more and more like the future. The speed of technological progress is also raising a lot of questions in the arts. Dutch artist collective Studio Drift is exploring the answers by harmonizing nature with technology.
Night has fallen on a beach in Miami, Florida. Hundreds of guests, including the 'who's who' of the international art scene, are gathered here for Art Basel, the annual American offshoot to the renowned contemporary art fair. Everyone is looking at the night sky captivated by a series of lights slowly rising, falling and moving toward and then away from one another. Like a giant flock of birds in a cloud over the water, 300 Intel drones equipped with LED lights, sensors and swarm intelligence are dancing, tumbling and spontaneously changing direction in the air. Pianist Joep Beving is playing in the background and there's a sense of reverent silence among the audience.
Three weeks previously in Amsterdam, Lonneke Gordijn and Ralph Nauta, the artists behind Studio Drift and the drone dance, were at home in their studio. Lonneke and Ralph met each other whilst studying at the Design Academy Eindhoven. They founded the collective ten years ago with the intention to reflect on an increasingly complex world and the role of technology in it. "We live in an incredibly fast-paced time and with constant distractions," says Lonneke. "We're so busy with our phones that we forget to take in the world around us. And we're really losing a sense of connection; connection to society, to nature and to one another." Both artists believe art can help re-establish this connection and create small moments of deeper awareness. "We want to make people pause and find stillness—even if it's only for a few minutes."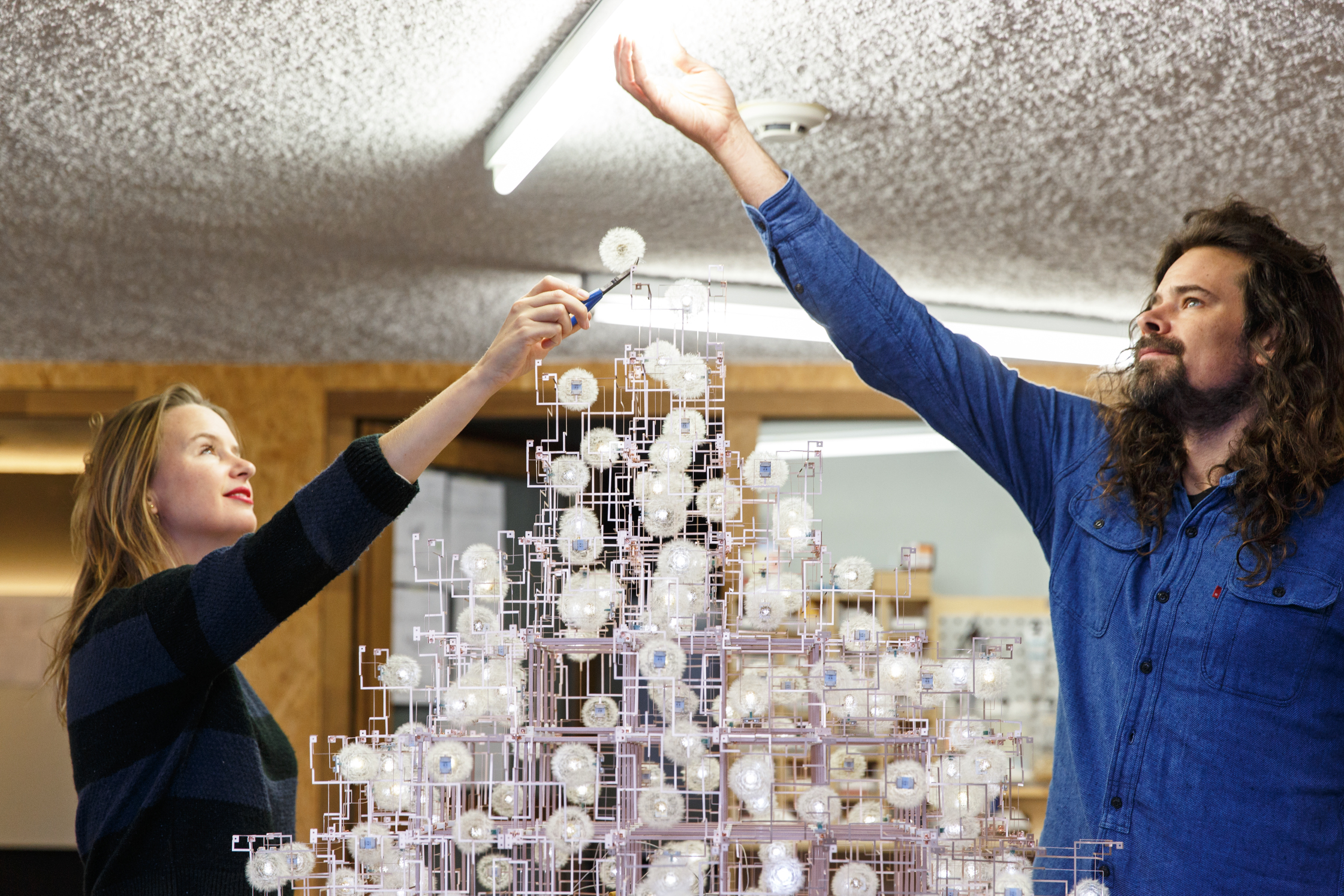 "We're so busy with our phones that we forget to take in the world around us."

Lonneke Gordijn
Studio Drift first became known for 'Shylight', a permanent artwork they've installed above the baroque staircase of Amsterdam's Rijksmuseum in 2014. Five silken light objects spontaneously descend from the ceiling, unfold like flowers and cast luminescent geometric shapes across the heads of visitors, only to fold back up and disappear again. It's a poetic performance reminiscent of both the natural world—some flowers close their petals at night—and human characteristics. An open 'Shylight' appears curious, while one that pulls back seems, well, shy. However, this apparent sensitivity is artificial. A computer-driven pulley system is responsible for lifting and dropping the lamps, a spring mechanism allows them to 'bloom' and pre-programmed behaviors simulate autonomy. Studio Drift is in a continual dialogue of contrasts: between technology and nature, science and fiction and logic and intuition. And it's a dialogue that resonates. The studio's work is now featured in the collections of renowned institutions such as the San Francisco Museum of Modern Art and the Victoria & Albert Museum in London.
Back to Miami: This is, perhaps, Studio Drift's most elaborate project to date. For ten years the artists were working on a way to simulate the flock behavior of birds with technology. Now, they are ready to set 300 lighted drones in motion. 'Franchise Freedom', as the piece is called, reflects both nature and the depths of human longing. "We associate flying with the idea of freedom; to free ourselves from gravity and all other conventions, to rise up in the air and disappear. For a lot of people that's total independence," explains Lonneke.
Franchise Freedom – A swarm of 300 autonomous drones roams free over Miami Beach © BMW Group

Tree of Ténéré – 175,000 LEDs illuminate the place once home to the loneliest tree on Earth © Studio Drift

Meadow – An interactive iteration of 'Shylight' that blossoms when people are present © Studio Drift

Drifter – A concrete monolith defies the laws of nature and floats free © Studio Drift

Concrete Storm – As the boundaries between the virtual and physical shatter, so do these beams of concrete © Studio Drift

In 20 Steps – Twenty delicate glass wings invoke the dream of flying © Studio Drift

Particle Plan – A light concept that turns Lucerne bridge crossers into actors on a stage © Studio Drift
"If you look to the future, the roads will belong to self-driving cars and the sky may belong to small autonomous organisms like our drones."

Lonneke Gordijn
Of course, freedom isn't so simple. "If you look closely at a flock, you see that the individual birds don't really move freely. They are in a constant relationship to the other birds and have to follow a set of rules into order to avoid crashing or total chaos. It's the same with people. In many ways we strive for freedom; at work, in our private lives, but we can't ever fully live freely because we are part of a society with a set of rules. Absolute freedom is an illusion, both in nature and for humans."
More than anything, the artists at Studio Drift needed patience before 'Franchise Freedom' could come to life. "The idea was ahead of its time, because the technology we needed was simply not there," says Ralph. In the meantime, the idea manifested in other ways: in 'Flylight', a series of site-specific installations the studio keeps iterating since 2009, a swarm of lights dances through a glass sculpture that in itself resembles a swarm – a fragile, free-floating cluster of clear tubes, animated by LEDs and software. The algorithm that generates the lights' flocking behaviour, refined over many years, is also at the heart of 'Franchise Freedom'. Together with specialists at the Delft University of Technology the studio adapted its self-organizing logic to grant each drone some degree of autonomy within the collective group. Thus, as do the lights in 'Flylight', the drones fly together, but not in a set formation; they follow rules, but not a predetermined choreography.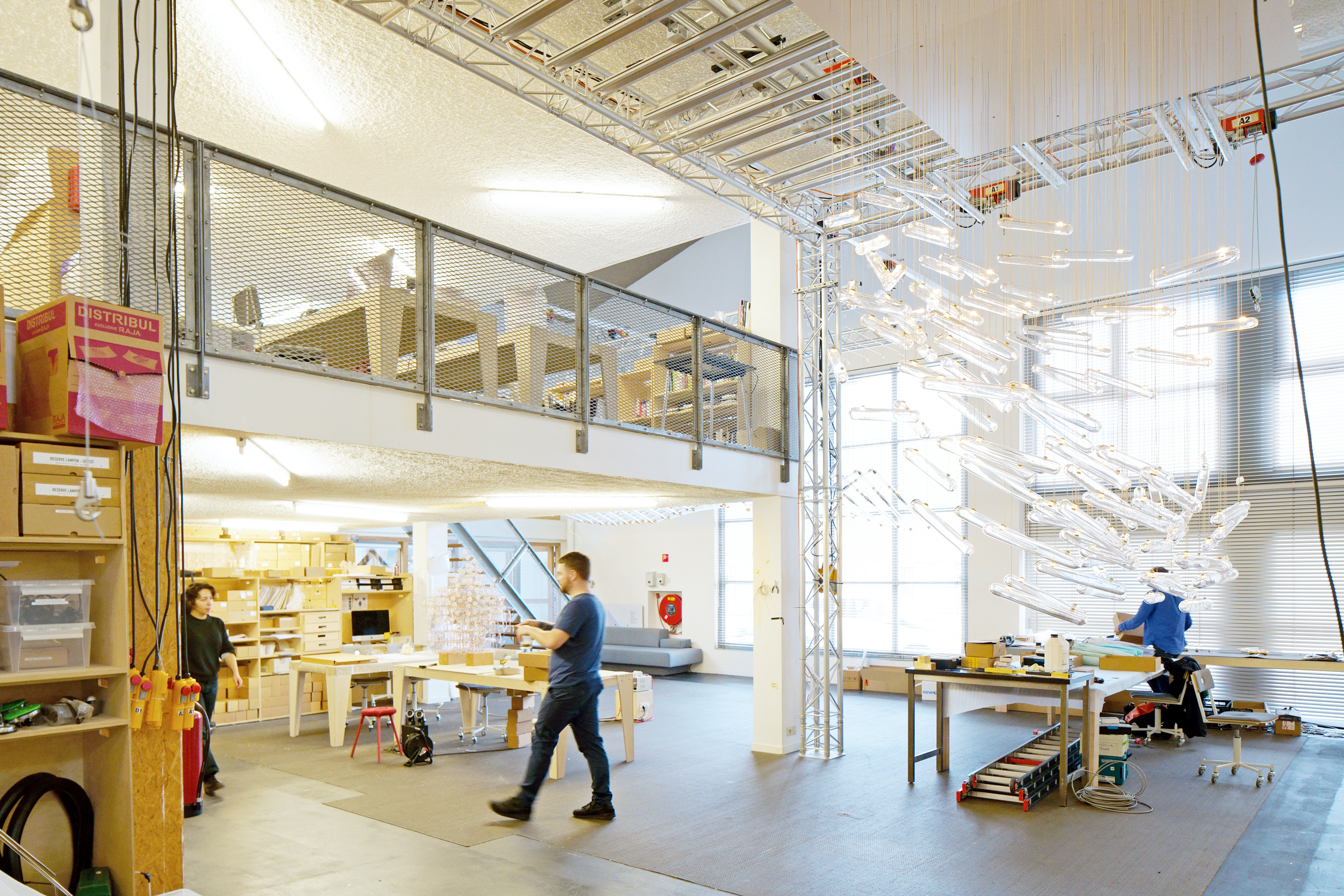 In addition to patience and innovative thinking, a project of this magnitude requires substantial funding. Studio Drift found the perfect partner in BMW, who are known for their support of cultural projects. A long-time partner of Art Basel, BMW enabled the development of 'Franchise Freedom' and organized the premiere in Miami.
"We couldn't have done it without them," says Ralph. "BMW supported us with no strings attached, regardless of the risks that come with technological complexity. For example, we only managed to get the swarm flying a few days before the premiere, as we'd never had that many drones in the air at once. We really valued their trust in us." The successful collaboration may also be due to a shared philosophy. "I think there's a connection in the spirit of how we work; how we both look to innovate and create something completely new," says Lonneke. "If you look to the future, the roads will belong to self-driving cars and the sky may belong to small autonomous entities like our drones."
The dance of the drones in Miami lasted just over five minutes, but the audience was completely drawn in. Will the art of the future unite the wonders of technology and the wonders of natures? Marshall McLuhan, a Canadian media theorist, once said that major cultural shifts often emerge first in art. Studio Drift seems to be aware of this pioneering role. "We want to sharpen people's awareness of the present, open eyes to possibility and take away the fear of technological progress."
Studio Drift is an Amsterdam-based studio manipulating light and movement to explore existing and new relationships between nature, technology and mankind. Represented within the "FuturePace" program of Pace Gallery, an American household name in contemporary art, the studio's works have been exhibited at leading art fairs, galleries and museums around the world, such as the Victoria & Albert Museum in London, The Armory Show in New York, or the World Expo Shanghai. Learn more about Studio Drift on their website.
BMW has a 50-year global track record of recognizing and enabling talent in the arts. Having supported renowned names like Jeff Koons, Olafur Eliasson, and Cao Fei, the BMW Group Cultural Engagement is known to help realize artistic visions while honouring full creative freedom. As a long-time Art Basel partner, BMW was eager to work with Studio Drift for the 2017 Miami edition and, after more than six months of close collaboration, 'Franchise Freedom' took flight.
More about the fleeting artwork and the work behind it in this video by BMW.

Production: FvF Productions
Text: Anneli Botz
Photography: Jordi Huisman & Studio Drift
Video: BMW Group