Start exploring the creative heart of Berlin. Emblazoned on one side with the German Zentrum Kreuzberg and on the other with the Turkish Kreuzberg Merkezi the imposing '70s block crossing over the Adalbertstraße in the centre of Kreuzberg stands as a testament to the diversity and creativity of our neighbourhood.
Since the '50s Kreuzberg has become home to migrants arriving in Berlin and is now the centre of the city's sizable Turkish-German community. Thousands arrived as so called 'Gastarbeiter' to fill large gaps in the post-war West German economy and many stayed on, reflected today in the cultural and linguistic diversity of our local Kiez. Our side of the borough, often still referenced as SO36 after its old West German postcode, has always had a vibrant counter-cultural and creative scene. Kreuzberg was enclosed by the Berlin Wall on three sides and consequently the neighbourhood's low rents attracted migrant workers, creatives and punks who contributed to its vibrant cultural scene. In recent years Kreuzberg has truly become the creative heart of Berlin – here is our pick of '36's best places to eat, drink, shop, grab a coffee or just while the day away. Enjoy.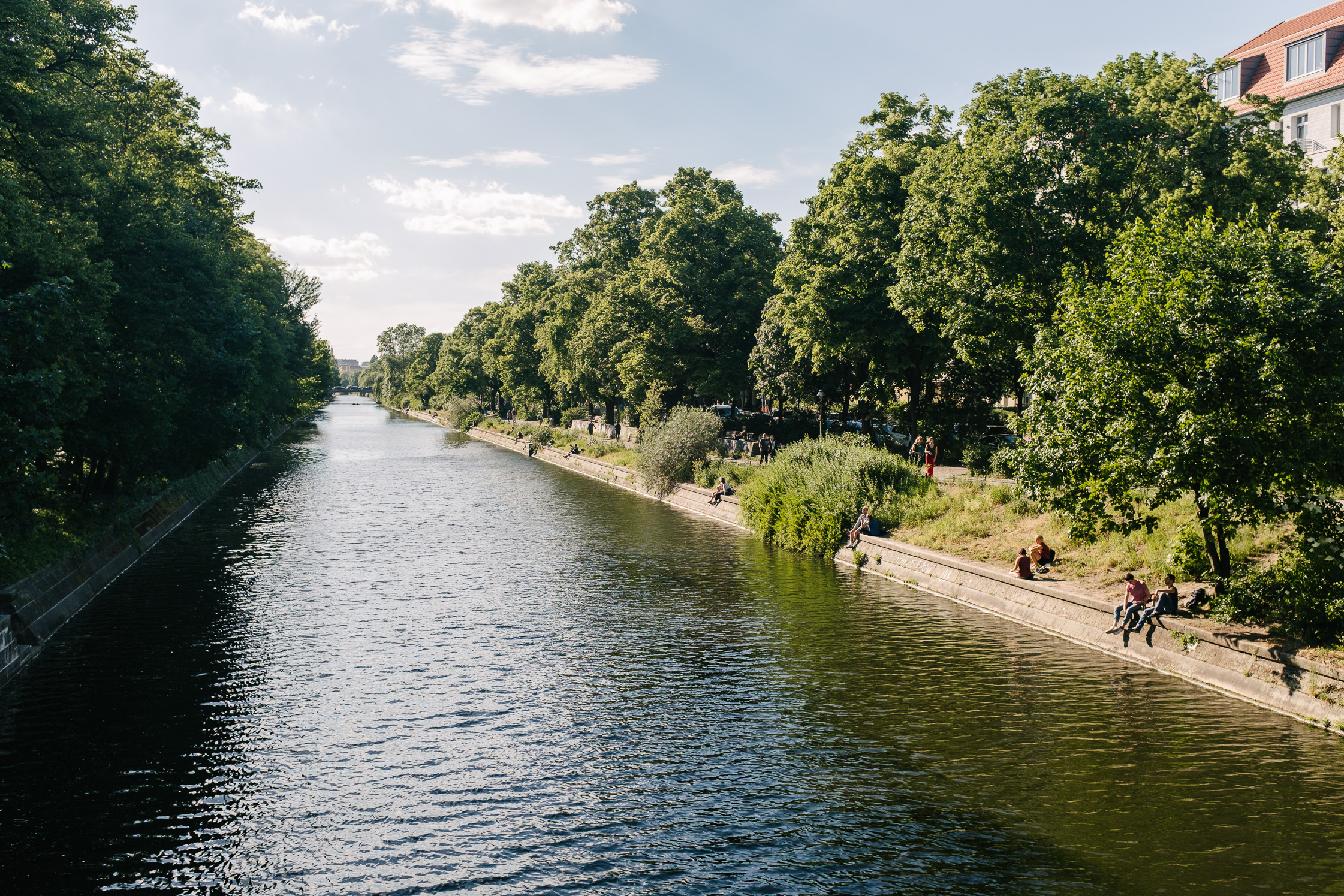 A bite to eat: Restaurants
Our picks taking you right through from Kahvaltı to Mittagessen to Dinner
Taka Fisch House | Adalbertstraße 97 | 10999 | Berlin | 01577 4246219
If you want fish then look no further than this little pearl. Taka sells it fresh or cooks it up for you there, so whether you'd like to stop for lunch on one of their benches outside or take some haddock home, you're covered. Nowhere else in Berlin will you find seafood this good this cheap.
Room for another course?
1

Zola l Paul-Linke-Ufer 39 l 10999 Berlin l 01514 3596561

2

Cafe Bastard l Reichenberger Straße 122 l 10999 Berlin l 030 54821866

3

Drei Schwestern l Mariannenplatz 2 l 10997 Berlin l 030 60031860

4

Weltrestaurant-Markthalle l Pücklerstraße 34 l 10997 Berlin l 030 6175502

5

Cocolo Ramen l Paul-Lincke-Ufer 39-40 | 10999 Berlin | 030 98339073
Drinks O'Clock: Bars
It's got to be five o'clock somewhere. Here's where to find expert cocktails through to a Berliner Pilsner
Lugosi Bar | Reichenberger Straße 152 | 10999 Berlin | 0176 30444505
Our local is named after Bela Lugosi, the Hungarian actor who played Dracula in the 1930s, the deconstructed interior with its unplastered walls and concrete floor somewhat evokes the oeuvre of its namesake, but it's cosy and well put-together, with a great selection of classic drinks on the menu.
Still time for a tipple?
1

ORA l Oranienplatz 14 l 10999 Berlin l [email protected]

2

Cafe Kotti l Adalbertstraße 96B l 10999 Berlin l 0173 6173226

3

Möbel Olfe l Reichenberger Straße 177 l 10999 Berlin l 030 23274690

4

Bellman Bar | Reichenberger Straße 103 | 10999 Berlin | 0176 84861322

5

Würgeengel l Dresdener Straße 122 l 10999 Berlin l 030 6155560
Spill the beans: Coffee
Need a pick me up? We're all about coffee. See our picks for the best caffeine hit in Kreuzberg.
Companion Coffee | Oranienstraße 24 | 10999 Berlin | [email protected]
Walk through the unmarked Oranienstraße passage to the Hinterhof of number 24 and you find yourself in the former locksmiths that is now home to Companion Coffee and its host the Voo Store. Companion Coffee's ethos is all about sourcing the best quality espresso from across the world and sharing it with their customers, and that is exactly what they do… brilliantly.
The caffeine hit list
1

Nano Coffee l Dresdener Straße 14 l 10999 Berlin l 030 25209838

2

Concierge l Paul-Lincke-Ufer 39/40 l 10999 Berlin

3

Five Elephant l Reichenberger Straße 101 l 10999 Berlin l 030 96081527

4

Bonanza Coffee Roasters | Adalbertstraße 70, 10999 Berlin | 030 208488020
Retail Therapy: Shopping
Where we empty our wallets – we promise they'll be no regrets!
Hardwax | Paul-Linke-Ufer 44a | 10999 Berlin | 030 -611 301 11
Hardwax is perhaps the Berlin record store. Founded by Basic Channel duo Moritz von Ostwald and Mark Ernestus in 1989 in an old factory building by the Landwehr canal it soon came to be the nexus of the Berlin-Detroit axis. The store carries a wide selection whilst staying true to the music it started off with, giving it a loyal customer base of DJs, both in front of and behind the counter; the legendary Berlin DJs Marcel Dettmann and Vainqueur both used to work here.
Shops
1

Amore | Sanderstraße 12 | 12047 | Berlin | [email protected]

2

Motto Books l Skalitzer Straße 68 l 10997 Berlin l 030 48816407

3

Modulor | Prinzenstraße 85 | 10969 Berlin | 030 690360

4

Voo Store l Oranienstraße 24 l 10999 Berlin l 030 6957972710

5

Schneiders Büro und Laden l Skalitzer Straße 135a l 10999 Berlin l 030-97894131
Activities
The best of Kreuzberg's stellar institutions from galleries, museums and the theatre to the great outdoors
König Galerie / St Agnes Kirche | Alexandrinenstraße 118-121 | 10969 Berlin | 030 261 030 80
Located in the impressive 1960s Brutalist St Agnes church, the König Galerie is worth a visit for the building that houses it alone. However, step inside and you'll be greeted by work from a range of artists from the local to international, the established to the emerging. The gallery's programme focuses on interdisciplinary, concept-oriented and space-based approaches in a variety of different media.
Activities
1

Babylon l Dresdener Straße 126 l 10999 Berlin l 030 61609693

2

Berlinische Galerie l Alte Jakobstraße 124-128 l 10969 Berlin l 030 78902600

3

Künstlerhaus Bethanien l Kottbusser Straße 10 l 10999 Berlin l 030 6169030

4

Tiyatrom l Alte Jakobstraße 12 l 10969 Berlin l 030 615 20 20

5

Perhaps finally a nice relaxing walk along the Paul-Linke-Ufer canal…. The bar and cafe 'Pavilion am Ufer' is a nice place to finish. Paul-Linke-Ufer 4 l 10999 Berlin l 030 69814849
We hope that you enjoy our tour around Kreuzberg—since moving our offices to '36 in February we've been having a ball checking out our neighboring coffee spots, galleries, shops, restaurants and of course, bars for a cheeky after-work tipple.
Interested in discovering more of Berlin? Check out our guide to Mitte, or read stories from the people we know living in the city here.
For more urban adventures around the globe check out our city guides.