Both Vancouver-based Creative Director Omer Arbel and German Gallerist Johann König have chosen Berlin, with its wealth of unconventional spaces, as the lasting home of their exhibitions.
Most recently, they have also revealed two uniquely converted spaces. Omer cultivates the vision of the contemporary design and manufacturing company Bocci. His artistic direction has seen Bocci's ambient and sculptural lighting viewed as art forms in their own right and have been exhibited at the likes of London's Victoria and Albert Museum. His latest endeavor sees the unveiling of a unique showroom in a 19th century Charlottenburg courthouse. Meanwhile, Johann König is a stalwart of Berlin's contemporary art scene, and the man behind König Galerie in Kreuzberg. In 2015, the space moved to Brutalist Church complex, St Agnes, and was adapted to befit a contemporary gallery by Berlin architect Arno Brandlhuber.
To celebrate, FvF brought the two together for a one-off art event: part exhibition, part get-together, it featured an installation piece by Bocci and a selection of works curated by Johann, including artists Alicja Kwade and Jeppe Hein. A rare observation into the pair at work in a space, we gleaned personal insight into what motivates and inspires them in the city of Berlin.
Bocci 79: A historic showroom and archive
Although Bocci's Creative Director Omer Arbel admits he's weary from his 14-hour transatlantic crossing from Vancouver, there's a contagious spring in his step as he shows us around the Bocci 79 showroom and archive. As a 19th Century, grade II listed building, for many prospectors the strict spatial divisions were a deal breaker: a grand, central stone staircase winds its way up the center of the building, and more ascend through the wings. For Bocci, the chasmic depths have been the perfect conditions for them to master height: an experimental piece plunges down through the central staircase, reflected upwards and into itself by a giant mirror at the base. Bocci have headed their European market from their warehouse in the German capital for some years now and the opportunity to ground themselves more deeply came by chance meeting with architects Grüntuch & Ernst, who introduced Omer to the 2200m² space. While not looking specifically to expand in Berlin, Omer's interest in the possibilities was piqued, "It's brilliant that these big empty buildings are still available, less and less now as things are getting more expensive but still in comparison to everywhere else—we can do this. Which is amazing and shocking, you know?"
Omer explains that Bocci is the laboratory and their showroom is the testing ground. Bocci's ambitious designs put them in a unique situation: unable to find suitable manufacturers for their designs, they were forced to produce for themselves in their Vancouver studio. For Omer, it's this impetus that has given the brand its experimental character. "The thing that unites all the projects in the space is the approach," he says as he walks us through the maze of rooms, elaborating Bocci's theoretical base."The idea of the practice is that we perform these experiments: they are abstract, there's a reliance on the intrinsic qualities of materials rather than our own inspiration. What we then hope to achieve is to find what I call a 'discovery' and that might be any number of things—we impose very little on the material, we try to encourage it to do whatever it wants. Then, there are layers of pragmatism, used to bring it into a place where it's actually performing some kind of task." Though, not all designs reach this point: some are free explorations, or 'research' as he likes to call them, and some are adapted into architectural projects, like a novel study into re-understanding concrete.
"I always try to place as many units as possible into a void that's usually not inhabited and that makes the experience of ambient light very tangible."
Each of Omer's works are numbered in order of idea—though their chronology is decidedly arcane: "There's 73 which is the newest one, but the next product will be 44." It's iteration 73.117 that is chosen for the FvF event featuring Bocci and König Galerie: a mass of pillowy forms that hang from a tangle of cords. "I always try to place as many units as possible into a void that's usually not inhabited and that makes the experience of ambient light very tangible," he explains. As we stand underneath the piece, Omer gives a full, gestural description of the process: "For this one, the so-called discovery is that you can blow glass into this high heat-resistant fabric made of ceramics, so you get something magical because you create a form that you associate with upholstery—something soft that you associate with textiles—with the optics of glass." It's reassuring to see Omer handle one of the pieces, and a welcome invitation to touch the surprisingly weighty glass pillows comes with it. "See, they're actually quite heavy. So for this one you're basically blowing into this pillow of fabric and then you have to stand on top of it and blow hot glass into it to get it like this." Like all of Bocci's lighting designs, there's no default setting—they can be dimmed and take on different characters: more sculptural when off and emitting an ambient glow when on, an arc we see in full as it's installed and lit up for the FvF event.
In his speech at FvF event, Omer mused on the unalterable creative lesson that setting up the Bocci 79 space and exhibiting in Berlin has taught him. "Over there in my studio in Vancouver there's just so much stuff, I'm always constantly surrounded by things that we're working on and I always felt the pieces were comfortable in a cluttered environment. Here I think the encounter with these big empty rooms has been a real revelation, partially because there's so much space here and partially because this approach in Berlin to framing and to composition with a lot of empty space around the thing that's shown. It allows a way of seeing that I'm not accustomed to."
König Galerie: The Brutalist Complex at St Agnes
In Berlin, gallerist and art collector Johann König doesn't need much introduction—the wunderkind who at 21 years old founded his own gallery before even finishing school—though at 36 he's probably tired of this moniker.
It was playful Danish artist Jeppe Hein that initially nudged a young Johann in the direction of opening a gallery. Hein would memorably go on to install a wrecking ball in the space, that physically battered down the walls of the young König Galerie as part of its showing—and Johann admits, also his savings. It's this kind of risky business that has characterized his career, as he made a name for himself by picking out promising talent in Berlin from friendship circles and local personalities. "At the beginning of my career I was dedicated to showing emerging artists," he explains. "And today I'm still as interested as ever in discovering and showing young talent." Though, he admits to also enjoying a broader reach to established names today. Johann is grateful to have supported the careers of Jeppe Hein and Alicja Kwade from the beginning (works from both appear in the Bocci König FvF exhibition), recognizing the reciprocal importance of their relationship, having started out so young, "We've grown together and I would see myself less as a mentor because I've learnt as much from Jeppe and Alicja as they have from me."
Johann toyed with context when curating the selection for the FvF event. First of all, he let himself be directed by the space, without overthinking it. "The selection was relatively spontaneous and because of that it was also a lot of fun." It featured an international cohort of artists, many born overseas, who have based themselves in Berlin. The range of works was media-rich including a trio of glow-in-the-dark vinyl cutouts by Vancouver-born Jeremy Shaw and Austrian Kiki Kogelnik's 1960s silkscreen print 'Moon Baby'—and from his close friends and collaborators Alicja Kwade and Jeppe Hein came an eerie, luminous print and interactive wire model.
"I did make sure that the works weren't too expensive, to give guests the opportunity to be able to buy a work without sending themselves into debt straightaway!"
A good host, Johann did however consider the guests, "I did make sure that the works weren't too expensive, to give guests the opportunity to be able to buy a work without sending themselves into debt straightaway!" The scope of the mixed-media exhibition appealed to a more social aspect of the art world, too. "I've always liked the idea of presenting art in a private context. You can access the work in a much more relaxed way than in an exhibition setting. I'm constantly in dialog with our artists and I'm really pleased if through events like this the dialog can extend to a larger group," he says, as we walk through the current exhibitions at St Agnes and glimpse the sculpture garden outdoors. "For me, it's also interesting because people from different areas come together and new relationships and ideas for future collaborations come about from this." As to whether he prefers a salon-style hang or the white cube, the gallerist is diplomatic, "I work with many different spaces where the hanging can pose a challenge. Developing a plan for it is always interesting and there's never a single solution."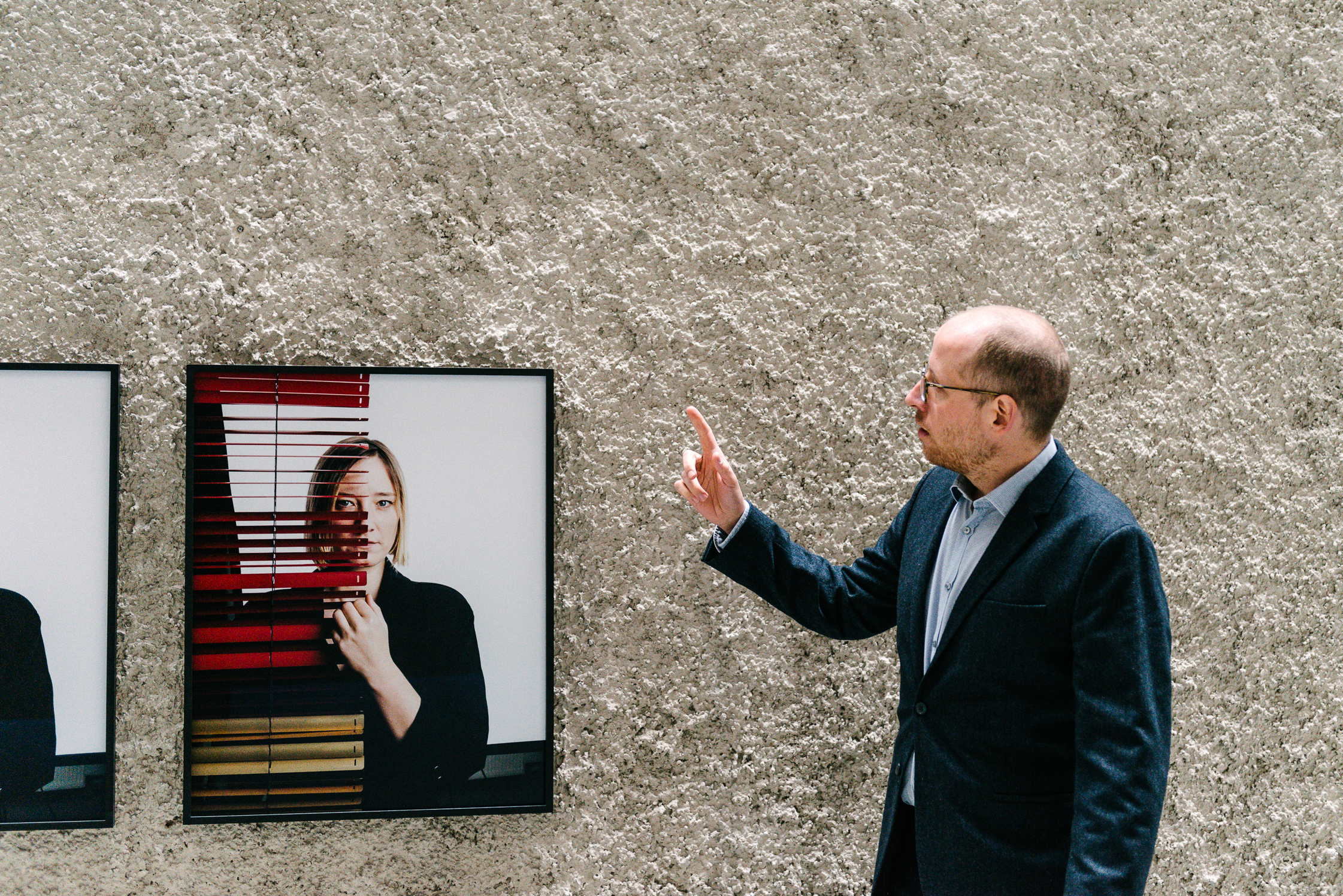 So how does he stay at the forefront of the contemporary art scene? "I travel 200 days a year and see a lot of exhibitions, meet a lot of people and read a lot. I'm also often surrounded by new influences and never have the feeling that I actively need to search, but instead I filter out interesting artists from this mass of information." Yet, despite far-flung travels (he's excited by the developing contemporary art scene in Hong Kong, for one) for Johann, Berlin still has it, "In my opinion it's one of the most important art centers and it isn't lagging behind other cities in any way."
The FvF community meet Bocci and König Galerie
Thanks, Omer and Johann, for coming together and presenting your works to the FvF community. To all those in Berlin, be sure to visit Bocci 79 and König Galerie for yourselves.
The FvF event featuring Bocci and König Galerie would not have been possible without the support of our friends at Aesop, Vöslauer, Ketel One, and BRLO.
The SerifTV is designed by Ronan and Erwan Bouroullec inspired by Samsung.
Photography: Daniel Müller
Text: Ruby Goss
Video: Bryn Silverman
Music: David Dorrell (FvF Mixtape)