At no other time in history have so many people lived in cities: over half of the world's population, to be precise. But of course, space in urban centers remains limited.
Available housing cannot keep up to pace with the rate at which people continue to arrive. It's a poor state of affairs that clearly calls for creative solutions. For years, architect Oke Hauser has been dealing with urbanization processes and unconventional solutions for the resulting lack of space. The frequent demand for affordable housing often leads to hasty solutions that turn out to be well-suited for the masses and far less so for individuals. Oke Hauser, creative head of MINI Living, shares his observation: "If you look at the urban spaces of the globalized world, you have to realize that there are actually only two living concepts which are currently being implemented on a large scale: building upwards in the most densely populated areas or outwards in city suburbs." And for him, neither skyscrapers nor suburbanization offer the appropriate response to the issue of urban housing. Both are models that emerged with post-war Modernism—a time in which the needs for the living spaces were completely different from those of today.
"Living concepts should not be seen as categorical solutions; people are simply too different for that."
Among the current needs for living, individuality and flexibility rank highly. For Oke, it's obvious that the needs of our time can hardly be satisfied with the building solutions of the past century. "Living concepts should not be seen as categorical solutions; people are simply too different for that." The iconic Unité d'Habitation in Berlin by Corbusier, for example, which is nicknamed the "machine for living", is a shining model for the efficient use of space and yet a nightmare for the expression of individuality. "The Unité brings together fascinating ideas—the concept of the city as home, for example, but as a result the living concept became too prescriptive," says Oke as we walk around the high-rise block in West Berlin. "The inhabitants had too little freedom to personalize their living environment, because everything was handed to them: the materials, the colors, the concept of the space. That's no longer fitting in our time."
Tracing innovative housing projects in Berlin with Oke Hauser
EBA51 Container Village: The container village in Berlin's Treptow-Köpenick district
The container village in Berlin's Treptow-Köpenick district is being realized by Holzer Kobler Architekten and financed by a private investor. A total installation of 400 containers is planned and will allow students access to different living situations: alone, in pairs or in a group of three. The rental price remains the same for those living alone. Additionally, the property will offer space for urban gardening projects and athletic activities.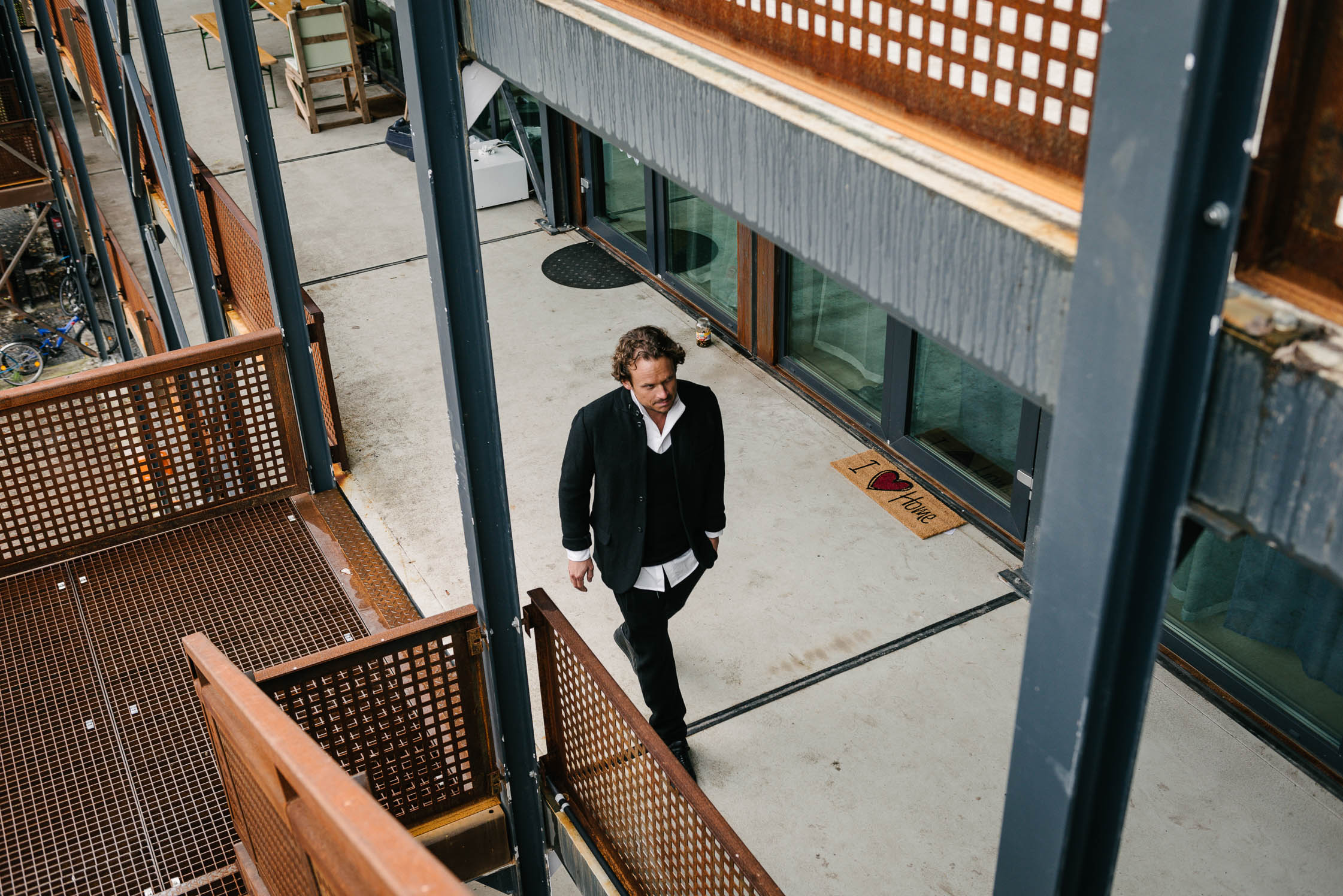 MINI Living is an initiative that wants to challenge these old conventions and tries to reflect the different needs of the present time in experimental architectural projects, most recently during the 2016 Salone del Mobile in Milan and the London Design Festival. For MINI Living, "Creative use of space" is the guiding principle for the car manufacturer, which can be seamlessly applied to the challenges of a lack of urban space. What may seem surprising has already proved itself in practice to be a logical consequence. "We have a holistic perspective of a city which is influenced by how we move within it, by its architecture and above all, by its people and their impact."
"Cities are defined by movement, by diversity and by exchange – we need spaces which allow all this to happen."
Oke and the team at MINI Living worked together with the Japanese architects ON Design and the Berlin-based engineers at Arup for the first public showing at the 2016 Salone del Mobile. The result is an installation that demonstrates flexible living in a space of 30 square meters. "Do Disturb"—the convertible wall modules, which incorporate necessary elements such as the kitchen, are intended as an invitation to disrupt. The modules connect the apartments with the micro-neighbourhoods, or conversely allow them a degree of separation. Residents are free to decide whether they want to be alone, or whether they want to open their housing to the immediate neighborhood and in doing so generate more contiguous spaces. A residential scenario like this one blurs the conventional boundary between the private and the public. For Oke, this is exactly what makes life in the city what it is. "Cities are defined by movement, by diversity and by exchange—we need spaces that allow all this to happen," he explains. Stairwells and corridors don't really count as such meeting zones. In these kinds of transition spaces there's hardly more than a passing greeting and rarely do people feel compelled to spend time there. Nor do those spaces lend themselves as flexible expansions for personal living space either.
Spreefeld Coop Housing: The community project with access to the Spree
Spreefeld is the community project of 90 different private contractors and the Berlin-based offices of Carpaneto Schöningh, Fatkoehl and BARarchitekten were involved in its implementation. Not only the residents benefit from this visionary living concept as the western part of the project will maintain public access to the Spree.
"We should not be merely using the city; we should be making something of it."
So what could meeting places be and what would happen there? "Encounters should stem from the needs of the people. How and where people meet can hardly be determined from 'on high'," says Oke. If you keep your eyes open, you'll see that our needs are inscribed directly into the city's surface. Worn paths, for example, make it apparent exactly how far the city's determined routes are set from the actual movements of its residents. "We shouldn't be merely using the city; we should be making something of it." In Oke's mind, to ensure that our physical environment can also meet the demands of a modern life in the city, we need a great level of involvement from the residents during the planning and design process.
The lush three-piece 'Forests' installation, which MINI Living created for the 2016 London Design Festival in collaboration with London-based architect Asif Khan, is a proposal to infuse the concept of a "Third Space" with life in a shared and open context.
This refers to the spaces that lie between the private and the public: "These places are not your home, not your work, but rather an intervening space that you can use for a certain time." They offer an opportunity for recreation, inspiration and encounters and, as it were, a constructed vision of what will increasingly play an important role in the cities of the future: shared spaces with temporary access.
DAZ – Deutsches Architektur Zentrum: The conceptual laboratory in Kreuzberg
Right in the same neighborhood as the Spreefeld project, we find the Deutsche Architektur Zentrum, which views itself as a kind of conceptual laboratory and site for intellectual exchange. With regular exhibitions and events, the DAZ provides an important contribution to the debate on how we want to live in cities. The exhibition entitled "New Standards. Ten Theses on Housing" can be visited until January 22nd, 2017.
If space is limited in the cities and yet everyone wants to live there, then we must come to the realization that available space must be used more flexibly. Oke, who, due to professional reasons currently leads a rather nomadic life, always returns to Berlin to follow the development of unconventional construction and neighborhood projects. Spreefeld Coop Housing is one such Berlin-based flagship concept for him. For this project, several private shareholders have collaborated to build their own neighborhood. Three eight-storey houses are home to different types of apartments and several 'optional spaces' which can be adapted for a different, temporary use when needed, be it a dining room, yoga room or studio. "For projects like the Spreefeld, we can see how new categories for space come into being. There are several meeting rooms and the living space is made to smaller and more flexible to accommodate that. That means there's a greater emphasis on the intervening space."
Am Lokdepot designed by the architectural firm Robertneun
Designed by the architectural firm Robertneun, this modern residential building consisting of 15 buildings with different types of apartments has its location in a place that was previously slated for commercial use. With the opening of the Gleisdreieckpark, it became clear that the area nestled on the border between the Schöneberg and Kreuzberg districts held much potential as an attractive residential space.
Flexible housing solutions from MINI Living
The creative use of space initiative promoting cohabitation
"Cities aren't just space but also time."
Berlin's urban development is of course somewhat unique. Because of its past, the city has still enjoyed more freedom than other cities and its 'city-making' has a special history. That's also why Berlin is one of the most exciting places for Oke in terms of the development of living concepts: "I'm often in New York and talk to many architects there who are all totally fascinated by the idea of building assemblies. Nothing there really compares." Another city that Oke is watching with great interest is Zurich—new types of housing projects that tend to a smaller scale are being developed there as well. The cooperative known as Kalkbreite, for example, is striving for a degree of networking with the immediate surroundings as a publicly accessible residential building, all while its internal structures retain their flexibility with cluster flats (small apartments with access to common spaces). Additional space can be rented on a temporary basis.
"Cities aren't just space but also time." Living and working situations are changing faster than ever before. The key to a creative use of available space could, as such, be to keep private space as small as possible and to activate additional space temporarily, as some living concepts are already doing. In this way, a continuous renegotiation of cities takes place in accordance with our needs. "Creative use of space" is no longer a question of design but rather a question of negotiation between disciplines and between people.
Unité d'Habitation: : The Corbusier house built in the 1950s in Berlin
Built in the 1950s, the Corbusier house in Berlin is not referred to as the "machine for living" without good reason. Previously implemented in Marseille, the Unité is still regarded as one of the most radical examples of serial construction and a precursor of prefabricated buildings. Borrowed from a more human dimension, the plots offer efficient space solutions but little room for individual needs.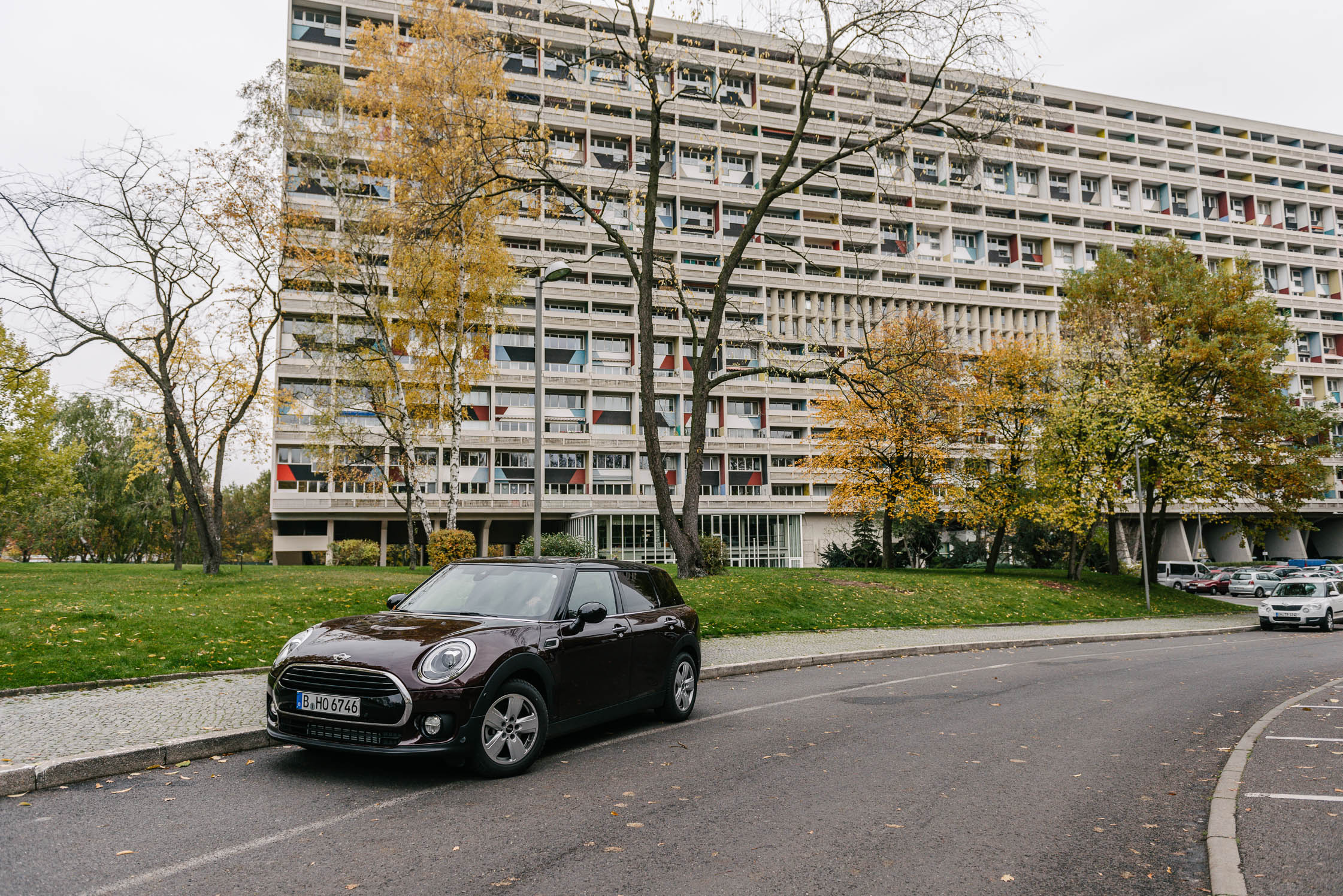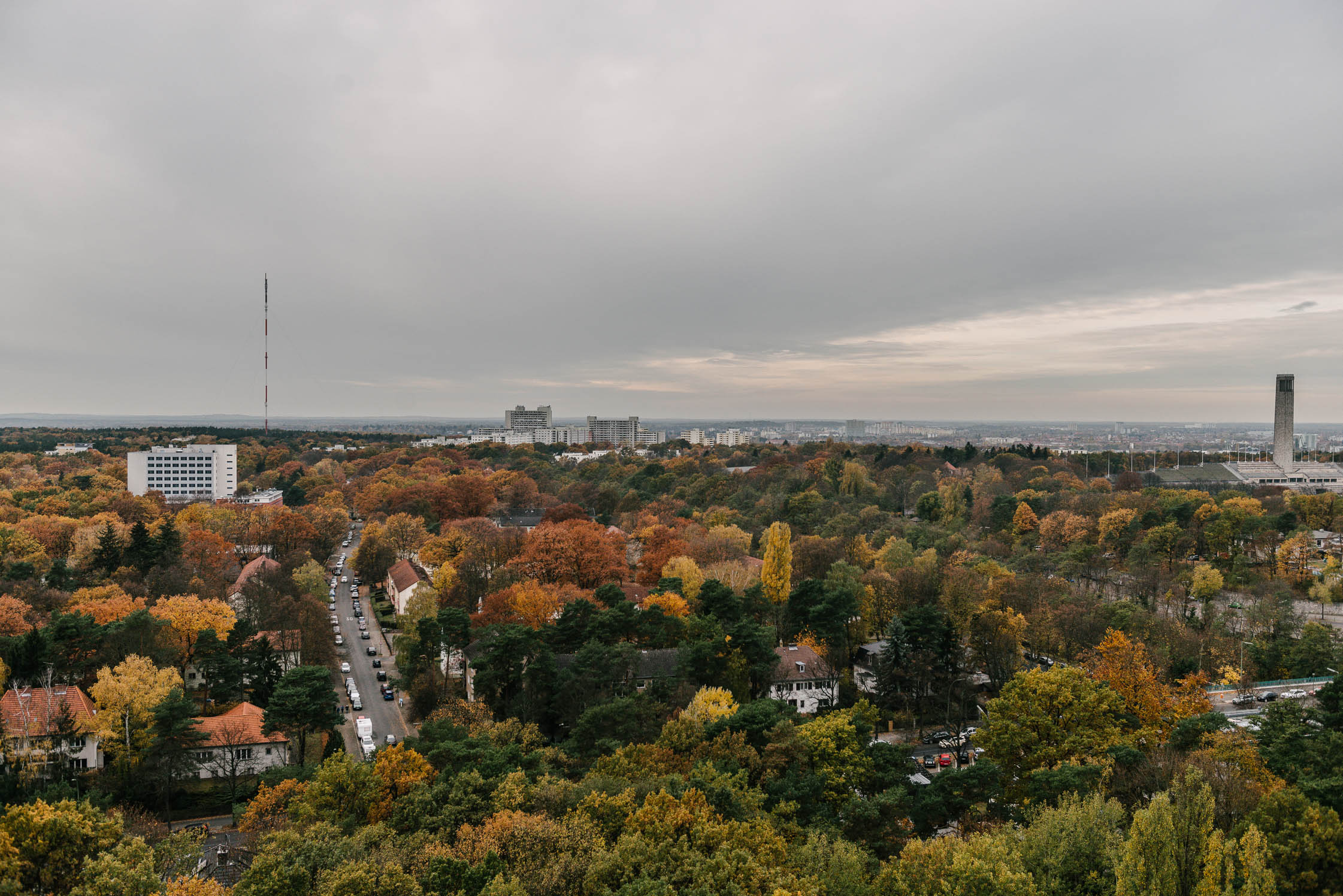 Thank you, Oke, for sharing your view of Berlin with us. To learn more about the work of MINI Living, read the interview with architectAsif Khan on FvF or visit the officialMINI Tumblr.
This portrait was developed ahead ofThe Sooner Now, a one-day event which will bring FvF and its community together with MINI. The event will be dedicated to exchanging ideas about the future of urban living through panel discussions and presentations. Oke Hauser will be present as co-host, and will also be talking at the event.
Text: Vanessa Oberin
Photography: Daniel Müller