The name Südtirol creates a particular basis for discussion within moments. Detached from the Austrian Tyrol in 1918 and awarded to Italy, this autonomous province is not only geographically the knot, but also the melting point of two diverse cultures. During a trip to the Dolomites, one gets a feeling for a unique lifestyle based on the idea of allowing natural circumstances to remain as untouched as as possible while bringing out the best of it.Norbert Niederkofler's restaurant St.Hubertus inside the hotel Rosa Alpina is a logical consequence of prevailing South Tyrolean regional culture. After many years travelling to and experiencing other countries and cultures, the mountains of South Tyrol beckoned this passionate chef to return twenty years ago. He has established himself within this vessel of mediterranean vitality and transformed a simple pizzeria into a very special place. Year after year, Norbert has optimised the concept 'Cook the Mountains,' which is based on new interpretations of classic mountain cuisine. Thanks to a friendly collaboration with native farmers, he is able to use 90 percent of ingredients from his surrounding environment. With this, he continuously spoils locals and tourists alike with his gastronomic creations at the highest level.This interview is part of a series of portraits that are produced in collaboration with Südtirol.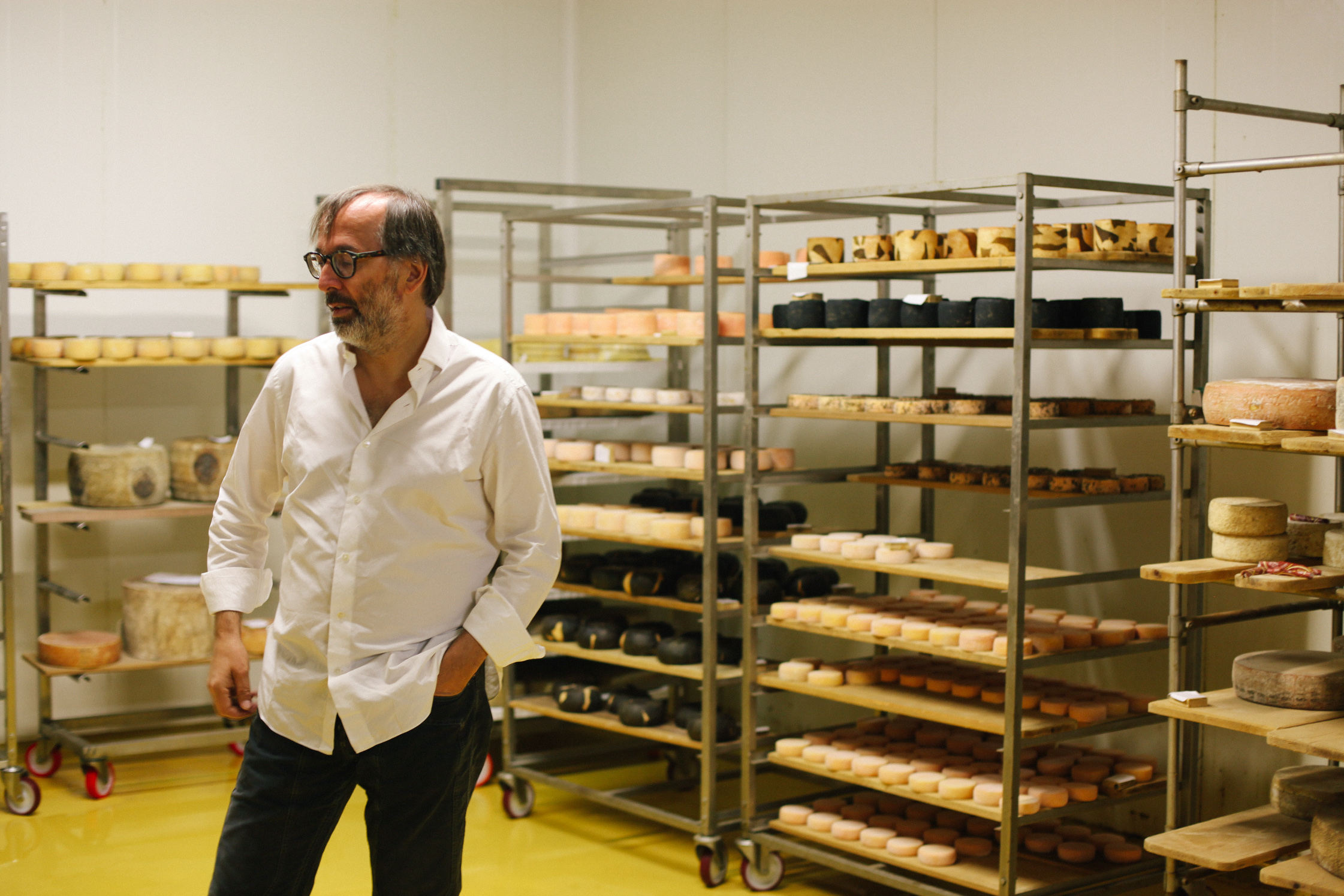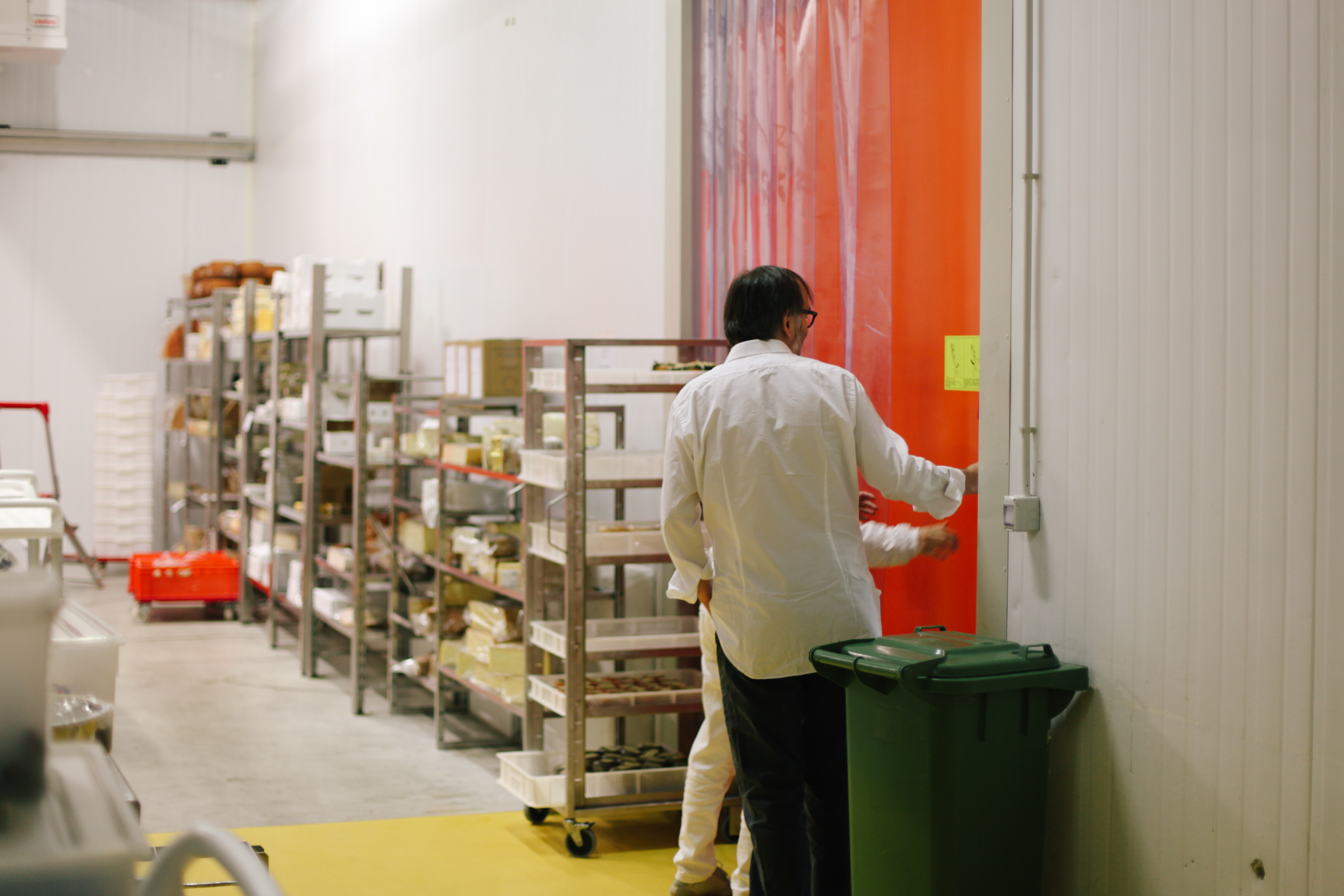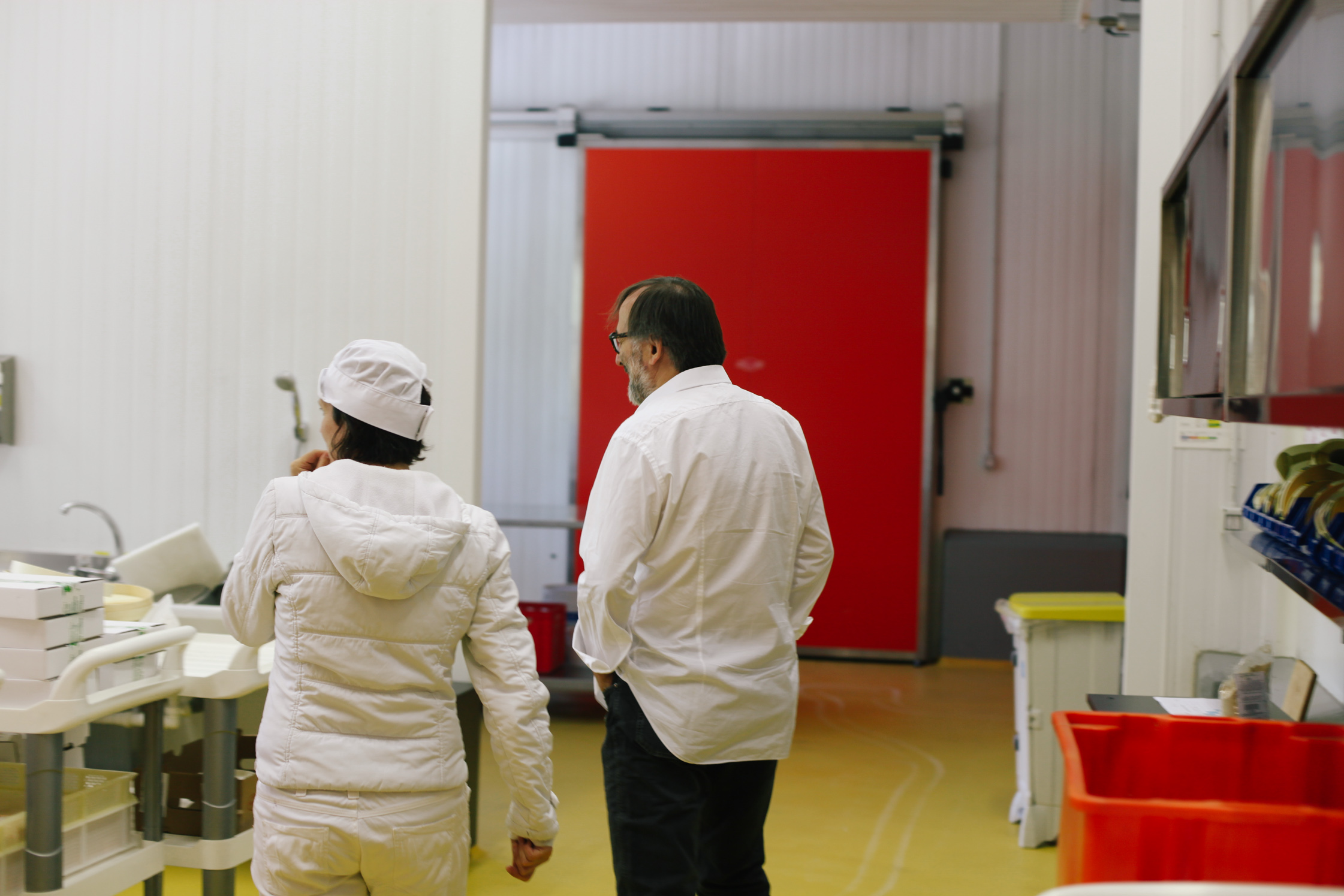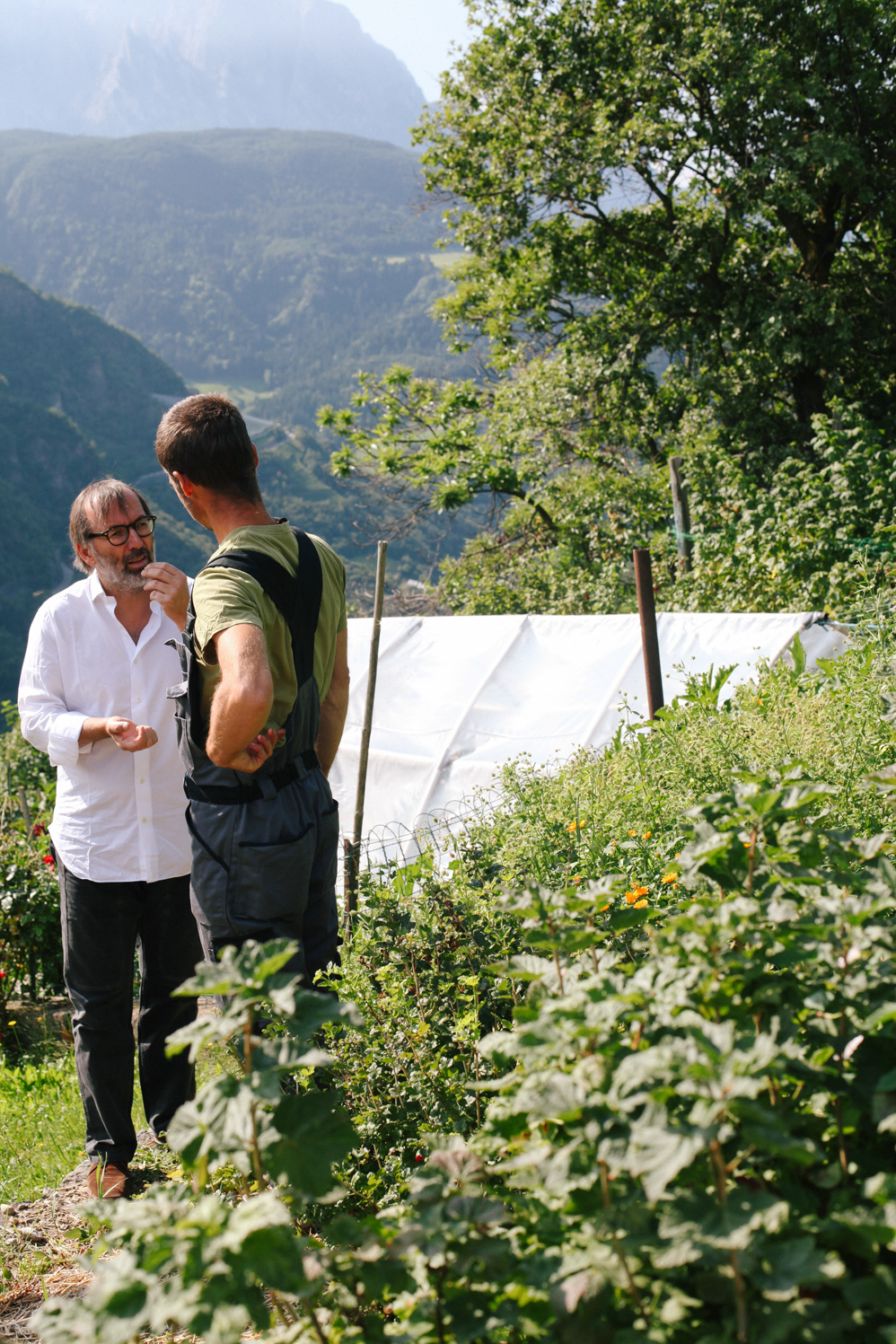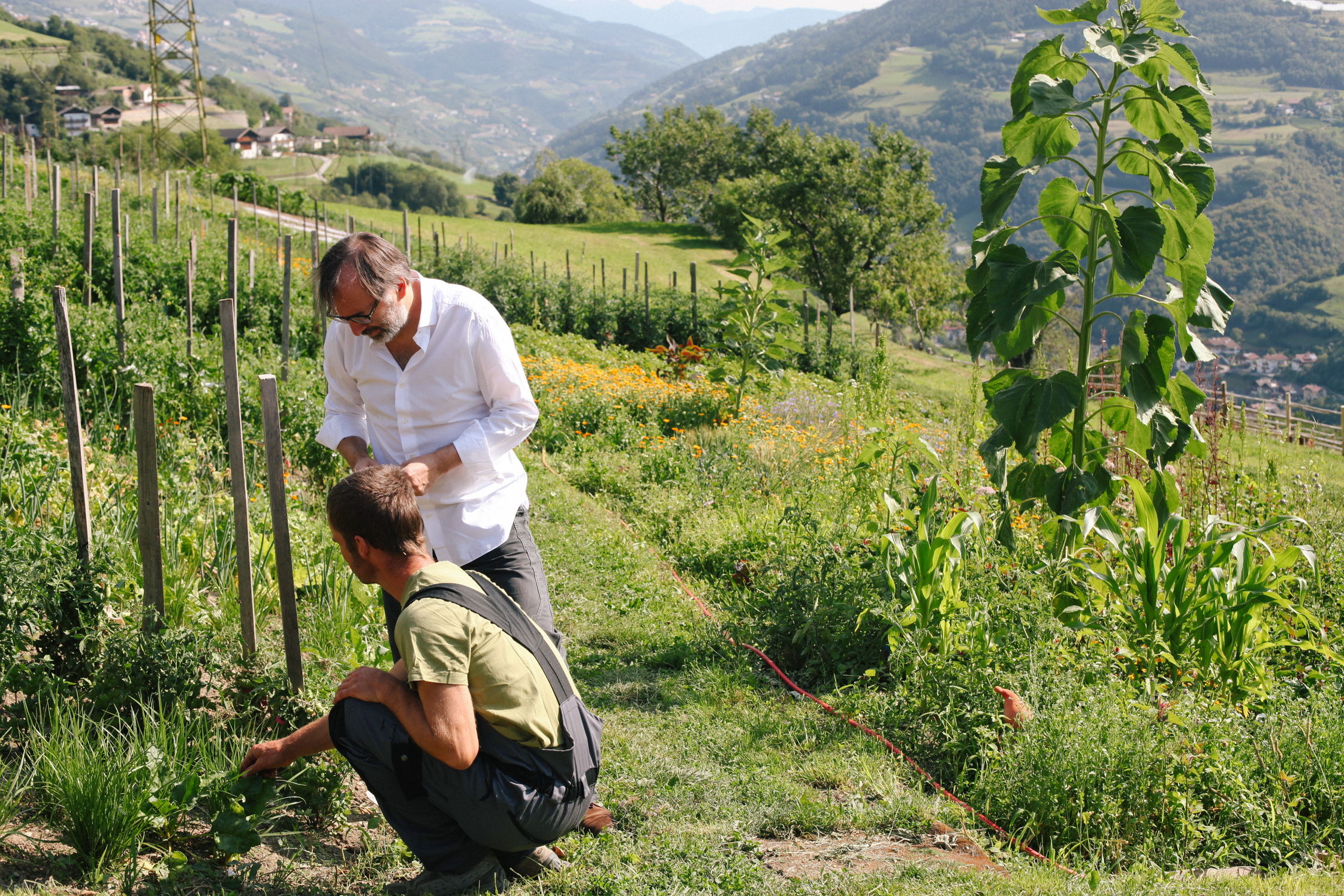 Where are you from?
I was born in Ahrntal, in the tributary valley of Pusztatal. After my 'Abitur' I spent 15 years in Germany, USA, Switzerland, Austria, and Italy. I came back to my hometown by coincidence 20 years ago and founded St. Hubertus.
What is special about St. Hubertus?
It started as a typical pizzeria. Alongside the family Pizzinini we began to develop the restaurant year after year. The kitchen was like anywhere around the world. A few years ago however, I began to focus on regional products. Since last year, all of our products in the kitchen have been sourced from the mountains.
What does it mean to cook locally?
In the beginning it was a big challenge. I had to think out of the box and communicate with farmers. That requires some time. Together we figured out what works and then started to cultivate. The farmers need to be helped, which is why I began to buy everything whole.
When I buy meat, I not only buy pork loin or chicken breast, but the whole animal. The cooks have to use whatever products we have at that moment. These days this needs somewhat of an adjustment but it goes back to the original roots of cooking. Essentially it requires patience and persuasion until one has reached the desired goal.
How would you refer to this cuisine?
The name of our concept 'Cook the Mountains' says it all. We offer an authentic mountain cuisine and try to communicate the philosophy of life and native country lords through our food.
After many years of refinement and experimentation I finally got to that point with my team where it became simply fun. We actually never thought that it was possible for a native cuisine to be so diverse and offer such culinary possibilities.
How long have you been working with Harald Aspinger?
I get all my vegetables directly from him. I have known him for a very long time and have worked with him intensively for the last three years. He lives the quality and has crazy working hours. It is so much fun to work with him and his family. One can taste and see how much of their heart goes into this work.
What have you made for us today?
The appetizer consists of a salad from freshly grown salads, herbs, flowers, and celery. Since we don't have that many tomatoes right now, we use this delicate foam which we also have added to the salad. The dressing consists of grape oil, which in comparison to olive oil, doesn't change the taste of the ingredients. We produce our own vinegars, whether it is from apple or red wine. Generally, I like it when the dressing lightly undertones the components, rather than crushing them.
The main course is a barley risotto. This dish is the perfect intertwinement of Italian and Austrian cuisine, and thus a typical South Tyrolean meal. Together with the cold butter of sheep's milk and cow's milk – this combination is called 'Mantecatura' by the Italians – and right before the risotto is ready, we added sorrel leaves. With that, the essential oils survive and are at their very climax of flavor. Placed over it is a verbena jelly, which is important for the neutralization of the cow's milk. At the end, one chews the stem of the sorrel in order to clean the palate for dessert. Lastly, we prepared 'En Rosadira' – the alpenglow of the Dolomites. With this dessert we tried to create exactly that color spectacle on the plate. It is a composition of wild berries, sorbet, strawberry spinach berries, and sparkling Rosé.
Tell us a little bit about your cheese factory.
We have been working together with Hansi Baumgartner from DeGust for a very long time. About 15 years ago he began to refine cheese with farmers. It is a lot of fun. Principally nothing new is invented. Inserting 'Graukäse' – English for grey cheese – into ashes is a very old preservation method. Just like marinating vegetables and inserting them into hay. This procedure was conducted in order to have sufficient products over the winter. I think it is very interesting that now such old methods are returning again. But this requires a 100% quality product. If one tries to 'mask' a poor product, it works in that moment but not for long. This is why it is also important to stay in contact with the producers from the very beginning and strive for the very best product.
How important is travelling to you?
Travelling is extremely important to me. I have travelled around the world half of my life. At the age of 22 I worked for the first time in America, during which I lived at an Indian reserve for a month. I recently returned from Peru, where I came to the very interesting realization once again how alike mountain cultures are around the world. An Australian television team was recently here. I told them about the production procedure of 'Graukäse.' The journalist smiled and told me that he just had recently seen the same thing in Bhutan, only with yak's milk instead. The more you travel, the more you realize how important it is to stay open to new things.
How important is home?
South Tyrol is a double-edged sword. The place where I come from is small and narrow – something one recognizes within its citizens. One always wants to know what lies behind those mountains and that is what provoked me to commence travelling. Above all, South Tyrol offers an amazing quality of life, however, I am also happy to experience new things and bring them back to my home.
How would you describe South Tyrol to someone that has never been there before?
South Tyrol is located geographically very well. Towards the north we are closed due to the Alpine divide, and towards the south we are completely open. Our ancestry is derived from the Austrian-Hungarian culture as we were considered to be a part of Austria up until 1918. This means that we have this very ordered way of thinking that is connected with an Italian lifestyle. South Tyrolean way of life consists of this unique intertwinement of mediterranean, airy flair. I can only recommend it.
Thank you Norbert for this inspiring interview. Visit the website of St. Hubertus to find out more about the concept and philosophy behind the restaurant.
Photography: Frederik Frede
Interview & Text: Zsuzsanna Toth
Translation: Lara Konrad
Der Name Südtirol ruft viele unterschiedliche Assoziationen hervor und bietet Grundlage für Diskussionen. Erst im Jahr 1919 vom österreichischen Tirol losgelöst und Italien zugesprochen, ist die autonome Provinz, nicht nur geografisch gesehen, der Knoten- und Schmelzpunkt unterschiedlicher Kulturen.
Die gewaltigen Dolomiten, die sich durch die Region ziehen, haben Land und Leute geprägt und zu einer Lebensweise inspiriert, die darauf bedacht ist, die ursprünglichen Naturgegebenheiten so wenig wie möglich zu verfälschen und nach besten Möglichkeiten zu nutzen. Bei einem Ausflug in die Berge bekommt man einen Einblick, in diese einzigartige Lebensweise.
Norbert Niederkoflers Restaurant "St. Hubertus" im Hotel "Rosa Alpina" ist die logische Konsequenz der in Südtirol vorherrschenden Regionalkultur.
Viele Jahre hat der Südtiroler Koch im Ausland gearbeitet, bis vor etwa zwanzig Jahren der Ruf der heimischen Berge zu stark wurde und er "huam" gekehrt ist.
Hier hat er sich niedergelassen, sich eingerichtet zwischen mediterraner Lebensfreude und österreichischer Gediegenheit und aus einer kleinen Pizzeria einen ganz besonderen Ort gemacht.
Jahr für Jahr optimiert Norbert das Konzept "Cook the Mountains", das auf die Neuinterpretation klassischer Bergküche aufbaut. Dank der freundschaftlichen Zusammenarbeit mit den heimischen Bauern, gelingt es ihm mittlerweile 90 Prozent der Zutaten aus dem unmittelbaren Umfeld zu beziehen und verwöhnt dadurch Einheimische, wie Urlauber auf qualitativ höchstem Niveau.
Dieses Interview ist Teil eine Porträtserie, die in Zusammenarbeit mit Südtirol.
Wo kommst du her?
Ich bin im Luttach im Ahrntal, einem Seitental vom Pusztatal, geboren. Nach meinem Abitur war ich insgesamt 15 Jahre lang im Ausland und habe in Deutschland, den USA, der Schweiz, Österreich und in Italien gelernt.
Erst durch Zufall bin ich vor zwanzig Jahren wieder in meine Heimat zurückgekommen und habe hier, das St.Hubertus eröffnet.
Was ist das Besondere am St. Hubertus?
Angefangen hat alles mit einer Pizzeria. Zusammen mit der Familie Pizzinini haben wir sie dann Jahr für Jahr zu dem Restaurant umgebaut, dass sie heute ist. Besonders die Küche hat sich verändert. Lange war sie international austauschbar und nicht regional fokussiert.
Vor einigen Jahren habe ich dann angefangen, verstärkt auf regionale Produkte zu achten. Seit etwa einem Jahr sind alle Zutaten in unserer Küche aus unseren Bergen.
Was bedeutet es für dich alles lokal zu kochen?
Begonnen hat es als eine große Herausforderung. Ich musste anfangen sehr weit im Voraus zu planen und viel mit den Bauern zu kommunizieren. Das erfordert mehrere Monate Vorlaufzeit. Wir haben zusammen überlegt, wie dieses oder jenes funktionieren kann und dann natürlich angebaut werden muss.
Man muss den Bauern aber auch ordentlich unter die Arme greifen. Deswegen habe ich angefangen, alles im Ganzen einzukaufen. Ich kaufe zum Beispiel keinen Schweinerücken und keine Hühnerbrust, sondern eben das ganze Tier ein. Die Köche müssen sich, spontan und je nach Verfügbarkeit, den Lebensmitteln anpassen. Das ist heutzutage eine Umstellung, aber im Grunde genommen, die ursprünglichste Weise zu kochen.
Insgesamt bedarf es sehr viel Überzeugungsarbeit und Geduld, um an den Punkt zugelangen den man sich vorgenommen hat.
Wie würdest du diese Küche jetzt nennen?
Bei unserem "Cook the Mountains"-Konzept ist der Name Programm. Wir bieten eine authentische Bergküche an und versuchen, die Lebensphilosophie und die heimischen Bauernregeln durch unser Essen zu kommunizieren.
Nach jahrelangem Kopfzerbrechen und Ausprobieren, bin ich mit meinem Team gerade an dem Punkt angekommen, wo es anfängt unheimlich viel Spaß zu machen. Wir hätten es ehrlich gesagt selber nicht für möglich gehalten, wie vielfältig die einheimische Küche und die kulinarischen Möglichkeiten sind.
Wie lange arbeitest du schon mit Harald Aspinger zusammen?
Von Harald beziehe ich mein ganzes Gemüse. Ich kenne ihn schon sehr lange und arbeite seit drei Jahren auch intensiv mit ihm zusammen.
Er lebt für Qualität und hat ganz verrückte Arbeitszeiten. Es macht unglaublich Spaß mit ihm und seiner Familie zusammenzuarbeiten. Man sieht und schmeckt, wie viel Herzblut die Familie Aspinger in die Arbeit packt.
Woher beziehst du deine weiteren Zutaten?
Über 90 Prozent unserer Zutaten kommen aus Südtirol. Ich sage bewusst 90 Prozent, weil die Qualität bei mir immer an erster Stelle steht. Wenn diese in meiner Umgebung stimmt und verfügbar ist – umso besser. Bis es soweit ist, dass ich hundert Prozent aus der Region beziehen kann, treibe ich die Bauern mit der von mir geforderten Qualität, eben in den Wahnsinn.
Dafür bestelle ich auch im Voraus und garantiere, dass ich die georderte Menge abnehme. Beim Fleisch genau wie beim Gemüse. Das einzige Risiko, das ich dann noch habe ist, dass mir die Natur einen Strich durch die Rechnung macht.
Was hast du heute für uns zubereitet?
Die Vorspeise besteht heute aus einer Kombination aus frisch geernteten Salatsorten, Kräutern, Blumen und Sellerie. Da wir gerade nicht so viele Tomaten haben, fügen wir diese als delikaten Schaum dem Salat bei.
Das Dressing ist aus Traubenkernöl. Im Gegensatz zu Olivenöl, verfälscht dieses Öl den Geschmack der Zutaten nicht. Das ist uns wichtig. Unsere Essigsorten, ob Apfel oder Rotwein, setzen wir auch selber an. Generell mag ich es, wenn das Dressing die Komponenten leicht unterstützt, sie aber nicht erdrückt.
Die Hauptspeise besteht aus einem Gerstenrisotto. Dieses Gericht ist die perfekte Verschmelzung Italiens und Österreichs und daher eine typisch südtiroler Mahlzeit. Zusammen mit der kalten Ziegen- und Kuhmilchbutter – dieses Stadium nennen die Italiener "Mantecatura" – und kurz bevor das Risotto fertig geköchelt ist, haben wir Sauerkleeblätter hinzugefügt. Dadurch bleiben die ätherischen Öle erhalten und sind auf ihrem geschmacklichen Höhepunkt. Darüber habe ich noch ein Verbenen-Gelee gegeben, das neutralisiert das Fett aus der Kuhmilch. Den Stängel des Sauerklees zerkaut man dann ganz zum Schluss, um den Gaumen vor dem Dessert richtig zu "putzen".
Als Abschluss gibt es unser "En Rosadira" – auf Deutsch: Das Alpenglühen der Dolomiten. Mit diesem Dessert haben wir versucht, genau dieses Farbspektakel auf den Teller zu bekommen. Es ist eine Komposition aus Waldbeeren, Sorbet, Erdbeerspinatbeeren und rosa Schaumwein.
Erzähl uns etwas von der Käserei, die wir besuchen durften.
Wir arbeiten schon seit einer ganzen Weile sehr viel mit Hansi Baumgartner von DeGust zusammen. Er hat vor etwa 15 Jahren angefangen, zusammen mit den Bauern ihren Käse zu veredeln. Das macht sehr viel Spaß. Im Prinzip erfindet man ja nichts Neues. Die Methode, den sogenannten Graukäse in Asche einzulegen, ist eine uralte Konservierungsmethode.
Auch das Marinieren von Gemüse oder das Einlegen in Heu ist uralt. Diese Verfahren wurden einst durchgeführt, um mit regionalen Produkten über den Winter zu kommen. Ich finde es sehr interessant, dass man heute auf so alte Geschichten zurückgreift.
Dabei muss man aber, damals wie heute, von einem hundertprozentig gutem Produkt ausgehen. Wenn man versucht ein qualitativ mangelhaftes Produkt mit einer Veredelung zu "kaschieren", klappt das zwar für den Moment, aber auf keinen Fall langfristig. Daher ist es auch so wichtig, mit den Produzenten direkt im Kontakt zu stehen und von der ersten Grundzutat an, die höchste Qualität anzustreben.
Welchen Stellenwert hat Reisen für dich ?
Reisen ist extrem wichtig für mich. Ich bin mein halbes Leben lang durch die Welt gereist, habe mit 22 Jahren das erste Mal in Amerika gearbeitet und zwischendurch einen Monat lang in einem Indianerreservat gelebt. Ich bin gerade von einem Trip nach Peru zurückgekommen, wo es wieder mal sehr interessant war festzustellen, dass die Bergkultur überall auf der Welt gleich ist.
Kürzlich war auch ein Fernsehteam aus Australien hier. Ich habe ihnen vom Produktionsverfahren des Graukäses erzählt. Der Journalist hat geschmunzelt und mir erzählt, dass er das Gleiche vor einigen Monaten in Bhutan gesehen hat, nur eben mit Jakmilch.
Je mehr man reist, desto besser sieht man, dass man offen und für neue Dinge zugänglich bleiben muss.
Wie wichtig ist dir deine Heimat ?
Südtirol ist für mich ein zweischneidiges Schwert. Der Ort wo ich herkomme ist sehr schmal und eng. So empfindet man auch manchmal die Bevölkerung und deren Denkweise. Man möchte immer wissen, was auf der anderen Seite des Berges ist. Das hat mich zu meinen vielen Reisen angespornt.
Südtirol bedeutet für mich in erster Linie unwahrscheinlich viel Lebensqualität. Aber ich bin auch froh, die Möglichkeit zu haben jederzeit etwas Neues zu entdecken und dann in mein Zuhause mit den neuen Eindrücken zurückzukommen.
Wie würdest du Südtirol jemandem beschreiben, der noch nie zuvor hier war ?
Südtirol ist erstens geografisch sehr gut gelegen. Wir sind nach Norden geschlossen durch den Alpenhauptkamm und nach Süden hin komplett offen, das schafft ein mildes Klima
Wir stammen von der österreichisch-ungarischen Kultur ab, weil wir bis 1918 eben Österreicher waren. Das heißt, wir haben einerseits dieses sehr korrekte, geradlinige Denken. Auf der anderen Seite, verbinden wir eben dieses Denken mit dem italienischen Lebensstil.
Die südtiroler Kultur besteht aus dieser einzigartige Verschmelzung von österreichischer Gediegenheit mit dem mediterranen, luftigen Flair. Ich kann Jedem nur empfehlen mal selbst hinein zu schnuppern.
Vielen Dank Norbert für diesen inspirierenden Tag. Wer mehr über das Konzept und Angebot des St. Hubertus erfahren möchte, besucht die Webseite hier.
Fotografie: Frederik Frede
Interview & Text: Zsuzsanna Toth