Stefan Marx is a terribly nice person who basically is supposed to be hugged at all times. But since this would probably seem as an inadequate procedure and would perhaps make me appear as a tender version of a pervert, I decided to embrace him in a different manner. We met Stefan at his apartment, took a walk over to his studio, and afterwards made it to one of his exhibitions. In company of caffein delights and an endless shower of rain, we talked about his weakness for zines, skateboards, and people roaming around in Hamburg's nightlife.
All during this, we have to guess which utterances, like 'My brain has enough potential to produce trouble,' belong to what lid. What's so unique about Stefan Marx's art? It elegantly moves between the DIY culture over to fine arts, while simultaneously transporting the values of the skateboarding scene. He observes his environment, constantly draws, and writes down spontaneous witty citations that later on are used within his art. This is how record covers, t-shirts, skateboards, and even tattoos and large-scale oil paintings come into existence. It is even a rumour that our former guest Eike König trusted Stefan enough to get a permanent mark by him. All of these works contain irony, mystery, and almost always plenty of terrible niceness.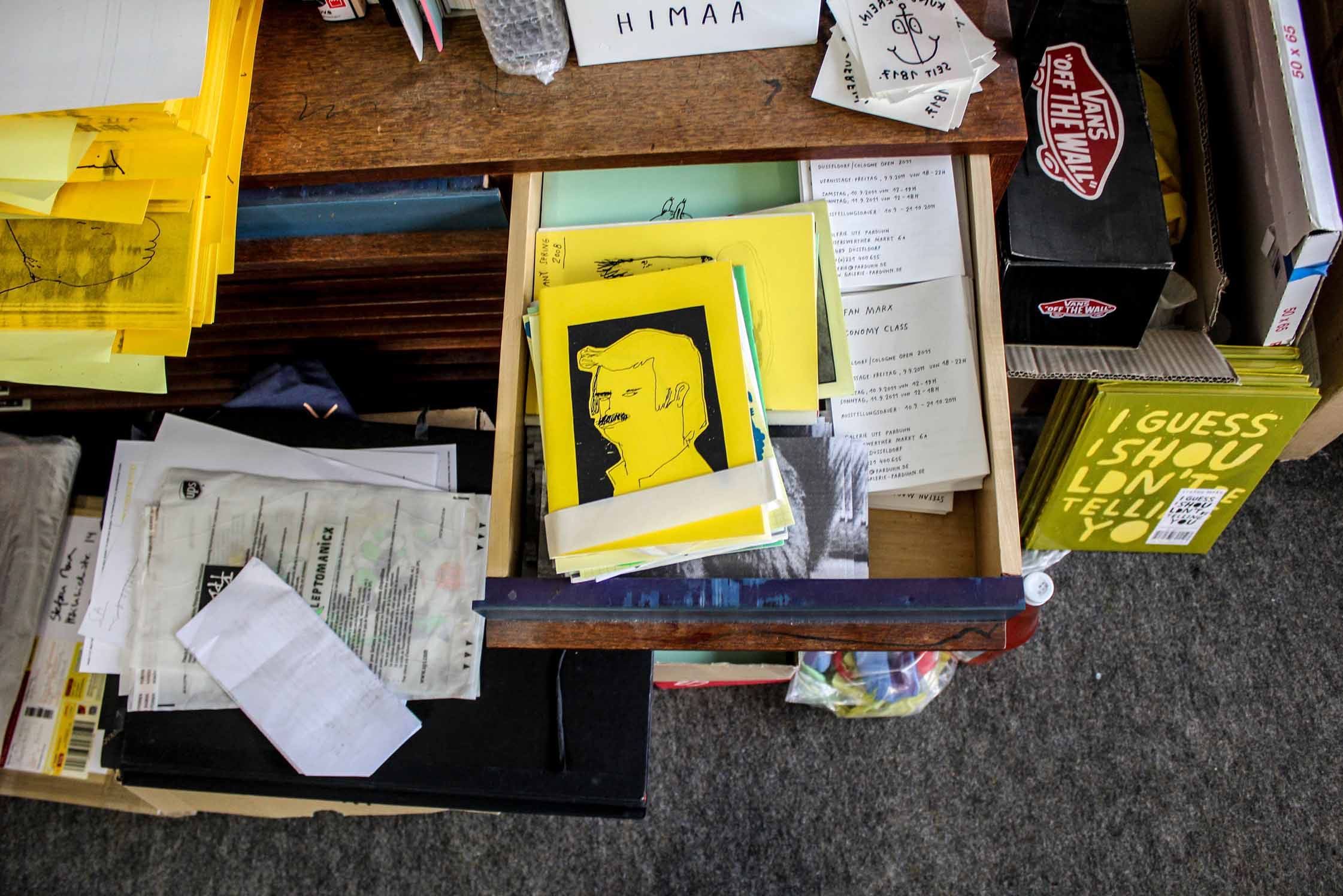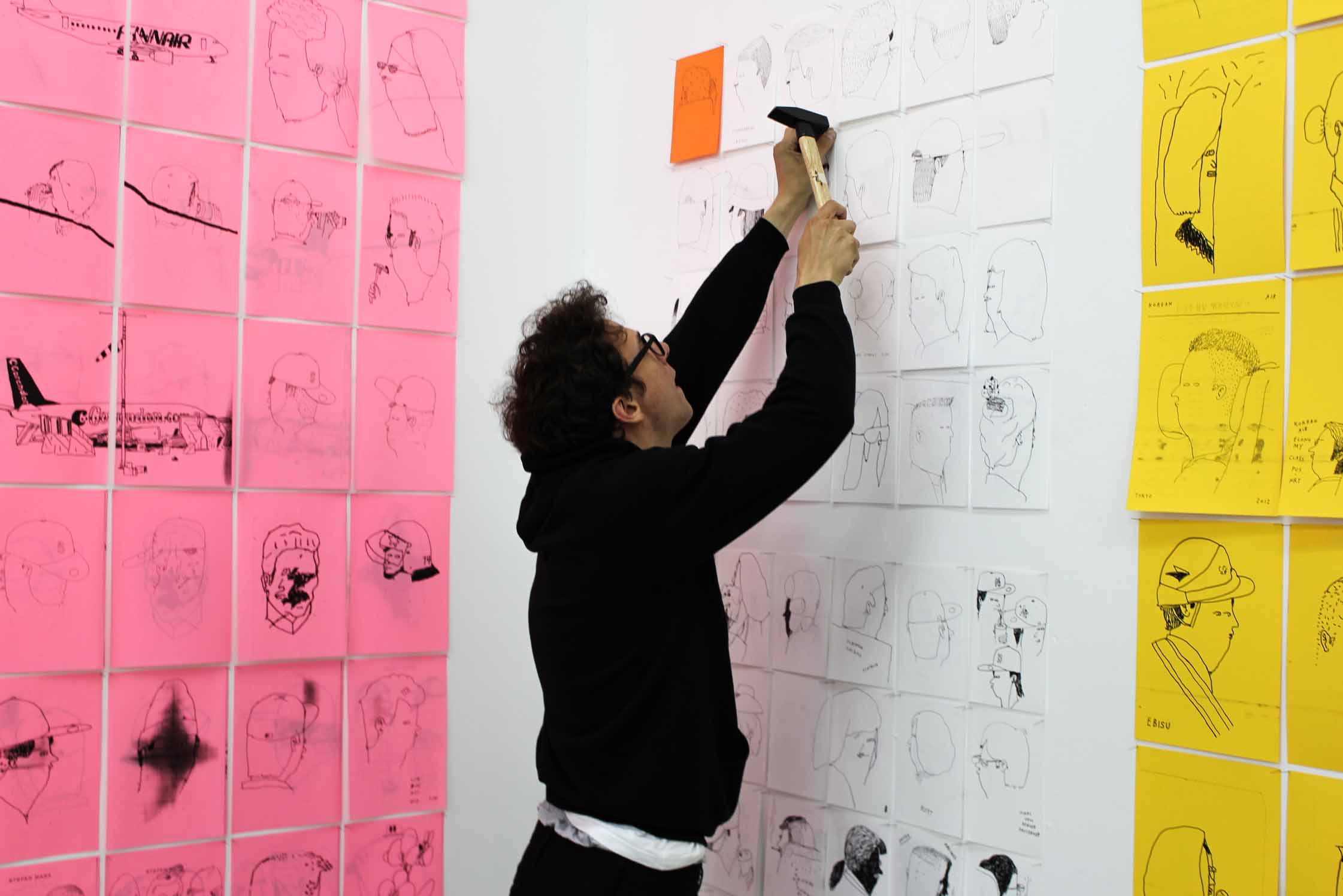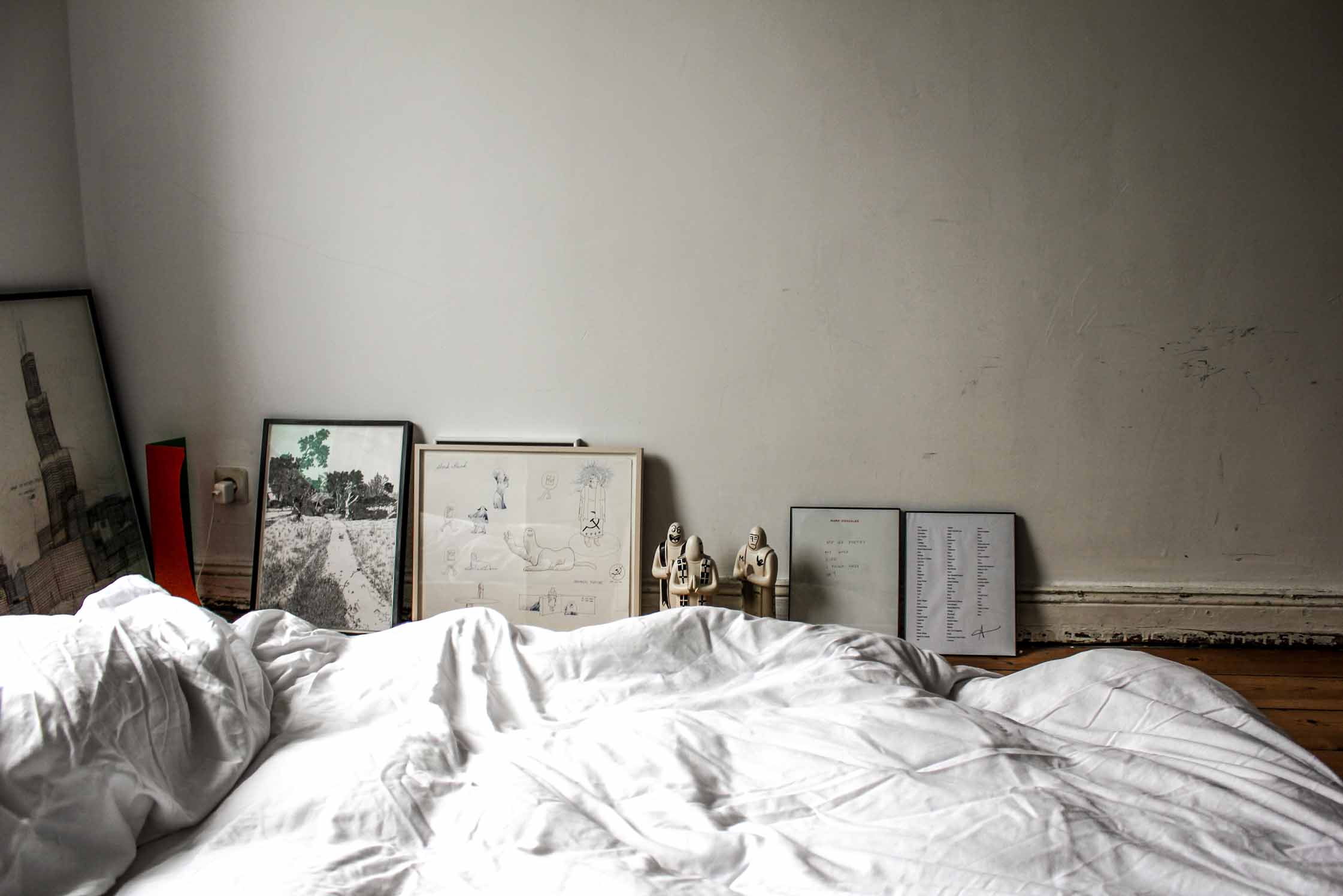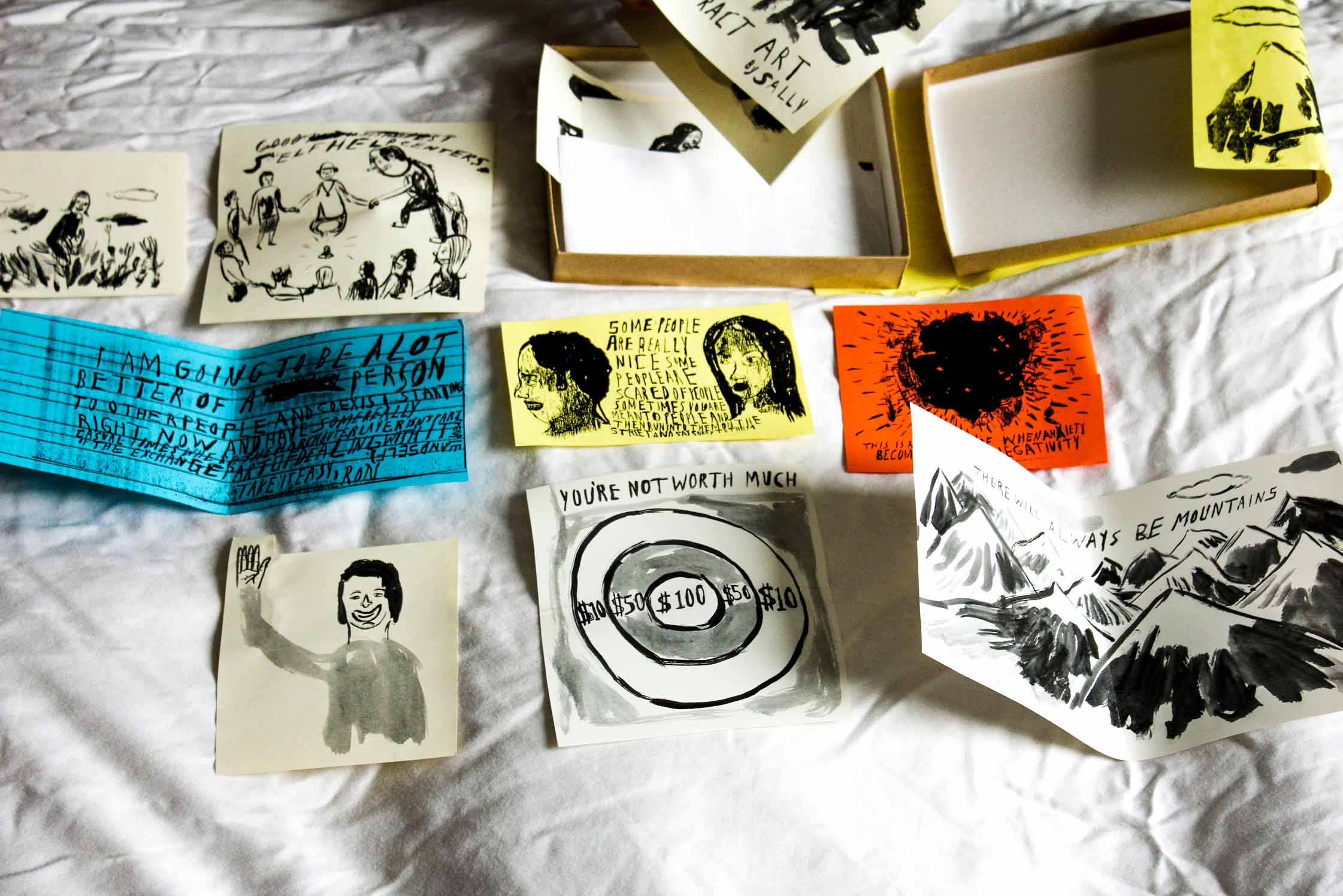 Why does my boyfriend possess boxer shorts with your patterns?
I have worked for the company Cleptomanicx for the past ten years and develop diverse patterns that are used for different products. That should explain the boxer shorts.
You used to skate a lot and still move around in that very scene. I used to hang out a lot with skaters. One really wanted to be different with the clothing that belonged to that scene. But can one nowadays even isolate himself with streetwear? Is that even still a youth movement?
I still think it is possible to isolate oneself with streetwear, because extremely goods things are still produced that evidently escape the mainstream's territory. It was forseeable that a brand like Vans would become an established label. Clepto is another brand that is not only worn by skaters, meaning that the clothes does not only hang in skate shops. It is really like a true brand nowadays, something that I think is great.
Then there are small labels like mine that is called The Lousy Livin' Company, which came into existence due to my love for t-shirts and the fact that I didn't want to spend my nonexistent money anymore on expensive skateboard-t-shirts. Beginning of the nineties, small labels started to rise that really inspired me and one could really only find them in skateboard magazines. I appreciated the idea that people did something on their own. This is why I decided to produce my own t-shirts with the motto Lousy Livin' Company: I make my own favorite shirts and print of them for my friends.
Would you see yourself as a fashion designer?
Absolutely not.
But do you follow up with fashion?
I have my favorite designers. Once, I needed a suit so I went to Petra Teufel and bought myself a Dior Homme suit of Hedi Slimane. I just really love it, even though it was quite expensive. Unfortunately I don't wear things like that very often.
I am tired of seeing people in their mid-forties who are wearing printed skate shirts. Don't these guys want to grow up?
I can really understand that. This never-ending teenage period is taken to another extreme. I think this happens a lot within Germany, as this country doesn't seem to be very fashion-conscious.
On the other side it really doesn't matter what one wears. It is only clothes…
True, but fashion has a cultural meaning and it has a historic-cultural concept that keeps evolving constantly…
…And in a certain way, everyone should care about what they present towards the outside.
Pertaining that, I am still a post-pupertal teenager. I love simple printed t-shirts and have been interested in them since I was twelve. I also really like patterns. I have quite a few idols in regards to that and visit different historic-cultural ascendancies when I travel. I also appreciate the design of Hermés' scarfs.
Do you remember you very first encounter with art? Was there a specific moment?
When one lives nearby Kassel, obviously Documenta is wonderful thing. I grew up in small village called Todenhausen. But it probably really commenced when I moved to Hamburg to study in 2001. I got in contact with people who managed art spaces and essentially saw a lot of creative things. Eventually, I got invited to have my very own exhibition. I have always liked to draw, expose the work, and eventually preoccupy myself with it more. I like to compile themes and review them via drawings. I show the results in exhibitions and my personal analysis is featured within the issues that I publish. I work together with galerist Karin Günther in her space in Hamburg. The exhibition 'Die Hefte' was on display there.
When did you start to publish your own zine?
I started around the mid nineties with the zine 'Lousy Livin' in which I depict t-shirts. Those were rather small skateboard-fanzines with interviews of skateboards, etc. They would produce around 100 issues and were distributed within skateboarder shops. A while later, I met Benjamin Sommerhalder of Nieves Books and started publishing on a regular basis zines and books. As well, I publish my work with my friend Urs Lehni Säde, whose publishing firm is called Rollo Press.
Have you always done it in black and white?
The copier couldn't do anything else…
One can find your sketches on t-shirts, skateboards, skin, all sorts of paper formats, and record covers. How do these channels differ for you? What do you prefer the most?
Every single medium offers their kind of attraction. Back then, I always wanted to do t-shirts. This easily becomes a reality as one only must go to a screen printer and ask to get these sketches printed on ten shirts. Then I really wanted to work together with a label and do skateboard graphics. One cannot realize that on his own, but solely with founding his own label.
I've always wanted to help form my favorite culture. This was my very teenage dream. I then met Pitt Feil of 'Clepto,' who back then already had a distribution for small labels. He asked me to help him with an advertisement for 'Clepto.' Ever since, we have worked together and it is a lot of fun. Since 2004, I work with Stella Plazonja, Peter Kersten, Julius Steinhoff, and Just von Ahlefeld for the label and record store Smallville Records. I create the record covers and only show here the drawings. The information about the musicians and title are on the back.
Where do you get the phrases and quotes from?
It differs between quotes from friends and personal ones that I find through music. They are lyrics that I want to represent in a visual way, as I think they possess a great mood. Or they are something I want to draw because I like thinking about the lines. Those are the two initial positions for my work flow. As soon as I overhear something I have to notice it right away – the funniest things occur at night when people indulge themselves into temporary lunacy.
By the way, what do you like about Hamburg?
Actually not that much. But the few things I like are enough to stay for. Alternatives are being looked for and hopefully will be found soon.
Thank you so much for this great Sunday, Stefan!
Whoever wants to see his work should visit his official website here.
Interview: Lisa Buys van Houtem
Photography: Pelle Buys van Houtem