Shannon Baird's presence is arresting. Though soft-spoken and small in stature, her clear eyes and calm aura have the ability to draw even perfect strangers to her.
A rare third-generation Portlander still living in the same Irvington neighborhood as her grandparents, Shannon recently finished building an urban refuge for herself in the backyard of an old craftsman bungalow. Here she retreats from the demanding pace of her design and real estate career along with her dog, River, an aging kitty named Eliza and a brood of side-yard hens.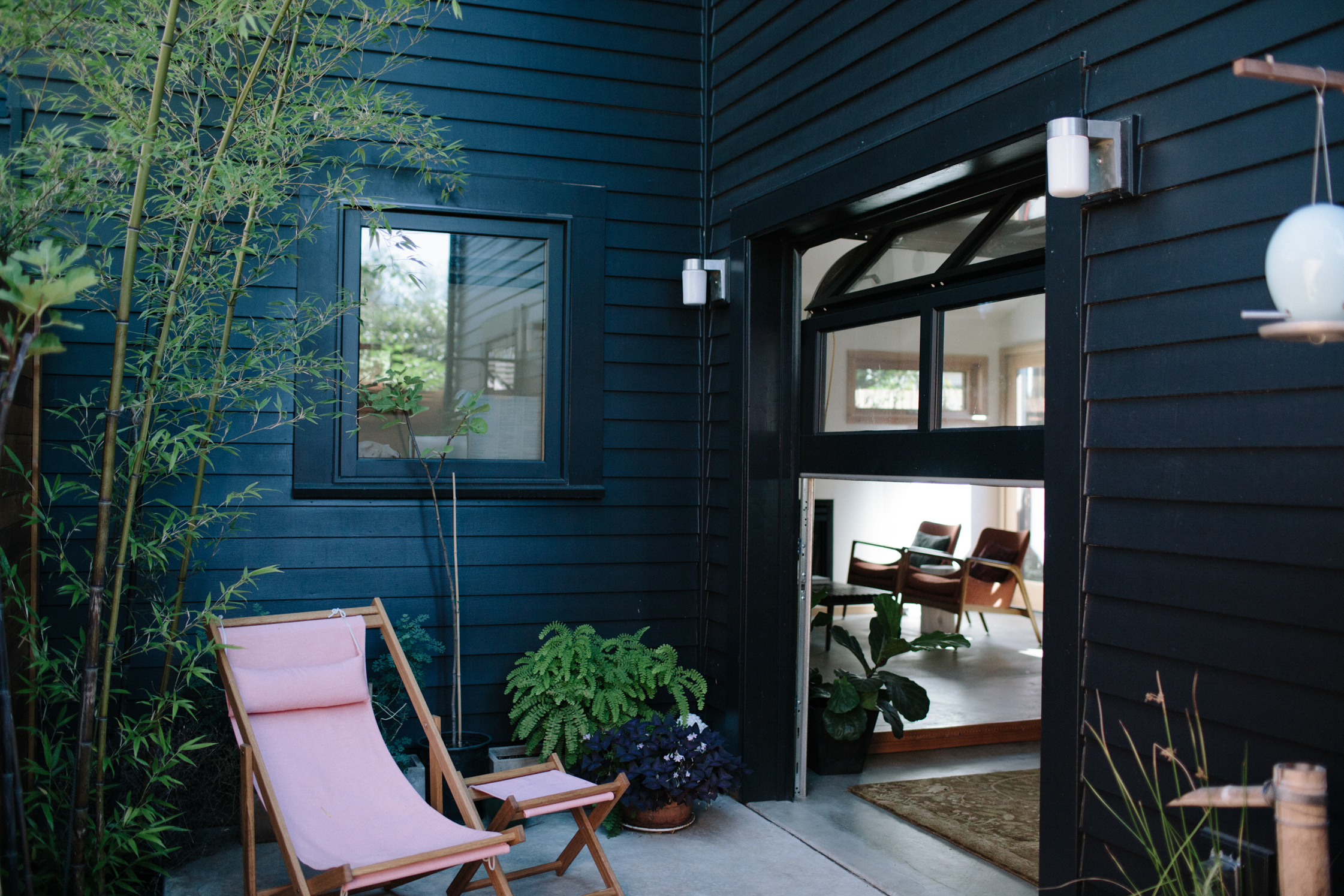 Every detail of Shannon's new home reflects her desire to invite the outdoors in, allowing natural light to reign supreme. During our visit, the morning air permeates the house through the rolled up garage-door, which opens onto a small courtyard for mild Portland evenings. Acknowledgement of the rarity of private urban spaces leads, naturally, to contemplation on the merits of such hideaways for unselfconscious sunbathing and outdoor showers. Upon arrival, Shannon immediately puts the kettle on for love tea (made of "rose petals and bee pollen and you know, things that have to do with love"), which seems an apt beginning to our musings on love, home, and the genesis and flow of Shannon's involvement in the Portland design scene over the years.
This portrait is part of our ongoing collaboration with ZEIT Online who present a special curation of our pictures on ZEIT Magazine Online. 
Can you tell us about where we are right now?

We're in a small home that I built for myself. The most exciting part about that is that I've never lived alone. And living alone for the first time is heavenly.

What was the impetus for building this place?

I wanted to live alone continue to live in this neighborhood, which is very expensive at this point. Though I own the home in front, I was able to build this place in the back because the city of Portland allows for auxiliary dwelling units, as they call them. Some people refer to them as tiny homes, but I don't think this house feels very tiny.

How would you describe what you do?

(laughs) It's midwifery, really, I think.

That's a good way of putting it.

I'm in real estate and design, so I'm a full-time licensed real-estate broker in the state of Oregon, and I also own a design-build company that I run with my associate designer and real estate assistant, Anna Carmel. And I would say I do both of those full-time, so I feel as if I work 80 hours a week.

But truly, when you ask me to describe what I do, I think it's all about love. I think it's about loving people. It's serious business – real estate – it's contractual; there are legal implications that I have to be aware of and advise my clients about. Design is the buffer to all of that, in a way, because it's so soft and creative. But I still think that everything I do is infused with, and governed by, love for everybody that I work with.
So you'd say that love is your driving force.

Yes, and the midwifery comment is because I'm helping people give birth to their homes, whether it's in a purchase or a sale or in design. It's profound for people; it's the roof over their head. It's where they're going to eat and sleep and raise their family or spend time alone or spend time in relationships with those that they love. Houses embody a lot of emotion for people, and I love being a part of that.

Having said that, at this point in your life, what do you feel like your house embodies for you?

Oh here, love! And calmness. It's really interesting because I personally think that, but that is also the refrain that I keep hearing from people that come over. I hear from people that spend time here that it's just calm. I think when houses are tucked into a backyard off the street and away from traffic – you can't see cars driving by, you can't hear people walking by – it feels like it's a cabin in the city, like a retreat right in the city. You know, blocks away from grocery stores and restaurants and shops, but it's very private, quiet.

You've had a long history of entrepreneurial endeavors; can you talk about some of those?

I've never worked for anybody; I've always been self-employed. When I was 17 and a senior in high school, the person who I eventually married – his family bought us a pet store in Lake Oswego because I love animals; I already worked at the pet store. So I guess I was not self-employed while I was working there, but that was only about six months. So from the age of 18 on I've owned my own businesses.
"I think it's such an embodiment of who I am that it never becomes a stressful environment. It's magic."
And what came after the pet store?

After the pet store and separation from my husband, I started a business being a freelance personal assistant for advertising executives and business people in Portland like property developers. I managed and ran their personal lives in every respect – so their homes, their cars, their finances, their travel, all of their design and remodeling and helped them purchase and sell homes, which led me to get my real estate license and then to focus on my design business. It was a good launching pad for both.

When did you officially start those projects?

When I was 25, and I'm 50 now, so 25 years ago. That was a long time ago.

It's impressive that you still love it.

I do love it. Finding balance is always hard; when you're a real estate agent, you're always on call. And sometimes I don't like using that expression because it's not like we're doctors trying to save lives, but it might as well be as far as what the clients feel. Along with deadlines and timelines and contracts and transactions that you have to follow, you're often working at ten and eleven at night.

You have an office but you also tend to work here a lot. How do you manage to keep this space sacred when it's mixed with work?

I think it's such an embodiment of who I am that it never becomes a stressful environment. It's magic. I don't know how else to describe that. But it never does feel frenzied or hectic here. Even when Anna and I are running around, seemingly with our heads cut off, it never feels bad for some reason. This does feel really blessed. It's an honor to live here.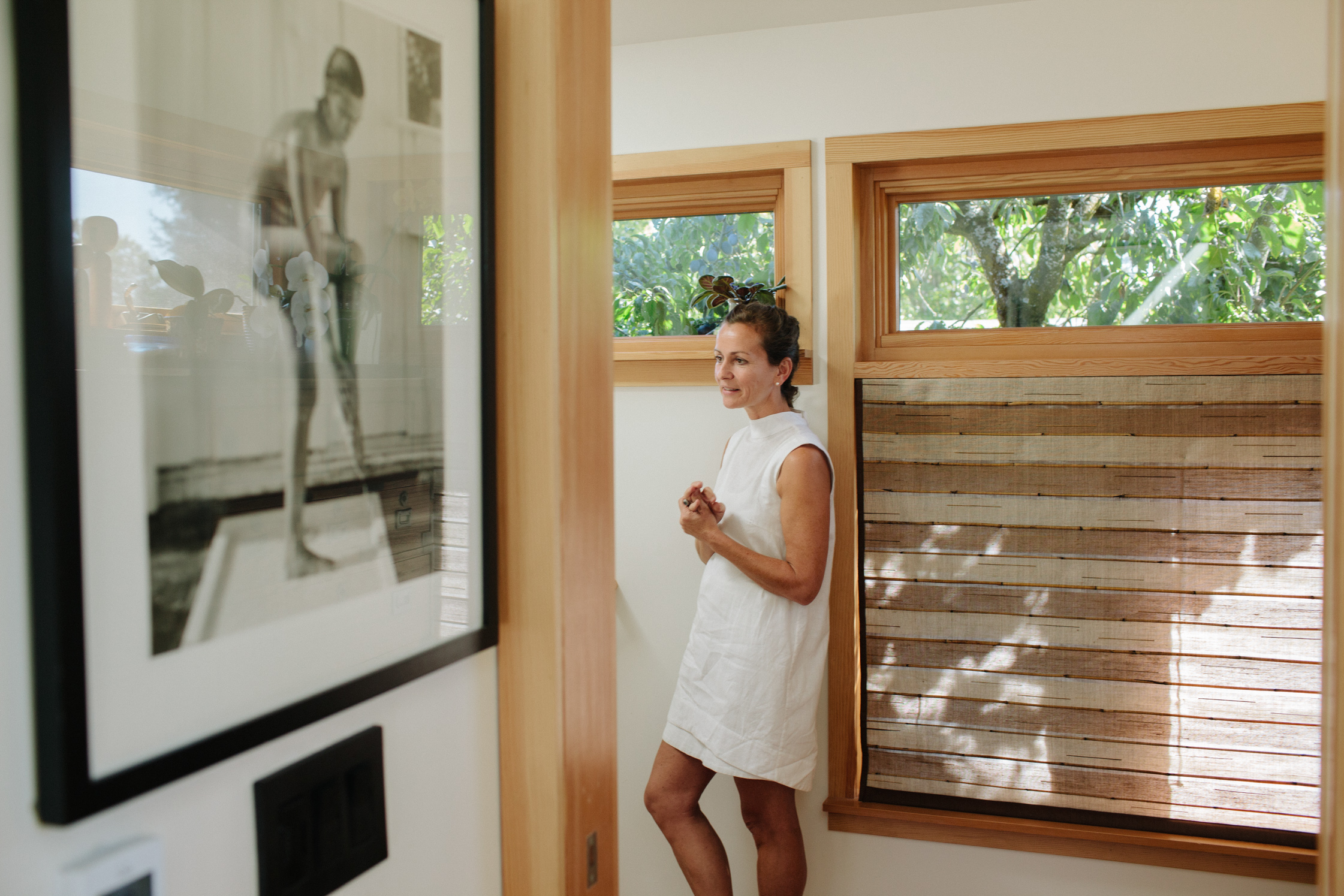 You've made it a very peaceful place. Is it the objects or the space that make it truly yours?

I think it's a combination of both, but even when it was empty before I moved a piece of furniture in, it already felt like that. Bringing the pieces in just further accentuated it. I think the music elements here are really important and I've learned a lot about listening to music here. Somehow there was another – and I don't like using this word again, but – magical thing that happened when I built this.

There were music producers and booking agents and sound engineers that came over to listen to music and everybody said, How did you do this? They called it a musical vortex for sound. There was a really good acoustical resonance in the way that the walls were playing off of each other with live music. How could I have done that? That is so special to me since my client base, in both the design and real estate business, is made up mostly of musicians. It just worked.

How did it come about that you started working with so many musicians?

I think one of my original clients was a record label owner and musician in Portland and he introduced me to many people. Some I had known prior to becoming a realtor, and it just grew and grew through referral and word of mouth to encompass everyone in the music industry in whatever capacity. I mean they're not just musicians – sometimes they're tour managers or merchandise managers, producers, sound engineers. The word of mouth thing happens from trust. If somebody trusts you and has a good experience with you then they'll recommend you to others.

Are there particular interior spaces or designers that have influenced you a lot?

John Pawson is an architect out of England and I'm influenced by him because he lives and designs very sparingly. I do not live as sparingly as he does in his home with his wife and children but I mean, there's nothing on any surface. I admire that aesthetic because I think it keeps your mind really calm, but I can't seem to part with a lot of my personal things. The thing that I like most about him is that he can't stand artificial light. He wants to design spaces where you don't see light or where it emanates from; you just see that light is there. So I've tried to do that here in two different areas, but I haven't perfected it yet.
Can you tell us about some art in your house that inspires you?

I've been collecting Jock Sturges' work for many years; another client from Weiden & Kennedy actually bought me my first piece. Ever since then I've been collecting his work. The little girl in that photo, her name is Fanny. Fanny looks like my daughters and so often people think that she's one of my girls.

Jock Sturges is known for the nude photography he does in France, so that was taken on the beach in the south of France. He tracks families from the time the kids are young and growing up. I have five photos of the same girl –  a few of them as a teenager and one when she's 24. I think she's probably 28 by now. Jock has helped to support her; he sends her and her family money. His photography is interesting to me because he's involved in people's lives forever.

How do you see yourself in the context of the larger art and design community in Portland? Do you feel yourself a part of a specific tribe here or do you move more fluidly between groups?

In the context of the design community I see myself as a supporter, a mentor and a friend of the arts and musician tribe here. I move fluidly between groups and prefer to have different friends and personalities in my life. I feel this gives me a more well-rounded perspective.
What do you think are some of the most inspiring things happening in Portland currently?

I am inspired by the independent artists in our city, like Jason Leonard and his vintage poster restoration business; Emily Katz and her macrame craziness that is exploding; Amy Martin and Carson Ellis for their incredibly talented hands at illustration; and all of our local talented musicians as well as the independent record stores – namely Beacon Sound and Fisk Gallery who are supportive of both music and the arts. Lately, I am impressed with Nationale's recent move and the artists that the owner, May Barruel, is showing in her beautiful white space. Peter Broderick continually blows my mind with his musical ability – especially when he played at my very own housewarming party; everyone was mesmerized. Colin Meloy and The Decemberists also continue to evolve and impress me with their music.

What are some of your favorite Portland haunts?

Oh, Navarre. I eat there all the time. I love the way you can eat there for two hours and nobody's trying to turn tables. Other places I love are for shopping are Una, Nationale and Canoe. For eating, Luce and Firehouse Restaurant.

What's next for you? Do you have any upcoming projects that you're particularly excited about?

Ahhhh! So many. We are just overwhelmed with excitement at the work coming our way. Branding and concept of interior design for a new restaurant in Portland, development and design of a multi-unit project in Southeast, Portland, the sweet one-on-one love that we feel on the various remodels that we are working on in many areas of the city. All of these seemingly different projects are connected to each other through the highly refined sense of design that we impart, and yet they are all so varied that they keep us intrigued.
Shannon, it was a pleasure; love tea and all. And if you're interested in the many other wonderful citizens of Portland, then check out more of our stories on the Northwest's coziest spot.

Interview & Text: Julia Pointer
Photography: Carissa Gallo