Whenever the city Frankfurt am Main is mentioned, it seems as people usually envision tall, hypermodern skyscrapers and a blossoming stock market among the gray, metal sky. It is the Wall Street of Germany where businessmen salute each other at almost every corner, while other sorts of people perhaps seem to be deserted. However, this image could not be more false and the entrepreneur and music aficionado Sabine-Lydia Schmidt proves that Frankfurt is not only run by suits.
She started her music label 'Unbreakmyheart' in 2011, after having organised concerts in Frankfurt and the surrounding areas for many years. She brought more than 50 bands to the city, occasionally releasing a live-set or a one-off recording. Based in Frankfurt am Main, her work is strongly influenced by the geography, culture, and music that surround her on a daily basis.
Besides her education in Visual Communication at HfG Offenbach, she studied Sound Design in Darmstadt until 2010 and worked for sound artists, galleries in Moscow, and independent radio stations in Germany. When met for breakfast in her apartment we discussed why Frankfurt is truly blossoming as a cultural scene and could be regarded as a hidden German gem.
This portrait is part of our ongoing collaboration with ZEIT Online who presents a special curation of our pictures on their site.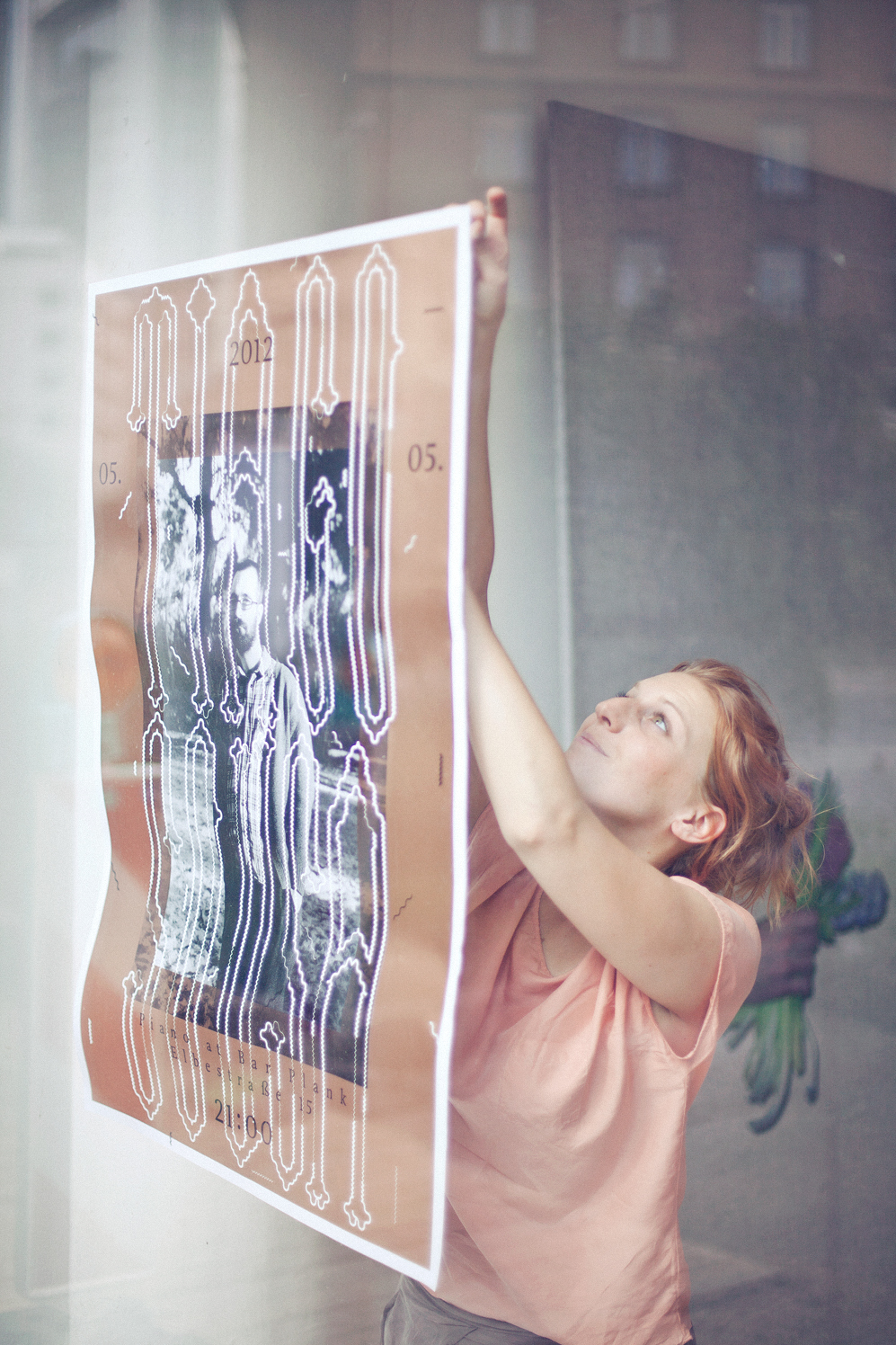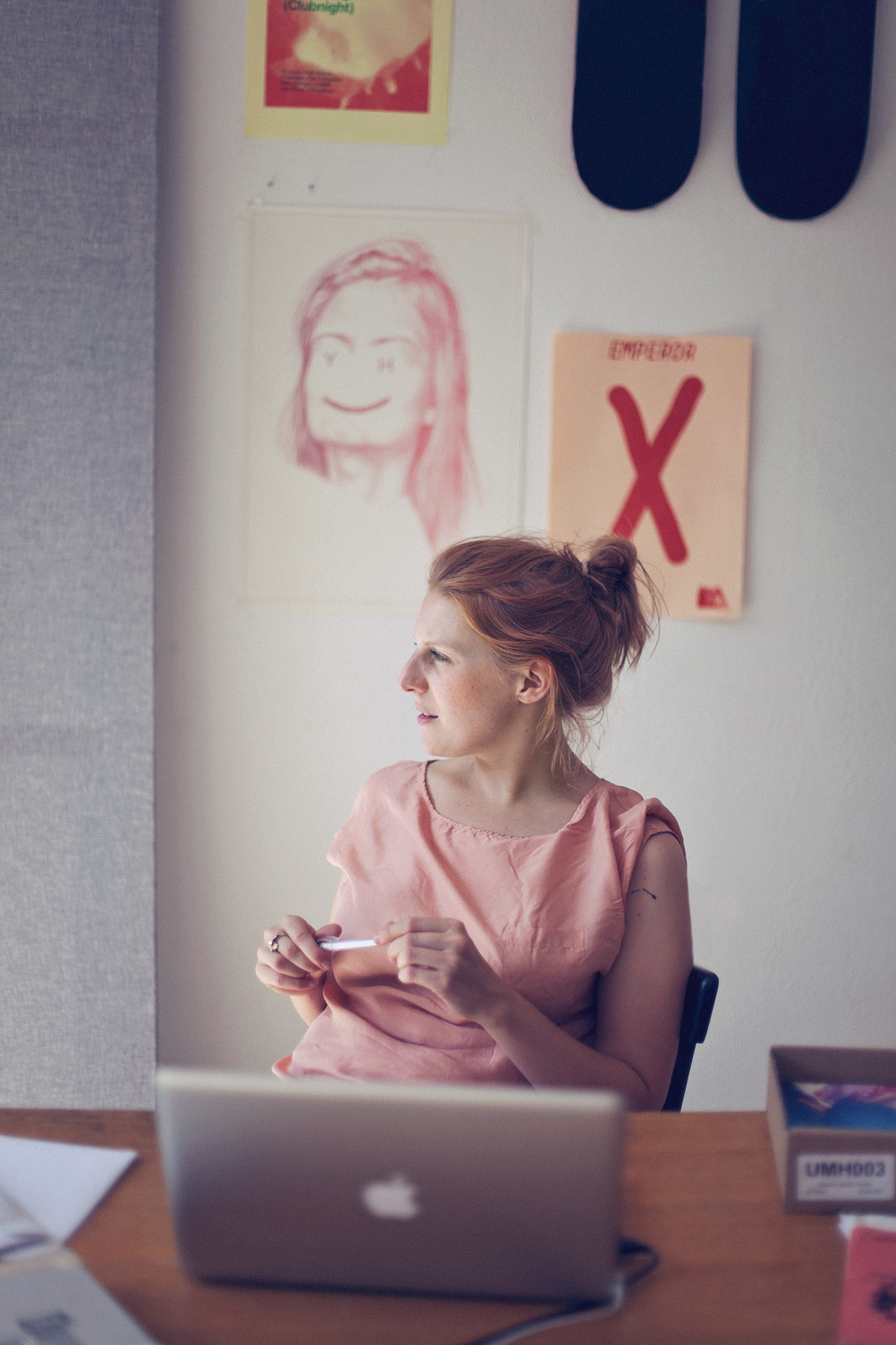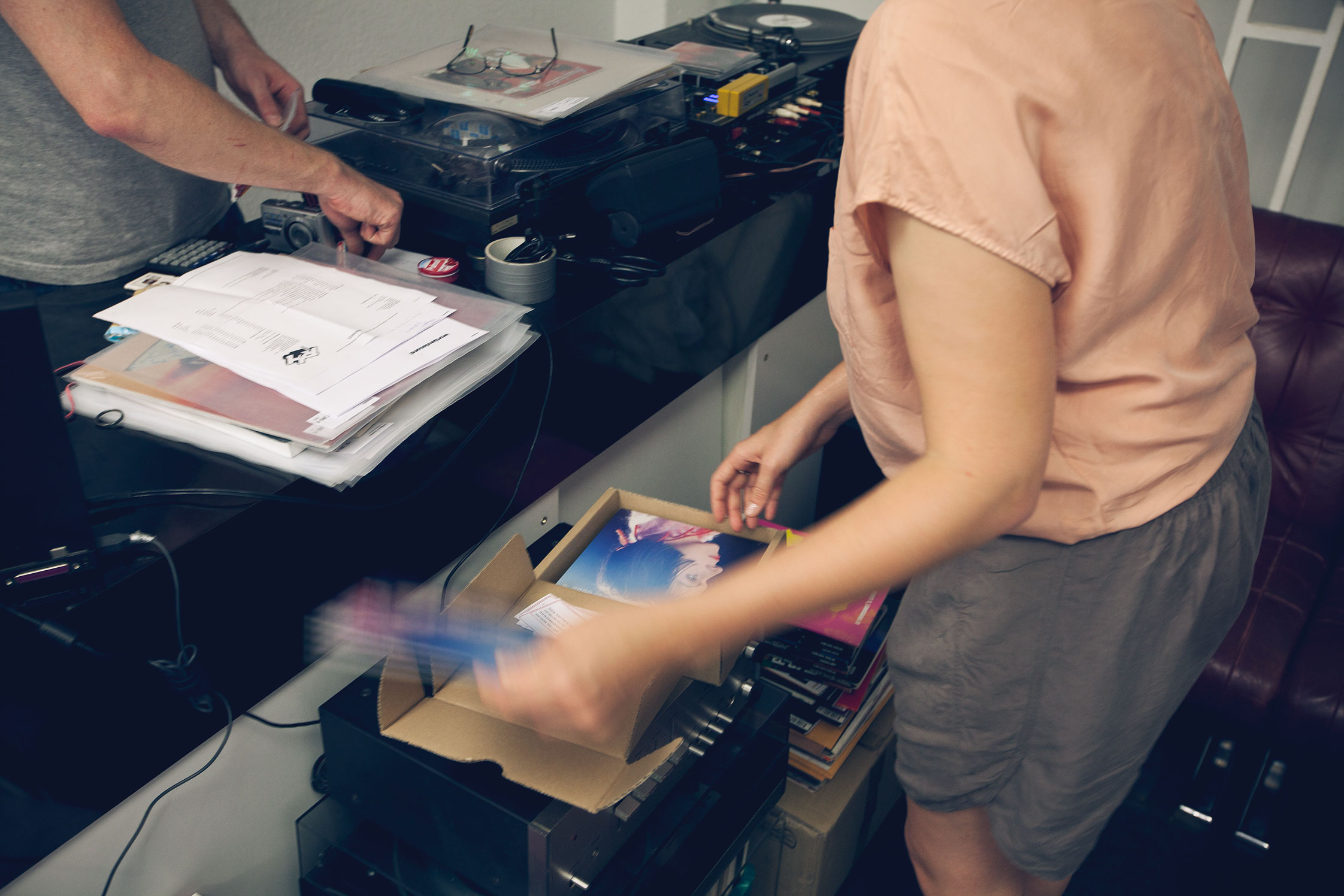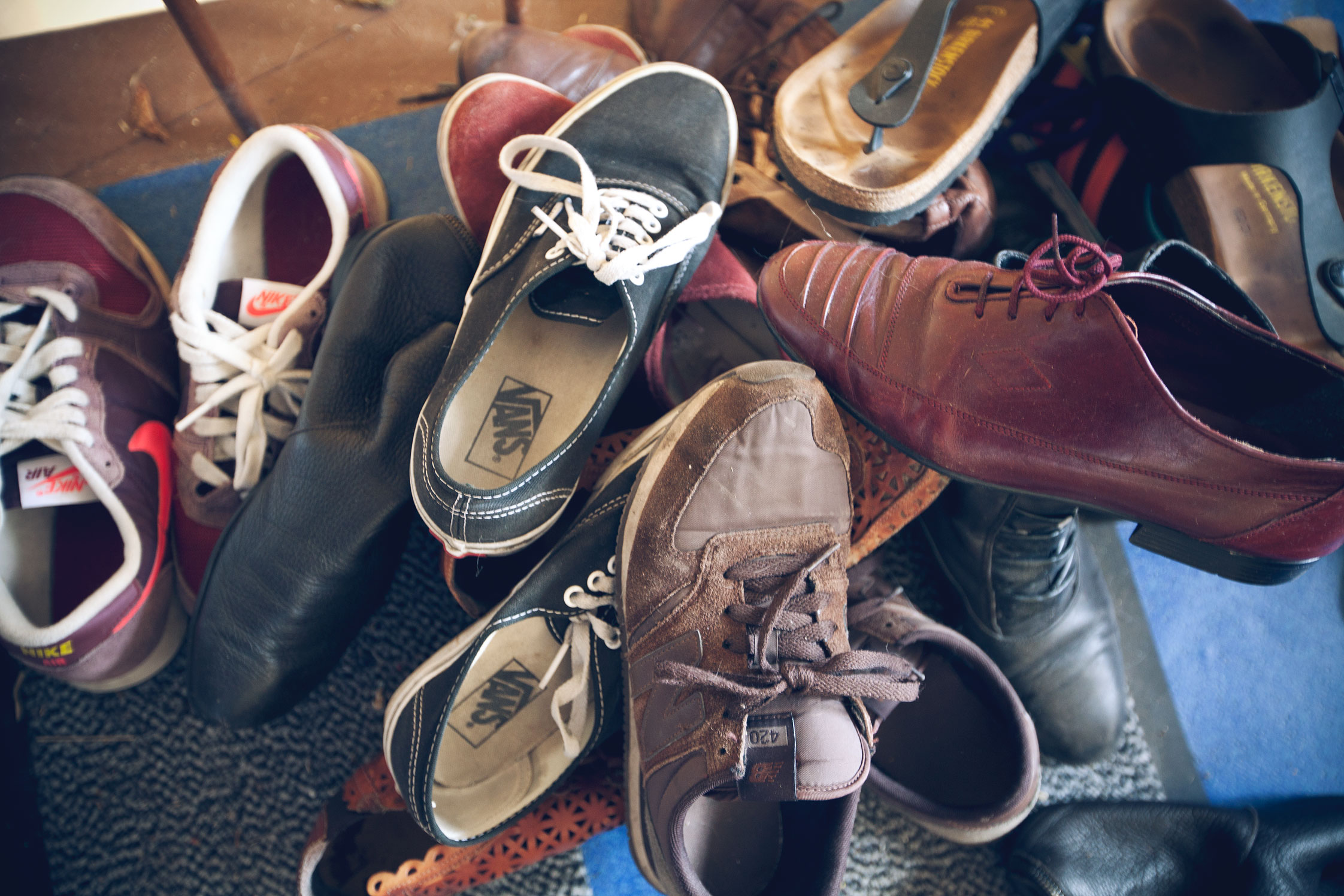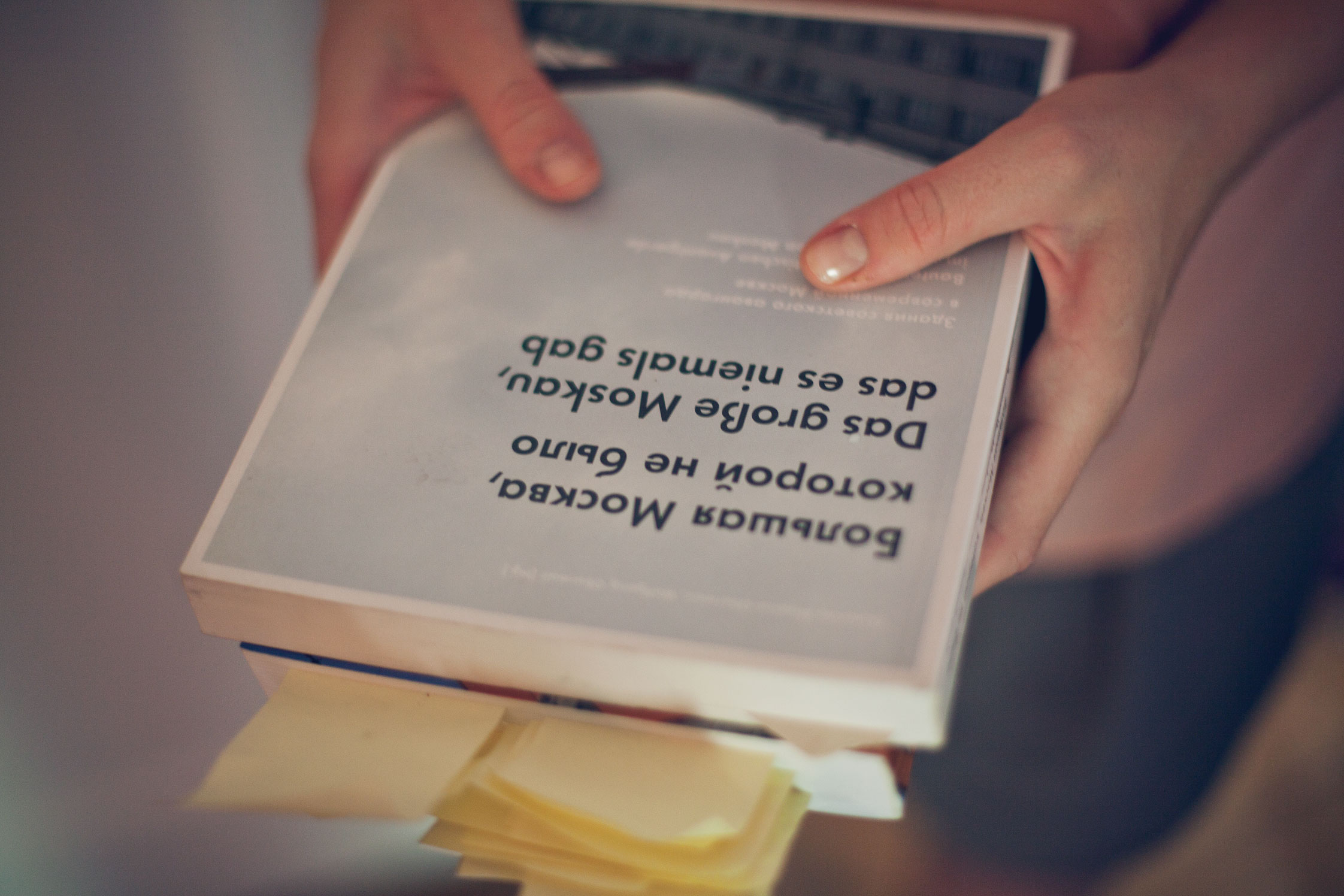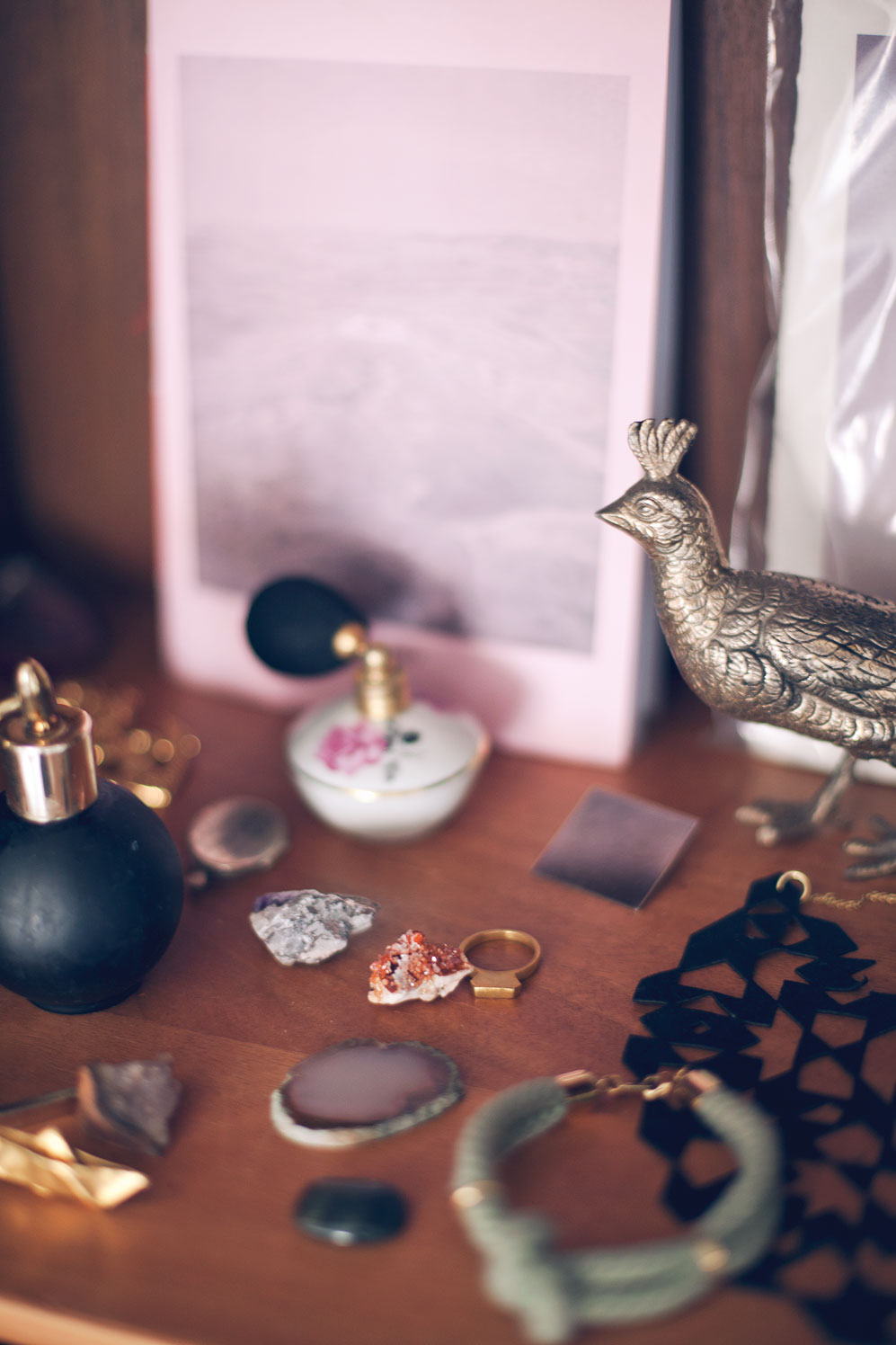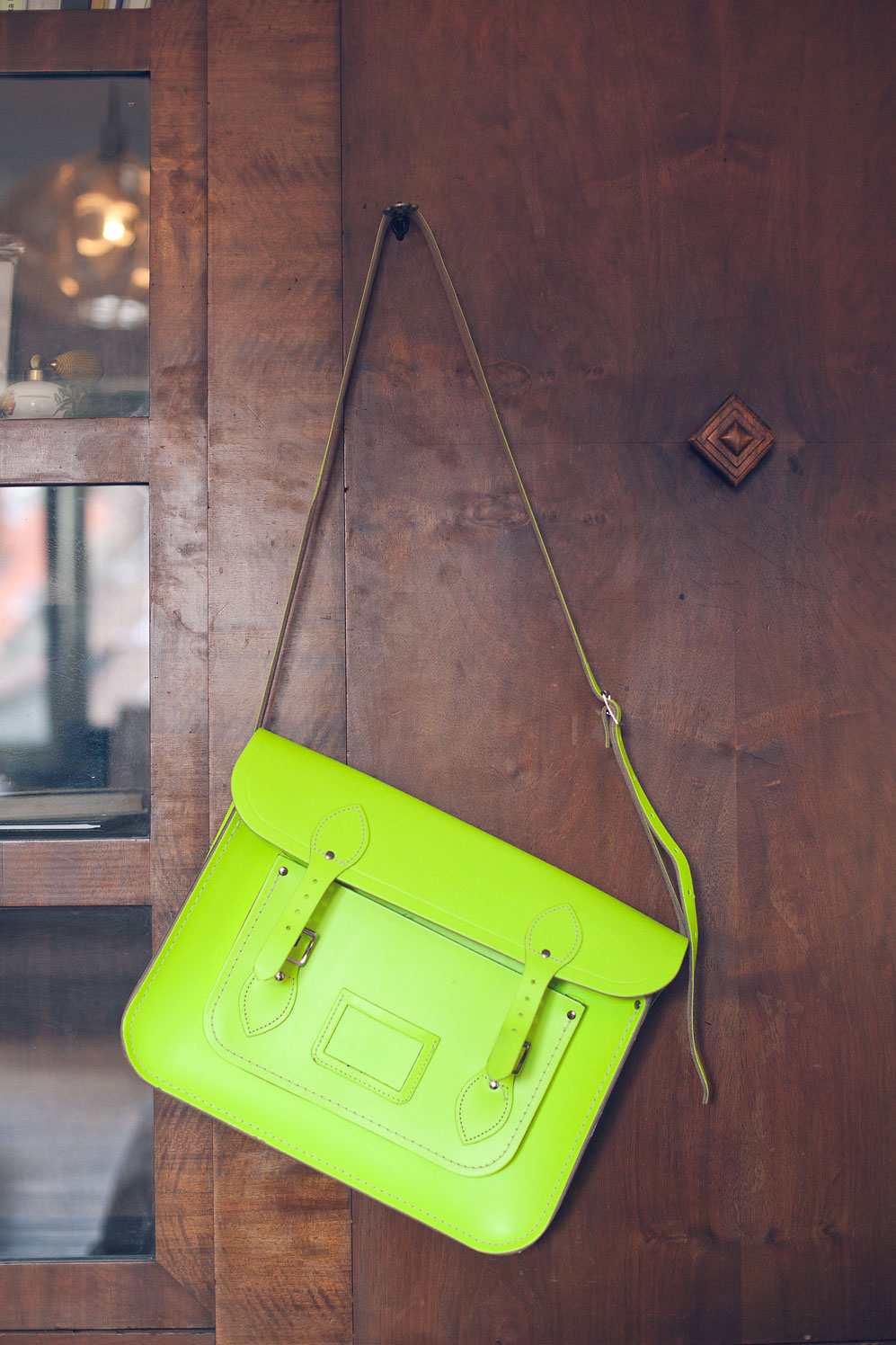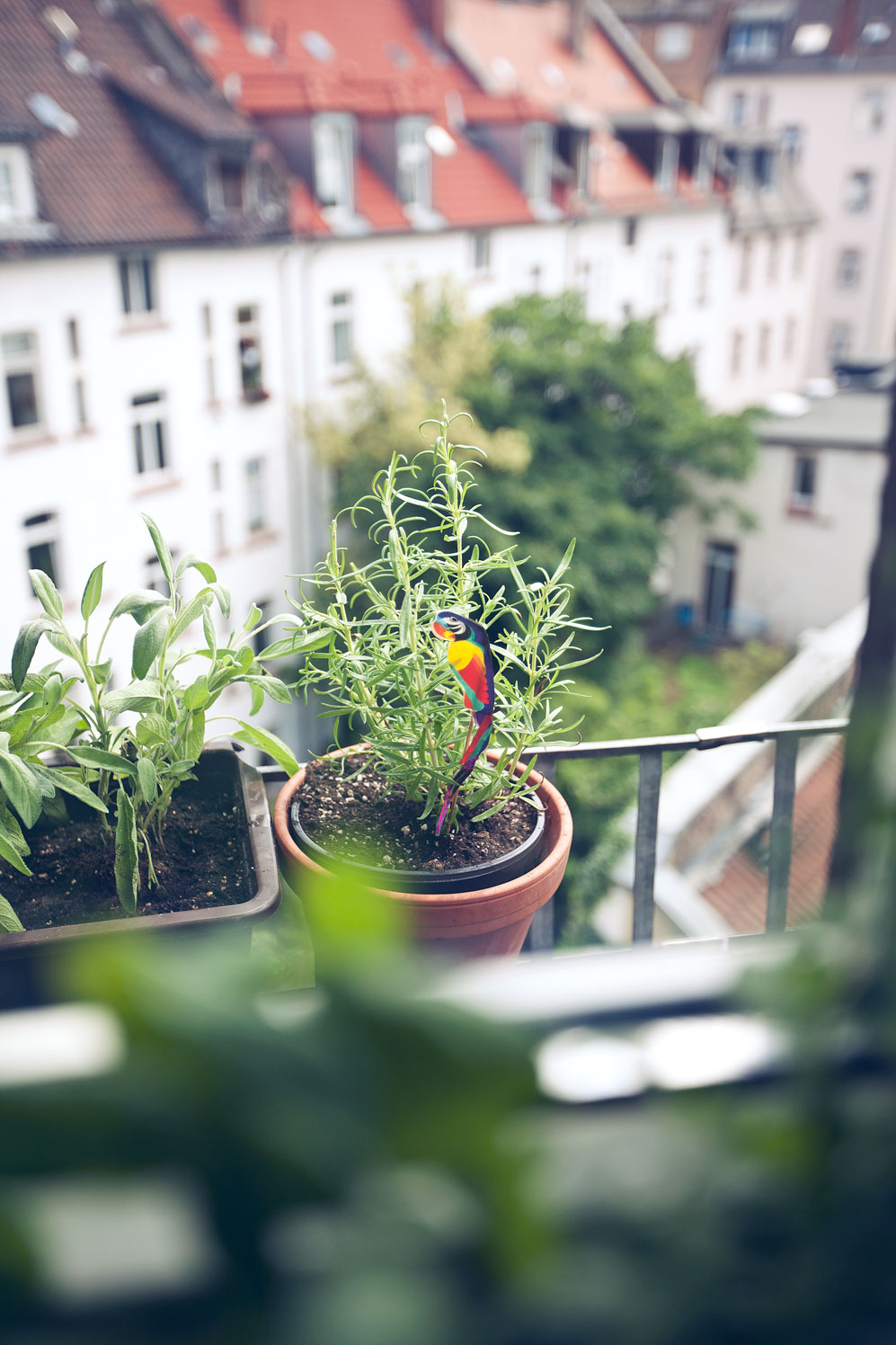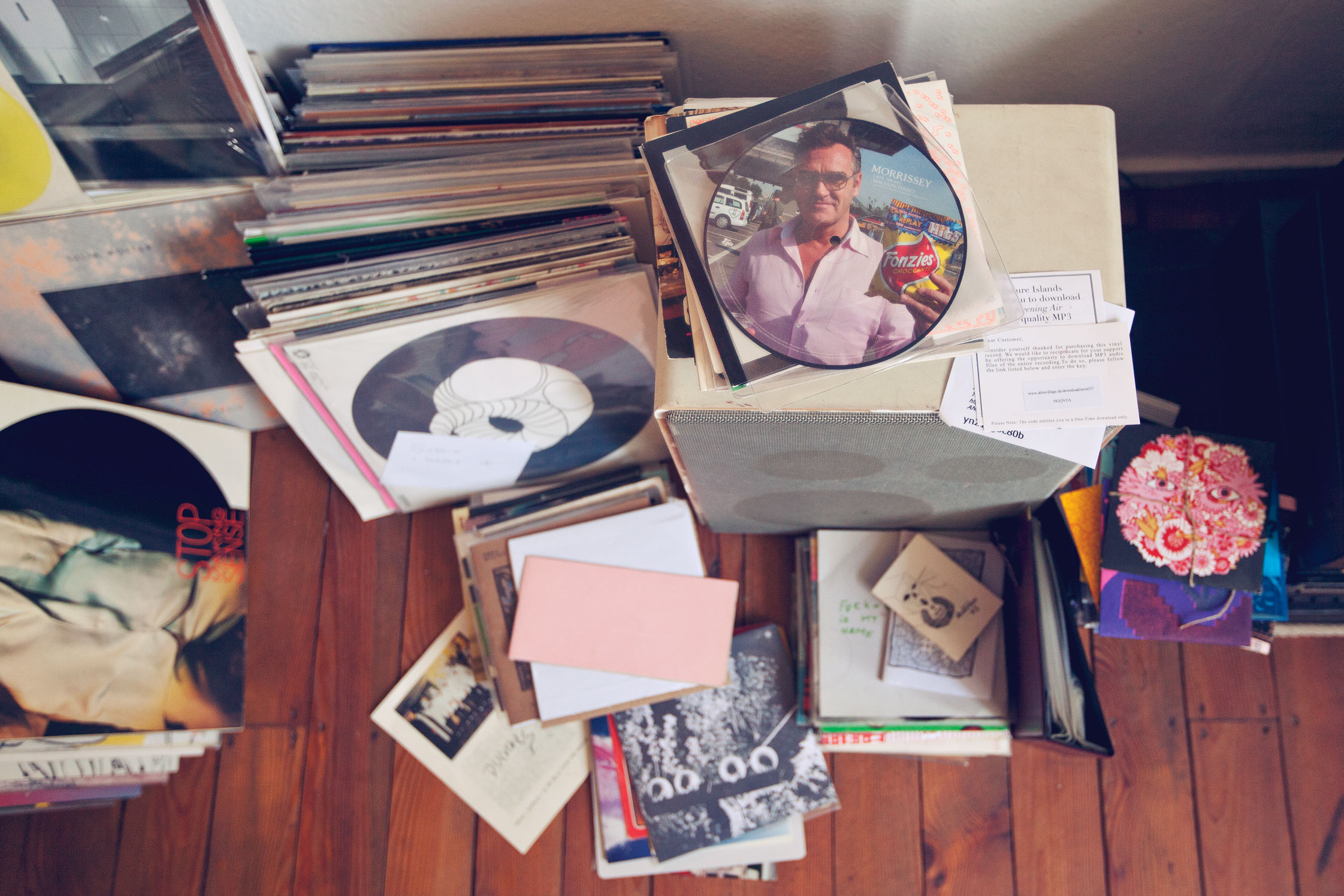 Frankfurt is not necessarily known as the city of independent cultural activities. What was your motivation to come here?
Mainly because of the food. Around the train station, you have so many options: Vietnamese, Indian, Japanese. Even if you just want to buy food, the shop possibilities are endless here. My favourite food is African.
There are also plenty of small galleries, studios, and nice bars. For instance 'Plank' and 'Intimbar,' which indeed is a former strip club in this notorious neighbourhood. Something is always happening, 24 hours. Only two streets further the Main is located and suddenly everything gets green. It also is not very expensive. I am currently living in the Gutleutviertel, which is a former labor area. I found the flat through a protest distributor. An old, left-oriented couple used to live here who I knew. They eventually handed the flat over to me. The contract is 17 years old.
Besides Berlin, Frankfurt is known of being the capital of electronic music, house and techno, how does your label and bookings function in regards to this?
I am very open to all kinds of music genre. Firstly, I support my friends. The musical span is quite broad, even though it went towards an Indie and pop direction in regards to 'Unbreakmyheart.' We would like to have a remix done by 'Young Hare' and I am already in contact with different artists who are involved with electronic music. I am very excited to see what happens.
I am not really involved as much with house or electronic music as clubs don't interest me so much. I prefer going to concerts and enjoy the live experience. It is all about the band, the performance, and the sound.
I stem from the punk rock and DIY scene. People from all scenes are quite open and it doesn't matter whether they are artists, promoters, or label owners, as at the end all of them try to create a niche within this circle. A bigger House label does this as much as a small Indie label. Interfaces occur, as well; the masteringstudio for our next record 'BDYBLDNG' and 'Young Hare,' 'Dubplates and Mastering' was recommended to us by the label Live At Robert Johnson. As you can see, one hand washes another.
Living and working in the center of Europe, do you see this as a helpful factor?
I believe that Frankfurt's centrality is of great help to me. I get many touring bands through booking agencies or write them due to my personal routine watch. Many start their Europe tour from Frankfurt and sometimes have an off-day there. This can mean that they have one day in Frankfurt to rest and I am asked if they can play a small concert. Sometimes it is also toned down a bit, maybe saying that we don't need so much equipment or we are playing an acoustic show. Additionally, you can travel everywhere pretty fast from Frankfurt. I am often traveling because of concerts. If I want to see bands, I am willing to travel to Luxembourg, Cologne, or Leipzig.
In regards to the European standpoint; I lived for a while in Moscow and I just arrived here in Spring 2011. One cannot imagine the vast differences in regards to the restrictions of subculture, which is interrupted politically and nationally. I knew how happy I can be here, how freely the subculture can flourish, even if there are tragic closures of cultural centers. Here, in Central Europe, one can negotiate. For instance object usage and offspaces.
This would not be possible in Moscow. Not even ten people are allowed to sit down in a park and play music with a phone. It immediately would be taken away and controlled by the police. The police comes to concerts and often times just closes the place down without any real reason. A cultural repression is happening in Moscow, which is a shame.
Your bookings and venues are strongly related to the local network. Would this work for you somewhere else?
Through the experience of Moscow I have realized how much I missed Frankfurt. I met a lot of people who were doing the same thing in Russia what I was doing here. People that would organize concerts, lectures, exhibitions, and I immediately joined them.
I realized if I would leave this place, I would continue to do the same. I would not leave in order to do something else. Other cities also have good promoters, clubs, and labels. However, I can imagine to do a collaboration, for instance with 'Altin Village' from Leipzig. A joined tour is already in planning. I have such a great, friendly network in so many countries, who do the same as me. One knows and helps each other. But home is where my broken heart is. (She laughs).
Vinyl nowadays, which is not used in the DJ context, has a collector's attribute. Is that important to you?
Definitely. One of the reasons why I chose vinyl and tapes is because of the sound. I don't require a compressed Mp3 sound. When I buy music I want it to sound as good as possible. The sound of a record is much better than the sound of a digital file.
We also offer downloadcodes. An American friend of mine, who is part of a hardcore screamo band and works as a programmer, created a program for me which makes it possible to establish downloadcodes. A DIY exchange – otherwise I probably would have bought something similar. With every record we double the number of downloadcodes, which we give out at concerts or with postcards.
I love colourful vinyl. We just produced the 'Young Hare' record and it is smokey pink that glows in the sun. This happens when you collect crystals as a child. A vinyl is to hold something in hand and feels very different than a CD or a USB stick. The art work, the cover, the inlay, the paper, and the text all matter. The cover alone is already something beautiful if it has been put together with care. We design with the bands the records and tapes, which I number then later on by hand. A few weeks ago I launched an online shop and I still enjoy to wrap every package.
What importance does it have to collect literature or art?
I ask myself this question: When does one start to collect? After three pieces? If so, then I collect so many different things. I buy a lot of books at flea markets, mainly poetry and modern verse. It reads like song lyrics. I also prefer watching series than films. The same happens with reading – before I start a novel I much rather read verse. I own photography prints, silkscreens, and fanzines, which are more connected to music. I also collect silkscreen magazines and a lot of concert posters and art prints, which is something we do. I deeply care about beautiful, self-created concert flyers and posters. We sometimes make offset posters which we print by hand in copper, silkscreen flyers, and small business cards that are written by hand. And of course, records and tapes are being collected obsessively.
What is something special about your place?
I have a big studio in my unfinished attic, which has electricity and water. It is a great place to store your collections of whatever things you have. We also rebuilt it a little into a song cabin in order to record the new 'Young Hare' album. The sound there is very dry and a lot better than in a normal studio. Lots of bands also crash here sometimes, turning it somewhat into a tour hotel. I think I am a very good host and I am always looking forward to receive more guests and listen to their life stories.
Nowadays, it is known that the city, like as many others, has issues with empty office and commercial spaces, and often don't offer it for independent, self-employed projects. How did you find your space in this situation – psychologically and physically?
I have worked for many years in politically left organized concerts. I have given many concerts at the IVI (Institute for Comparing Irrelevance), which used to be a lecture hall of the University Frankfurt. It was working really well up until last year when the building was being sold. A fight is currently taking place concerning this matter.
The city council is trying to strengthen cultural centers, however it is hard to convince the buyers and investors. Then there are options like temporary use and investors that offer abandoned properties to creatives. This is how I found my atelier for a while, with the deal to move out after a certain amount of time.
Buildings are being gentrified until the institution is being sold or receive a core refurbishment. The 'Atelier Frankfurt' has to move as well in 2013. But perhaps I will keep organizing shows there until the actual move. Sometimes I organize small concerts at the Azita Store, which is a great shop area in the very centre. I also work there and last summer I had a pop-up office there.
An abandoned property always hurts me, but one must try to stay central and not to end up in some warehouse outside the city. My virtue is to stay flexible and know what would work in which location. Until now, I have succeeded. It has not rained yet at an open-air concert.
How do you see the development of Frankfurt in a cultural sense, and how do you see yours in this context?
Frankfurt has always been a place for European capitalism. Many new clubs are coming into existence, which have a financial planning I cannot understand – starting with the entry fees that are horrendous. It is crazy to imagine who high they will be after Gema has implanted itself here. Something really has to be done in regards to that.
I want to make it possible for everybody to go to my events. It is not really about the financial aspect but really about doing what I actually want to do. On this note, culture pessimism is mentioned a lot, but I think Frankfurt has a lot of potential with a lot of motivated people. I wish to be free and independent with the things I have started. I put a lot of blood, sweat, and tears into this. I don't make much money with it, but I want to support friends, spread music, and provide the opportunity for people to have a nice evening.
Thank you very much for your time and showing us around Frankfurt, Sabine. If you want to see what Sabine actually does, check out her official website here.
This portrait is part of our ongoing collaboration with ZEIT Online who presents a special curation of our pictures on their site. Check out the special selection here.
Interviewer: Inga Danysz
Photography: Marc Krause