One of the reasons Nina Johnson and Daniel Milewski moved into a larger house in Miami's Shorecrest neighborhood was so that they could entertain more. A reason that could sound almost suspicious in Miami, a place mainly – and not unduly – known for its party culture. Since moving to the vibrant southern city from Boston in 2005, Nina and Dan have been busying themselves with many things and every endeavor is connected to bringing people together. Dan is an artist who ran Lester's, a coffee shop, café and cultural hub in Wynwood for three years. Nina, who originally grew up in Miami, owns Gallery Diet, an emerging contemporary arts space that also publishes The Miami Rail, a quarterly newspaper covering the local art scene. Engaging with the community is what Nina and Dan do best.
Their spacious house may soon turn out to be a little less generous with a small baby on the way. Characterized by a traditional floorplan, their interior décor was selected together and influenced by their experiences in the art world and multi-cultural heritage. One could spend an eternity going through their abode room by room and cataloguing each painting and object. Our tour throughout their house was puntuated by occasional pauses to consider the many piece of furniture and artworks of interest.
This portrait is part of a series with Vitra. Visit Vitra Magazine to find our more about Nina & Dan's design pieces and other individual interior concepts.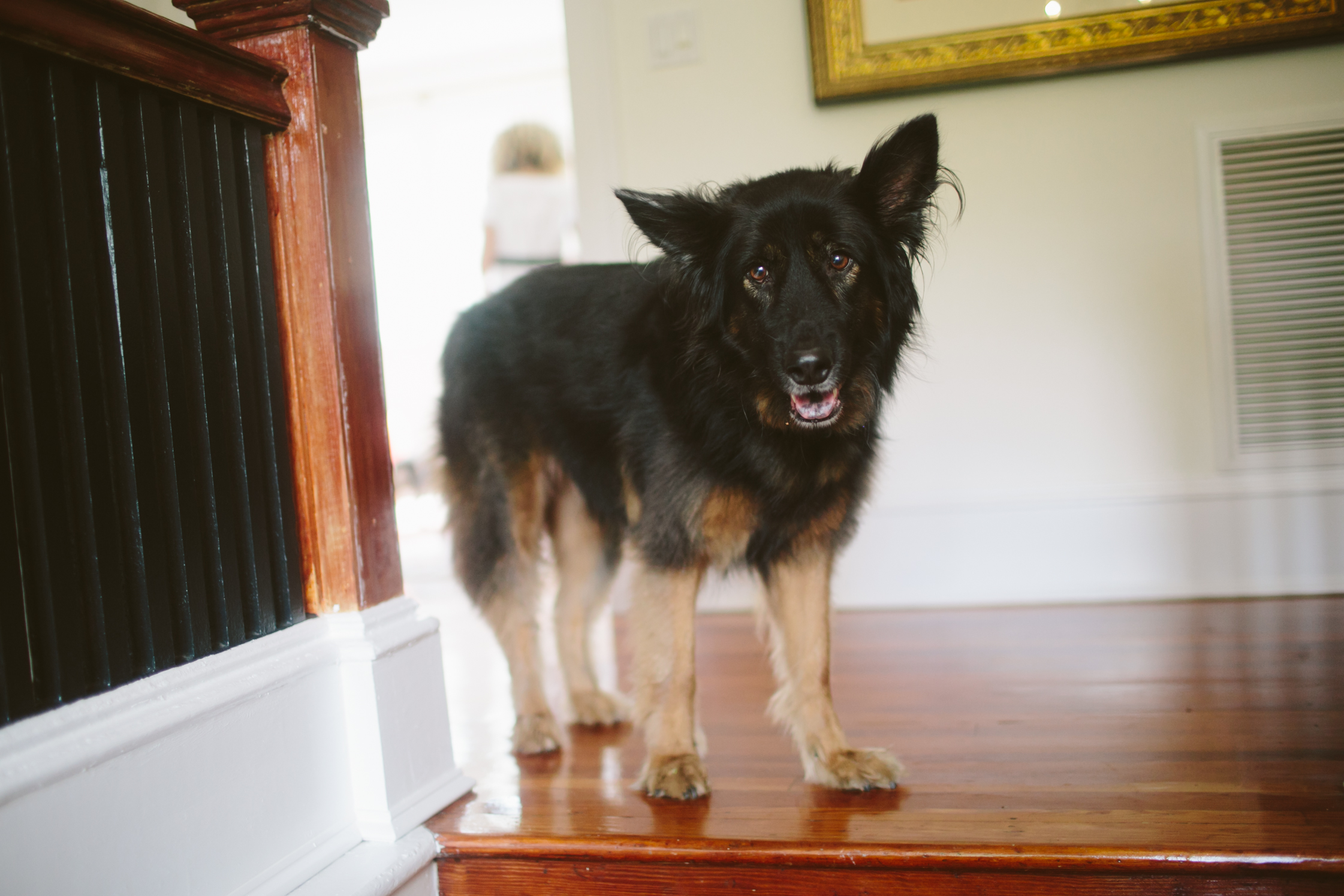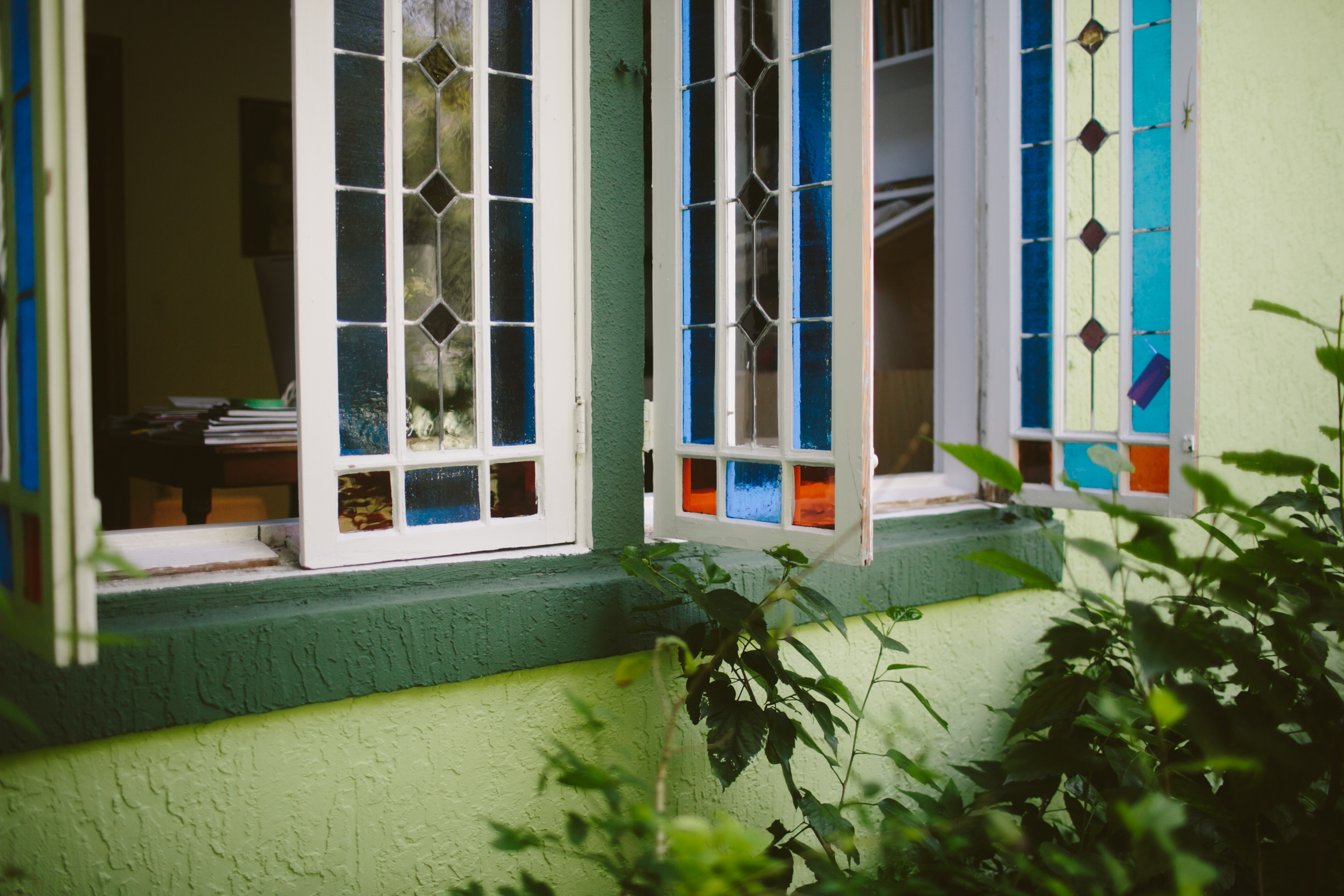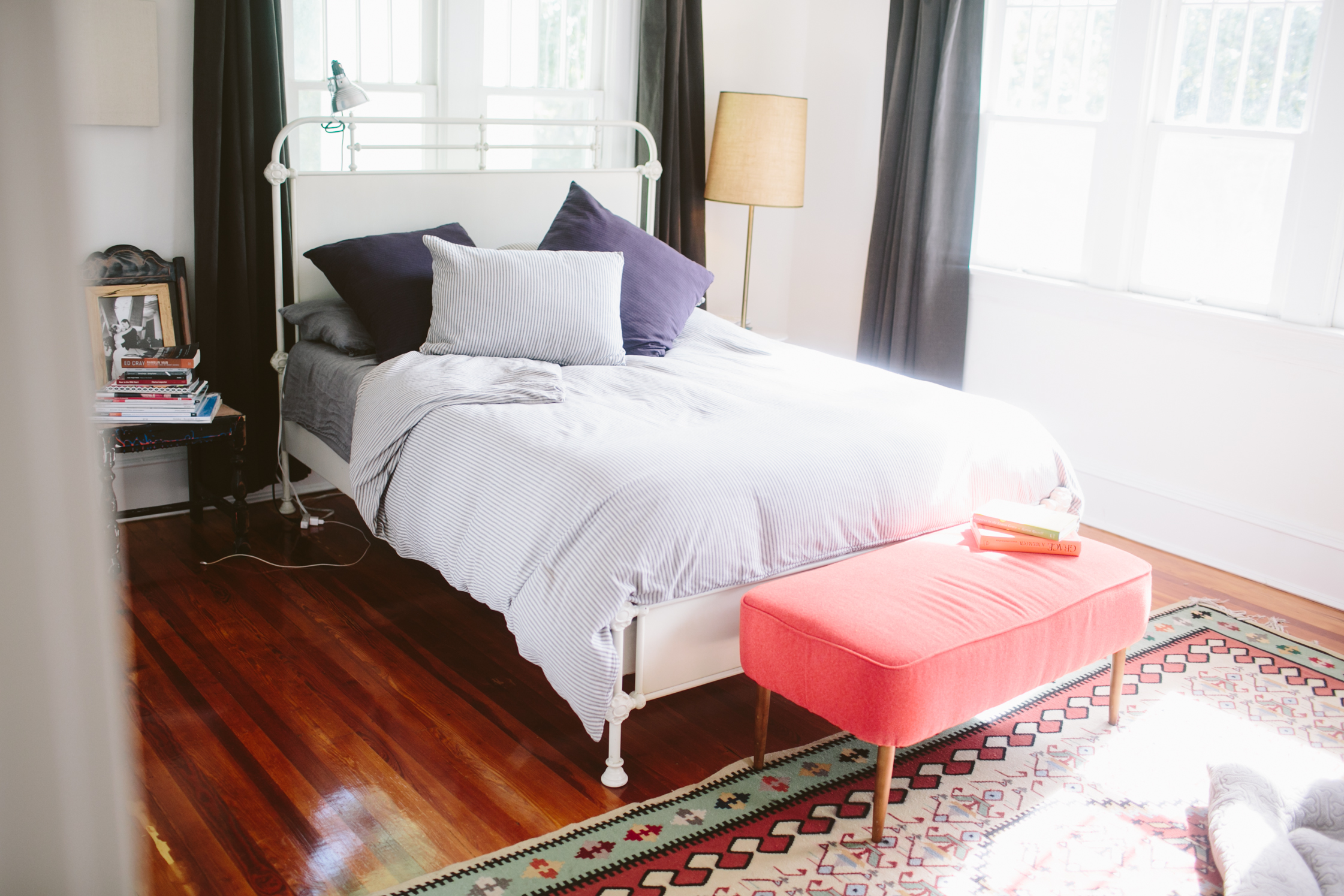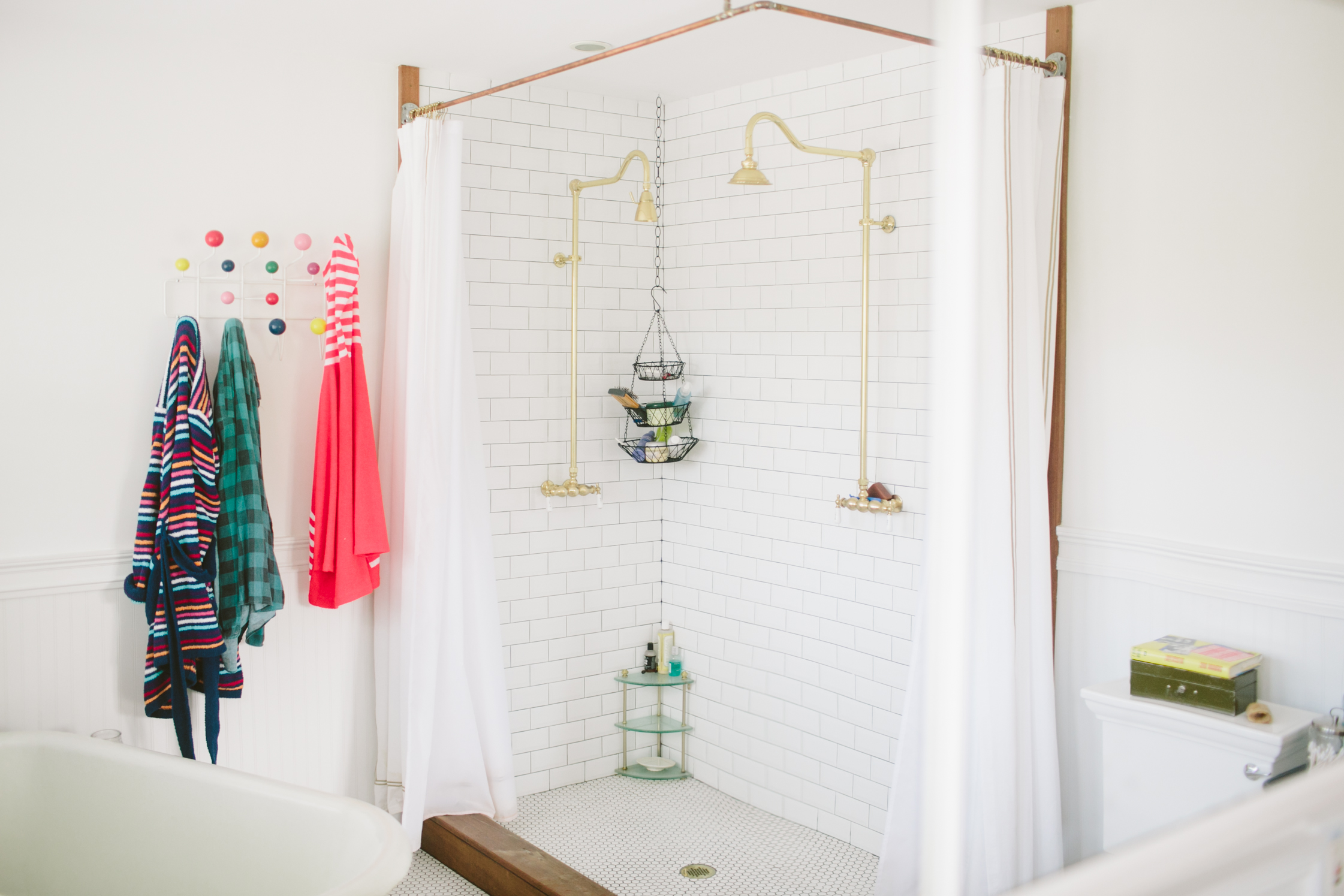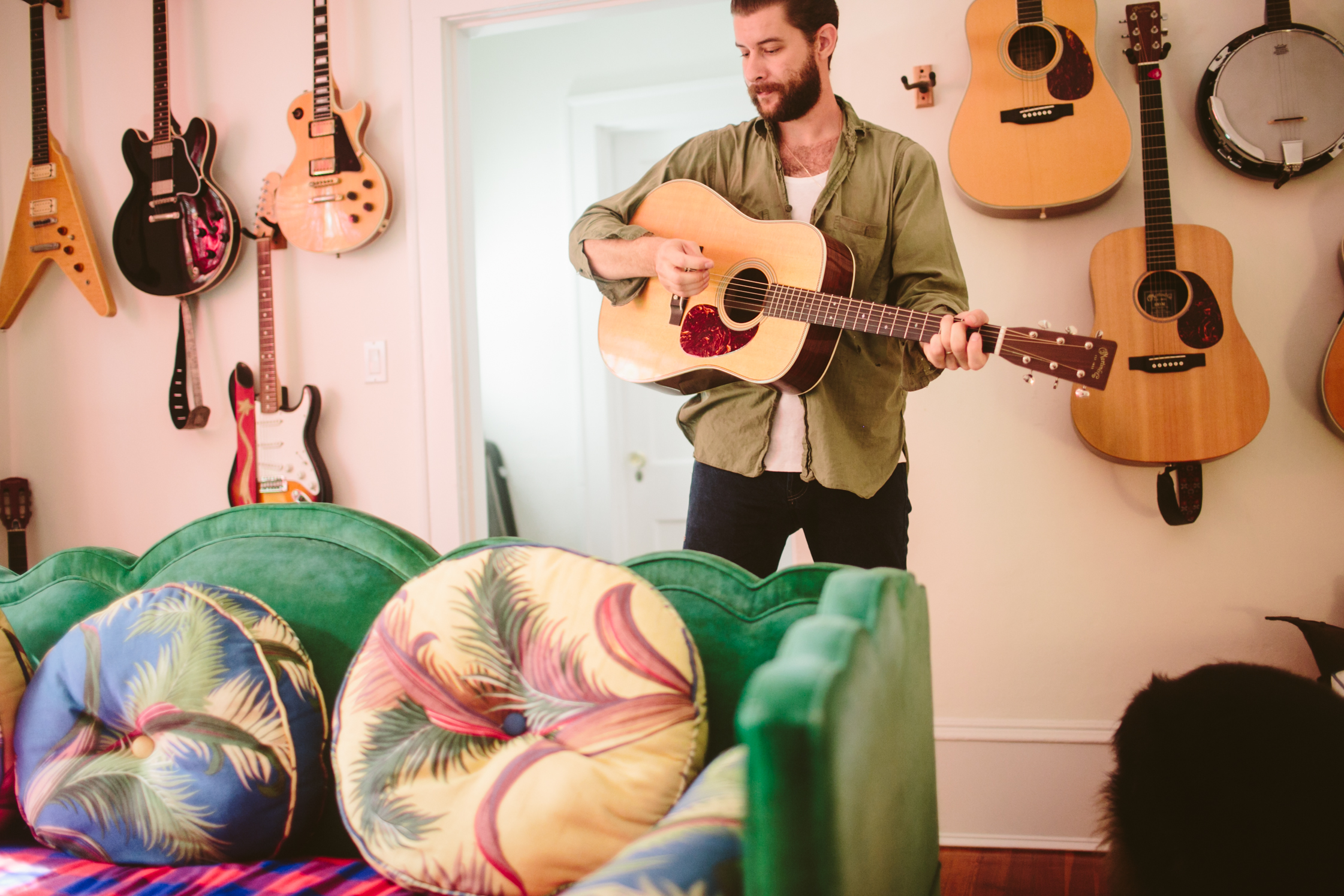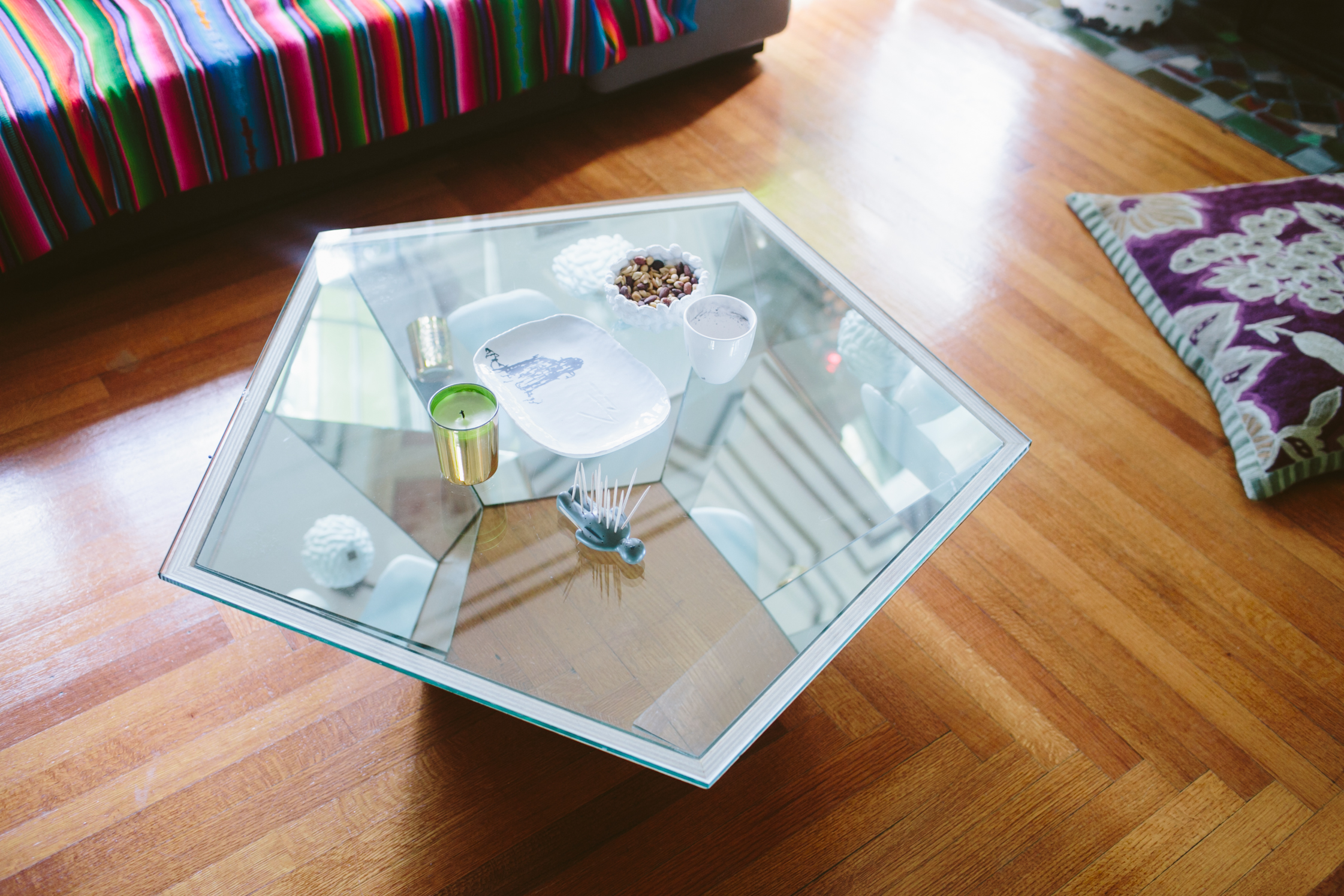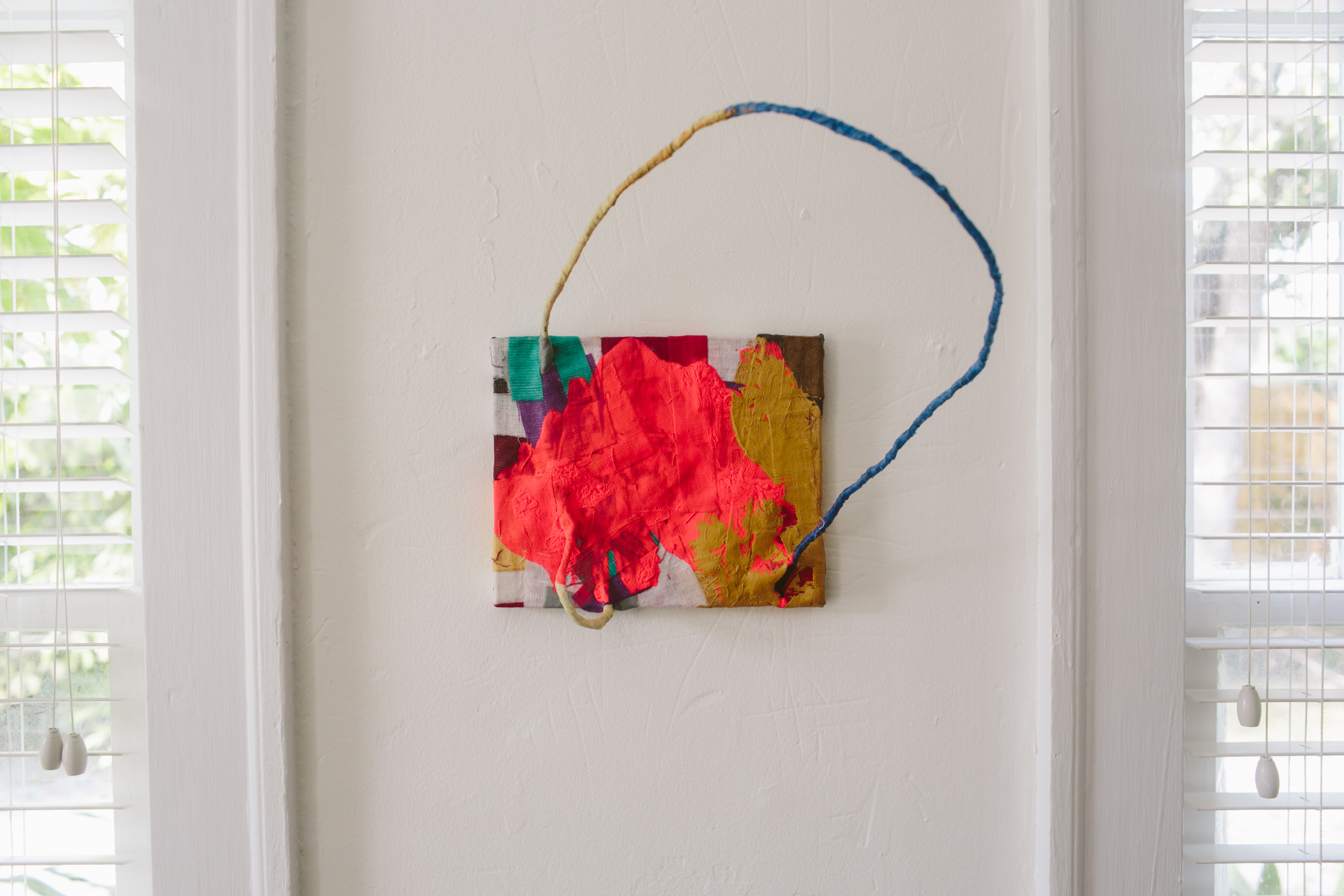 What did you consider when furnishing the living room together?
Nina: The most prominent feature in our living room is the ceiling. It's a combination of an original mural and molding from 1928 when the house was built. We tried to choose pieces that would be convivial and give a sense of gathering and warmth, but would also highlight the architectural detailing in the mural.
Speaking of gathering, you do a lot of entertaining here and your house allows for this. What aspects of the architecture and design add to this openness?
Nina: It's kind of a funny thing because typically great entertaining spaces have more contemporary, open floor plans and this is such a traditional space with its individual rooms. But what's been unexpected for me is how you end up with lots of micro conversations – when people can get together in groups of three to ten in different spaces in the house. It allows for a level of intimacy, even if you're in a stranger's home.
Dan, as an artist, how does domestic space, specifically your home, influence your creative process.
Dan: It certainly does a great deal. We recently moved here and the main thing with this place is that I have a lot more space. We have a dedicated office area now. There are these dedicated spots, as opposed to doing everything in one room. But as to how that's going to affect everything, I don't really know yet. Whatever space you're in is going to affect what you're doing, although the specifics of that might be a mystery.
You are curators, publishers, artists, gallerists and coffee-shop owners. Collectively you have a lot of different roles in your local community. How do you see those roles coming together at home?
Nina: One of the main interests in moving to this house was that our old house, even though it was small, was such a gathering place. We had guests in and out for whatever reason. We were always entertaining there, doing museum functions and things like that. I think that we really enjoy that aspect of our roles in the community and wanted to expand on it. So now here we have a guesthouse that we can turn into a more formalized space for visiting writers, for The Rail, or people in town for the gallery for example. We've talked about actually doing installations here. I'm planning one for later in the year. We're really interested in using the home as a creative and communal space. That feeds really well into what both of us do professionally.
So how did you meet and when did you arrive in Miami?
Dan: We met in school in Boston in around 2004. We dated for a while and then graduated and then moved here.
What were you studying?
Dan: We were both studying painting. When we graduated from school we didn't want to move to New York and we didn't want to stay in Boston. We decided to come to Miami because there was a really vibrant creative and artistic scene.
It seems like you have both really contributed to the city's creative scene since then. For you Nina, it was a kind of homecoming of sorts. Is this correct?
Nina: Yeah totally, I'm from here. After I met Dan – who's from Massachusetts – we both thought that the obvious choice for us was to move to New York. However, neither one of us felt that there was a lot of room for growth. I think we're both people who like to be part of a community and to feel like we're contributing something. Being from Miami, I knew that things were blossoming here. This was not too long after Art Basel first came to Miami. We basically looked up on Craigslist how expensive it was to live here and then decided to move based on how cheap it was! It was that simple.
That's awesome. And when did Gallery Diet start?
Nina: Diet opened in the fall of 2007. It's a contemporary art gallery in Wynwood. We started out as a really emerging gallery representing young, unknown artists and now have grown to fill a more all-encompassing role in the scene here. Not only do we show more established artists and artists of international repute, we put a spotlight on the local artists that we show, bringing them out into the world. We also do a lot of educational programming and outreach. We're working with museums to see how they're developing. That's part of the natural progression of being in a small art city.
Dan, what else have you worked on in Miami besides your studio practice?
Dan: I had Lester's for almost three years. It was a center in Wynwood for different cultural events and activities in addition to being a bar and café.
As I understand it Lester's was quite important in contributing to the surrounding neighborhood's development.
Dan: Yes. We had Phong Bui from The Brooklyn Rail come for the inaugural talk at the space. We did a lot of lectures and readings often with The Miami Rail and some with the University of Wynwood. We had a lot of visiting writers and poets come through. We also had bands play and held comedy nights.
What's the Rail?
Nina: The Miami Rail is a nonprofit newspaper that's dedicated to covering culture in Miami and beyond, both in print and online. You could argue that The Rail couldn't have started without Lester's because it was the conversations raised and questions that were asked there that led to the publisher of The Brooklyn Rail, our parent paper, to branch out into this weird tropical place.
Since you are an artist Dan, and Nina, you run a gallery, your Mondays are most likely not that typical. Run me through a regular Monday.
Nina: My typical Monday usually starts with yoga since it's my day off and usually leads to afternoon emails and work meetings outside of the gallery. I use that time to do studio visits and have coffee with people and things that I don't have to be in the space for. Also Dan and I try to use Mondays to get things done around the house and go and check out some thrift stores – like looking for tiles for our bathroom.
Dan: Mondays are our Sundays, but we can do things that you can't do on Sunday, like go to the bank.
But what about Sunday? Where would you go for a long weekend for an escape?
Dan: New York?
Nina: Yeah we go to New York a lot, but it's not by choice, it's for work. That's how a lot of our long weekends end up getting spent. If I had a choice, it'd be somewhere really cold and snowy, but we never seem to make it to a place like that!
Since you are involved in culture, it seems like business and pleasure mix quite frequently. Where is your favorite combined work and travel destination?
Dan: We just got back from LA. I like LA a lot. It's the second time we've been there this year. I really like it more than New York on a lot of levels. It is more weird and interesting.
Nina, you mentioned before that Miami doesn't have any good dry cleaners. Even if that is true, there are a lot of stores. Where do you buy your clothes?
Nina: Despite not being able to have them cleaned (laughter) I try to buy vintage or from small designer labels. There are a couple of spots. There's Fly Boutique, which was on Lincoln road for many years but just relocated to the Upper East Side. It's a cool combination of consignment and true vintage pieces. If you want something really amazing and over the top, like a vintage wedding dress, I would go to Keni Valenti. He's a private-source dealer in Wynwood for one of a kind vintage pieces. There's another great quirky store on Biscayne called Vintage revenge, with great pricing and a pretty diverse selection.
Dan: I like Fly Boutique and Vintage revenge, and other than that I go to the Bargain Barn and the Salvation Army. I probably get more things from there than I do from anywhere else.
You have a lot of art on your walls. Can we talk about a piece that you both really love?
Nina: Yeah, let's talk Gina Beavers. She's a painter out of New York who tends to think of paint as a sculpting material. She pulls source imagery from magazines and the internet and all kinds of things like that, but this particular piece is an image of chicken fingers and french fries. Dan and I tend to eat more fast food than I'd like to admit publicly, so it's a good fit for our dining room. We got it from the Lucky Draw Auction, which is a fundraiser for the nonprofit Sculpture Center. They raffle your name and you run around the space and pick out which piece you want.
The second piece is Dan's photographs of ceramic pots. It's called "Stacks" and is a series of photographic images of clay pots, the kind you'd see in any typical garden, stacked in front of his old studio wall in various formations that seem like a cross between a Brancusi and some sort of Alaskan totem pole. It alludes to process and to the fragility and the changing nature of sculpture.
Dan: I love that one too! I like Nicolas Lobo's piece in the foyer. It consists of papier mâché formations with white squiggles all over them. I recentl did a studio visit with Nick. I've liked his work for a long time, but now I have a whole new appreciation for it. That's one of my favorite works in the house.
Are there other artists in Miami that you have your eyes on?
Nina: Emmett Moore is working on a commission at the moment. He works at the intersection of art and design, and function and form. We commissioned him to create a built in bookshelf. It's very contemporary, but also an ode to craftsman tradition. Bhakti Baxter is another Miami-based artist who is going to be showing at the gallery in April, right after Nick Lobo shows there. There are so many phenomenal artists working here. It's great to be able to live with their work at home.
So, stuck at home, no internet, you can't leave the house all day. What do you do?
Dan: If I'm home and I'm not working in the studio, I'm probably playing the guitar or reading. That could be in any room of the house, but most likely, it's in the living room. And if it's cold enough, the fire will be on.
Nina: I'm not what one would call a good cook, but I've been teaching myself to cook. We have a great kitchen, and really amazing dishware which makes me excited to make stuff in. That's usually a favorite pastime if I have time. Or being outside in the garden or swimming in the pool. Being in the sunshine is really nice.
How many guitars do you have in the house?
Dan: There are several. I just got a new Martin for my birthday, so I've been playing that a lot. That's my current favorite.
How do you get around town?
Dan: You gotta have a car, it's Miami. It's like LA, you're kind of a prisoner of your car. You can also ride a bike because it's pretty flat, and the weather is good except in the summer, when it's always raining. We tend to drive a lot, if only because we always seem to have a lot to accomplish in a day and a lot of junk to haul around, whether it's artwork or animals.
Nina: I actually find the car to be a really liberating space where you can sing along to the radio and open the windows. I've tried to zen myself into thinking it's a positive thing.
How do you see this neighborhood in relation to the rest of the city. It's not South Beach.
Nina: As a native I never even knew this neighborhood existed, but I find it to be one of the most dynamic areas in Miami, because it is a pocket of history.
Where are we?
Nina: We're in Shorecrest. We're actually on the old Military Trail. Originally Northeast Tenth Avenue and the Military Trail were the only roads to go through South Florida, because it was on the high ground of the coastal ridge. You know there's a ton of really fun history. Miami suffers from people wanting to call it a city without history, but in fact when you actually look you find that it's a city with a very rich history that has been intentionally brushed under the rug so that places like Miami Beach can suit the fantasies of tourists coming here. That's why I like this neighborhood. When you look out our second-story windows, you see palm trees that were planted in the 1920s.
Dan, where is your favorite part of the city?
Dan: Since we moved here in 2005 we've lived in the Biscayne corridor the entire time. The other house was further west, but it was still in the Wynwood to 79th street area – the Design District, Buena Vista, these areas that branch off of US-1. This area keeps surprising us and becomes increasingly more interesting.
So final question, what's going in the baby's room?
Nina: We just put the crib in. The baby is getting a couple of things that I'm really excited about. One: wallpaper from a phenomenal company out of New York called Grow House Grow. They base their wallpapers on these historic narratives. The wallpaper is based on this article from the New York Times from the 20s where a monkey allegedly broke into a bathhouse and was found to have eaten all of the food and drunk all of the beer. So that's the wallpaper, a mischievous, drunken monkey. The crib and changing table is from a young design studio out of California called Kalon Studios. What I love about their products is that they're woodworkers who happen to have made a few great kids pieces. They make a rocking horse which down the road hopefully we will also buy. It won the Salone del Mobile prize in 2010. Plus the baby's very own artwork, a photograph by West Coast photographer, Bob Mizer. There will also be some shelving and tables made by his dad!
How do you make baby shelves? Are they close to the ground?!
Nina: They're the opposite.
Dan: They're really high up.
If you want to find out more about Miami's art and culture through Dan and Nina's eyes, check out The Miami Rail, Gallery Diet and Dan's website.
Photography: Gesi Schilling
Interview & Text: Hunter Braithwaite