What young child doesn't dream of spending a night hidden in a cabinet of curiosities, surrounded by wonderful objects and undiscovered adventures? Mira Schröder considers herself lucky to be able to keep living such a dream.
While completing her studies in Karlsruhe, the 'Berliner by choice' met Ines Kaag and Desiree Heiss, who since 1997 have been transforming observations into ideas under the name BLESS, constantly inspiring and puzzling their audience as they go. Working with the designer duo was a 'natural step,' according to Mira. In fact, when Ines and Desiree decided to move against the logic of conventional sales and position their products in a real, lived-in habitat, Mira didn't hesitate to support the concept of BLESS HOME.
It has been three years since Mira moved into the BLESS HOME, which, tucked away in a courtyard on Oderberger Straße, functions as both a personal home and shop.Twice a week and by appointment, Mira Schröder opens the gates to this unique sales adventure for clients and curious visitors. It is here that the border between commercial or practical value and conventional art seems to vanish. Curious looks from passers by and bittersweet partings with favourite objects are integral parts of Mira's everyday life.
A conversation about the background of this brand, its intimate story and commercialised individualism in one.
This portrait is part of our ongoing collaboration with ZEIT Online who present a special curation of our pictures on their site.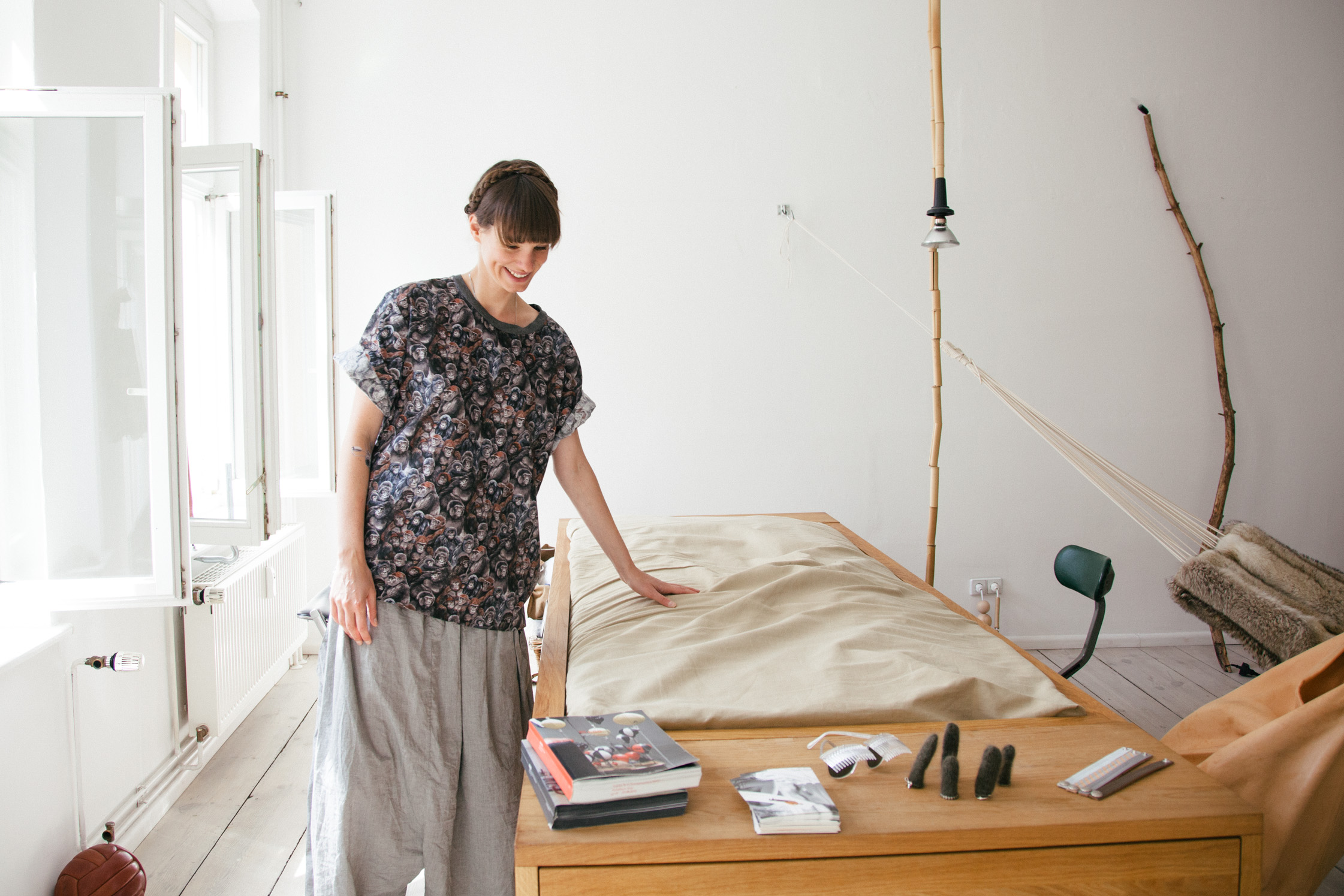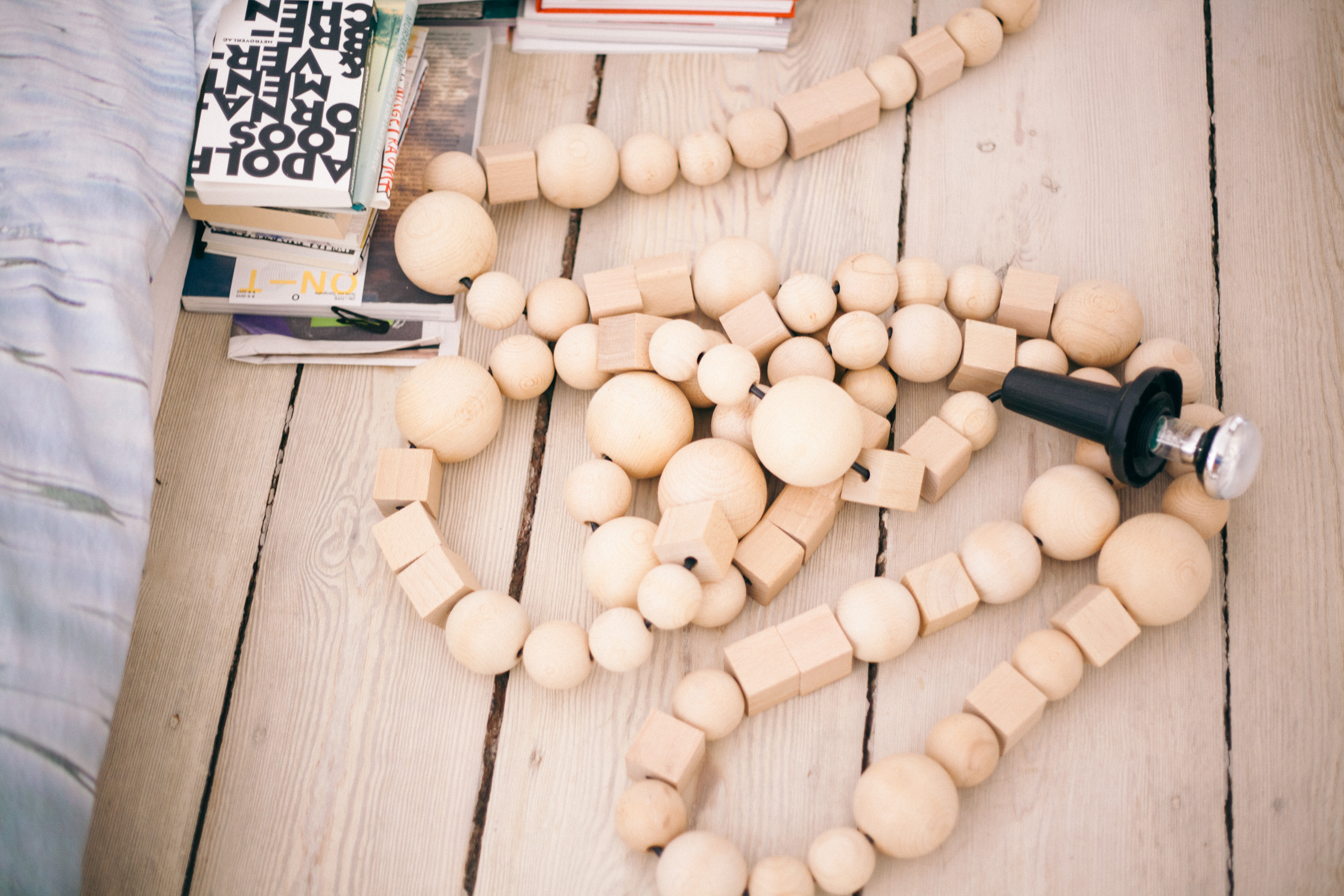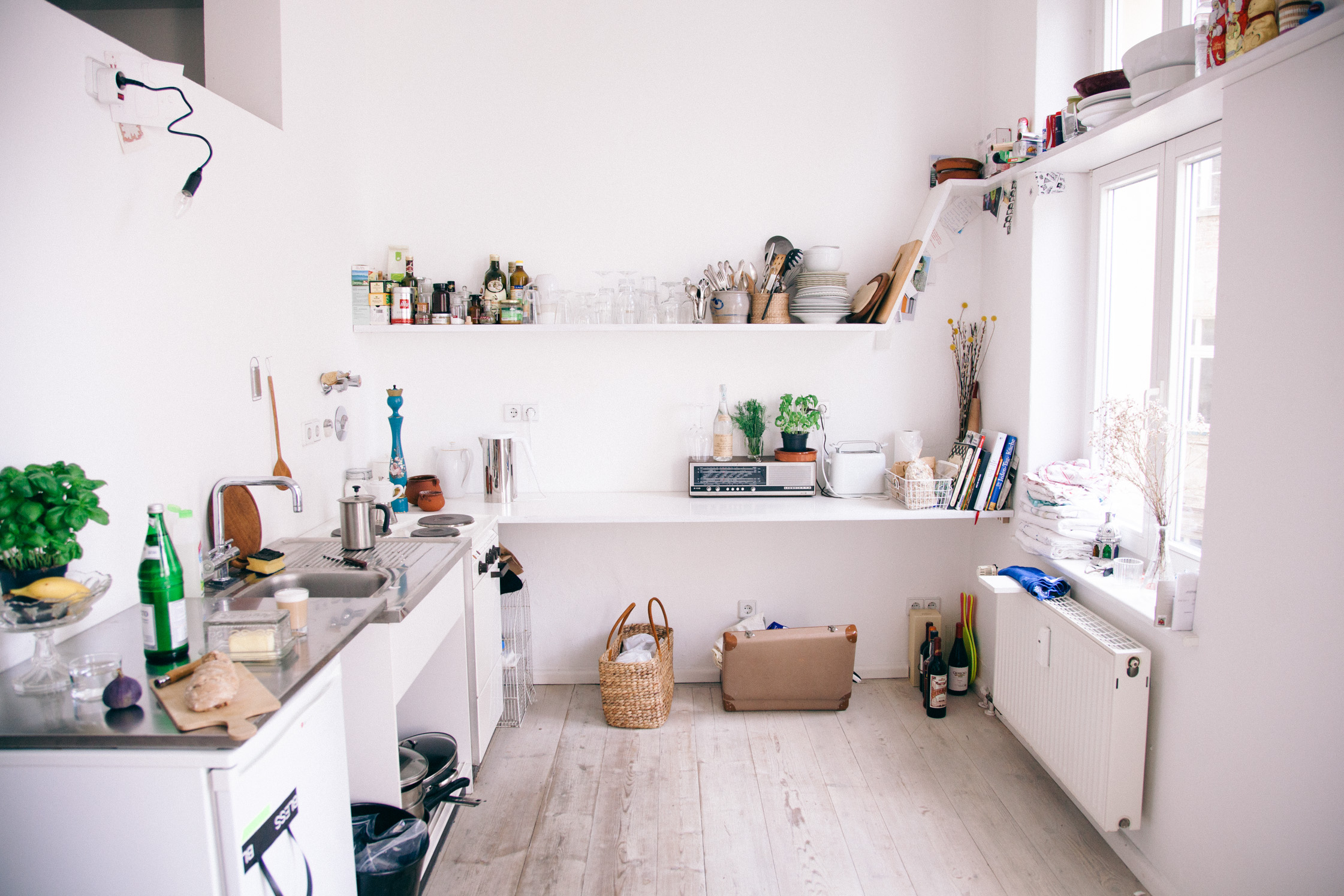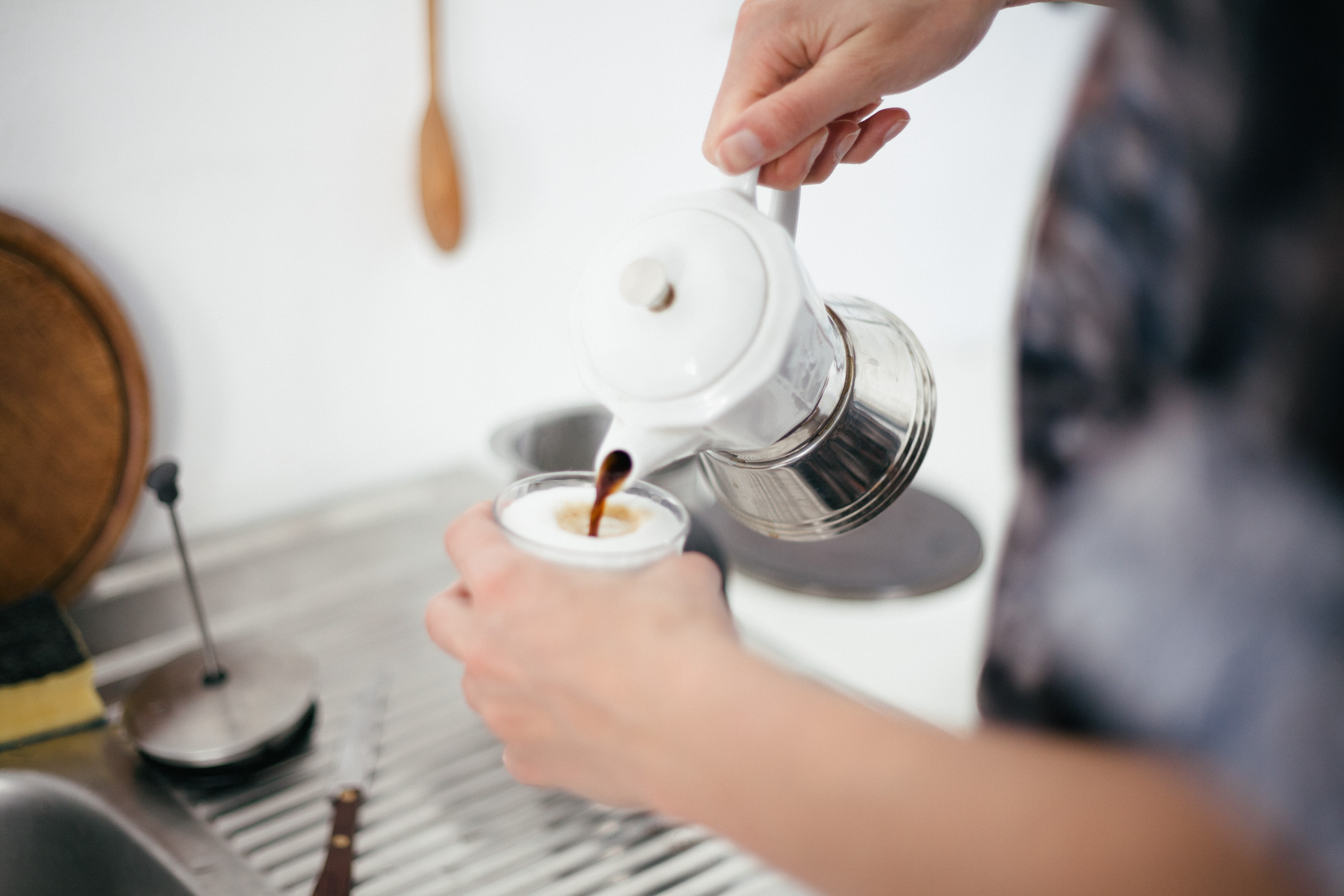 What is the concept of BLESS? What does the brand want to achieve and provoke?
First and foremost BLESS builds a field of experimentation. The duo behind this label consists of fashion designers Ines Kaag and Desiree Heiss. The art of thinking ahead is central to their creative work. For example, a chair is never simply a chair within the BLESS world. We always ask ourselves questions like 'What can be improved? How can one perceive this very chair in a new way?'
BLESS aims to challenge itself as well as its clients. Cyclical questioning turns steadily into fascination and composes the singular magic that is BLESS.
Do you consider Ines and Desiree designers or artists?
I think if I were to ask them this question they would say that it is not about an answer or that it does not have one! I don't think it is possible or particularly relevant to narrow them down to a singular profession.
Where is BLESS located?
Ines lives and works in Berlin, Desiree in Paris. Thanks to modern technology we are able to communicate every day.
The BLESS office in Berlin is located in Wedding. In this office, as with the one in Paris, samples and accessories are produced. In Paris, office and shop live together in the 3rd Arrondisement.
How did you arrive at the idea of BLESS HOME and how did you decide on its particular facilities?
BLESS HOME BERLIN was born out of the experiences of our temporary shops, in particular the first BLESS SHOP on Mulackstrasse and its varied exhibitions and presentations. The initial hope was to change the traditional way of selling products and adapt the concept to our understanding of the product's actual experience.
One can discover, witness and especially experience BLESS within the private atmosphere of BLESS HOME.
How did you become part of the team?
I studied exhibition design and curatorial practice at the Institute of Design in Karlsruhe, where Ines and Desiree teach product design. I met the two at a workshop, which lead me to join their team after my graduation. Ines and Desiree offered that I work with them on an upcoming presentation in Paris, which at first made me really anxious but at the same I recognised it as a completely new, exciting challenge.
When did you become BLESS HOME's 'resident?'
After being in Paris I moved to Berlin and started to work at the architectural office Kuehn Malvezzi, where I contributed to an exhibition about Carlo Mollino at Munich's Haus der Kunst. During my next stay in Paris, BLESS HOME BERLIN was opened by the artist Cyril Duval, who lived there for a couple of weeks. Following my return I took over BLESS Home. The plan was for me to live there only temporarily. It has been three years.
The concept of your 'lived-at' shop makes complete sense as soon as you get familiar with the products and the arrangement. If someone wouldn't know BLESS and the idea behind the brand, he/she would probably leave the shop confused.
So far there has been nobody who has just turned around upon entering. Of course, there are all sorts of visitors, some who know about the concept and others who just come by coincidentally There are many clients who immediately feel really comfortable, while others take time to get used to this sense of privacy. The borders between private and public blur. The urge to explore my privacy and one's instinctive hesitation and shyness really fluctuate.
How many clients do you usually have?
It is difficult to estimate our visitors each month. During times like Fashion Week, art berlin contemporary or Gallery Weekend, when the creative scene of the city significantly expands, I have the most visitors and clients. People with all sorts of backgrounds come to BLESS HOME.
Are there things that you store or hide somewhere else?
Everything is open here and nothing is hidden. I am constantly able to bring in new products and new collections from the BLESS office.
Do you sometimes have events?
Yes, there have been cooking nights and presentations, for example a livestream of a BLESS presentation in Paris. My father cooked for BLESS friends and clients at 'Papas Antipasti.' It was a wonderful evening. Recently we organised an experimental bistro during which "Trippa e Cozze" (italian for: tripe and mussels) ended up on our plates.
Do you plan to broaden this unique concept internationally?
Yes, we certainly wish to establish the BLESS HOME idea internationally, although Berlin will be our base and remain the "original" BLESS HOME.
Do clients directly buy products here?
Yes, the products are there for immediate purchase. We produce as needed, though there are products with which I live, for example 'Furhammock' chairs, that are thus in use.
I would imagine it being quite hard to establish a relationship with residential objects and know it at any moment it could be taken from you. Has there already been one dramatic incident?
Of course there are objects that grow close to my heart and belong to my life. When they are sold, as with the hammock, it can be tough to say goodbye. However with the knowledge that more beautiful things will follow, I enjoying giving away the pieces to enthusiastic hands.
How often do new products come into the shop?
Products and collections for BLESS are not only produced every six months, rather, one can be pleasantly surprised at any moment by the arrival of new, exciting products.
What's the deal with the numbers?
Every collection, every product of BLESS has its own number. The first object, the famous wig made from racoon fur, carries the N° 00. By now we are at BLESS N° 49 Alternative.
Could you clarify the main idea of BLESS with an example of a few products?
Ines and Desiree are constantly looking for new solutions to everyday life. For example, the 'Workbed' is a bed and at the same time a desk: with one button, the desk transforms into a bed. Rooms are expanded with the BLESS 'Wallscape', with which an additional room opens.
Do you always wear BLESS when you are at the store? Does that go with your 'job?'
It is completely up to me. Over the years I have gathered a great collection of different pieces which I wear frequently. Nevertheless, there is no pressure to do so and I can live and dress as I want.
With such a strong, conceptualises label it probably would be quite fruitful to offer a type of 'customised service.' One imagines himself and his living space and gets BLESS products practically custom-tailored.
Propositions of this nature arise as reactions from people interested in BLESS products, while in fact they also exist naturally through our individual editions. For example, BLESS locally offers an on-request service package, BLESS N° 26 Cable Jewellery, with montage and decorative installations as office equipment.
BLESS N° 46 Contemporary Remediation pursued the topic of the 'Customer Wish,' which is much more about a continuous series than a seasonal edition. Here, products are designed according to a desired profile and keep the client in mind even within the title's name. Several new developments in the field of accessories have come into existence alongside numerous suggestions regarding new editions of old BLESS products – either from collectors or the latest fans who discover BLESS.
In general, BLESS Home's concept is about this type of movement, regeneration, and the constant opening of possibilities to get in personal and direct contact. BLESS is much more than a brand, it is a concept of life.
Is there something you have to renounce or you would like to live or design differently here?
Thanks to the freedom of living here and being able to use the products as I wish, this space has literally become my home.
BLESSed meeting you, Mira! Thank you for sharing your lovely story with us and for the time we were able to spend together in your extraordinary space! BLESS HOME, found at Oderberger Straße 60, is open Wednesday to Friday, 5pm to 8pm; Saturday, 11am to 6pm and via appointment.
See a special curation of this portrait at Design Made In Germany.
Photography: Marlen Mueller
Interview & Text: Zsuzsanna Toth