Minka Sicklinger learned recently that she has the spirit of a bear. A friend who does energy work told her this. For a while now, she's had the head of what appears to be a grizzly mounted above her bed, its ears alert, its eyes open. She was photographed in Union Square the day she bought it and the image now appears in the pages of the best-selling book Humans of New York. Among Minka's other assorted treasures are grand, glorious heaps of furs, capes and costumes; peacock feathers and antique jewels; a patchwork of cowhide rugs and woven blankets. It's clear she's a collector. A forager, like her counterpart, the bear.
She's also an artist with experience in a variety of mediums but is perhaps best known for her work in the world of tattoos. She spends much of her week at East Side Ink on Avenue B; however, when she leaves the shop she continues to work. She illustrates. She paints. She walks and gathers inspiration from the city and its streets, its bars and bridges, its endless oddities.
Back at home, she passes countless hours in solitude, drawing, planning and tending to ongoing projects. Today, in the middle of her bedroom there sits an enormous golden egg, a work in progress. Soon it'll be on display in the city, with a life of its own, and Minka – the woman, the artist, the human of New York with the spirit of a bear – will carry on creating. She bores easily, she says, so she must.

This portrait is part of our ongoing collaboration with ZEIT Online who present a special curation of our pictures on theirsite.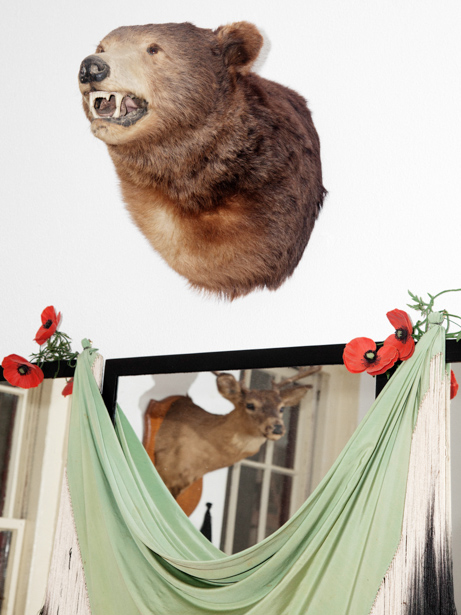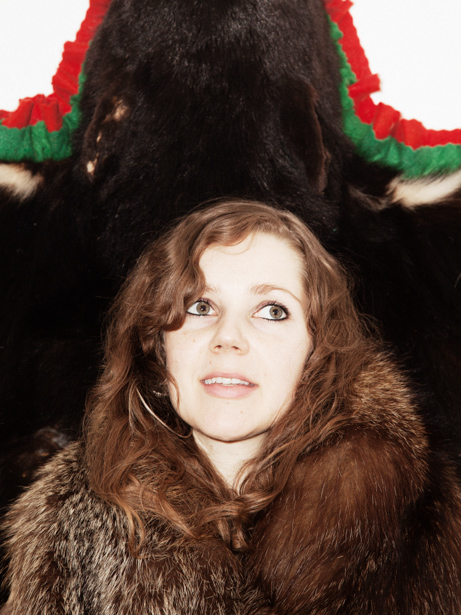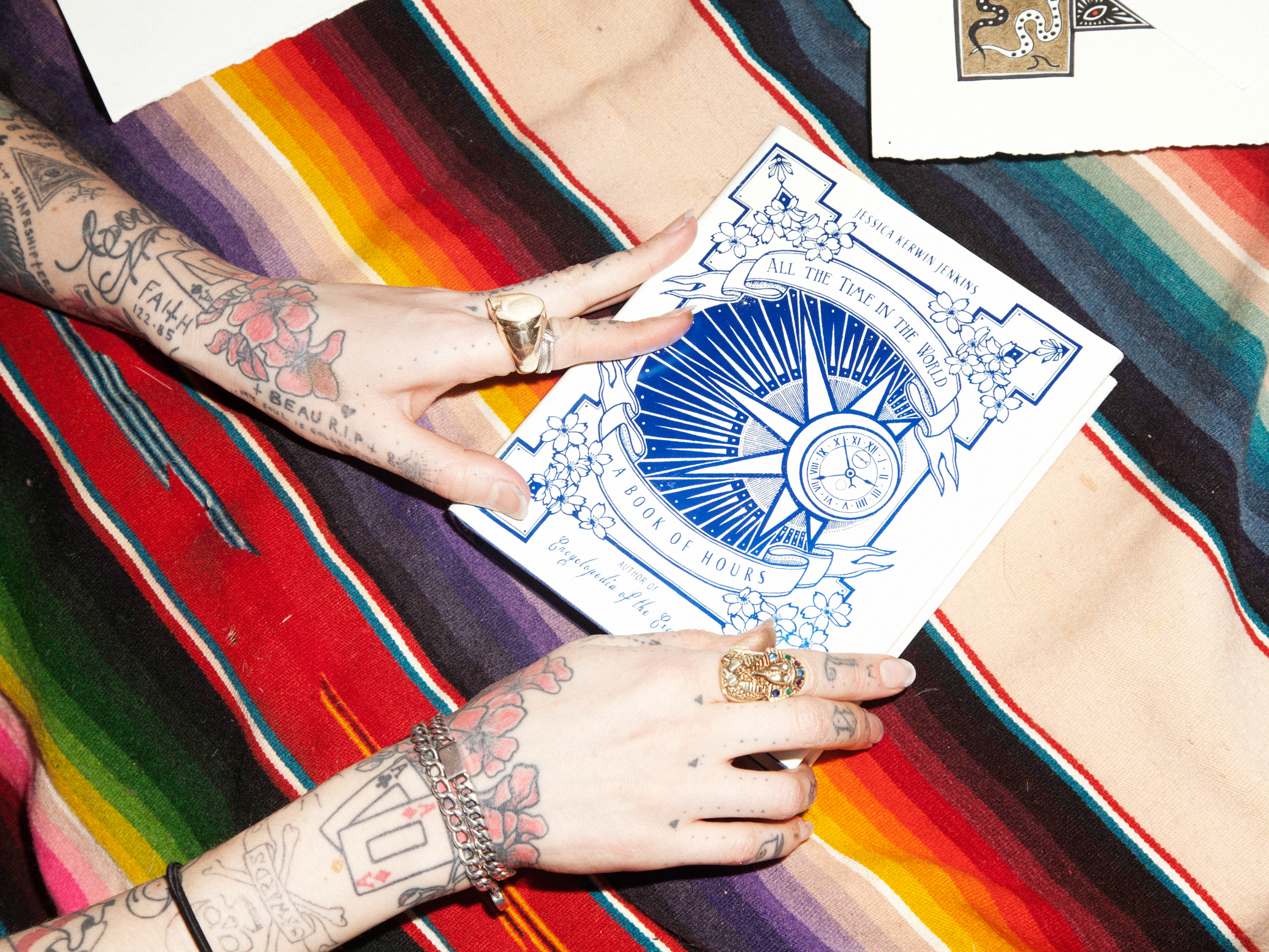 Let's start from the very beginning. Where are you from?
My parents are Dutch and German. I was born in Holland, but we moved to Australia when I was very little. I lived there until I was about twenty-five. Then I lived in Costa Rica for a bit before traveling to Guatemala. Eventually, I ended up in Mexico City and then after that I came to New York. I've been here about seven years.
You've moved around so much. What's caused you to stay in New York for so long?
New York is a beast. I was fortunate as a child to go on a few overseas trips and I understood from a young age what else there was in the world. There are so many different kinds of people here. You can just walk out your door and never know what's going to happen, or where you'll end up, or who you'll meet. What I love most about it is that everyone is fighting for something, even if they don't know what it is. Even if it's just to survive.
How did you get started as a tattoo artist?
I taught myself. I sat in my bedroom tattooing friends. After a few months the owner of the shop I work at saw something that I'd done and said he'd never seen anything like it. That's where it all started.
What do you love about tattooing?
I like the collaboration aspect best. I like meeting people from different walks of life and I like that I get to share a very intimate moment with them. I may never see them again, but we'll always remember each other. Pain brings out interesting things in people. Some clients I don't say a word to. But with others, we'll go on an incredible journey together. It's emotional. At the end of it, there's a mutual "thank you so much for that experience. I'm richer for it" sentiment.
Tattooing is just one medium that you work in. What other types of art do you do and what other occupations have you held?
I used to be a fashion stylist. I did some modeling here and here. I also started illustration in 2010 – I'd like to do more of that.
Did you attend art school?
I went to art college and studied photography and it killed every creative urge in me. I didn't make any art for ten years. Then, a while later, I was staying on a mountaintop in Majorca for a month and I did a few illustrations. I'd always said that the first time I sold an artwork would be when I'd know to take that path. And when I got back to New York, I sold those illustrations.
Besides travel, where do you draw inspiration for your work?
I've been collecting indigenous textiles, jewelry and antiques my whole life and my art definitely has overtones of the things I've amassed over the years. Still, it's hard for me to define my aesthetic. Every time I sit down at a blank page of paper I don't know what's going to come out. I draw how I see things which is not necessarily how they look in real life. It's like when I take photographs: I never really cared about what was in the frame. I cared about how those things got there and where they were going after.
Which other artists do you admire? Who would you name as an artistic idol?
Craftspeople. People who aren't named. The ones who made all of these things that I've collected. I don't know who they are but that doesn't take away from what they've created.
Tell us about that golden egg you're working on. What's the story behind it?
That goddamn egg! I've been up until five every morning working on it for weeks. It's for the Faberge Big Egg Hunt that happens every year. Last year it was in London and this year it's in New York. It's an exciting opportunity to be on a platform with so many international artists. Initially I sent them a plan for what the egg would look like but I didn't exactly follow through. My artwork is always about where I'm at in my life and by the time I'd sent in my idea I was in a completely different place.
What does the artwork on the egg say about your life at this particular moment?
It represents the releasing of old habits. It represents empowerment and going back down into my molecular structure, looking at my kinks and working out how to challenge them better. It represents a new chapter in my life.
What does this chapter entail?
I want to step away from tattooing a bit and get more involved in other types of art. I love tattooing but it's exhausting and it ruins your body. My back is fucked, my hands are fucked. And since I do custom work it ends up being hours and hours of drawing on each end of a ten-hour day. So I'd like to step back. I want to start painting. I want to do more limited edition prints. I'd like to design a tarot card deck. I'd also like to collaborate more with other artists. I've been invited to Marfa, Texas by a couple of friends who are there making a film. I'm going to do some sort of crazy, naked, ritualistic tattoo scene.
Are you choosing to move away from tattooing because it carries such a stigma for being a trademark of the hipster look?
There's a very old history to tattooing that goes back to before sailor tattoos. I've spoken about this a lot. What really interests me is how tattooing started and the ritualistic aspect of it. Tattooing was used to as a marker of milestones and achievements and I think that part of it has been lost. But anyone who trusts me to put my artwork on their skin is doing me a tremendous honor. I would never look down on tattooing for that reason.
Let's talk about your neighborhood. Did you choose the Lower East Side, or did you end up here by chance?
I chose it. I love Manhattan. I like its energy. Once you're in Brooklyn you're back in the suburbs and that's why I moved here. When I first arrived, I lived in a tiny little apartment that's literally across the street from where I am now and I barely had a job. It's amazing to me that seven years later I'm in the same area but I'm living alone and paying Manhattan rent as an artist. It feels like an achievement. I like to remember where I've been.
What are some of your favorite places in the neighborhood?
I love Lil' Frankie's. I love Freeman's. I used to work there. And I love Whole Foods. I walk around as much as I can. I love walking over the Williamsburg Bridge. It's something I've done almost obsessively since I moved here. I like going up there and having a comprehensive view of the city. I talk to it, ask for signs and ask what to do next.
Could you see yourself living anywhere else? Where do you like to vacation?
I love California. I have a bee in my bonnet about buying a piece of land in Joshua Tree.
What are your most prized possessions? What goes with you everywhere?
My taxidermy. I love my bears. I also have a beautiful Ethiopian Coptic cross that my grandmother gave me and a little plastic deer that's traveled with me everywhere. Then there's my mint green piano shawl from the 20s that I've had since I was 15. I've lived in 20 different places since then, and I've traveled with that shawl everywhere. Wherever I am, it has to go above my bed. When I move into a new place it's the first thing I put up. It's how I know I'm home.
Earlier, you mentioned your background in fashion styling. Tell us about some standout pieces in your wardrobe.
I collect antique clothing. I like things that are decaying and that show their passage through time. I'm either into high-end designer clothing – which I can't afford – or things that are falling apart.

Speaking of antiques, what's the story behind the vintage valentines on your kitchen wall?
Oh, I've been collecting those for years. The irony of it is I think I've only ever gotten two real valentines in my life. Still, I'm a romantic.
Thank you for a lovely afternoon, Minka. See more of Minka's work at her website, here.
Photography: Anna Rose
Interview & Text: Shoko Wanger