The hot, humid air of a rainy seasons afternoon weighted heavily on our shoulders when we drove through the colourful hustle and bustle of southern Bali. With a surfboard fixed to the side of the scooter and a strong Indonesian clove cigarette Kretek in hand, we made our way through the chaos to meet up with surf coach and longtime Bali resident Marcy Meachin.
Marcys connection with the waters is of a sixth sense. The well-toned gentleman from New Zealand first came to the 'island of gods' in 1980, in search of the perfect surf conditions and shortly after decided to stay for good. When we drove up to Legian, a busy part in southern Bali close to the notorious Kuta Beach, we were pleasantly surprised to be welcomed in a calm oasis, just off Jalai Pantai Legian where he lives with his wife Melinda and countless surfboards. After two decades on the island, he knows pretty much every dirt road and every surf break that is worth checking out.
The first time we went surfing together four years ago, Marcy made us paddle out to what seemed to be a flat ocean near Canggu. However after a couple of minutes, out of nowhere a big set of waves appeared and rewarded us with beautifully dynamic session. This profound knowledge of nature made a long-lasting impression on us; with a visit to Marcy whenever we are in Bali.
While we were sitting on the patio talking about waves, the recent development on the island and how Google Earth changed the search for the perfect breaks, the afternoon passed by quickly and we were adamant to be in the water in time for a well deserved sunset surf.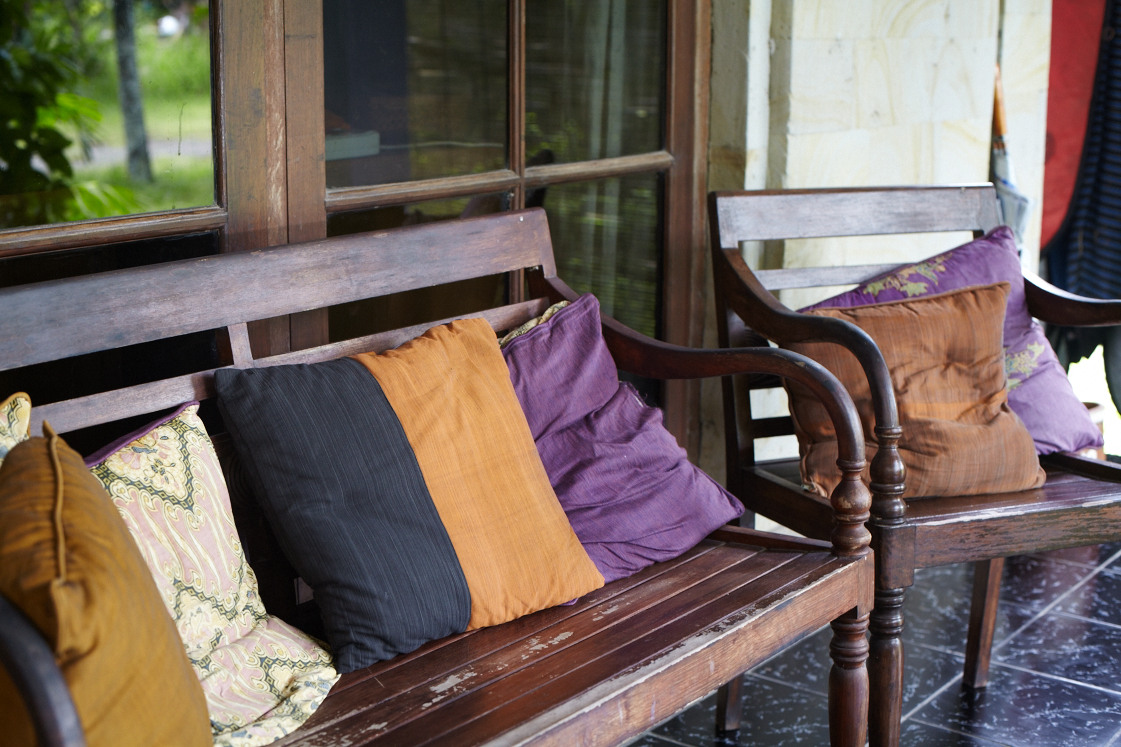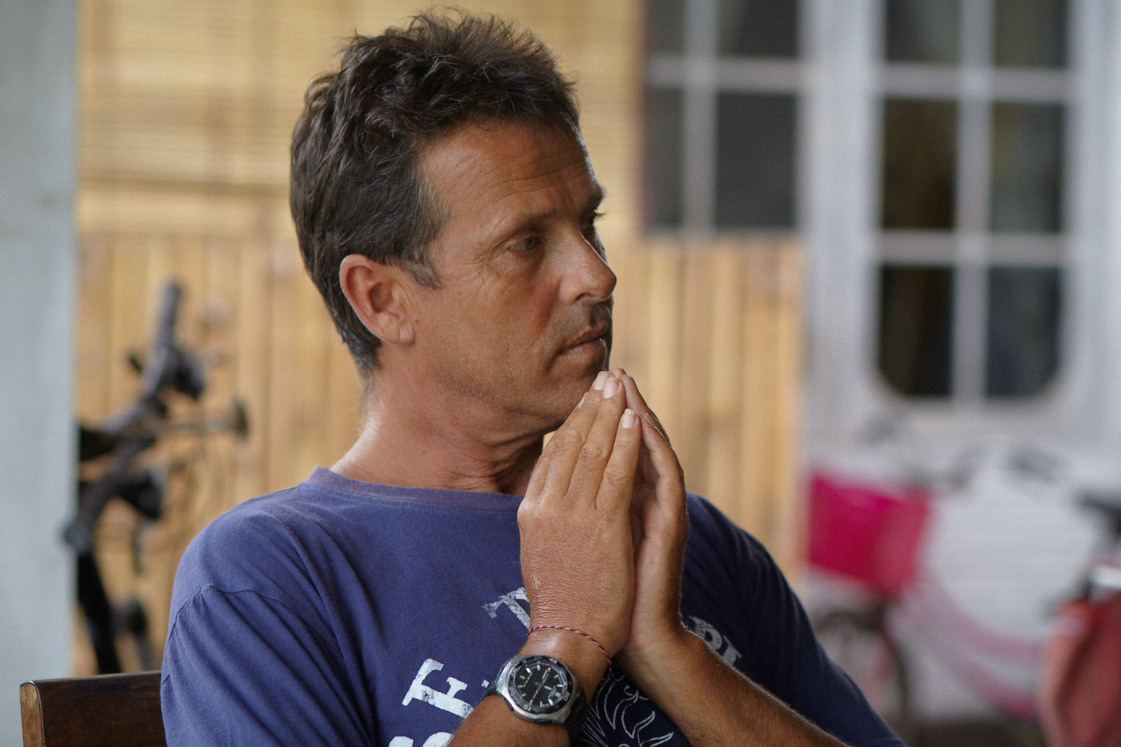 Where do you come from?
I am originally from Auckland, New Zealand and I first came up to Bali in 1980. It was very very different back then. Legian, the area where we are right now, was a sand dune with coconut trees and no buildings. There was only one losmen [simple homestays] in the whole area which was run by three brothers. Kuta was a little village with a road and nothing…
When did you decide to permanently live here?
I came back several times but decided to stay in 1995.
How did you meet your wife?
I met Melinda through another friend, Chelsea, who runs this women's surfretreat Surf Goddess and she was a guest there. We hit it off and when she came back for her next holiday, she stayed with me. She was quite the high-powered career woman in Melbourne, working in the fashion industry and had a totally different lifestyle. But she came to see me a couple of times and after a while didn't leave. Today Melinda gets up everyday at 4.30 a.m. to go to Uluwatu or Serrangan, wherever the waves are. She surfs for two hours before going to work.
When did you first started to surf?
I was 17 – quite old for a beginner. I surfed some breaks in New Zealand. One coast there is big and onshore, the other is offshore and mostly flat. Around Auckland there are not many surfbreaks that hold the swell and are sheltered from the wind. There is one place named Piha, but it's very crowded with all the surfers from Auckland.
And then you came to Bali?
In 1980 I first came to Bali and had an accident at Sanur reef. It took the top of my knee off. So I left injured and didn't come back until the early 90's.
Do you remember your first impression of Legian?
It was beautiful! Of course, there were these open drains and a little bit of smell, but it was beautiful! My place here is a little bit run down and old, but I like it. It reminds me of how the area looked like back in the day.
It's nice here. I like it.
Yeah, it's simple and nice. And we have this beautiful tree in front of the house which Melinda loves.
What was the biggest change you noticed?
Everything has its advantages and disadvantages. You can buy more stuff at the shops, like the organic bakery goods at Bali Buddha, and obviously I have more people taking surflessons, but the traffic is a real disadvantage. On the other hand, people start to really take care of the environment, which is pretty new.
When did you start your own surfschool?
It just sort of came about. This big yellow 10 ft board was the foundation of my business. A few people wanted lessons so I started to teach. I worked a little bit for Rip Curl; that's where I got a foundation of teaching methodology from. But after a while, I found my own methods, which are pretty different from the surfschools. Most of them offer giant classes. I do 1:1 lessons because you really learn faster that way. I also like to spend most of the lessons in the water and not sitting on the beach talking about theoretics. After a while through word-of-mouth, more and more people came to me and now I have a good running business.
How does a lesson with you look like?
I welcome you in my house. We talk a little bit and get to know each other. Sometimes I really feel like a psychiatrist – you have to talk to the people and figure out what they need from you. For example, you have these Austrian snowboarders, even if they never surfed they are usually good; especially if they are decent swimmers. Then you might have someone from New York who might be a little bit insecure. After a while, I got a pretty good feel for people. The basic thing for me is that I need to figure out a way to get them standing up on the board where they are happy. Thats my goal for the beginning.
The most important thing I teach on a first lesson is: it's all about where you look! People tend to look at the nose of their surfboard, but that keeps them from having a good flow standing up. I always try to make them look up. The other important thing is where your hands go when you jump up, the shoulder must be in front of the hand. It keeps the nose of the board going down and tips you onto the wave. All the weight on the frontfoot first, keep going. It feels wrong in the beginning. People fear that the tip of the nose will go in the water, but this is how it works.
What is the most important thing you want your student to take away from a first lesson with you?
It's not so much about technique on the first day but confidence and enjoyment. I want to give the students a great experience. The technique comes later.
How many lessons do people normally take before they go out on their own?
It really depends. I had people that snowboard and swim, who catch their own waves after two lessons. Other people I taught weekly for a year, and they are still struggling. It really depends on a person's psyche.
Did you ever think about relocating in Bali to a more idyllic place?
This is the best beach to teach on, because it's safe. I would never take a new student to the coral reef. It's simply too dangerous. There is not a day in the year where you can't teach here; this is why I love Legian.
What's your opinion on the whole surf trend? Do you recognise it here?
Yes! Definitely. I surfed Brawa, Canggu and Uluwatu for years and years around 1980. You can't imagine how different it was- no traffic, no crowds. With the cheap flight tickets there are more and more people coming every year. But I still have some secret spots that nobody knows about. When I first came here, I went down every single road on my motorbike to find breaks. I still got friends who do it, but they go to Java to do that nowadays. But there are no G-Lands to be found anymore.
But there are many breaks who are fickle. That's the thing – you need to know the right conditions for each break. That's part of the game – you have to know where to go on the day. Since Google Earth was launched, the search is pretty much over. Every inch of the world is scanned. The secret today is that you have to find a wave that doesn't work on offshore trades, and getting the day when the wind is right. These waves are left to be discovered. When my friends from New Zealand got their first boat, they went to the Mentawais on their own. There is simply nothing better than arriving on a boat to an undiscovered surfspot- just you and your two friends and riding it the whole day…
What is the best and worst thing about living here?
One of the best things is that it's warm. And that I can walk down the street and just surf. These days, it's not so much about the very best waves all the time for me, but just to be able to surf a nice session everyday. I used to surf the Bukit all the time, but today I am happy with less. The worst thing is traffic and pollution. But all in all I am pretty happy to be able to live here!
Thank you, Marcy for this nice afternoon! If you like to get to know more about his surf lessons, check out his website.
Photography: Fabian Frost
Interview: Moritz Reischel
Text: Sarah Weinknecht