It isn't unusual, we've discovered, to find Lucy stashed away in her kitchen. It is, after all, her favorite place to be when at home. "I'm in here." We find her radiating with excitement and with her hands peppered in some unidentified dry ingredients. "I've been making socca."
The beautiful aroma that greeted us at the door has been revealed. Hand-made socca crisps away in the oven and the windows of her kitchen start to fog up. We are advised to wait until the exact right moment before pulling it out to eat.
Looking around her home, which is set on the cliff in Point Chevalier and hosts views across the Waitemata Harbour, is wonderfully pared back, considered, warm and full of knowledge. Lucy, in a way, is very similar. Dressed in an understatedly cool white linen shirt and blue jeans, she is confident, instantly generous and busting to tell you about something you'd previously never considered.
With an enormous passion for getting the most out of everyday, both physically and mentally, Lucy Vincent has set her life up accordingly. She's particular, to say the least, but not annoyingly so. It is this devotion to detail that, in turn, loosens her working day, so that in the long run, she creates a more direct, simpler approach to everything she does. And there is a lot on her plate. However, Lucy's plate has been curated in such a way that it runs at its most optimum. With a generous serving of good books and green tonics, it is rid of any clutter or nasties.
Our conversations continued to trail off into all sorts of kitchen combinations, the fine art of fermentation and the practice of pickling. When we finally did get back on track, our conversation started here…
This portrait is part of our ongoing collaboration with ZEIT Online who present a special curation of our pictures on ZEIT Magazin Online.
You seem to have pared your pantry back to the essentials. Can you tell us about this process and why you have chosen the items you have?

I've learned that with food and nutrition, fresh is always best. So, in my pantry, this translates to buying local – less travel time – and fewer things (editing it down to the essentials that you use a lot of). Basically, having large consumption of fewer items. I don't buy any pre-packaged or pre-made goods as they always end up as multiple double-up's, a lot ends up being unused and going off. I like the idea of a multifunctional pantry. For example, I have a concise collection of spices that cross over Indian, Thai and general everyday cooking, and I have my staple dry goods which I use for a whole variety of dishes.

It's obvious that you have a love of ingredients, both in cooking and with your knowledge of the benefits of local and native botanicals. Can you tell us about where this first started?

When I was thirteen I was given a book called The Herb Book by Arabella Boxer, it soon became my bible. It was a 70s-style book on how to grow your own herbs, their nutritional value and medicinal benefits, how to cook and heal with them, and how to make skincare. It is a book that has influenced me profoundly as it is a blend of everything I do today.

What was your mother like? Did she pass on any kitchen secrets?

My mum is amazing. The first secret she passed on would be how to shop for and appreciate quality produce. The second would be a really great love of nature. And the third is that she is an amazing chef and has taught me the fundamental principles of cooking food – how to intuit food and to not solely rely on recipes.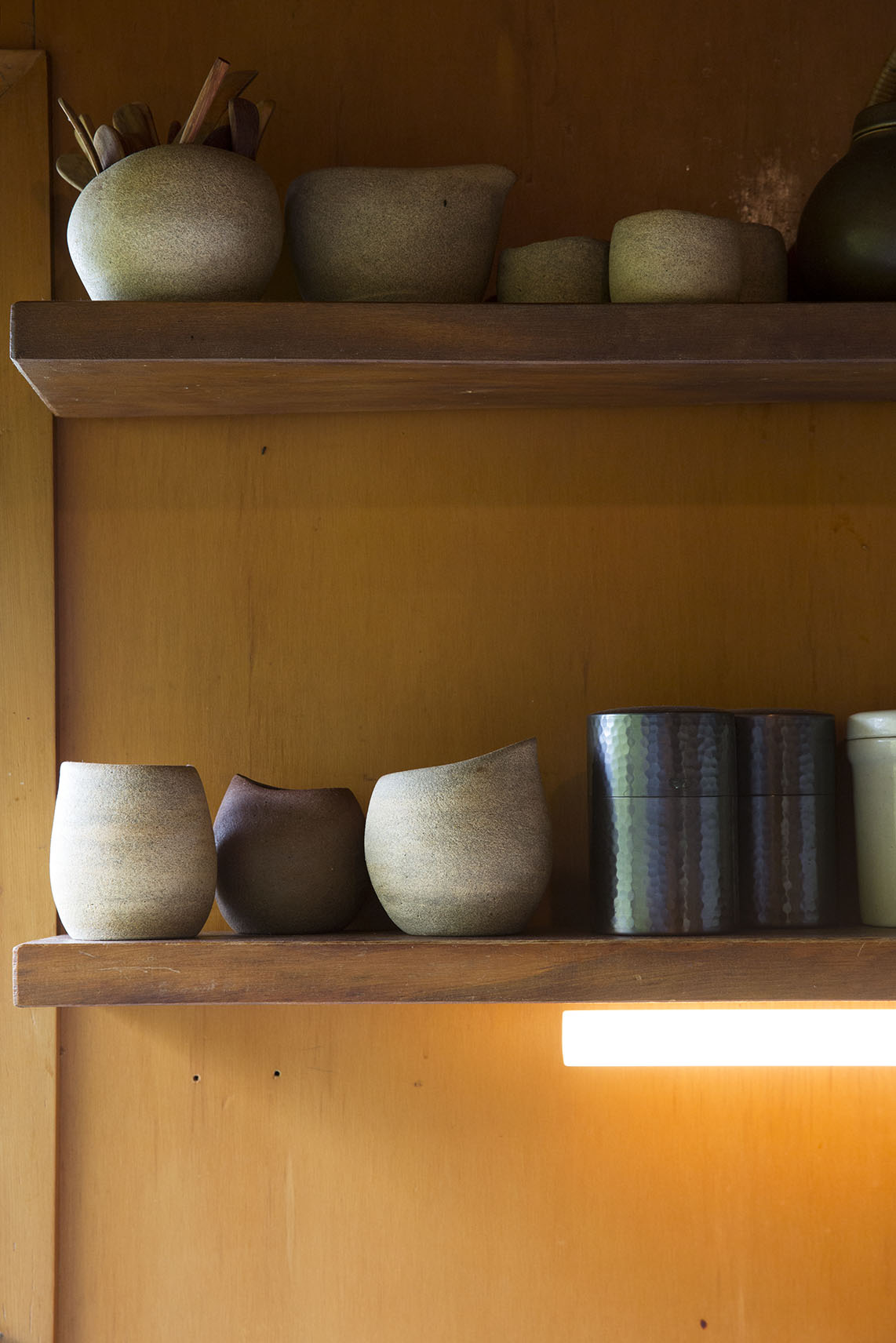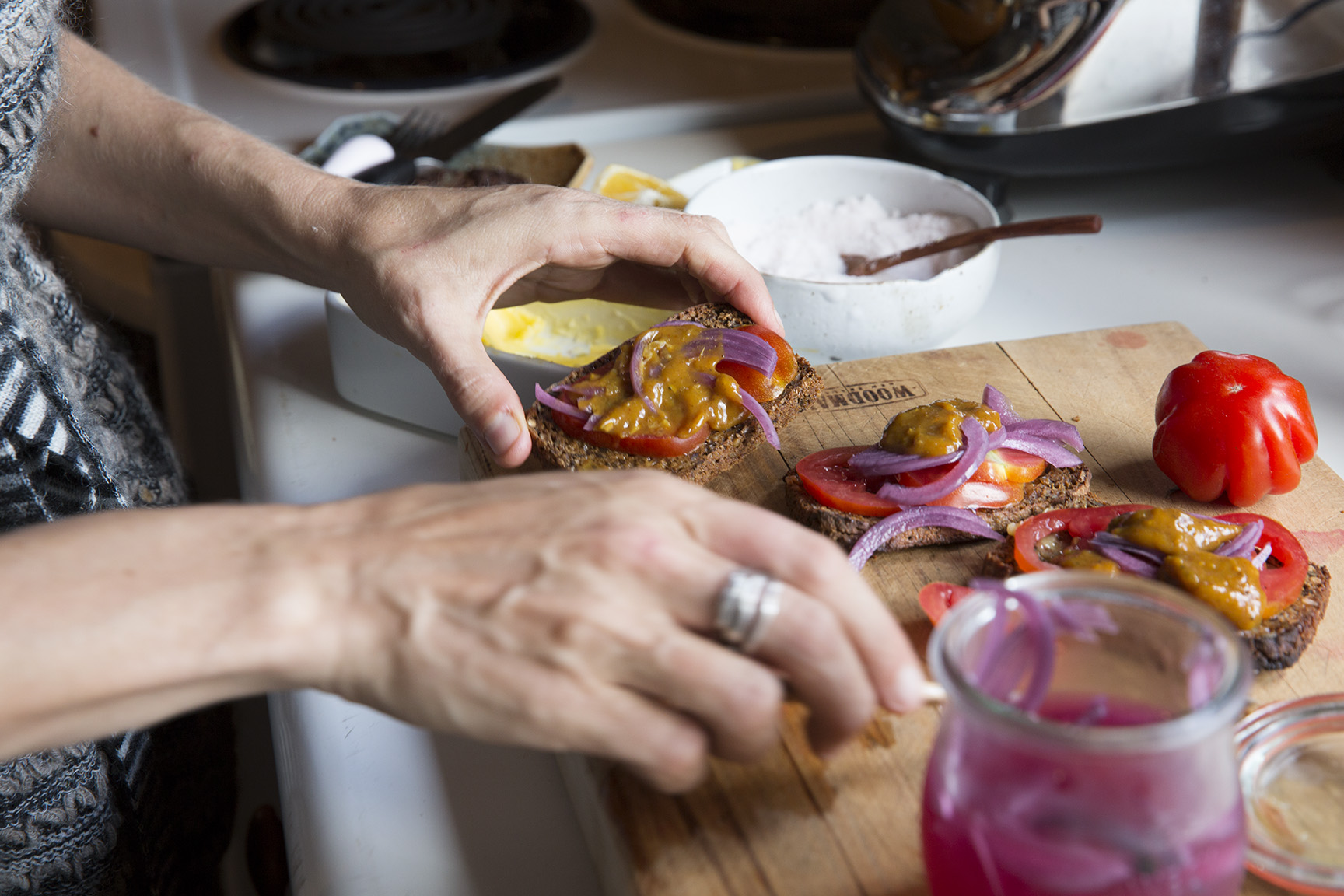 Your home is beautiful. Tell us about how you want your home to work for you.

Simple and uncluttered. I'm not a big fan of objects for objects' sake, unless it's an amazing piece of art. Craving material things is something that never gets satiated, so my idea is to appreciate but live quite simply at the same time. I am inspired by an almost ascetic approach to living.

And outside, your garden looks incredibly lush. Can you tell us about what you're planting and harvesting at the moment?

Again, I apply the same methodology that I've applied to my pantry. I grow the things that I eat in abundance and ones I know flourish well. Every year I'll add a new vegetable to my staple and get to know it in my garden. At the moment I'm growing tomatoes, spinach, herbs, lettuce and beans.

The essence of gardening seems to correlate with a lot of things that you do. I know you like to make everything from scratch and invest time in trailing out recipes. What dishes are you working on at the moment?

Zucchini noodles. A revelation. My friend introduced me to this dish. I had always seen zucchinis made into noodles and thought: really? Seriously, how good could this really taste? But it's the combination of ingredients that makes it truly outstanding. I like to stir them in with a fresh salsa verde – heaps of basil, parsley, pine nuts, olive oil, a gherkin, some capers, an anchovy, raw garlic, salt and pepper.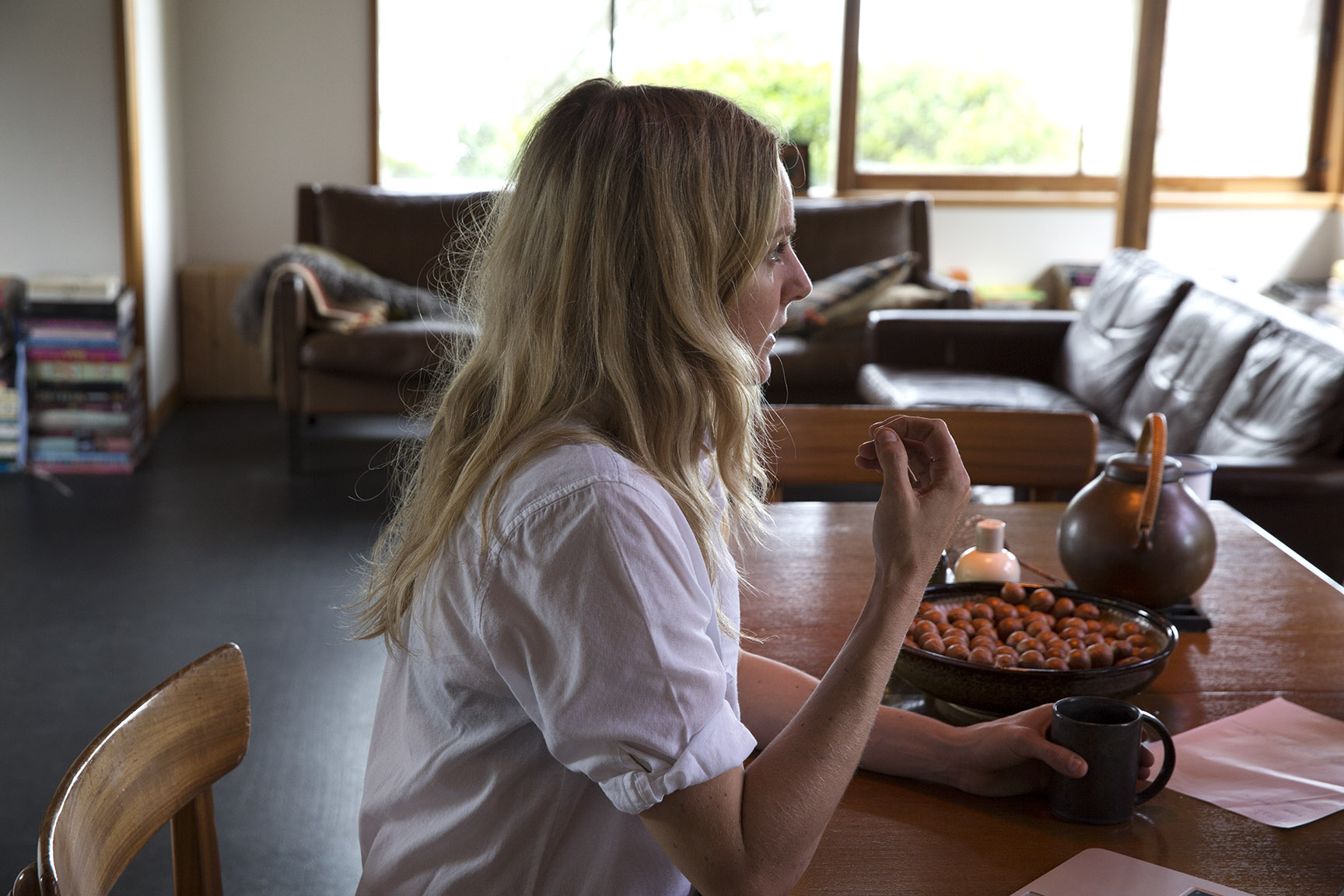 Tell us about your two boys. How is it watching them grow up?

Amazing. I'm so curious as to how their personalities unfold. Being a parent has taught me so much. It's definitely an exercise in coaching from the sideline rather than imposing.

Does living on the coast inform some of their experiences?

It absolutely does. Most of our neighbors have kids who are of the same age and they get to roam in wild packs everyday after school. So they have a lot of freedom in that respect. We are very lucky because even though we are five minutes from the city's center, it feels like we are so far from it here, in and amongst nature.

What are some of your own experiences growing up that you wish for your own boys to have?

Freedom. I had a horse at the age of 12 and most weekends I would set out for her paddock (a 30min bike ride away) at 7am. I'd go riding in the forest with a bunch of friends and not get home till dark.
You grew up in the UK. Can you tell us about your childhood there?

We lived in the Lake District, which was beautiful. My parents sold a hotel and moved up there for a quieter life and we went to a school of only 30 students. I remember loads of family bike rides, hiking and cooking. Mum would make yoghurt and bread from scratch every week. They went to the library every second day so we never bought the newspaper or books. We knew this paddock that housed a temperamental ram with a predilection for bulldozing people down if they dared to cross its path. So, as kids, for fun, we'd get our kicks by directing unwitting tourists through the paddock as a short cut to the village and then proceeded to watch them, falling about laughing as they bolted in fear of their life when they encountered the ram!

How do you like to spend your weekends? Do you have any favorite local spots?

On Sundays I like to rise at the crack of dawn and go to our local produce market before the crowds get there. I love chatting to the growers and this market is renowned for its exotic and unusual produce. Definitely my first stop, though, is coffee. Also, home for me is amazing, we're so lucky to live where we do, it really feels like we're living in the country. The boys roam freely with our dog Joey. This is where I spend a lot of time cooking, making things up for the family; Kasundi, lacto-fermentation and perfecting my sourdough loaf.

I've heard that you also have a potter's wheel! You've had years of experience sculpting and working with hair, but what brought on the urge to start handling clay?

I've always been a big fan of stoneware and ceramics. It was a total surprise, though, to find out that what I love most about pottery is the meditational value that you get from sitting behind the wheel. For me, it's more about the process rather than what I create at the end of it. Having said that, it's really bloody hard!
Sans is a culmination of everything I love. It originally started out as an acronym for 'sustainable and natural skincare' and also means 'without' in French. I started developing Sans with my scientist, we looked into cosmeceutical technology – a term used for products that sit between prescription-only, pharmaceutical-grade formulations and cosmetics, and realized that the active ingredients that could work at a cellular level were usually naturally derived, isolated compounds used at high levels in formulations. We got really excited about this and looked into key ingredients that dermatologists rely on. Vitamin A was one and its research is so impressive. This became the hero of our range. And so the story goes…

Working alongside specialists must be interesting. Can you talk a little about this collaborative process.

I work with a great friend who is one of the top biotech scientists for one of our best academic institutes here in New Zealand. She leads an exciting project in the field of cancer research. She is also a self-confessed beauty junkie and about six years ago we started talking about ingredients and the effect they have on our cells – both positive and not so. This led to us creating a small collection of multifunctional products with every ingredient being highly researched and vetted. It was a really interesting process for both of us.

What are your thoughts on the current beauty industry as a whole?

For me, beauty is about character, finding your center of gravity, so to speak, and developing your own personal style. Less about trends and striving for perfection and more about turning what you have into something unique and interesting. I naturally gravitate towards people with depth and character and am less interested in the physical aspects of beauty.
And what does beauty mean to you from a personal point of view?

I derive a lot of pleasure from growing, cooking and reaping the nutritional benefits of food. I'd rather be at my optimum through providing my body with the right beneficial support, rather than tinkering with it artificially.

What is your working philosophy?

Love what you do and the rest will come!
Thank you Lucy for letting us into your lovely home and studio space today. It's been lovely talking with you and learning about your wholesome approach to life. 
Find more about Lucy's skincare line, Sans [ceuticals].
Visit more creatives at home, in Auckland. Find more portraits from our collaboration with Zeit Online.
Photography: Greta van der Star
Interview: Yasmine Ganley