Lili Cuzor and Elijah Pointer live a grand life, but not in the traditional sense. They don't have much in the way of material things, instead they choose to fill their world with respect, love, sunlight, plants, and fresh air. They build furniture and collect objects that are of use and also in harmony with their simple aesthetic, believing in the beauty of simplicity. They respect their home and their personal philosophy resonates throughout. A large glass jar holds a collection of sticks. Books are for reading and pressing flowers. Cats lounge near open windows and little impromptu flower arrangements are tucked into the corners of every room. They tread lightly on the planet, but also on their space; living within their means.
Their apartment is in one of Los Angeles' celebrated courtyard buildings. Surrounded by vibrant, violet jacaranda trees, they sit high on a hill above Silver Lake's Sunset Junction in a small, leafy world far removed from the bustle of regular city life. Lili is a floral artist, working primarily with materials she finds in the wild abundance of Southern California. Elijah is a talented mixologist at one of Downtown Los Angeles' pioneering nightspots. He also works independently, creating custom drink menus for events and venues using plants and herbs from their garden.
Over homemade banana bread, watermelon cocktails and with the soft strains of Japanese Koto playing in the background, Lili and Elijah talk about their wedding in a French forest, wildflower pop-ups, and an inspiring run-in with Quentin Tarantino and RZA.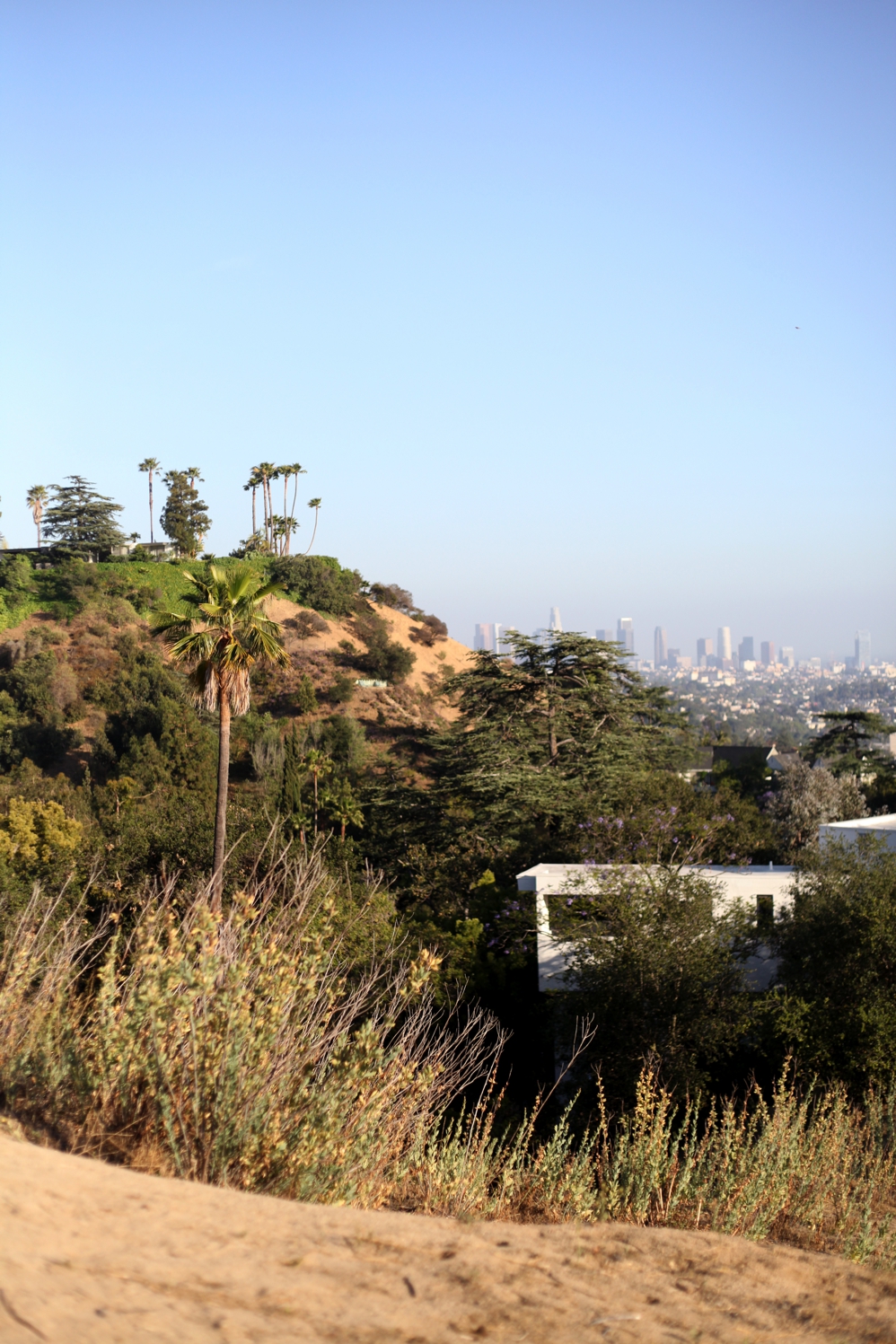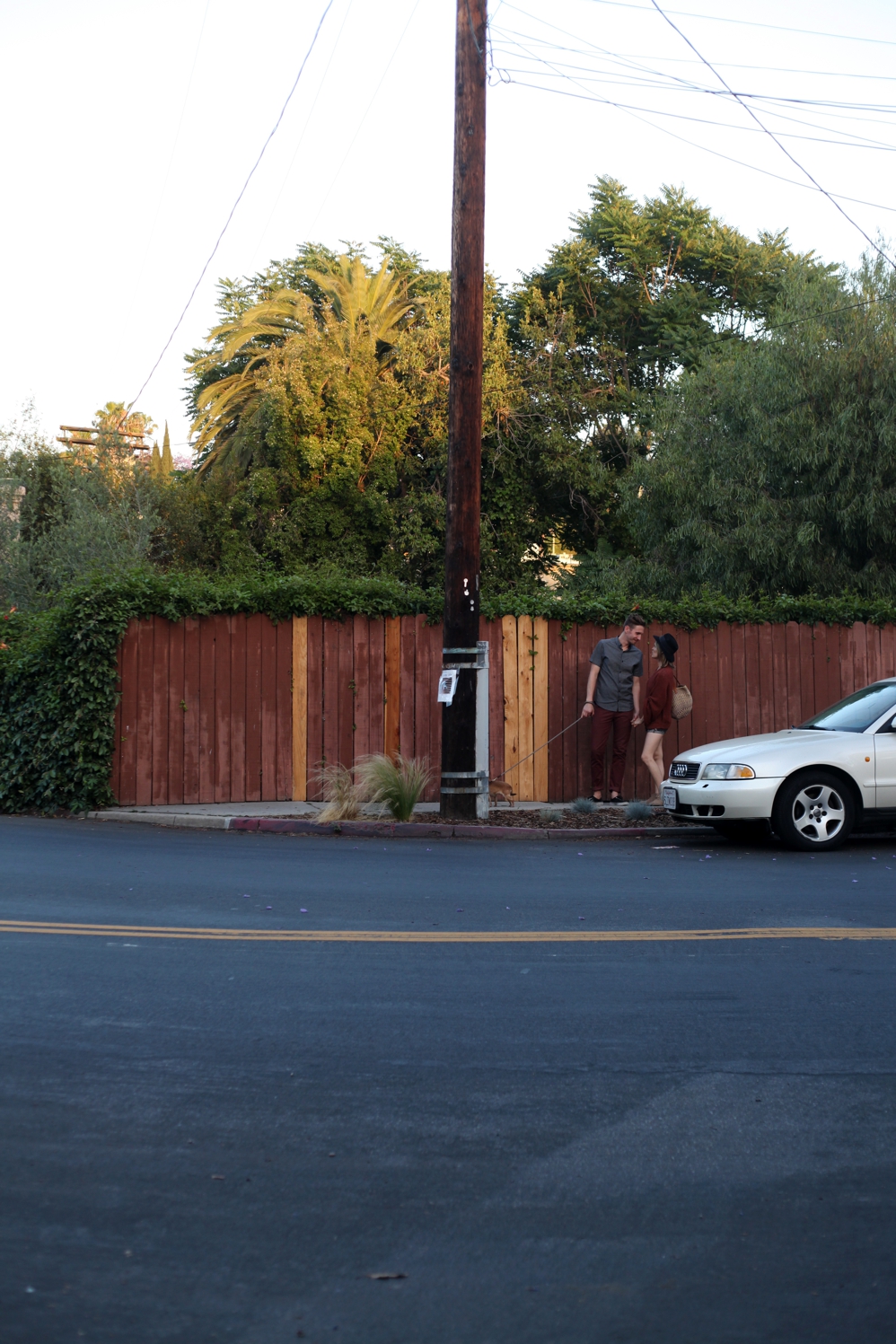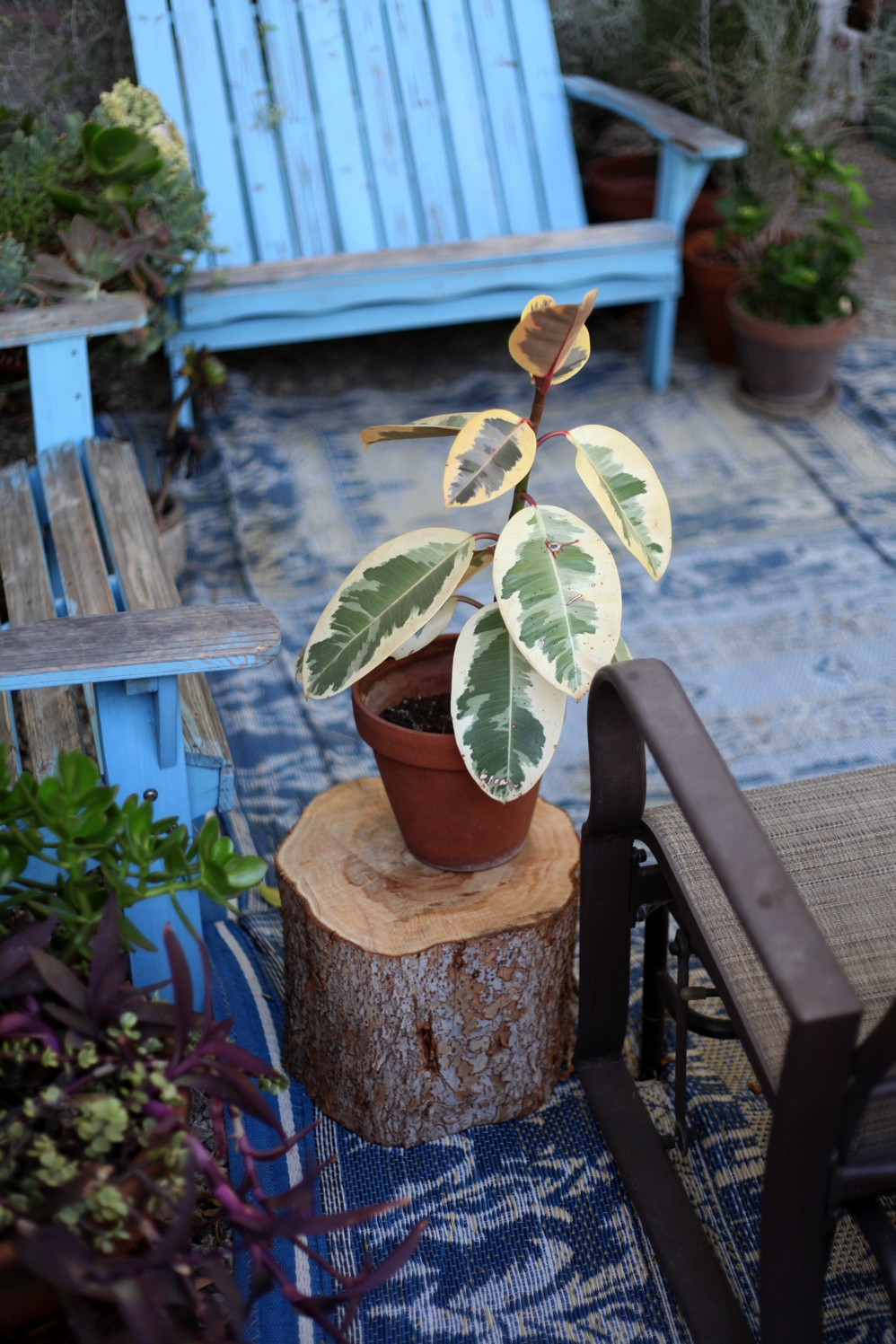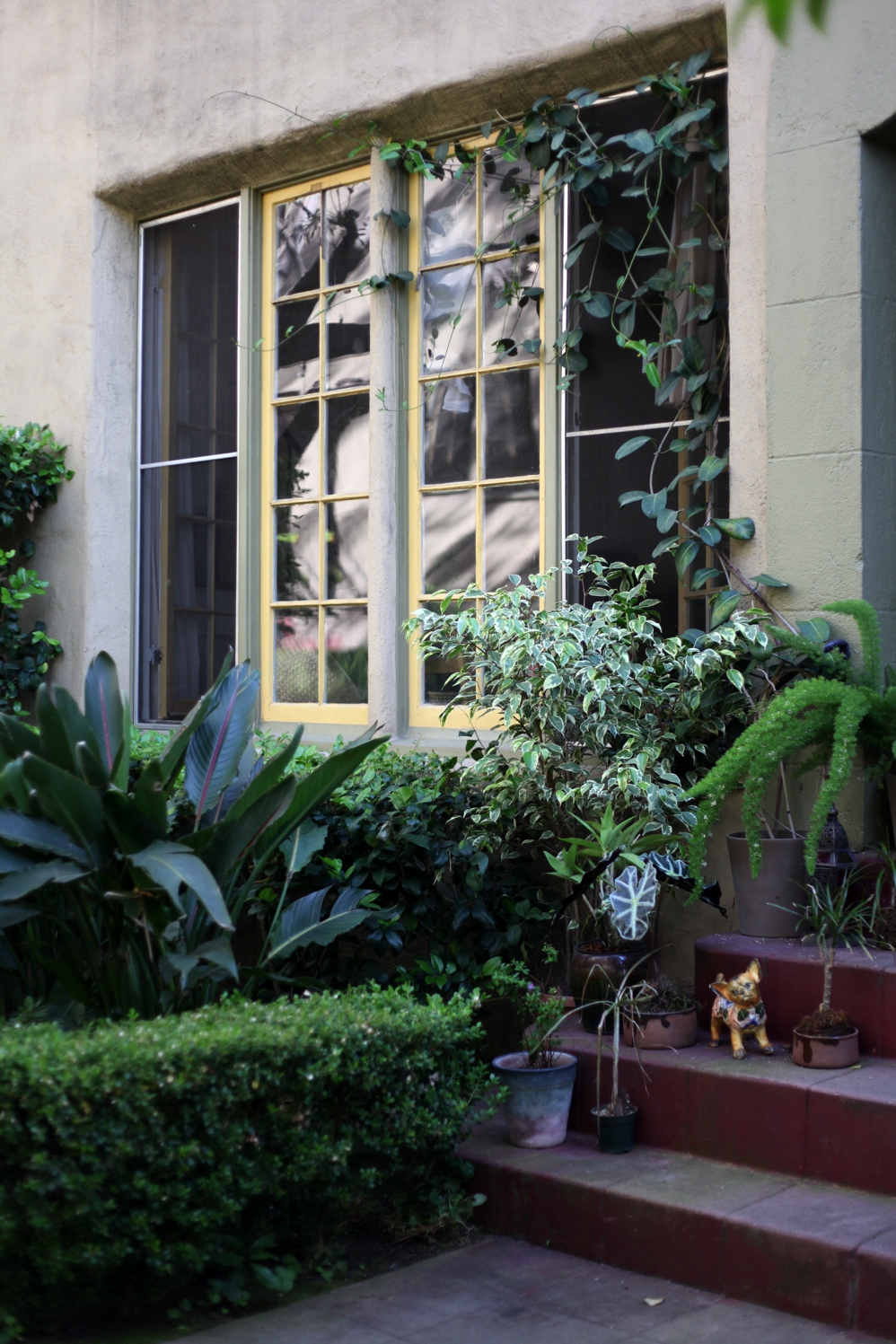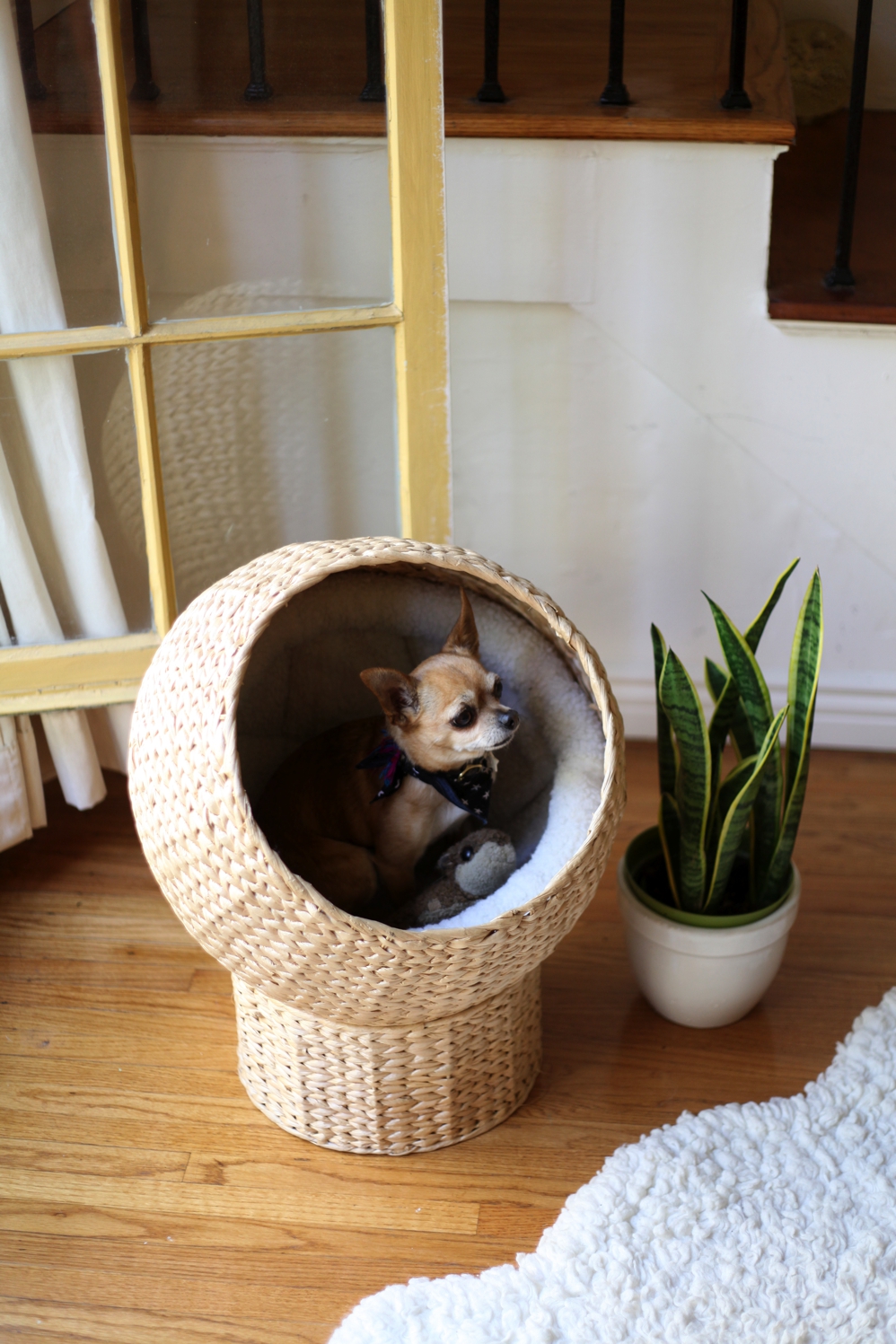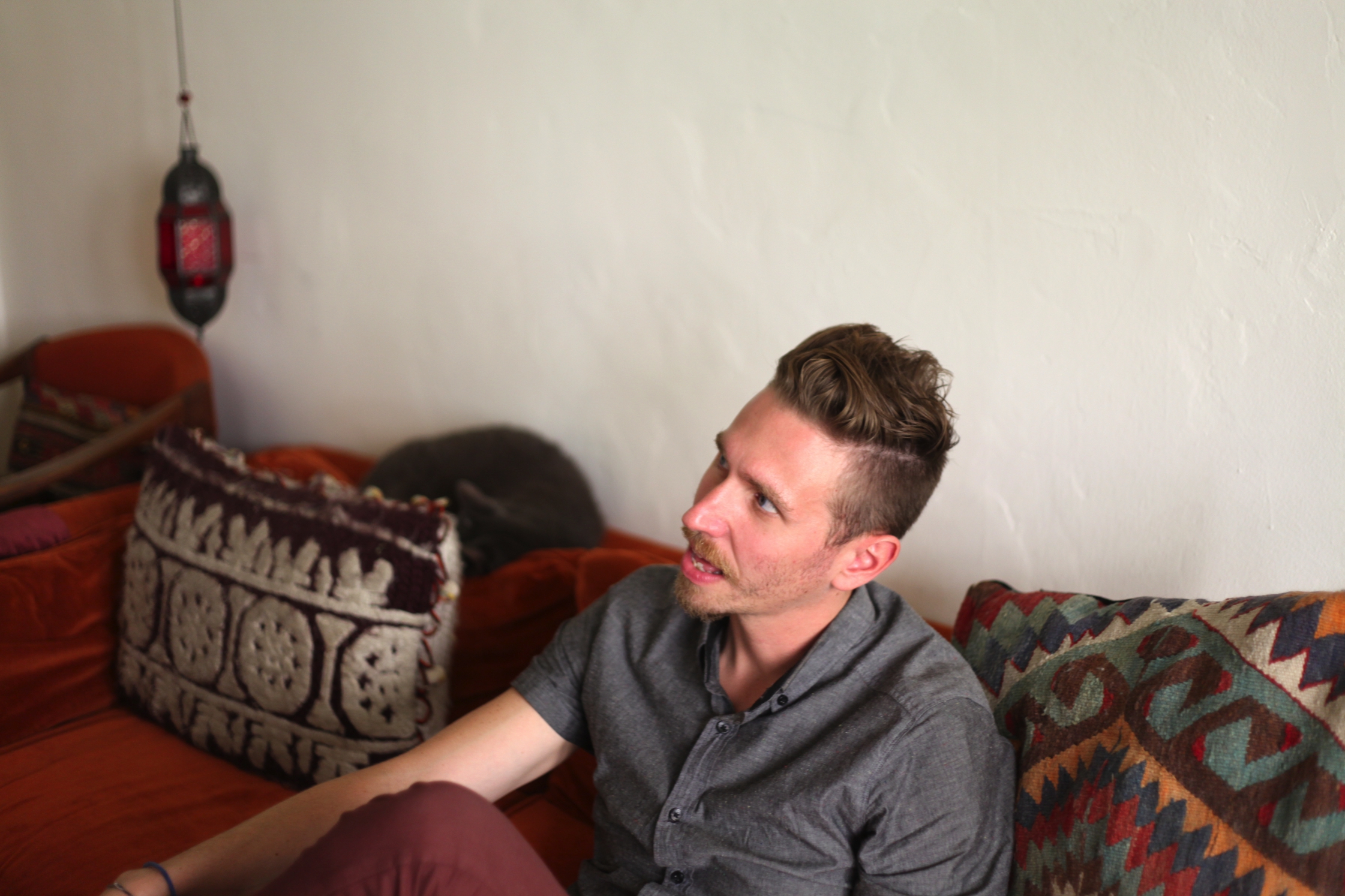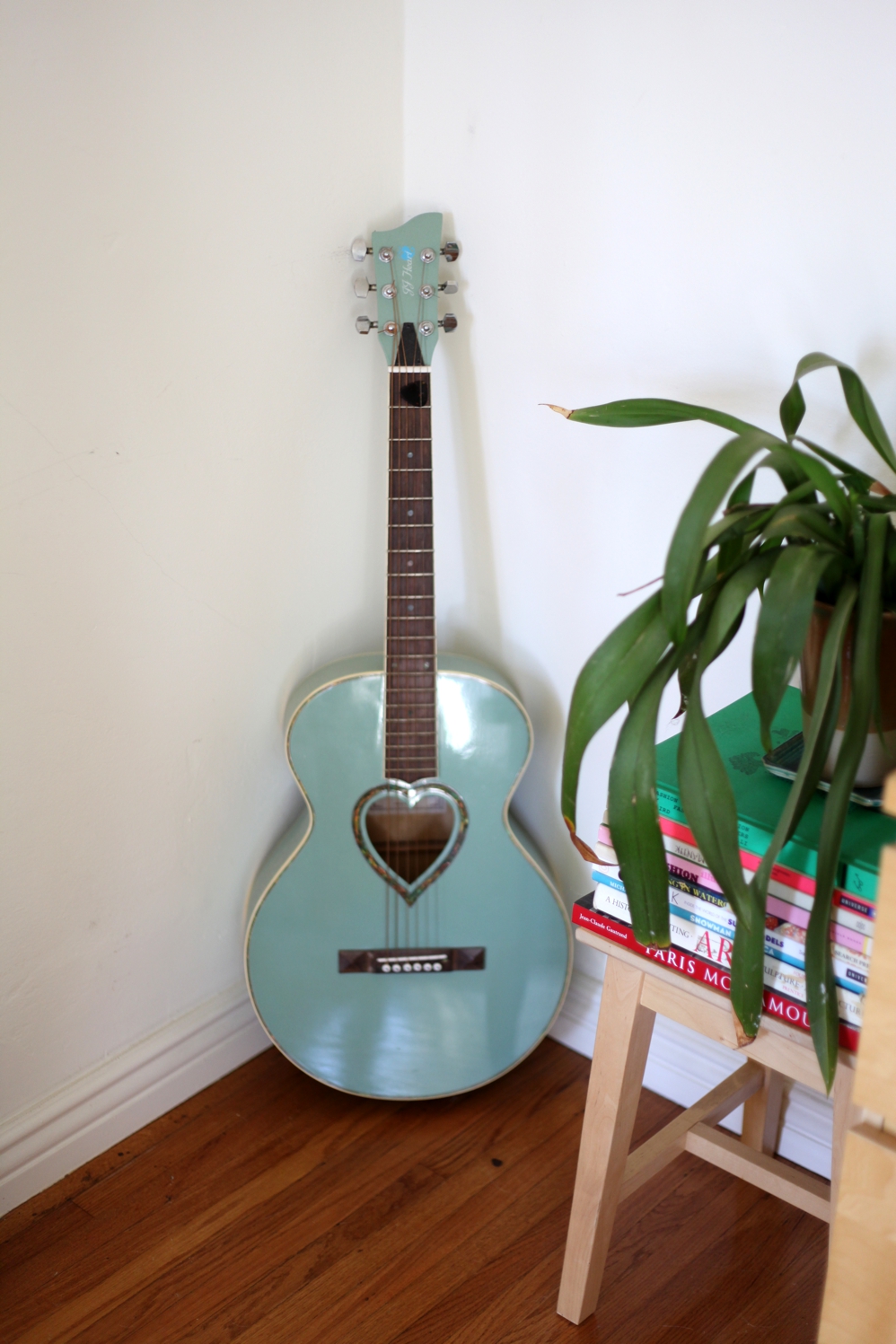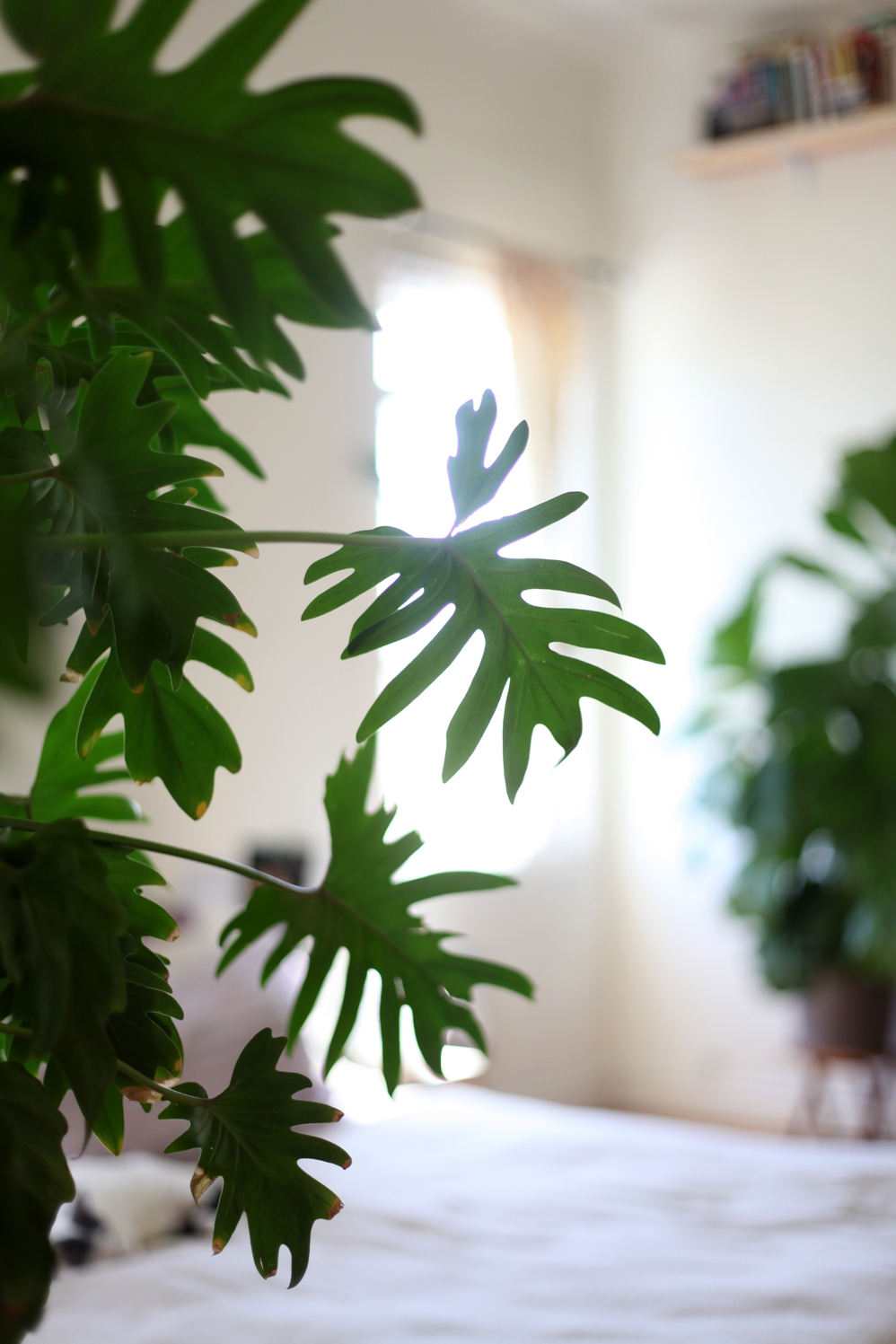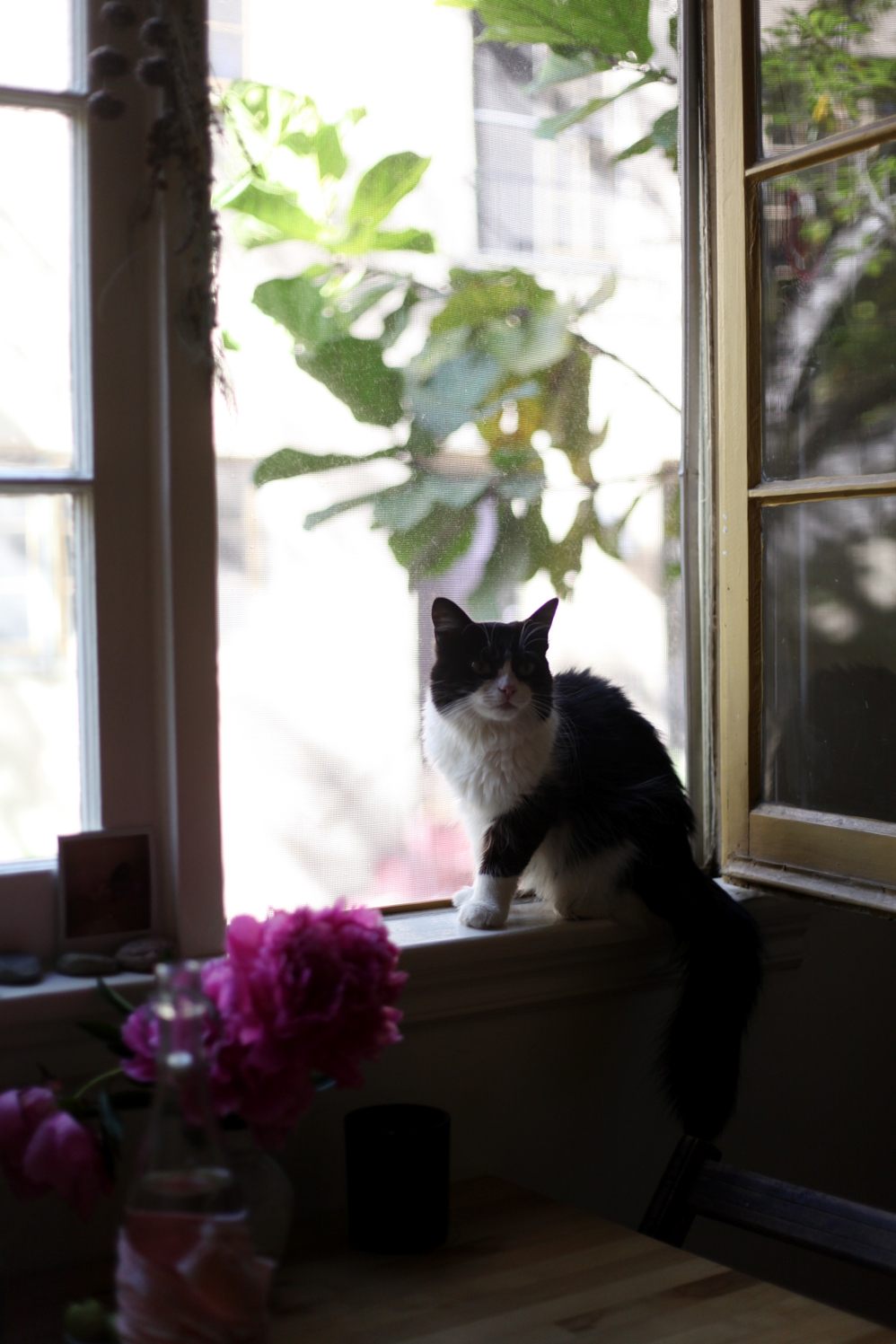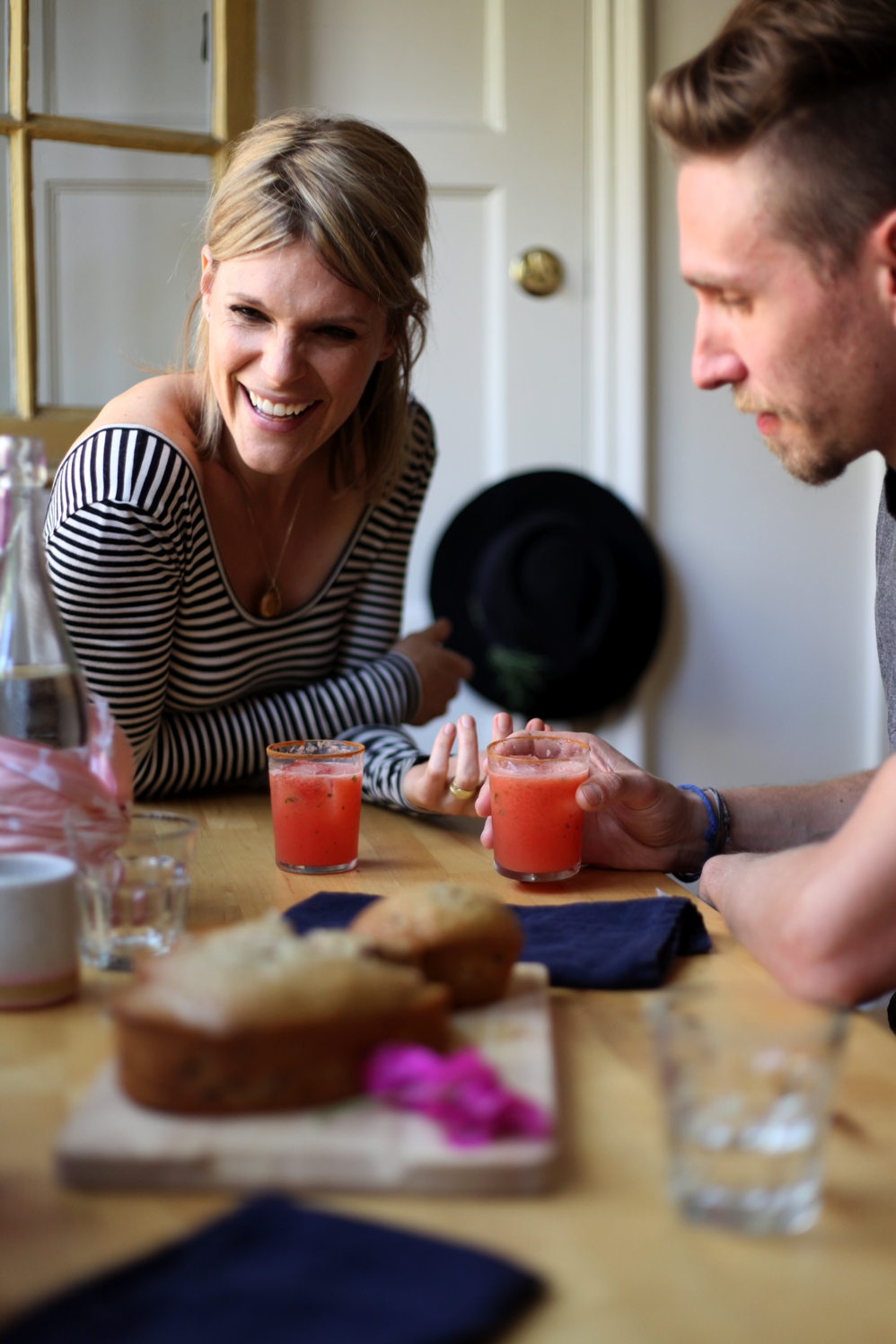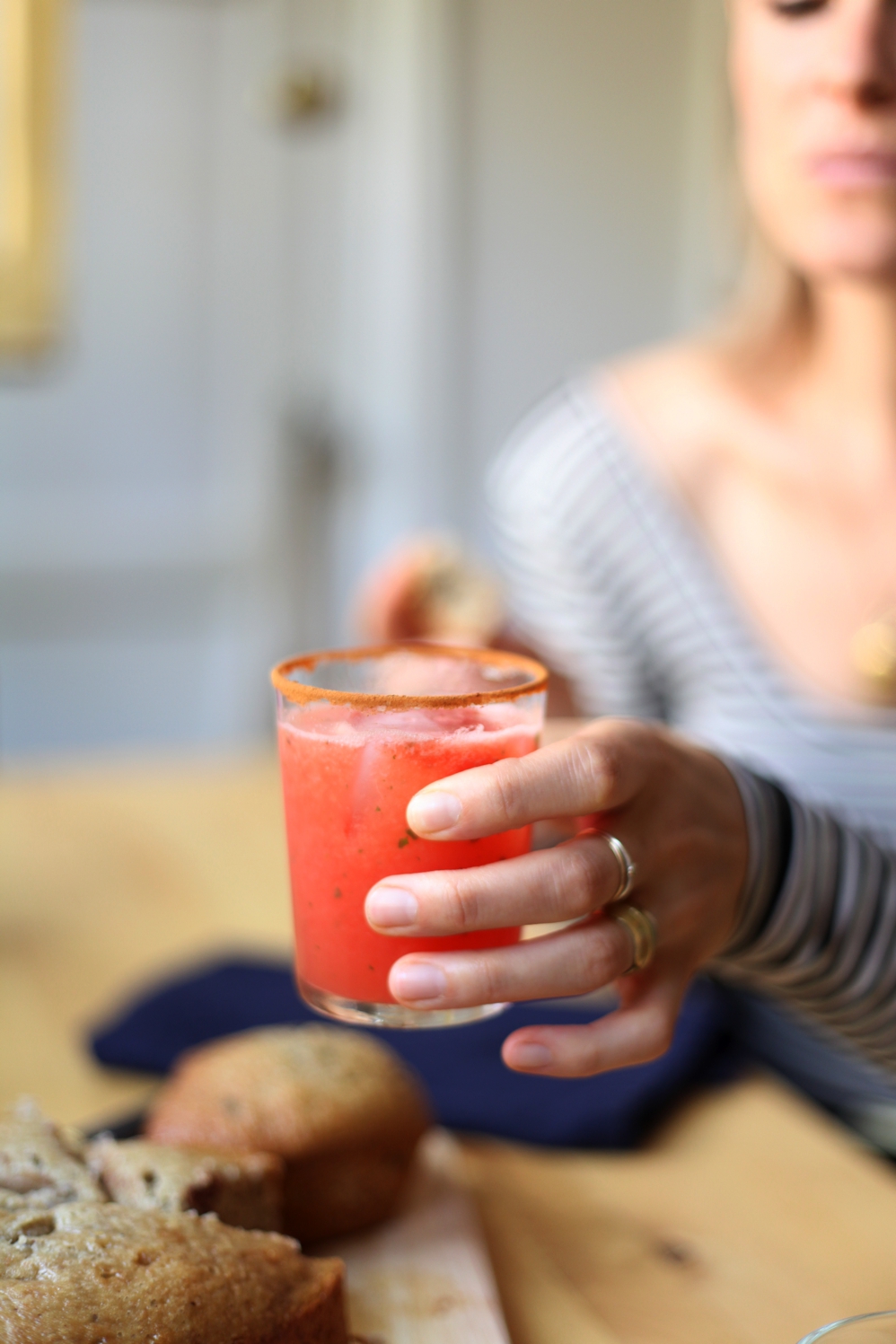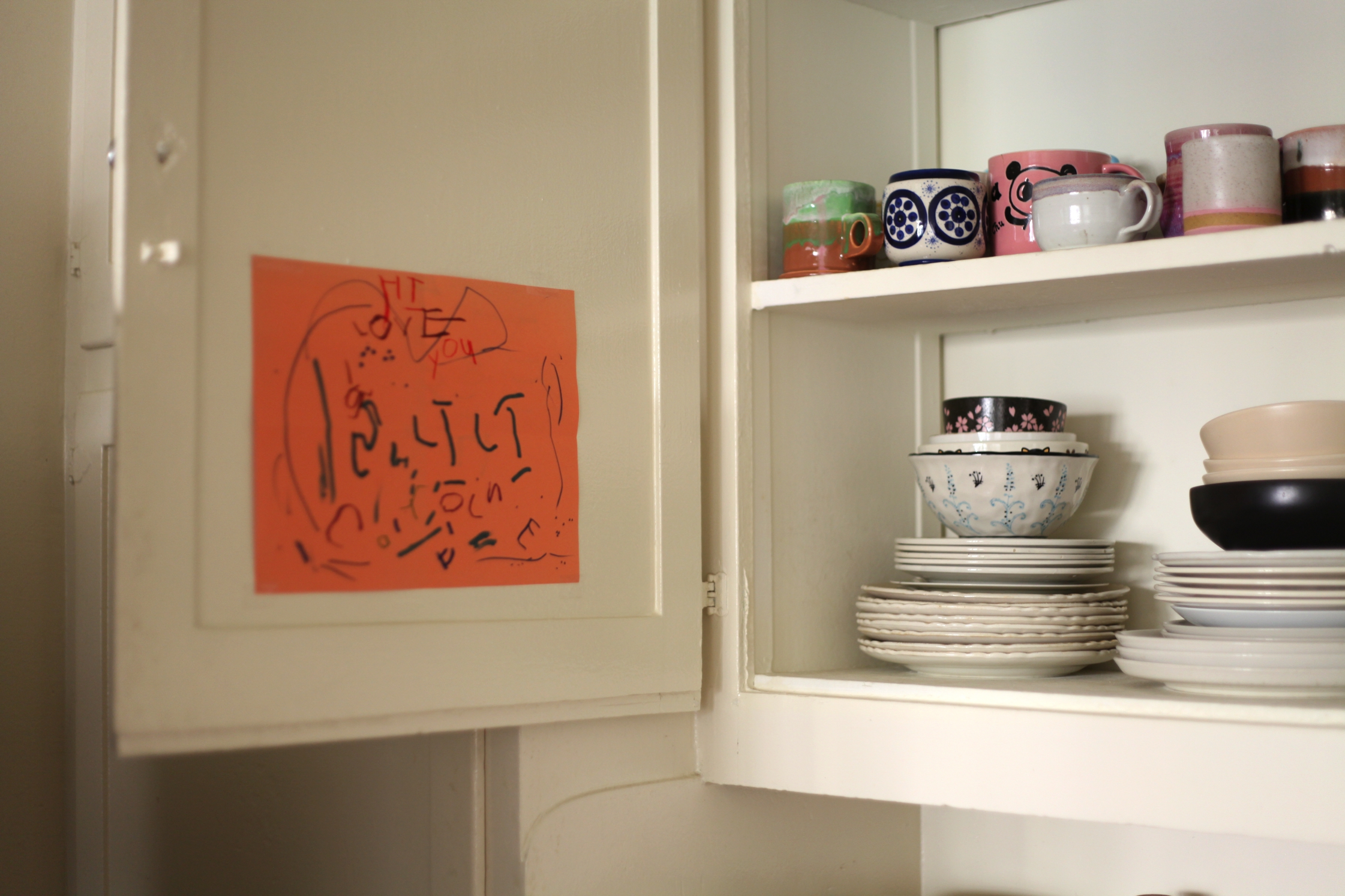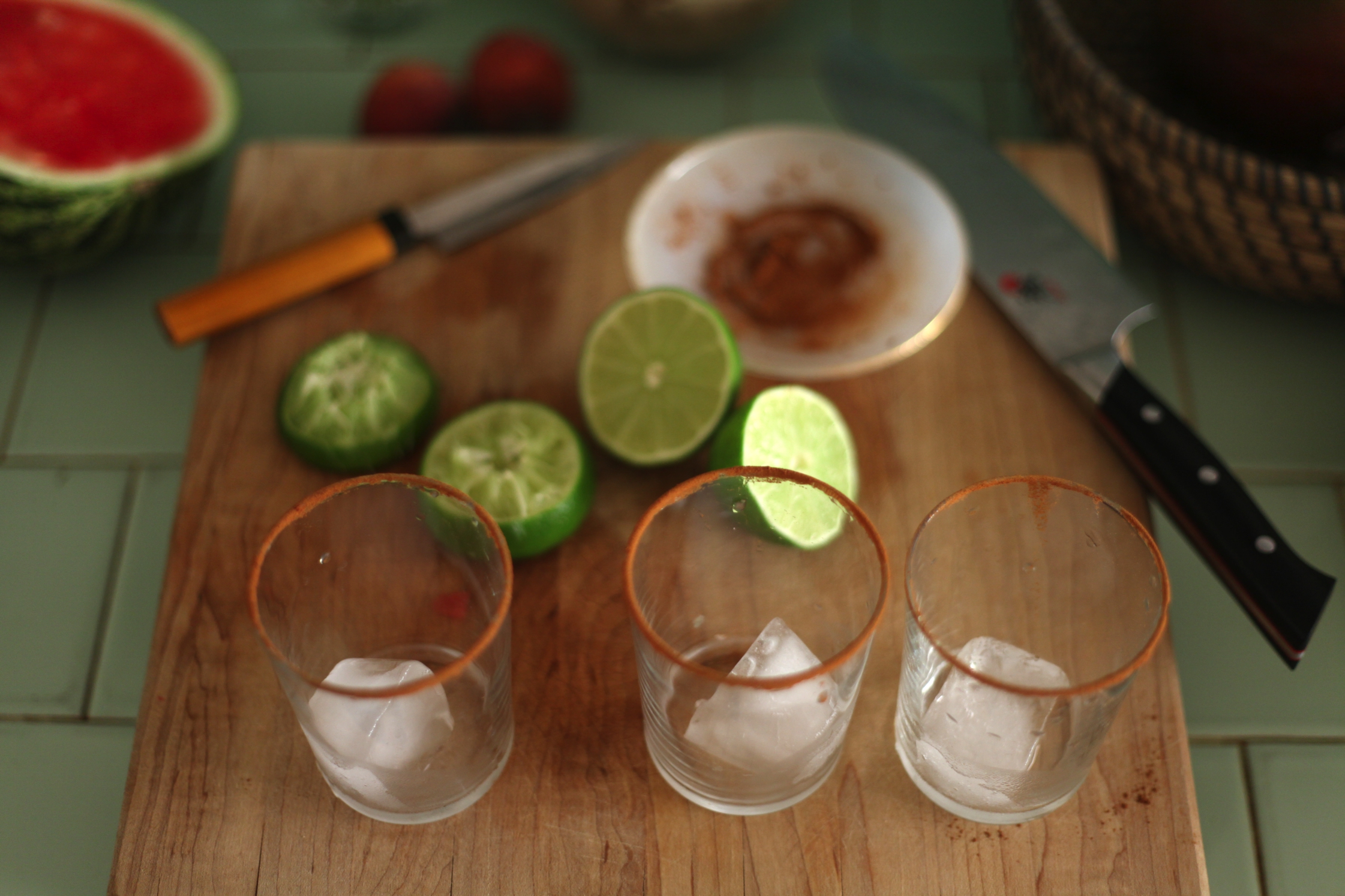 You were married in Gien, France – Lili's hometown. The ceremony tells so much about how you choose to live. Will you share your story?
Lili: Well, Elijah has a very small family here in the States, and I have a very large family – all living in France – so logistically France made the most sense. The incredible part was that 16 of our dearest friends flew out to be there with us! I couldn't believe that I was able to share my small hometown, Gien, along the Loire river, with all of my close friends let alone to marry Elijah. To get to share where I grew up with everyone so near and dear to me was truly the happiest time of my life. Imagine the surprise my family and small town town felt when all these young beautiful Americans descended on to the town for the week. It felt like we were movie stars, truly.
We rented a big farmhouse in the fields and filled our days by making crafts for the wedding – with branches, feathers and flowers foraged from the forest around us. We swam in my uncle's lake, rode bikes, drank rosé, and enjoyed dinners in the late summer sunsets while listening to my Uncle Michel's vinyl collection. Michel generously gave us his cabin in the woods to hold the reception and for us to use as summer wedding camp. Michel also had very thoughtfully planted wildflower seeds in the fields around his property six months prior so that the day before the wedding my friends and I could hit the fields and pick flowers for the wedding. I really love that the color palette of the entire ceremony was up to whatever he'd planted: foxglove, poppies, wild violets, wheat.
It sounds like the day was destined to be a perfect one.
Lili: On the actual day of the wedding we all got up early and went to Michel's forest to set everything up. We hung garlands, set up the tables with the second-hand China that we had bought from a village nearby, created the flower arrangements, set out candles all around the lake on tree stumps and hung chandeliers from the trees. We got married later that afternoon at a quaint little chateau. White doves were released and we drank champagne. Michel had another surprise and took us all out on his flat-bottom boat down the Loire river back to his forest for the ceremony. It was just so heartfelt, such a magical day. We ate a wonderfully prepared vegetarian dinner, danced, played music, watched paper lanterns get lit and float off into the star-filled night sky and celebrated well into the wee hours of the morning. It truly was a perfect moment in time. Full of so much love.
How do you and Elijah approach making a home?
Lili: Marta Teegan, owner of Cookbook and Cortez in Echo Park, not to mention a friend and a great inspiration, once said to me that flowers – and nature – are by all means a necessity not to be mistaken for a luxury. That really resonated for me in my heart. It's a philosophy that Elijah and I try to apply to our home on a daily basis. It's the little things, the sprigs here and there, the little love notes and gifts we're always doing for one another and for our home.
We try to maintain a light load. Respect is a really big factor in the equation: we respect our home, our garden and our neighbors. We start first and foremost with respect for one another and then that extends to our pets and our plants, and then to our living space. We clean it, we try our best to tread lightly, we let the sunlight in and open the windows everyday – even on rainy days – to allow for the air to move through the house to keep an existing sense of movement. The antithesis of stagnation. Hopefully that extends to the bigger world.
And this extends to the contents in your home also?
Lili: We build and bring in furniture and objects that are of use but that also keep simplicity afloat while also looking beautiful. Someone once told me that 'not all things have to be beautiful you know', but I highly disagree. If there is a possibility to have something that is beautiful and functional then why not? Simplicity is beautiful. A branch is beautiful. I wish to surround myself with as much beauty as I possibly can. That's the filter I chose to view my life through. Elijah and I don't have much in the sense of material items but I think our home feels grand. We make choices that I think make our home, and world, a beautiful one.
Do you have any favorite items, pieces of furniture or belongings?
Lili: We both really love our turkish rug that we got in Woodstock, NY. It has a story behind it that is really special and the deep aubergine color of it is extremely satisfying. Our vinyl and book collection has been a slow growing one but one that we both covet. There is one little wooden lamp that my youngest brother made for me one year for Christmas that I cherish. Lastly, our plants. We have a wonderfully diverse family of plants that have been with us now for quite some time. They have continued to grow with us.
What is the best thing about a simple life?
Lili: With simplicity comes a lack of distractions, and I believe that this allows the two of us to really pay attention: to our animals, to our plants, to our garden, and to our home. Promoting a nurturing environment.
Tell me about your neighborhood rituals.
Lili: We love to have a lazy morning together and take our dog V.v. on a walk to get coffee. I also love to walk the hills in our neighborhood and see what is growing. We do love to go on nice walks through Griffith Park and Elysian Park as well. Especially late in the afternoon. One of our favorite dates is to take V.v. on a super long walk to one of the nearby old time movie theaters – the Vista or the Los Feliz Three. If we can get a glass of rosé from Fiagaro Cafe and some fries before taking in a movie all the better. Then we'll walk back home late into the night and maybe get a slice of pizza along the way.
Lili, how did you get into floral work?
Lili: I've always been a fan of nature and being outdoors. It's something that was a part of my upbringing, my surroundings. I studied design and media arts at UCLA after having been devoted to playing the violin for eight years. I needed a change. I feel like it's a big part of who I am: this unwillingness to do one thing. It's hard for me to stick to one thing, one idea, one form of work. So I started getting into flowers slowly but not seriously. My best friend was getting married and asked me to do the flowers for her ceremony because she didn't trust anyone else. I decided to give it a go and I really enjoyed the process. I got to work with my hands – with these natural, beautiful materials and it enhanced the everyone's experience at the ceremony. Whether it was a glance, a scent, a branch sticking out to create a form, the flowers were very much a part of something special. This made me realize that flowers were truly something worth getting into: how remarkable that they can affect another person's emotions.
They can brighten someone's day or make a mundane space feel elevated. This is such an interesting concept for me. I worked at a flower shop for about a year after that and then needed to push it further and take the flowers to another level. There is still so much to explore. I'm fascinated with Japanese floral arranging. It could take a lifetime to master! But pushing flowers and plants into art and expression is so satisfying and it's eternally inspiring.
You adamantly say that you are not a florist. Define your floral work. How do you approach florals and plants.
Lili: I feel what I practice is floral artistry. I work with flowers but I also work with plants, plant materials, and ideas that go far beyond traditional floral arrangements. I like to think that I'm commissioned as an artist to provide a work of art.
Getting to do creative work for Vogue, Oyster Magazine or Wilder is always such an honor, and I'm given a lot of freedom. Defining myself as a florist is too limiting. Give me room and I can create floral fireworks. I really appreciate the unexpected. I also love to research what flowers and plants mean and do for other cultures. There's so much to learn still.
Where you do find your materials?
Lili: I like working with plant materials and flowers that are close by, as opposed to being sprayed, packed and shipped across the world. There is a life to them, a vibrancy that resonates with me. Depending on what it is I am working on, I'll go on walks and hikes to forage for materials. I'll go to farmer's markets. When possible I'll forage from my garden or a friend's backyard. I also work closely with local farms: The Ecology Center, Silver Lake Farms, Muir Ranch High School Gardens and Rose Lane Farms.
Describe your wildflower pop-ups at Cookbook.
Lili: The idea of a wildflower pop-up came from Marta and Robert and I jumped on it! Marta's only rule: the flowers must hold the same integrity as the food they carry: meaning organic, local and in season. This really pushed me to research how to source my materials. It forced me to look beyond the flower mart and reach out to local farms, farmer's markets and domestic gardens, and the abundance that could be found in my own neighborhood. The response was humbling and fantastic: customers were stoked with flowers that lasted so long and that were so fresh. They kept coming back for more. It was a very satisfying opportunity because I was incredibly aware of the entire process. I was picking flowers in fields firsthand. I knew exactly where every stem came from. I also went on to provide flowers for their restaurant Cortez.
What are you working on now?
Lili: I just finished a month-long art installation at The Standard in Hollywood titled Plants: Our Silent Guardians. I'm also in the process of plantscaping The Standard Hollywood's diner to celebrate a new chef's residency. I also just finished working on a 3′ x 3′ wall of flowers for a music video directed by one of my dear friends. Work like this is so much fun and again I'm usually given a lot of freedom. More than anything I feel fulfilled knowing that my work makes others happy. I've also just started taking Ikebana courses and am planning a photo book focused on miniature Ikebana.
You talk to and play music for your plants. Why should we all be doing this?
Lili: Plants are living things. They need to feel the good vibes too, and what better way than to talk to them, play them some music, or to brush my hands along their leaves. I also feel that if my overall spirit is positive and radiant, then it will rub off on them. I know this sounds strange but I fully believe in sharing the love with your plants.
Elijah, you also work with many herbs and natural, living ingredients. What are the advantages of working with these ingredients? From where do you draw inspiration?
Elijah: It took me some time to realize how amazing California is. It's pretty incredible that twice a week I can walk to a farmer's market at the end of my street and buy fresh organic fruit and vegetables all year round. This is an inspiration in itself. How could I not take advantage of such amazingly fresh ingredients at my fingertips?
Beyond that, the art of making cocktails has risen to such a grand stage. It really has created an opportunity to use one's culinary creativity. The more I learn about herbs and the use of fresh ingredients in preparing a drink, the more drinking a cocktail becomes an experience. It's not just about the party. My friend James and I have been experimenting with homemade herbal simple syrups using ingredients from our gardens. Two of the most popular are a lavender infused simple syrup for vodka, lavender lemonades, and a pineapple syrup for our take on a pisco punch. With the abundance of fresh local produce, and the fact that we can grow our own, there are no limits.
What do you love most about being a mixologist?
Elijah: Working in an environment that I get to meet so many new people day in and day out is an incredible thing. Making cocktails and learning new drinks and recipes is certainly fun, but if it wasn't for the human element I don't think it would be the same for me. A real plus about where I work is that it gets so many people from so many different places around the world and from all kinds of backgrounds. I get to see people on a really human level.
Do you have a favorite place for a weekend getaway?
Lili: We both love going to the desert. Palm Springs is an amazing getaway for us because it's close yet feels removed from LA. We often rent a house or stay at a hotel. The most important part being the pool. Elijah loves to soak up the rays. If we have a few more days to spare then we head up to Big Sur. Nothing beats the epic hikes through the sentient redwoods forest or a soak in the natural hot springs.
Do you have a favorite shop or restaurant in your neighborhood?
Lili: Elf Cafe in Echo Park is our favorite restaurant. We don't go nearly enough but when we do go it is always a cherished meal and experience. It has some of the best vegetarian and vegan food either of us have had. I have to say that Squirl and Cookbook Market are frequent run-to's as well.
Elijah: I love The Last Bookstore for books and vinyl.
Lili and Elijah, thank you for welcoming us into your home and inspiring us with your personal philosophy while explaining the importance you both place on your surrounding natural environment. To find out more about Lili visit her journal. More information about her recent installation at The Standard, Hollywood can be found here. If you are interested in Elijah's unique approach to concocting drinks and his profession, visit the restaurant page of The Standard here.
Photography & Text: Claire Cottrell