From her experimental performances in the 1970s to the VR installations she has more recently become known for, Laurie Anderson has been an influential figure in every decade she has made art.
"Is it going to be fun?" That's Laurie Anderson's criteria for accepting new projects and invitations. Improvising with Brian Eno; a talk about philosophy with writer Timothy Morton; an artist residency at NASA; staging a drone-based sonic experience with her late husband Lou Reed's guitars at New York's Cathedral of St. John the Divine; painting the rooms of a morgue at the Cannes Film Festival for a VR installation. All of these pass her fun test. And if Anderson doesn't think something's going to be fun? "I have a 'no' pen," she says. "You press a button and it has 20 versions of the word 'no.' A friend gave me it to me and said, 'you can't say yes to everything.' And I'm in big trouble right now because I just have so many things I haven't finished."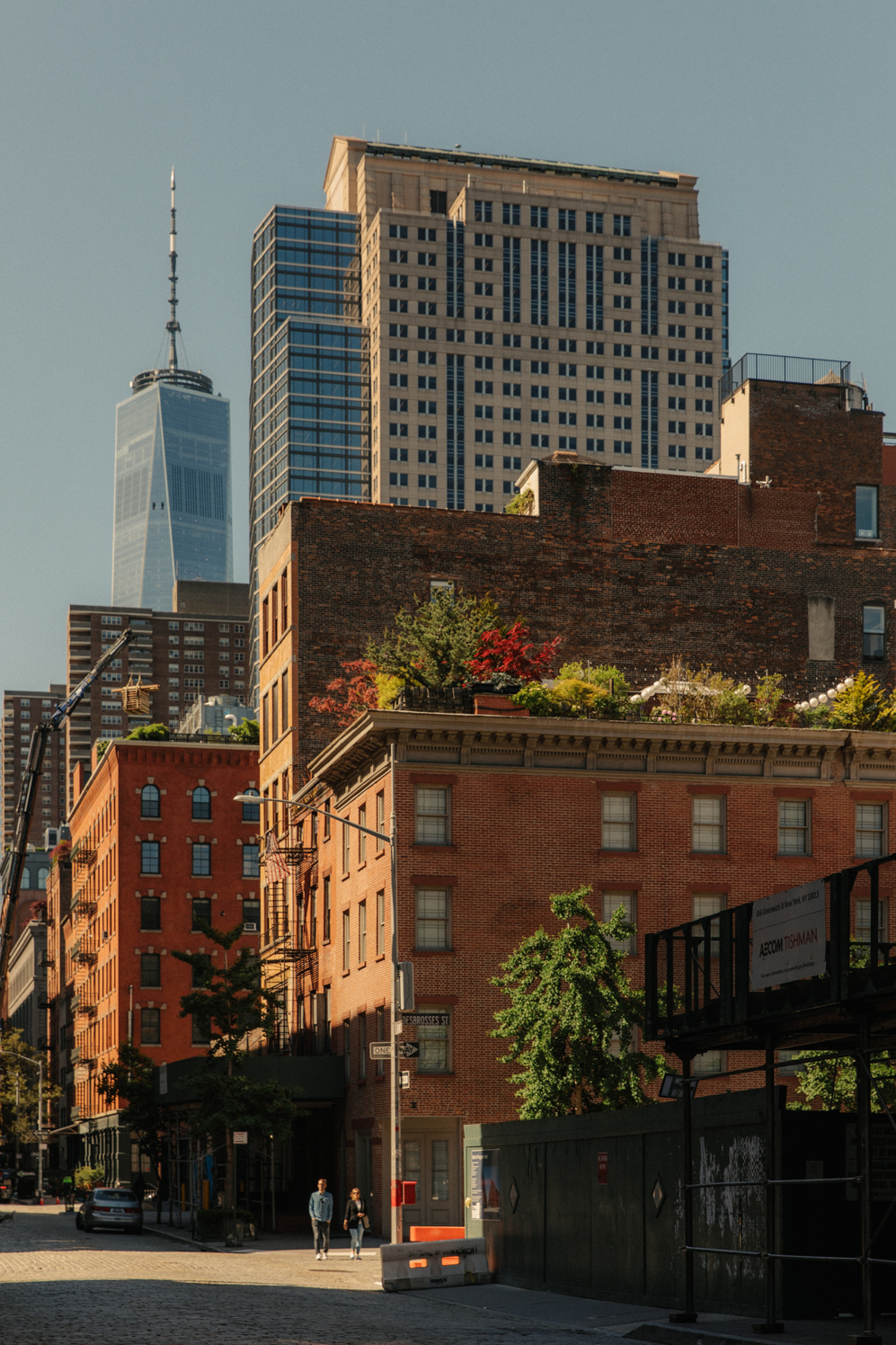 We're sitting in a book-filled room in her multistory Tribeca loft—a warm, tasteful-yet-unassuming space that she has resided in for more than two decades. Little Will, her beloved border terrier, is never far from her feet. Downstairs is her recording studio. Another room houses 3D printers, equipment, and instruments—a tableau of buttons, cables, and knobs. The entrance hall is filled with objects that demonstrate her exuberance and abiding curiosity: a skateboard (yes, she uses it), ice skates, a fold-up bicycle—another bicycle with a yoga mat in the rear basket. Her main living space exudes Zen minimalism, as if Anderson (an avid meditator) only lives with things that are essential and personal, like her Takashi Murakami toys, a hand-carved wooden stool, and a Mexican blanket fashioned as a rug. It's an apt reflection of her personality: no-nonsense yet endearing. There are small shrine-like tributes—most prominently, a framed photograph of His Holiness the 14th Dalai Lama, draped with a piece of white silk. A few photos of Lou Reed are mounted on the walls, fairly inconspicuously. It's pretty trippy (and utterly heartwarming) to see iconic images of an iconic rockstar recontextualized as family portraits of a loved one.
Anderson just got back from Cannes where she debuted a three-part virtual reality installation with her collaborator Hsin-Chien Huang: Aloft, Chalkroom (versions of which are currently installed at MASS MoCA), and To The Moon (originally commissioned by the Louisiana Museum of Modern Art in Denmark), described as "poetically linked and complementary pieces," under the collective title, 'Go Where You Look: Falling Off Snow Mountain.' These pieces, by way of putting on a VR headset, suspend the participant in a highly immersive, sensorial world, where Anderson's unique way with abstract sounds, totemic ephemera, and language play out to dazzling, indelible effect. It's the visual and intellectual equivalent of the thrill you get from a rollercoaster ride.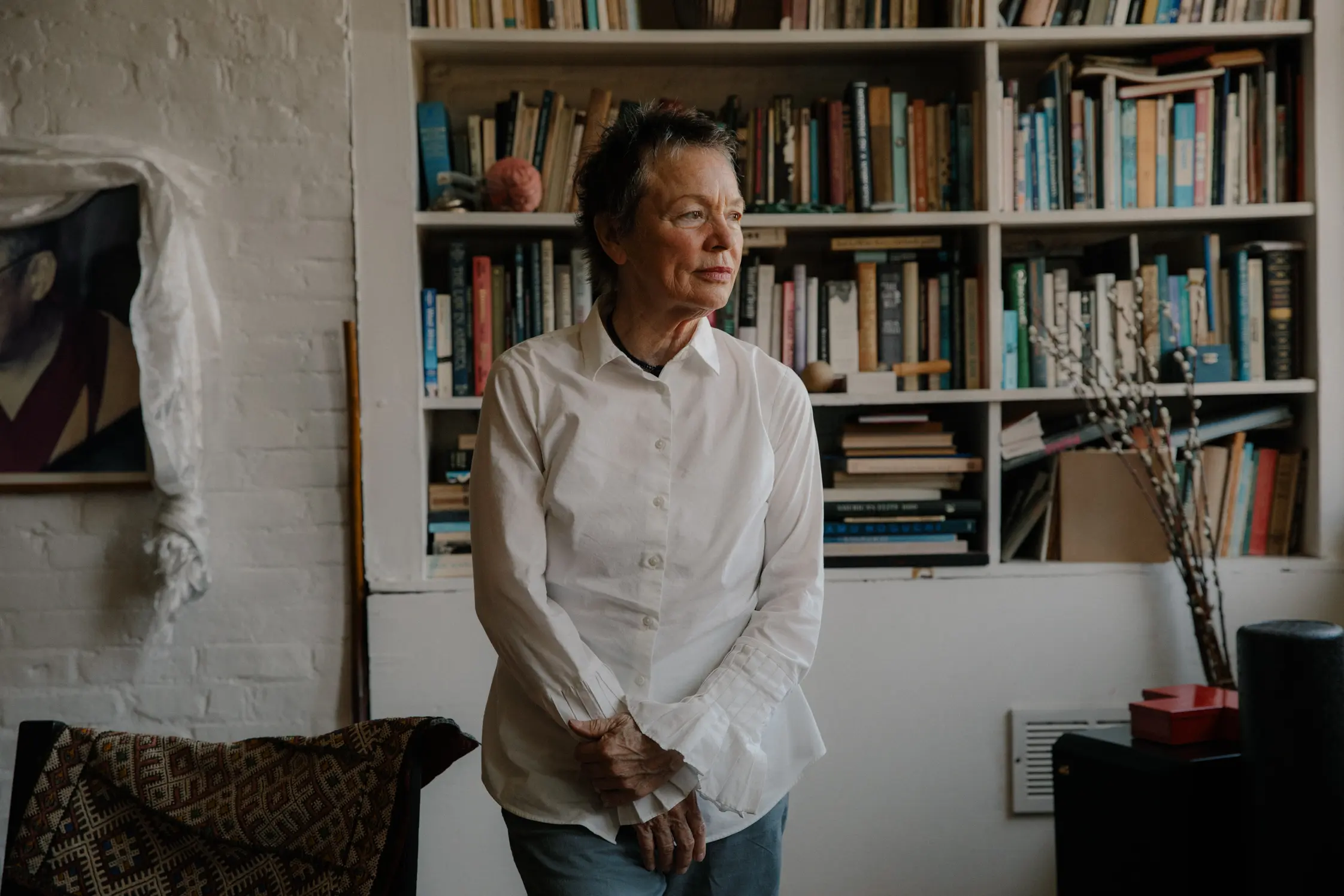 As a nascent art form, VR allows Anderson to expand her experimental oeuvre to convey—not innovation, but emotion. "I like [technology] when I need it, but I'm not somebody who's so entranced [by it]. If it's going to help me do something, it's great. If I'm just doing it to be fast, then I might as well be in a trade show, putting technology through its paces—who cares?" she says. "You're gonna touch a switch and something new is going to happen? Wow! That happens every single second, you know? I'm not disparaging—I think it's really great to invent things that are cool, but to make it a necessary part of your work is a different thing. I'm much more interested in making something that is…emotional." To The Moon (also shown at Art Basel Hong Kong in March) was the first time Anderson was "able to make something really emotional" with VR. "I was very proud of that," she says. "I didn't really set out to make a lot of Danish people cry but it did happen. People get very involved in this. And that means everything to me, because so much of the world is so cold now. Just so inhospitable, you know?"
"I'm very, very disheartened by the amount and level of misogyny in this country."
The catastrophes and injustices of the world are weighing on her mind today. We spend the majority of the morning talking about climate change, abortion rights, gun violence, and gender equality. "I'm very, very disheartened by the amount and level of misogyny in this country," she says. "If there's one thing that bothers me the most, it's probably that." David Wallace-Wells' book The Uninhabitable Earth is also "filling her brain," as is the plight of 16-year-old climate activist Greta Thunberg, whom she calls "one of my heroes right now." It's inspired her to reprise the Public Service Announcements she started making in the '90s. "There's certainly a lot of topics," she says. "When Trump announced that the gender you're born with is the one you're gonna be stuck with, I thought: who is he to tell me that? You have got to be insane, legislating that. It just really blindsided me, and it made me realize that these two poles of conversation—on one end is freedom and one is death. And they are played out in public discussions, and there are always two sides to these issues. For example, with guns: some people see them as their freedom and some people see them as death. Abortion: some people see it as their freedom, some as death. But we have such radically different takes on those issues, that it is polarizing people…. And I feel incredibly guilty about that because I'm one of the people who's over there screaming, 'I'm right! I'm right!' And we all have to be a little less right."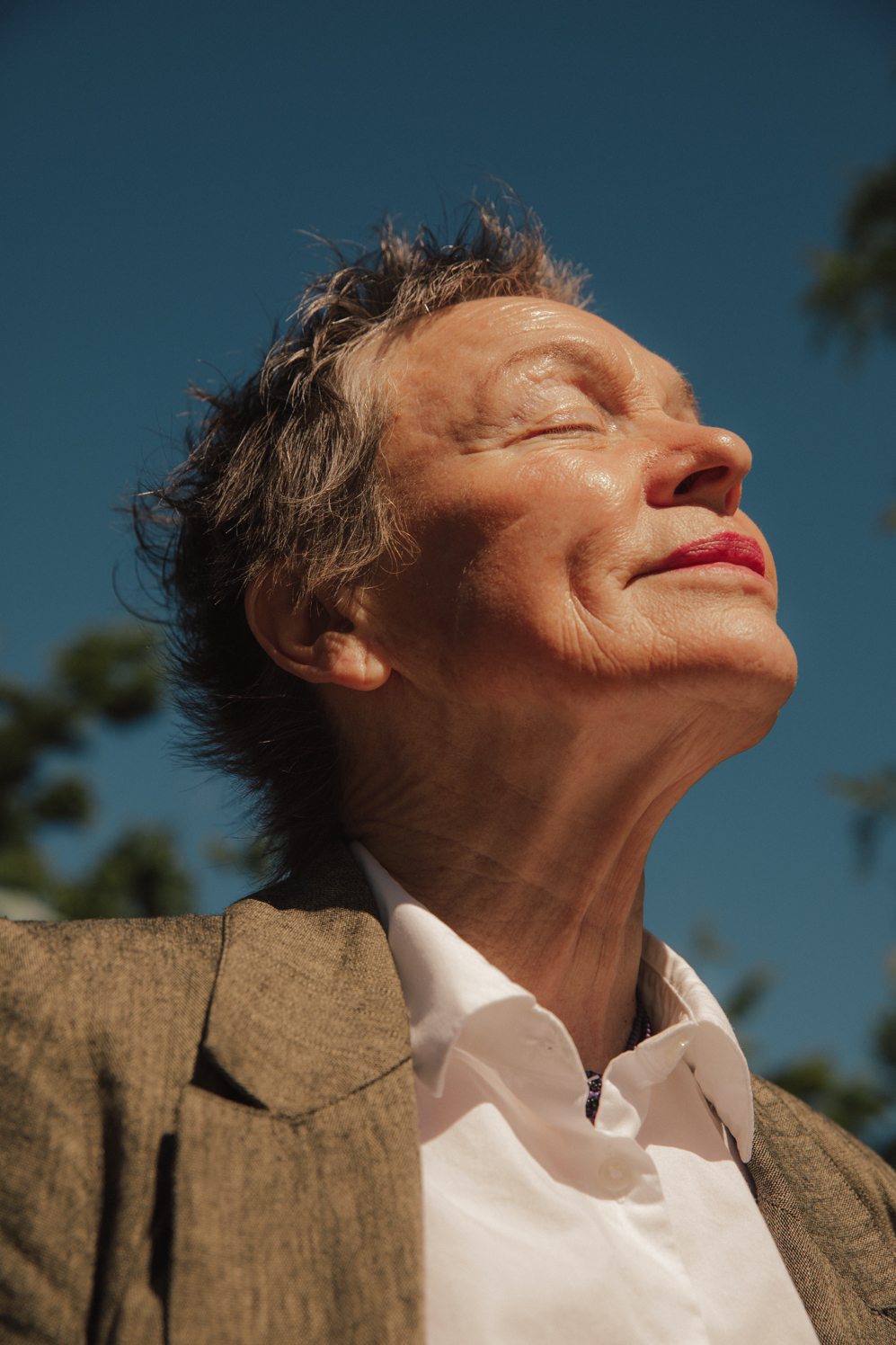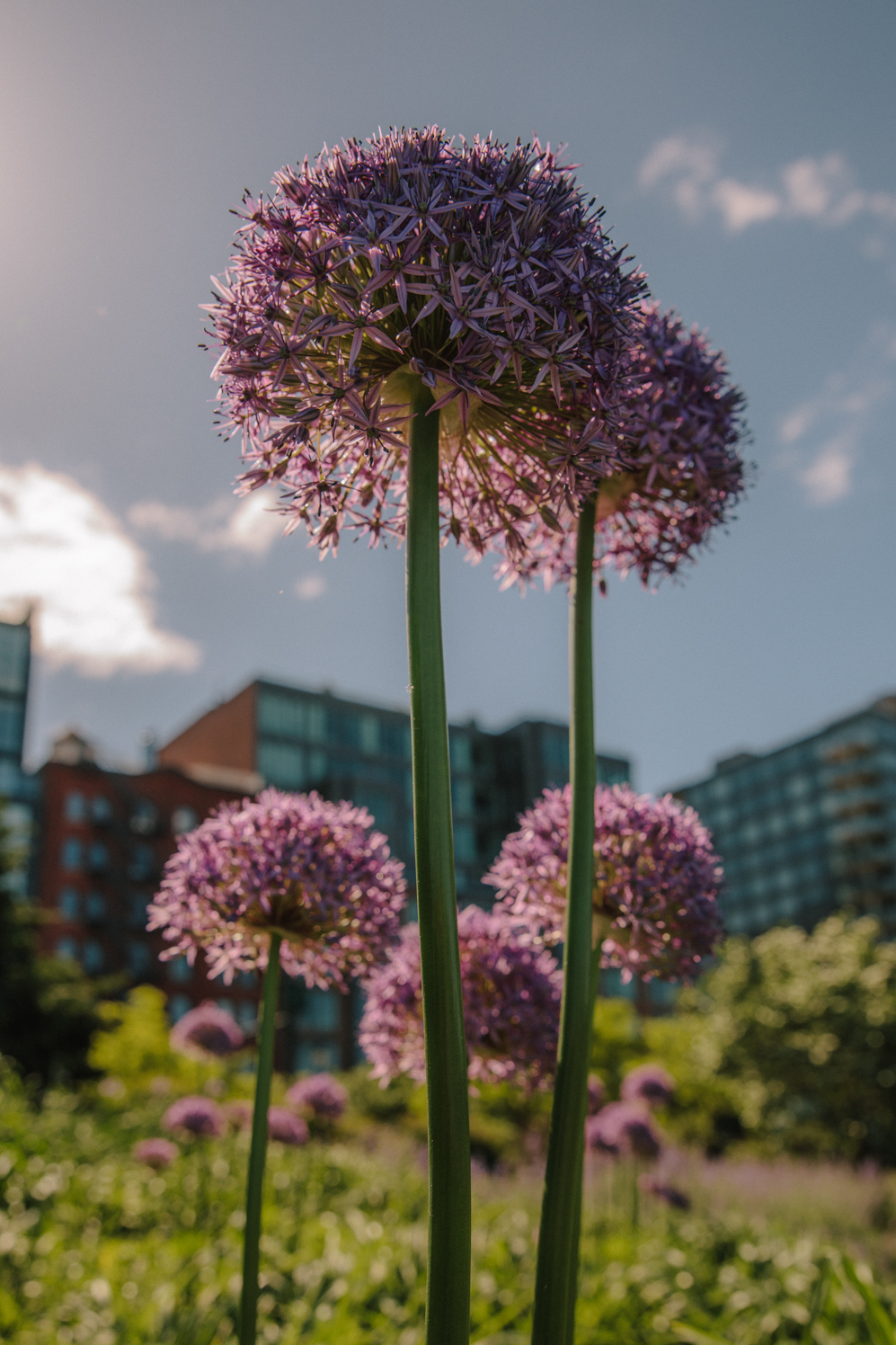 Although Anderson doesn't see her work as being particularly "socially engaged," it has interacted with political and human rights issues. Take Habeas Corpus, her 2015 telepresence piece that was live-streamed from New York's Park Avenue Armory and featured former Guantánamo detainee, Mohammed el Gharani. In an article she wrote for The New Yorker, Anderson described the unexpected direction the project took following a chance meeting with Ben Wizner of the American Civil Liberties Union, which ultimately led her to el Gharani. "It's fun being a detective," she says. "And also seeing things that aren't necessarily what you were looking for. I've found the best things that way, and they're real sidetracks. And some of the least successful things have been when I've tried to force an idea into a shape and it doesn't really fit." She describes her approach as that of a collector. "I'm just trying to figure out what are some interesting things. I put them all in the same room, and sometimes I have to throw things out. I find connections between them that I wouldn't have put together: objects, ideas, images, sounds…."
Anderson also has a studio in the Brooklyn Navy Yard, which allows her to work on large-scale pieces. "I believe in stumbling across things, and that happens when you do hands-on work," she says. "I'm not somebody who's just looking at my laptop. In the Brooklyn studio, we'll be building a lot of things and, hopefully, a painting. I want to get back to some big paintings, principally because they don't involve any technology, so that's a relief."
Which is not to say that technology won't continue to inform her work. In fact, artificial intelligence is her next area of interest. "We're just beginning to work with somebody in Australia who has an AI company," she says. "We're trying to use the best technology to influence people in the way that Twitter has polluted people now. Words are so powerful, and if you could infuse something else into that machine—into that word machine—what could happen? I'm curious." Lately, inspired by some recent sessions with Brian Eno (the pair are working on some "spatial sound collaborations"), Anderson has enjoyed taking a more improvisational path. "I just did four concerts in San Francisco with Terry Riley and John Zorn, and it was all improv stuff," she says. "It was so much fun not to have a plan. Improv is a really good practice, and so is meditation. So maybe that's my approach to the end of the world. Just improv. Try to keep your eyes open and be in the present, because nobody knows where this is going."
"It's fun being a detective. And also seeing things that aren't necessarily what you were looking for. I've found the best things that way, and they're real sidetracks. And some of the least successful things have been when I've tried to force an idea into a shape and it doesn't really fit."
Laurie Anderson is an artist based in New York City. Known primarily for her multimedia presentations, she has cast herself in roles as varied as visual artist, composer, poet, photographer, filmmaker, electronics whiz, vocalist, and instrumentalist. In July, she will be the headline act at Terraforma, a sustainable experimental music festival in Italy.
Text: Natalie Shukur
Photography: Ricky Rhodes