Setting out to design a house like a boat on the top of a cliff, artist Judy Millar purchased a plot of land outside Auckland on the west coast after graduating from art school. Upon four acres, her home, comprised of found industrial materials, overlooks the black sands of Anawhata beach. Known for its treacherous conditions, the beauty of this rugged coastline exudes a wild energy and beauty. Describing her home like an animal that moves and makes sounds in the wind, it is a structure that she has become inextricably linked with. A series of sprawling sub-tropical garden beds have been built up as protection from the wind, that over time have seen the roof replaced more than once.
With solar power, and a gas bottle to make her daily coffee, Judy's existence is a comfortable but basic one. Not far from here scenes from Jane Campion's movie, The Piano, were filmed. One can almost relive the scene where Ada McGrath and her daughter, Flora, were stranded ashore with their luggage and piano overnight.
Within this environment, Judy creates expressive, often sculptural paintings and installations that reference the history of painting within a conceptual framework. Her works synthesise colour, sound and space. In 2009, she was chosen to represent New Zealand at the Venice Biennale and today, continues to exhibit locally and throughout Europe. Despite her love of travel, Judy continues to be drawn back to the recurring sound of crashing waves below her boathouse.
This story is featured in our second book, Freunde von Freunden: Friends, order within Germany here, or find the book internationally at selected retailers.
This portrait is part of our ongoing collaboration with ZEIT Online who present a special curation of our pictures on their site.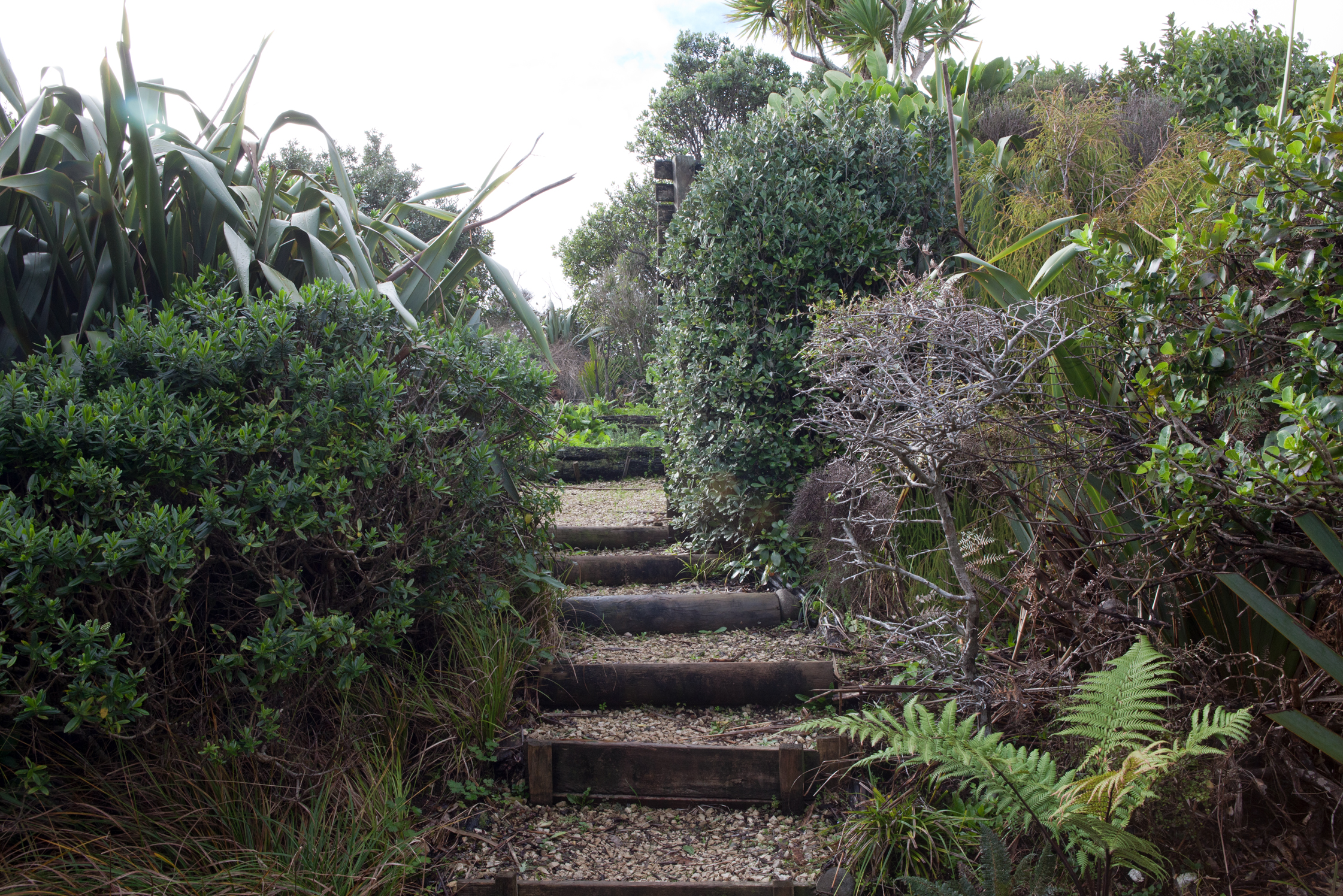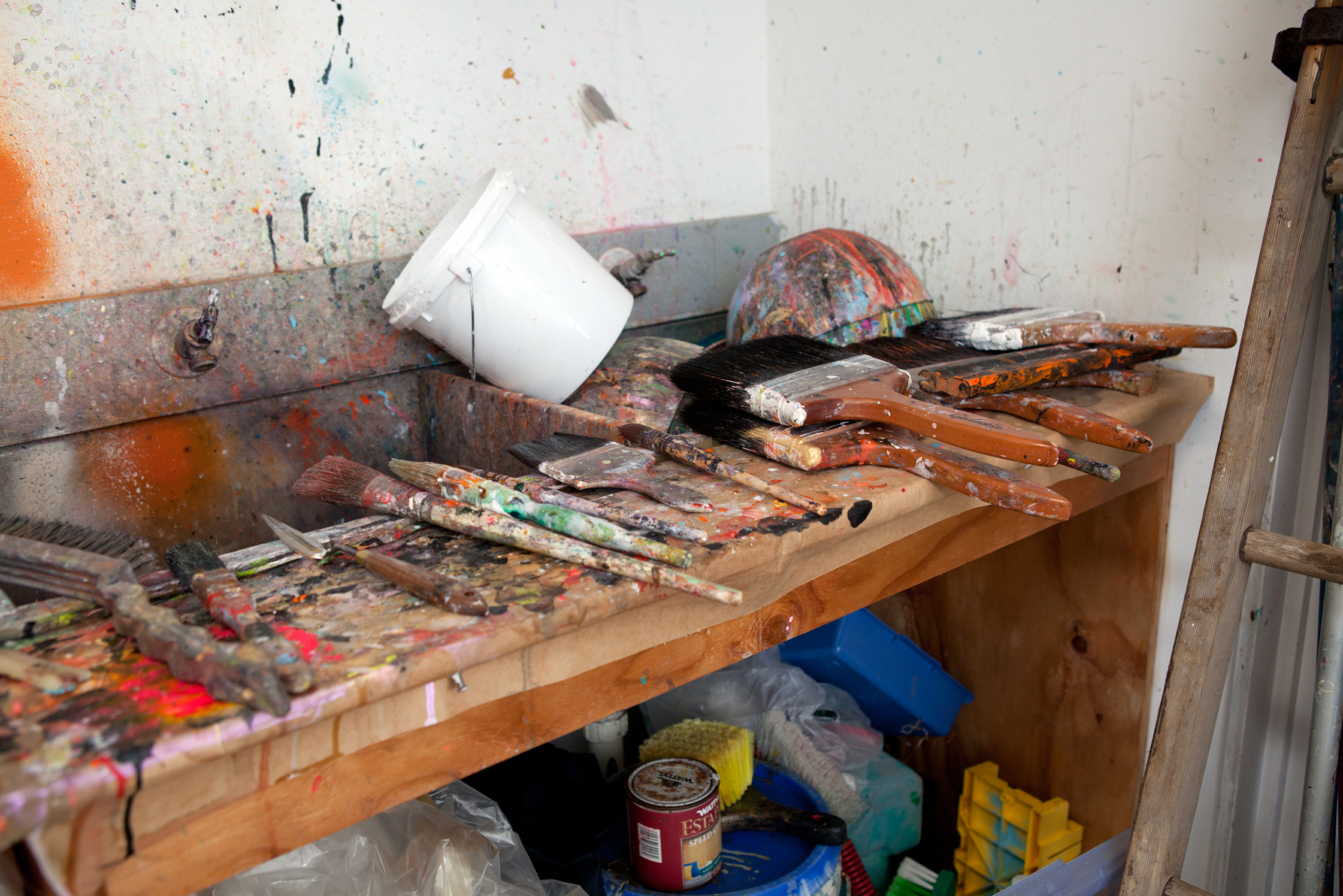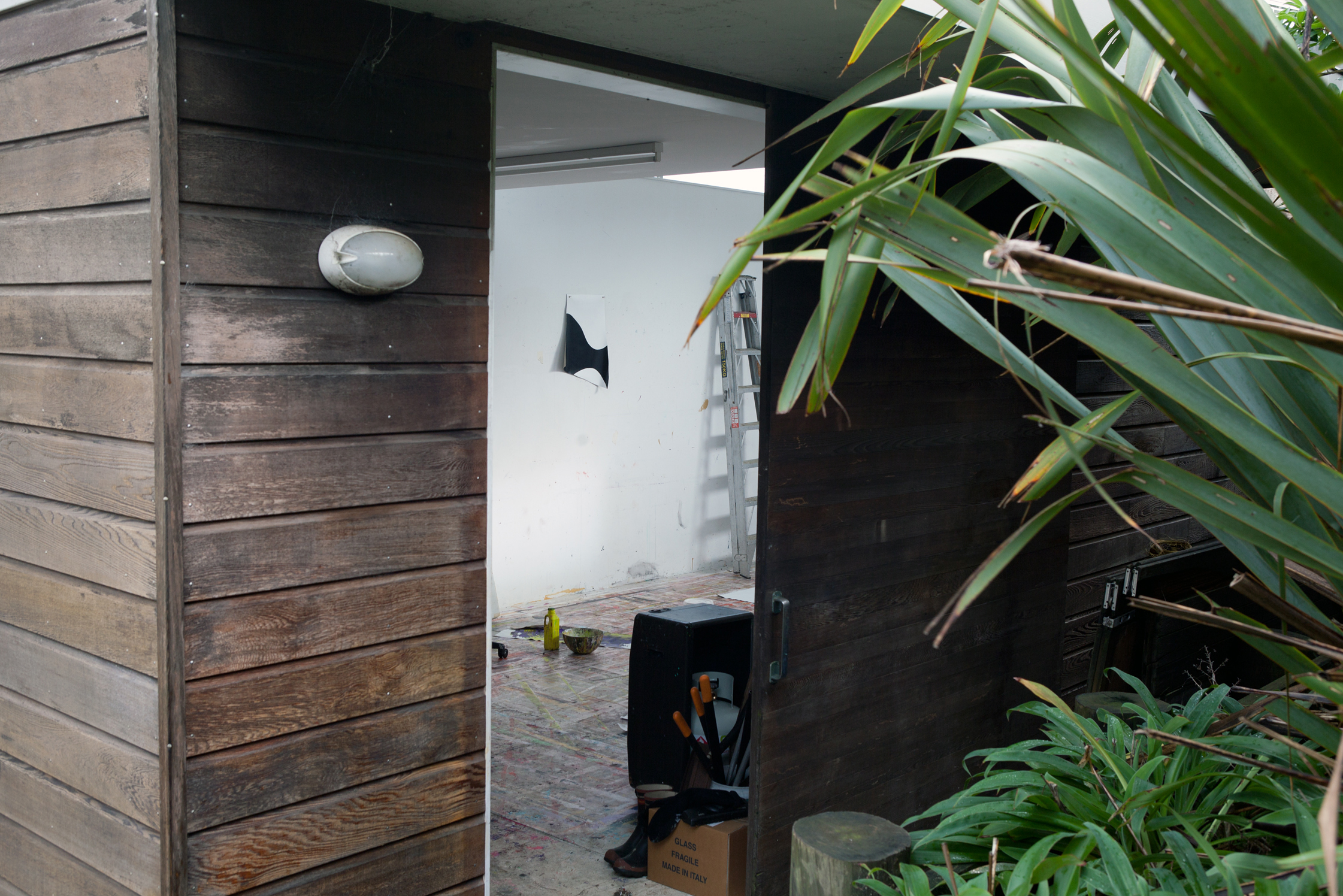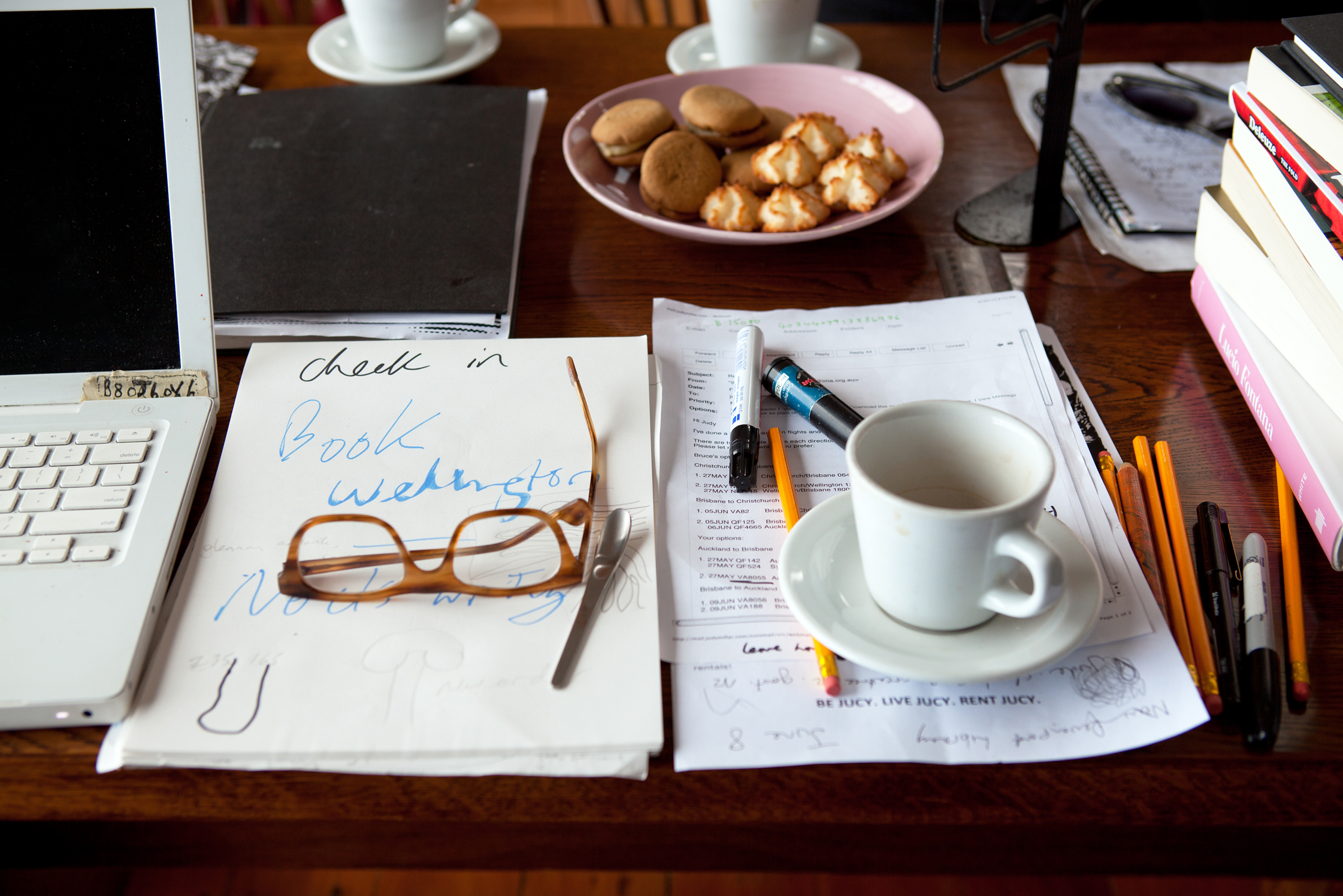 Have you always lived in New Zealand? Where did you grow up?
I grew up in Auckland. But I've travelled a lot since. I lived for a year in Italy and have spent long spells in New York. For the last few years I've been dividing my time between Berlin and my home in New Zealand.
Do you have any poignant childhood memories?
I had an incredibly free childhood. As the third girl in a family of four I was left to be the wild-child. I rode horses, hung out by myself and would often just roam around in nature.
You live in such a beautiful setting, I understand you purchased the land your home is on today when you were quite young and just out of art school, is this correct?
Yes, I bought the land for an incredibly small amount of money the year after I left art school. I had become pretty rebellious against everything and everyone and I think I saw something in the place that matched my moods. It was the externalisation of the rage and power I felt inside. I knew I needed to be there.
Your friend and architect, Richard Priest, designed the house for you inspired by the Werner Herzog film, Fitzcarraldo, and imagery from the scene of the boat being dragged through the bush. What was the process like and when was is completed?
The time of designing and building the house was an absolute adventure from beginning to end. I had always loved the image of the boat being dragged through the bush in Fitzcarraldo and thought the house should be the boatshed on the top of the hill. Richard and I began with the thought of just putting a small simple structure on a jetty cantilevered off the cliff. The house has changed over-time but the essential idea is still there.
When I built the house in 1986 a huge number of old buildings, warehouses and small industrial structures, were being demolished in Auckland to make way for mirror-glass towers. Many of the materials, windows, floorboards, wooden panelling and beams all came from demolition sites, often in exchange for a crate of beer and a smile. As I found things, Richard would alter the design and incorporate the materials into the building.
What do you love about your home and surrounds?
The place is the most energetic, wild, epic, sometimes violent, often beautiful, crazy place I have ever found. It's the New York of the natural world and I love every minute of being there.
Do you ever feel isolated?
I don't feel isolated when I'm there, quite the reverse, I feel at the centre of things. Waves, wind and sky.
Did you always want to be an artist? Where did you study?
As a child I didn't have any idea that being an artist could be either a full time occupation or a way of life. When, as a teenager, I found out there were such things as art schools I knew I wanted to go. Then when I began studying art at the Elam School of Fine Arts that is part of The University of Auckland I quickly realised that one way or another art was going to be the 'big thing' in my life.
You are known for creating very expressive, gestural, sculptural paintings that interact with both two and three dimensional space. Can you tell me about your artistic practice and working process?
My work is very physical and works with the paradoxes we face of being both bodily and corporeal while at the same time inhabiting mental, illusory realms. All my work begins as painting and draws from the history of painting as much as from the physical, fluid possibilities of paint as a medium for thought. Sometimes aspects of painting are enlarged, 'amplified', printed or built in three dimensions. The processes involved are often non-linear, they can appear incoherent, but there is an internal logic of production, replication, and extension.
What are your motivations for making work? From where or who do you draw inspiration from?
Just what my motivations are I really can't say. Making work is something I need to do and put everything else aside to be involved with. Inspiration comes from working; you know, doing something, doing something else, hating a result and needing to change it.
What are you reading at the moment?
I'm always reading about a dozen things at once, making a big soup out of different plots and ideas. But at the moment priority is going to re-reading Jack Kerouac'sDesolation Angels. I am also finishing Thomas Bernhard's The Loser and working through Anthony White's new book on Lucio Fontana.
You were chosen to represent New Zealand at the Venice Biennale in 2009. This must have been a great honor. What was this experience like for you representing your country among the world's best?
Being in Venice for a number of weeks was a fantastic experience. I fell in love with the city completely and fantasised about never leaving. Being involved in the Biennale is of course stressful and tiring and very absorbing. However, it waa also a truly great and lucky experience.
Did this experience alter how you see your own work?
Producing the exhibition for the Venice Biennale gave me an enormous amount of confidence. I worked with a great team and saw the potential to take my work into previously unseen places. It was really like the horizon opening up for me. Of course I had shown many times in Europe and around the world before and was used to seeing my work presented amongst work from many different countries.
How do you view artwork produced in New Zealand on the world stage?
It's difficult to categorise work from New Zealand, usually it fits seamlessly into work made in many other places but it often has a certain rough energy about it.
You currently have an exhibition at the Institute of Modern Art (IMA) in Brisbane. What have you included in this show to exhibit?
The new exhibition at the IMA in Brisbane was all produced on site and is a big unruly unpacking of a single image. A small painting was converted into a half-tone dot file and then the dots were enlarged to take on a life of their own. These dots cover the surfaces of twenty-meter long ribbons that curl and twist in space. It's a big experience both visually and in a bodily sense.
You have are represented by Gow Langsford Gallery in Auckland. Do you have an exhibitions planned in the near future?
I will be exhibiting new work at Hamish Morrison Galerie in Berlin sometime in October, later this year.
Do you have any daily rituals?
Well I love my first coffee of the day but aside from that I don't have any particular rituals. I take each day as it comes. In summer I do love to swim every day. I take the 10 minute walk down the cliff and then a 20 minute journey along a walking track to Anawhata beach.
What are your hobbies aside from art? You have a great sprawling garden that looks like it withstands the rugged coastal conditions. Do you spend much time outdoors maintaining it?
I love to grow things. The four acres I have is covered with regenerating sub-tropical bush that I tend to and nurture but which really grows quite well without any input from me. But I do grow vegetables in summer, if a little haphazardly with huge bursts of activity followed by total neglect due to lack of spare time.
Do you have a favorite local cafe, restaurant or place you frequent in Auckland?
Coffee in Auckland is incredibly good almost everywhere but I love to go to Reslau in Elliot St, Little and Friday for sentimental reasons or Golden Dawn at night. However, I have to say, one of my favorite places in Auckland, is the local library.
You often travel to Berlin. Why Germany?
I spend many months a year in Berlin where I have a studio permanently set up in a converted supermarket. I go there to be closer to a larger global art scene, to meet up with people, and to put myself in touch with everything going on in central Europe. Galleries in Berlin and Zurich represent my work now so I need to be in touch more than would be possible if I was on the other side of the world all the time.
Judy it was wonderful to get to know you and explore your little piece of paradise. To find out more about Judy's artistic practice, see her website here, and further information on the Gow Langsford Gallery website here.
This portrait is part of our ongoing collaboration with ZEIT Online who present a special curation of our pictures on their site. Have a look here.
Photography: Mary Gaudin
Interview & Text: Rachael Watts