If you're searching for the epitome of a polymath, look no further than Jonathan Brown. Thoughtful and passionate, with a love and in-depth knowledge of everything from theater to neuroscience, antiques to architecture, his life as a bookseller and art dealer is fascinating and unconventional.
His LEADAPRON retail space – both a gallery and library nestled down a quiet residential street – sits just behind the bustle of Melrose Avenue in West Hollywood. Its stark white façade, tall and flat with a muted green door and single potted succulent, is appointment-only and known for its privacy and impressive collection of modern art, objects and books.
Designed and renovated entirely by Jonathan himself, the all-white interior acts as a neutral background for a rotating collection of artwork. There's something to discover in every room, from the esoteric objets trouvé near the entrance to a hallway of masks leading into Jonathan's office. Every piece is meticulously presented right down to the Borsalino hat and hand-painted Hermès riding crop sitting on his desk. The aesthetic carries over to his home in the Hollywood Hills, too. Even with its walls of modern art and carefully selected furniture, it's an unfussy and inviting space, peppered with family photos of his wife and two children. Through the windows citrus trees dot the landscape.
Jonathan's circuitous path begins in New York and leads to Los Angeles with stints at both Columbia and Harvard and a full career in neuropsychology behind him. We spent the afternoon with him at his home and LEADAPRON before stopping to refuel with cold-pressed juice and a quick browse at JF Chen, one of the most iconic antique showrooms in LA.
This portrait has been produced in partnership with mb! magazine by Mercedes-Benz. FvF presents a personal portrait of Jonathan while mb! magazine takes us on a tour to Jonathan's favorite spots which you can enjoy here.
You started off working in Neuroscience correct?

Yes, I worked in neuroscience for 15 years. I went into it because of my interest in theater.

How did you connect them both?

I fancied myself a bit of a writer, and I was into Samuel Beckett at the time. The gestures of theater and the language – it was interesting to me. I got a job in a psychiatric hospital in New York, and I wound up getting into it and working with Oliver Sacks. I was interested in the poetry of the brain and how it could shed light on the human condition. It is a marriage of art and science. That, mixed with my theater background and a love for beauty and aesthetics, eventually led me to being a dealer. It was the perfect school of life training for what I do now.
How did you find this house?

I saw it before it hit the market and fell in love with it. I was still a bachelor when I found it and I was just going to renovate the kitchen and the bathrooms. Now, three years later, I've replaced every screw. I put the mailbox in myself.
You have a sort of library in here too.

Yes, but I don't keep art books at home. I do reading books.
What made you want to move to Los Angeles?

I moved to Los Angeles primarily because New York lost its effervescence for me. The things in New York that seemed happenstance or the things that people always talk about – how interesting, exciting and varied it is – became cliché to me. My grandparents had a lingerie company in Hollywood, so I grew up coming out here. I loved Los Angeles and thought it was glamorous. I loved the balmy evenings with night blooming jasmine. I loved the majesty of California as a state. It was in direct contrast to where I grew up, which was a small, New England town.
I lived in New York for a long time too, and I loved living there. But I believe when you begin to doubt it or think you want to leave, it starts showing you the door.

I agree with that. New York can be a city of narcissists, and it can be a trap. It's good for doing business because New Yorkers are consumers. All of the talent from all over the world goes to New York and gets consumed, but you need to leave to make your art, to go create somewhere else. A lot of the great things in New York come from different places. When you're living there, it doesn't wait for you to figure out what you're doing with your life. You don't have time to think about it or explore your options. If you don't make up your mind, New York will make up your mind for you very quickly.
So how did you end up creating LEADAPRON?

When I was at the tail end of my career in neuroscience, I started working with booksellers in my spare time. I worked in their booths at fairs, they'd fly me to Paris and New York, and I'd help out. I found it to be very romantic. Here is a group of people who are interested in ideas – the promotion of ideas, the preservation of ideas – and they sell books. At the end of the night they go out for a wonderful meal and talk about ideas. It was a way to have that kind of lifestyle, and they were all their own bosses. It was a way to have a thoughtful life of the mind and also feel like you're promoting culture and keeping the culture alive.  That's where the name LEADAPRON came from.
The idea is that everybody who wears an apron is a worker, whether they're a craftsperson, tradesperson, a waitress, someone who works with horses, a sculptor, a newspaper delivery man, a cobbler – they're the people that make the objects or items that furnish the culture. The people that furnish the culture drive the civilization. When we look back on ancient Egypt and hieroglyphs and the scarabs – I happen to be very interested in ancient Egypt so I'm bringing it up as a reference – when we look back at the jewels they made and how sophisticated they were, we're really looking at those craftspeople and tradespeople. It gives us insight into a civilization, which is gone. That is the apron part.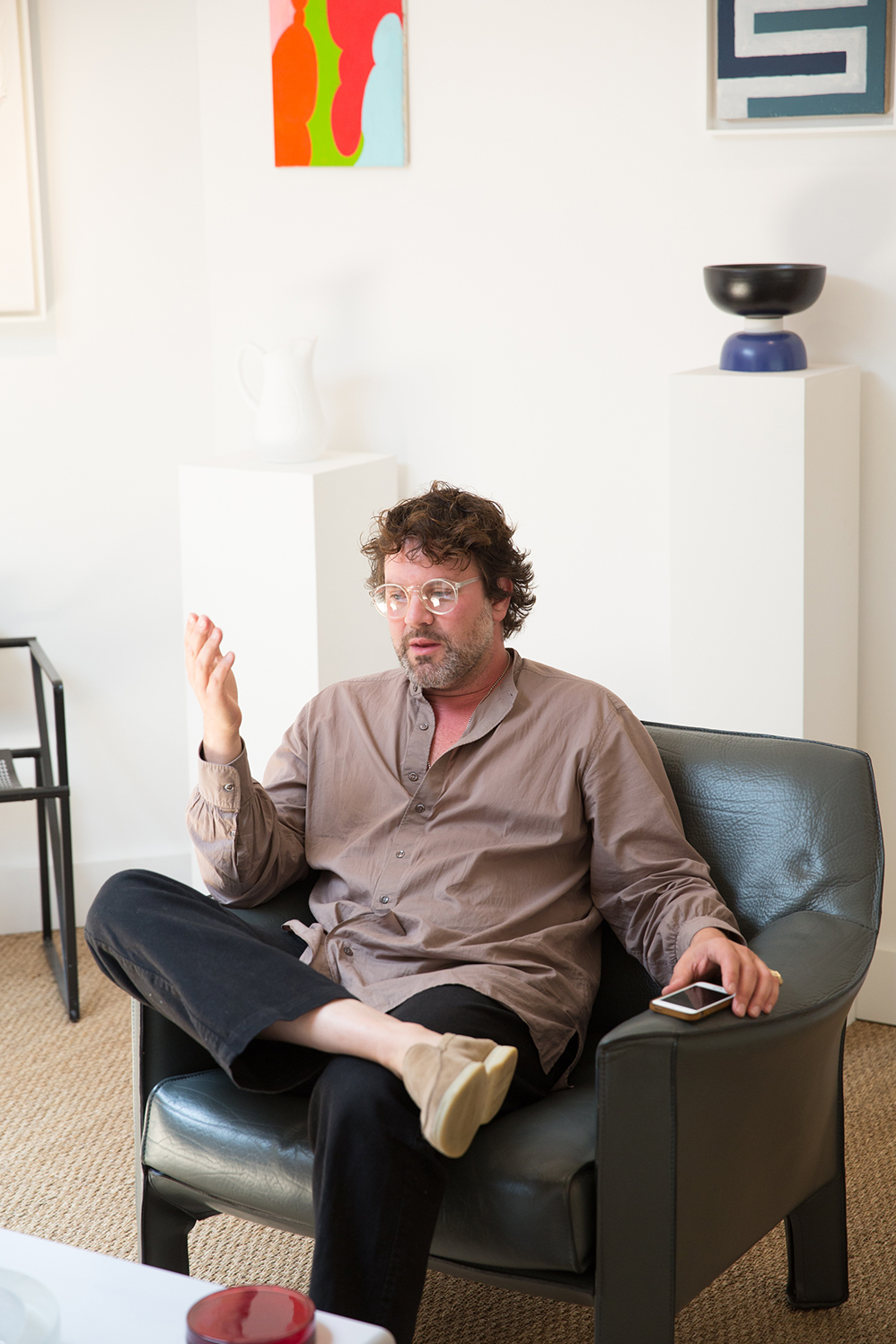 The lead apron is what you wear when you get an X-ray; it's a protective shield. I like the sound of it. It's oblique, strong, and plays to contrasts – lead, which is hard and strong, and apron, which is delicate and fragile. I like that it's dark and light. Lead also means leader. The apron is the front of a stage, so it's a place for arrivals. And when planes take off and land, it's called an apron. So, it's a place for drama, arrivals and departures, it feeds into the whole spectacle of what I do. It's not about me or about my name. I'm trying to find those pieces that would otherwise go unnoticed and put them in collections. I started with books because that was what I could afford. I also love books.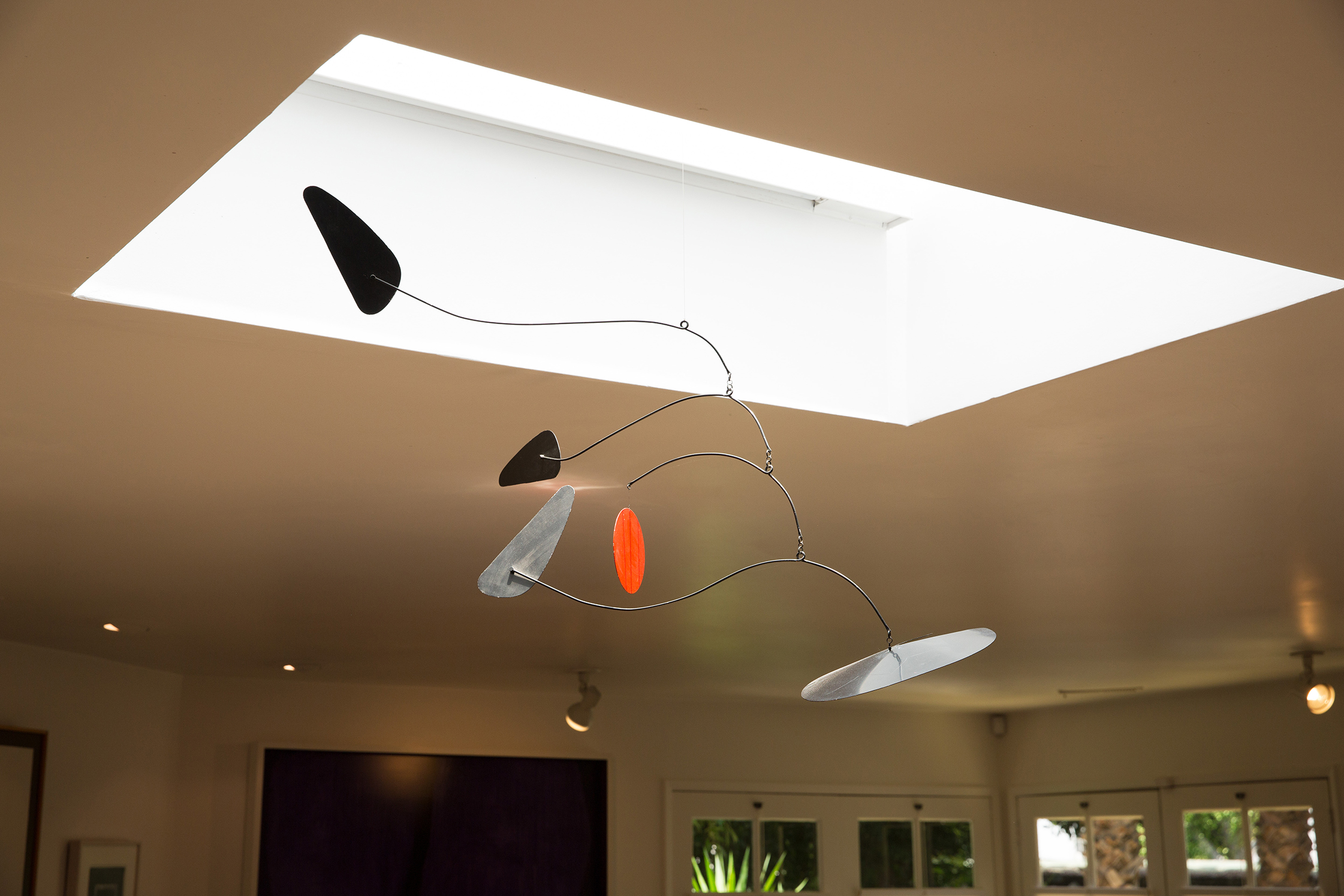 What kind of books did you start selling initially?

All first editions, primarily rare, out of print, unusual, association copies meaning from one artist to another or one notable person to another.
Was there one particular book or object that sparked it all?

I had all of Basquiat's personal items because I used to date his last girlfriend. I had his wallet, his coat, a toaster he made. I had very unusual items, and I started getting collectors and clients. A client told me that as long as I was patient, everything would come to me. Now, I build libraries for people.
How did you find this space?

I was on Melrose Place for about three years. I took that space when the recession hit and when everything shrank, I expanded. Now that the economy has expanded, I've contracted. I wanted something by appointment so I could control the flow of business. I wanted people to keep their appointments, and I didn't want to be a sitting duck in a gallery. I like this better. It's more intimate, more one-on-one. In here, if someone makes an appointment, then I give them my full attention. I hope I'm doing that with you!
You are! Who are your typical clients?

It's a range. You have art collectors, book collectors, interior designers, artists, companies that need product for stores or want ideas for reference – anyone interested in culture or art whether as an investment or something that gives them pleasure or satisfies a need. I have a client who wants to build a library simply to have books to learn about art.
What are some of your favorite places in the neighborhood?

I like Osteria Angelini, E Baldi in Beverly Hills, Sushi Park on Sunset, and Mr. Chow is one of my favorite restaurants in town. I go to Erewohn Market quite a lot for lunch. We like to go for Korean BBQ. My kids love it. I take them to the Farmer's Market too.
How do you think that LA's changed since you first moved here? It seems to be getting more attention than usual lately. I'm curious as to what you think about that.

When I left New York, all of my friends said, "Why would you move to LA? It's this barren wasteland with a bunch of vapid people…" I said, "You'll see, in about ten years you'll all be asking me to help find you a place out here." In the last year or two, it seems like it's changed dramatically. There's a lot more industry, and it's the new capitol of the art world. It's still the wild, wild, west – anything goes – a place where you can create your own life. It's still possible to create a life here based on an idea.
I feel like Los Angeles right now is like the Acropolis 2,000 years ago. We're living at the helm of culture. It is the dream factory of the world, after all. This is where all of the images are created in Hollywood. Some of the most intelligent people I've ever met are right here in Los Angeles. It's a different language that people speak here. It's not that easy. I think Los Angeles is a more difficult town than New York. It takes a few years to get your groove until you can find that network of people. A lot of what's great about Los Angeles is behind closed doors. I find it to be a beautiful city in the way that it's fragmented. There's no one style of architecture or any grand boulevards. You can see a house with Corinthian columns next to a modern house next to a Spanish house. It shows you the diversity of people's individual dreams. It's also the boulevard of broken dreams.