Jamie Brunskill's flat in East London is the quintessential artist's garret. Tiny, on the top floor of an old Victorian house and bathed in sunlight, it is brimful of his beautiful and strange things. These include a collection of photographs, old signs, rare books, mirrors, skeletons, plastic figurines, knives, old pharmacy bottles, strange tables – which look as if they were fashioned from wood found in an enchanted forest – and kooky pieces of art by Gavin Turk, Rammellzee, Gilbert & George and Larry Clark. There are even some juju magic beads made from Nigerian men's finger bones that were inherited from his gran who was an antique dealer. The walls are very unique and old with bits of sepia wallpaper peeling off that expose the layers of patina from yesteryear. All the floorboards are made from thick wood apart from the black and white checkerboard lino in the bathroom. There's a tiny kitchen area in the corner of the living room, which somehow manages to look as if it should be in a cosy cottage in the woods.
Everything has an air of the familiar made ever so slightly strange. Maybe it's the voodoo beads, or the massive church across the road but there's a definite energy in these rooms. Inexplicably, things keep falling off the table and the walls; time seems to move at a different speed in Jamie's home. Have we fallen into a 21st century rabbit hole just like Alice did in Wonderland? It feels as if we've barely arrived, yet by the time we leave it's been several hours.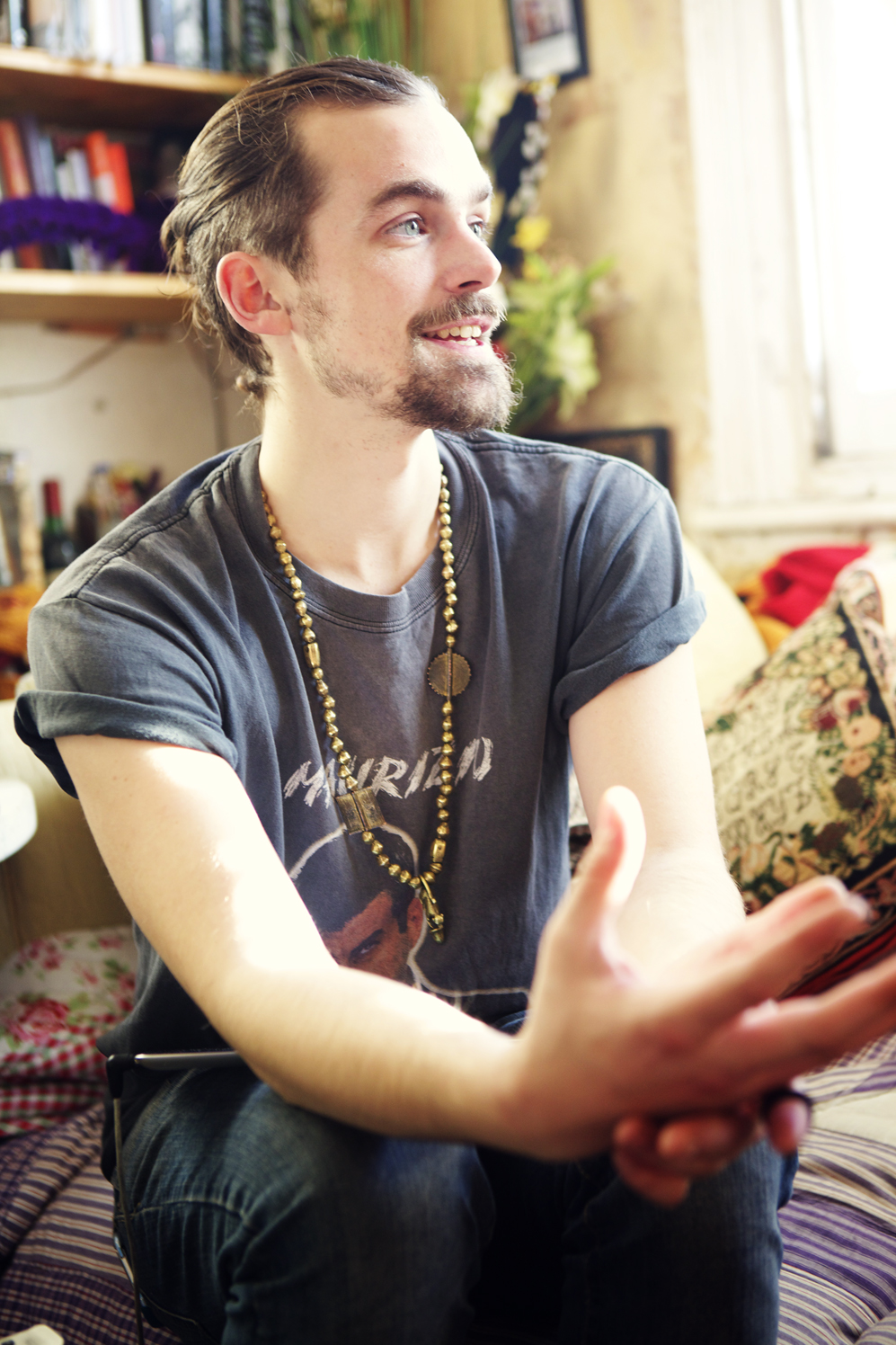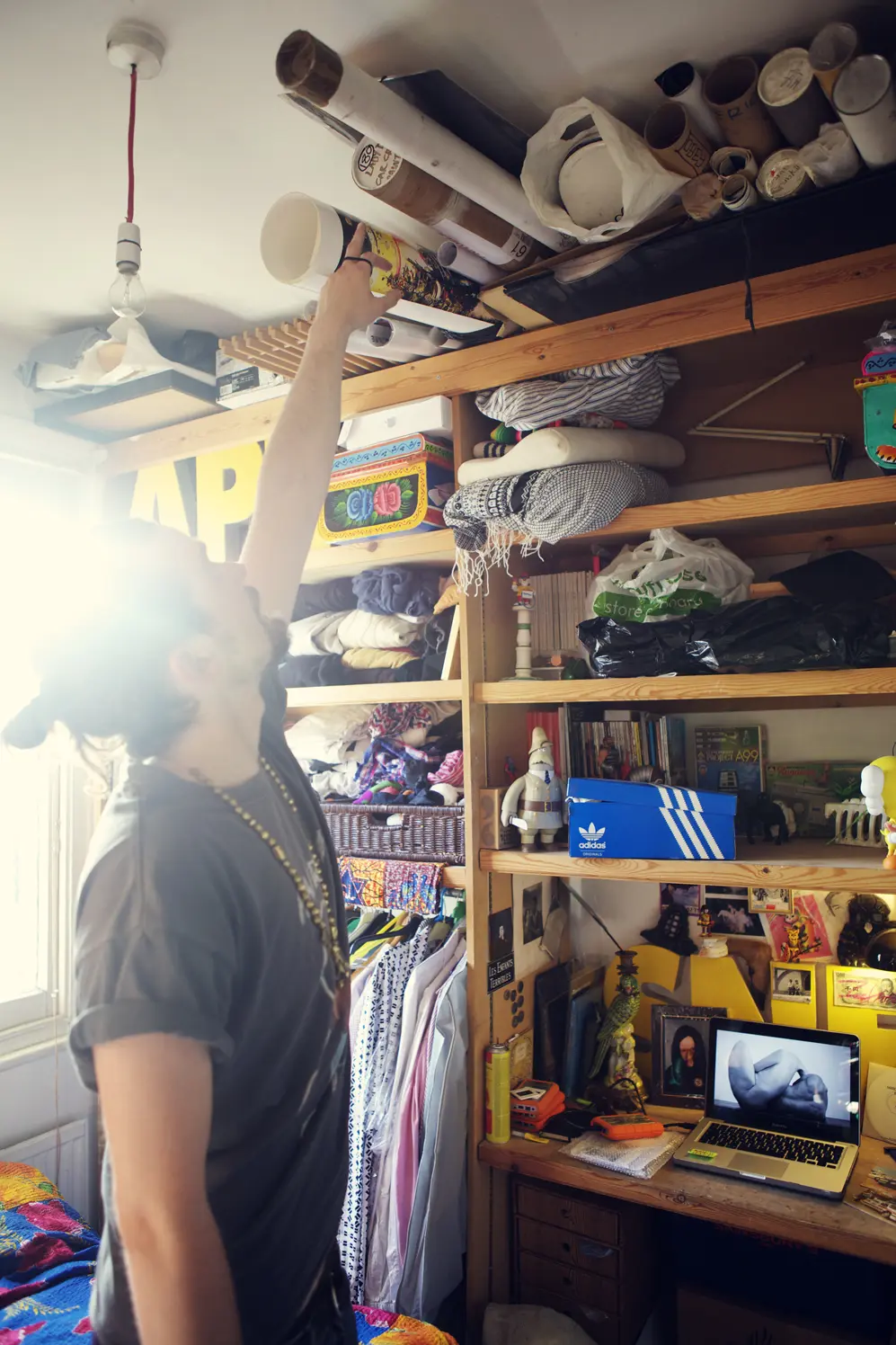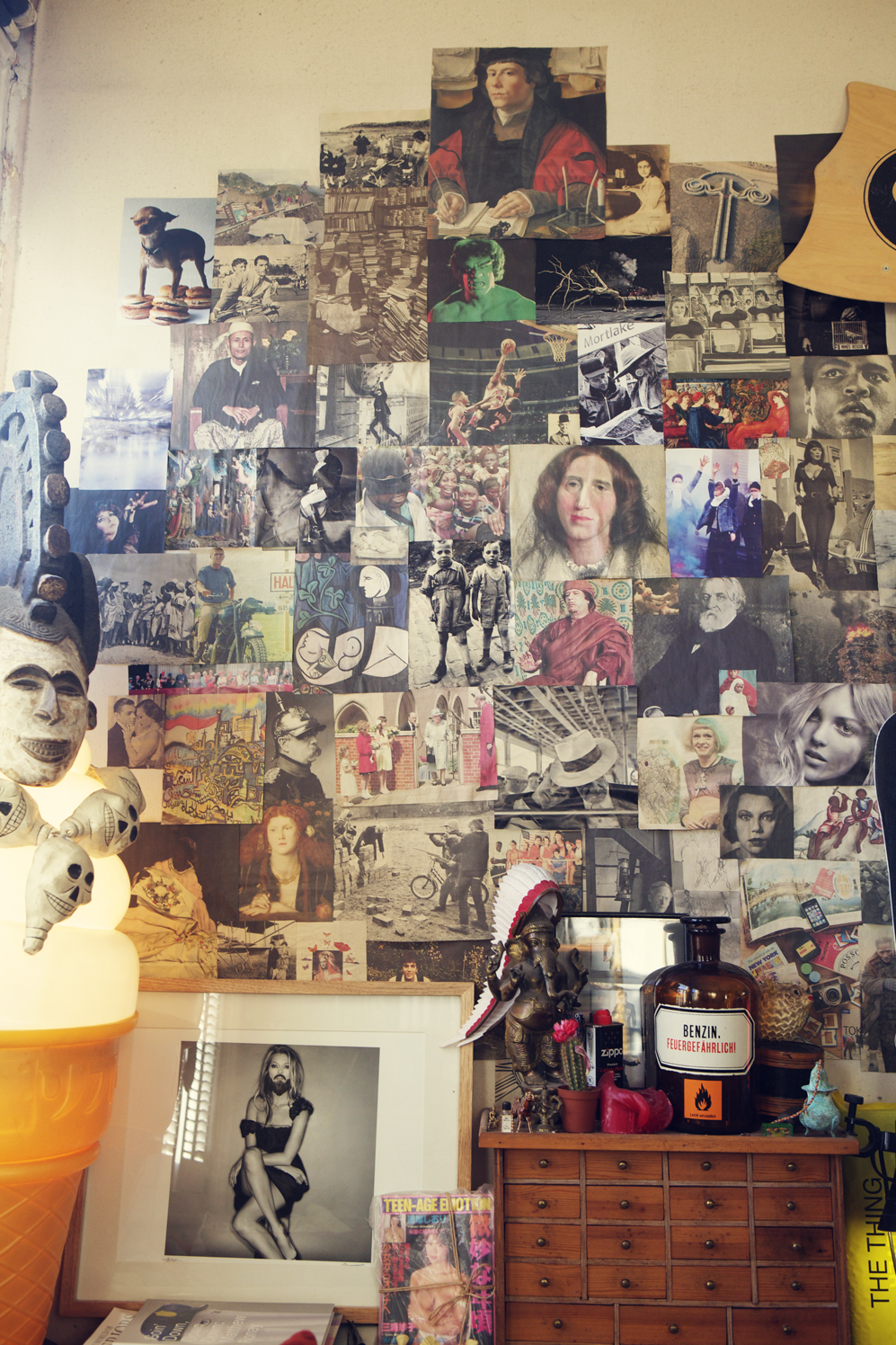 Jamie, I can't believe you're just 30 years old. Tell us about your background.
My Dad was an architect and conservationist and my Mum was a fashion model. I grew up in London and Glastonbury. My parents had some crazy friends, people like the Marquess of Bath and his infamous 'wifelets', and Michael Giles from King Crimson. It was a very Bohemian childhood I must admit.
Do you have any siblings?
No, I'm an only child, so the little family I have is very important to me.
What was your education like? Researching you, I noticed you worked as a model for a while. How did that happen?
I did an Arts Foundation course focusing on Super 8 and Photography at London College of Printing and while I was there, I was scouted for some modelling. I used to skateboard in Camden and this guy approached me several times, suggesting I should be a model. At first I just thought he was a perv but in the end I trusted him and as it turned out, he was a genuine scout from a modelling agency. That led to catwalking for Prada, MiuMiu and also Tom Ford'slast shows for Gucci and YSL.
That sounds pretty amazing! For some people, that would have been the pinnacle of their career.
I was really lucky. I was commissioned by Nicola Formichetti to do a spread for Dazed while still on my Foundation course. That then led to doing a T-Mobile campaign for for the Americans and Europe.
How old were you?
Still just 18.
What about your classmates, how did they react to this?
They were all cool. The tutors however were a different matter; I guess a couple of noses were put out of joint.
You then went on to do a BA in Graphic Design and Fine Art at Camberwell. Describe your journey, how did you get to where you are now?
While I was at Camberwell I entered and won a D&AD advertising workshop competition with a friend. So we went to Saatchi's and B&H. I then got an internship at Saatchi's in London, then in NYC for three months, which of course was amazing. I literally lived on a shoestring but I learnt so much. After Saatchi in London and NYC, I went to work for Fabien Baron's advertising agency in NYC called Baron & Baron, working on campaigns for Viktor & Rolf, CK Jeans and Diesel. I then assisted, most notably David Sims. I travelled the world with David as he shoots mainly in New York and LA. I learned tons of technical stuff, really learned lighting. He's very inclusive, so when not working, we'd hang out with him and Luella and the kids in Cornwall and I was treated as a member of his family. Great times. After working with Sims I got headhunted by David Lipman at Lipman NYC, which led me to working as art director for brands such as Hudson jeans, Georg Jensen and many others. Lately I've been working with Terry Richardson and Peter Lindberg – that was overwhelming. I was very impressed by his heritage – and Mario Sorrenti.
How would you sum up Jamie Brunskill to someone who hasn't heard of you?
I do photography, branding, and videos. I'm hard to pigeonhole. Predominantly a Creative Director. I bring the idea and get others to execute it. Before people had to be just the one recognisable thing – now they want multi-disciplined people.
You are certainly that.
I guess so. For the past twelve years I've been mixing between photography, film and graphics in various environments. I've made short films for festivals and exhibits at the ICA, Sundance and Stella Artois After Dark. And created music videos for people like Jack Penate and Coco Rosie.
I was going to ask you about the music. The music really stood out in all the shorts I watched on your vimeo account. Would you like to do more music videos?
Absolutely! When I worked on the Hudson campaign I wanted to use it as a brand video with a specific group of musicians but that hasn't happened yet. I've also designed T-shirts for Aaron Bondaroff's aNYthing, alongside Dash Snow and Ryan McGinley.
You've also worked with some amazing and iconic models such as Missy Rayder and Georgia May Jagger – the latter in a series of Hudson ads co-directed by Mario Sorrenti. How was it?
Georgia is so gorgeous! My Mum was a model. Recently at Carine Roitfeld's I found a bunch of old images of my Mum from Vogue, which I scanned for her. I grew up surrounded by her friends – some of whom were models, so being around models feels quite normal to me.
Your most recent ad work was art directing the new Diesel Eyewear TV campaign with BLINK productions. The models – a bunch of dogs – and the louche 70's vibe were fantastic! It seemed so glamorous. How did you get the dogs to behave like that?
They all have their trainers, who stand behind the camera and wave bits of food on a stick, which the dog follows slavishly. It's that simple.
Looking at your work on your public sites, the immediate impression is a very creative individual doing quite compartmentalised projects – advertising, magazine editorials and more freestyle anarchic projects. Yet I still feel that's only the tip of a very large iceberg of creativity. How do you find the time?
I love most the Baron & Baron commercial stuff. I did a show through Firetrap called Twisted Thoughts. I love the art side – pure creativity without commercial constraint. For me, to 'just' be an artist would be amazing, rather than being labelled in all these different ways.
Why not just go for it?
I support my Mum so I have to earn money. I don't want to be a broke artist! I collaborate with Richie Culver; I am in the process of being signed up with his management, so I will be doing a group show in London. Also I'm collaborating on a show with Sarah Lucas for McQueen soon, which is very exciting. I also have a SHY-FX viral featuring Liam Bailey launching too, which is up for the D&AD awards. Things on the art side are really looking up.
What do you think is better – a university education or an apprentice-style way of learning?
Apprentice. My Dad advised me to always befriend the technicians. Get a mentor, do the work, that's how you'll learn. Contacts are really important too, always make the most of an opportunity.
Tell us about your home. You're London born and living here right now. What is the history behind your flat?
I found this flat eleven years ago, I love that it's full of light and right next to the Downs. But I do need a bigger place. I quite fancy finding a whole house in Tottenham; somewhere I could have a dog as well.
Where do you like to go in London? As many of the curios in this flat are found objects, I'd like to discover your haunts.
Springfield Park. There's a part I love that's full of old boats, which have been squatted. And the 'Waste Market' outside the Haggerston Pub on Kingsland Road, a weekend flea market, which is full of strange characters selling even stranger wares! You do have to be both respectful and have your wits about you though. And Spitalfield's Market on a Thursday, when it's mostly antiques. My Mum is starting a stall there, selling chairs and antique furniture that's been marbled.
What are your favorite pieces in the flat?
My art collection – I have pieces by Patrick Caulfield, David Hockney, Gavin Turk, Dash Snow, Mark Borthwick, David Sims and Larry Clark. I also have signed copies of first edition books. My old opium chest that is full of prints, like this Schoolgirl Series by Jake & Dinos Chapman. My Ryan McGinley books, I have all of his first editions with personal messages and poems. My Gilbert & George signed prints. I'd love to do an exhibition of my collection. I met Rammellzee and made a video for him and I also have a piece we did together. I have lots of favorites!
He was a strange character, a very elusive artist, what did you think of him?
He was sort of a mentor to me. A super genius, he hung out with the Beastie Boys and Warhol and was best friends with Basquiat. Sadly dead now. He was nuts! People like him are very rare.
How do you see the future shaping up for you?
Hopefully the real opening of the art door.
Jamie it was terrific to explore the curiosities in your London apartment and hear about all your over-achieving creative projects. To find out more about Jamie see his blog here. Jamie has just been listed on the jury and nominated as a judge by the D&AD Student Awards, in photography, commencing May 2013.
Interview & Text: Anna Bang
Photography: Georgia Kuhn