To many, fairy tales evoke the idea of something fantastical, able to challenge our perceptions; distant, unworldly utopias. To Hannah Perner-Wilson and Mika Satomi, the artist collective behind the electronic-textiles shop Koba, the fairy tale became reality.
'I am…' states the first speech bubble on the wall of Kobakant's studio. The corresponding tiles offer the words 'creative', 'playful', 'adventurous', 'critical'; like a thought map, the board leads to answers like 'you're not adventurous enough. Go back to the start'. The invitation for customers and visitors to broaden their minds when they come in helps the founders communicate the fairy tale.
"It's about identifying this idea of who you are or who you'd like to be and then leading you along the path to our project as an example of technology used in the space," explains Perner-Wilson, one half of Kreuzberg-based collective Kobakant. Alongside their playful mind map wall art, the studio and workshop is littered with props, tools, and flyers; staples such as an anthracite cape and a red and white striped jumper with tentacle-like sleeves are strung across a clothing rack drifting across the wooden floors; a mannequin dressed in a denim jacket with "ohne mich" ("without me") written across its back stands next to a gold-sequined jumpsuit hanging over a sofa that sits facing a workbench covered with patterned material.
All the trimmings you might find in your neighborhood tailor shop—yet, belonging to the collective's opening collection that launched last September, the samples all incorporate accessible technologies such as amplifiers, antennas, and fiber optics. However, the warm, inviting space doesn't signify the aesthetic of a high-tech electronic studio.
"In electronic textiles, you have to make everything yourself, and every time you can make it bespoke."
Perner-Wilson and Satomi have collaborated for ten years, training themselves in electronics and textiles solely through their project work—Perner-Wilson completed her education in industrial design and media art and science; Satomi studied graphic design and technology art. They explore the intriguing realm of wearable technology with an experimental yet traditional approach that avoids any form of mass customization. Instead, their bespoke creations reflect their interest in technology as a medium that brings in a crafty element through textiles. "In electronic textiles, you have to make everything yourself, and every time you can make it bespoke," Perner-Wilson says. "We started this project because we wanted to be these people who we imagined would work in a tailor shop all day to make things."
Beyond hidden speakers or cables, their fabrics are metalized, carbon-embedded, or conductive, and used to incorporate circutary, sensors, connections, or accentuators. "The craftsmanship is as much a part of the work as the fact that it is wearable—it is not about wanting to wear technology formally," Perner-Wilson says. "It's about exploring textile electronics, maybe using your body to trigger them, and gaining a quality of interaction from that."
Eight months into the EU-funded project, Satomi and Perner-Wilson work on about two to three commissions at a time, which often differ in their aesthetic and performance-enhancing purposes. The creators cite two contrasting ones that exemplify the manufacturing process of clothing from fiber to garment and the insertion of electronics in the process: In the week of our visit, Perner-Wilson devotes her time to a glove designed to sense finger motions; Satomi makes a costume meant to be sent to a client attending South Africa's Burning Man Festival the following week.
"The first client, a developer, aims to translate his motions into code without a keyboard through the movement of his fingers in the air," Perner-Wilson explains as she puts on the flesh colored prototype covered in stitch-marks. "There's a sensor on each knuckle and on the thumb that you connect to the laptop—the sensor recognizes this finger's going down, this one's going up. The client has to come up with it all; we told him many times that will be difficult, but he was very determined that he knows what he wants."
Perner-Wilson has tested out different sensors, from textiles to magnets, before developing the pattern to fit his hand comfortably; after going back and forth between tailoring and technology, this is the garment's fourth iteration. "There's no accurate recipe for this; it's always a bit of negotiating," she notes, which hints at how Kobakant simultaneously strive to study their customers. "To him, it's important that it works. He's not a designer and not used to expressing a style that he would associate himself with—maybe when he sees something he might like it." How does this shape the final stage? "We can keep it like this but there is no reason not to come up with a design that's also interesting. They want it to be invisible, but the fact is that it's not. Then why not think of descriptors to help you talk about the product?"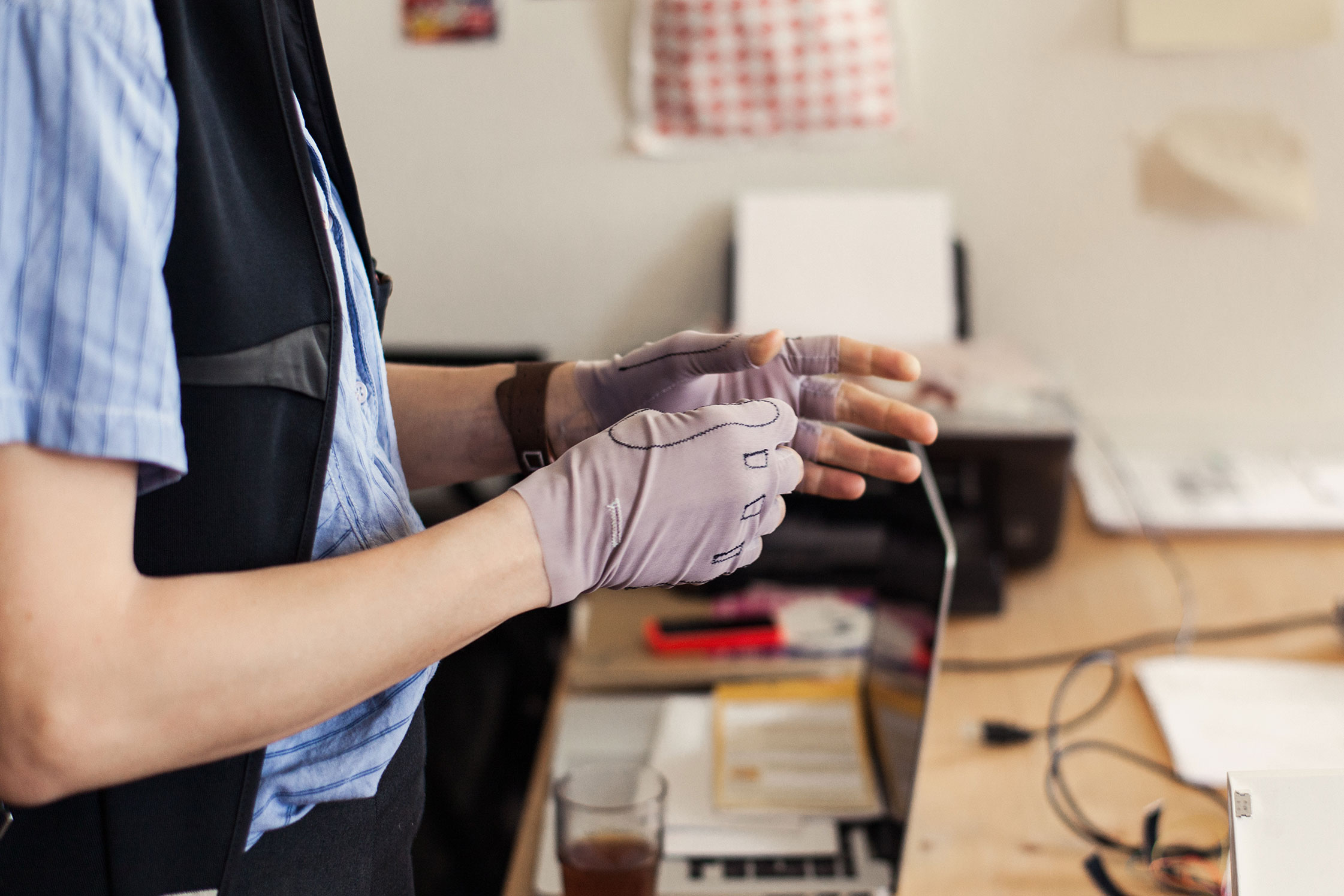 "The craftsmanship is as much a part of the work as the fact that it is wearable—it is not about wanting to wear technology formally."
That narrative also runs through the production assigned to Satomi. However, it's not something the designers had to introduce to the client who they wouldn't describe as extroverted. "It's a big treat for her to go to Burning Man, and it's a conscious decision to dress up for this one occasion. It's very special to help her tell a story about herself," Satomi says.
Made of a strong yet delicate sand-colored material with a golden shine, the bolero-type jacket with voluminous, strategically placed frills on the shoulders perfectly encapsulates the event's theme. "Its edges are made of optic fibers that light up at night, reacting to musical beats," Satomi explains, pointing to a power source placed on the back. "We're still talking about the sensor or interaction part; the sound is definitely something we'll embed, but we could also add a motion detector, or play with colors or duration."
In everything Kobakant do, there is a desire for accessibility. It's why they don't feel ridiculous about spending up to three weeks per job working unpaid on individual commissions—while the shop is financed by the EU fund WEARsustain, the duo make little to no profit. "It's poetic in a way. It's storytelling through how these things look, while we are documenting the development process and the conversations with the customers."
In today's world, Perner-Wilson and Satomi see technology as something very utilitarian, something public opinion has no big say in, and raise the question of what we actually need to fulfil our daily tasks. "We're very good at making do with what we have, which also makes us be creative, but somehow all these devices and ideas are about making something easier, better, faster, and more efficient to live our lives," Perner-Wilson says. "But what if those kinds of values shift? What if it's about designing technology that requires us to collaborate with others in order to use it, or that we need to be in a good mood to use it for example?"
It's the hype around new technologies—and the fact that it has become commercialized and centralized—that the duo want to distance themselves from. "E-textiles has this next-big-thing potential and a lot of publicity around it," Perner-Wilson puts it. "It's almost like we want to seize this occasion to use that, because we do have the skills and the technology to use this medium to say a different message," she says. Satomi is quick to add: "But this idea of having fun with technology is what drives us to make the technology, even if we end up making atomic bombs—we try to push the limits of knowledge."
"It's poetic in a way. It's storytelling through how these things look, while we are documenting the development process and the conversations with the customers."
Situated just opposite Görlitzer Park in Kreuzberg, Koba is open 1pm to 6pm on Fridays and Saturdays. The duo's experimental work focused on creating bespoke garments is funded by WEARsustain, an initiative set up by the EU. If you'd like to get involved in making some e-textile clothing yourself, check out their new WickedFabrics workshops running in August or visit their Shoptalks. The next one will take place on Friday, May 11.
And if you're interested in reading more about amazing fabrics, give this article on some slightly more traditional textiles a read.
Text: Ann-Christin Schubert for FvF Productions
Photography: Aimee Shirley for FvF Productions