A master of many trades, Larache-born artist Hassan Hajjaj has been lauded for the way in which his work turns a distinctive and fresh eye on Moroccan culture. Recently, Hassan has received international acclaim for his radiant photography series Kech Angels, featuring local Marrakechi women on motorbikes, styled in Hassan's self-designed garments. In the past few months alone, his work has been exhibited across North Africa, at LACMA and Gusford Gallery in Los Angeles, as well as Taymour Grahne Gallery in New York. In addition to photography, film, fashion design and styling, Hassan also crafts the furniture in his photographs and builds frames out of objects that trace back to notions of North-African-inspired nostalgia. With a long-running connection to the music world, Hassan's musician-inspired series, Rock Stars, has also been widely noted among international press such as: The Guardian, BBC, The New Yorker, Vice, Harper's Bazaar and Elle, to name just a few.
Based in London half the year, where he runs his own shop, the artist spends the rest of his working life in Marrakech. The latter is where we meet with him. The booming city's 5th Biennale is winding down and Hassan is about to start setting up a night of g'naoua music in honour of its closure. We are sitting at L'Blassa, a revamped abandoned apartment building in the new town that houses four levels of exhibitions, screenings, workshops, as well as Hassan's self-organized live music performances. This unique building also houses a temporary boutique featuring the work of young Moroccan designers and a pop-up cafe developed by Hassan and adorned with his trademark furniture installations.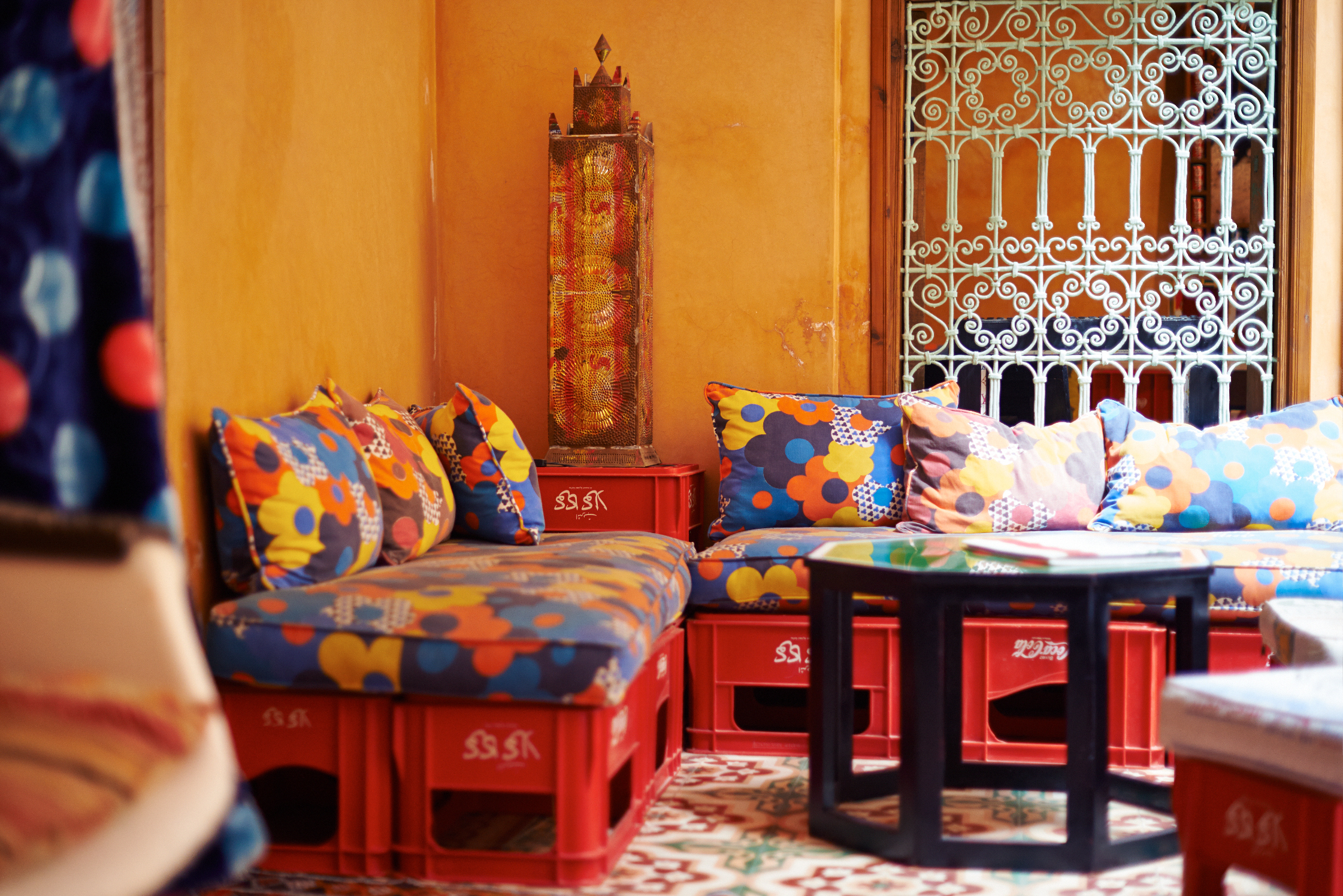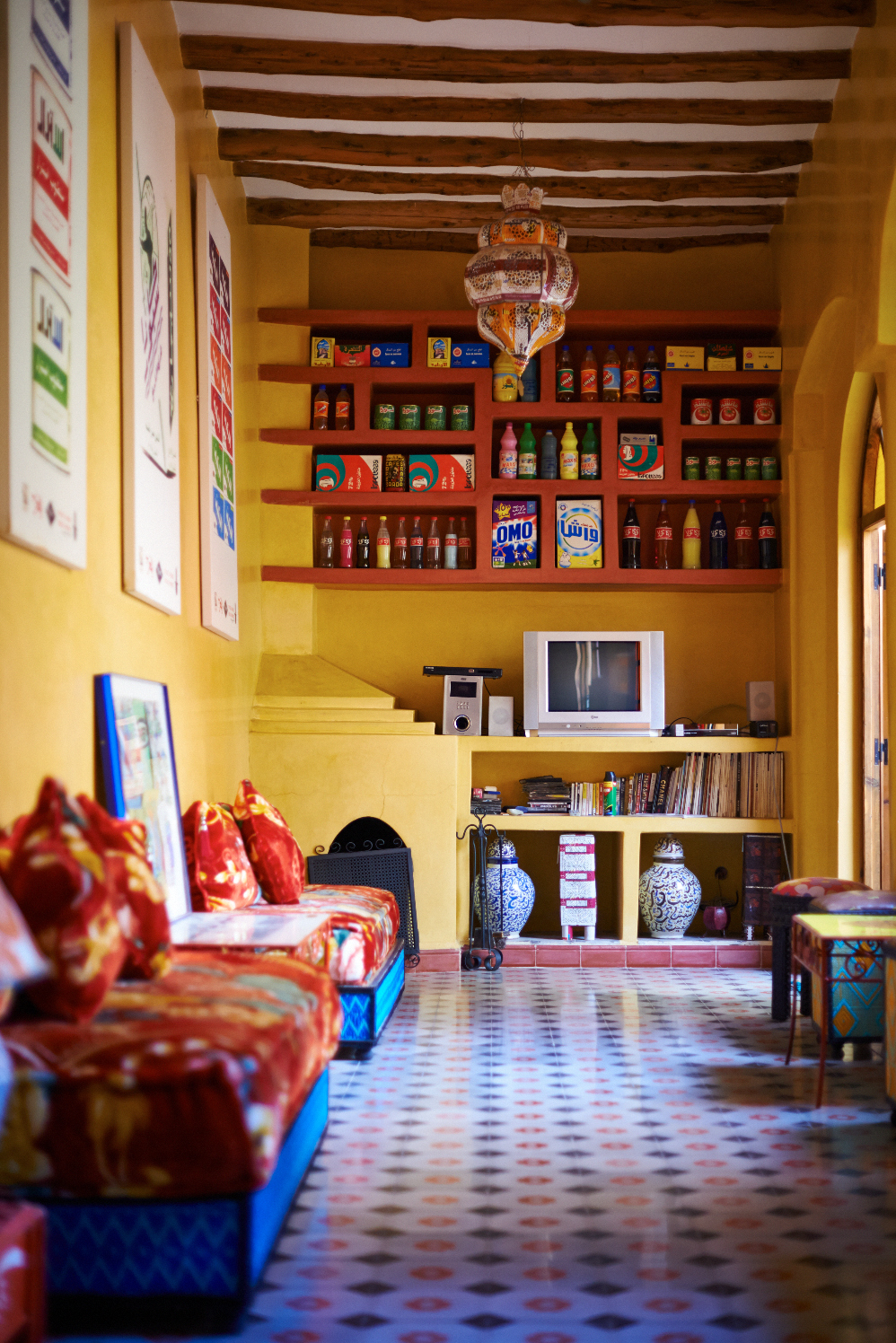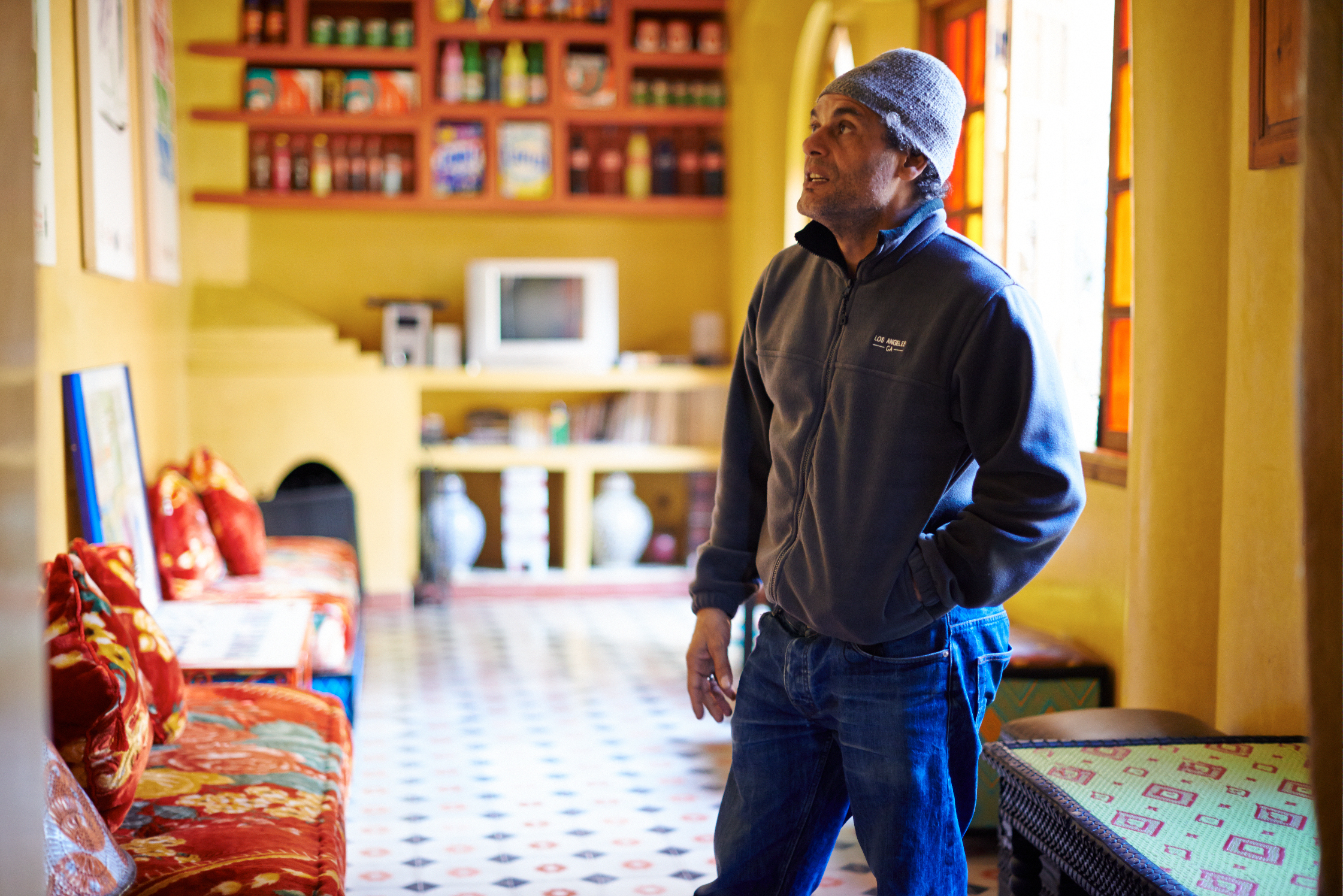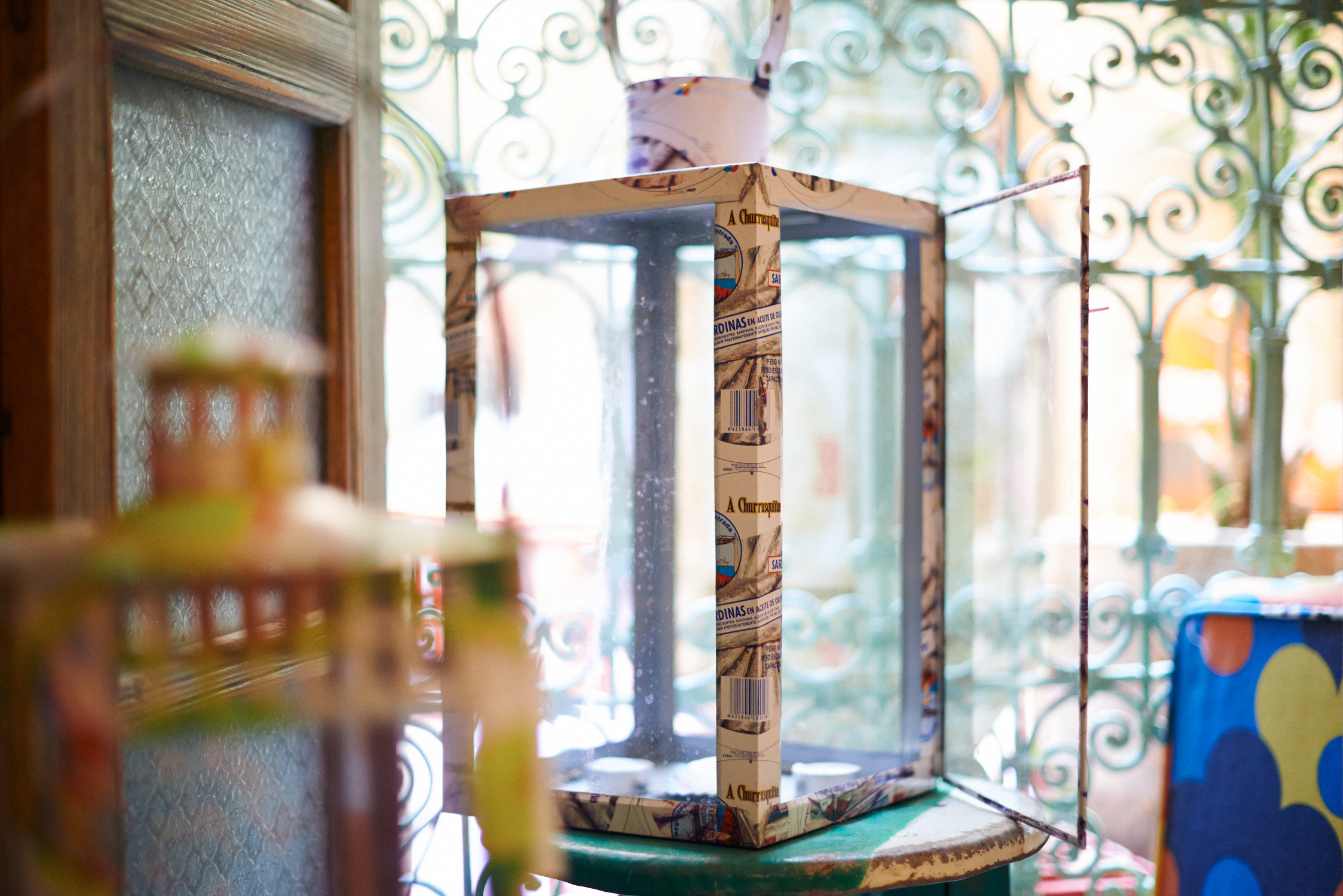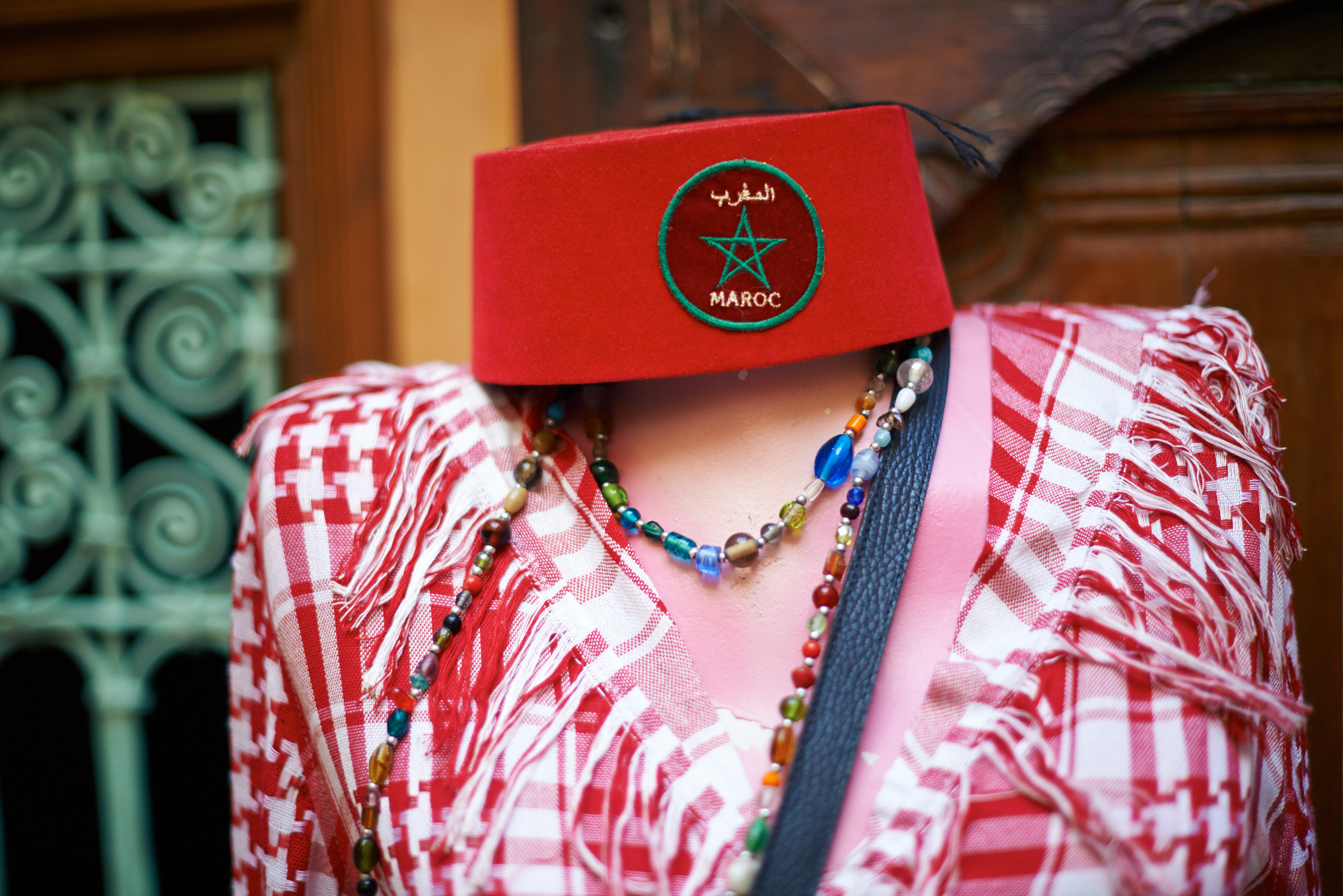 Can you tell me a bit about your childhood in Larache?
I was born in Larache, I was there from '61 to '73. My life there was really simple, I was just 'weld el derb' – a 'kid from the block' in Moroccan dialect. My dad went to England in the 60s so I grew up with my mum, my auntie, my grandma, my older sister – may she rest in peace – and my other two younger sisters. I was the only boy. It was a great household in the sense that one would hit me, one would take care of me, one would adore me, so it was great growing up with a house of women.
I suppose my memories of Larache were of school, but mainly of being at the beach with all my neighbors, being barefoot most of the time. In summer we used to go fishing and cook it by the rocks, other times we used to make necklaces to try sell to tourists. We would sometimes spend three days finding coral and selling it by the kilo for a few dirhams, or francs at the time, and we'd go spend the money at the cinema to watch Indian movies. Those are really my memories of Larache.
We never had toys so we would create our own games, like we'd gamble with the top of Coca Cola bottles for money. There'd be seasonal stuff, we used to surf kites in January when it was windy, then in summer when we had three months off, we used to go spend a month with my auntie in Tangier. She used to live in a shantytown and I had ten cousins, so I used to hate going there because without my mother, I got no attention. We'd also go to the 'j'bel' – mountains – a lot. I really appreciated it there because there were no toilets, no electricity and no money usage at all. It was great to have that life because even if you were young you had to help out; either you herd the sheep or you go to the well to get water.
Did you find it hard to adapt when you moved to London? How old were you?
I was thirteen when I moved to London to join my dad. I realized I couldn't remember him in my life because I had lived without my dad for nearly fourteen years. He was almost like a fog in my memory. We lived in a small room and my mom got pregnant with my twin brothers, so it became seven of us living in one room. After having all that freedom in Morocco – we didn't have that much money, but there was outdoor freedom – going to somewhere cold, where we didn't speak the language, didn't have any friends, starting school half-way through the year… It was really depressing. I remember looking out the window and tears dropping out of my eyes. It was very, very tough. But as time goes by, you have to find your way and find your own people.
Back then, growing up in London, I really was a foreigner. When I started school lots of people thought I was mixed-race, when I didn't even know what 'mixed-race' was. So most of the people I became friends with were people who had gone through the same journey, who had come from different countries, because we had the same feeling. We used to get called names and all of that. So all of a sudden I had a lot of friends especially from the Caribbean, and then some from India and Pakistan. We stuck together, we had to look after each other.
How did you become a music promoter?
The first thing I got into was reggae, and then soul music – so-called 'black music'. Growing up in Morocco we used to listen to things like Oum Keltoum and 'chaabi', which is traditional Moroccan dance music. Then, in London, I was too embarrassed to take my friends home to my room, so I'd go to their houses. All the music there was new to my ears. My friend's mum would play Marvin Gaye, and then at someone else's house you might hear some reggae or some James Brown. Even if I didn't understand the lyrics, there was a thing about the music that touched me and it became familiar to me.
One day, my friends from the Carribian and I found a basement pool-room, so we asked the owner if he could give it to us to clean it up. It was really dirty so he took a risk with us, and we cleaned and painted it. My friend Phil, God bless him, he was a DJ and he used to play reggae, so we'd go there on Saturday night and it became a place for us to meet and hang out. It started to influence some English people too, because it was all new to them as well.
How did you end up in the art world?
I left school when I was 15, so I had no qualifications. I had jobs like working as a gardener in Hampstead Heath; I worked in Woolworths for a week and I worked in a timber yard. I knew these weren't things I wanted to do, but I didn't know what career I wanted. Then I found myself unemployed and I moved out of my family home. I had a lot of problems with my dad in the beginning because he wanted me to go to school, and I was the second one in my family who could read and write, so he wanted me to grow up to be a doctor or a teacher or accountant. I think maybe I was disappointing. I realized I had to leave because it was creating a problem, especially seeing my mum in the middle.
During that period of time, my friend and I started finding empty spaces and decorating them; putting on bands, DJs and inviting people. I was taking care of everything from the doorman to the cashier so, in a way, that was my education in learning about management and production. While I was running clubs, I also had a flower stall and started selling plants in Camden Market two days per week. I had a few friends who were designers, so eventually I started selling their stuff and getting into fashion. I found a shop in Covent Garden and started selling young designers from England, then I got stuff from New York, and my shop became a base and hang out for my friends because it was in central London. So I started doing art exhibitions and started selling records in a basement there. It was all happening at the same time.
When did you start working on your own designs?
At some point, I started designing for my shop. I would make sketches, take it to someone who knew how to make it and get it made. It was around that time I met two people who became very good friends. One was at the beginning of his career doing styling, so I became his assistant stylist on catwalk shows and magazines. My other friend had just started his career doing music videos, so I started organizing locations, people and food for his videos. I was doing all this from 1984-1992 and I was busy day and night. Then I realized I had music, art, fashion and film all around me without even thinking about it – it was just happening.
Then, in 1989, I bought a camera from a friend who was doing videos and I started taking pictures as a hobby. It was nothing to do with work and I didn't consider myself an artist. I was just making clothes to sell to a few shops in Japan and New York, and started travelling when I got a bit of money, to see the world. Finally, I found a warehouse space and started selling passes on my own label.
In all this time, did you return to Morocco at all?
I hadn't come back for fourteen years. When I had a child, I wanted to bring him back. I came back in 1993 and I realized everything I had left behind was still there. I felt like I was back at home. At that time, I would go back one or two weeks at a time, just to see the family. That's when I started collecting objects, like shop signs and picking up stuff that others considered rubbish. I was doing that every time I came back. I remember one day I was walking with my cousin in Tangier, and he took me aside and said: "Hassan, be careful. You live in Europe and people might start talking about you badly, picking up rubbish from the street…" (laughs). I would explain I had some ideas I wanted to work with but he just didn't understand it. While this was happening, I opened up a Moroccan tearoom in London with my sisters and brothers. I started bringing back traditional Moroccan furniture and 'zelij' – Moroccan tiles – so I had to work with artisans. I started working with my culture, which I'd left behind. I started picking up all the crates and the stools, also because I was running clubs and I wanted to share something from my culture, but I didn't want to show merely a camel or some sand.
The pop art in the installation is the first thing I did, it's from about 1996. But I still didn't think of it as an art career, just as something one-off. I came and did a show in Morocco but I was uncomfortable with the word 'artist' because I was saying to myself, '"Well, is this just a one-off thing? Or is there actually something inside me that needs to come out as an expression?" I was shooting for about five or six years without showing the work to anybody. Around that time this woman who is now my gallerist, Rose Issa, knew me in London as someone who was just doing all of these mad things. She didn't see me as an artist because all of the other artists were intellectual and educated and had been preparing themselves to be artists from a young age. But one day, she saw my photos and she took a couple of pieces and sold them. It all kind of started from there.
What led you to Marrakech?
Marrakech kind of happened naturally. I came here and just kept coming back. Then before I knew it I had a home here. In Marrakech, you meet people that you'd never be able to meet in Europe. The people you meet here probably wouldn't give you their time back in England. Also, being Moroccan and living in Europe, Marrakech offers something for both. It has a lot of tradition and a lot of modernity, so for me that was the main attraction. You could be sitting here and see a donkey and a horse passing by, and the next second a 4×4 car, then someone passing by wearing a 'jellaba' – traditional Moroccan dress – next to someone wearing Chanel. I hope Marrakech chose me as well. Whenever I go to places, my first thought is to try to give and take. If I have the power to help and open some doors for younger generations, I'm more than happy to. It helps me and it helps them.
Can you tell me a bit about the history of the boutique and cafe L'Blassa?
When the Biennale started, I got invited to be part of it and they were looking for places. When this space came up, I told them it'd be a great place for people to meet in the new town. I was just going to do the cafe but when they saw the great space, they decided to get different artists and collectives to exhibit here. I thought, "Great, I can run a cafe to build some ambience and then I can also do a boutique, because every museum has a boutique and a cafe". All that stuff in the boutique has nothing to do with the Biennale, I just brought that into the picture so I could help out some of the young designers.
Out of all the different types of work you do – design, photography and film – which one do enjoy most?
I'm still trying to learn what the difference is between them. Design is great because I work with a lot of artisans so I learn, and also it's a way of putting a little bit of money back into the economy. When I go to the guy who makes my poufs, I have tea with him and he tells me about politics, religion, history, artisana, jokes – all of that. With the artwork, it's great because I'm always around looking around for stuff. With photography, it's more about escapism and fantasy.
Do you usually work within a team or alone?
I try to work with people as well. My brother helps me back in London with some of the design and framing work and I have a friend Jenny who helps me with emails. I'm trying to create a team. Now that I'm starting to get into film, I have a small crew but usually I do all of the location, the production and all of that. I might be a bit of a control freak.
What is your work routine?
Every day is different because I'm working with so many different elements. But they all join together somehow. There's a spirit that ties them together.
What are some of the projects you are working on right now?
I'm finishing up a documentary about a woman called Karima; I want it to be kind of like a B-movie. That's at the top of my list. Later in the year I'm also doing a project in Tunisia, trying to take pictures of women who are around or over 70 years old, who were very important to the history of Tunisia. I'm also going to be involved an African street festival in London so I'm going to do a shoot there. In New York, I'm starting a design for a one-month pop-up cafe for a museum that's opening in 2016. I'll also be editing the film in LA. There there are some different projects, working with g'naoua and doing a series with acrobats and 'sheikhats' – traditional Moroccan female entertainers.
Do you take holidays?
I don't think I've ever had a holiday where I booked something, but I find my ways of chilling out. I have little pockets of escape where I turn my brain off. There's a place outside of Marrakech I go to for three or four days at a time, where there's no phone and no Internet. There's a guy called Stephen, who's a British barista, and he built a little place on top of a hill outside of Marrakech that goes 360º. It's an amazing place, all the food comes from the garden.
What is your favorite cafe or restaurant in Marrakech?
My favorite ones don't even have names. I like the back street local cafes that people take you to. For example, if you say you're craving a 'baissara' – Moroccan pea soup – each person will tell you they know the best one. So I know a bunch of different spots where they make good food in the medina. In the new town, often places have really nice decoration but then the food doesn't match up. You go and spend a lot of money, like 400dhs and you come out of there unhappy. But then you could go spend 20dhs in the back streets and eat great homemade food.
What are some of your goals, or dreams, in life?
In terms of life, I hope to continue doing good work, remain healthy, have good friends and be able to travel – the normal stuff. As far as dreams for work, I'm reaching points that I didn't think I would reach. I wasn't an artist and I had to fit into that 'art world', and I didn't expect much from it. To reach this point, considering everything that has happened in America and all these people buying my work, it's like subconsciously I was always wondering, "Oh wouldn't it be funny…" To have it actually happen is really very strange. I suppose my dream now would be to have a proper studio, my own space. At the moment I'm working in odd places.
Any parting words?
I'm not good with parting words. I'll just say "Inch'allah."
Many thanks for taking the time to do this interview and for sharing your inspirational story.
Photography: Philipp Löffler
Interview & Text: Salwa Benaissa