With clear blue eyes and salt-of-the-earth candor, Han Starnes is the kind of girl you imagine riding horses through rolling fields or wandering the New Zealand highlands shearing sheep.
Instead, the Kentucky native carries out a slightly more urban existence as a fashion designer in Nashville, Tennessee, where she lives with her husband, Brock, and Meg the dog. In spite of her city surroundings, she channels a natural, earthy spunk. Han is the creative mind and designer behind her eponymous womenswear label, Han Starnes, which focuses on clean, timeless silhouettes made from mostly untouched fibers—even her handknit wool sweaters and caps have traces of interwoven hay.
Han and Brock's East Nashville craftsman home is proof of their simplicity, where sparse furnishings, nostalgic objects and sunlight are the core elements. Her studio echoes this pared-back aesthetic, which is perhaps what inspires a sense of calm even in the midst of busy production days and long hours of refining pattern designs. Han's furrowed brow might lead some to think she's merely serious, but her unexpectedly infectious laughter uncovers the quirkier side of this thoughtful mind and maker. The mark of success for Han is using beautiful, well-made goods to empower women to live contentedly with less—and a peek inside her private life reveals she's an ideal role model.
What's the story of how you initially got into knitwear? What drew you to the medium?

I've always been interested in where things come from. When we moved to New Zealand several years ago, I couldn't help but notice all the sheep. I knew that New Zealand had a rich wool history, but I didn't know much beyond that. Soon after we arrived, I heard about spinning guilds — women who get together to spin wool and then use the yarn they create to knit jerseys for their families, grandbabies, or for friends in the hospital. Doing all of this together in one space sounded like a dream to me, so I decided to attend.

I discovered that the guild I eventually joined is made up of women who have been spinning and knitting together since the 1950s, when the group first started. Most of the women were in their 70s and 80s now, but still working hard on their projects. Many of the members' mothers were once involved as well before they passed away.

That's amazing. What was your relationship like with these women who had been doing this for ages, especially since you were so much younger than them?

The women at the guild were very generous to me — teaching me how to spin, giving me wool and a wheel. I discovered that you can create the most incredibly beautiful textile when you spin wool by hand. It's not something that's easy for a machine to replicate. After going deeper with them to learn this amazing craft, I wanted to find ways to showcase the beauty of handspinning.
How did that experience in the guild translate into actually developing your own line?

I was simultaneously becoming friends with people in the New Zealand fashion scene, and I started sharing with them about handspinning. Through them, I was introduced to a few textile students at the university, and I went on to do a couple of special knitwear projects with them. So my journey into knitwear and handspun yarn really started there. I then used the yarn to design and sample a few different knitwear pieces with New Zealand designers.

When we moved back to the U.S., I started exploring potential projects with designers in New York City, but soon realized that I could best explore the craft of handspinning by designing and developing my own line. Design has always come naturally, so we decided to launch Han Starnes as a contemporary womenswear label, releasing two collections annually that integrate traditional techniques like handspinning.
How would you describe your aesthetic in just a few words?

Storied contemporary. I strive to design contemporary silhouettes with nostalgic sentiment, integrity and authenticity. I appreciate the stories behind the pieces, particularly the how and why.

I'm attracted to fabric and fibers that have their stories interwoven, remaining intact, like keeping hay stuck in the sheep's wool even in a finished sweater or knit hat. This aesthetic allows for minimal processing between the raw fiber and the finished garment form.

You recently just moved into a new studio space. What's your favorite thing about this fresh setting thus far? Or perhaps what was the most important thing in choosing this space?

I'm currently sharing a studio space with one of my best friends, Annie Williams, who is a musician and leather accessories designer. We've shared a studio for over two years now. It has looked different during various seasons of life but the people are by far the best thing about our space. Most recently we've done a major move around within the space, as our old setup was way too small for us — we were literally bursting at the seams!

It's amazing how much your working space and environment can affect the way you work. We have a skylight that gives the most amazing natural light and an open loft for our office that helps to separate administration and production.

The most important thing in choosing this space and staying there was Annie; her involvement has really helped develop the brand, particularly in the beginning stages.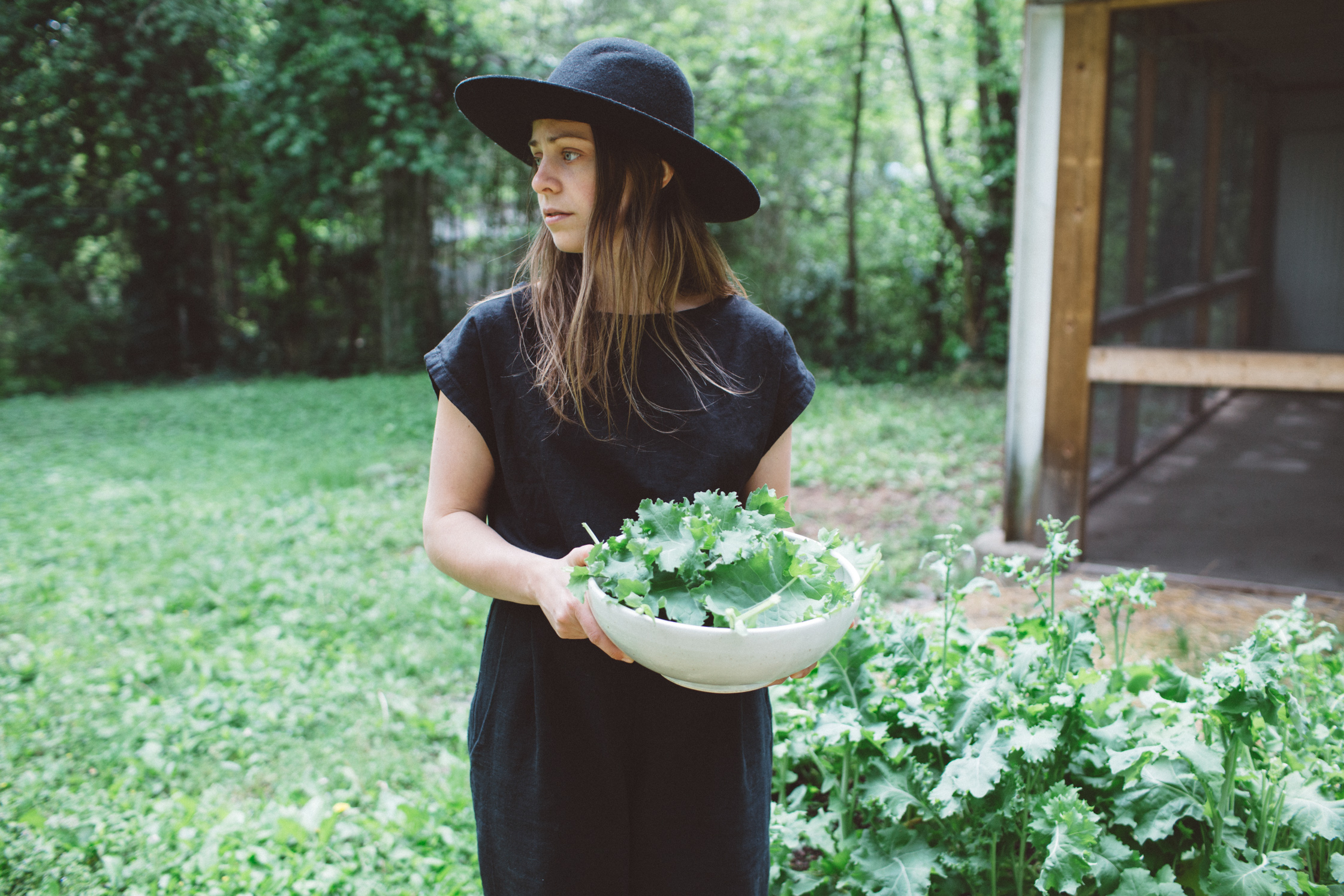 Tell me about some of the things that make your house your home. How do you decide what you're going to surround yourself with, both at home and the studio as well?

All my tables are built by my sister and brother-in-law; many things have been given to us or made by friends. Like the tables, so many of our things at the studio and at home have stories. We really don't have much stuff, which is preferred but also necessary, as our two spaces are pretty small. Every inch plays a role.

At the house, I really love our pottery. Most of it is made by one of my oldest friends and collaborators, Mer Holder. No matter where we've lived, in the U.S. or New Zealand, we've always brought our mugs and a few of our other kitchen items with us.

Mer and I went to college together and while we were there, a tornado hit the school, ruining 19 of the 26 buildings. My husband lost everything he owned, except for the clothes he was wearing. Ever since then, both Brock and I have been selective on what we buy and keep. We have a small memory box, things I want to keep for my kids or for myself to remind myself of my journey, but we try to keep it just full of things we love. I recently read The Life-Changing Magic of Tidying Up by Marie Kondo and decided to further purge our belongings to ensure we keep just what we need and really love.

What do you consider most special or important in your home?

One of the things we've chosen to keep is the piano. It's the piano I grew up playing. Almost every member of my family plays music, so I grew up surrounded by the sound of this piano. It really reminds me of my childhood and beckons me to take a break and play once in a while — the ivory keys are chipped, exposing the wood with unique markings that have helped me remember which keys to play in what songs.

Sunlight is very important to me, especially in the winter months. Many of the houses in New Zealand are north-facing to receive the most possible sun. New Zealand was the first place I've lived where I felt so connected to the weather and appreciated elements such as sunlight. Sunlight is a really a beautiful thing. We would open the curtains in the morning, then close them when the sun disappeared to keep the heat in.

When we moved back to the U.S., we found some old Calvin Klein white denim deadstock fabric and have since made it into curtains; the heavy fabric helps keep the heat in during brisk Tennessee winter mornings. We found the denim from an 80-year old man on the Tennessee / Kentucky border.  We all nearly died in the summer heat trying to lift it off his 18-wheel truck. But it was really worth it. Most of our family and friends now have white denim curtains as well.
What are your thoughts on the internet, or your relationship with it? How does it influence or play into your work?

It's pretty incredible, really. I think it's amazing that our age is so digital — so different than 15 or 20 years ago. I'm not overly interested in the digital age, but I do appreciate the convenience and connectedness it allows. The ability to FaceTime with a friend, or touch a button to request an Uber is nice.

Although, with all of the digital activity around us, I do feel that one of the challenges I have is a certain selective disconnectedness from true human interaction.  There's the impression or idea of a relationship, but we're removed from real relationships. With the digital age, you create an image of yourself however you want, rather than exposing a true, honest self or idea. Most of what I see online seems pretty constructed, posed, forced. I enjoy the unexpected and spontaneous encounters that you normally can only experience away from technology.
Who have been some of your biggest personal creative influences and inspirations over the years?

Terrence Malick has been a long-time source of inspiration, especially his film The Tree of Life. His ability to communicate and expose human experiences, feelings and beauty is incredible. After I saw this film the first time, I was silent for several hours.

Wes Anderson is definitely another favorite — his use of color and humor in his films are just great.

Patty Griffin's music still seems to make me swoon, after many years of listening. There's some powerful, self-taught beauty in her music. Also, Sia and Kanye West have been on repeat lately.

Your company used to be called Josi Faye. Where did the original name come from and what made you decide to change it to your own, Han Starnes?

When we first began this project, we named the company after my mother. My mom's name is JoAnn Faye; I call her Josi. She grew up on a farm, raised a family in the city, and continues to this day to challenge herself to learn and figure out new things–everything from making clothes to becoming a master gardener. Her spirit and drive toward curiosity and ingenuity is at the heart of what we do.

Recently, I've realized that our identity as a company is more connected to who I am as a designer and the clothes I create. We decided that giving the company my name would be more reflective of the brand's identity.
When you think about the future of Han Starnes, what do you get most excited about? What are you dreaming or daydreaming about on a regular basis?

As a business owner, I'm always trying to simplify things. There are so many different aspects and details involved in what we do, especially the way we try to do things— sourcing really great wool, working with farms, working with non-profits in India, producing in-house—it's not easy and these processes take a lot of time to develop. Working with friends and progressing the business in a way that I'm comfortable with can be challenging. But we are starting to really hit our stride and become more grounded, which I'm excited about. We're establishing routines, trying to find the right balance of simplifying the business while maintaining our core values.

I really love and appreciate the journey that we've been on so far, and I'm excited about exploring more old textile techniques, learning and experiencing the communities they can create.
Thank you, Han, for inviting us into your craftsman home and sharing your journey into knitwear. Find out more about "Han Starnes," her eponymous line of well-made garments, on her website.
Photography: Laura Dart
Interview: Julie Pointer