The elevator door in the hotel opened and there he stood: Gilles Peterson. The Dj'ing legend from London.
Wearing his favourite visvims, blue jeans and a black t-shirt. Nothing but sympathy. The first impression set the tone for the rest of this inspiring, friendly conversation. Meeting Gilles was more of a long talk about his musical preferences, the leisures and pains of constant travelling than just some simple Q&A's interview. In the end, it was even more than we had hoped for.
To everyone who never heard of Gilles Peterson: Gilles Peterson, born in 1964 in Caen, France, is a DJ, record collector and record label owner from London, UK. Through his labels Acid Jazz, Talkin' Loud, and latterly Brownswood Recordings, he has been associated with the careers of well-known artists of the 1990s such as Erykah Badu, The Roots and Roni Size plus Jamiroquai. He is also well known as a radio DJ. For the most part, he spreads his music knowledge to the listeners through his radio-show on BBC 1, but has been touring the best clubs in the world, mostly promoting various musical projects and collaborations such as Havana Cultura in Berlin.
When he stepped out the elevator everything made sense. This was the voice we've been hearing for the last couple of years. Rather small and humble, Gilles is one of these pioneers who never really tried to take the mainstage in this commercial business. They just remain as they are and do what they love. For the most part. Still, he manages to capture a great selective audience around the world, playing magnificent music day in and day out.
We've been listening to his radio show for BBC 1 the last few years now and keep coming back, because the sound is just too good.
Once he got his black tea and some homemade cookies from the Hotel restaurant, we hit the roof to take some pictures.
We chatted about Berlin, his new project, recent gigs and his favourite places and clubs around the globe.
The photoshoot took place on a rooftop near Bar Tausend, where he performed later that night.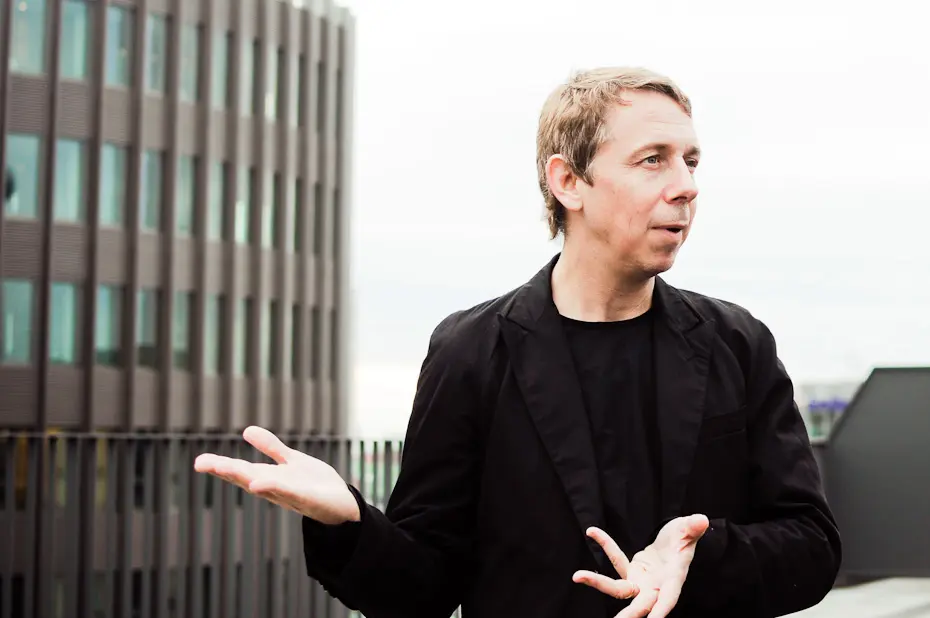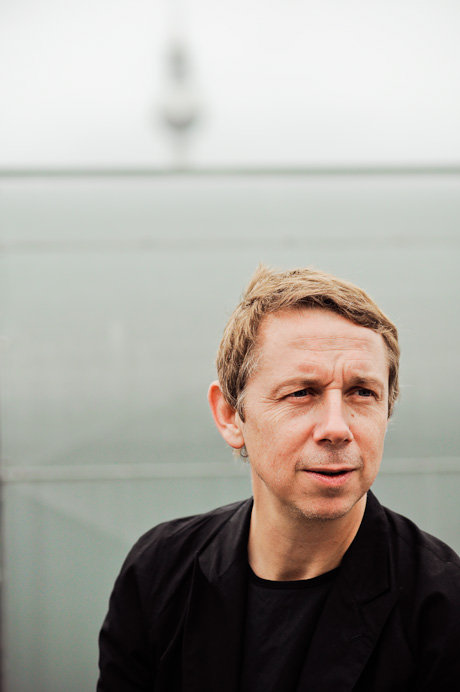 On our way to the rooftop we started talking about recently released mobile devices, because Gilles was thinking about buying one of these tablets. We jumped right in.
When you're playing tonight, how are you djing?
I am still using vinyl and CD´s. I am very old fashioned with technologies at the moment. Using digital is just rubbish to me. Unless you have an incredible good file, but even then vinyl is better. I don't believe the hype. CD´s are quick and easy. Especially for festivals. But if you go to clubs, the sound of a vinyl is so much better.
Are you Djing with a computer?
No, no, no. I haven't heard anyone do it well, so far. Seriously, it sounds like shit.
Are you pre-recording your radio shows?
No, I always do it live, worldwide. It´s been shifted for quiet a long time. It´s funny actually, exhausting sometimes, but that's part of this life.
How does a frequent traveller like you define 'home'?
Home is home. To be honest with you, I would not allow anyone to my house. You have to keep home to yourself. I have two sides of my home though, one is DJ, the other part is family home. You have to keep that separated. Everything unhealthy in my life stays in Brownswood and also all my records. It's a boy's place, basically. Little unclean, but that's where we record lots of stuff and it's not really a living place.
What are you listening to, when you are relaxing at home?
Radio 4. I don´t go home and have a spliff and listen to an album. I rather talk or listen to my kids.
At your home, how do you find a record you really wanna listen to?
I really don´t. I´ve been at my house, sorting my records for the night time, and I´ve had a record in my mind, right. I gotta play that. I gotta play that. I would spend at least three hours to find it. I started at 5 pm, it´s already 8.30 pm and I haven´t done anything but looking for it. When I don´t find it I curse on myself all the time. Some things will never change.
Do you have an amazing story about what happend with you while travelling?
Here is one funny story: Talking about my album. There is a remix by Carl Cox, right. Anyways, he gave me this remix. It is so special, because Carl Cox doesn´t do a lot of remixes. I am in Australia, in Adelaide, and I play my selection for that night. Big crowd, great vibe. And I look in the crowd, front row, and I see Carl Cox. What the fuck are you doing here? So, I stopped the track and played his remix. That was my best DJ moment that year. Great memories.
So what do you think is coming back next. Do you think people will listen to Acid Jazz again?
Maybe. Actually, I think I know I am getting a lot of people to listen to it.
Amy Winehouse, for example, is a kind of Acid Jazz. It is Pop. With choruses and thinks like that.
What is your relationship to Berlin?
I used to be on Radio Multikulti here and I used to play WMF in Café Moskau back in the days. It's kind of sad this whole Jazzanova thing in Berlin lost it's popularity. By now it has all become more electronic and the former jazzy vibe that I felt here is missing a little bit. Probably caused by the dynamic evolution of music in this town.
Gilles Peterson preaches music knowledge and seem to breathe music history and experience. We could have talked to him for hours, but he had to leave for his secret gig at Bartausend. Anyways, Gilles is a golden guest from London and we are proud to have him on our magazine. Make sure you take a look at his worldwide representation and listen to his sounds on BBC 1 and his current project Havana Cultura.
Interview: Frederik Frede
Text: Mirna Funk
Photography: Ailine Liefeld