In a bright, one-bedroom apartment in the center of Berlin, that includes a view of the TV Tower and the strange ever moving scenery of Alexanderplatz , lives artist Felix Kiessling. It is a dynamic place for someone who emits as strong an energy as Felix – an energy he certainly needs for his projects. After an aborted alternative career in England, Felix came to Berlin in 2009 to study fine arts at the University of Arts. Simultaneously, he became a protégé (what in Germany is known as a "Meisterschüler") at Olafur Eliasson's Institut für Raumexperimente.
With his not-so-new beginning, Felix today works on what he does best: creating art, drawing connections and capturing stories which he processes and generates into a realm of experience for both young and old. His dexterity in the field means that both his solo and collaborative work with his co-founded collective Numen has been recognized and exhibited between Berlin and Moscow.
After a full English Breakfast prepared by Felix in Berlin-Mitte, the artist takes us through his studio inside Malzfabrik in Schöneberg. Within this landmark industrial hall, we talk about the beginnings of his creative practice, the spheres in which he places his art and, in the most literal sense, a moving journey to Ethiopia.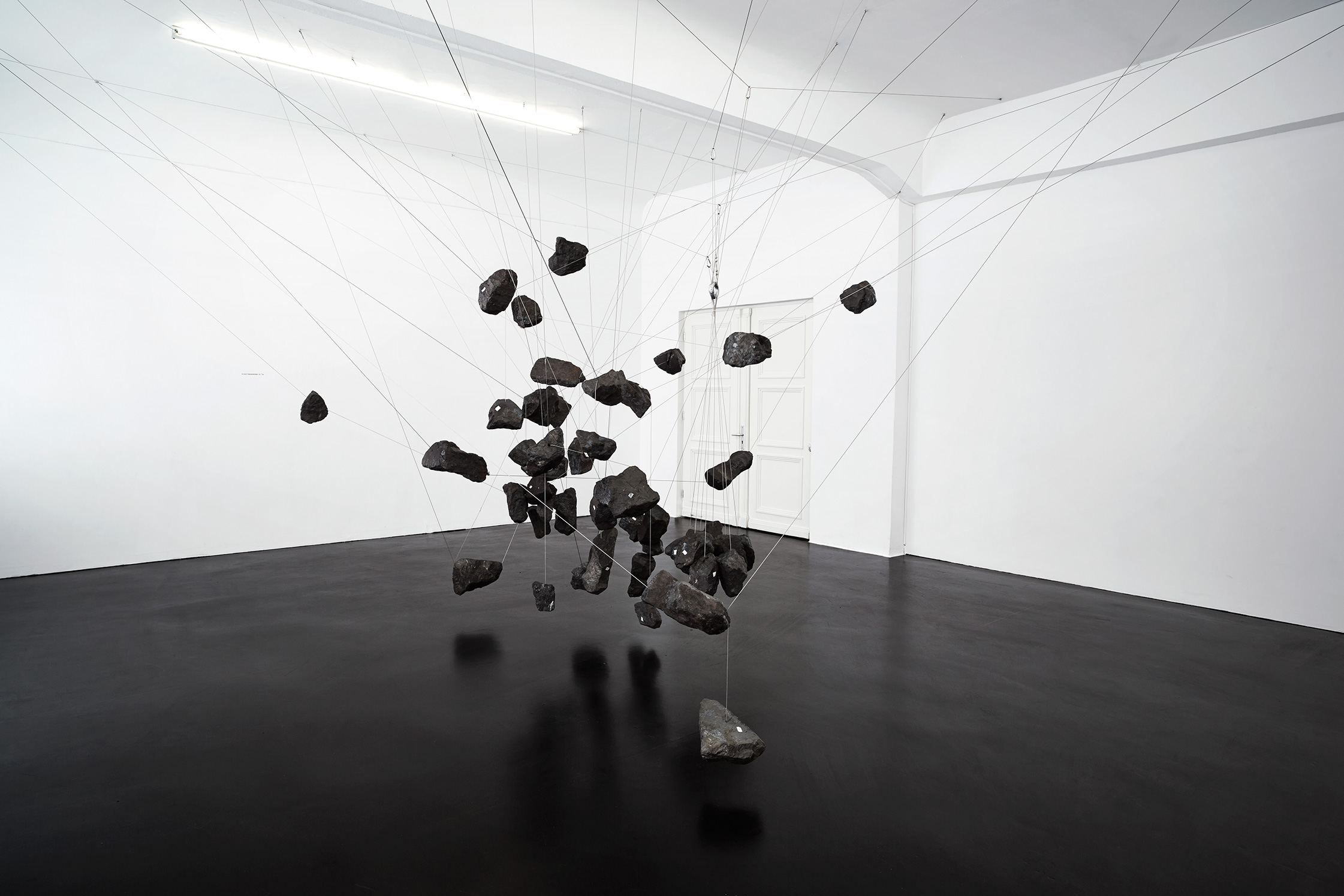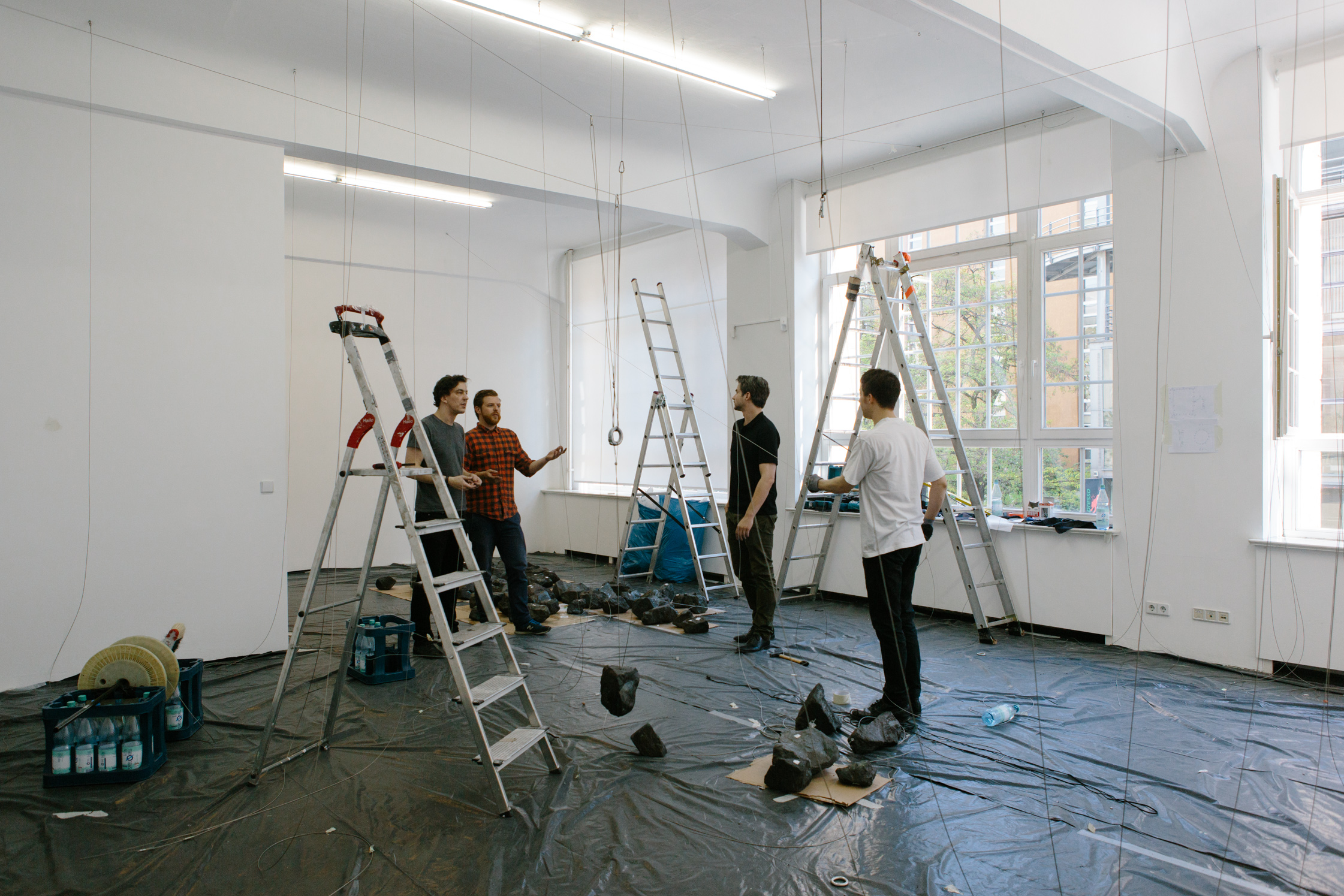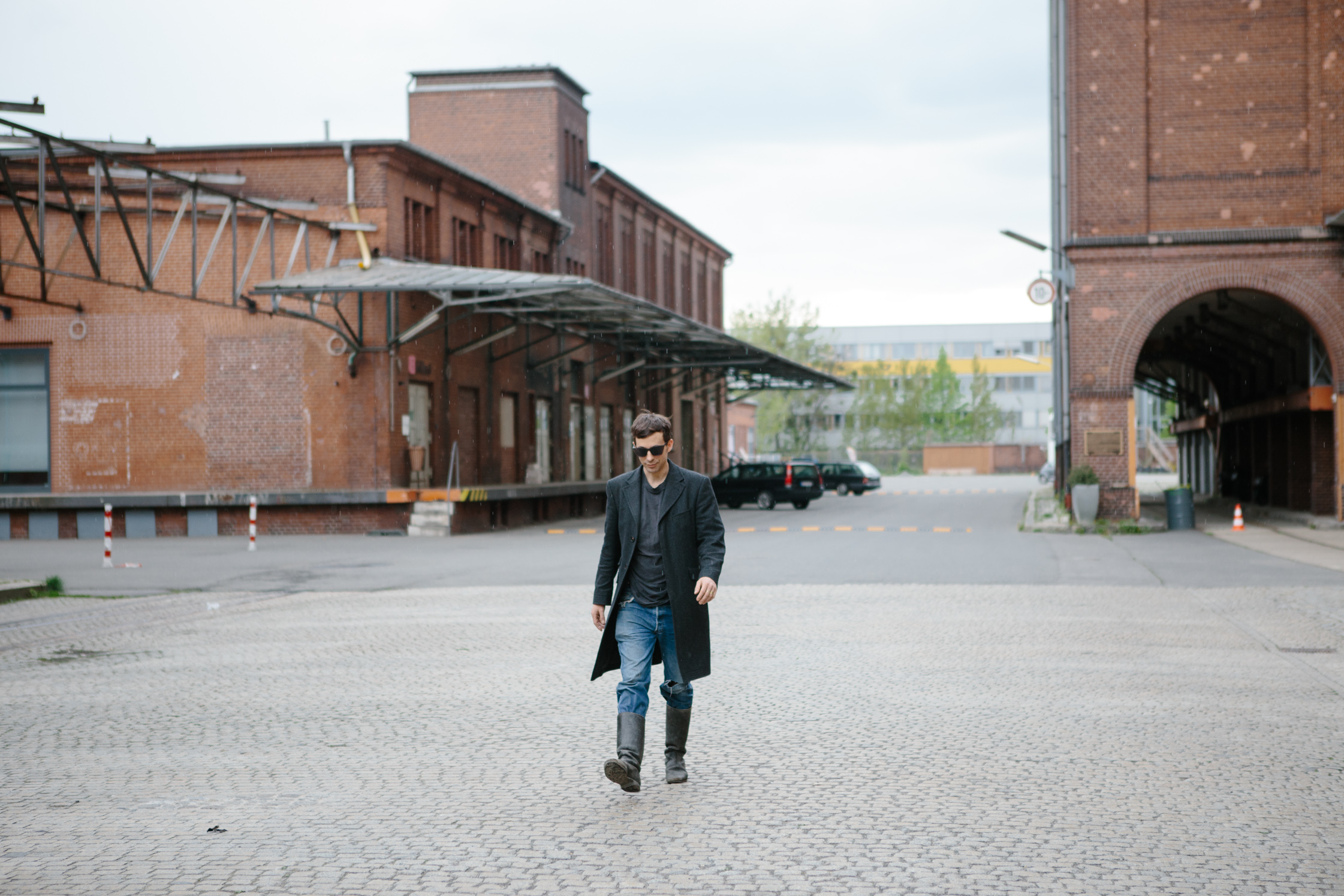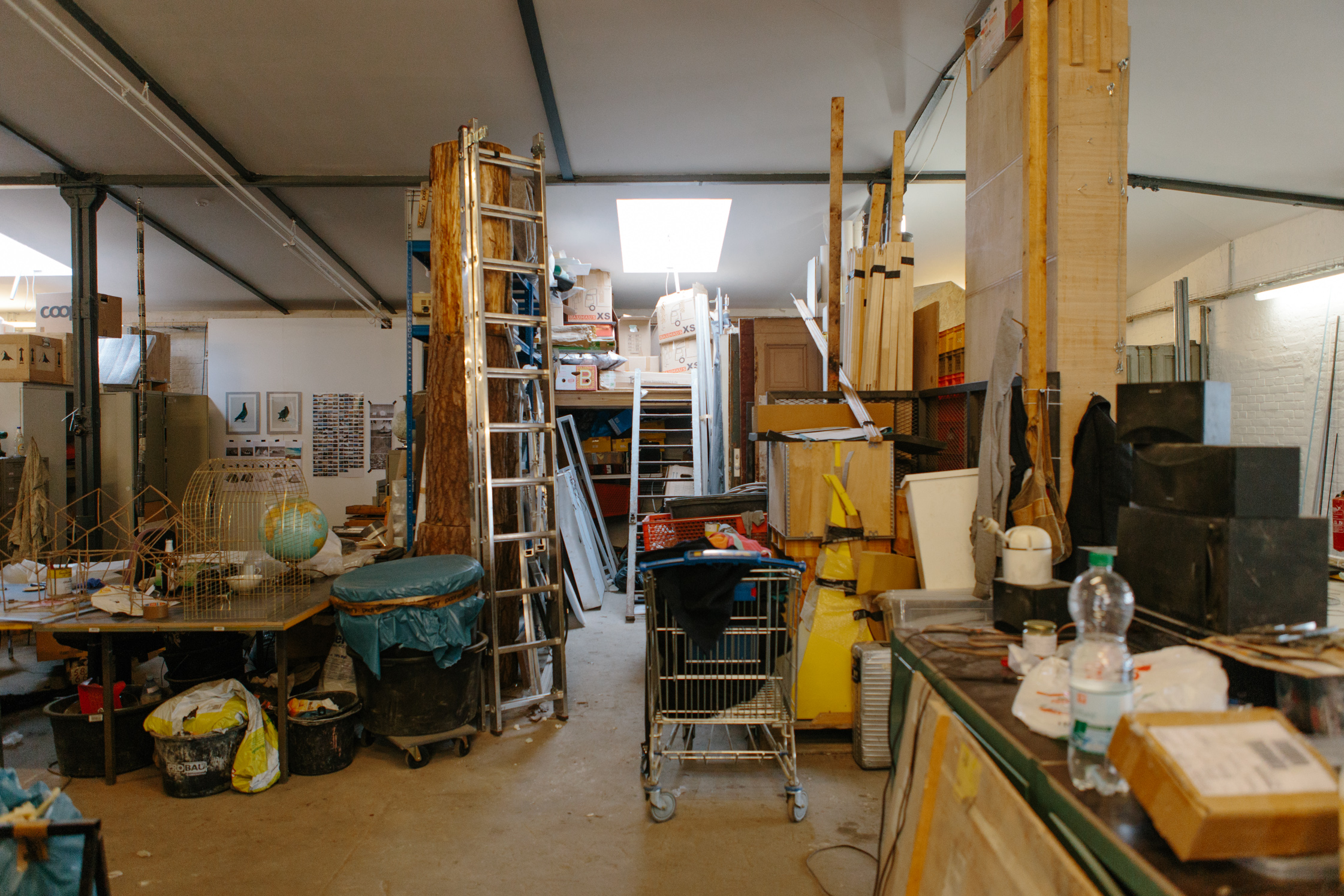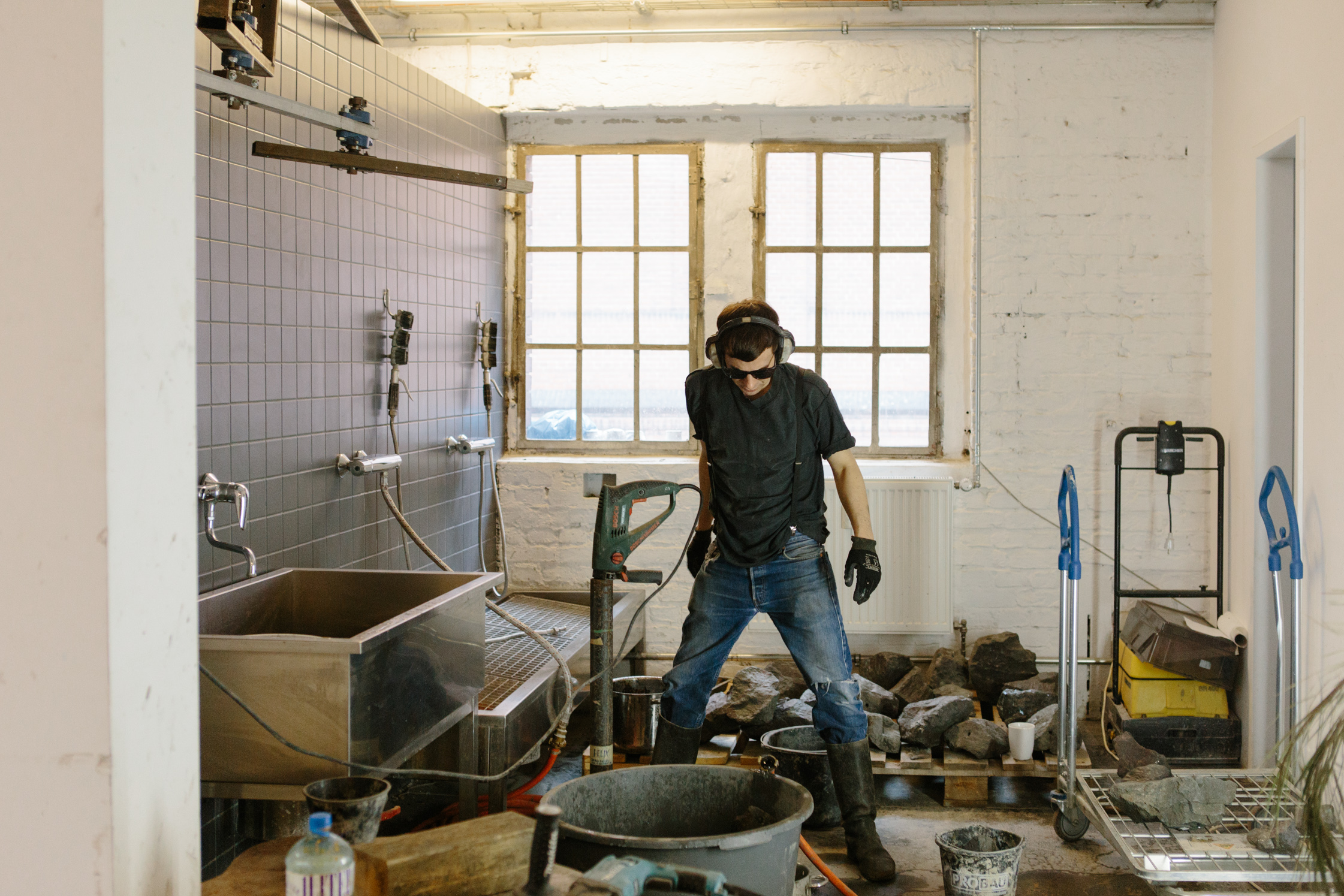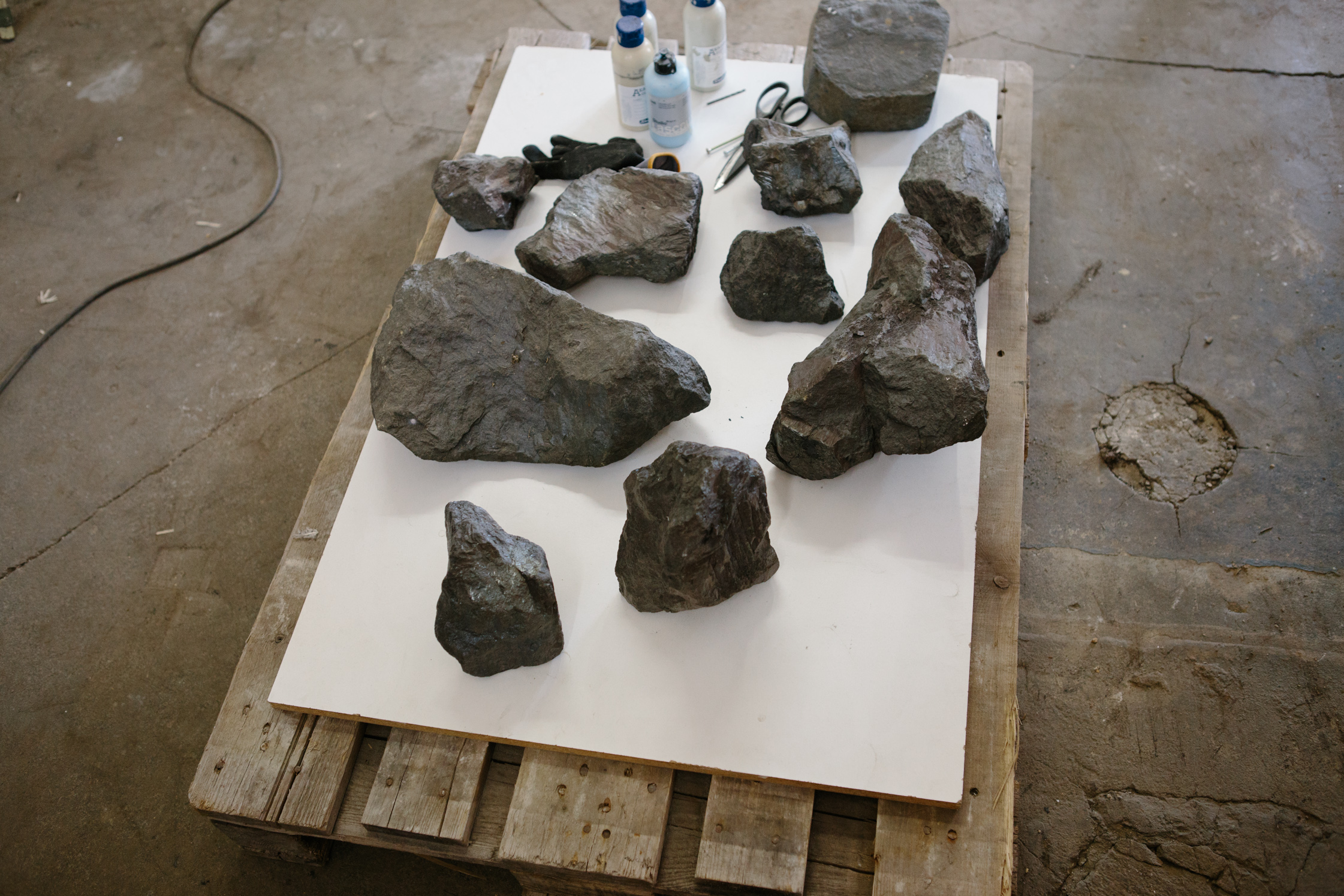 How do you feel in the lead up to your exhibition?
An artist gets to a point where an exhibition is suddenly about publicity and specification. Once you have reached that moment, you must personally structure and prepare yourself. I never really know how I conceptualize my exhibitions (laughs). Weight and ceiling construction are crucial to my current exhibition. For my last show I built a twelve-meter high star and I had to drill through the ceiling and the floor.
It seems that nature and space have always played a big role in your work and that your environment continuously flows into what you produce…
Questions regarding space and emptiness, weight and gravitation – these things interest me. I am not a mathematician or an astrologer who questions these elements, although I certainly work with them. Personally, thinking about these ideas makes me a bit light-headed.
Do you sometimes drift off with these thoughts, or do you always try keep your feet on the ground?
I often get totally carried away. It's nice down here but it's "up there" that things really get going. There are so many things up there that we simply cannot explain. It's because of this that I busy myself with so many details.
We send rockets into space, but also have the universe here all around. Small details become ever smaller and eventually dissolve. In the end one sees patterns with a lot of "nothing" around them, which is ultimately similar to "up there". It boils down to a question of matter and perspective, of what kinds of questions you ask.
Do you want your audience to perceive this when they look at your work?
I find it a shame when someone views my installation simply as stones taken from the Elbe and hung up. Each individual visitor should unite his or her personal notions with the work. The idea behind it is that the removal of stones from the Elbe – apparently not measurable – still however takes its toll on the world's water tables. My goal here is not to raise environmental awareness, but more to engage with things that everybody can comprehend, feel and identify with, regardless of whether we have anything to do with art. It would be great to create an experiential space in which each person could experience and live the space uniquely.
Are there particular materials that you prefer working with?
My material is the interface between things that we see, which we individually construct, and fact. I wouldn't say that I am a fetishist, but I definitely have a preference for working with stones. Obviously I don't bathe myself in them, but I definitely find stones fascinating (laughs).
How and when did you get into art?
Honestly, I don't have many talents (laughs). Before I started practising in the arts, I sat at an office desk and pursued a different career. The moment I am not happy with something, I become bad at it. I realized that I function best when I walk naively through the world, seeking out exciting things, and, from that, can build some sort of story. I want to make my discoveries and ideas visible to other people.
Have you had this drive since childhood?
Basically yes. At least I have always drawn from a young age. My mother was very supportive and also wanted to put me in a choir and pottery course. My grandfather was also artistically active – in absolute contrast to my parents. They were part of the 1968 generation and part of the hippie movement. At some point they just completely merged into the bourgeois environment.
Would you refer to yourself as bourgeois?
It's already clear to me that my drilling into stone won't buy me a gigantic villa in the next ten years, but I don't find these more bourgeois values terribly important. Of course I enjoy eating well and going out, but I am completely happy with my work, regardless of what I earn. At night I go to bed, sleep well and am happy. In the long term, yes, I would like to be able to afford certain things. I'm hopeful this will happen one day.
Over the past five years you have worked at artist Olafur Eliasson's Institute for Raumpexperimente (Institute for Spatial Experiments) while also undertaking studies in fine arts at the University of the Arts (Universität der Künste Berlin, UdK). Did Olafur become a sort of mentor for you?
It all began through the UdK. We were about 20 people who studied and worked together. There were external people who joined too, while others were invited – neuroscientists and politicians for example. Many artists with whom I work at the Malzfabrik studio are people I know from UdK; I founded the collective 'das Numen" with some of them.
I knew Olafur Eliasson from one of the few exhibitions that I saw of his in London. At that time it hadn't yet occurred to me that I would study art. When I found out that he was opening a school, I realized that he was that one who made the work I had seen back then, and that we actually do similar things. He is a magnet. Work possibilities and new friendships continue to arise from within his environment.
What does Numen stand for and how did your collective emerge?
Numen comes from Latin and means 'basic force.' It rests within all animated things. After a group exhibition together, we all realized that we all worked really well together – in addition to a range of other connections that emerged. From this we decided to found the collective.
Does this work allow you to travel much?
From time to time. For instance, I recently traveled to Ethiopia for two months with the Institute. I was able to look inside the Erta Ale volcano which is at the border of Eritrea near the Danakil Desert. I threw in an object that had tungstenic properties – which is a material that begins to melt at 3000 degrees. Where else could I take a look at the interior of the earth? It was almost like a child's dream for me: like standing on the tenth floor and spitting onto someone down below. In this moment I had the possibility to throw something into the earth's insides, into its very heart. It was such a dream for me.
The volcano was a special shield volcano with a vent, and this project was the first of its kind to take place at the center of the earth. I don't know why no one had had the idea or done this before.
Were you in danger? I understand there is some conflict in the area.
At that time it was quite dangerous. A few months prior to our visit, some tourists had been shot. The embassy advised us against going and we even had armed soldiers with us. At first we were so scared that we thought about throwing the object from the helicopter instead, so we wouldn't have to deal with the rebels. The Afat Tribe in the desert are the best people – even if they don't like smiling very much. I thought it was so fascinating that they each survive by drinking just one glass of water per day. When everything falls apart and a colossal climate catastrophe hits us, these boys will definitely have a good chance of survival.
Are there any specific places that you are longing to visit?
I would like to explore North America. Siberia is on my list. Also in Hawaii there is a beautiful shield volcano that I would love to visit – but this one has no vent. Shield volcanoes are quite rare and, if I remember correctly, there are only four in the world.
And why did you come to Berlin?
Love, but it didn't work out. After seven years in England, where I studied and worked, I wanted to go back to Germany and study in my mother tongue. For some reason this was very important to me during that time in my life. This is how I basically ended up studying fine arts and beginning 'from scratch' again. Also, Berlin is an exciting city that attracts young people. So it wasn't that difficult to make the decision to move.
Do you have any favorite places in the city?
Ruhlsdorfer See is cool and there is an industrial estate in Brandenburg which I like. I also love riding through Tegel Forest. It reminds me of my childhood. I can wander alone through that forest for hours. In Lichtenberg there are still a lot of surreal, ruined buildings – I like to be alone there. Other than that, I like to go to Berghain (laughs).
How did you become involved with Alexander Levy Gallery?
I heard that he was opening a branch of his father's Hamburg gallery in Berlin and I invited him to several events. Following that he offered me his gallery space as a projection room for an exhibition outside its normal hours during the summer break. Just like that, a collaboration started between us that I was really happy about. We are both on the same wavelength. Both of us are standing at the beginning of our careers and are not afraid to take risks. Through this dynamic so much more is created than a typical collaboration between an established gallery and a subordinate artist. He is not a colleague, but a friend. This is very important when working together.
Would you describe your art as conceptual?
Yes, I would describe it as 'gut-feeling-conceptual.' From a formal point of view, my works are pretty minimal. For example, there are only two stones hanging in a room. That's a pretty easy installation, but carries a complex idea behind it. I don't want to tell people how to interpret it, but I want to evoke a certain sentiment within the observer.
Do you have a particular guiding philosophy? Something that you wake up with and think?
I am not a morning person. I always need half an hour under a hot shower and a cup of coffee to wake up. But this couldn't be really classified as a philosophy. So I guess I don't have one! Or perhaps, let's just call it coffee (laughs).
Felix Kiessling's third solo exhibition 'Ausdehnung' at Alexander Levy Gallery, Berlin opened during the recent Gallery Weekend Berlin and runs until the 21st of June, 2014. Make sure to stop by, when you're in Berlin.
Photography: Philipp Langenheim & Johannes Förster
Interview & Text: Luisa Dahringer & FvF