From their beloved Madrid, the city that has witnessed them grow from girls into women, Elena and Ana tell a story that's as much about sisterhood, friendship and love of cooking as it is about the intrinsic relationship between humans and food.
But most of all, they tell a story about cultivating a curiosity for one's city. It is not too often that a grandparent's piece of advice, however persisting, sticks. Elena and Ana's grandparents lucked out, or perhaps they were especially convincing, for their mantra of "you should always stay together" has metamorphosed into the unique friendship that binds the two sisters. Elena and Ana – authors of the Hermanas Arcë blog– share clothes, jewelry and had their shoe sizes matched, their communal wardrobe would have extended to footwear. They have never lived apart. They agree on almost everything, and whenever there is any kind of dispute, fives minutes apart is enough time to smooth it all over.
The girls share many friends in common and by virtue of their culinary endeavors they are part of a large, international community. However, when the girls interact with one another, it is obvious that a silent yet strong peace exists between them; a profound understanding that comes only with those rare, life-long friendships.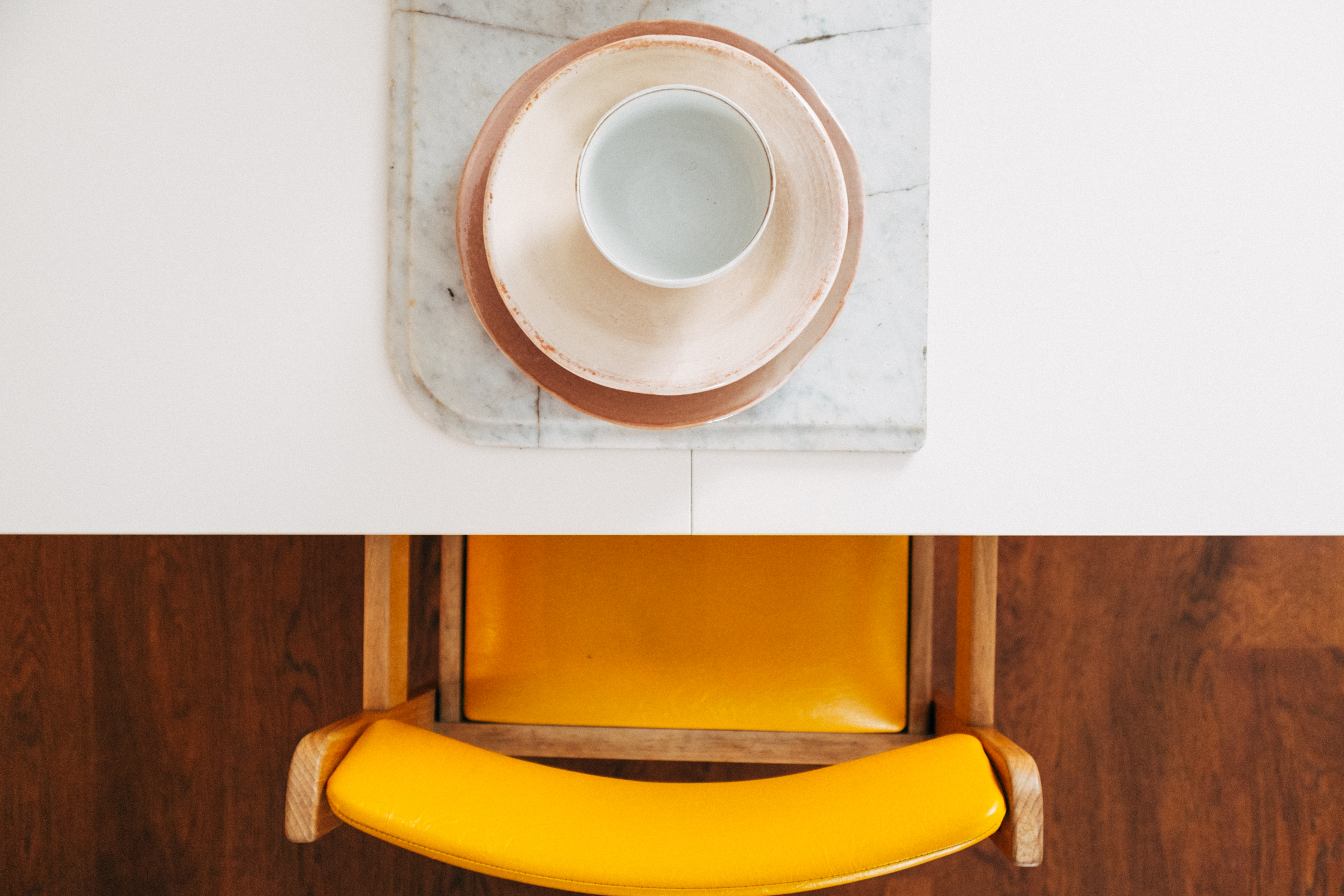 Despite the sisters' similar eye for both big and small things – from basic life philosophy to their appreciation of oddly shaped ceramic cups and plates on which they serve us coffee and salted chocolate cookies – their personalities differ. Ana is an aerospace engineer, enthusiastic about the components that make up ingenious airplanes. She is light-hearted, confident, funny, with a certain cheekiness in her remarks. Elena is a lawyer, enjoying the diversity of tasks that comes with the profession. Although she shares her sister's silent confidence and sense of humor, Elena is the bossy and more meticulous one. She brings a change of socks for our trip around Madrid because, "it is still March and the weather is capricious."
This portrait is part of our ongoing collaboration with ZEIT Online who present a special curation of our pictures on ZEIT Magazin Online.
In the kitchen however, Ana usually takes over. Elena, on the other hand, assumes the role of the food critic. With her discerning personality, she fits the role like a glove. She's an ambitious cook's perfect sidekick, always telling it like it is.
Ana's particular love of cooking – of putting ingredients together and experimenting in the kitchen – comes from her childhood when she used to watch her mother cook with a kind of grace. A grace cultivated through her culinary philosophy with particular emphasis on every cuisine's protagonists: the ingredients.
"We always laughed at our mother because she used to spend so much time at the market," Ana explains, "She was very particular about where she bought her products from. For each ingredient on her list she had a specific stall in mind and would only ever go to that one place." The girls giggle and Elena elaborates, "Well, now we do exactly the same! When we go to the Mercado de la Paz, for example, we already know which stall to go to for certain ingredients. We think freshness and quality is the most important thing in food. We prefer simple preparations to very complicated processes and always say that good products, simple cooking, a glug of good extra virgin olive oil and some Maldon salt are the only things a dish needs."
A collection of cooking books – elegantly sitting on the floor-to-ceiling bookshelf in the living-room – has been a strong influence in their growing relationship with food and its preparation. Ana takes down some of her favorites, shows them with admiration, and as she turns the pages, she happily shares their beautiful features or concepts. From Kim Boyce's Good to the Grain – a book Ana describes as "perfect, simple and rustic" – to Hugh Fearnley-Whittingstall's collections of recipes; Ana's books have not only awakened a need to live in the countryside but also opened her eyes to certain aspects of food production and the power of consumers in the food industry. Ana articulates the idea of each book with thoughtful considerations and a pronounced enthusiasm. The large, thick books are not only the girls' unlimited source of inspiration for culinary projects, but also satisfy their love of print. "They show my nerdy side," Ana laughs and reveals yet another full bookshelf tucked neatly in her room.
The topics and ideas pervading the cookbooks emphasize the important place of aliment in our communities; this relation is a key concept in the girls' consideration of food. "On a small scale, food brings people together; it is even something discussed about during meals. I often find myself talking about it at all times!" Ana chuckles. "It is also an act of love: If someone takes the time to cook for you and lay the table, it shows care and interest," Elena adds. On a bigger scale, the girls discuss the tight bond between nourishment and cultural traditions. "In Spain, we have a lot of traditions centered on food. Every region has its own special dish. A morcilla might be done differently from village to village and that in itself can distinguish two small communities." Elena elaborates, "The relationship between food and people goes much deeper than simply satiating a hungry stomach: It defines us in many different ways."
The ultimate cooking challenge, Ana admits, is working with the classics. "For dishes like paella there is already a point of reference, a high level of expectation which you have to match up to. However, with modern cooking, you can experiment a lot more since there are no fixed boundaries and everyone feels less intimidated to have a go!"
The girls' fusion of personalities is strewn about their modest apartment, situated in Salamanca; arguably Madrid's most elegant inner-city neighborhood. Subtle details add a homely and personal touch without cluttering the apartment's minimal and clean feel. Hand-woven flower headbands are hanging across a space of white wall and a slab of found marble is used as a chopping board. Elena proclaims the living room her favorite spot in the house. That's where you'll usually find her; lying on the sofa with a stack of magazines on her side. Although rather modest in size, it doesn't take long to imagine the white dining table as the beating heart of the house, the place where the girls' friends and close community gather every so often over feasts of good, fresh ingredients, spices and the distinct taste of Spanish wine.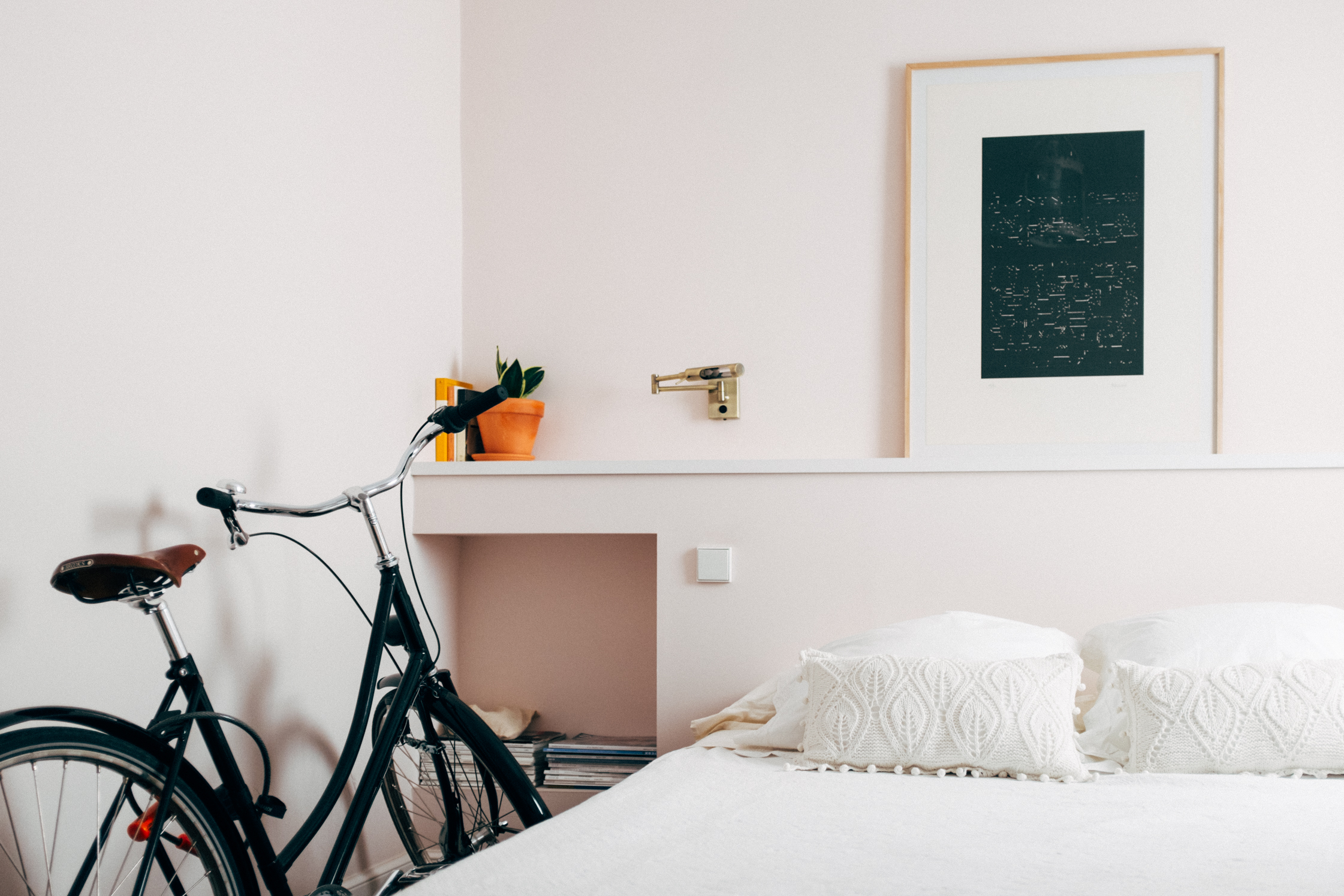 Stepping outside their calm apartment and onto the streets that thread this city together, the air is decorated by a kind, inoffensive human noise. In other words, by life: one of Madrid's most charming aspects. Here, you feel alive by osmosis. The city's buzzing, conspicuous citizens have an infectious energy.
The Madrid that Ana and Elena know is not the Madrid most people get a chance to meet. The girls' sensibility to aesthetics, design and innovation, as well as a curiosity for new perspectives, have led them to discover the city corners that are beginning to write an edgy new story on the city's rather traditional bones.
On bikes, we make our way along streets and alleyways, following the map the girls have mentally sketched out according to their usual haunts. "What we love to do is wake up on a Saturday afternoon, have a long walk and just go through all the neighborhoods. We usually walk down the neighborhood of Salamanca, then Justicia and cross over to Conde Duque. That way we can buy bread from Panic (Madrid's artisanal bakery, possibly selling the city's best bread!), have a coffee in Toma (a charming coffee shop satisfying demanding connoisseurs) and stop by the Mercado de la Paz on the way home," Ana explains.
"It's also great discovering new places or things that didn't exist before," Elena adds. As we pop in and out of the girls' handpicked stores, bakeries and cafés along our journey, we are prompted to deliberate over the gradual, yet blossoming, evolution of Madrid's creative side.
"Over the past five years, Madrid has finally started catching up with other creatively progressive metropolises. The city is beginning to offer the kinds of projects and facilities that are able to cater to those who have an interest in innovation, quality, or simply places that are based on a refreshing philosophy rather than traditional concepts," Elena explains.
Unlike many other cities, the more traditional Spanish mentality has not been one to encourage individuals wishing to focus on the arts or other creative endeavors. The mentality has been to follow steps that ensure a financially secure life. "As a result, the creative scene in Madrid suffered because there weren't many individuals brave enough to swim upstream," Elena continues, "Until now."
Exploring the girls' version of Madrid leaves no doubt why Elena and Ana choose to live in Spain's capital despite the fact that Europe is abundant with progressive, exciting metropolises. The wave of slick, often minimalist, design introduces a unique juxtaposition to the traditional charm that infuses much of Madrid: Open, fresh, modern spaces either sculpted out within inimitable brick walls of century-old buildings, or existing next to the wooden doors of some of Madrid's oldest bodegas.
Spain's ultimate blessing, the ubiquity of sun, is highly responsible for the fact that Madrid's streets are almost always coated with vibrant, happy people. This outlook on life is infectious, and once you have a taste of being a part of it, it is difficult to imagine a life according to different principles.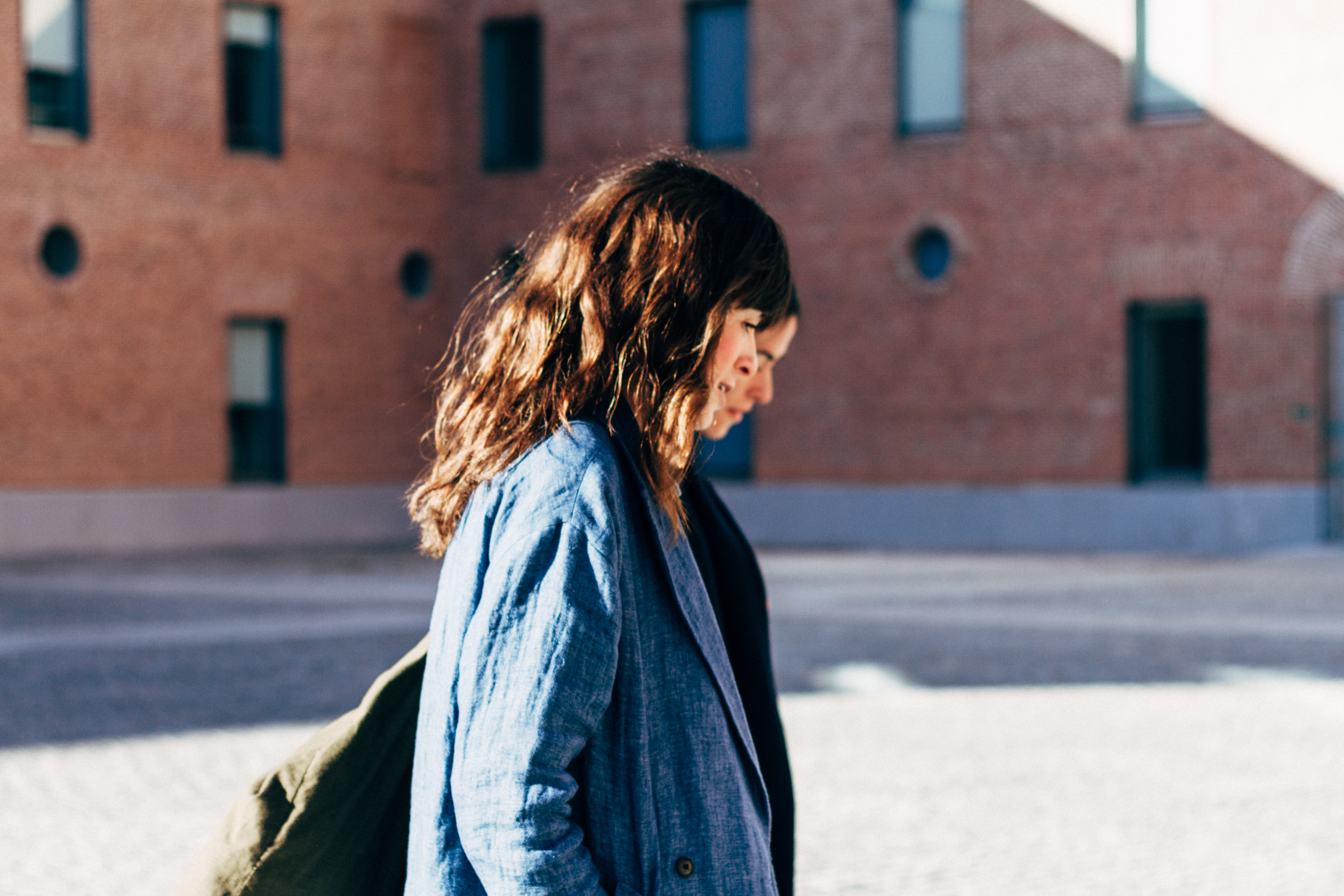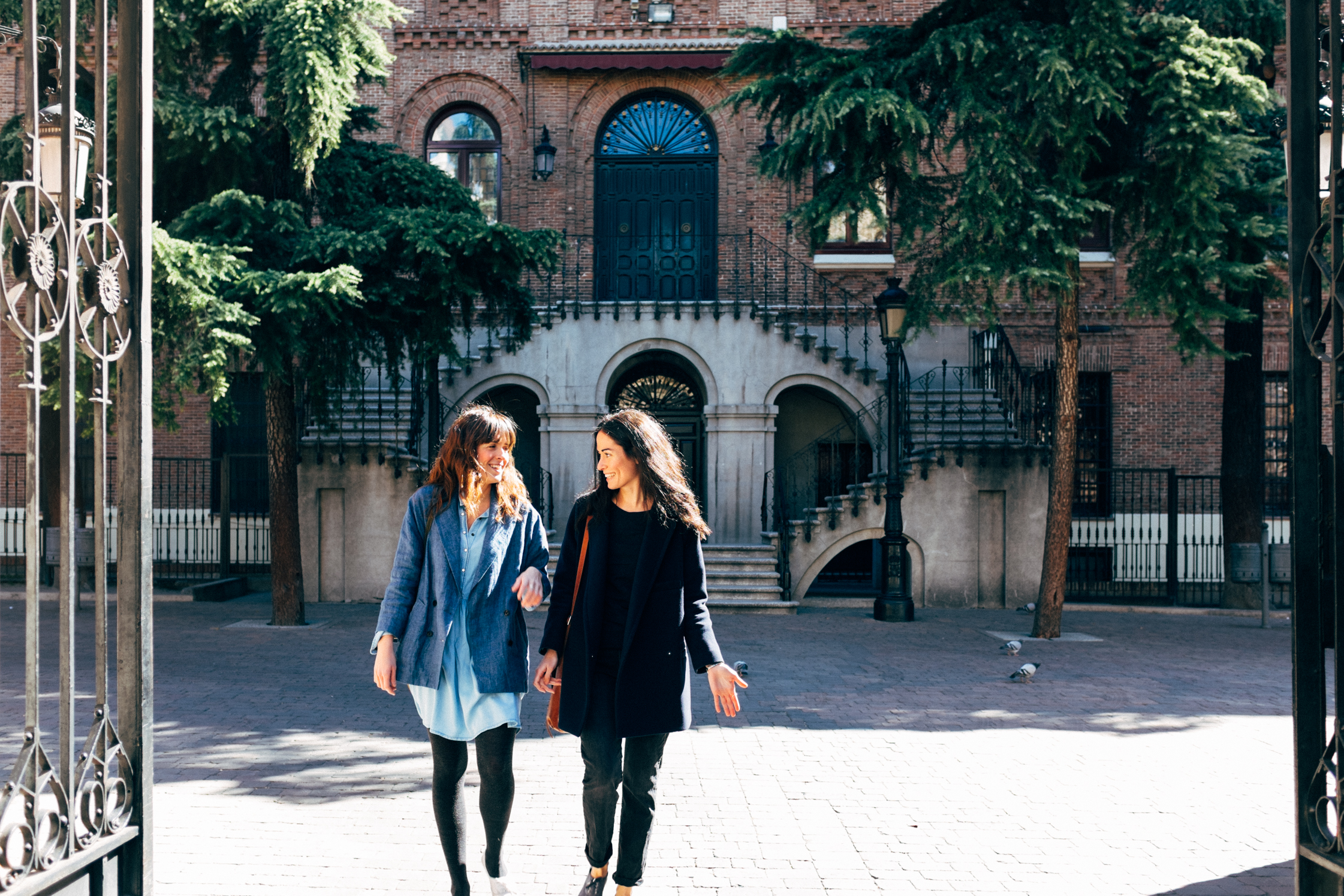 Having crossed the various individual neighborhoods that make up Madrid in the space of an afternoon, it is clear what Elena and Ana mean when they speak of their appreciation of Madrid's diverse profile: one of their favorite elements of their beloved city.
From the stylish suburb of Malasaña – not only the hub of innovative stores, cafés and restaurants, but also the most popular place for gatherings – to Lavapies – an attractive melting pot of immigrants, students and artists – each area is run by its own particular metabolism. Elena elaborates, "Despite the perception of Madrid as strictly traditional and Spanish, once you know the city, you see that its alleyways are actually filled with this amazing variety of things to do: from traditional Spanish cuisine, to ceramic classes run by international practitioners, to young people, old people, people from many corners of the world; everyone who lives here contributes, in one way or another, to what Madrid really is."
A sincere thanks to both Elena and Ana for not only sharing their home and city with us, but more than anything, sharing their many lovely stories and interesting perspectives.
This our first time in Madrid! Until our next visit, meet more creatives from Barcelona.
Photography: Adrian Cano Franco & Erea Azurmendi
Interview: Olga Kotnowska