Any fertile ground for collaboration requires its partners to be able to complement each other in all the right respects. Typico, the Vorarlberg-based experts in textile communication and lighting manufacturers Zumtobel have been showing how it can be done for over 10 years now. With their jointly-created lighting design concepts, the duo counts institutions such as Frankfurt's Städel Museum and Oslo's National Museum among their illustrious client list.
We talk to Thomas König, Typico's CEO, about the enduringly volatile medium of light, the fusion of visionary art with technology, and the building blocks of a stable collaboration.
The time when digital printing and innovation were mentioned in the same breath is long gone. The fact that Typico is (re)acting increasingly progressively within this space is accordingly more relevant than ever. This is due in no small part to Thomas König, CEO of the company, today one of most pivotal contact points for textile communication – an area that requires a great deal of openness to the new, while benefitting from his radical approach to (re)thinking the status quo.
Born the son of an electrician and an office clerk, König grew up on the shores of Lake of Constance in "middle-class" family setting, as he describes it. "My father always said, 'This guy is so smart – let's hope he doesn't become an academic!'" This sentiment may have informed the more unconventional turns in his career pathway. Not having had the necessary means to pursue a traditional university degree, he decided to follow dual pathways in business administration and the trade, fair, and exhibition sector before obtaining an MBA&E in Berlin and continuing his studies overseas thanks to scholarships that took him to Japan and the USA.
Long since back on home turf, König's thirst for knowledge remains perpetually unquenched. "An interest in the new has always been central to my work," König notes. "At Typico, too, we're always on the lookout for new challenges, and are keen to connect highly complex elements." This undertaking has become something of a self-fulfilling prophecy: today, Typico operates in eight different business areas – from trade fair construction and art to lighting projects and interior design. Across the board, no two jobs are alike, he says. "I often explain our way of working according to the principles of baking: our setting at the company that offers a few hundred different ingredients, but we bake a different cake for each client."
"I've come to realise that everything is irrelevant if you don't harmonise on a human level. In the end, we all breathe the same air."
König applies a similar principle to the organisation of his own business units. To date, he has co-founded twelve companies, and is the owner of seven – including a company that makes wooden glasses frames, a brand portal for advertising space in ski resorts, and even a dry-aging manufactory for top-quality beef from the Allgäuer Alps in southern Germany – an endeavour which recently saw König sit a butchery exam.
Can these distinct domains ever cross-pollinate? Might it not eventually all become too much? The question feels inevitable. "I've been taking on too much my whole life. But I've never felt overwhelmed. Thanks to the successes that have emerged from risk-taking, I now have the privilege of being able to do the things I enjoy," König replies. Against this backdrop, he didn't think twice when he was approached to take over Typico's management in 2007.
Originally founded in the 1990s as a large-format digital printing company, Typico quickly established itself as a pioneer in the field and went on to develop one of the first digital presses. A lot has changed since those days, but Typico has remained at the forefront of technological advancements. Over time, the company has acquired an increasing number of technology and material packages, and has successfully positioned itself at the intersection of printing, frame construction, and lighting – initially within the interior space, and increasingly within architecture, too.
Orders today flood in from a wide range of origins: from the conception of windows for international retail spaces for the likes of Hugo Boss to façade solutions and avant-garde ideas for a loyal customer base across the arts sector. A long-standing collaboration with Kunsthaus Bregenz has led to enviable collaborations with artists such as Ai Weiwei, Guyton/Walker, and Pamela Rosenkranz in museums and galleries worldwide – from MoMa in New York to Cologne's Museum Ludwig and Mumok in Vienna.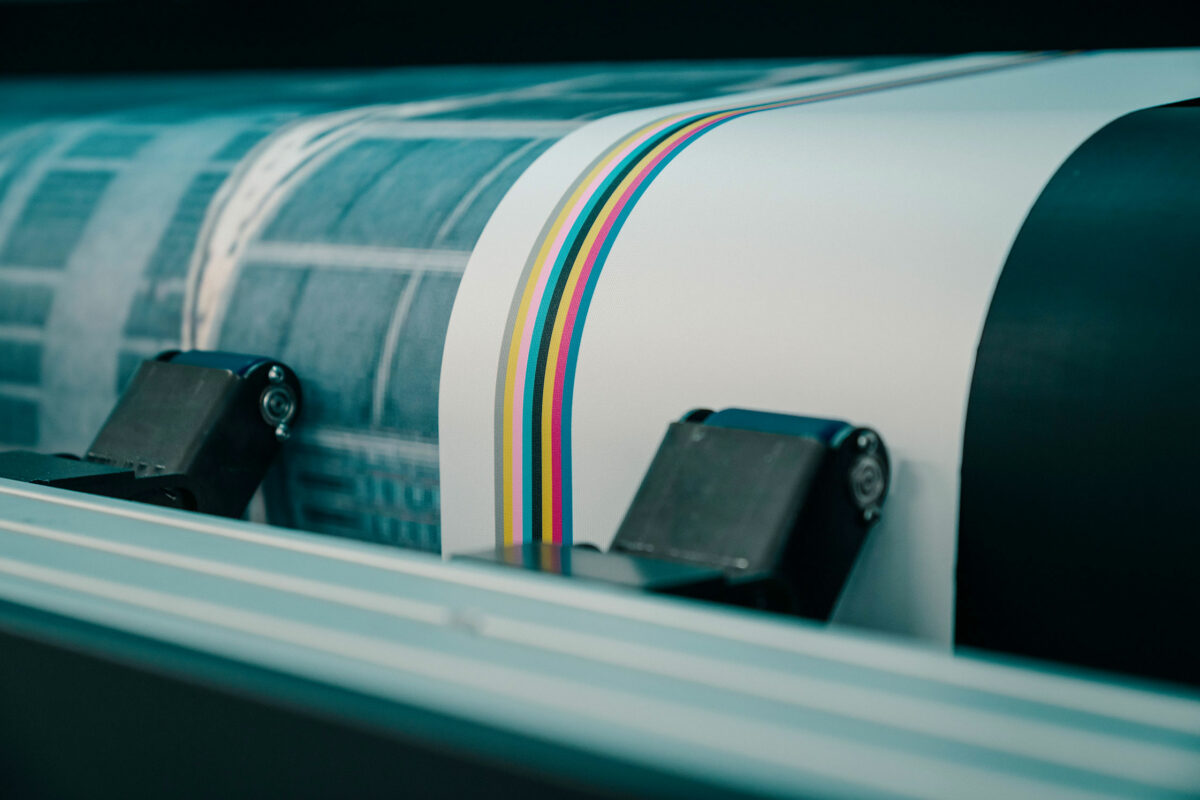 Typico's first commission was for Peter Kogler's Austrian pavilion at EXPO Hannover. The concept was to print a 5000-square-meter façade featuring a work by the Austrian media artist – and the guiding approach was the motto, "When no-one else can – Typico will." The phrase still stands for König and his team today, especially when it comes to art. The work of provocative American media artist Barbara Kruger has already taken Typico on a worldwide tour of far-flung galleries and exhibitions. And if word of mouth works well everywhere, that's doubly true in the art world. When conceptual artist Lawrence Weiner worked with Typico for the first time on the recommendation of US artist Louise Lawler, he confronted König with the challenge, "Make me an awesome exhibition or I'll kick your ass!"
This anecdote is only one of many that König gathers from his artist collaborations. "These projects always inspire me. Working with artists is personal, if difficult on occasion, but above all, always touching," he says with a smile. "What every collaboration in the field shows me is that listening is what counts above all else."
On par with the importance of listening is the capacity for fast thinking, and a resolutely human-centred philosophy. At Typico, flat hierarchies prevail, and all seventy employees interact on a friendly, first-name basis. People are firmly at the heart of this innovation-driven company. "Having myself experienced so many academic stages, I've come to realise that everything is irrelevant if you don't harmonise on a human level. In the end, we all breathe the same air," König notes. "I have only ever hired people who I feel fit our company in terms of character and mindset." König also pays close attention to the varying value structures of generations. "Baby boomers have a very different idea of what leader is than digital natives do – you have to respect that, and work with it," he adds.
The ability to work well together is constantly scalable for König and his team. At Typico, no project is the same in size or nature. Twelve years ago, König and his team found a partner in Zumtobel – one that could implement large-scale projects that call for the creation of standard products in enormous quantities. As a comparatively small manufactory, Typico is well equipped to do everything that Zumtobel cannot. As König explains: "Today, architects no longer want to work exclusively with standard products, but with a mix of the standard and the customised. Zumtobel receives briefs with individualised elements that they cannot build, as they only produce in large quantities. This custom-made portion is accordingly passed on to us to produce as a manufacturing partner."
For over a decade, the two companies have been in near constant communication on a daily basis. Together, they have implemented projects such as the lighting concept for the underground extension of Frankfurt's renowned Städel Museum. Its ceiling was expanded to incorporate 195 skylights, and now combines artificial light with natural sources to ensure that the exhibits remain perfectly illuminated at any time of day or night.
The results of the partners' symbiosis will soon also reveal themselves at the opening of Norway's upcoming National Museum in Oslo. Almost 2000 square meters of luminous ceilings units have been installed in various configurations in what will one of the world's largest art institutions when it opens in 2022 – an undertaking that, like many others the partners have taken on, at first seemed impossible to many.
"What gives me the greatest job satisfaction is the fact that we embrace the new every day – and that we have to stay flexible. The constant new demands and challenges make the job extremely exciting," König adds – though his demeanor equally comes across as extremely relaxed.
This may be due in no small part to his company's location and the natural work environment. Like Zumtobel, Typico's HQ is located in Lochau, Vorarlberg – a small town in Austria's westernmost state. Just 200 meters from the German border as the crow flies, and nestled between Lichtenstein and Switzerland, this little nook of Europe firmly centres proximity to nature – and along with it, proximity to oneself.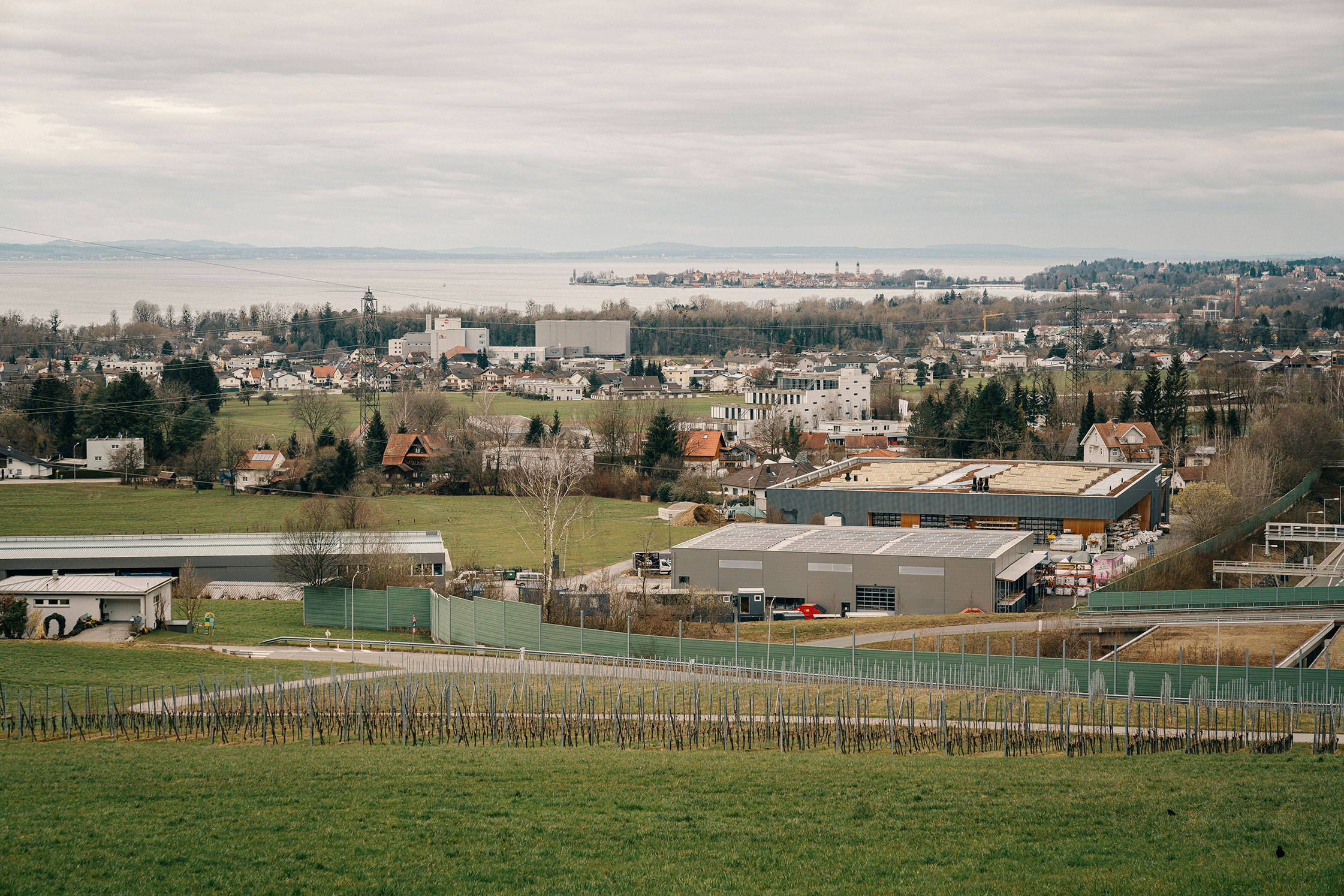 "We draw a lot of our innovative power from our surroundings."
With a genuine smile playing on his lips, König describes the down-to-earth life here as being a counterpoint to the digital nomad narrative: "we draw a lot of our innovative power from our surroundings here. On the one hand, it's just home; on the other, home is a beautiful region. We spend our free time at Lake Constance, skiing, and exercising. This stunning landscape that frames our lives also frames our thinking."
Vorarlberg's distinct culture is intertwined with its fortunate geographic coordinates. In 1919, a referendum asked locals whether the region should become part of Switzerland. Shortly after the decision was released (against the move), the state underwent a process of emancipation. "Maybe it's because the region is today full of people-lovers, but there's a strong sense of friendliness and reliability," König comments. "I haven't experienced that in any other culture."
Whatever challenges lie just around the geographic – or professional – corner, König is feeling confident and motivated for the future – not only due to the innovations to which he'll be contributing. "What I draw most of my strength from is the fact that, through my work, I can ensure a lot of people have a great job. That impacts whole families, new generations, and ideas. I'm all about creating, no matter what line of work I'm in."
To König, one thing is certain – his courage to create, paired with the demand and interest in his ever-changing mediums, will not fade. "By the final stages of a build – at the latest – it's clear to me why I do what I do. At some point, we get to that magic moment when a newly installed lamp is switched, or a luminous ceiling works. That's when the proverbial light goes on. And everyone agrees: that's exactly how it has to be."
The latest innovation to emerge from Typico and Zumtobel's partnership is the CIELUMA room-spanning luminous ceiling. Consisting of individual segments and integrated with mountable modularity, the fabric lighting system imitates open-air daylight, bringing a dynamic, activating light source into the room's interior. Together with its sound-absorbing effect and diversity of design options, CIELUMA creates a new quality in the connecting dimensions between light, acoustics, and space.