We managed to tie down the most elusive character in London's world of books for an interview: Conor Donlon. Conor is the owner of Donlon Books, an inimitable bookshop located on Broadway Market where he sells a personally curated eclectic mix of counterculture, subculture and youth culture informed books. Since progressive retailer LN-CC opened in Dalston in 2010, Conor has curated their book selection, providing them with the cream of the crop of books and printed matter.
Conor came from Ireland to London to study fashion design, completed a BA and MA at Central Saint Martins and went on assisting photographer Wolfgang Tillmans. Possibly inspired by working in Saint Martins' college library, he took the opportunity to open a small bookshop in Herald St Gallery, just below Tillmans' studio space. The selection of books was appreciated by the art and fashion people who came down the gallery, so Conor decided to take a step forward and opened his own independent shop on Cambridge Heath Road. After running two shops simultaneously for a while, he then opted to continue only the space on Broadway Market, which opened in 2009 and just recently he moved above the shop where he is now unintentionally merging private and working life.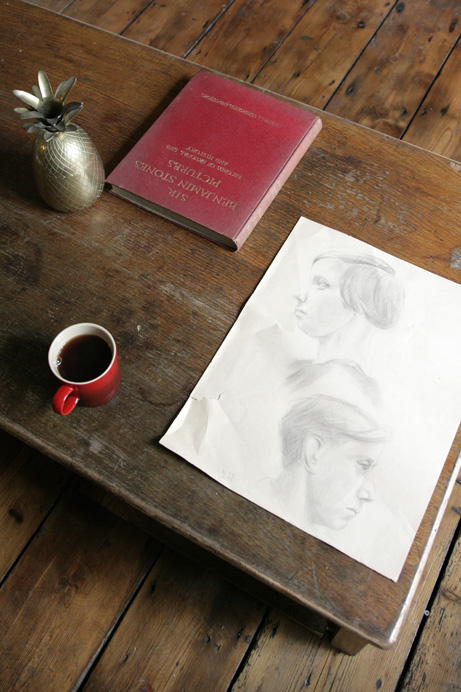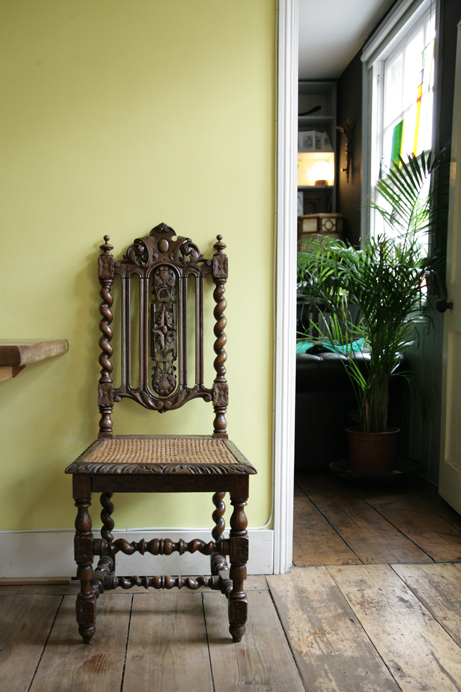 When did you come to London and how did you sense the city, coming from a small town in Ireland?
I came to London in 1994 to study fashion design in Saint Martins, Alexander McQueen and Hussein Chalayan had just graduated and there was a real sense of excitement in the air. I remember blagging a press pass for London Fashion Week the day after I arrived in London and seeing one of Chalayan's first shows in a big draughty warehouse behind Kings Cross Station – all very exciting for someone fresh off the plane from Ireland.
I guess I was always more into research and ideas behind fashion, it was never so much about designing clothing for me. At Saint Martin's they allowed me to do what I wanted to do, especially on the MA, where course director Louise Wilson was really supportive. Although studying womenswear, I don't really remember making many clothes throughout my six years of study. My MA ended with flocked power tools, a fascist army of Irish dancing trophy tops and a very confused external examiner!
But you got carried away from fashion…
After college I worked with the artist Wolfgang Tillmans who had seen my graduation show. I worked for him as an assistant for several years, not so much as a photographic assistant, more helping edit and put publications together, installing shows, which was great, I got to meet lots of interesting people and travel all over the world.
And then afterwards you opened the shop?
Yes, the shop sort of happened by accident. I've always collected books and was invited to have a bookshop by Herald St. Gallery, which was located just below Wolfgang's studio. It was all very small scale. I remember when it opened I only had a few books, everything was facing forward, most of the titles were from my own collection, it's amazing what a few old cabinets and some strategic placement can do.
I guess people responded to the strange mix of books, I had a lot of German and American counterculture related material, and lots of stuff which I guess in hindsight was atypical to what you might find in a gallery environment. It was all very hidden away though, an industrial building on a backstreet in Bethnal Green, the last place you would expect to find a bookshop, but Herald St's diverse mix of artists, people such as Pablo Bronstein, Scott King, Donald Urquhart, Nick Relph and Alex Birkin, meant a sympathetic audience and a steady flow of people with a passion for books.
Do you have a favourite place to find interesting books?
All over the place really. I travel quite a lot, and always make sure to do the rounds if I am in a new city, not necessarily to buy but to see new things, that's the good thing about books, there's always something new to discover. Tokyo, L.A. and Paris all have amazing specialist bookstores and the Printed Matter book fair in New York every year is a great place to get an overview of what is going on, but actually Berlin is kind of my favourite, there is a much more evolved specialist bookshop culture in Germany, and the antiquarian bookshops are great. I think you can even do a degree in bookselling at university there… which might be a bit excessive, but anyway. I have stocked a lot of older German books in my shop from day one.
Would you ever consider an opening of Donlon Books elsewhere?
Haha, I don't think so. I run a very small scale operation and I am firmly rooted in London. The bookshop is very much a product of my seventeen years living here. The people who I have met and have influenced me, the clubs, nightlife, the diversity and that energy that drew me here in the first place. I can't really imagine living anywhere else either to be honest, unless perhaps in a Buckminster Fuller style Geodesic Dome somewhere remote when I hit my 50s, but we'll see how it pans out.
Is there any book you were looking for for ages and couldn't track down?
Most of the time it's not actually a case of not being able to track them down, more a case of not being able to afford. Yes, there are plenty of them. I wouldn't mind a first edition of Jack Smith's 'Beautiful Book', but at £30,000 I am quite happy to live without at the same time.
I guess at the moment I am more interested in self-published books by younger artists and photographers. There has been a real explosion of independent publishing since I started the shop, and for me generally this is more exciting than stocking the tenth monograph by a well-known artist. I am very happy to leave this job to the larger shops that can deal with this in a more comprehensive way.
My shop is really about an eclectic, maybe slightly subversive mix of things. A Sigmar Polke book next to a book of dead people, opposite some trannys next to a Japanese photo book of jellyfish. Do you remember the children's programme Mr. Benn, in which a man visits a fancy-dress shop where he is invited by the moustached shopkeeper to try on a particular outfit each time and leaves the shop through a magic door entering a world appropriate to his costume… well, my ideal shop would be like that, maybe an adult version though… except with books.
When you've got some sort of Special Editions and you've got yourself just one copy, is it not hard to give it away?
That's something I learned really early on. A gallerist from Germany who has an amazing bookshop told me that you have to be prepared to sell everything. There have been some things in the past, like a Baader Meinhof photofit folder issued to the German Border Police, which I have been very reluctant to part with, but after four years I managed to find another one just recently. I do believe most things come around again. If I am in the business of selling books then that's what I got to do. A lot of my favourite books, I don't actually own at the moment, and may or may not do again, but that's fine.
How do you generally go about selecting books for your shop?
I guess most of what I stock is born out of personal interest, curiosity or conversation with customers. I have a lot of regulars, I generally know their tastes and they know mine so I'm always hearing about interesting books to get in, I get a real buzz of this kind of interaction.
How do you feel about the digital development? Do things like the iPad or electronic books affect your business?
Of course it affects my business, as with all bookshops but I do think there is room for both. I guess I am lucky being part of a newer breed of bookshops. I actually have lots of books here that intentionally bypass the usual modes of distribution, zines, artists books and small independent publishers as well as rarer titles. It's the eclectic mix but still very much a personally curated selection. And I think there is now, probably more than ever a need for this within the bookselling industry. For me most of the books in the shop are linked to each other in some way. There is continuity and a mindset running through everything, and the experience of this is quite difficult to replicate online, as is the possibility of chance and discovery.
What's your opinion on blogs?
I think it's a great thing, it's just access to more information. I do follow certain ones, but they're very specific. I actually follow ones that are specific to books and publishing. There is a really great one called 5B4, which is about photography. It's a real mixture, it's mostly photography but he finds as well really good design books from thirty years ago and he puts it on there.
And you don't miss fashion at all?
I don't really buy designer clothes, I'm not interested in that but I still look at all the collections every season. I'm still very interested in what lies behind fashion and the research that goes into it, seeing a collection and figuring out what designers have been looking at, spotting the references. It's all completely relevant to my job as a bookseller and the books I choose to sell.
In terms of the fashion industry – no! Come on! You know what I mean, it's a funny one, the fashion industry. But then I find the art world isn't all that different, they operate in a very similar way on many levels. It's because I don't really feel completely affiliated to the art world, nor to fashion or photography worlds that I am free to mix things together in a way that other people may probably think is wrong, high brow alongside the outwardly trashy. For me that's what makes it fun, being able to dip into different areas without having to be tied down. But ultimately the most important thing for me is showing interesting books and matching the right book with the right person. That's what makes me a happy boy.
What are your favourite clubs here in London? How does the nightlife in London differ from the one in Berlin?
London has a very different energy I think. There are always really interesting nights going on in London. Somewhere like Vogue Fabrics is just really great, there are older people there are young people, it's just a bit more free. And then there's Horse Meat Disco. I've been going to Horse Meat Disco since the day it opened in Soho and it's a bit of a family there. A lot of people who go to Horse Meat Disco are people that used to go to Queer Nation, which was a really amazing club in Brixton. That was my first proper club experience in London, all that changed my life in a sense and now it influences the shop as well.
Is there any other city you could imagine living in?
If I was older and didn't want to go out anymore, then. I love Berlin, I love New York as well, but I think London is the place for me. I've got so many friends that work for big designers around the world and they are all over the place and they all eventually want to come back to London. There is something about the energy here I think, I can't really pinpoint it. I think it's just the mix of people.
Find out more about Donlon Books here and to buy Conor's selection of books visit LN-CC's website.
Interview and text by Lilli Heinemann
Photography by Ben Benoliel