After a few years on the road – living a life of travel and work between Dakar, Cairo and Paris – French photographer Clément Pascal and his wife Sara, a native New Yorker who grew up with Central Park as her playground, settled in the creative borough of Brooklyn, New York.
Born during the graffiti-influenced 80s, he was surrounded by art and photography at home, but his own interest didn't awaken until he was living on the western coast of Africa. Since then, he's photographed notables from rapper A$AP Rocky to fashion icon Alexander Wang. His distinctive eye for portraiture and fashion photography continues to earn him collaborations with names such as Maison Kitsuné, MUSE, L'Officiel Paris, The Wall Street Journal and the New York Times Magazine. Pascal's organic approach showcases his innate ability to capture images through a highly inquisitive lens.
Essentially living out of a backpack for years gave the roaming photographer a desire to create a place to call home. That notion is ever-present in his beautifully appointed New York apartment. Every corner is designed with intention, while each painting and piece of furniture has been chosen carefully with classicism in mind. He kindly invited us into his Bushwick home, where we spent the day chatting about his journey into photography, the effects of travel on art and his desire to photograph legendary rapper Rick Ross.
This portrait is part of our ongoing collaboration with ZEIT Online who presents a special curation of our pictures on ZEIT Magazin Online.
What's the story behind your journey into photography?

I actually did a lot of graffiti when I was younger, so the first photos I ever took were to document that work and preserve it. When I was younger, I did some acting in France, so I was initially pursuing a career in that. I started traveling with the money I made from acting and first went to Vietnam, Thailand and Cambodia. That's when I'd say I took my first real photographs, because there were so many incredible things to see.

When I came back to Paris, I took a copywriting position for about two months. I was really bad at it, but they offered me a chance to go to Senegal. My wife Sara is getting her PsyD in Clinical Psychology, so she was also in West Africa at the time working for an NGO. After I met her, I desperately needed to find a job so I could stay. I offered to work for free, but I was so terrible that they said no! Luckily, I met contacts in the industry, and someone needed a photographer for a story. Really, it happened by accident and a bit by arrogance! I just told them I could do it and figured it out along the way.

Is that when you decided to quit pursuing acting and be a full-time photographer?

Yeah, pretty much. I did some NGO work while I was in Senegal and traveled to Liberia to take pictures. I thought it was all so cool, because I was actually getting paid. You have this moment when the first paychecks come in and you realize "They're paying me? Oh my God! This is awesome!"

Before that, I was always around photography. My dad is a still life photographer and has worked with Elle Décor. But when I was young, I didn't want to do it. It was my dad's job, and I wanted to be an actor. Even though I wasn't into it, I didn't realize then how lucky I was to grow up around photography. I was able to see that having a career in the arts was possible. I don't think I would have ever imagined being a photographer or even an actor if I hadn't had him. How would you know it's an actual possibility? I still have those senses stuck in my memory. The actual smell of the Polaroid, the ringing sound of the timer when the Polaroid finishes exposing, the noise of the camera flash – I'm so nostalgic about those parts of my childhood.
We didn't have a home, so it wasn't even in our minds to collect things…We were traveling light.
So how do you feel about having your picture taken today instead of being behind the camera?

It feels so strange. I normally hate it! Sometimes people will take pictures of me taking pictures, and I am always making some crazy face or doing some insane body pose. It's embarrassing and really uncomfortable!

It's difficult to find spacious apartments in New York. How did you find this place?

We were looking for quite awhile, and at the time, they had just opened this building. We loved this place when we saw it, and we loved the area. When we first moved in, we were some of the only people actually living in the building. We could roam around the hallways and all the other rooms whenever we wanted to. It was so great; it was like having our own castle.

What do you like most about the neighborhood you live in? What makes it unique?

It's farther from the modernized parts of New York. It's concentrated, and there are families here. You can come home at 11 at night and there are still kids outside playing in the streets. Also, there are so many great places. Down the street, there's a restaurant called Fitzcarraldo that we love. Another place we like is Fritzl's. They have fantastic burgers. AP Coffee, too. It's great for mornings, and they have this amazing Vietnamese iced coffee. I always drink it so fast and then wish I had more!

Oh, and I love the pigeons that circle the apartment. It sounds strange, but it's a Puerto Rican hobby to train carrier pigeons. When you're in bed or sitting on the couch, there's often a huge group of birds just circling the sky, it's so poetic.
Does any of your furniture have a story behind it?

I photographed Glenn O'Brien for L'Officiel Paris, and he had this amazing citrus press. Every piece of furniture in his house had an incredible story behind it, so I asked him jokingly if the citrus press had a story. Of course! A guy at Atlantic Records gave it to him, and they used it to break vinyl records that weren't selling. It was the coolest story a citrus press could ever have. So I had to have one, too.  Other than that, I built a few things: the mirror, lamp, the table. My dad taught me if you have the ability to do something yourself, you should always do it.

You were a wanderer for a while, living from place to place. Did you bring back anything from your travels to decorate with?

To be honest, we never thought about it. A few small things like blankets from Senegal and some Ethiopian paintings, but we had no place to come back to. We didn't have a home, so it wasn't even in our minds to collect things. It was nice to feel so free at the time, but when I think about the places we went and the beautiful things we saw, I really wish we had. We were traveling light.

You spend quite a lot of time in your studio these days. What do you like most about the work space?

When you first walk in, there's this beautiful cargo elevator on the bottom floor that takes you right to the studio. But if you walk through the halls, there's crazy stuff everywhere. You walk past paintings from the 70s and Kiss band portraits on the walls. There's even a plaster Mozart bust with a painted pink face. It's so crazy! It's become something I love though, because you see that and wonder where you are. Then you get to the studio, and it's such a contrast. It's white and bright with so much light.

It's funny when models come for shoots. I give them the address and at first they're standing outside thinking "This cannot be the place!" There's this creepy looking door and a weird staircase downstairs, but you just have to come all the way up to find the beautiful space and rooftop. The studio is all about a feeling – it's a certain kind of light.
You have this moment when the first paychecks come in and you realize "They're paying me? Oh my God! This is awesome!
Natural light seems to be a strong theme in your work. How does it change a photograph, and how do you use it in your own work?

I'm obsessed with natural light; I think it's based on my love for the weird things nature does. I've been working on a book called Strange Things Happen for a Reason about crazy things that happen naturally. In photography, I really don't stage things. I like to find stuff that looks cool and happens organically.

You have quite the collection of cameras. What's your favorite to take photos with?

I think I see things as pictures. When I look at objects, I see the thing as the image itself. I see how I'd frame it, or what it would look like behind the lens. I love shooting film, because you're able to capture things more naturally. I mainly shoot with a G2, but for larger brand shoots, I have to shoot digital. It's a totally different world. When I come out of a digital shoot and go straight to film, I have to completely adjust. It's almost like changing from English to French; you have to try to compartmentalize.

I also love the Rolleiflex, which I used in Egypt. I'd take my camera and just walk around Cairo in the hot sun and take photos of everything. You look down into the Rolleiflex, so people don't know you're taking photos. I love that idea – kind of like Vivian Maier. It's so romantic to think she photographed that much and never shared them with anyone. She hid behind her camera, and it's difficult to do now that we have so many places to post photos like Instagram and Facebook. If you take pictures of people on the street, they sometimes freak out. I take pictures of cars, and I get into fights over it all the time! I try to explain how the light looks awesome shining off the license plate and feel so stupid for trying to explain myself.
What other artists are you inspired by?

Definitely Vivian Maier lately, and I love Zoe Ghertner's work. I used to look at Walker Evans' books with my dad when I was young. He was taking pictures for the government in America, and I remember thinking how important it was to document things in a beautiful way. Juergen Teller for sure, and everything that comes through Richard Avedon's portraits is insane. He gives so much. Helmut Newton because he's Helmut Newton. He has an amazing vision of the woman. He talks about his love for the strong German woman in his biography, and you can totally see it in his pictures. The female is always so powerful.

You've worked with everyone from Monocle, to MUSE and the New York Times Magazine. What are some of your favorite publications?

I have so many! Apartmento, Fantastic Man, Gentlewoman. Corduroy is a great one. I like Monocle, The New Order and Champ. Acne Paper is my favorite. It's always so interesting and beautiful. The pictures and interviews – I mean, that whole piece on Fran Lebowitz was incredible! It doesn't get any better. I also love 032c, System and MUSE. I think that covers it. Maybe…
I think I see things as pictures.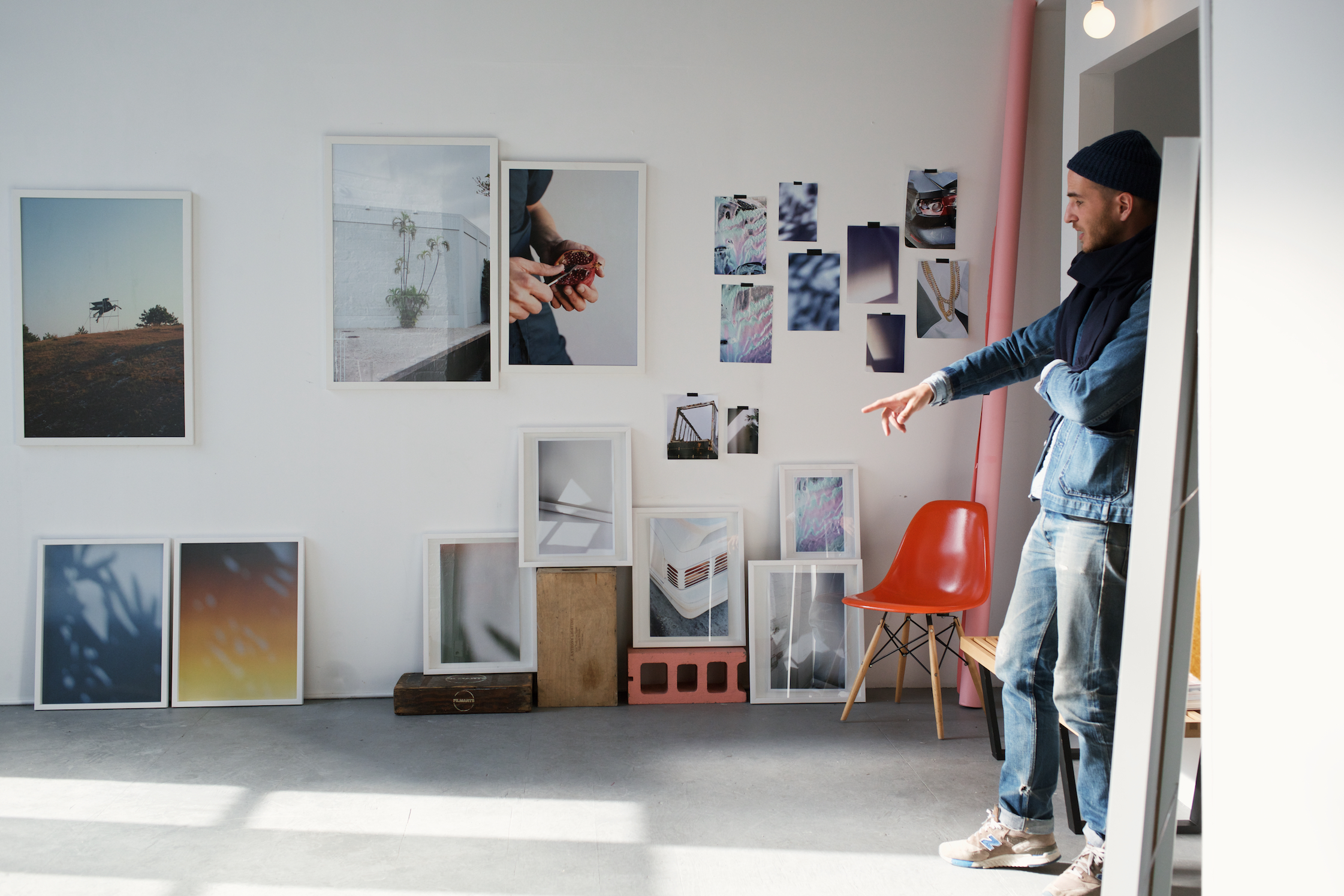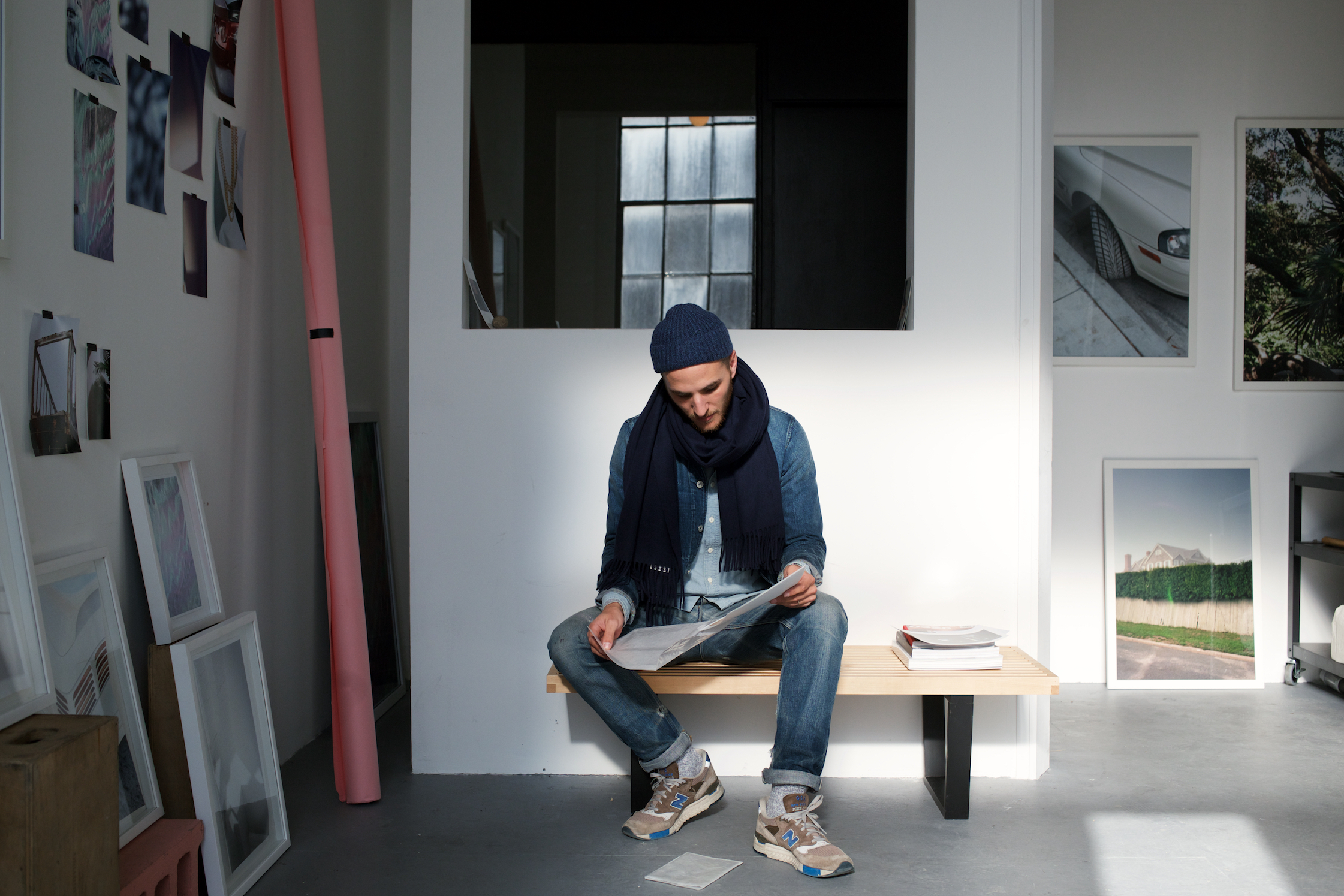 You've photographed musicians, fashion brands and have even done some documentary work. What kind of photographer would you label yourself as?

I'd say I'm a fashion and portrait photographer. I like to shoot fashion in a non-fashion way. I think about it the same way I shoot portraits. I don't want anything to look overdone, so I don't stage much. I often let the models do their own thing, and there's usually something different that comes out of it. I also enjoy studio visits, because they mix interior, portraits and documentary photography.

Of all the projects you've done and people you've photographed, do any specific moments stick out in your mind?

Honestly, meeting people is my favorite part. There's a little bit of a voyeur thing in seeing the behind the scenes of someone's work. I first started working with rappers, and you never know what they're going to do or say. When I photographed French Montana, we played basketball in a park!

Musicians work with so many photographers, so there's this initial period when they're trying to figure you out. I photographed the rapper Kelis in France once. Remember, "My milkshake brings all the boys to the yard?" Yep, that's the one. They made me interview her too, and it was terrible. With photography you can stand back and watch what's happening. With interviews, you have to establish a relationship quickly. It goes back to the copywriting job; I'll stick with photography!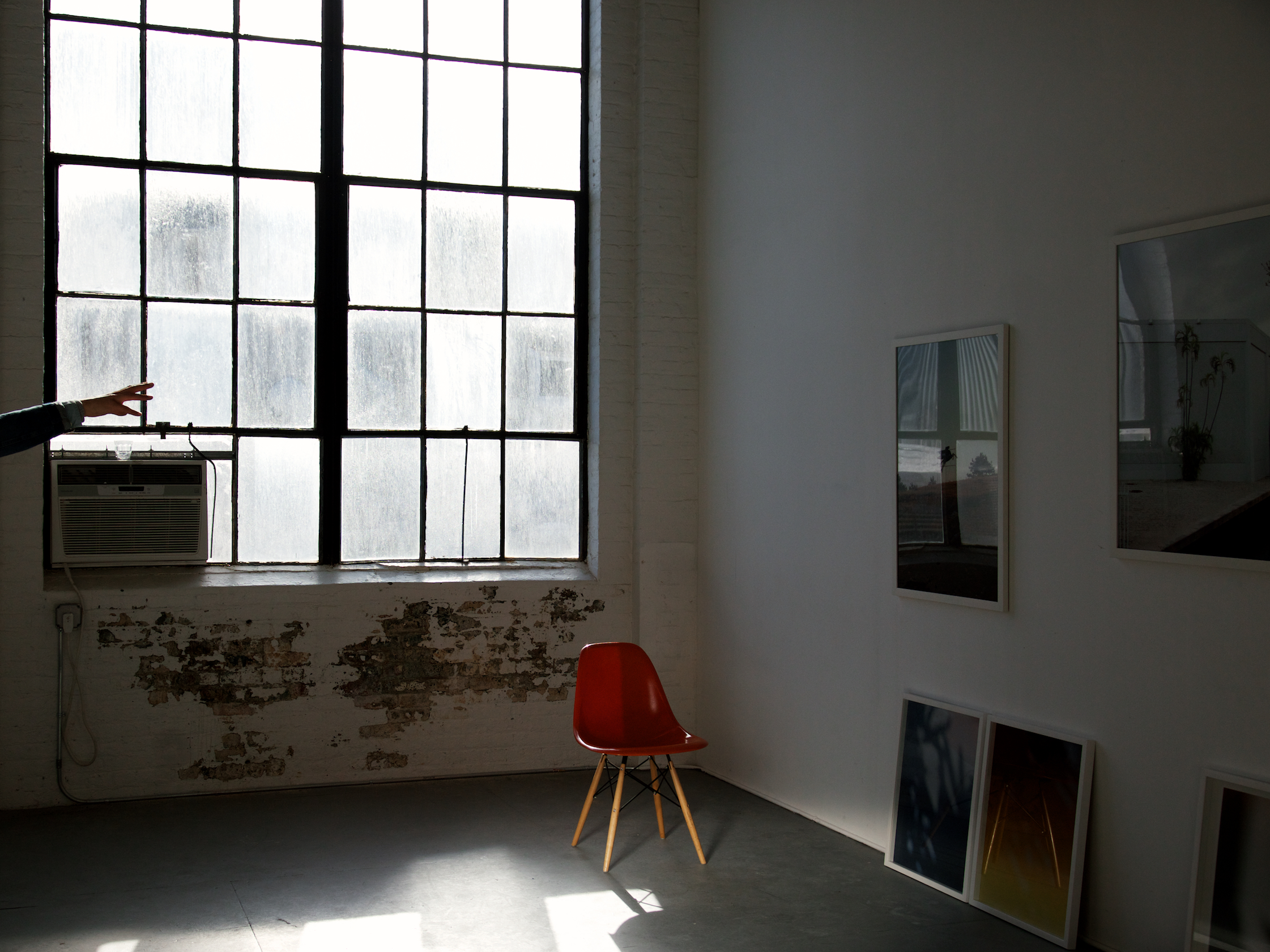 The studio is all about a feeling – it's a certain kind of light.
Will you stay in New York, or are you ready to hit the road again?

After coming back from Egypt, I thought I didn't want to travel for a while.  We'd been on the road for so long, and I wanted an apartment. I needed a couch, a place, things of my own. I've been here for four years now, and New York feels like home, but traveling is so special. It definitely influenced and changed my work. Everything is so exotic in those new places. I think you need time to really live there though, so you can actually experience the culture and try to understand it all.

I definitely want to go back to Senegal sometime because my level of photography wasn't where it is now. There's this area called Pink Lake in the forest, and it's literally this beautiful bright pink lake. Fashion photos would be gorgeous there.

What do you think is the most important thing in your apartment?

The things that can't be replaced – memories, photos, art, my cats.
Do you have any dream collaborations in mind that the world should know about?

I'd love to work with clothing company Levi's. I'd also really love to work with Apartamento, and the big dream for me is Gentlewoman. I also want to photograph Rick Ross but in a different way. I'd like to shoot him really naturally. I'd make him sit casually on his couch, with no tee shirt on and maybe even eating some ice cream. Yeah, that would be insane!
Thank you Clément for showing us around Brooklyn and inviting us into your home and studio! If you'd like to see more of Clément's work, have a look at his portfolio.
This portrait is part of our ongoing series with Vitra. Visit Vitra Magazine to find out more about Clément's classic pieces and his stories about them.
We've been meeting creatives in New York for a quite a while now, and for good reason – browse our archive of interviews from the Big Apple.
Photography: Emily Johnston
Interview: Sarah Rowland