It all commences at the studio on Rue de la Mare. When noticing her first on the street, the fusion between a delicate body language and a specific dress form that seems effortlessly elegant, it is apparent that she takes great importance in the overall composition. She is a woman that cares about the architecture of colours, with all of her final creations containing a certain immortal childhood to them. It is Céline Saby who stands behind those vivid lamps, pillows, bags, and t-shirts, which are all designed in a small Parisian studio, the Atelier Beau Travail.
After having studied, in her earlier youth, cinematography with conscientious and vigilant eyes, Céline has mastered how to incorporate the living within the materialistic form, essentially creating pieces (even though in an obvious comatose state) that could not better express what it means to be full of dynamic. Not just her designs carry this symbolic trademark, but as well the artist herself. Having switched particular passions over the years, becoming a mother at a young age, all influenced Céline's work and give it this peculiar and distinctive touch of naïvety and a likely stubbornness to never fully grow up.
All of this she seems to be aware off but at the same time oblivious, which turns her into a fascinating character within her own life and the people emerged in it. Join us while we wander close to the metro station Jourdain, through the never tiring streets of Paris and get a glimpse of Céline's life. Pleased to meet you…
This portrait is part of our ongoing collaboration with ZEIT Online who presents a special curation of our pictures on their site.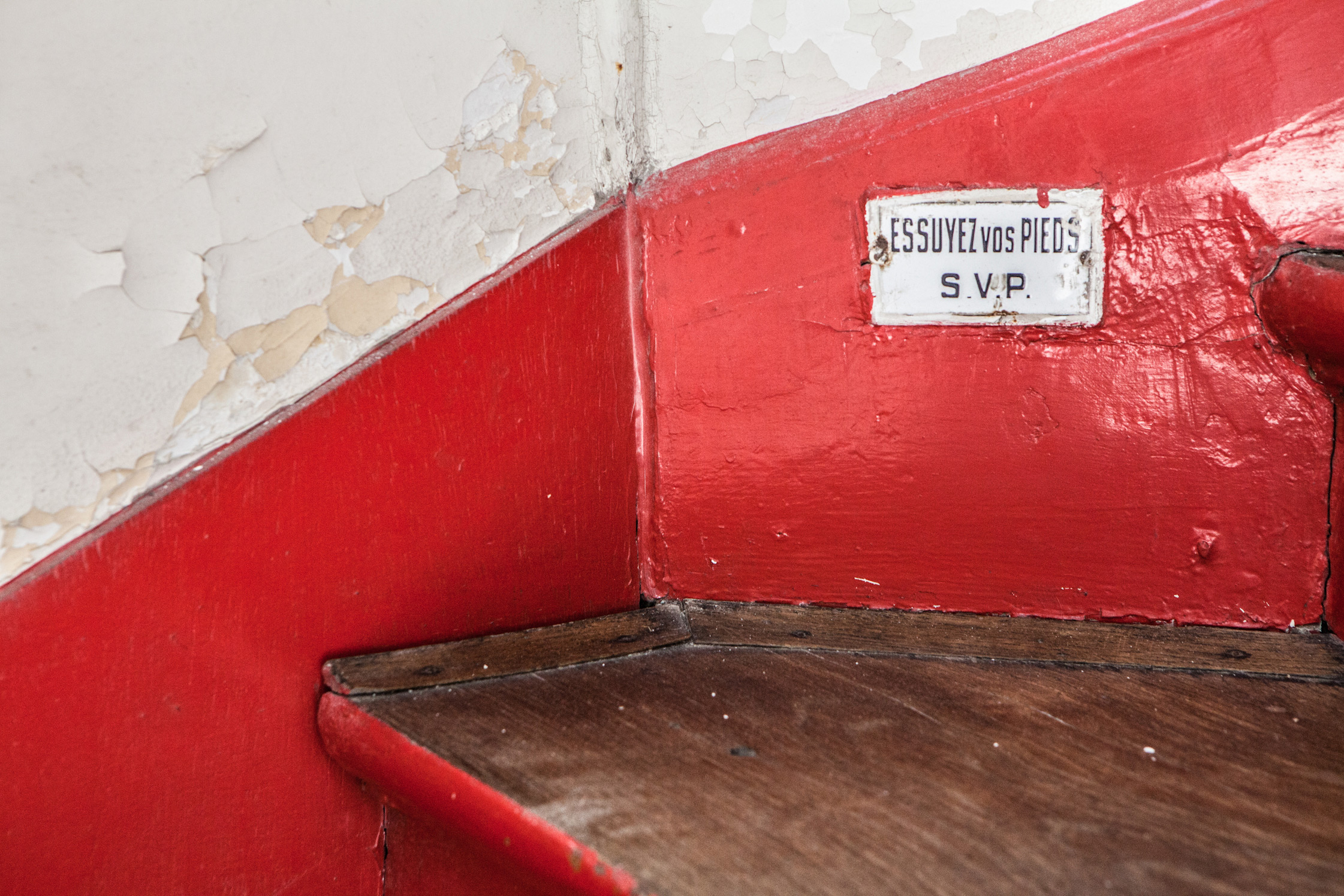 Tell us about your life, how did you evolve and end up being the artist you are now?
My walk of life is quite unusual. I always had a thing for culture, literature and image in general. After high school, I moved to Poitiers to study language, image, and communication at the Futuroscope. The prom contained only 30 students, we had all the material to make movies and had amazing teachers.
When I arrived in Paris, things were more complicated. I was for the first time in a big university in Saint Denis, enrolled in cinema studies and also worked as an au pair; both combined made the daily life a bit arduous. Shortly after, I met the father of my two children. Since then, we have had great and happy years, with the extension of my range of lamps, me meeting Delphine Dunoyer and the development of the studio.
How was your family and what kind of kid were you?
My father created his own company of unique design pieces, made to measure furniture, working with wood and enamel. I grew up in Toulouse, in the countryside. My school was very hippy and cool just as my parents were. There were often people over at home, it was fun. Then the family moved to Limoges. This was a tougher period for my parents. I entered middle school and started drama classes. I was a teen, my age of glory. I'd like to go back to this state of mind, to feel again that everything is possible and full of happiness; a beautiful and unconscious self-confidence. In the last year of high school I had parts in professional plays. This was a great time in my life, even if things were not very structured with my parents.
When started the idea of Atelier Beau Travail?
I first met Delphine Dunoyer in 1998. She was just returning from Mexico and she suggested taking a studio together. And so we did. Our first studio was in lower Belleville. Delphine launched her brand of bags called Aconit Napel. After that we spent two years in a squat-like super spacious place. The conditions of the space with amongst other things no heating, made it hard to work there. It led us to look for another studio.
One day in 2007, we passed this place with a sign "for rent" on it. It is our current studio. We wanted it and 15 days later it was ours. Since we moved in, we shared it with several designers. First Caroline Halusiak creator of the brand ah quel plaisir!. Then Séverine Balanqueux of Titlee, who stayed three years, it was great! Finally came Duette Design, a girl duet with Rachel Péloquin and Helene Georget. We are now a quartet! The overall atmosphere is very dynamic thanks to the diverse activities of each of us, Duette Design are for example illustrator and fashion designer. The creative vibes coming from our group turn the place in a real positive environment for work.
When did you start making lamps, which are the central object of your collections?
I was 23 and pregnant, that is when I started tinkering around and by chance making lamps. I made the first lamp with the idea of offering it to a friend. Other people who saw it, wanted also one of their own and placed orders. During that time, I also met the owner of a boutique who wanted lamps as well. That sequence of events was only a coincidence. Following that I made some fairs, which were a good source for sales. I was feeling all right, I had a little baby, my lamps, it was back in 1998.
How did your work evolve from using existing textiles for the lamps, to making your own silk-screened patterns?
It was a slow evolution. At the beginnings I used existing textiles and patterns. Then I felt I needed a more personal, final object. This is the reason I started to draw. Even if I didn't know how to draw, I wanted my own patterns. Often I wasn't satisfied with the result but now I learned to overcome that. If my line looks naïve, or only evocative, this is part of the object's style. What I'm really passionate about is colors; hence I look for simple patterns combined with a work on colors.
How would you describe Atelier Beau Travail?
A space filled with creativity. The four of us like to welcome and collaborate with other artists. We showcase their work or ask them to decorate the studio. Beau Travail is about sharing, be it opinions or good addresses, we trust each other.
What is a typical day at the studio made of?
I come every day from 9 to 5pm. I have a great pleasure working with my hands. If I'm tired or in a bad mood, I start working and soon after, I feel released and calm. Recently, I have felt the need to offer my skills to other people on other topics. I started dedicating more time to art direction, a new discipline I want to develop. In the end my cinema studies are a solid base for direction and image construction. As I am self-taught, it is more difficult to get into the professional networks and get jobs, but little by little I'm doing my thing.
Do you have a creative process?
My approach is based on instinct. In comparison to professionals who are trained for design and built their own work process, with iconography and researches, I don't have a real process. This and that inspires me, sometimes specific themes, such as the jungle, really inspire me. For the latest collection I made patterns with trees, cherries and houses, hard to tell where I got the inspiration.
I collect many pictures on blogs, I fill my head with it and then something happen and I start drawing. There is one thing that really inspired me: fashion. I love Marni and Dries Van Noten. The way colors are used is often stunning and when I see a piece that I like, I'll draw inspiration of it. Some time, I prepare my drawings and the silkscreen frames without knowing the colors and the composition. It is when I print that I really put things together and take decisions.
What are your current projects?
I make two collections per year; the next one is for September. I'm going to work on it, but don't know yet what it will be about. One of my ideas is still life and trying to duplicate into drawings what I do with photography. Plus, I do all the pictures for the studio's blog and the online shop.
You have blog, what is its purpose? What does it bring to you?
I blog about my life and others'. I started it when my daughter was born. I had realized that the lamps were not enough and I needed to express more complex ideas. I combine photography and writing, which I both love doing. The challenge is to tell bits of our lives while keeping a sense of privacy. There are loads of blogs with beautiful photographs. I do not seek to produce "beautiful" pictures but rather suggestive ones; pictures as a testimonial. The blog follows the tracks of my life and who I am. I'm taking the very energy of my experiences to create content, without showing off, which is hard because it is tempting.
When looking at your blog we sense that you have a special relation to photography…
Exact, it is very spontaneous. At the moment I'm looking for my way. I generally take pictures every day, and then I can stop for a week because I just cannot do otherwise. The blog is my research lab and it could not exist in another format than a blog.
For how long have you lived in Paris?
I have lived here for 20 years and for 15 years in my present neighborhood. When I moved in, it was a working class area and since recently it is starting to change to a bobo (bourgeois bohème) neighborhood. Artists, comedians move in. Streets are changing, like rue de la Vilette, with new shops popping up, delicatessen or hip clothing shops.
Where else did you live in Paris before?
I've lived in Le Pré -Saint-Gervais (Northeastern suburb of Paris), and in Paris itself at Goutte d'Or, shorlty in the 15th arrondissement and for 15 years now in the same apartment located in the 20th.
What is your relation to the city?
Essential and fusional. The Parisians rent being very high, we live in a small place but I cannot imagine leaving the city. There are gorgeous people, a dynamic vibe but the city is also very though.
What can you not live without in Paris?
Definitely the smell. When I'm back from holidays, the smell of the underground reminds me that I'm home. I like the people, the architecture, crossing the Pont-Neuf (a bridge) and walking along the docks moves me every time. For two years, I bike a lot and I have to say that crossing place de la Concorde is quite impressive. I love the small village feel of my neighborhood and the solidarity of its inhabitants. These people really chose Paris, like being here and create real bonds. To me, there is no other place with more beautiful people.
You might still fancy other destinations?
No other places to live but I love to travel to Berlin, Lisboa, Japan, Vietnam, Mongolia, amongst other…
You talked about your interest in literature, so what can we find on your bedside table?
These past years, I've read everything by Jean Echenoz and Haruki Murakami. Now I'm reading a book by François Roustang, a philosopher and hypnotherapist. The last book I really loved is La Carte et le Territoire by Michel Houellebecq.
Thank you very much for your time Céline. To see her current collection, check out Atelier Beau Travail online shop and if you want to see more about Celine's life go to her blog.
This portrait is part of our ongoing collaboration with ZEIT Online who presents a special curation of our pictures on their site. For the full coverage, click here.
Interview: Léa Munsch
Photography: Sarah Skinner