Artist Bruno 9Li who has a deep belief in creativity and connection with nature, chooses to have his apartment in the style of a ship at the heart of the metropolis that is Sao Paulo. "My home is my ship" says Bruno. His universe is filled with colored panels, paints, brushes, cups of coffee and his two kittens Aru and Locci. "I've had pets since my childhood, I think of them as my companions" he says.
Bruno 9li or Novelli, for those who do not get the pun, has a degree in Graphic Design and loves to paint and draw. He spends hours at home forgetting about life and the world outside. However his outside influences are immediately clear as one is confronted by the shapes, animals and elements of nature that come together in his colorful artwork.
It is with an open mind that he takes inspiration from a variety of sources being fascinated by the philosophy of the classical world, the greeks and even Eastern Europe. He is also inspired when exploring, good music, interesting graphics, creative processes and physics. His paintings are infiltrated with science fiction and psychedelic influences. It becomes apparent when in conversation with him that all he thinks and feels is expressed and contained within his art.
This story is featured in our second book, Freunde von Freunden: Friends, order within Germany here, or find the book internationally at selected retailers.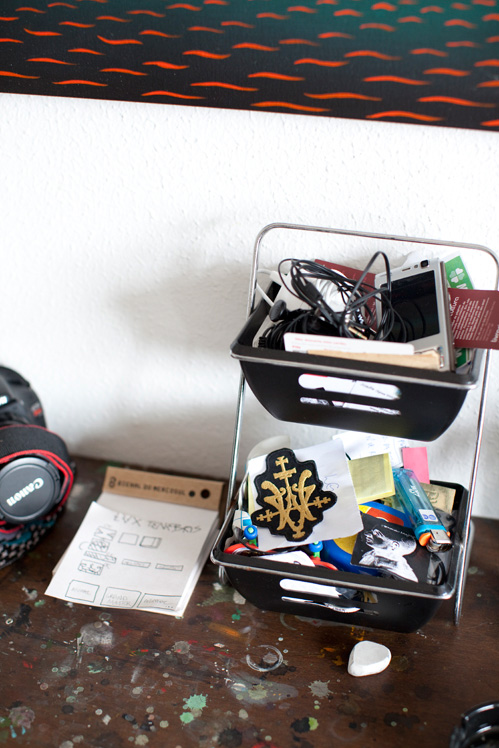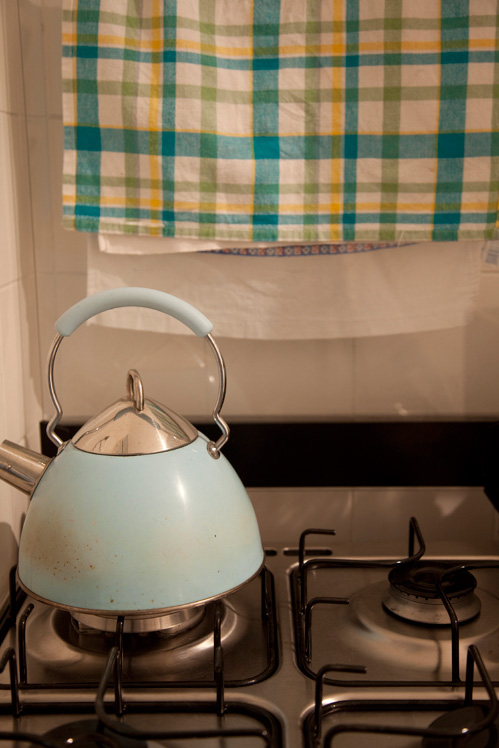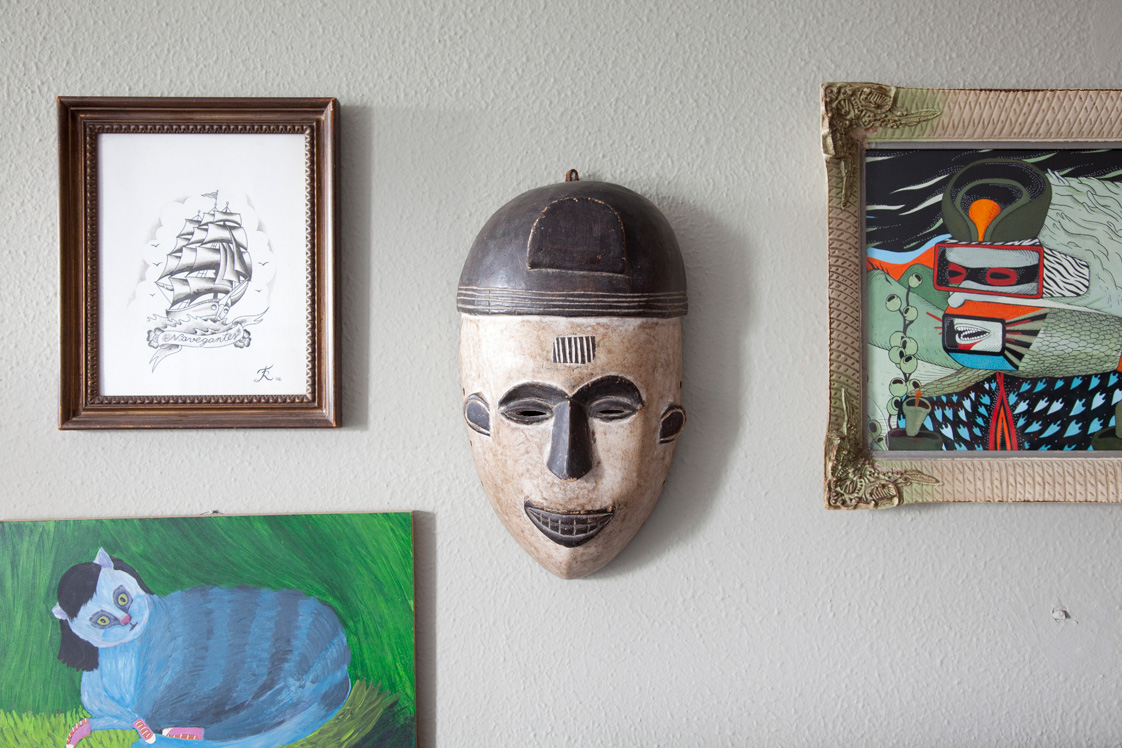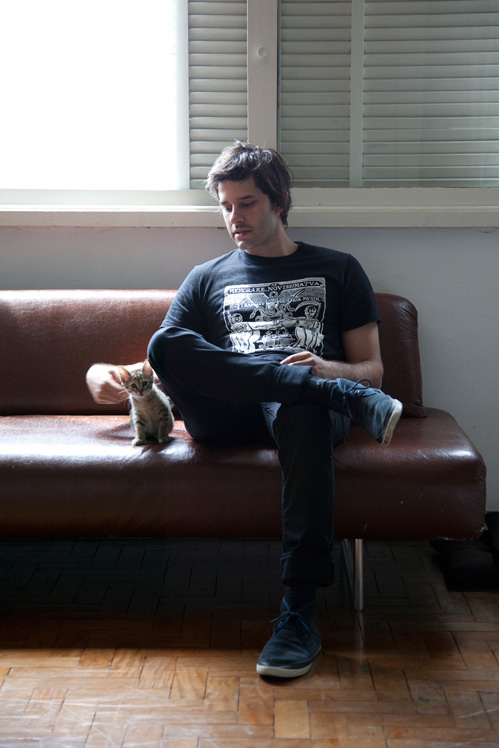 What do you like most about your home?
It is my refuge, a place where I can delve in to my thoughts. I love the layout of Sao Paulo, the location and having ample space allows me to do all that I need. I've lived and worked in this apartment for four years, here I am able to create comfortably. The room that is my studio is a space where I can really withdraw and the vast windows allow for an inspiring outlook on the city.
How would you describe your home?
My home is my ship. Here I can forget life. I can read, plan, envision,create and also relax. It is a place of tranquility. I like to see the contrast- to see the sky and concrete cubes antennae and the Serra da Cantareira all side by side.
You left Porto Alegre four years ago and moved to Sao Paulo. Why did you decide to move to this city?
Many of my friends were here, which heavily influenced my choice. Sao Paulo is also a very good place to work, it is always full of opportunities and within the context of Brazil, I think of the city as a cultural giant.
What do like most about Sao Paulo and what are you less fond of?
The vast choices of leisure, culture and cuisine. There is always plenty to do and discover. However I am less taken by the chaotic traffic that disrupts the flow of life in Sao Paulo.
How does the city influence your art?
I like to place disparate themes side by side. I am drawn to contrast and Sao Paulo is a city full of them. You can be on one street and be surrounded by multiple scenes and situations of which not one is like the other.
Which artists do you admire and look to for inspiration?
While I admire contemporary artists in more recent years I have looked to and studied the paintings of the gothic era for inspiration.
You started doing street art. What did you take with you from that experience?
I started out drawing on paper, distributing hand-painted posters throughout the streets of Porto Alegre. This experience was very good for me. With street art you get an immediate response, people look at the pieces and identify with the art they have before them more readily. Much of my development as an artist happened on the the street. Whilst this period allowed me to evolve and I have kept many of the good memories with me, I do not think I would return to this kind of work; I now place more focus on the art itself as opposed to where it is placed.
What is the relationship between your work and nature?
It is a very strong one. I have an eye for nature; I observe and am constantly surprised by it. Natural phenomena such as the birth of a flower, inspire many of us who create art. Observing and placing value on each of these events was very important when I started developing my style.
You said you like mythology and that you use them as references for your art. How does this happen?
Mythology is very much alive to me, I like to look varied forms of mythology; Greek, classical, medieval and South American – all interest me. But what I care about the most is the beginning and evolution of art around the world – it is this that drives my work and ignites the desire to always know more about it.
Thank you for this interview, Bruno!
Check out his website for imagery of his art and upcoming exhibitions!
Interview: Juliana Duarte
Translation: Cosima Ehni
Photography: Fran Parente