We recently met with Brett Cody Rogers in his Los Angeles home, in a neighborhood called Los Feliz that borders on Griffith Park. Inside his 1927 home, Brett's walls are covered with art works (including his son's room), and he led us around his home, upstairs and downstairs, explaining the stories behind each work. His wife was just leaving for work as we sat down with coffee and scones in his kitchen.
 
I first learned about Brett Cody Roger's work at a store in Los Angeles called South Willard. Ryan Conder, the owner, installed one of Brett's painted geometric canvas mobiles from the ceiling. His later works continue to suggest forms of architectural reference, and his interest in modernism, while he moves painting to photography. Over conversation, Brett explained how the birth of his son 4 years ago changed his studio practice, "taking all the crisis out of art making."
After a home tour, we drove down the freeway in the direction of downtown, where he took us to his studio. He led us to a black and white photographic work, inspired by his grandfather, that was being sent to MOCA for their annual auction. Brett also showed us items that he used during the Paddle 8 and Phaidon installation at ALAC last January  that were concerned with Le Corbusier's Maison Blanche. In 2013, he'll be showing new works in Paris at Praz-Delavallade. 
This Portrait is part of our ongoing collaboration with ZEIT Online who present a special curation of our pictures on their site. Have a look here!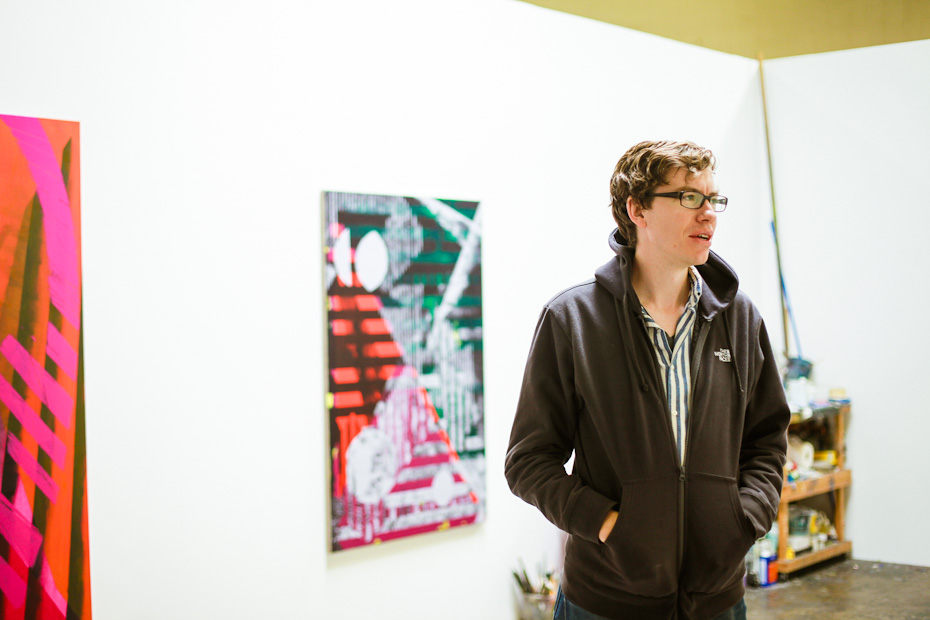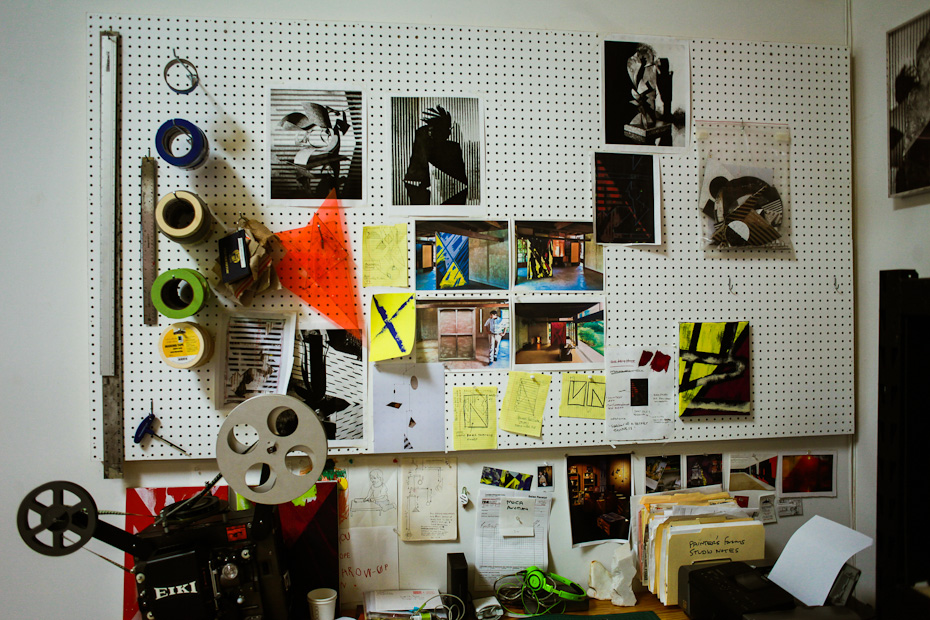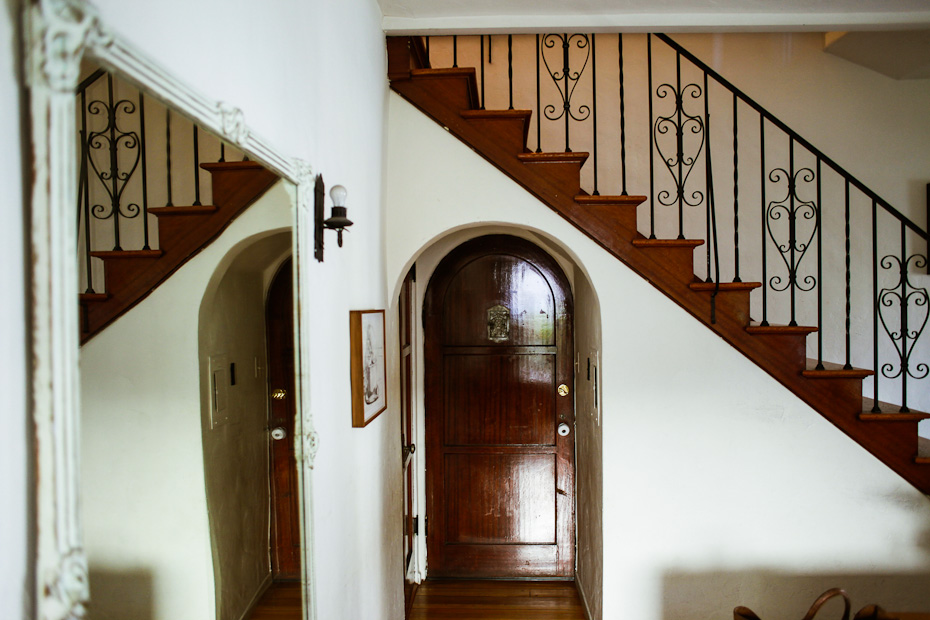 You mentioned your grandfather was an artist?
Yes, he grew up in Cleveland, and went to the Cleveland Institute of Art, and then he went to Cranbrook for a year, which was during the war. Cranbrook actually closed because of the war. I am not sure whether they needed workers, or if they were short on materials, or what it was. But he then went on to Yale in 1946-1947 and got his MFA and studied egg tempera painting.
Would you say a lot of your initial motivation on becoming an artist is due to your grandfather?
Definitely, it was entirely my personal introduction to art, it was him. We went to Cleveland when I was 4 or 5, and I remember going to his studio, and at that time, he was primarily trained as a painter not as a sculptor. But at that time around 1982, when I was 5, the first time I went to his studio, he was making a lot of large scale public art/sculptures, out of stainless steel and copper. I remember drawing in his studio and my brother and I would position the scrap metal the way we wanted it with wires, and then he would spot weld it together for us. I wish I had the sculpture we made, I'm not quite sure where it went. We always had his art work laying around the house. And then my mom went to Fashion Institute and studied Fashion Merchandising, and when I grew up she knitted sweaters, a line of ski sweaters because we lived closed to Aspen, Colorado. So really, there was a lot of art in my childhood, and on my mom's side of the family.
Your son is 4. Have there been changes in your studio practice since he has be born?
Yes, without a doubt. When my son was born, everything changed as far as my work goes…within a year, my grandfather died. My son was named Van after him, it was a really strange time for me. Pretty much everything changed, but I think for the better. I had to re-evaluate what I was doing, and I went through 2 years of making work in nothing but black and white, which prior to that it was very colorful. And then I started making photographs again. It was something I could make an image fairly quickly with, and so the means as with which I was working, I was working with cheaper materials, faster processes, and just by doing that, I got more of a handle on the content. Whereas before I was relying very heavily on color, to do all the leg work in the painting.  
So when my son was born, the whole thing opened me up pretty greatly. I think the biggest thing is that having a kid, it takes all the crisis out of art making. You know when you have too much time to think about yourself and your own troubles in the studio, and you worry about everything, worry about making the wrong move, and if a painting goes wrong and it's like the end of the world. I had all these existential crises before I had a son, and from the moment he was born, it took all that out of art making, and it made it more enjoyable to make stuff, because you just have less time. You just go in and out, you have to go in, and work, and then you turn your back on the work, you run out the door, to go pick him up at school, you don't look back, you don't think about what went wrong that day, or if you made something good or bad, or whatever, you just made stuff and you just deal with it later, which is really great.
How long have you been in L.A.?
Since 2002, of August, about 10 years now. I moved from New York, but I went to undergrad at Rhode Island School of Design, and then at my last year in RISD, I spent a year in Rome, and then moved to Brooklyn for 3 1/2 years, pretty much worked as an artist assistant the whole time I was there, and as a preparator at PS1.
What artists did you assist in New York at that time?
When I first got there I worked for Jack Risley, who taught at NYU, who I had met while I was in Rome. He later on helped me get a job working for David Reed, which I did for about 3 years. Then there was a period where I worked for David Reed and Ryan McGinness for a while, I think I might have been Ryan's first assistant. It was at a time before Ryan had any galleries, and he was making a transition from being a graphic designer to a fine artist.
Then a friend of mine worked for Matthew Barney, making the fabricated sculptures in his studio. And Matthew Barney was shooting Cremaster 3 at that time in the Guggenheim, and my friend asked me to come over to check out the set. So, I went over there on my lunch break just to check it out, and at that time, I was always looking for extra work and extra money, because it's rare you get a full time job assisting someone. My friend introduced me, and I asked them if they needed extra help and they hired me on the spot. Truly it was a mind-blowing experience, working on a film that scale.
 
My very first job on that film that day, they were shooting this scene with Richard Serra, and they were the recreating the thrown lead pieces, and he was recreating it with hot Vaseline. He was at the very top ramp of the ramp of the Guggenheim, and they set up this very large rectangular piece of self-lubricating plastic leaning up against the railing, and it was sort of this minimalist structure, supposed to look like a piece of lead, and then a 50 gallon drum filled with Vaseline sitting on top of a propane burner, mind you, on the ramp of the Guggenheim. So Richard Serra would have this ladle, wearing a full jumpsuit, a respirator, big work boots, and he would walk about 15 to 20 feet drum down the ramp to the drum of Vaseline, and he would dip this steel ladle in it, walk back up the hill and throw the hot Vaseline at this piece of self lubricating plastic. The day before I got there, Richard Serra slipped on some of the Vaseline that had spilled on the path in between, and fell and hit the 50 gallon drum of Vaseline, knocking it over, knocking the propane tank over, all this stuff is rolling down the ramp of the Guggenheim, so my very first job was to make sure it did not happen again. (laughing) They put me on this detail of cutting out little pieces of carpet in the shapes of Richard Serra's boots, and in between every take, I would have to wipe the Vaseline off of his boots, and I would have to take the old carpet off, and staple on new pieces of carpet as traction, and that was just unbelievable. It was one of the most amazing moments in assisting (laughing).
Any upcoming shows?
Right now I am in the process of scheduling an upcoming show in 2013 with my gallery in Paris, Praz-Delavallade. And then I just got invited to do a design proposal for the MAK Center in Los Angeles for a future show, concerning the connection between art and architecture.
I notice a lot of familiar artists in your home. Can you talk about some of the work that is here?
Sure, they are mostly friends' works, given to us as gifts, or as trades.  There are some of Ricky Swallow's pieces, some ceramics, a bronze whale that he made, and he made this watercolor for my wife for her birthday,  it's of two dead fish, and there is another drawing by the entry way, and it's a skull sitting on top of a tophat, with some barnacles next to it. This is from Lesley Vance from 2007, Jed Lind, Bari Ziperstein, Violet Hopkins, this one is from Bara (Hans-Peter) from Berlin, another German painter named Klaus Merkel. He was an early influence and mentor to me. There is a James Welling photograph by the stairs, called "Waterfall" which is a piece that Ricky Swallow called me up one day and he was like, "they have just unearthed this James Welling edition from 1980 at the MOCA bookstore, and they are selling them for 300 dollars, and you have to get down here." So I pretty much immediately stopped what I was doing, and I picked one up.
Did you paint that Mario Batali painting above the oven?
Yes, (laughing).  It was for my wife. When I was in graduate school, I would make paintings outside of what I normally do. It was for her birthday, and she loves to cook, it's one of her creative outlets. We got engaged at a Batali restaurant, and we did her 30th birthday party at one of his restaurants. I guess he has been kind of a thing in our kitchen (laughing).
Which architectural works do you admire in Los Angeles?
I love the Schindler House. I think the Kings Road House is my favorite. It is just so quirky, it really has this bizarre combination of modernism and rustic cabin. I also love the Buck House, which I did a group show there when it was the Country Club. Just after graduate school, I did some paintings of the Neutra houses on Neutra Place over there, that were shown with the Approach at Art Nova: Art Basel Miami, and I think the painting might have been bought by a L.A. collector, so perhaps that painting still lives here.
In general, my interest in modernism really hovers in this 1920's/30's period. Early modernism is my favorite, there is something about the weirdness of this time. Everyone was trying to get into modernism, from what was there before. It just seems like so many weird innovations were happening during that period.
 
What about the Eileen Gray table in the corner with the colored glass, did you change the surface?
Yes, it is now Plexiglass, a fluorescent yellow Plexiglass. It's a fake Eileen Gray table that I bought in New York around 2001 for 90 dollars, called the E.1027. This is the table she designed for the E.1027 house that she designed and built in the South of France. So I have had this table in my living room for a long time, and when I was in graduate school, I was making paintings of things that were in close proximity. I was also thinking a lot about Matisse, and so I started making some paintings of that table. And my wife always likes to have fresh flowers around the house, so she had a vase with flowers on the table. And then I started making paintings of some of her mirrors, and we went to the town where the E.1027 house is, and the house was closed. At the time, I was really only interested in her design, but I did not know anything about her relationship with Corbusier. I became really interested in discovering what the story was about, even went to the Le Corbusier Foundation in Paris looking for more information.
Thank you, Brett for this nice interview! Check out his website if you want to know more about his works!
Interview: David John
Photos: Ailine Liefeld