Childlike enthusiasm permeates Bea and Ale's space through a series of humorous elements and a sun-drenched palette.
A profusion of visual stimuli that could spark even the most indifferent visitor's curiosity: A miniature woman leisurely sitting on a ceramic bowl's rim; a pack of fabric fries mounted on the fridge; salvaged textiles adorning windows and pillows. Meticulous details, some more inconspicuous than others, pop up in every nook. Let's just say that David Hockney, one of their idols, would have had a blast painting their lively  flat.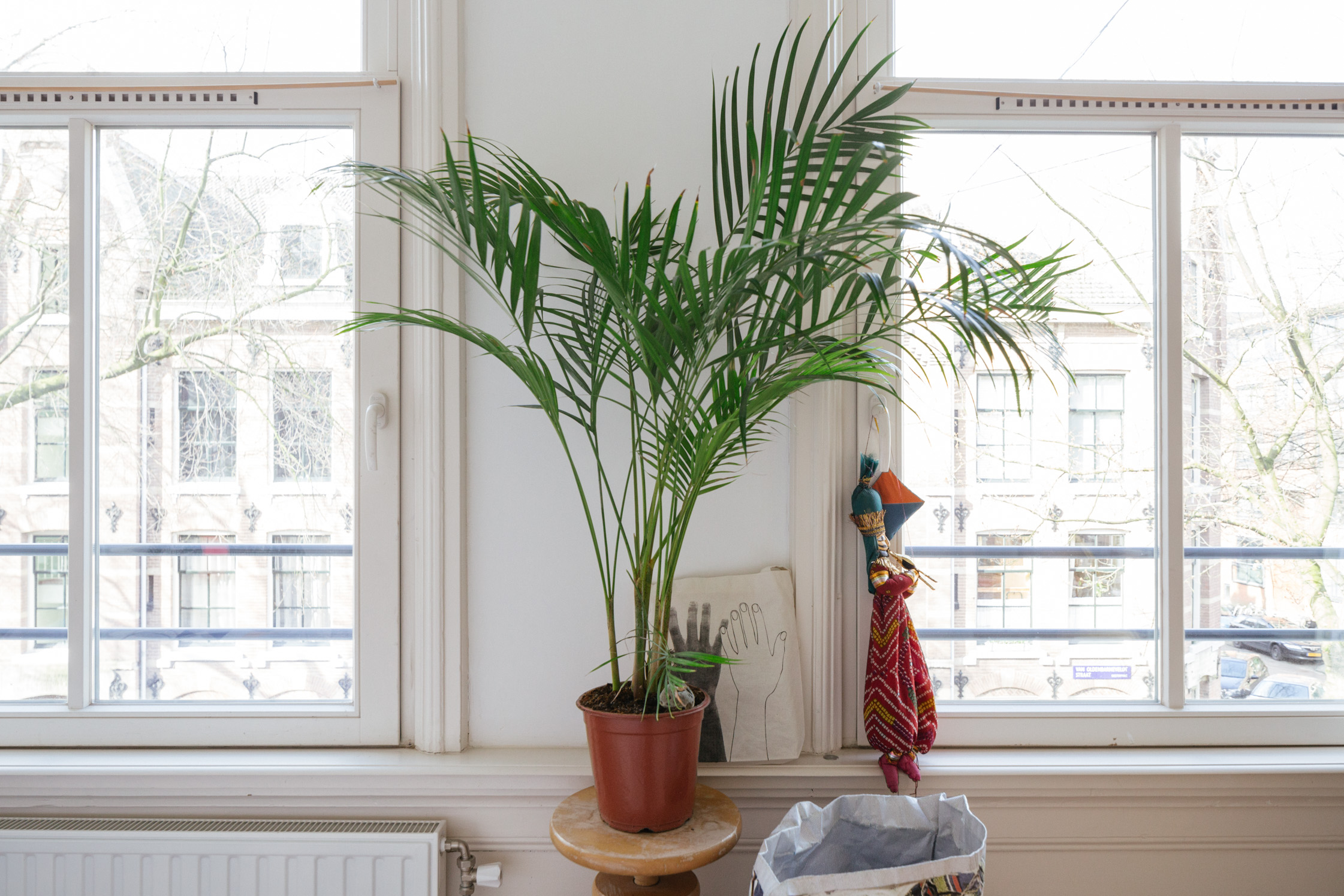 Hailing from Australia and Italy respectively, the quirky couple settled in Amsterdam where they're part of the city's small yet growing zine scene. Bea, a self-proclaimed pattern enthusiast, specializes in fashion design and illustration while Ale works in the field of graphic communications. Together they're part of ReKult, a cultural foundation dedicated to the world of zines and independent artistic initiatives through a multitude of projects and events. One of their main aims is to promote the immediate and democratic publishing of ideas as well as explore the DIY culture's insouciance.
This portrait is part of our ongoing collaboration with ZEIT Online who presents a special curation of our pictures on ZEIT Magazin Online.
Bea: A zine is a variation of a magazine, but alternatively published. The basic concept is very democratic: You can bring your own ideas and thoughts to life quickly and release them out in the world.

The process is quite simple too. People draft up their ideas and mostly photocopy them on paper. The motto is 'quick, cheap and easy.' It's not about perfection – it's about the power of the individual to express their opinion freely and fill the world with easily accessible culture. It's a very direct and creative way to speak to someone. Zines are mostly displayed in independent bookshops, record stores and fairs where people can sell or trade them. It's a unifying platform for everyone.

How did you get into zines?

Ale: It was funny because I had never heard of zine culture before visiting Bea in Melbourne. I first came across it when I went to a shop called The Sticky Institute, where they also do workshops and festivals. It was love at first sight. This whole thing was completely new to me. There was nothing similar in Amsterdam at that time; all the publications were very commercial or high-brow. So when I returned, I spoke to a couple of my friends about making a zine. We started off with a workshop at Strangerfestival – a festival for directors and film. We had the idea of letting film-makers storyboard their ideas and publish them in the form of a zine. This was the first trial to see if people would like it. Bea had more experience in that area and helped us develop our approach further.
Bea: We started collaborating with three friends who founded ReKult. After securing some funding, we created the Amsterdam Zine Jam. This really helped us host cultural events, creative workshops, conferences and debates. We taught people how to make their own zines and publish them. For one exhibition we organized, we asked people from all over the world to send in their zines which we then showcased collectively.

Why do you think this kind of art form became so popular?

Ale: First of all, it's different to the consumerist character of magazines. Some people have niche interests, but they can hardly find like-minded people or references. A zine allows them to simply write about what interests them, discover a new way to share it and maybe meet others who are into the same kind of subject as well. It's very authentic and uncontrived.

Plus, anybody can do it! Everyone who wants to make their voice heard. It's a great and independent way of publishing something, a form of creative expression which is indeed very appealing.

Different countries have different interests, by the way – we've come across a lot of Japanese zines focusing on illustrations, for example. In other countries you see more political issues raised. People are the voice of their country and the zine culture reflects that in a way.
So, is it the ultimate form of DIY?

Ale: It's a different way of DIY. You can go to supply stores and buy stickers, stamps or pre-packaged things that you have to put together yourself. They are called 'art supplies' but these pre-created packages are everything but art – they're actually creativity killers. There's nothing original about them. But if you give people pens, paper and a photocopy machine, they fall back into their childlike mindset where they just experiment and see what comes out. It's beautiful to observe what happens when people discover their explorative side.

Bea: Zines often have no great monetary value – technically, they're just a few photocopied pages stapled together. However, the content is what makes them priceless. People share extremely personal things in zines – they describe their hopes, heartbreaks, traumas and secrets. We love zines because people really bare their souls in them.

What kind of topics do you personally address?

Bea: For me, it's mostly about visuals – like my first story of a superhero, Fanta Sum. I also created zines which show a lot of collages; patterns; things that catch my eye.

Ale: Everyone has their own style obviously and it's interesting to see ideas coming together and clashing; like at the Amsterdam Zine Jam we hosted last October. One of the things on the program was a sketch battle. Two people from the audience 'competed' against each other by drawing on overhead projectors. The audience decided on the topic they had to draw. Everybody could see them drawing except the artists themselves. It was like a rap battle with pencils!
Bea, are your illustrations pre-sketched or spontaneous?

Bea: I usually do a draft or two of my illustrations before working on the final version. That said, some of my freshest, most expressive work happens when I'm just playing around or sketching something out of the blue. When you experiment without any pressure, you can create beautiful images.

What's the current Amsterdam zine culture like?

Ale: When we started there wasn't much going on. Now there's a very strong LGBT zine community. There's also an arty zine crowd coming from the Art Academy. Then there's us with ReKult going for the big venues in the city and trying to bring all these threads together.

You live in Amsterdam Westerpark. What do you like about this neighborhood?

Ale: Being right next to the Jordaan and all its tiny streets. There's quite an urban renewal in the West. The Westerpark always has a market or festival going on and it's one of the most open green spaces in Amsterdam. Also, De Hallen and its new food court is really transforming the area around the Kinkerstraat. You can find us there more and more frequently.
DIY seems to be a big topic in your life. Your house is a mix of brands, handmade furniture, mixed patterns and a lot of plants.

Ale: Yes, Bea loves patterns and colors. They are everywhere. A lot of our stuff comes from the streets, actually. It's amazing! This wouldn't happen in my hometown of Rome. Tuesday afternoons are good for thrifting here in Amsterdam. Of course, you need a sort of vision to imagine how you would place an item or combine it with others to make it spectacular. We found a lot at the IJ-Hallen flea market. Amsterdam has great places where you can hunt for rare and unique objects. But we also did the grown-up thing: We rented a van and drove all the way to Belgium in the hopes of finding beautiful antique French furniture. We were dreaming of an armoire! But it was an absolute washout. Guess what, we came back with a completely empty van.

Bea: The plants also come from the streets. We're both originally from places where we were used to being outside a lot as children and so we are attached to greens and nature. I actually really like plant patterns and colors. I started making curtains with fabrics from Capsicum, a fabric shop in Amsterdam, and Vlisco. We've also got another piece of beautiful fabric from Marimekko which I turned into a curtain. I adopted it from my parents who had it since the 70s. You can definitely spot a lot more DIY all around the house. We also put up sketches and drawings on every wall. We tend to mix framed pictures with spontaneous drawings – like a temporary ever-growing exhibition.
Bea:I'm really passionate about expanding my illustration work. I'm also diving back into textile design through various collaborations.

Ale: Besides my day job, I want to keep on making Amsterdam's zine culture more popular, work with different crowds and organize more events. There is still so much to explore!
Find out more about Beatrice, and the couple's work for ReKult.  Head over to our Amsterdam section for more portraits of creatives in the city. 
This portrait is part of our ongoing series with Vitra. Visit Vitra Magazine to find out more about Bea & Ale's approach to interior decoration.
Photography:Jordi Huisman
Interview:Felicitas Olschewski