Annett Kuhlmann's fascination for flowers sparked at an early age. Growing up on a farm outside of Hamburg, she earned her first money by selling handpicked flowers on her village's streets. After graduating from school, she began an apprenticeship in floristry in order to turn a long-time hobby into a professional career. She then adventured to London and Berlin to realize that this job can be much more than arranging beautiful bouquets for weddings.
With her own store "Marsano," which was founded alongside two business partners in 2006 and carries currently 25 employees, she brought high-end floristry to Berlin and initiated creative collaborations with people from the fields of fashion and graphic design. Being a trained photographer, she uses her multidisciplinary background for unusual projects.
This year, she worked with acclaimed avant-garde fashion designer Vladimir Karaleev on floral prints for his S/S 2013 collection and was involved in the cover artwork for "Videoclub's" Delta Amacuro EP. Accompained by tea and English shortbread, we talked about juggling the challenges of two creative careers, her inspirations and visited her shop and one of her clients.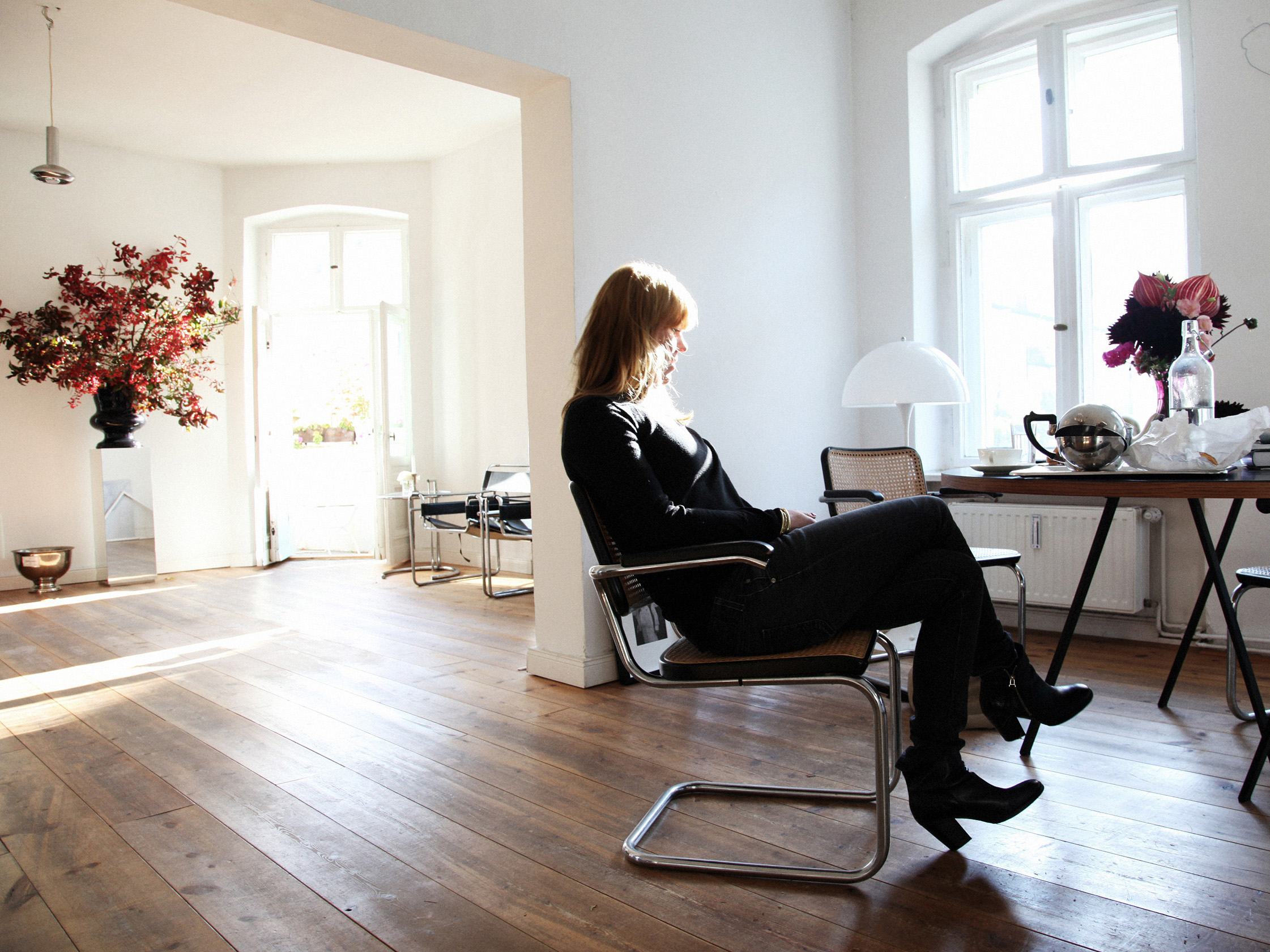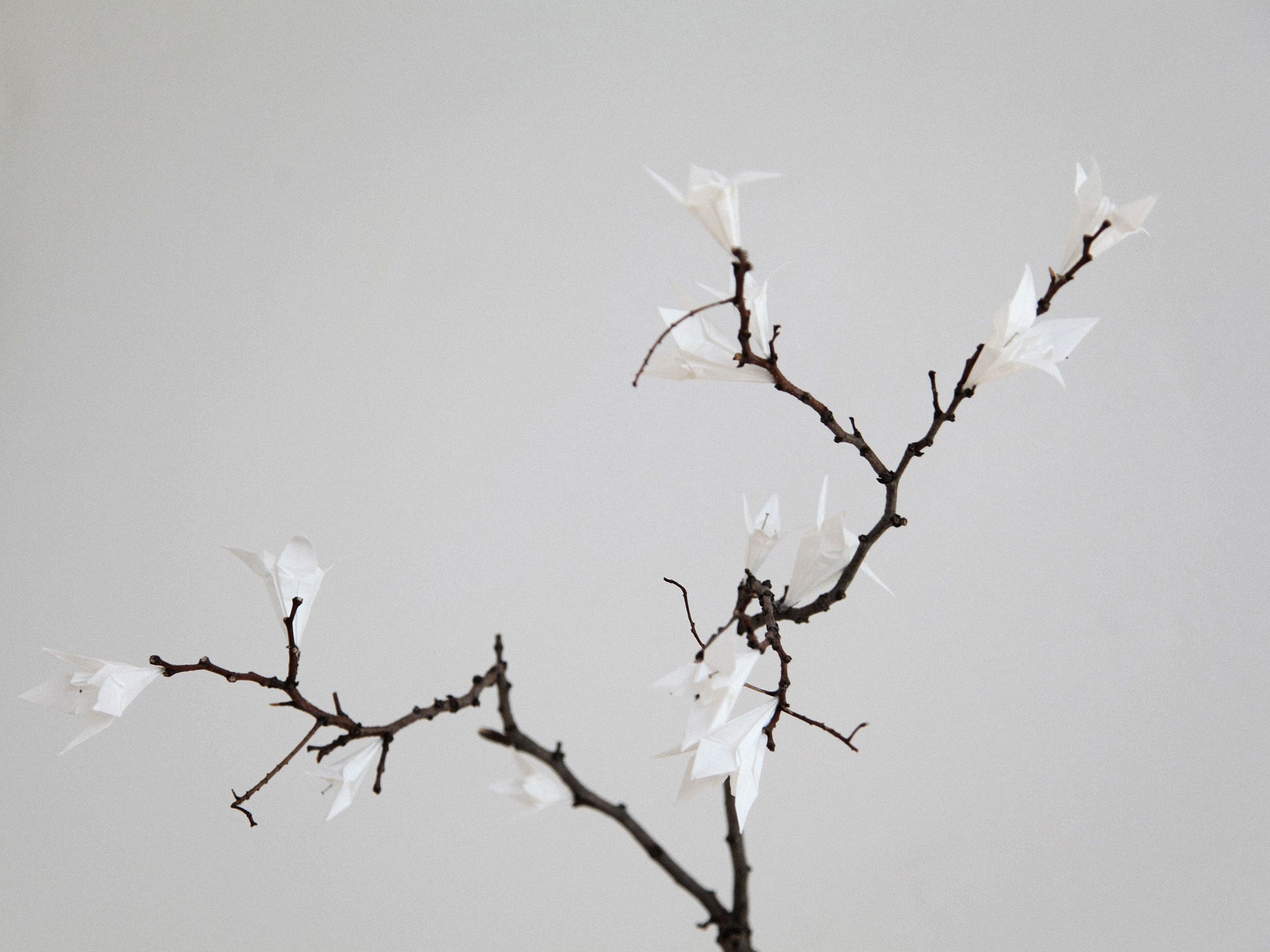 What do you like about the living area around Arkonaplatz?
On Fridays I love going to the market and eat fish. On Sundays me and my boyfriend Christof love to go to the flea markets. The sight of the Zionskirche is fantastic. The neighborhood is like a small village within a big city. I love it.
What are your favorite places within the neighborhood?
I love Mauerpark and in front of the Zionskirche are these benches, which are perfect for chilling out in the sun. Bonanza Coffee Heros have amazing coffee! If I want to eat something I go the umgedrehtes M that is located at Kastanienallee and I go to Prater for beer.
Have you always been interested in flowers?
Yes! I grew up in the countryside nearby Hamburg and have always been playing outside. My very first job was to sell handpicked bouquets in front of my parents' farm. I bought my very first leotard and a paintbox with the earned money. After school, I went to Elmshorn and did my apprenticeship there. After many years of wandering, I obtained my last place at Susanne Smolka's "Blumenhaus Nienstedten" in Hamburg. I then moved to London in 2002 and stayed there for a while.
How did you start with photography?
I have always felt that I was never as good at expressing myself with words than I was with pictures. This is why it has been quite the obvious development, since I have always enjoyed taking pictures and friends would often ask to have their portrait taken. I started professionally in 2002 in London when I took my very first course. During that time, I worked four times a week as a florist and would take two days of photo courses. When I came back to Berlin, I studied at Ostkreuzschule with Ute Mahler.
Why London?
I wanted to learn English and had some money saved up. I had an ELLE Decoration with the best 6 London flower stores in my bag while I went job-searching. The father of my boyfriend Christof gave me the great tip to call big magazines and ask what florists they work with. The names were always those 6. However, I had an immense problem with my English as after having finished middle school in a small village, I never really got the chance to keep practicing it. But I managed somehow.
How was the beginning?
I got my very first room through blackboard at school. First, I was quite skeptical about the place since it was only boys who really wanted to live with a girl. At the end, this was one of the best decisions ever and we are still best friends to this point in time. When I visit London, I stay with them. After a week I got a job which was paid quite, but never really offered a challenge.
How did it continue?
I started at Absolute Flowers, which was the store with the most exciting clients. I still sometimes freelance for them.
Freelance florist – I have never heard of that. How does that work?
They book me for specific jobs. For instance, Rosh Hashana, big weddings, or even Bar Mitzvahs. Or one takes care of the flowers at Madonna's home… these gigs really differ. We also work together with a few freelancers at Marsano. Someone from Japan, a florist from Paris, as well as Stockholm & London are coming to support us for christmas.
How has your perception changed in regards to flowers and being a florist?
The creative awareness in regards to this job is currently changing a lot in Berlin. People are beginning to understand that this job is not a simple service but has a lot to do with creativity. This is already the case in places like London and New York. I want to surprise my customers and not only do what they had thought about beforehand.
What was the most impressive work you have ever seen by a florist?
Oh, there are so many. Since one always evolves within viewing habits and the self, being impressed by things also alters. I like to think back of the interview at Absolute Flowers in London. The boss Hayley Newsteadt was making a bouquet during our conversation. It was amazing to see her combine colour and form. Back then, I was still grounded within the German flower apprenticeship. For instance, we would have never used tulips and hyacinths during the summer time.
But if one breaks those rules that have been pushed inside of you for so many years, something really wonderful happens… fat, full-blown parrot tulips combined with coral-colored peonies, dahlias, scented English garden roses, pink hydrangeas, and geraniums. It's quite fantastic. In here, every flower possesses a personal language and a place to unfold. But this is now almost broken. Almost decadent.
On the other side, I work on a level that has a lot to do with logistics. I am often impressed what one can achieve with a good team. I am thinking about the show Dior Haute Couture A/W 2012.
Have you ever connected flowers with photography?
I actually hate flower photography! Besides the pictures of Robert Mapplethorpe and a few others, it is so cliche. Currently I am working on a polaroid series in which I photograph bouquets that are send by celebrities to celebrities. I want to make a small book out of it. We made the record cover for the band "Videoclub" and did the prints for Vladimir Karaleev's last collection.
How was the cooperation with Vladimir Karaleev?
The textile designer of Vladimir, Nadine Göpfert, had come up to me and asked if I was interested in developing flower prints. She already had established a concrete briefing with Vladimir that concerned colour, form, etc. Together with graphic designer Till Wiedeck, who I also collaborate a lot with for Marsano, we translated the briefing into a collection of flowers and then into photography.
Which photographic projects are you currently working on?
I have been shooting the teenager daughter of an acquaintance who goes by the artistic name "Rabija." She has been quite the something since the age of fifteen – Sex, Drugs, and Rock'n'Roll. My idea was to photograph for one summer long, essentially realizing the tale of girl turning into a woman. But her dad told me that it was too late for that… I take a picture of her every week and give her a film for her analog 35mm Canon. She uses it up and chooses one picture of the week, under which she writes a sentence. It is like a diary. She is amazingly beautiful and has wonderful thoughts.
How do you manage the time for photography and flowers?
Friday and Saturdays are my days for photography. And I really stick to that. I also apply this to my store Marsano: every employee has 4 days a week of 10 hours. They obviously could take 5 days, but I think it is a great concept for your own personal projects. One is getting an education in dance, one owns a small fashion label…
How does a concept like that change the overall working culture?
For some people it is too hard to work for ten hours straight, but overall it is a good option. Even more so if one is involved in a long-distance relationship and is able to have five days off without even using up the holiday time.
What has been you favorite job so far?
When I was woking for Absolute flowers, we provided for an event of Garrets Diamonds. It was pretty rad. They wanted to position themselves within a younger scene, so they rented a club with upscale carpets and velvet curtains. Miss Dynamite performed which was something completely new to me at that point. Every guest had a small diamond in their goodie bag and the entire courtyard was white – white pebble, white leather furniture, a huge white christmas tree on which we hung thousands of mirror chains… it was pretty crazy.
Two years ago I helped along as a freelancer at the wedding of the owner's daughter of the CEO of Carphone Warehouse. We erected 8m tall maple trees with silk leaves in a tent. Inside hung over a 1000 tea-light holders with candles. This is great, but I also enjoy working in smaller dimensions, with less pressure. For instance Fashion Week in Berlin is wonderful. It has exciting jobs that also allow me to let a little steam out…
Thank you so much for the wonderful afternoon, Annett. Whoever wants to find out more about her work should check out her portfolio, as well as the official website of Marsano. The team of Marsano also collects pictures of plants and flowers on their tumblr.
Photography: Anna Rose
Text & Interview: Sarah Weinknecht