That which first appears to be contrary, is the norm for Andreas Ernst. As a math teacher and graffiti artist he's equally well-schooled in stochastic theory and spraying techniques. In Freiburg Stühlinger he's found a way to combine his two worlds.
During his graffiti workshops Andreas realized how much fun it was for him to teach. Today, he's a teacher for math, chemistry and engineering at a high school, next to this, he works on a number of graffiti commissions. Creative self-realization isn't forgotten –his favorite thing to do is to go out and paint, freely and only for himself.
Despite the abstract sketches on the wall, clean lines dominate the apartment of Andreas Ernst. As colorful as his profession can be, he likes his private sphere to be clean and tidy. His apartment reflects his curiosity about the world, as well as his need for calming influences – even while traveling the world, he's always been happy to return home. When we met with him, we talked to him about the impression he makes on his students and what it's like to spray around the world.
This portrait is produced together with USM and is part of the series "Personalities by USM". Find out more about Andreas' interior here.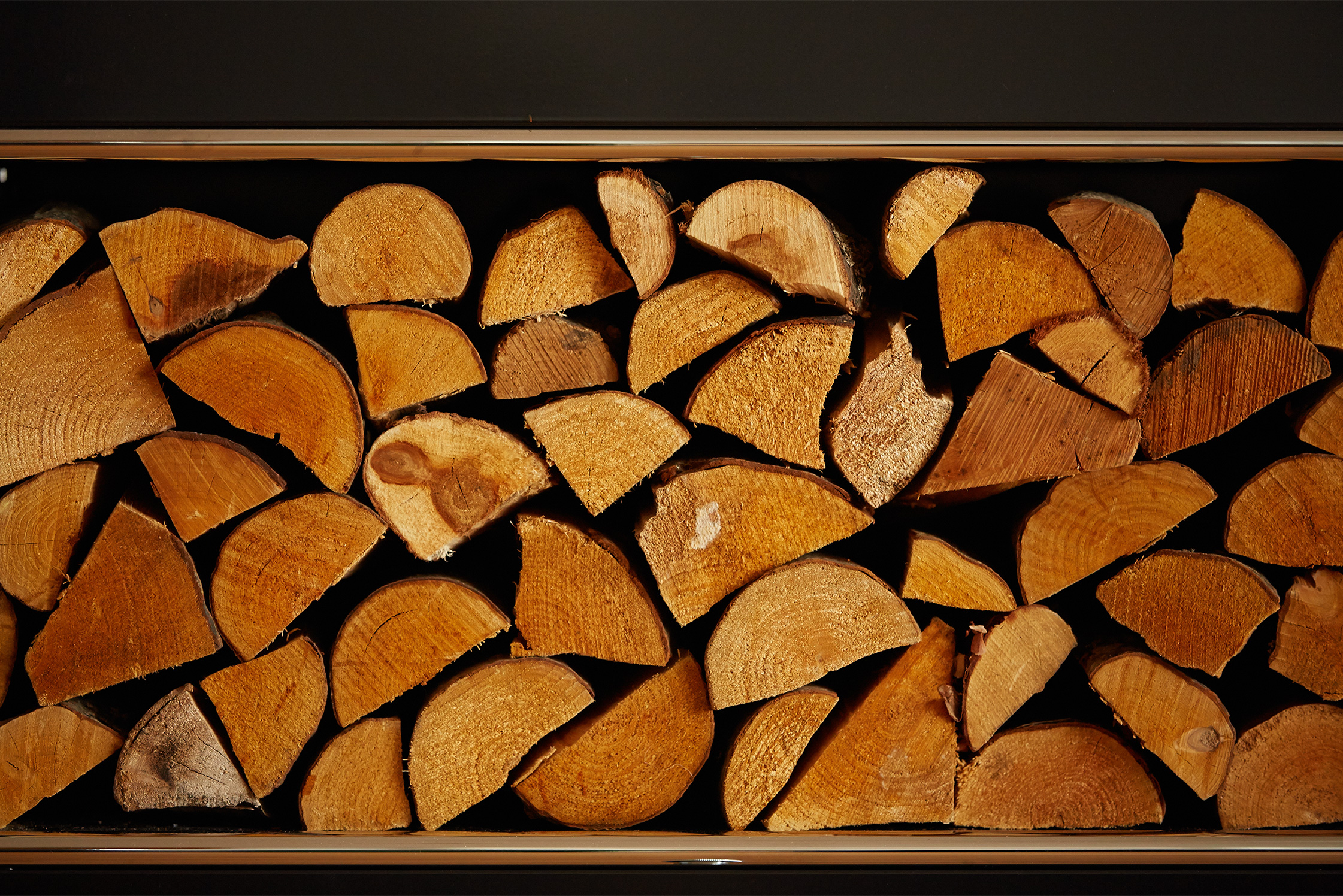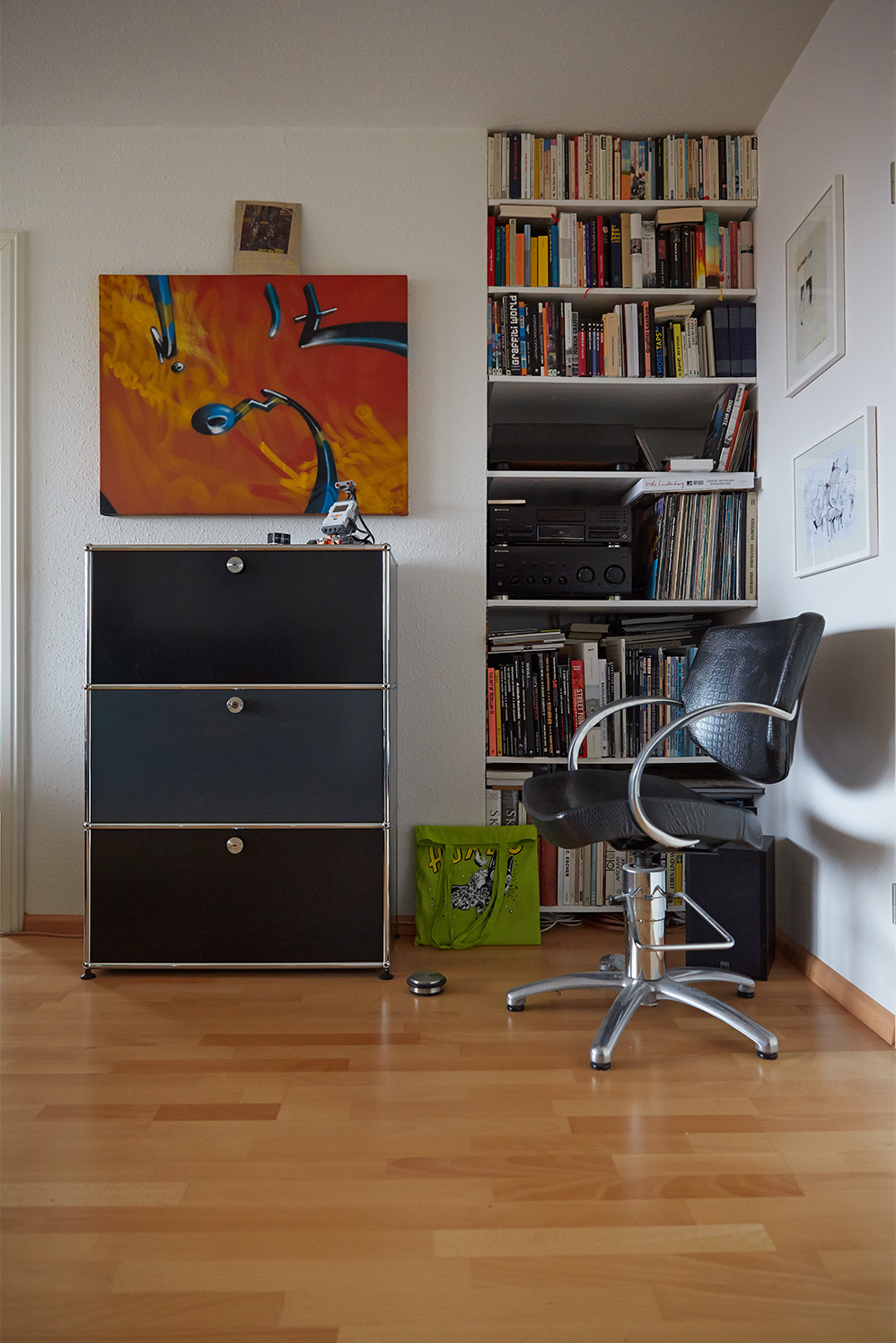 How long have you been living here?

I've lived in this flat for four years. Originally, I'm from Bühl, not too far from here. In the mid-90s I moved to Freiburg to do my civilian service. I lived in Gaggenau for a while but returned when I started university – since then, I've been in Freiburg. I've traveled a lot, even went on a round-the-world trip but I've never felt like moving away again.

You were never tempted to live somewhere else?

As a teenager I always wanted to emigrate. Now I think that you need a certain stability in life. I am quite volatile when it comes to some things, but home is home. I like to travel other countries, to see other lifestyles but I also like to come back. I grew up here, I know my way around.

What's the oldest piece of furniture in your apartment?

The desk dates back to my time in civilian service. The bed is pretty old too. I built it myself. The wardrobe was handed down to me by my grandmother. I lived in shared flats for years, in fact, I didn't own that much furniture when I moved in here. So the interior design has been growing with the years I've lived here. The latest addition is this really old 19th century stove. The USM shelf right next to it used to be in the bedroom but it didn't really fit in there. I like it better in the living room.

When did you buy the shelf?

I bought it one piece at a time, starting three years ago with the left part. I used it to store binders first but the wood looks way nicer in there. The second half is really new. My original plan was to put the stereo on it but then I realized the speakers didn't fit, so I put books, board games and my record collection there.
Your graffiti is really loud. Your furnishings, on the other hand, look discreet – why is that?

I like colors, even though I do the occasional monochrome picture. It has to look good, that's all. Of course my apartment could be funkier, the shelf could have different colors but that wouldn't really suit me. I mean, I'm not running around in bright yellow pants and a blue shirt, I prefer to be more subtle. It's my painting that I want to stand out and catch people's attention.

Do you have a favorite piece in your apartment, one with a special memory attached to it?

That's hard to say. There are so many things that are dear to me.

If a fire broke out, what would you save first?

Some of the pictures and sketches mean a lot to me. There's this one sketch by a graffiti artist from New York. You can't buy those. Its emotional value is far higher than its material one. I met this guy in Frankfurt in 1994, when I had just started to spray. I approached people with my sketch pad and asked them to draw a little something in there – which he did. Another sketch was made by a friend from Basel with whom I used to spray a lot. He shot himself some years ago, so you can imagine what this sketch means to me. There are also quite a few sketches by people I'm doing a lot of stuff with at the moment.

There's a whole gallery of them in the hallway. Some of the pictures look as if they were drawn by kids.

My ex-girlfriend's daughter gave me this one. The smaller ones are left overs from my birthday last year. The back of the invitations to the party I sent out were empty, and I asked my friends to draw something on there and send it back. This one is the work of a fellow commuter's kid.
Your own graffiti works are just as diverse as the pictures on your wall. Sometimes you work for clients, sometimes you give workshops, at other times you spray your own stuff. What would a perfect day look like?

A perfect day doesn't even have to be that special. I would have all my stuff ready and an idea of what I want to do. Then I would head out and start spraying. I often spray variations of my alias, "Zoolo." Sometimes I give it a special theme, something related to my mood. On a perfect day, I spray whatever I feel like spraying, just for myself.

You've traveled a lot and sprayed in all different countries. Do you have a favorite spot or a story from your travels that you'd like to share?

Santiago de Chile was a highlight. I spent three months in the city and sprayed with the locals. You can basically paint every wall there is. You ring the bell and say: "Hey, we'd like to paint your wall, free of charge." And then you do it. Vietnam was also great. I had been on the road there for a while and really wanted to spray. I always want to leave something behind in every country I go to. So on my last evening in Hanoi I went to this spot where you often find break dancers. I tried to explain what I wanted to do, but they didn't understand a word of what I was saying. Eventually I found someone who spoke a few scraps of English and he introduced me to another guy. The latter wanted to spray somewhere illegally but since I had to take a flight the next day I didn't want to risk being arrested. In the end we sprayed the wall of one of his friends. I went back the next day to take a picture, and there was a soup kitchen right in front of it. That looked pretty cool.
You also work for clients – you once sprayed a casket, at the moment you are working on a project for an energy company and you give workshops as well. How do you approach work where you have more restrictions?

It really depends. With the casket I could do what I wanted – an undertaker asked me to design it because he wanted to exhibit an extraordinary casket. I even got 7th place in a competition, "Germany's Most Beautiful Casket." Unfortunately, the certificate is to ugly to put it on the wall. With commissioned work, I adapt to the theme, I don't mind. During workshops you really have to be spontaneous, it all depends on the participants.
It was the workshops that inspired you to become a teacher.

It indeed was. I did lots of them at schools and I always enjoyed it. After coming back from my round-the-world trip I had to find a new job. I am a trained goldsmith and I worked in that field for some years but I can't sit still all day, I have to move around. So I got a degree to teach chemistry, math and technology. My first longer internship was a real success and made me believe I was doing right thing.

An empty wall you spray on and a pupil you want to teach something – are there any similarities between the two?

Absolutely not. I can't just "fill" a pupil, it doesn't work like that. I can explain and explain and explain all day long, but that's no guarantee that they actually grasp what I'm talking about. You have to motivate pupils, that's half the battle. The wall is just there and I can do whatever I like. A pupil who is "just there" but not motivated, that's a problem. I'm very frank about that, I tell the kids: "You have to be ready to get involved. If you're not, it's going to be difficult. However, if you want to learn something, then I can teach you."

Does it help that your pupils know that you spray graffiti in your free time?

It's hard to tell. Things went really well with my first tutor group, and I enjoy teaching the new group as well. Things don't always go smoothly, of course, the occasional conflict is part of the game. Kids don't take me more seriously just because I spray. They might think it's cool that I offer graffiti spraying as an extracurricular activity but as soon as I actually teach them that doesn't matter. As soon as I hand out bad grades or tell someone off for disturbing my class, no one cares what I do in my free time.
We are going to have a look at your latest graffiti, in walking distance from your apartment. You live in a very diverse part of town. Did you deliberately move here?

It really was a coincidence. I was really lucky to find this apartment, I liked it immediately. The view from the balcony is great, as is the area. The neighborhood is neither too posh nor too shabby. Students live here as well as unemployed people, academics, retirees – and everybody gets along. And I love all those small jobs, the start-up place selling juice or the junk shop across the road.

This bridge pier is one of the few spots where you can legally spray on Freiburg, and it's not quite as ugly as some of the other spots. The graffiti here you sprayed just yesterday is here.

It was a really nice day, and I felt like spraying something seasonal related to autumn. I think the picture will be here for a while. I worked in my alias as well. I like to do clean work, clear lines, which actually makes it more difficult – a crooked line is a crooked line, everyone will spot that. The wilder your work, the easier it is to hide mistakes. I used to work with that typical graffiti writing but I don't any more. I want my work to stand out and to be recognized.