When they're not working on their print deadlines, you can find the editors from Missy Magazine DJing and going to shows. Music is an essential part of their work.
Germany's market for print media traditionally has been strong. Magazine stores in train stations are flooded with colorful publications, fighting for every inch of visibility in stuffed shelves. And yet, within the vast landscape of special interest topics, political weeklies and page-turners about meat, finding a publication that covered topics from diverse and fresh points of views especially in feminist discourse was close to impossible up until ten years ago. Recognizing this gap, Missy Magazine filled it. They set an agenda without focusing on making a big buck. Other publications from huge publishing houses took a shot at this segment of the market and quickly were slimmed down from big print runs to an online only platform. Missy, on the other hand, increased their publishing schedule. Valerie-Siba Rousparast is an editor with Missy and talks music, money and independent print publishing today.
"Feminism is not one of our topics, but the glue that keeps all the different topics in every issue together."

Valerie-Siba Rousparast
First of all, tell us a bit about yourself. How long have you been with Missy, why did you join and what's your job at the magazine?

I work as an editor with Missy Magazine and am part of our small editorial team for almost two years now. This makes me incredibly happy! I've been reading the mag since one of the first issues, about ten years ago, when I was graduating school. After studying and working with other media outlets, it's amazing for me to see how I can combine the editorial work with my background in feminist ideas. This means we conceptualize, create and imaginate the stories that we want to tell. We write our own texts, maintain our social media and communicate with our many great writers to get their perspective out there to our readers.

Yours is a publication about pop, politics and feminism. How do you tackle these issues?

At Missy Magazine we always try to write, think, and discuss from an intersectional perspective. This means that not only the subjects that we select, but the point of view is what makes it special. So, if we are showing artists in our articles on pop, culture or the arts, we try never to write about them, but speak with them. We try to let them and their work speak for themselves, since they are the best experts on what they are doing. We concentrate on diversity, spend a lot of effort trying to find the writers that are fitting for each topic instead of writing about something ourselves without being very knowledgeable in that area. Feminism is not one of our topics, but the glue that keeps all the different topics in every issue together.

What are pressing issues in politics, feminism and culture we don't see covered that much at the moment, in your opinion?

What the German mainstream media saw in the #metoo campaign, for example, was the long fought fight of women of color voicing their experiences of sexualised violence and male abuse of power in varying forms. This fight was spearheaded by Tarana Burke in the US and only got visible in mainstream media here, after white women chimed in. So, another problem that I see here is internalized racism. Which is why now is everyone using the new hashtag #metwo, sharing experiences about racism in daily life to create a feeling of solidarity. Both of these issues also exist in the music industry, i guess. It's not a coincidence that queer artists of color are often the ones who shape the style and look of a new trend in fashion and music—they're just not always the ones, who get all the appreciation for it. Instead artists who are already facing discrimination are being tokenized and their work can become the target of appropriation. This is why I think that every project, festival, magazine and TV show that makes this their mission needs to be supported.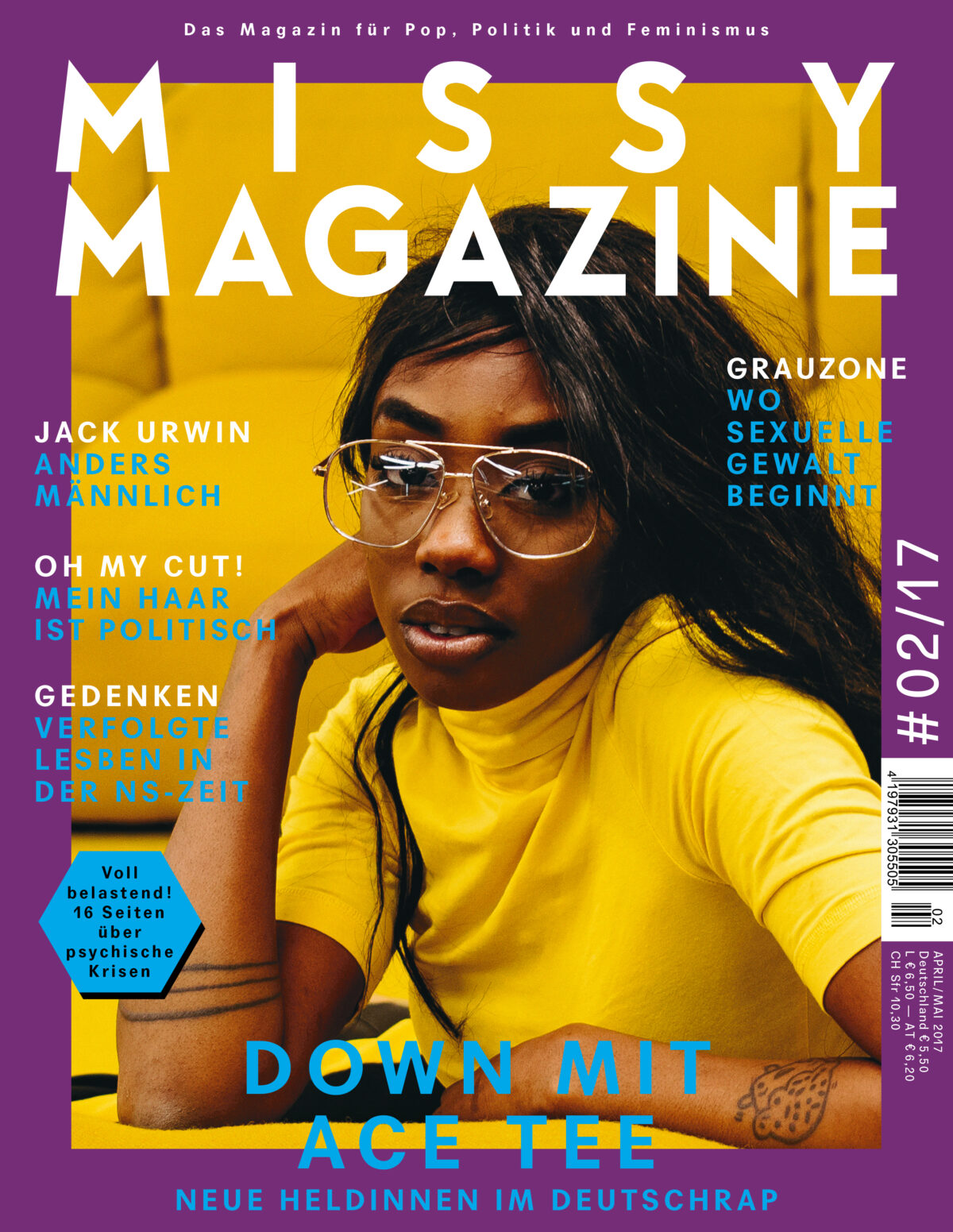 How important is music for the magazine and how is it reflected throughout the publication?

Music is a very important part of Missy Magazine. Actually, many of our cover models are musicians! We have a whole part in every issue where we introduce new releases of musicians and several sections for longer-reads where we try to create a more in-depth view on specific artists. We had a cover story with Kelela, spoke to Mykki Blanco, Sevdaliza and many more. Since we produce every magazine two months in advance, we always have to be very aware of what's going on around us, what's being played in clubs, who forms a new band. I've always been a music nerd and several Missy editors are also working as DJ's sometimes—this is our thing.

Tell us about your song selection for this Mixtape?

All of the songs in this playlist represent Missy Magazine as well as my personal taste in music. We love music, we love going out, and as I mentioned, some of the team are DJs. Many of these artists have been featured in the mag. Sevdaliza was one of our favorite cover stories just like Kelela. Ace Tee gave us back hope about hip-hop produced in Germany, just like Akua Naru, who I interviewed to discuss her current album. Some of these artists are friends, some are idols, some are both. All of them create work that I read as feminist, a lot of them are queer, many are people of color. Especially hip-hop and R&B are often being met by a narrative that represents them as macho, sexist work. But I wonder, which music industry or genre isn't both of that? This playlist easily proves the opposite. And they are actually really awesome to dance to!

You recently concluded a successful crowdfunding campaign to secure funding for the magazine. Why did you start the campaign in the first place?

Missy Magazine luckily has a steadily growing group of lovely readers. Starting with a publication every three months, we now publish the magazine every two months. At the same time, we wanted to keep the quality level, which meant that we had to grow our staff. Another major reason is that as much as big companies seem to engage in feminist issues lately, they still often use it as just another marketing ploy. Do they actually want to support feminist work and buy ads with a feminist magazine? Not really. So we have to find other ways to create this product. I suppose that most of this is applicable to the music industry as well, where young talents struggle with financial issues and it's a privilege to be at all able to do the independent work that you want to do. There is always the choice between financial success or creative freedom.

What does that tell us about the state of print publishing at the moment? Bearing in mind that fellow German publications like Intro and NEON have recently shut down?

Times are tough for journalism, especially independent publications. It's paradox: I read that there have never been as many magazines as there are right at this moment. But, on the other hand, everything is being capitalized and supposed to grow, and growth costs money. The capitalization also means that even magazines have to be an item that you want to keep, otherwise they don't work. The main reason for this, I think, is the internet. It is incredibly fast. Magazines have difficulties to stay on track, since they aren't produced as immediate as online content. Understandably many people consume a lot of stuff online. Taking the time, reading longer articles about it on actual paper gives it a whole other quality though.
Making independent publishing financially sustainable is a tough road to go down. Missy Magazine has managed to stay afloat in the last ten years. Here's to another ten and a stable foundation for their publication. And thank you to Valerie-Siba Rousparast for taking the time to do this interview during the most incredible hot Berlin summer days.
Text: Fabian Ebeling
Photography: Verena Bruening