We've got a soft spot for hip hop and Sarah O'Neill, known by her stage name Not Your Girlfriend, is definitely on the same page. With a steady flow of hip shaking beats she showcases her skill and expertise as a DJ—effortlessly blending funky edits of mainstream tracks and low key gems on the fun and engaging mixtape she prepared for us.
Sarah is bursting with energy and output—with a background in both fashion and interior design, she's also a DJ, party promoter, radio host and artist. She juggles the myriad professions with finesse and somehow keeps it all together. We spoke with her about how she found herself in creative flux and her storied journey from Canada, through the anglophonic world to Berlin. As an itinerant creative, the mixtape she put together for FvF gives a good idea of the influences she's picked up along the way—from fellow Canadian Drake to the sounds of Skepta from time spent in London. She seems to have settled in the German capital though, and has become a player in Berlin's hip hop scene with her own radio show and Not your Girlfriend parties. Learn more about Sarah and check out the mixtape she prepared for us if you're a hip hop head or just want to dance.
Tracklist
1

Skepta – Nasty

2

Tommy Genesis – Shepherd

3

Don Von ft. DP – For a While

4

Lorn – Tomorrow

5

Dylma – Grifter

6

Young Problem – BoyBoi I Got So Many

7

Førxst – Para-Noir

8

Skepta – Crime Riddim

9

Drake ft. Beyonce – Can I

10

Father – Everybody in the Club Getting Shot (Abra Rmx)

11

Esgar – Yo

12

Rihanna x Drake – Work (Shaun D Refix)

13

Game ft Nipsey Hustle – Fuck A Bitch

14

CVRL – Skin Tight

15

They – Motley Crue (Kamandi Rmx)

16

Kadahn + y y y – Breathe

17

Father – Spoil You Rotten

18

Pollari ft. Father – On My

19

ABRA ft ILoveMaKonnen – Why Don't You

20

Stanley – Snow Rain

21

Yung Lean – Motorola

22

Drain w Triads – Prayer

23

Tommy Genesis – Art

24

Spark Master Tape – Piñata

25

Lord Raja ft. They Call Me Raptor – Hold Of You (Lighters)

26

Wiz Khalifa – We Dem Boys (Dj Rj Rmx)

27

Rabit ft. Riko Dan – Black Dragons (Ziro Rmx)

28

Father ft. ILoveMaKonnen & Keyj – Look at Wrist

29

Young Thug – Best Friend (Edit)

30

Drake – All Me (WTCHCRFT edit)

31

Evian Christ – Fuck it None of Ya'll Don't Rap

32

Lil Flip vs Dorian Concept – Flip my Chips

33

A$AP Ferg – Shabba Ranks (Da Vosk Docta Rmx)
How would you describe the Not your Girlfriend project?

It started originally with an ex-boyfriend of mine as a series of interactive music/art parties. We threw parties in venues in multiple cities and Not your Girlfriend became a way to also collaborate with photographers, videographers and other artists. About a year after we started running events and playing under the name, our relationship fell apart in a spectacular fashion—he moved to London and I moved to Berlin, taking over the Not your Girlfriend tag on my own. It now serves as both my DJ moniker and a platform for my radio shows, video work, art and any music-based collaborative projects I take on.

Where did the name come from?

The intention behind the name was originally a bit of a play on our relationship—we were together and creating something and also a nod to the fleeting time in a relationship before anything is defined. I think that now that the name refers to just me, it has taken on new life and plays with the notion of the "boys club" nature of the music industry, but for me it also feels like a strong assertion of place within this scene. The name and interpretation of it is malleable and fluid depending on the audience and I like the slightly tongue-in-cheek element of it.

How did you get into DJ'ing/party promotion?

I was always a bit of a misfit—an emo kid at school with dark eyeliner and darker music, and it's how I would connect with people. Once you figure out that there's this commonality through music, it becomes a way of identifying yourself so I've always known a lot of DJs, producers and musicians. Eventually I grew tired of being the audience and got a friend to teach me how to play on his CDJs. I started by hi-jacking my friend's gig in this bar, definitely way before I was ready—it was a baptism of fire and was probably the only way. From those first gigs, I just started hustling wherever I was—chasing up bars and clubs and festivals and people to play sets and do guest mixes. Party promotion came as a bit of a side effect of wanting to play sets. Often the club would ask you to not only play but to do all the rest of the promotion work to build up an audience. Initially it was by proxy that I was doing events, it wasn't until throwing Not your Girlfriend-branded nights that they were a true reflection of intention both sonically and aesthetically.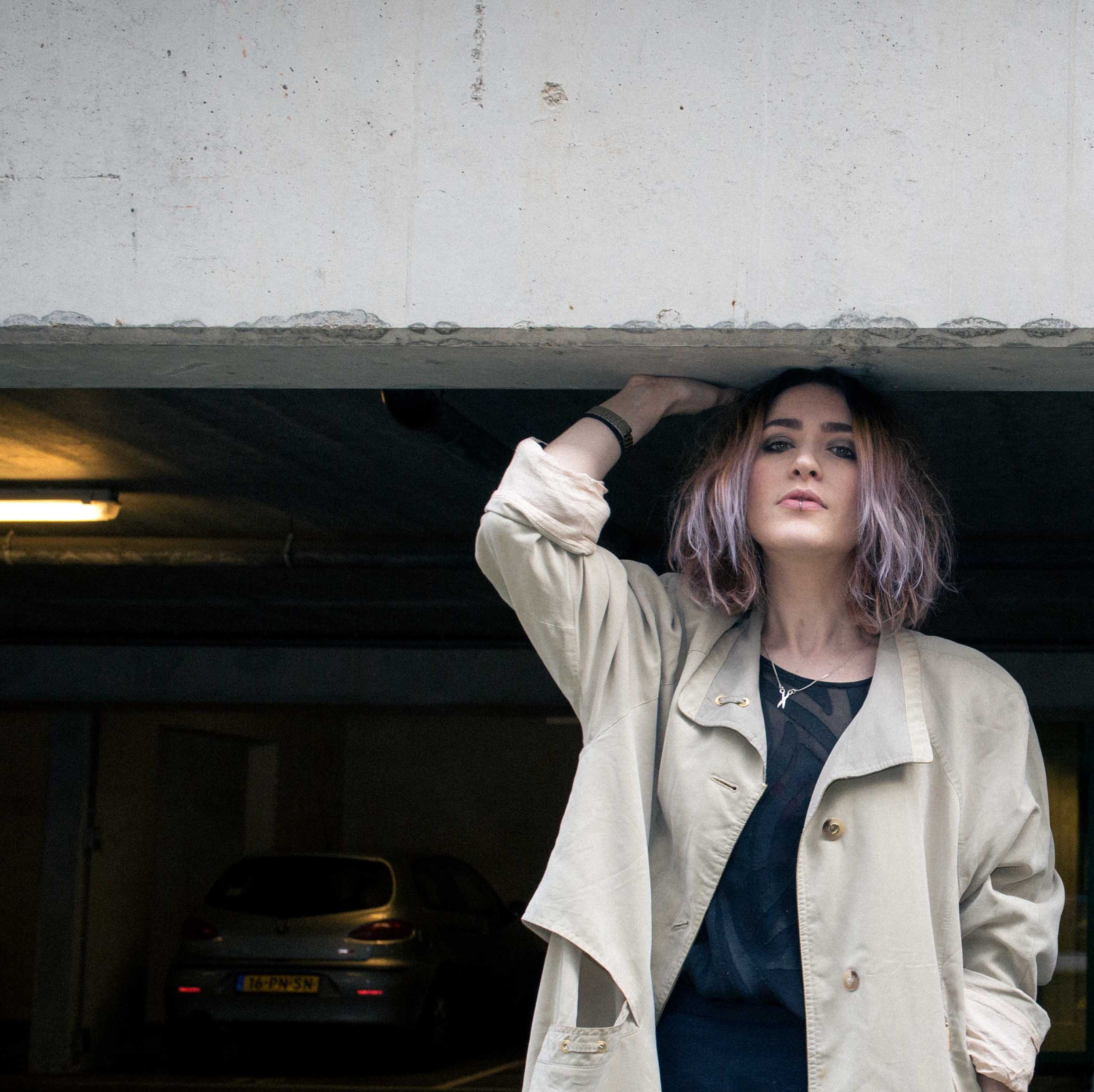 "I want to do everything all the time and I've always had multiple projects in diverse fields running parallel to each other."
Where would you host your dream party?

Maybe the top floor of an abandoned mansion block—dark, warm and historic, filled with people that love the music and each other, that would be perfect. I love disused and repurposed spaces for parties. There is a sense of "otherness" about them that lends a strange and necessary discomfort that I think provokes people to get outside of themselves, and creates an atmosphere where anything is possible. Concerns and patterns slip away and real life stops long enough for us to experience something else.

With all these different projects going on (being a radio host and DJ and also a interior and fashion designer) what is the favorite thing you do?

Sleep! But really, I think creative pursuits by their nature satisfy different needs and bounce back different emotions and I guess that's why I've always had slight career A.D.D. I want to do everything all the time and I've always had multiple projects in diverse fields running parallel to each other with a waitlist of about 10 other things I want to do at all times also, I guess because they give me different things.

With music, there's certainly a cathartic nature to it always. Making radio is essentially creating a sonic mirror of your emotions at that time, while playing shows creates this very immediate connection with other people within this shared experience. That sense of communal feeling hits a very core need for me.

Design though, fulfils something else for me. It's an amazing, fun, infuriating, demanding and satisfying process that, in a very different way from music, satisfies my need to create and make. Fashion design is actually my background—I designed and ran my own womenswear label for a number of years but interior design now takes up the majority of my time. Creating spaces for people to live their lives in is its own uniquely satisfying experience.

Living in Berlin but being from Canada, where do you consider home?

The idea of 'home' has always been a bit of a weird one for me—I was born in Ireland but moved over to Canada when I was just one. We lived in a few different cities across Canada and returned to Ireland most summers and then for good when I was a teenager. Even before finishing school I had moved again—a trend that continued for me every few years since: Melbourne, Sydney, Toronto, Limerick, Dublin, London and now Berlin. So the idea of having one place that you identify as 'home' has always felt a bit notional to me. Moving to Berlin I felt a sense of exhalation, of resonance that I hadn't experienced in a long time, which creates a feeling of "home" for me. There's a beautifully juxtaposed sense of chaos and order to my life here and the nature of the city suits me as much as it infuriates me. I think I'm drawn to, and find a comfort in, things that are slightly volatile and so Berlin, in all its contradictions, is home for me.
Thank you Sarah, for putting this wonderful mixtape together for us. Keep up with Not your Girlfriend parties on her wesbsite and hear Sarah's radio show on BLN.FM (Fri 9pm/reruns Sat 9pm & Wed 11pm).
Text: Kevin Chow
Videoloop:Naveen Chaubal