Into the lush countryside, to the niveous peaks of the Swiss mountains, and even halfway around the world to Buenos Aires — Companion's penchant for explorations is going strong.
Produced by Freunde von Freunden in collaboration with 25hours hotels, Companion magazine is a periodical about the people who shape our cities. This time around, we had plenty of travel experts and influential personalities on board to enrich our vision. Our mother agency More Sleep developed the bold and colorful design to reflect the cheerful character and complement the stories we aimed to tell. We also teamed up with Berliner Zeitungsdruck yet again to retain a high level of quality and craftsmanship for our newspaper print. Last but not least, the Swedish creative duo Anny Wang and Tim Söderstrom lend us a creative hand for this issue's playful illustrations, sprinkled throughout the magazine.
While working on this issue we peeked behind closed doors, solved puzzles, and sampled the new phenomenon of live escape games (managing to make it out safely). We went for a spin with the two furniture makers devoted to craftsmanship and visited the innovative artist duo Sonice Development in their studio, where we witnessed a robot scribbling on the walls. And we even found ourselves in a hand woven wonderland, observing the Argentinian textile designer Alexandra Kehayoglou at work. We encountered individuals en route who shared their perspectives on life, showed us the ways in which they work, and spoke to us about feeling at home in their bodies. A touch of playfulness is what unites them all.
Here's a little preview of this issue's topics:
Diving into the world of Alexandra Kehayoglou left us speechless. The Buenos Aires-based textile designer can transform a rug into a spectacular new world. Her giant woven playgrounds were part of Dries Van Noten runway shows and have been exhibited at Frieze Art Fair in London and at New York's Chamber Gallery. Situated somewhere between artisanal craft and contemporary art, her unconventional work seeks an active engagement from its audience: "Being touched, walked on, and dirtied, brings the works to life," she told us. We met with the Argentinian rising star in her Buenos Aires studio to speak about heritage and happy accidents.
Photos by Emma Livingston
Constructing the perfect table fitting for most spaces has been the main impetus to Max Pauen and Albrecht von Alvensleben's project for almost the last decade. In a time where mobility and efficiency are at the forefront of our thoughts, Berlin-based Bullenberg's handmade oak table acts as a manifesto as it embraces delayed gratification. The duo sources their wood in the family forest right in the area of Brandenburger Wald, and together with a carpentry workshop — a small family business — they manufacture and deliver their furniture themselves. As we take a tour to their family forest, the duo talks about their unique approach to furniture-making. It doesn't get more local and sustainable than this.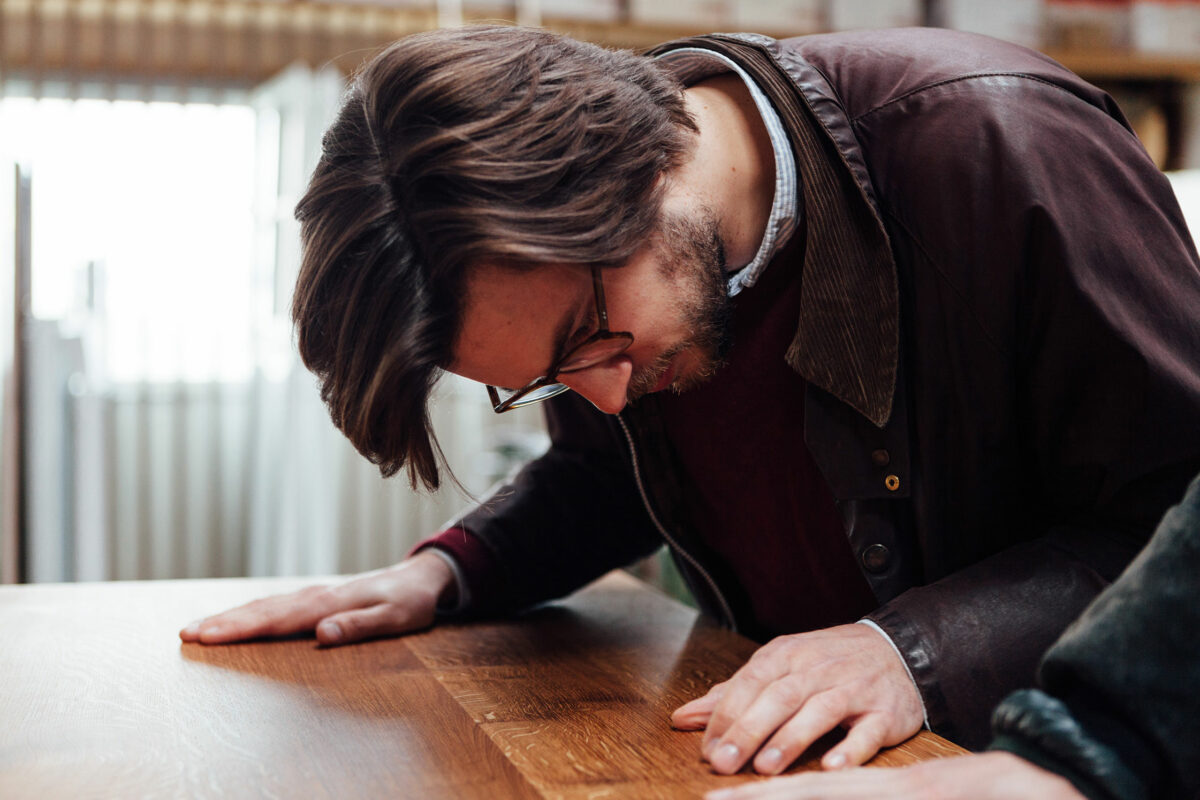 Photos by Bene + Leif
Pop star, feminist, do-it-yourself heroine, poster girl of the internet generation: Claire Boucher does it all. She achieved stardom in 2012 with her indie music project Grimes and has been rising ever since. With "Art Angels," the long-awaited follow-up to her breakthrough album "Visions," the Canadian has once again shown how a woman in the pop music industry can take her career into her own hands. There's no "Oblivion" in sight – this colorfully iridescent enigma is here to stay.
Photo by Ben Grieme
Art redefined: the artistic duo Sonice Development makes robots crawl on the wall and machines shoot onto façades. Michael Haas and Julian Adenauer combine aspects of art and design in their kinetic installations, while remaining outsiders in both disciplines. Instead, they've found their own niche: Their artworks, made from robots and paintball guns, explore the reciprocal relationship between space and image. We paid a visit to their studio in Berlin to find out why the process is more important for them than the final product.
Illustrators Anny Wang and Tim Söderström use their brushes to accompany a local guide to mountain exploration near Zurich. Follow these expert tips if you're in the mood for hiking or sledding, or just enjoying the breathtaking views.
Illustration by Anny Wang and Tim Söderström
All these urban explorations (and many more) come to life in city tips, in-depth interviews and expert talks. And even as we hop on to the printed page, we retain the characteristic style of storytelling and imagery that's uniquely Freunde von Freunden. You can pick up the sixth issue of Companion at all 25hrs Hotels in Berlin, Hamburg, Frankfurt, Zurich, and Vienna, and selected retailers – and use it as the starting point for your own adventures around these exciting cities!
Stay tuned for a full portrait on Alexandra Kehayoglou and other creative minds featured in this issue, on FvF soon! See our interview with the duo behind Bullenberg here. And make sure to read the original interview with fashion designer Julian Zigerli as well as try Belén Vazquez Amaro's delicious pear salad.
Want to get to know Companion Magazine better? Head over to FvF Journal to explore previous issues.