Fiona Cribben is a real world citizen. Born in Ireland, the trained fashion designer moved to New York at the age of twenty and now resides with her husband Einar and their son Johnny in Reykjavik, Iceland.
In New York she learned that working for Victoria's Secret doesn't necessairly makes a 20- year old Irish girl an angel, but can be a great experience. Today in Iceland she embraces the different pace and finds her place inside the vibrant local design community.
What seems to be a restless journey, is the search for creative self-expression that was never bound to national borders or disciplines. Fiona has always worked in different areas- whether it's fashion, music or anything in between. Trained as a Designer, she didn't stick to scissors and needles, but eventually ventured out to the virtual world to create the appearances of characters in computer games after working for big names like Calvin Klein or Victoria's Secret.
Her love for music, which was only re-affirmed by meeting her husband Einar during a band practice in London, even made its way into the couple's apartment. Sticking to the cliché, they sat up a little studio in their bedroom and made music part of their daily lives inside the colorful family home in the Icelandic capital.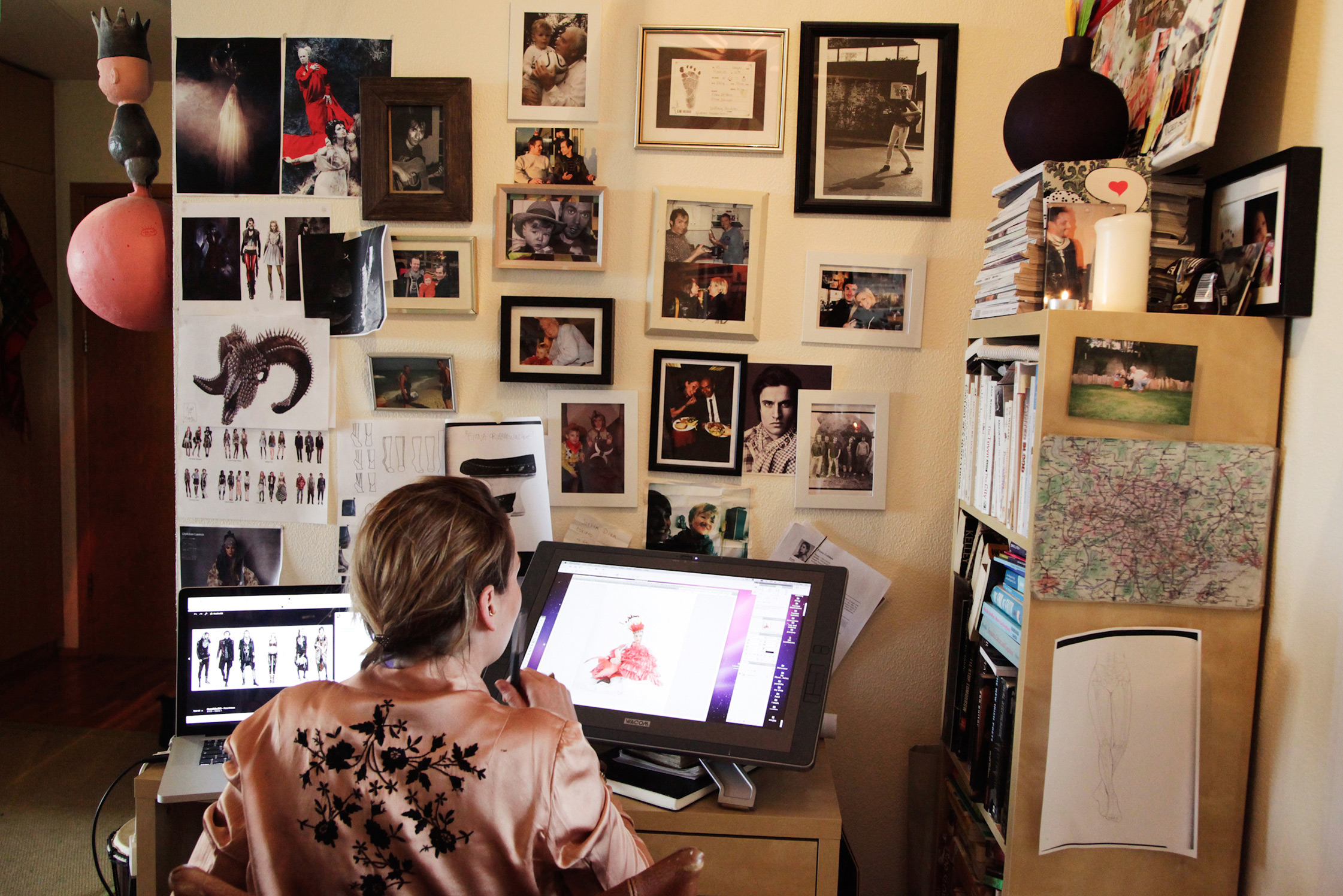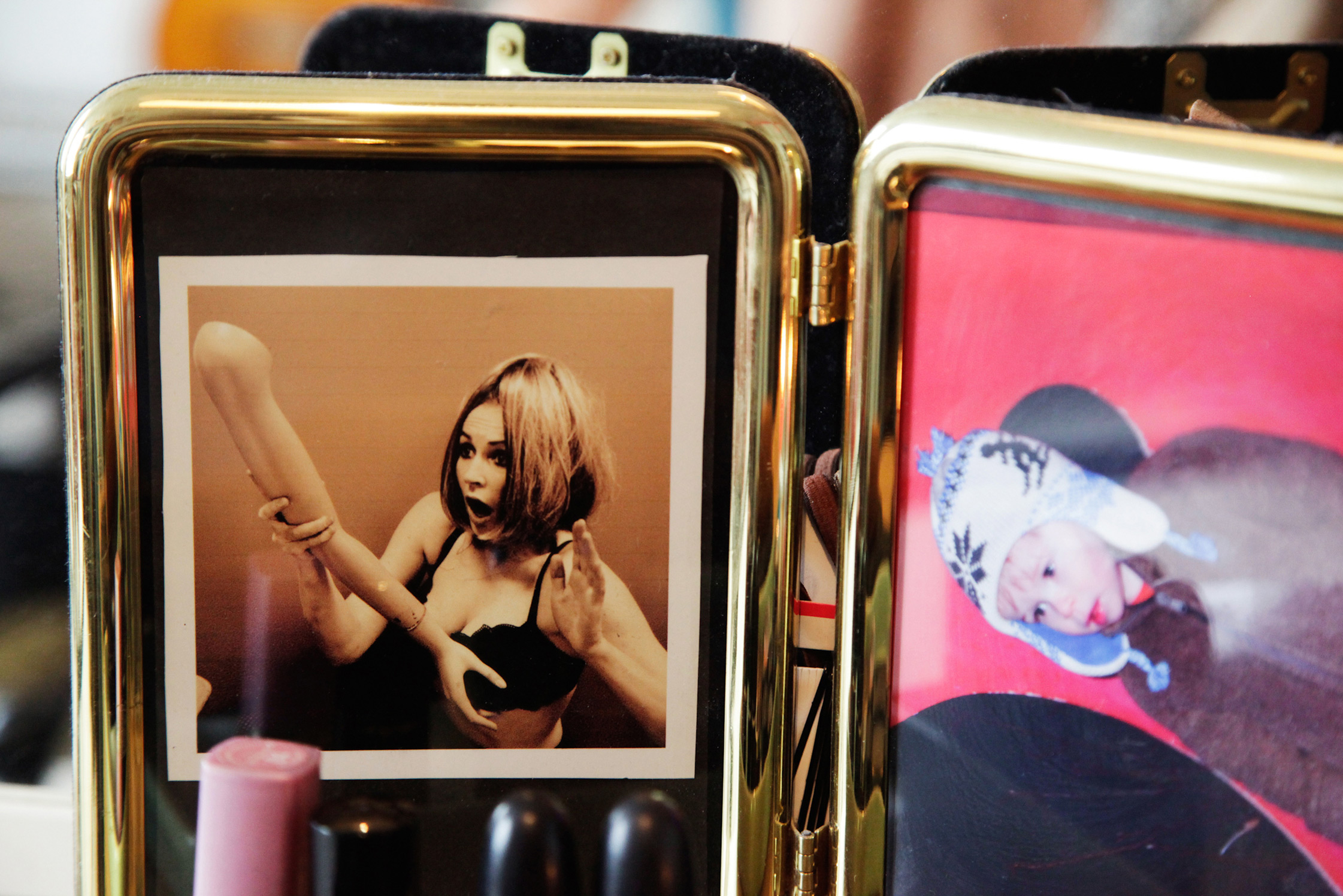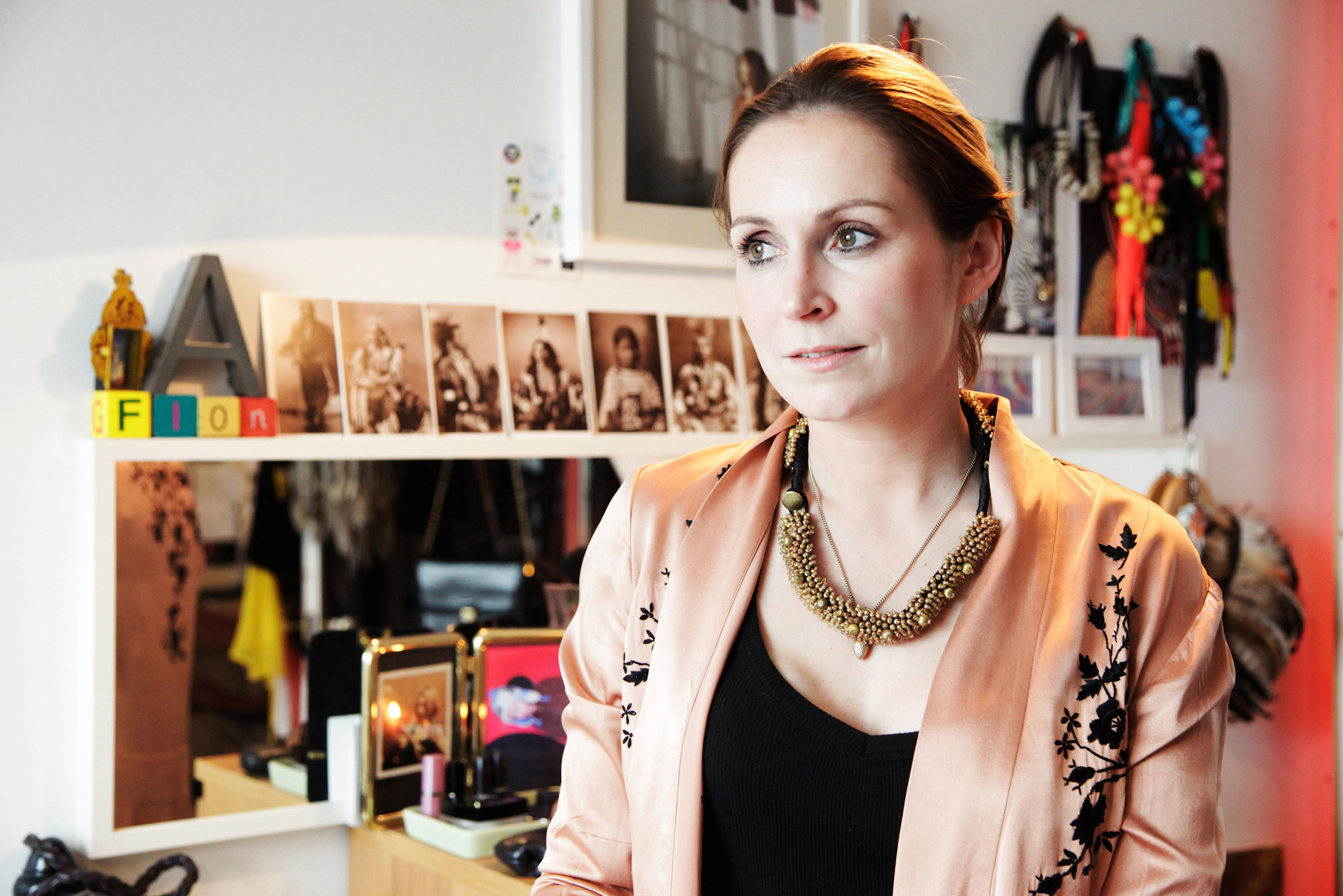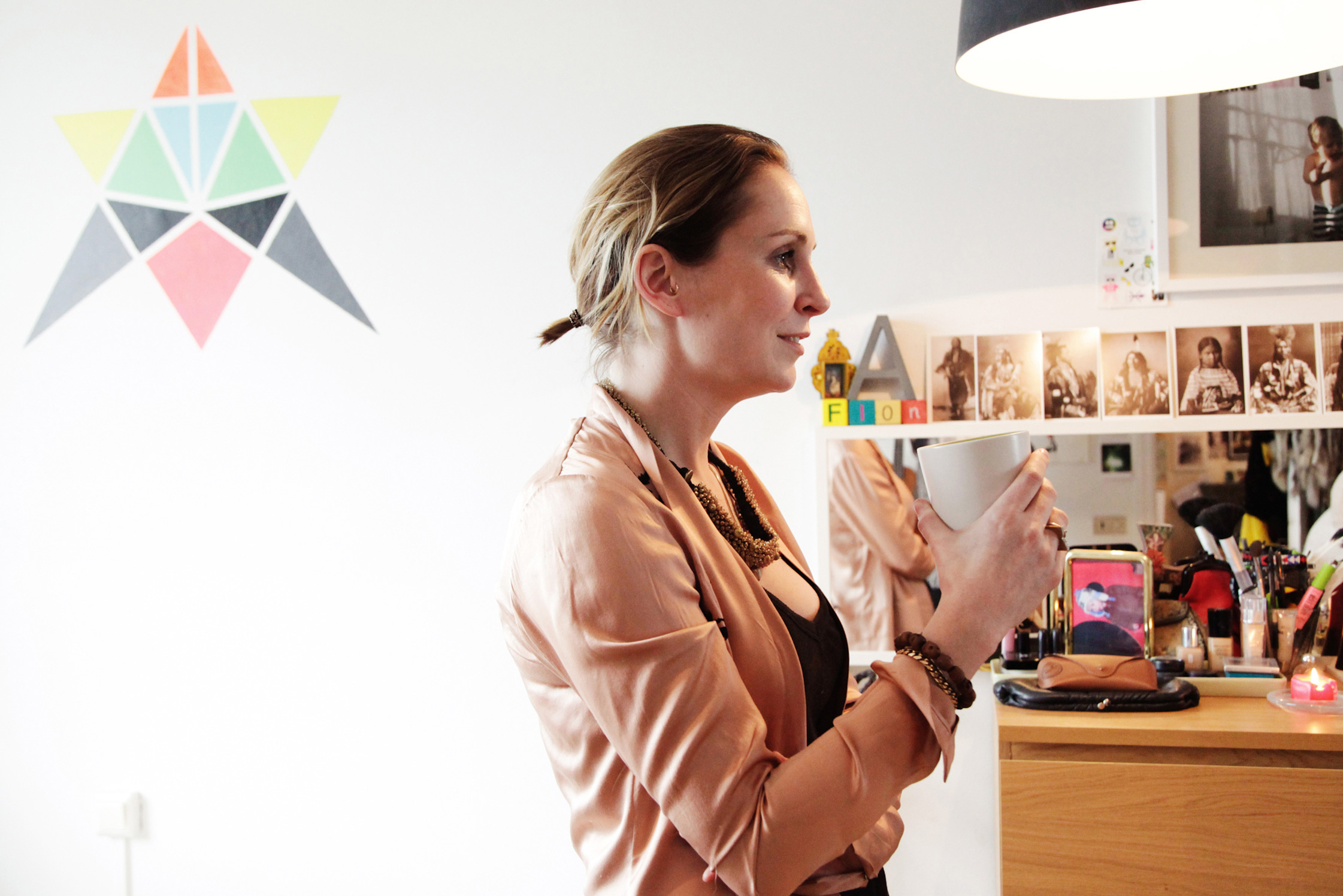 Where are you from?
I come from Ireland and studied Fashion Design at the National College for Art and Design in Dublin. After my diploma in 1999, I immediately went to NY where I landed a little Job with Victoria's Secret. I worked on a seemless underwear range for them. Which meant, that I was designing from a tube of fabric with no sowing involved. That was an interesting challenge. It was a super intense time, but I learned a lot.
I imagine it very exciting – as a 20 year old girl, working for Victoria's Secret…
Yes definitely. When I was there, they were launching the first online runway show which was pretty exciting. After that I worked for Calvin Klein for four months in the menswear department. But after all these fast paced jobs in the fashion industry, I was kind of homesick. The work was so intense that I didnt really have time to think about anything else. Actually I would love to meet some of those people I worked with back then and ask them, "Hey, are you okay- did you survive." (She laughs). In the end, I decided to join a fashion forecast company called "Here and There."
What is it like to work in fashion forecasting?
We'd forecast trends two years ahead of time and companies from the domestic market, like Donna Karan or Tommy Hilfiger, would come to us and get information on fabrics, etc. We did that bi-annually. But after that job I moved to London to be closer to home but not be back completely back in Ireland.
Who was your inspiration or rolemodel in university?
I have a cousin who was working for Giorgio Armani – he was kind of my role model. His mother and sisters used to tell us these amazing stories about living in Italy and working for the major fashion houses. I remember once going to his house where he grew up and I popped one of his pens in my pocket. I was killed when my mum found out and i had to return it and apologise for robbing it. I found him inspiring. Another great person from my uni was Philip Tracey, he was a great inspiration for me. His creativity revolutionized some parts of fashion. But overall my favourite role model was Alexander Mc Queen, hands down.
When did you know that you wanted to work in fashion?
Actually it was very late. I got into The National College of Art and Design in Dublin at 17 where we had to decide on our top choices. Graphic design and fashion were my top two. I decided on fashion, as at the time I saw it as more of a challenge.
Why did you move to Reykajvik?
Because I met a wonderful man (points at Einar). We both were auditioning for a band back in London. So the music brought us togehter. At the moment we are recording a new album in our bedroom – really cliché, but we love it. Einar comes from Iceland and initially we only wanted to live here for a couple of months. I just stayed, because I got this well-paid job with the computer games company CCP.
What was your first thing you noticed when you came to Iceland?
That it's so quiet over here! So peaceful. But at the same time you have all these nuggets of inspiration everywhere. For example, finding the whale teeth I use in my own jewellery line was just the start of this project. Whales are such special animals. I see them almost like a precious jewel as it is so rare. All the teeth I use are vintage, from the 70's. I love living by the sea. But I had to adapt to the local customs. Icelandic people are quite private. Irish people are pretty open, but it's hard to "crack" the locals here… (laughs). Sometimes you walk down the street and know someone, but people often don't say hi. Maybe because after a while you know almost everyone it becomes annoying to greet everyone… I don't know. It's definitely very different from Dublin.
Tell me about your work with Buoy and Eyglo.
Buoy and Eyglo are up and coming Icelandic fashion designers. We are trying to be sustainable within our work and get things made here in the country to support the Icelandic industry. I love looking at what other local designers are doing, the product design in Iceland is very strong, too. I love to walk around the boutiques and get inspired. The design scene is so strong for such a small community. 
 
How long have you lived here?
We bought this apartment in 2007, just before the national economic crash and the birth of my son Johnny. My parents really pushed me to buy property – they said, "No more messing around."
How did you feel in 2008 when these two big events happened- your son was born and the economic crash occured?
Funnily enough, it was a very fine time for me. I had little Johnny Vincent and then I managed to get an amazing job working as a fashion designer for the computer game company CCP. I was working as the designer and illustrator for World of Darkness. I then became the Lead Designer and had a team of three women in Atlanta and New York. It was a great time for me and an amazing place to work. So the crash had a silver lining for me.  
Is my observation right, that here in Reykjavik, everyone has at least one creative outlet besides their usual day jobs?
Yes, definitely. The winters are so long that you need to have your own little project to keep you happy. Before we had our child, we would go to band practice every night, but that changed obviously.
What are your favorite places in Reykjavik? Where do you take people that come to visit you?
Definitely Kaffismidjan on Karastigur. They make the best coffee and croissant with cheese and jam. I once took my mum there and we both agreed that it was the best thing we ate ever! Also, I take people up to the top of Hallgrímskirkja to see Reykjavik from above. I love to take people for lunch at the back of Ostabudin on Skólavörðustígur. The lady in there makes a few very fresh fish dishes every day. Vesturbæjarlaug is the name of the swimming pool that is right by my house. I love to hang out there in the jacuzzis, the steambath, and sauna. It is very therapeutic. The Einar Johnson Sculpture Garden and museum is a nice thing to do when it is nice weather. Plus, I love to go for a long walk by the seafront up to the lighthouse. We love to go camping in the summer, it is always so much fun. Harpa is also a new site to show people, plus their cocktails are not too shabby. 
Tell me about you designing shoes and jewellery. Is it just for fun or a real business?
With designing shoes, I think it's nearly every girl's fantasy to do this. One day I just decided to take the step and I began sketching all sorts of different shoes. I then went to meet a guy who began carving them for me and we started this small project together. He is also helping me carve the reindeer horns and the whale teeth into the jewelery pieces I have come up with. All the pieces are unique and we have already had some commissioned pieces, which is really exciting. We have yet to launch the shoes, but in the next few weeks hopefully we will. I work full-time, so this is a side project at the moment that I am funding all by myself. I guess I am doing it out of the love for it, but in the future I would like to make it a business. 
 
What's your daily routine like? 
We usually wake up around 7.30 or 8am every morning. I get my son dressed and feed him if he wants breakfast. Then I drop him off at his little school. I either then come back home and work from home. I sometimes head out to my meetings, which I usually schedule for about 10am, so I can have some coffee and relax over online papers. I work for 2 small brands, which I design and consult. It's nice as it gives me a break in my day. I also teach fashion design at the university, a menswear and accessory course. The courses usually run for 3 to 4 weeks and are only 4 hours a day. Otherwise, I am organising my week or am on skype with London to check on things with my jeweler. As well just do the things that generally need to be done.
Do you speak Icelandic? 
Eg tala sma! (I speak a little) is what I usually say. It's kind of a joke. But to answer your question – No, not really. But I understand a fair bit. I have been lazy on that front. I need to get a move on as my son is passing me out. That's not good. 
What was the favorite project, personal or professional, you have ever done and why?
I have a few of these. But one thing that springs to mind was a friend of mine Fiach White, a great musician in Dublin, who once organised this small music project. I was living in London at the time. He got a load of musicians from all over the world, Spain, Sweden, London, New York, Dublin, etc. We all spent a week together in an old theatre in Dublin's city centre that was going to be knocked down and we basically made an album together, two music videos, and also performed a couple of gigs, while shipping a piano around with us. That was so much fun and we achieved a lot from not knowing each other. We certainly knew each other at the end of the week. 
Can you imagine ever to go back to Ireland or do you feel like a sort of "world citizen" after having lived abroad for so many years?
Oh, I always thought that we would move back to Ireland when my son was 3. He's nearly 5 now and we haven't moved. I can totally imagine living in Ireland. Some of my best friends live there. It might be hard to do what I do there though, as it is just so much bigger. It is on my mind very often though. It would be a lot cheaper to travel for sure. I do miss my family, too. But fortunately we skype nearly every day for a good old chat.  
Thank you Fiona for spending a fun afternoon with us!
For more interviews from Reykjavík, have a look here.
Photography: Jeaneen Lund
Interview: Sarah Weinknecht