Berlin may not currently be taken seriously as a fashion capital, but according to designer and creative director Tanja Bombach, the answer to the city's success may lie in embracing its diverse creative scene, in particular its penchant for contemporary dance and club culture.
A group of dancers scatter themselves across a monochrome stage, each rehearsing individual gestures while standing on the spot. Some are flicking their wrists as if absent-mindedly tapping away on computer keyboards, while others jerk and isolate their bodies vigorously. Slowly, the movements fade away, and the 12 strong group comes together into a tight formation, staring eerily, almost inhumanly into the distance.
The performance space of Trauma Bar und Kino, a hybrid arts space in Berlin, acts as a hub for exchange between art forms including film, live performance, and most notably, fashion. Founded in 2018 in an unassuming brick building set back from the main road, it's not the obvious location for a new fashion venue. "You can't compare Berlin to other fashion cities like London and Paris," says Tanja Bombach, the head of Trauma Bar und Kino's fashion program. "For them, it makes sense to follow really traditional runway formats. But I think in Berlin it is really important to present fashion in a different way, and to combine it with other aspects of the city's creative scene," she continues, citing art and club culture as the German capital's two main attractions.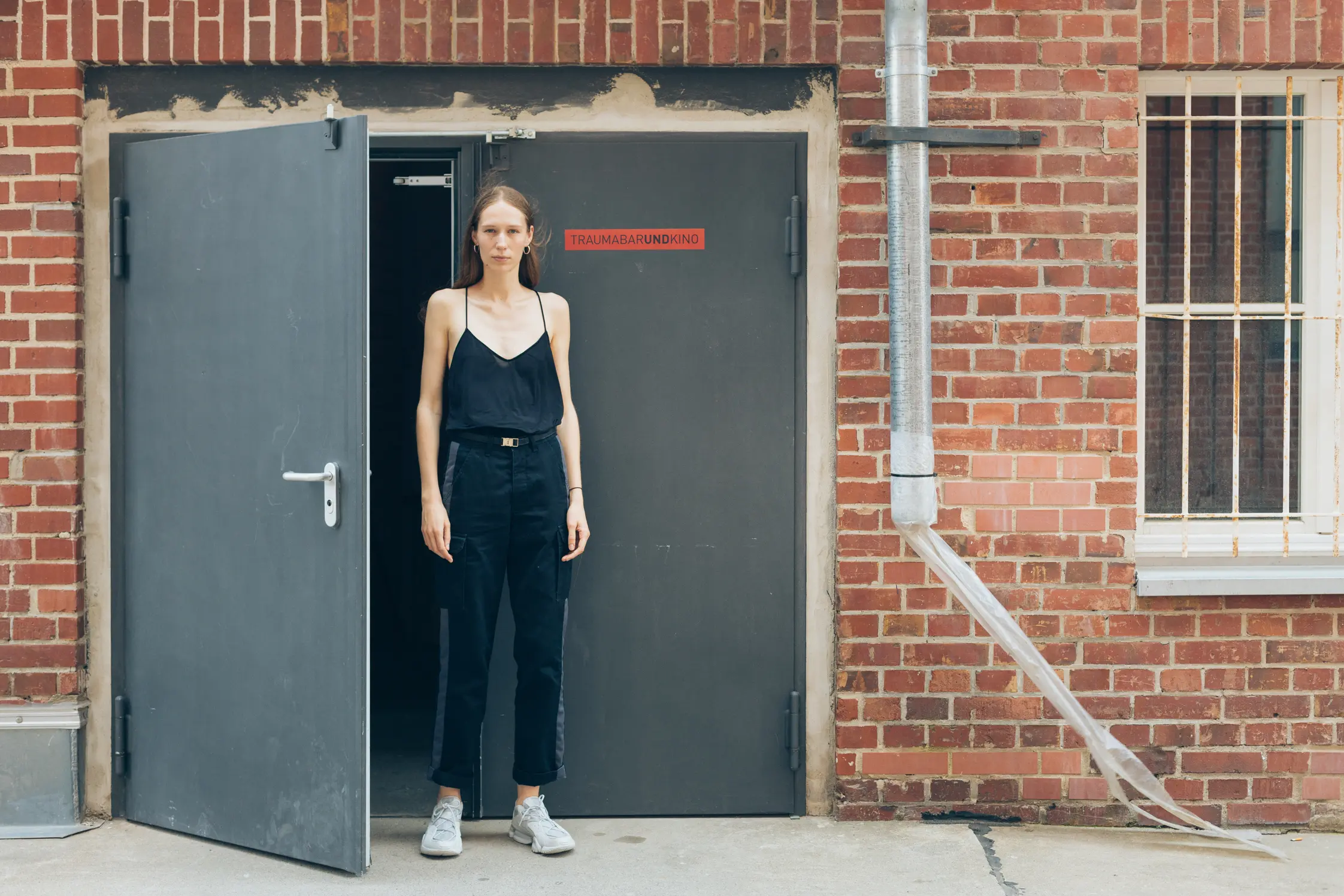 While the grimy and alternative nature of Berlin's techno scene may seem to have little to do with haute couture, Bombach argues that they are in fact natural bedfellows, and she marries the two together as part of the fashion and dance performances at Trauma Bar und Kino. "All scenes and mediums are so connected, and can exist in the same place at the same time," she explains. "At Trauma, art, dance, theatre, fashion and club culture all become one."
Bombach says that she has always been interested in synthesizing various art forms and cultural scenes, but it was working for the Swedish designer Minna Palmqvist—whom she interned for after studying fashion at HTW Berlin—that really demonstrated to her how she could put her interdisciplinary ambitions into practice. "She [Palmqvist] was working on combining her fashion designs with art installations and performances. During my internship, I traveled to Rotterdam with her to this exhibition called The Future of Fashion is Now, where loads of different labels from all over the world shared their designs in relation to different art forms. This was very inspiring for me," she explains. "As part of that, Palmqvist presented a fashion show, which I participated in as a performer," Bombach continues, explaining that while she enjoyed the experience, she soon realized that she prefers creative direction and building up conceptual approaches to being in the spotlight.
"In Berlin it is really important to present fashion in a different way, and to combine it with other aspects of the city's creative scene."
This is the role she has adopted for the inaugural two fashion performances at Trauma Bar. The first, 'Seen By You,' took place in November 2018, and saw four emerging Berlin-based designers produce individual collections reflecting their own interests, which were then brought to life by dance and loosely tied together using the Greek myth of Diana and Actaeon. The movement was conceived simultaneously to the development of the collections—meaning that neither art form took creative presidence—by dancer MJ Harper, who had previously choreographed runway shows for the British designer Grace Wales Bonner and collaborated with former Yves Saint Laurent head Stefano Pilati.
The second show to come out of Trauma Bar's fashion department, 'Catalogue of Disguise,' took this collaborative spirit one step further by presenting one collection made in harmony by a design team of three creatives. Made up of Bombach herself, Alexandru Plesco and Olga Khristolyubova—who is a veteran of Trauma Bar after having also shown a collection last year as part of 'Seen By You'—the team began brainstorming four months before the show date. "The overall idea was based on the gap between your real self and your digital presence, especially on social media," says Bombach, who explains that they explored this concept by developing three different characters who reflect contemporary identities they have observed in their lives; the social hermits, the business occultists, and the healthy ravers.
"All of the characters had an element of paradox in them, and are meant to be a reflection on the current situation in our society," says Bombach, who explains that the character of the healthy raver is an exploration of the contemporary obsession with healthy living. "It has infiltrated all corners of our lives, even going out and being a raver," she says, noting that heading to a club to lose control completely clashes with observing clean eating and following strict exercise regimes. "Similarly, the character of the business occultist combines the increased popularity of spirituality with the drive to make a profit," she continues, referring to the hundreds of Instagram accounts and apps where you can pay for horoscopes, tarot cards readings, and guided meditations. The final character, the social hermit, is the one that Bombach thinks is most relatable for a contemporary audience. "They are someone who privately stays at home and avoids face to face communication. But when they are active on social media, they don't need any privacy."
But how did Bombach and her team translate these ideas into tangible garments? She begins pulling out outfits off a clothing rail in the performance space that correspond to the different characters the creative team developed. From a dark, checked suit that is fitted and draped, looking like a combination of business attire and a monk's robes for the business occultists, to a multicolored sleeping bag-like jacket for the social hermits, there's a vast array of quirky pieces that have been made to measure for the dancers who wear them, rather than standard model sizes. "We used a lot of technical and shiny materials, so the collection has a very digital feeling. The color palette is mainly grey with a few pops of pink and green, and there's a lot of complex pattern making in there," says Bombach. "It feels very edited, which contrasts the human bodies that present the clothes, and are very physical," she continues.
The physical nature of the performance was overseen by Berlin-based choreographer Franka Marlene Foth, who was responsible for translating the design team's concepts into unique movement languages for each character. Her choreography sees the business occultists execute frequent circular hand gestures to denote crystal balls, the social hermits tumble lethargically across the stage floor, and the healthy ravers aggressively pop their chests to the pulsing beats of the original sound score by Mikk Madisson.
"By adding more artistic and performative layers to fashion it creates a greater connection to the audience."
While Bombach believes that "by adding more artistic and performative layers to fashion it creates a greater connection to the audience," she is doubtful that collaborative, interdisciplinary performances such as those she creates will become the new norm in mainstream fashion. "They're not made for the fast driven nature of today's industry," she says definitively, explaining the amount of time that goes into creating shows for Trauma Bar's fashion program would make it almost impossible to churn out similar projects for biannual fashion weeks. "People are not so aware of how much time things actually take. We expect everything immediately nowadays. We're so used to ordering something from somewhere and it arriving at our homes the next day," says Bombach, who thinks that the levels of overproduction that bigger brands employ to meet this high demand are also extremely detrimental to the environment. She references the British fashion brand Burberry which was exposed last year for burning unsold clothes, accessories, and perfume to prevent them from being stolen or sold cheaply. "This shouldn't be possible anymore."
In contrast, Trauma Bar does not yet sell any of the fashion designs created as part of their performances, and in future will only offer a limited number of designs to customers via an online shop as part of their collaborative projects. This is surprising considering fashion is an industry usually strongly associated with consumerism, but then again, that's because Trauma is a creative space that nurtures creative talent, rather than a commercial enterprise. "Trauma Bar works as a hub where different people from different disciplines can meet and create something together."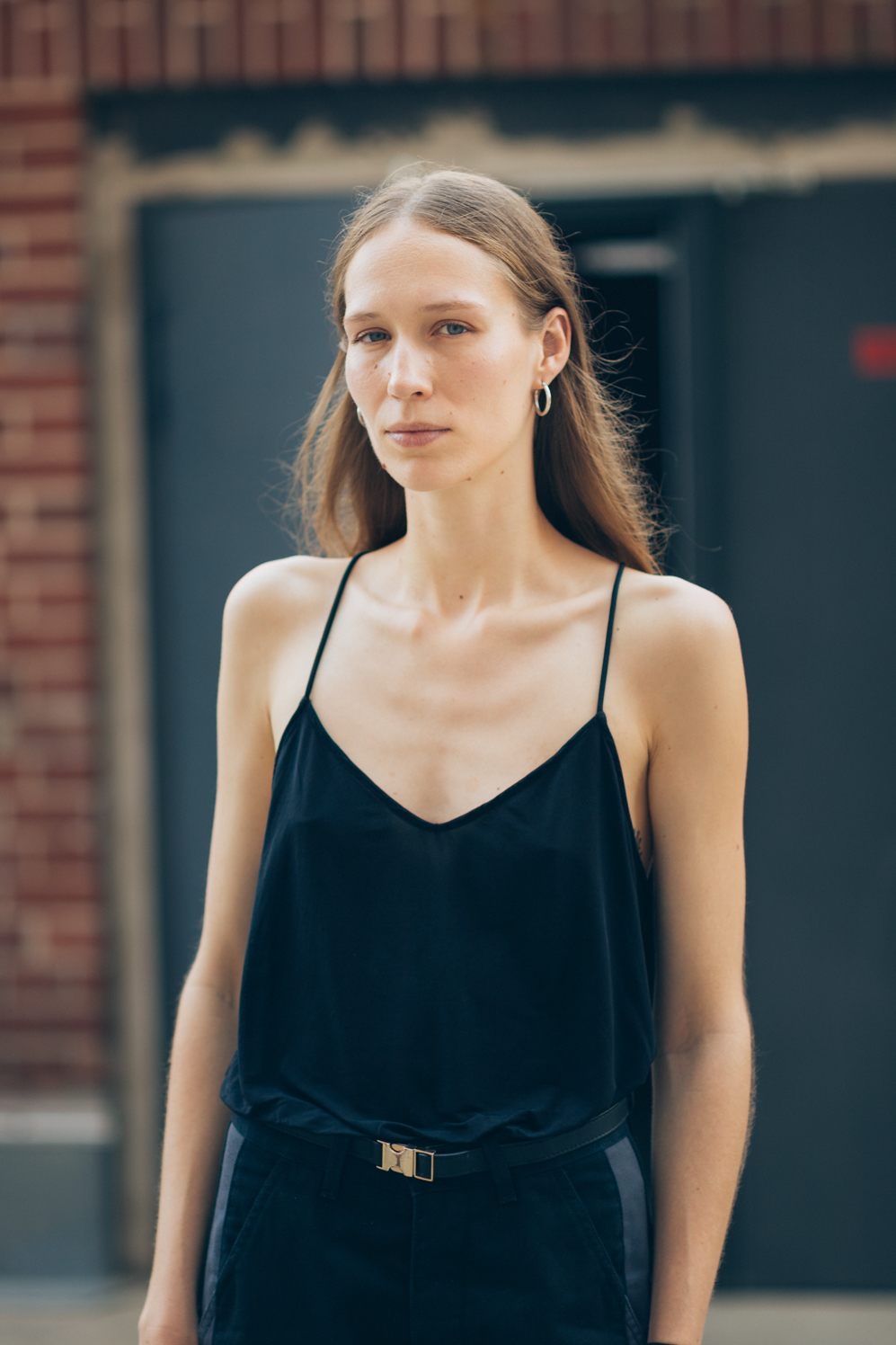 Tanja Bombach is the head of the fashion department at Trauma Bar und Kino, a fledgling hybrid arts space near Berlin Hauptbahnhof. The latest project created by the fashion department was Catalogue of Disguise, a dance fashion performance which took place on 29th June 2019. The choreographer of the show was Franka Marlene Foth, her assistant was Holly Dorman, and the dancers were Stephan Quinci, Peer Liening, Chester Hayes, Janan Laubscher, Nina Burkhardt, Phoenix Chase-Meares, Lena Kilchitskaya, Jos McKain, Camille Jackson, Christopher Bullen, Margot Libanga, and Yi-Wei Tien. To find out more about Trauma Bar's work and events, follow them on Instagram. Or if you'd like to read more about Berlin's fashion scene, check out this interview with Indonesian designer Don Aretino, who has presented work at Trauma Bar and explores his queer Islamic identity through fashion.
Text: Emily May
Photography: Jenny Peñas, Sven Gutjahr, Federico Reyes