Building on their longstanding partnership, renowned design studio EOOS and lighting manufacturer Zumtobel are developing sustainable solutions that redefine what it means to be a responsible company today. We spoke to Harald Gründl, co-founder of EOOS, about responsibility in design, times of crisis, and sustainable progress.
"We recently got a call from a manufacturer who wanted to produce a ten-year-old design mock-up of ours," says Harald Gründl with a smile. In his view, the work of his Viennese design studio EOOS isn't particularly futuristic – though it's evidently timeless enough to retain relevance one decade on. "I think that's pretty typical of our work," he muses.
It was back in 1995 that Harald Gründl, together with Gernot Bohmann and Martin Bergmann, founded EOOS. As students of the University of Applied Arts Vienna, the young designers launched their project amidst a blend of grand ambitions and quiet doubts, Gründl recalls. "We knew at the time, as naïve and cocky students, that we only wanted to work for the best companies," he says. At that point, it wasn't yet clear whether EOOS would survive its first year. As a newcomer to the Austrian market, the company experienced a rocky debut. "We didn't get any jobs from domestic clients at all," says Gründl, "so we just concentrated on the international market." Their strategy involved taking on specialised clients, which allowed them turn down less-fitting jobs while waiting for better opportunities to arise. "It's always been about understanding how a company works and combining that DNA with what we're good at. We focus on sustainable, long-term relationships," Gründl adds.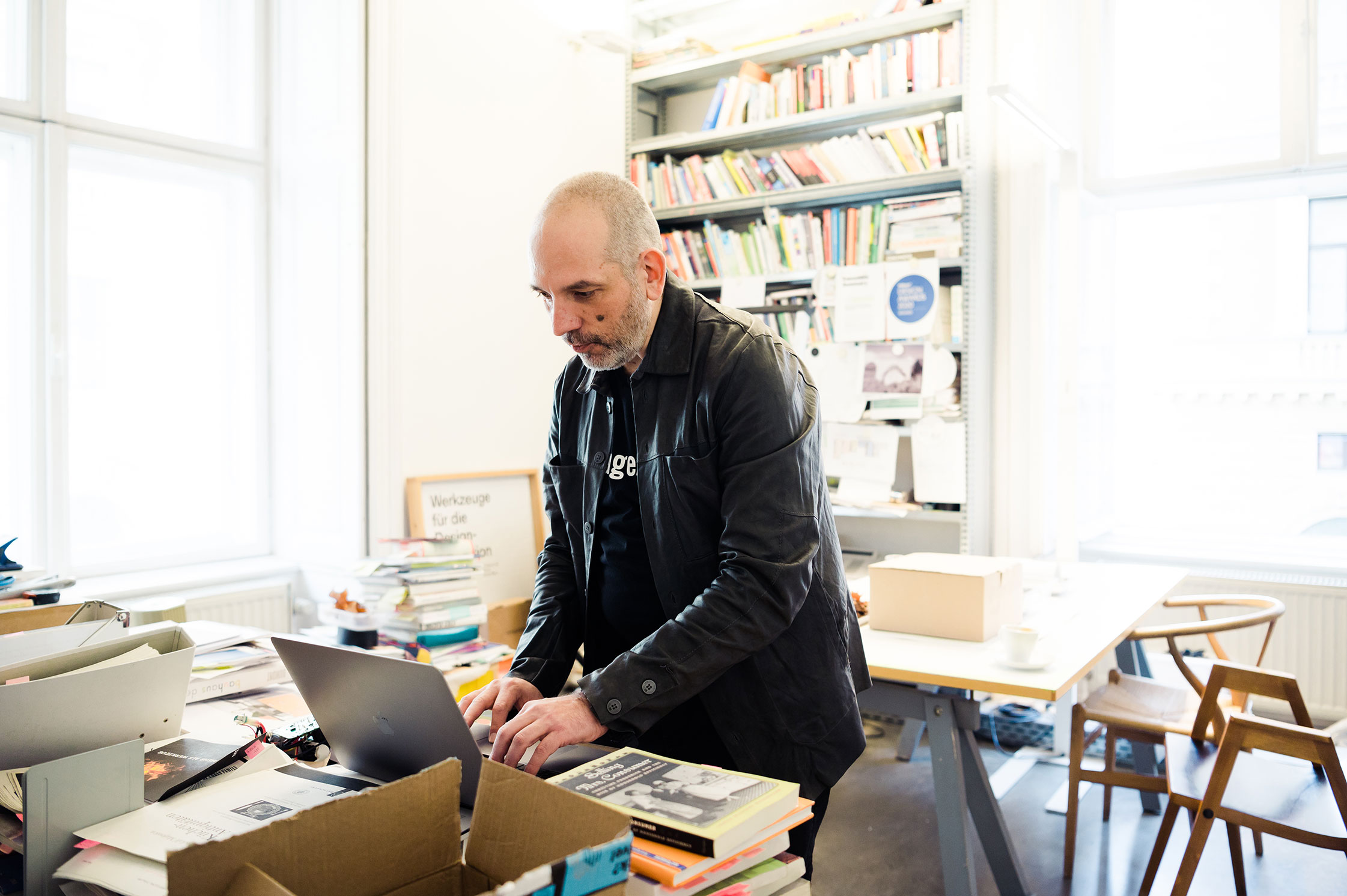 "It's always been about understanding how a company works, and combining that DNA with what we're good at."
It's a strategy that has stood them in good stead: throughout EOOS's 25-year-long history its client list has flourished along illustrious lines, comprising Herman Miller, Lamy, bulthaup, Keilhauer, Carl Hansen & Søn, Poltrona Frau, Walter Knoll, Zumtobel, and Adidas. The design team has won over 160 awards, including the prestigious Italian Compasso d'Oro. Together with Zumtobel, the studio also secured two accolades for their SUPERSYSTEM Integral Collection this year: the Red Dot Design Award and the iF DESIGN AWARD, hot on the heels of EOOS's 2019 Black Bee Award at the Triennale di Milano for their exhibition "Circular Flows: The Toilet Revolution!"
For Gründl in particular, sanitary facilities have been a central theme of the past few years. EOOS, for example, has been working with the Bill & Melinda Gates Foundation on their "Re-invent the Toilet Challenge". The brief: Developing a urine-separating toilet for developing countries. "We have a very specific role here, as we're part of a programme together with many fundamental scientific researchers. On the one hand, we establish a link with the people involved, and on the other, we also establish certain technological prerequisites for further processing," Gründl explains. The project's core innovation, the urine separation technique, is based on a simple principle of physics, and its aim is to improve the well-being and health levels in low- and middle-income nations. "We work with and for the people. We've been to Africa several times to help supervise field tests on-site and to ensure mutual understanding. We want to create a toilet that we'd also like to use at home. Designing for developing countries, that's not our approach." This holistic, multi-faceted approach does indeed extend to Europe: together with Swiss bathroom specialist Laufen, EOOS has launched "Save!", a sustainable toilet solution that revolutionises water disposal and purification systems for a cleaner environment.
EOOS's openness to prototypes and iterations, and its combination of aesthetics with overarching aspirations, functionality and the will to improve people's lives is not entirely new for the studio. Their preoccupation with contemporary social issues has, however, intensified over recent years. The economic crisis of 2007-08 in particular prompted introspection, causing Gründl to take a renewed look at his role as a designer and ask himself how he could use his skills to create positive change. It was from these questions that EOOS's work with the Bill & Melinda Gates Foundation emerged.
Over a decade on, we are once again living in crisis-ridden times: the Covid-19 pandemic hit the world in full force at the start of 2020, and no-one can yet foresee the full extent of the year's consequences. All the while, the climate crisis and widening social inequality continue to accelerate. In short, we're living in a highly volatile time. Is it, therefore, a designer's duty to put their skills at the service of the community? "I think everyone has a responsibility," says Gründl. "I get excited about design when it's transformative. When it helps us to have a less destructive way of life that is still not subject to renunciation paradigms, but that is simply more conscious and informed," he adds. "It's one of the most exciting times to be working as a designer: there's finally a reason for designers to come up with new things."
EOOS embodies both a harmonious balance and fruitful fields of tension: the designers talk about the poetics of design, with which they enjoy keeping up-to-date, while also working on tangible solutions for resolutely concrete challenges. With their start-up, EOOS NEXT, EOOS invests in the future, both society's collective future and that of their studio, and has cultivated long-standing partnerships since its early days. Zumtobel, for instance, has enjoyed a close and successful partnership with EOOS for nearly 15 years. Just recently, Gründl was tasked with fundamentally recreating Zumtobel's VIVO spotlight system. "For the spotlight platform, we consistently integrated circular economy principles into the design process," he explains. Prioritising sustainable solutions, quality, and trust are common to both companies. Having celebrated its 70th birthday last year, the Austrian market leader in lighting technology knows a thing or two about applying expertise while constantly evolving and setting new standards in an innovative and integrated way.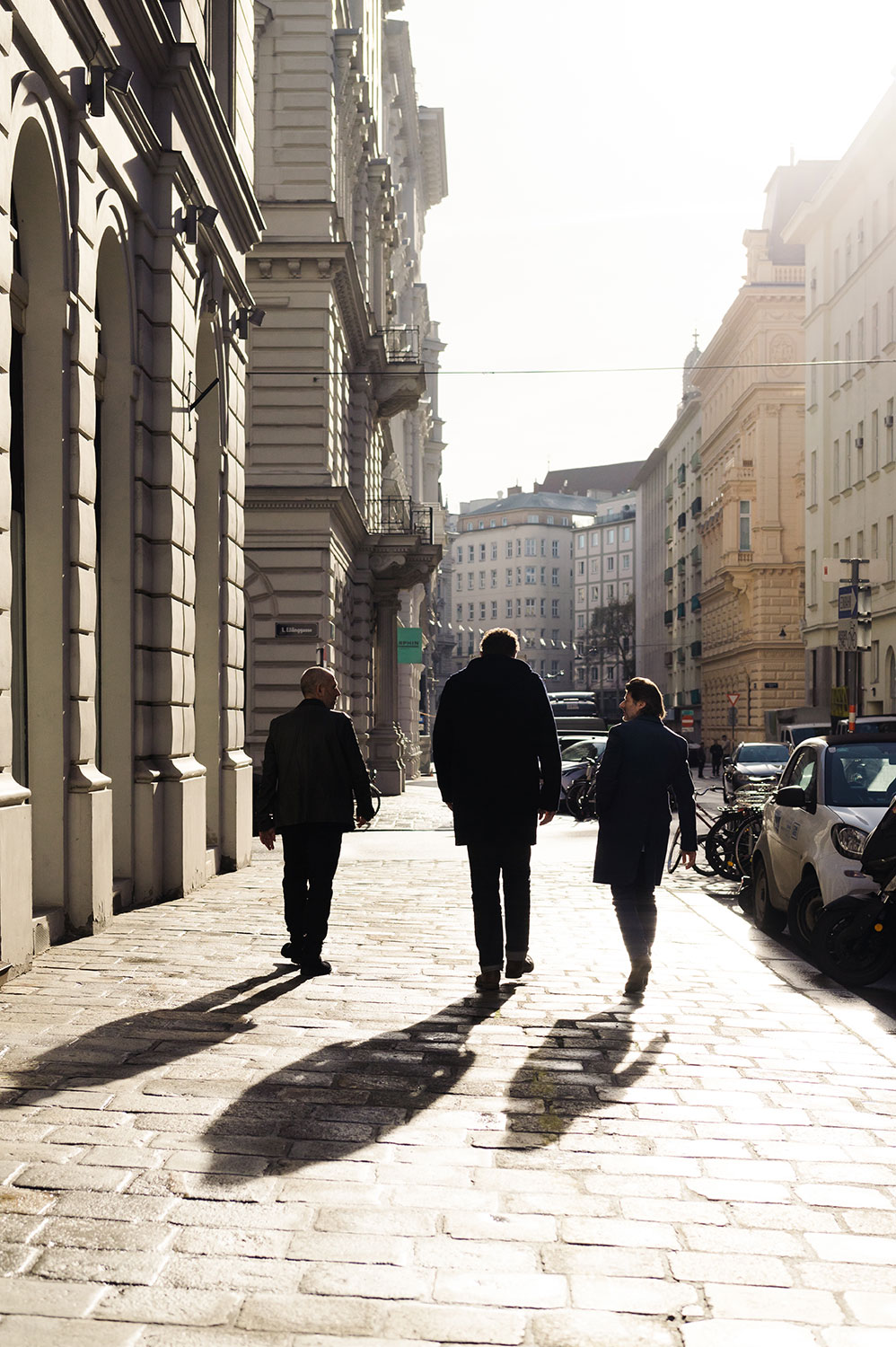 "We work with and for the people."
"I believe that it's currently an exciting time for the Zumtobel Group," says Gründl. Zumtobel has joined the Climate Action Alliance, and is accordingly one of the Austrian companies pioneering the pursuit of these climate goals in a very credible way." EOOS will play a very specific role in this pilot project of Zumtobel's, and will accompany its evolution. In this respect, Zumtobel is not only continuing its successful company legacy, but is demonstrating that only a holistic way of thinking and the interplay between an innovative spirit and conscious responsibility can pave the way to progress.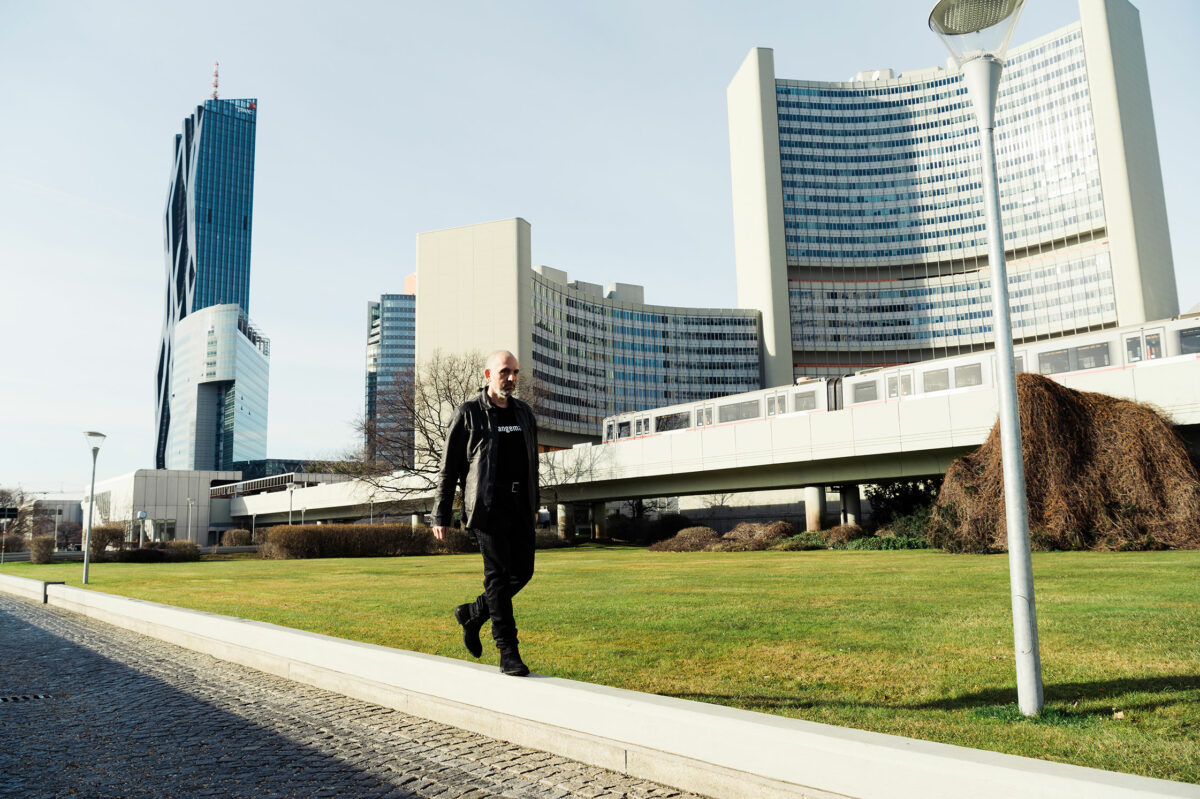 "It's one of the most exciting times to be working as a designer."
The mid-to-long term future for EOOS and Zumtobel looks bright. But what about the more immediate timeframe of this upcoming year? "We'll continue to expand on the solid partnerships that we've established," says Gründl. It's important to him that existing projects like the one with Zumtobel, and their joint efforts towards enhanced social responsibility, run as well as they can. He also hopes to be able to travel more in 2021. "For our toilet project with EOOS NEXT, I'm set to head to India and South America for field tests," he says, before adding with a smile, "and in between, I'll return to Dornbirn,"—the Austrian city which Zumtobel calls home.
Harald Gründl is a designer and a founding partner of EOOS. Zumtobel Austrian lighting design company Zumtobel—whom this article was produced in collaboration with—have enjoyed a partnership with EOOS for nearly 15 years. Prioritising sustainable solutions, quality, and trust are common to both companies. A long-standing Friends of Friends partner, Zumtobel also contributed to the furnishing concept of the Friends Space.
Text: Silvia Silko
Photography: David Payr