Tutia Schaad and Johanna Perret have lived in very different countries and find inspiration everywhere. A very special mix of materials characterizes the travel pouch that they've designed for the urban travel collection hosted by MINI Fashion on the occasion of Pitti Uomo 92.
"The planes fly directly over the building. When the sun goes down in the evening, it gets very romantic," says Johanna Perret, as she stands in front of one of the windows in her studio in the neighborhood of Wedding, Berlin. Between garment racks, fabrics and patterns, an assistant drapes a skirt around a tailor's doll, young women rush through the room and Johanna gives brief instructions. The studio is home to the Perret Schaad fashion label, founded in 2009 together with Tutia Schaad. To this day, the two friends run it together—and continue to have more and more success with it.
The Perret Schaad studio in Wedding, Berlin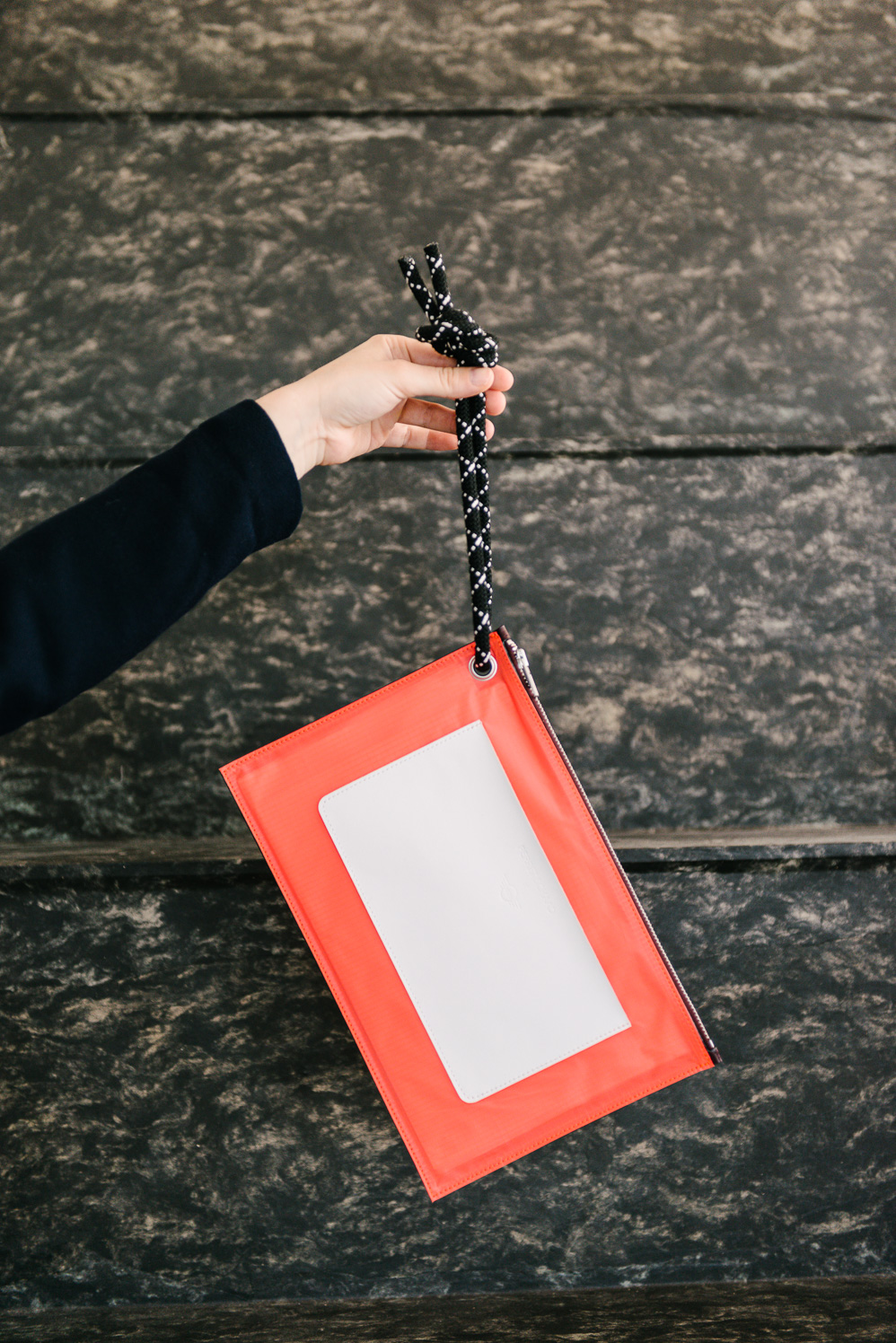 Tutia and Johanna got to know each other during their fashion studies at Berlin Weissensee School of Art. Both later moved to Paris for a short time to work for a large fashion house. Despite a certain degree of overlap, the life stories of the two designers couldn't be more different. While Tutia was born in Vietnam and later lived in France and the French-speaking part of Switzerland, Johanna grew up between Bavaria and France. Their entirely different backgrounds are no hinderance to the design duo at work or on a personal level. Quite the contrary: "For us, this is more of an enrichment than a problem. We enjoy learning from each other," Johanna explains. "You become very flexible and open when you grow up with different cultures. We benefit greatly from that," she adds.
"In the end, however, we can find inspiration in just about anything. In food, observations of everyday life or even in ugly things."
Perhaps precisely because of this openness, the design process at Perret Schaad is born of the discourse between Tutia and Johanna. Instead of strictly delegating tasks, there's a culture of dialogue and discussion. Even the creation of a new collection does not follow strictly defined procedures. Usually, it's the colors or materials that act as basis for the concept for a collection. Sometimes, however, they have rather exact ideas for a dress right from the start. And every now and then, Tutia and Johanna drape the fabric around a mannequin both intuitively and in tandem. As they do so, collections are created that the two designers prefer to describe as "natural elegance" as they are intended for active, self-confident customers. "We think a lot about the wearer and her wants and needs. We imagine her as a modern, contemporary woman, no matter what age she is. Our fashion is not meant to conceal personalities but rather to emphasize and highlight them," says Tutia. The collections of Perret Schaad are well-known for their bold but harmonious color combinations and their comfortable and elegant cuts, which don't restrict wearers during the day but also don't look like leisure garments.
In addition to internal dialogue, the urban environment with all its demands and allure is what inspires Johanna and Tutia above all else. Architecture plays an important role for Johanna and Mies van der Rohe in particular has attracted the half-French designer. Other sources of inspiration include the work of British artist David Hockney and the furniture of brothers Ronan and Erwan Bouroullec, who run a design studio together. "In the end, we can find inspiration in just about anything. In food, observations of everyday life or even in ugly things. There's certainly enough of that here in Berlin," says Tutia, quite conscious of the eccentric aesthetics of the capital city.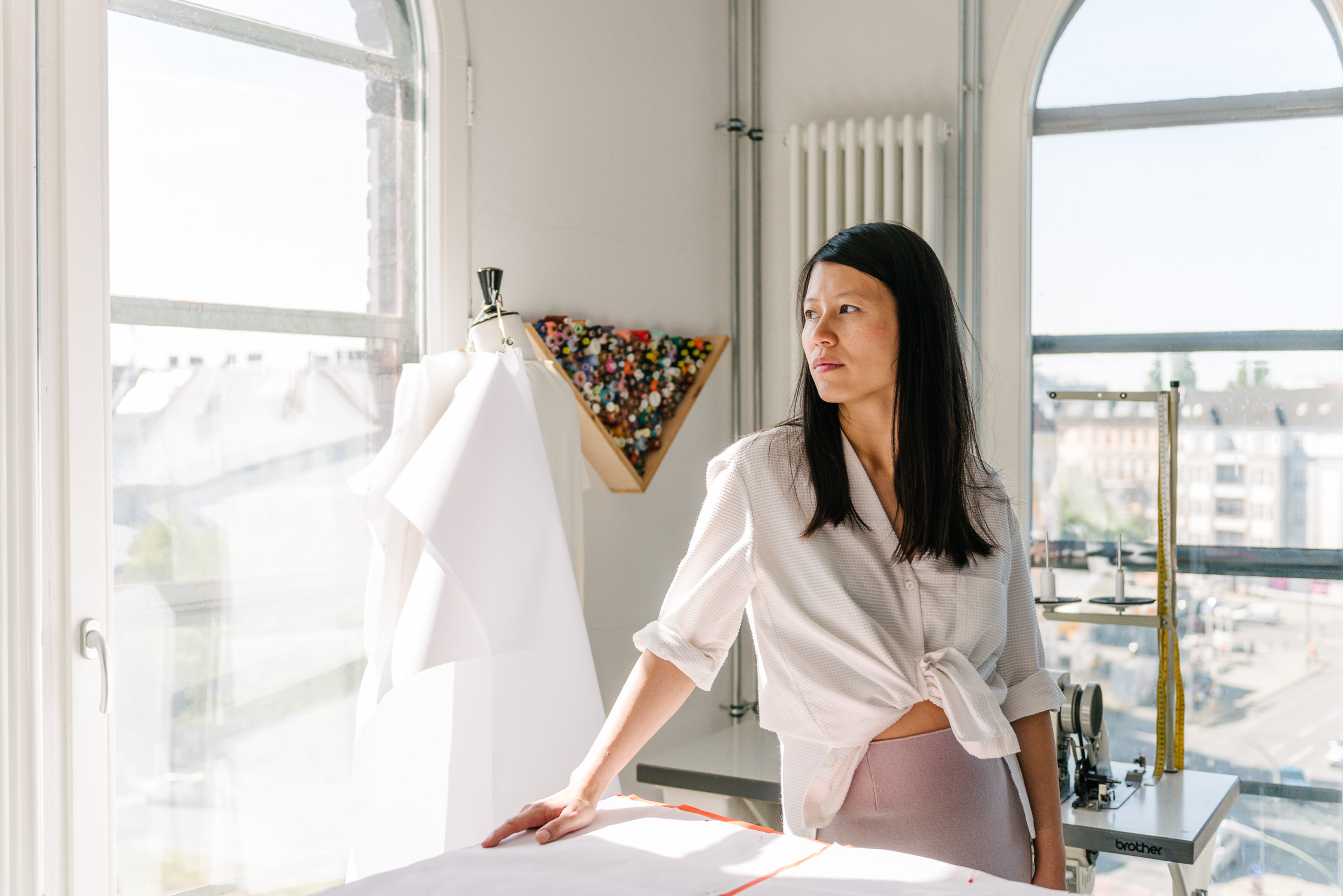 Perret Schaad's seasonal collections shown during Berlin Fashion Week
In addition to the two collections that Perret and Schaad are presenting during the Berlin fashion weeks, there are always separate projects. Johanna and Tutia have already worked together with the Münchner Kammerspielen twice and designed costumes for the pieces entitled "Hot Pepper, Air Conditioner and the Farewell Speech" and "No Theater". "You can work with that very creatively and don't have to wonder whether the parts are good for sale. Somehow, it gives you more freedom. It's about implementing your own ideas and at the same time, considering the needs of the actors and the director," Tutia explains about the interlude with the Munich-based institution, which proved not to be the last cooperation of the designers at the invitation of a partner. They've just designed a travel pouch to be part of The Beyond Native Capsule Collection by MINI Fashion. "The bag is inspired by the contrast between local accessories and Vietnamese materials and colors. One side is leather, the other is parachute silk," says Johanna. The parachute silk reminds her of the tarpaulins that protect fishermen and merchants from the sun in the markets of Vietnam.
During the production process for the pouch, a dialogue between Perret Schaad and MINI Fashion developed. Details were discussed, ideas and imaginings compared, colors and materials selected and rejected. In the end, we have an accessory that combines traditional and cultural aspects with the urban demands of modern times. In addition to the Berlin label, four other designers are involved in the "Beyond Native" project, all of which are contributing a product. "The nice thing is that each label has a different category. There's a shoe, a coat, a sweatshirt, a scarf and even our pouch, so that in the end a whole wardrobe comes together," says Johanna.
Location scouting with Johanna at the Bauhaus Archive
"Home is where you grow up but I couldn't commit myself to a single country or place."
The pouch, presented at Florence's Pitti Uomo fashion week this June, is a good example of how Tutia and Johanna let their origins flow into their designs. Concepts like home and wanderlust play a role too, of course. For Johanna, there's no one single place that she calls her home. "When I'm in France, it feels very much like home. The smell, the people, the landscape. But when I see the mountains in Bavaria, I have a similar feeling. Home is where you grow up but I couldn't commit myself to a single country or place." She has no desire to accept a single national identity: "Being European is exactly how I feel."
By constantly changing locations, Tutia has learned to appreciate typical local characteristics. "In Switzerland, being surrounded by mountains was taken for granted. You don't have that here. That makes the mountains mean more when you're there." Perhaps because they've never known it any other way, the two friends are driven by the desire to travel and the search for new situations and cultures. Johanna has now been to Vietnam several times, which is now reflected in the pouch for MINI Fashion.
More location scouting around Berlin with Perret Schaad
An abandoned parking garage may play host to the duo's next show
The designers are also always looking for new and unusual things when it comes to locations for their fashion shows. A few years ago, they showed their collections like so many other designers and labels in a tent built every year for Berlin's fashion week. They soon moved away from that and looked for other places that reflect the ideas behind each respective collection and that are integrated into the city. In recent years, the Neue Nationalgalerie or a DIY store have served as show venues for the label. "Particularly because there are more and more shows and events, we think it's nice to offer people a moment to be able to concentrate and which they won't immediately forget," says Johanna. Perret Schaad is supported by the architectural office called »Something Fantastic«, which the label has entrusted to do their graphics and website.
"It was always clear to us that Berlin doesn't want to be like the other big fashion cities."
The view from the windows of the studio of Perret Schaad up to the airplanes and down on a busy street of traffic is a good example of what Johanna and Tutia really mean when referring to urbanity and urban habitats as inspiration in the texts for their collections. But nevertheless, things never get kitschy-romantic for the entrepreneurs. There's simply no time for it as both have two children and a steadily growing label in constant need of need of managing.
Johanna and Tutia aren't looking to change the fact that their lives are settled in Berlin. Berlin is where they feel comfortable. "We've always liked it here and still do. And fashion in the city has definitely developed. There are more and more designers making many different types of fashion. The press reviews are very critical each season but we only share that to a certain extent. It was always clear to us that Berlin doesn't want to be like the other big fashion cities. Berlin is much younger and freer than Paris so we don't feel so frustrated." The great freedoms and the constant change of the city coupled with a great deal of diligence and passion are the reasons why labels like Perret Schaad are making their mark in Berlin – far from big donors, buzzing customers and an industry growing over decades. The successes of Johanna and Tutia appear all the more impressive in this light.
Taking a lunch break to eat some Vietnamese comfort food
Quà Phê in Mitte, one of their favorite spots in Berlin
Thank you Johanna and Tutia, for the insights into your work and your studio. If you're looking forward to the designers' upcoming collection, keep your eyes open during the next Berlin Fashion Week or follow the two onInstagram.
Perret Schaad is one of five international labels that MINI Fashion has collaborated with this year on the occasion of Pitti Uomo. The Beyond Native Collection is dedicated to all those who move back and forth between countries, cities and cultures, full of enthusiasm for the unknown and appreciation of the familiar. 
MINI Fashion has been an official partner of Pitti Immagine since 2015. 
Text: David Jenal
Photography: Daniel Müller