In-store shopping may have dipped in popularity but it's yet to be a relic of a bygone era. The once-doomed retail sector has undergone an adjustment phase to adapt to times of digitalization and the spread of major chains.
In the past, consumers would enter a shop, point to the items he or she wanted, and a person behind the counter would pull them from the shelves. A lot has changed since then. Businesses reoriented themselves to better meet the needs of their customers and another paradigm shift came with the advent of online shopping. Large retailers, such as Amazon, have since offered not only a comfortable shopping experience, but also the lowest prices and largest selection. You are no longer required to leave the house to meet your daily needs; nearly everything can be ordered online and delivered straight to your door. In our convenience culture, permanent retail establishments have had to get creative in order to survive in the midst of online shopping and the unchanging presence of chains. In response, some young brands are specializing in the high-quality production of one particular item. Such is the case with Swiss bag manufacturer QWSTION.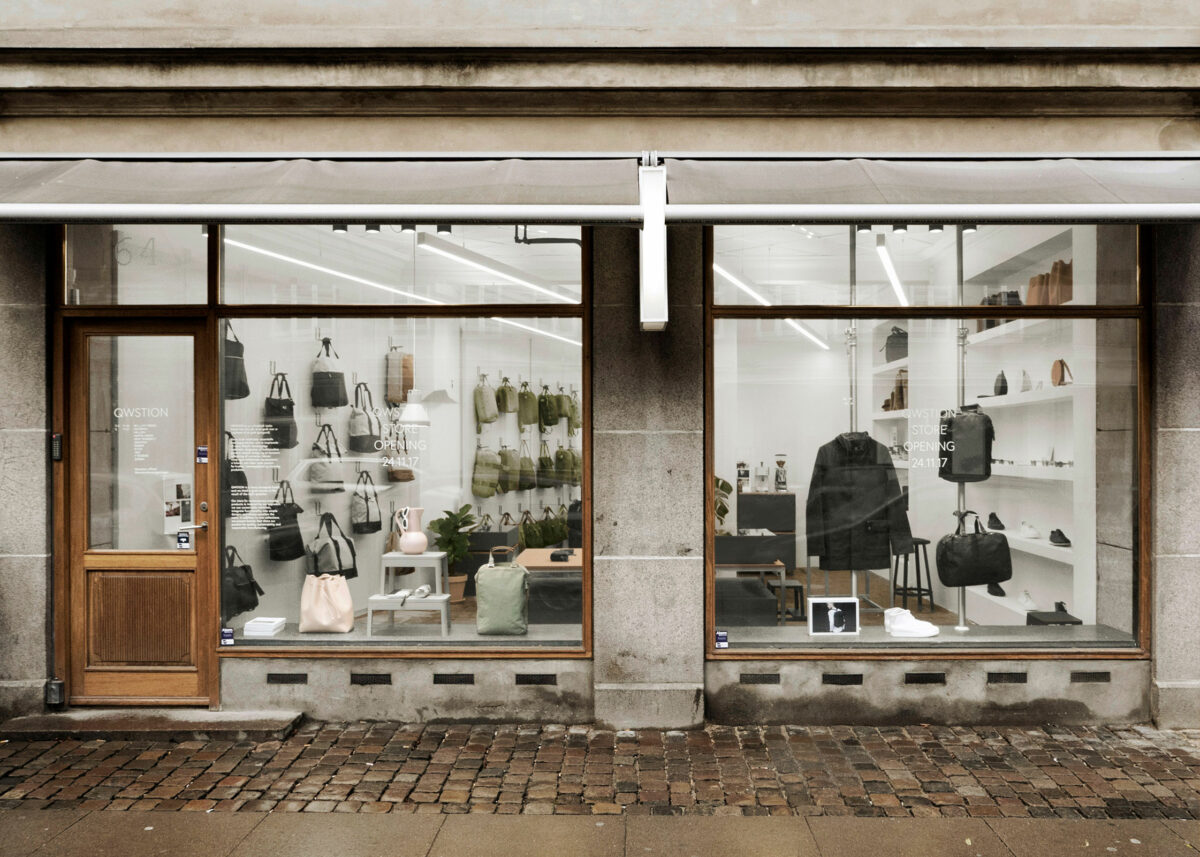 Today's shop owners are pursuing unconventional collaborations with creatives from other areas and transforming their stores into hybrid spaces that function as lively meeting places, design platforms, and retail venues. They take transparency seriously, and since they have top-of-the-line production standards, there is nothing to hide. In many cases, you can even watch the product being produced in-store. Both New York chocolate manufacturer Mast Brothers and Fiona Bennett's Berlin hat shop use this show and tell concept. Other stores stand out with their carefully curated selection of products, and others still combine these ideas into a unique business model.
"Everyday shopping will move more and more online since practicality and comfort are most important. But sensory shopping will stay."

Andreas Hladky, Industry Expert
We can thank the courage and passion of these small retailers for the return of stores that are both important and interesting. On the one hand, these retailers realize the traditional strengths of their businesses and engage in thought through contemporary practices, on the other, they recognize the longings of more conscious and critical consumers who are tired of consuming blindly. They understand that the in-store shopping experience is enjoyable in ways that online shopping cannot possibly offer; for example, the curious feeling you get when you stumble upon an intriguing window display and consider whether to enter or simply admire the unusual store front, or touching actual materials while browsing. Andreas Hladky is an industry expert and advises businesses on online marketing strategies. He agrees that these experiences cannot be replaced, "Everyday shopping will move more and more online since practicality and comfort are most important. But sensory shopping will remain."
One model in particular is acting as a counterweight to the success of online shopping: concept stores. Not only do they offer a curated range of products, but they also put the physical shopping experience front and center. It's not unusual to see special events such as lectures, concerts, and coffee tastings setting the tone in these stores. Of course, markets, bazaars, and shops have long served as meeting places for buyers and sellers as well as for consumers to meet one another and exchange. This is obviously not the case with virtual shopping and it's often missing from the stores of major chains. In their 2018 Retail Report, the German think-tank Zukunftsinstitut described the move to include these social aspects in commerce as a return to human retail. "In a digital world, aesthetic, emotional, and spiritual brands gain in importance. Retailers become brokers of human aspirations; retail spaces become creative living spaces that offer sensory and personal experiences."
A place to sit, read or have a coffee—QWSTION's stores in Zürich, Vienna and Copenhagen invite visitors to linger for a while.
For the owners of the Swiss bag label QWSTION, direct customer contact was an important factor from the beginning and one that played a major role in their vision of an appropriate store concept. "We really considered why someone would still need to go shopping and came to the conclusion that the overall experience is important," says Christian Kaegi, one of QWSTION's five founders. He was actively involved in every step of the concept design. The team sought to meet the needs of a generation of consumers who value experiences at least as much as material goods and who don't visit shops for the sole purpose of buying particular items, but also out of pure curiosity.
After launching QWSTION's web shop, the team experimented with temporary stores at various locations. After all, location determines whether you become well established or have to close immediately. Different crowds populate high-frequency shopping districts and quiet alleyways or areas with bookshops and galleries. This test phase resulted in the first fixed QWSTION store in Zurich. It is located in a courtyard, similar to Voo, the successful fashion concept store in Berlin. These stores aren't easy to find for passersby—a conscious decision on the part of the owners. "A lot happens by word of mouth for QWSTION. It takes more time to build up a site and for people to know that we're here, but it's proven itself successful in the end," says Christian Kaegi.
"We tell stories…You have to offer the customer more than they get online and give them a reason to come back to the store."

Maria Baer, Head of QWSTION-Store Zürich
The design studio and a repair workshop are also located in the central Zurich store, meaning visitors to the retail space get a peek at how the bags come to be. QWSTION now has additional locations in Vienna and Copenhagen. However, their business model differs from typical chains with multiple stores. Even their approach to opening new locations is different, "We look at the local area around each of our stores and find partner brands there."
From the beginning, QWSTION has built relationships with other brands that share similar values and has incorporated everyday products from different areas into the sales range alongside their own products. The team is passionate about contemporary design and creates space for this passion: There is a platform for young design in each of their three stores. This provides an opportunity for local studios to showcase their products in the store during three to six month residencies. "We're coming as an outside brand into a new city and offering our products, so we try to build a dialogue with the local creative community," explains Christian Kaegi. It's a collaboration that suits all sides.
The stores are also physically adapted to fit the overall concept. The configuration of the store and the display arrangements were designed and purpose built by Christian Kaegi and his partners. The flexible and minimalist look mirrors the products themselves. The resulting aesthetic is reminiscent of pieces of art on display in galleries—a world away from off-the-rack goods.
"We don't think consuming is bad. The question is, what are you consuming and how is it produced?"

Christian Kaegi, Co-Founder QWSTION
Consumers are slowly, but surely responding to the problems in the fashion industry. Millennials in particular are holding companies to higher ecological and ethical standards. The question of justified consumption is more important in today's retail sector than ever before and it is one that QWSTION is constantly contemplating. "You could put our approach under the umbrella term 'conscious consumption.' We don't think consuming is bad. The question is, what are you consuming and how is it produced?"
This new awareness isn't a problem for many brands. They are actively utilizing the demand for more transparency. Storytelling is the new buzzword in modern marketing strategy. The story of a product and its production is now part of the product itself and is thus communicated. "The majority of our customers are very interested in the origins of our products," says Maria Baer, head of the Zurich QWSTION store. This is also leading to a shift in role of the salesperson in the digital era. There is now a local network of regulars that meet for coffee on saturdays and frequently attend the store's events, which helps build trust and a familiar connection to the brand.
If a brand concept simultaneously uses all available channels and stretches its own business into digital spaces, online shopping isn't really competition for shop owners. A supplementary webshop enables a brand to communicate with a wider audience and draw attention to itself. The online platform may be the first contact point and can also serve to complete a transaction that began in store. The internet presence of the brand, both the individual website and social media channels, is tied to the overall perception of the store. They both influence and depend on one another.
According to industry experts, the distinction between the two categories won't make any sense going forward. People will always shop both online and offline. The connection between the two worlds is where exciting things are happening—the space where a unique online world is translated into a real shop and vice versa.