What is the role of a city's creative scene during a time of compounded crisis—economic instability, political upheaval, an unforeseen catastrophe, a global pandemic? How can creatives help cities imagine new futures and possibilities? How can the next generation of artists be nurtured as well as incentivised to stay and build a future for themselves? We reached out to five creatives based in Beirut—representing different advocacy spaces in the realms of design, fashion, photography, and publishing—to learn more about how Beirut's creative community is imagining a new future for the country, and what can be done to support them.
As a creative capital and cultural hub for the SWANA region and the world, Beirut is home to visionary artists revolutionizing the fields of design, fashion, architecture, and art globally. In the wake of the August 4th, 2020 port explosions, caused by more than 2,000 tons of ammonium nitrate recklessly stored in a warehouse, Beirut's already-strained creative communities and businesses were driven to crisis. Many of the neighborhoods heavily damaged by the blast were also the city's creative districts, resulting in the loss of spaces, studios, and artworks that would have to be privately restored. The blast also came at a time when the country was dealing with not only the fallouts of the global Covid-19 pandemic, but political instability and a collapsing economy that has worsened since the 17 October revolution in 2019.
Against this backdrop, many have left Lebanon, increasing fears of a brain and creative drain that threaten the prospects of a prosperous future for the country. We sought to understand how Beirut's creative scene—especially those who have decided to stay or are actively engaging local, emerging, or underprivileged artists—is helping imagine and rebuild a new future for the country's capital. The piece features insights from five creatives about the regenerative tools that their practice or field can provide for rebuilding the country, as well as ways for local and international communities to support the creative scene in Beirut. The responses have been edited for concision.
Designers Maya Moumne & Hatem Imam (Studio Safar)
Maya Moumne and Hatem Imam (portrayed in our opening image by Myriam Boulos) are the co-founders of Studio Safar, a graphic design and art direction agency that focuses on traversing cultural and linguistic boundaries. They work at the intersection of various creative fields such as film, literature, photography, music, illustration, and fashion. Studio Safar publishes the bi-annual magazine Journal Safar, which explores topics about graphic design, visual culture, and politics. Written in English (front-to-back) and Arabic (back-to-front), Journal Safar is a physical representation of the kind of cultural and intellectual investigation the Studio undertakes.
"Over the past few years, the creative community in Lebanon and amongst the diaspora has become more collaborative and supportive of each other's work. More platforms are offering their spaces to emerging talent and creatives from underrepresented communities, and collaborations are being forged more easily. People want to experiment and play, and they want to do so collectively. The different calamities over the years have brought people together, pushing us to be louder, stronger, and more united in our endeavors.
In the country, design is moving away from being perceived as an indulgence, a superfluous service, or even a problem-solving discipline, to a field that is finding its place in politics and culture. Imagining the future is all about design. Planning, prototyping, sketching, assembling, testing—all of these help project what is to come or what could be. Designers and publishers master the tools of communication, and they know how to get the message across to the right audience.
The impact that we hope to make at Studio Safar is the same that we have been striving for since the start: To serve the cultural sector and its orbit, and to engage in social and political discourse as designers. In terms of the global industry, hiring young creatives from Lebanon is one of the best ways to help. The economic crisis has affected people disproportionately, where only a small percentage of the population are paid in foreign currency while the rest scramble to make a living with the Lebanese lira, which has lost up to 80% of its value."
This and the following page spreads are excerpts of Safar's bi-annual magazine, which explores topics about graphic design, visual culture, and politics.
Photographer Mohamad Abdouni
Photographer, filmmaker, and visual artist Mohamad Abdouni "focuses on documenting queer and trans* histories that have been eradicated within Arab communities; a history so rich that we could spend lifetimes retrieving, and we would still only be scratching the surface." He is the founder, editor-in-chief, and creative director of Cold Cuts magazine, a periodical photo journal that focuses on queer culture in SWANA. Mohamad is also behind the project Treat Me Like Your Mother, which seeks to become a growing archive for trans* histories in Arab speaking countries.
"Although Beirut's creative community is often more divided than not, it has been refreshing to see people come together in response to the major disasters facing the country over the past few years. More artists and institutions, for instance, are working together to raise funds for those in need. This proves that our communities can collaborate, which we should continue to explore and not only as a response to dire circumstances.
Photography, film, publishing, and the arts and cultural sectors in general have always been a vital tool for communicating and educating the public on the downfalls of the contemporary political and social climate. At times, these fields can offer us solutions that produce tangible results.
To enable the creative community in Lebanon to thrive, we need to provide artists with the means to create in an environment where the existing status quo works to their disadvantage. This includes allocating adequate funds for creatives and lessening the reporting that comes with receiving funds and grants, so as to allow artists more time for their practice."
"Photography, film, publishing, & the arts and cultural sectors in general have always been a vital tool for communicating & educating the public on the downfalls of the contemporary political & social climate. At times, these fields can offer solutions that can produce tangible results." – Mohamad Abdouni
Excerpts of 'Treat Me Like Your Mother', a printed collection and growing archive for trans* histories in Arab-speaking countries.
Fashion Designer Eric Mathieu Ritter (EMERGENCY ROOM and OVERWORKED*)
Eric Mathieu Ritter is the founder of the fashion brand EMERGENCY ROOM (est. 2018) and subsequent fashion line OVERWORKED* (est. 2021). His brand focuses on unique up-cycled pieces. OVERWORKED* was launched to make thrifted, up-cycled pieces more affordable to the public.
"One of the biggest decisions the situation in Lebanon has forced creatives to make is choosing between relocating or staying in the country. Those of us who have stayed are connected by the challenges we are facing, and it has been inspiring to witness a whole generation of people helping each other, sharing whatever advice or support they may have. It has also been great to realize that we have friends and supporters from all over the world who are ready to join forces and help from abroad.
The current constraints have forced us to develop new models and techniques, which could inform other industries facing similar issues. The people of Beirut, through the challenges they are facing and the solutions that are emerging, can also inform the fashion and other industries to become more sustainable, ethical, and environmentally friendly. I hope that the people of Beirut notice the work that is being put in, and that even with all of the challenges facing us, our values continue to drive us forward and believe in our projects. I want people to know that anything can happen if one is willing to be devoted.
In terms of supporting Lebanese artists and the community living here—put your money where your mouth is. I think we are all becoming more aware of our purchasing power, and how taking actions, such as boycotting businesses, can lead to change. By being more conscious of where and who our money is going to, we can be actors and supporters of change."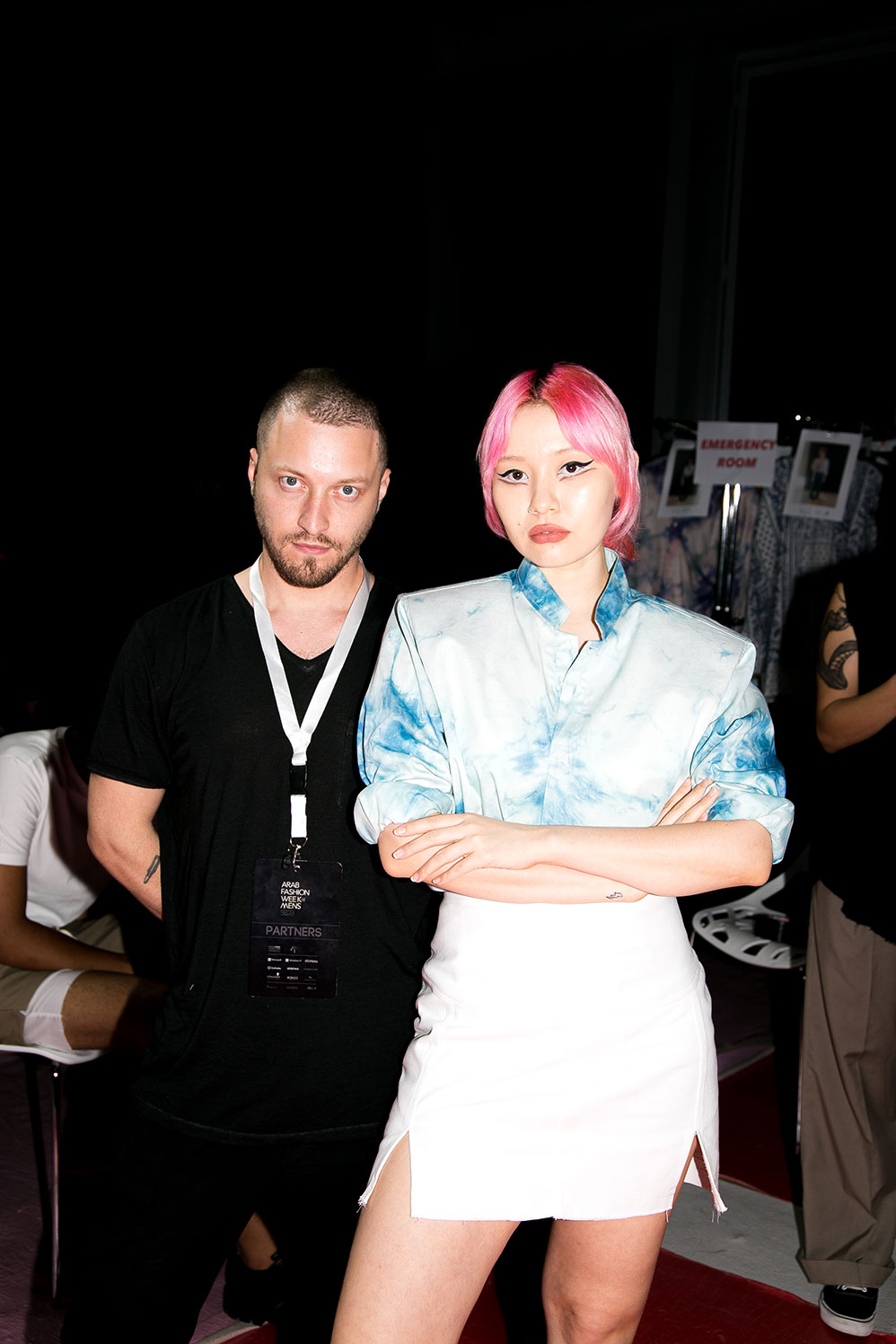 Artist-Activist Dayna Ash (Haven for Artists)
Dayna Ash is the founder and director of Haven for Artists, an NGO and community space working at the intersection of arts and activism. Through advocacy campaigns, cultural events, art exhibitions, roundtables, and workshops, they seek to contribute to the nurturing of Beirut's creative scenes by providing safe(r) (physical) spaces and adapting to the ever-changing needs of local communities.
"Solidarity has been the creative community's predominant approach for addressing the different issues facing the country. The community has created new bonds and enabled wider networks which also extend outside of Lebanon, given that many have left in the last two years. Those that have remained have created bridges, built collectives, and established networks for collaboration. Competition has somewhat dispersed from our collective understanding of how art should be made and advanced forward, increasing access for creatives that have been previously excluded from opportunities.
African-American civil rights activist Toni Cade Bambara wrote that 'the role of the artist is to make the revolution irresistible.' Artists have the innate ability to reimagine alternative worlds and establish new approaches to collective issues. With the traumatic and compounded crisis that Lebanon has faced in the last three years, creativity has been an outlet and safe space for new possibilities and realities to flourish.
At Haven for Artists, we hope that we can support and incubate collectives, artists, and activists in their fight for a more just world by offering resources, workshops, community-led events, and a safe space to support movement building and collaborations. On a larger scale, we need to ensure that artists are entrusted and afforded the right to design their work based on their experience and knowledge, and not on the expectations of external donors and funders. We need to continue uplifting local artists through financial and in-kind support so that they can sustain themselves and their work, especially given that the crisis in Lebanon has exacerbated mental and physical health problems, with the creative and cultural sectors taking a heavy hit."
This piece is part of our New Futures series, where we explore how creativity is used to imagine alternative futures and build new realities. We sought to understand how the creative scene in Beirut, faced with compounded impacts of the pandemic, political upheaval, economic instability, and the tragedy of the August 4th port explosion, is helping imagine a new future for Lebanon's capital.
We thank all of the creatives who have contributed their invaluable insights for this piece: Maya Moumne and Hatem Imam of graphic design and art direction agency Studio Safar; photographer, filmmaker, and visual artist Mohamad Abdouni; artist-activist Dayna Ash of Haven for Artists; and fashion designer Eric Mathieu Ritter of EMERGENCY ROOM.
Text and Interview: Anastasiya Varenytsya
Images courtesy of Myriam Boulos, Cezar Abou Dehin, and Arab Fashion Week