For Noel Hennessy and Thomas Renaud, producing one-of-a-kind handmade pieces from their LA studio produces volcanic results.
It's supposed to rain—pour, actually—the day Noel Hennessy and Thomas Renaud give us a tour of their Northeast Los Angeles ceramics studio, LGS, where they meticulously shape and refine their studded, intricately carved clay vessels. But the sun is breaking through when we meet them in Frogtown, a strip of Craftsman bungalows and sprawling warehouses that lines a surprisingly lush tract of the Los Angeles River.
The LA River cuts south through the city's east side, running from the base of the Santa Susana Mountains, through Downtown LA, and clear to its mouth at the oceanside town of Long Beach. In 1938, the river was paved to quell flooding. But since then, its waters have pushed through the concrete, creating islands of dense growth and pools filled with sundry fish, bullfrogs, and cormorants. Hennessy points to a blue heron as it glides over a factory towards an especially overgrown tract of the basin. "You'll see some of the work that we're doing is inspired by nature," he says, watching the bird dive for breakfast in this unlikely location. "But it's industrial and brutal, too. We like that balance." Renaud adds, "and how the two play off of one another. The LA River is an example of that—a man-made element being reclaimed by nature. You'll see some of that in the work we do."
This interview was produced in collaboration with Monkey 47, the Black Forest gin distillery founded by Alexander Stein and made possible by our mutual friends, Lindsay and Raan Parton at Alchemy Works. The handcrafted Schwarzwald Dry Gin company has a shared philosophy with LGS Studio to produce products of exceptional quality, rooted in nature with historical fidelity.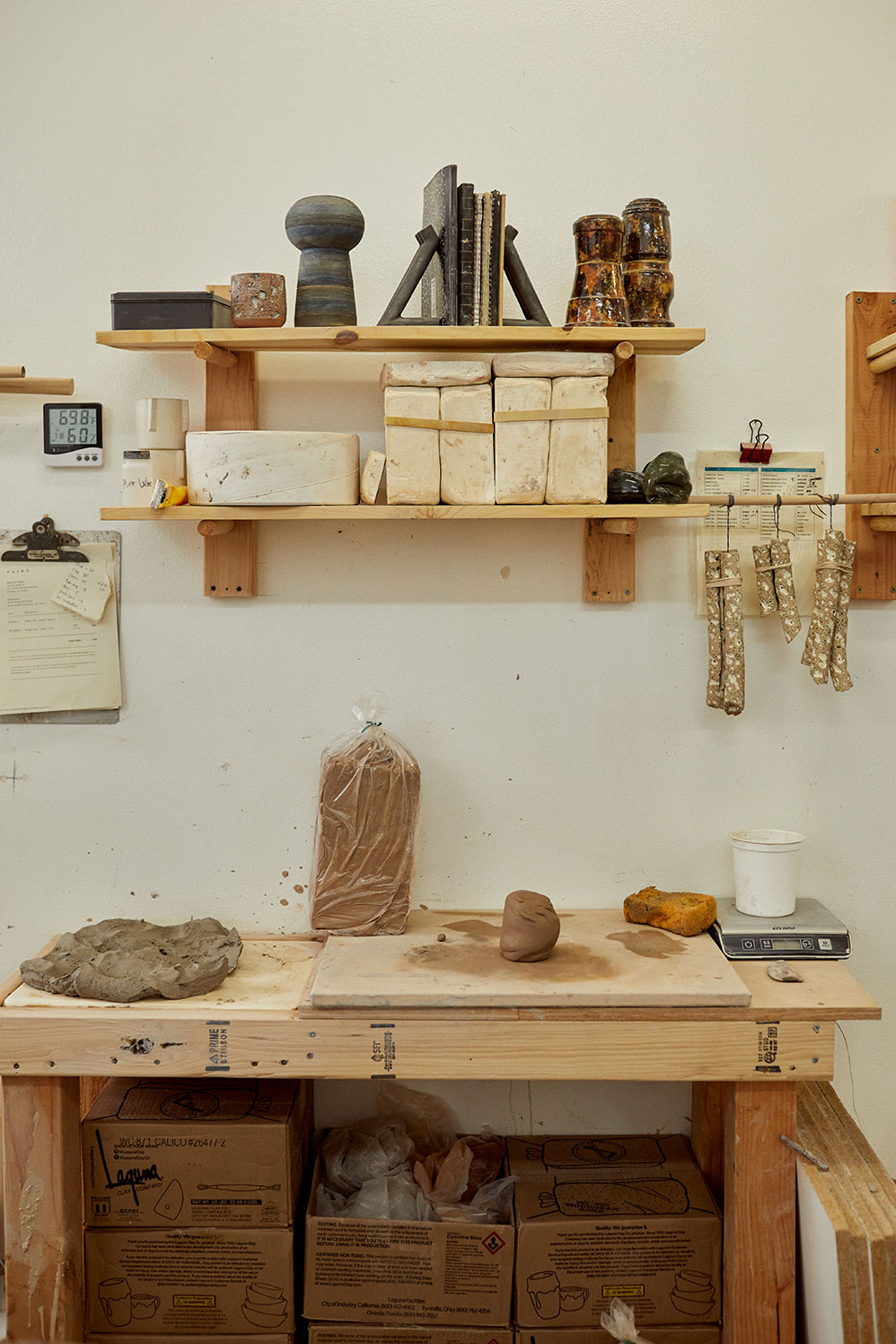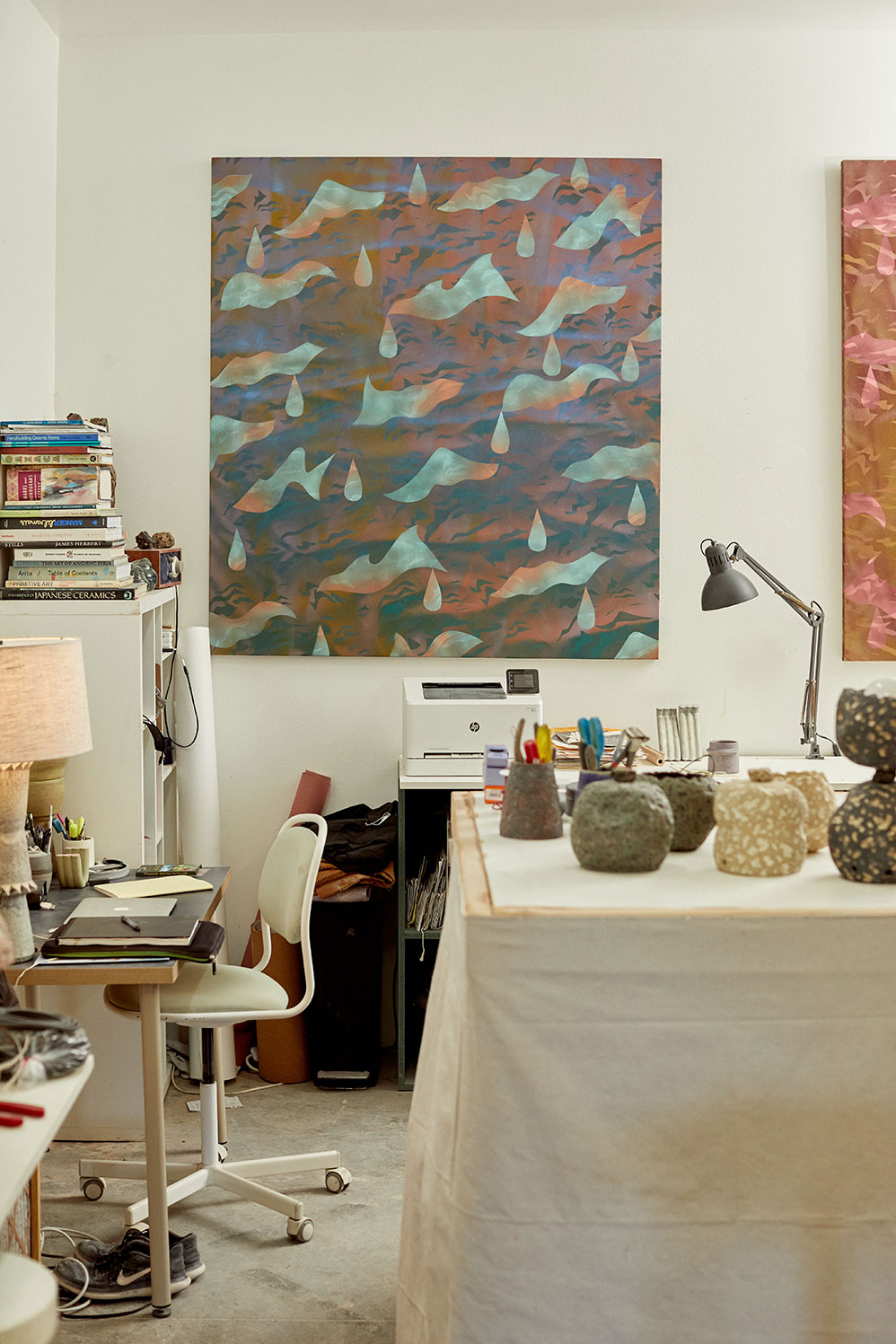 "We're not just here to fill the planet with more things that people don't need. We want to intentionally leave behind work that has a place."
Just a week prior to the lockdown instituted by the city in response to COVID-19, we're sitting at La Colombe, a luminous coffee shop nestled along a bike path that skirts the river's west bank. Hennessy and Renaud's studio is just across the channel in Glassell Park, a five-minute drive away. Sometimes, they even walk to work—a rare habit in this sprawling, car-centric city. Over the course of these strolls, they've become intimately familiar with LA's tropical brutalist landscape, where birds of paradise and bougainvillea wrap around rusty signs and abandoned buildings—all fodder for their alluring clay forms.
Hennessy and Renaud have been back in Los Angeles for a little over a year. Prior to this, they lived and worked in Portland, Oregon, where they established their design practice. It began as a side gig out of their shared home's garage, a space that would inspire the name LGS, or Little Garage Shop. At the time, Hennessy and Renaud were still working in art direction and marketing respectively, but they spent the majority of their free hours honing their ceramics skills: a mix of long hours throwing clay bodies on the wheel and adding to the resulting forms with ever-evolving hand-building techniques, from applying provocative bulges and accretions to carving elaborate, unique grooves into soft surfaces.
Hennessy had studied painting and sculpture at Boston's School of The Museum of Fine Arts, and Renaud had taken a ceramics class in college, but it wasn't until moving to Oregon that their art practice began to take precedence over their corporate careers. The duo's Portland bungalow, painted forest green and surrounded by willows, offered enough room for a studio complete with a small kiln and wheel, while their garage became a shape-shifting gallery and a space to gather friends and neighbors. "We sold out of the garage and had little parties. It was a good way to gauge reactions to the work," explains Hennessy. "We really relied on Portland's tight-knit community for feedback."
LGS's first collections emerged here, and set the tone for both their process and aesthetic. For an early collection of tableware called Ridge (which they continue to make and refine), Renaud threw vessels with thick walls and smooth curves, then handed them to Hennessy, who added hand-molded accretions: triangular ridges that hug contours and double as subtle handles. The palette they chose—a mix of soft crimsons, velvety lavenders, and speckled grays—recalls raw gemstones, bedrock polished by centuries of rain, and brutalist interiors like those of Lina Bo Bardi's 1982 SESC Pompeia in Sao Paulo.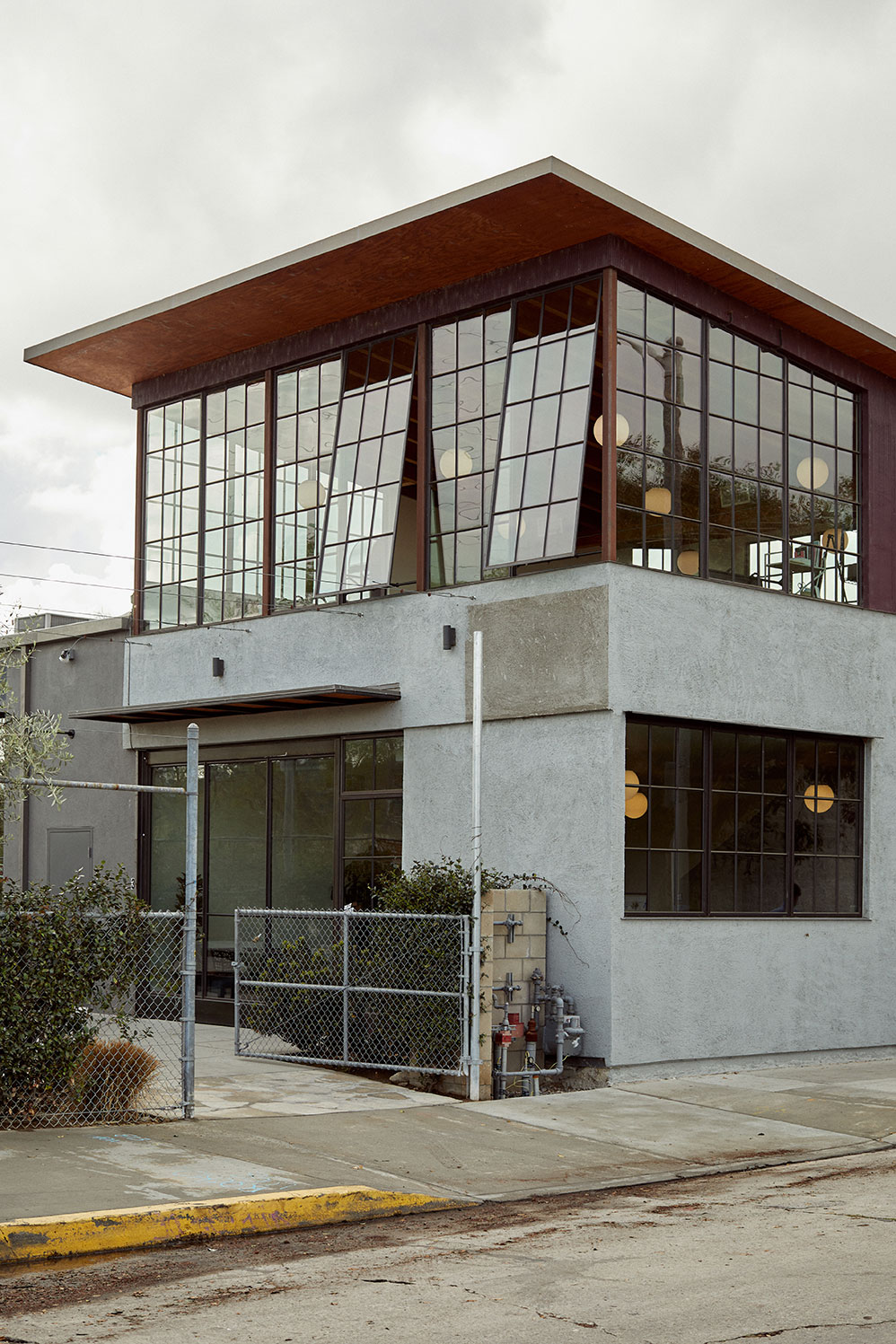 The Ridge collection blended references to nature, the built environment, and the passage of time—themes that stuck with Renaud and Hennessy and only amplified after relocating to LA. "We talk a lot about what we create and what we leave behind," explains Hennessy, finishing his coffee. "We're not just here to fill the planet with more things that people don't need. We want to intentionally leave behind work that has a place and hopefully transcends time—still holds up in the future, 100 years from now."
After La Colombe, the pair leads us to the Glassell Park studio they've occupied for about a year. A metal gate rolls back onto a parking lot shaded by gnarled citrus trees and we head towards the former warehouse. A canary-yellow door marks LGS's ground-floor space, where kilns and a wheel sit adjacent to glaze-flecked work tables filled with unfinished forms, pots of pigment, hefty blocks of clay, and sketches of burgeoning ideas. Next to one desk, a stack of reference books bears titles like The Art of Ancient Syria, The Heritage of Japanese Ceramics, and Oaxaca.
Renaud and Hennessy's inspirations are wide-ranging, from ancient vessels and geological formations, to '70s architecture and imagined civilizations of the future. "We've pulled from a lot of different sources over the years. Inspiration changes," says Hennessy, as he glazes a large piece from the studio's most recent body of work, Tephra. At the wheel, Renaud chimes in: "As we work on pieces or series, they often evolve."
The duo works in tandem, obsessively brainstorming and refining new directions in their practice. "We ideate together on overall direction and inspiration," continues Renaud. "We both sketch pieces we'd like to see in the collection and then go through and make adjustments or edits to the designs. Once we have designs done, we determine how they should be built."
While Renaud takes the lead on all wheel-thrown work, they "hand build and finish things together," he says. "[Each piece] usually goes through a few rounds of back and forth. Noel will express to me what he sees in the work, and how he thinks it could evolve. Nine times out of 10, working through those ideas with him, we usually come to a place where a piece comes out of the kiln and we set it down on the table, he continues. "When we look at something and we don't see areas we can improve upon, that's when it feels most finished to us."
Even after an individual work is given the stamp of approval, the duo ideates on possible improvements for future work. "Often, once we start using a piece—whether that's a lighting fixture or a vessel—we realize, 'Oh, maybe we can tweak this a little bit, or make that a little better, more efficient, easier to use, or more aesthetically pleasing," Hennessy explains.
Renaud points to the Studded Collection, which they see as a punk extension of Ridge. Arrangements of small, hand-molded pyramids stud the surfaces of vessels and light fixtures of varying sizes. Depending on the pattern, they loosely resemble sea urchins, S&M gear, medieval weaponry, or ritualistic Mayan urns. The line has become synonymous with LGS's brand, fusing aesthetics of rebellion with a nod to nature and the long, rich history of art.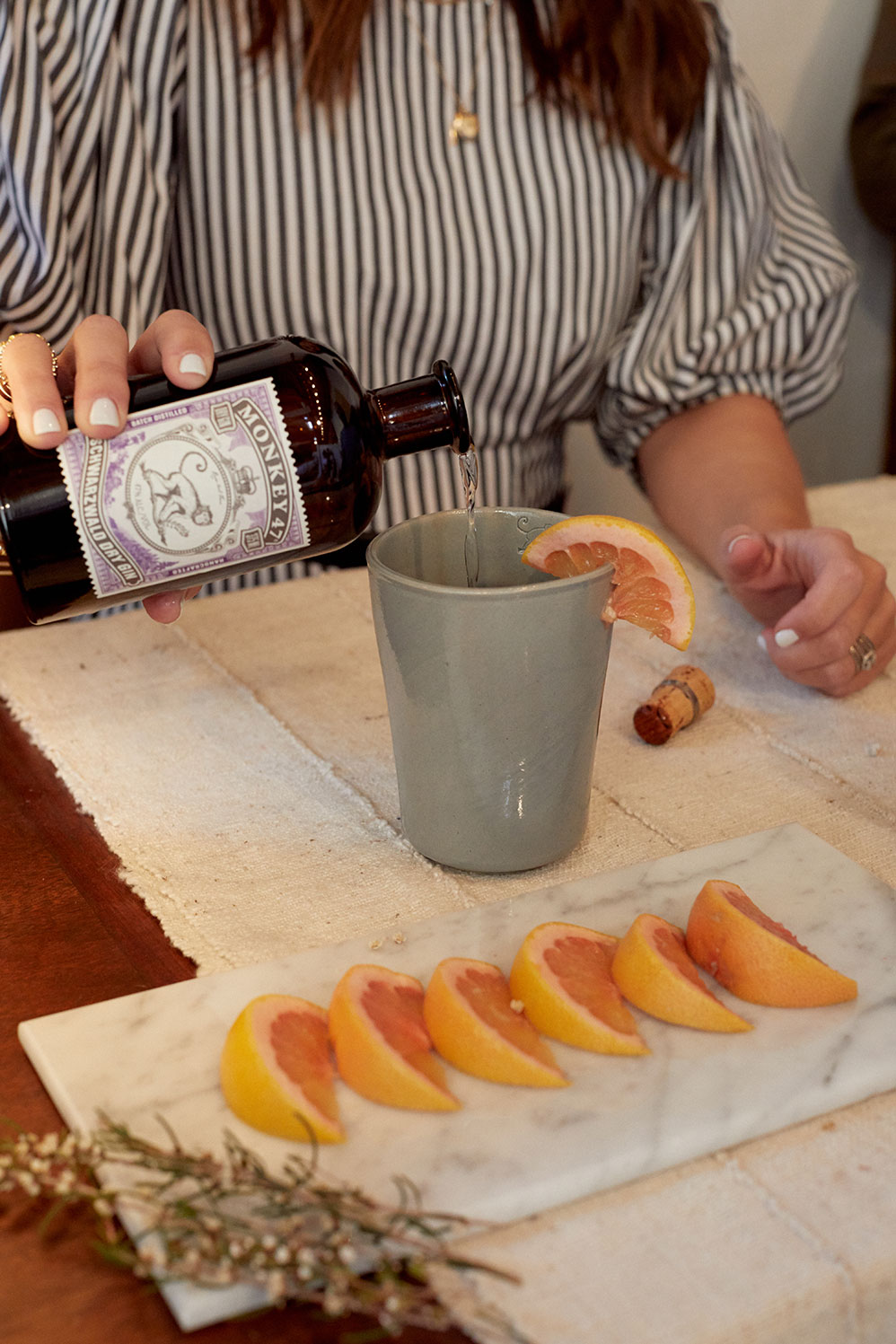 "We're referencing things that feel volcanic or could be ancient, but we're making futuristic shapes, too."
Tephra, their newest series, draws from similar impulses but materializes quite differently. Instead of adding to these forms, Hennessy and Renaud subtract by carving hundreds of small, irregular divots across their surfaces. The individuality of each mark is important to the duo: "Even if a silhouette is similar [to another piece], I know that I have something that was physically carved by hand and is therefore unique to me," says Renaud, of the process that informs Tephra. "[Collectors] are investing in what we're doing, and I think it's really important that they have something unique to us and that can inspire conversation."
Hennessy expands: "In the sea of artists and makers, it's important to feel like the pieces speak for themselves and have a language unto themselves so that we leave a mark that feels valid—whether it's now or in the future."
The resulting works in Tephra range from intimately scaled mugs and tiles to commanding planters, side tables, and chandeliers. They all more closely resemble primordial boulders mined from deep space or masses of just-cooled lava rock than they do your typical home decor. In short, they are enthralling, rare, and radiate timelessness. The collection's title is derived from the term for fragments produced by volcanic eruptions, and it's no coincidence that Hennessy grew up in Washington state, not far from Mt. Saint Helens, or that both he and Renaud vividly recall that volcano's historic 1980 eruption.
"Sometimes we think about our work as new relics," muses Hennessy. "We're referencing things that feel volcanic or could be ancient, but we're making futuristic shapes, too. We kind of ask ourselves: 'What civilization made this? Does it look like it's from some ancient culture that existed in the past, or something that was made in the future?'" Renaud adds to this sentiment: "We like to play in that zone," says Renaud. "And in that way, the work keeps evolving as we grow."
In light of the current pandemic and the new ways in which people are working, we reconnected with the artistic duo to see how their practice has been evolving in recent months. "It's felt really good to forcibly slow down for a minute. Over the last few weeks, we've kind of been able to push the reset button, which has been really cathartic," says Renaud. With time to reflect on their work, LGS Studio are now working on a new Monolith series consisting of 18- to 24-inch large vessels. "The last month and a half, really, has given us a lot of time to look at the work we've been making and further refine each collection," he adds. "We want to scale up, creating a more commanding presence."
The Los Angeles-based ceramic design studio strives to create one-of-a-kind pieces rich in history and inspired by the natural environment. For Noel Hennessy and Thomas Renaud, the process is one of collaboration, using the best materials and meticulously refining each ceramic object by hand to ensure the highest quality is maintained throughout their unique collections.
LGS pieces are stocked at Alchemy Works, the gallery, retail and event space in the Arts District of L.A., with further locations in Newport Beach and Denver. Owned by Lindsay and Raan Parton, the space brings together handcrafted, quality designs from select brands.
This interview and studio visit was produced in collaboration with Monkey 47, the Black Forest gin distillery. Founded by Alexander Stein, the handcrafted Schwarzwald Dry Gin company has a shared philosophy with LGS Studio; an appreciation for working creatively with nature, the use of high-quality materials to produce a unique product of exceptional quality.
For more information on the work of LGS Studio, please visit their website or check out their most recent collections on their Instagram.
Text: Alexxa Gotthardt
Photography: Cody James