A blue plaque on the wall of Jealous Studio in East London reads: 'The Man who Sleeps with your Wife Lives Here'. Created by the artist Dave Anderson, the piece originally hung outside Jealous Gallery, North London before English Heritage made a formal complaint.
Occupying a four-storey corner building in Shoreditch, Jealous Studio is hard to miss. The Hollywood-style white lettered roof sign is the first giveaway. And if you neglect to see that, the side brick wall is painted with colorful letters of the alphabet, with Jealous not-so-discreetly printed in-between the letters 'I' and 'K'. Inside, there's an abundance of art—be it screen prints in progress or finished framed works. On a far wall hangs a silkscreen print of a female torso, entitled "Study in Black" by Gary Hume, and peeking out from a drawer are a series of headshots of Kate Moss by Russell Marshall.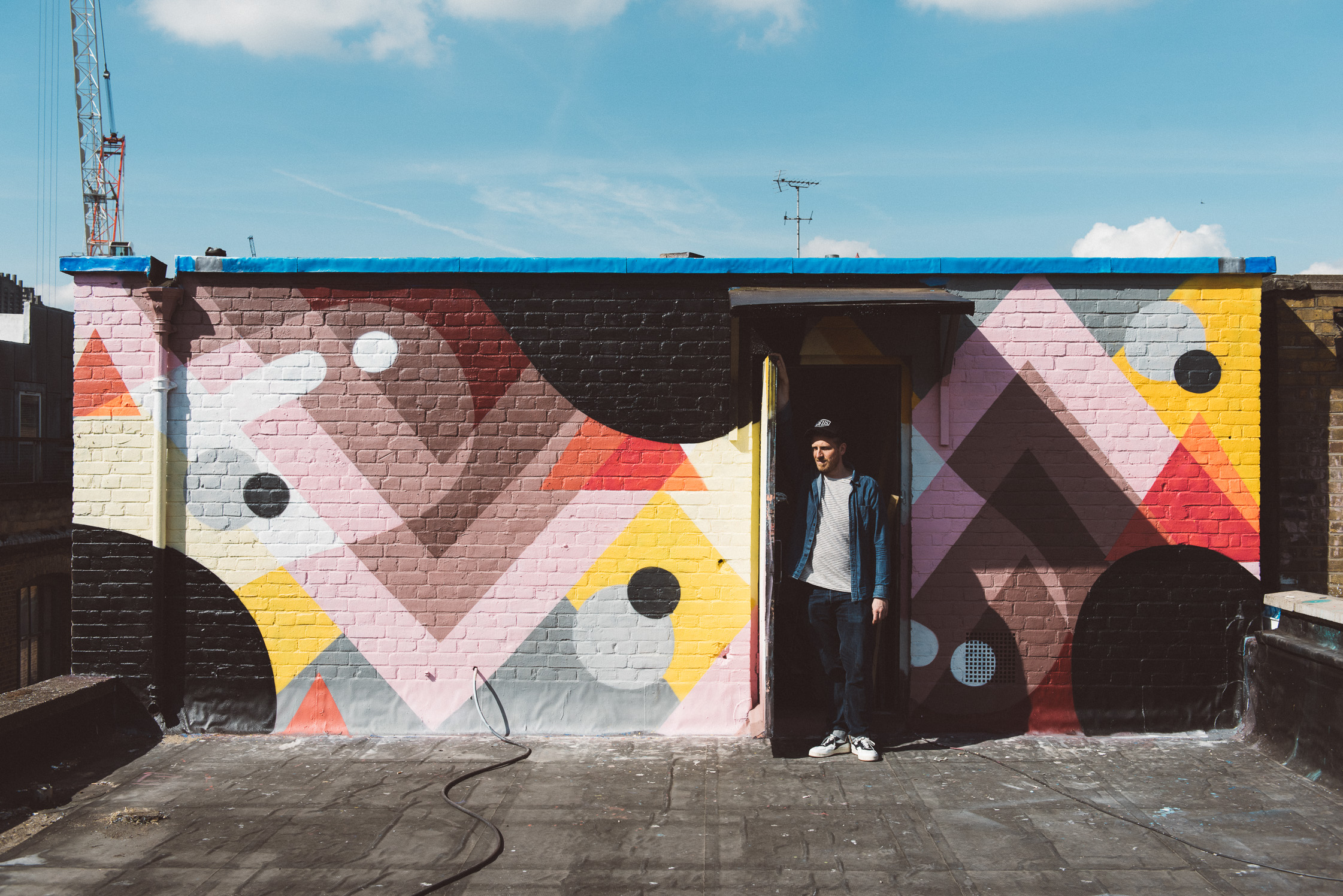 "He said we are going to make this the biggest, most exciting print studio in the UK. I was hooked."
The screen and digital print studio has become one of London's most recognized. Opened in 2008 by Dario Illari who enlisted the help of master printer Matthew Rich and artist Adam Bridgland, they now have two gallery locations and have produced works for a wide range of artists, fashion designers, institutions, and galleries including Tate and White Cube. "I had been working at the Royal College of Art and met Dario just by chance as we used the same framer," says Adam as he pulls out a neon wide-eye print from his series 'Making Eyes Across the Room'. "His energy just blew me away; he has this aura that just draws you in. He said we are going to make this the biggest, most exciting print studio in the UK. I was hooked, and here I am, 11 years later, little by little making that happen."
Amidst all the artwork, large screens, dryers, and wide-format printers are the lively studio team. They work on a multitude of projects at one time using tried and tested-and some trial and error-methods. When not working on commissioned prints each find time for their own artistic endeavours. "Jealous keeps my practice relevant," says Nick aka Tez, whose abstract work is a mixture of murals and prints in captivating maze-like patterns. "Surrounded by screen prints, artists and galleries, I'm able to put myself in the context of the scene here. It's great to be around people in a similar position to me in their careers, it makes it a less lonely artistic experience!" William Kingett works at the studio full time and enjoys the collaborative process to ensure artists realize their work in print: "It's exciting and challenging to work with established and up and coming artists—not only to print their work but to collaborate with them using the knowledge I have gained through the years at Jealous," he says. "My own work these days is often generated and spurred on by the overwhelming amount of creativity I'm surrounded by in the studio," he adds.
Tucked away in an enclave, quietly putting the finishing touches to a print is Jealous' creative director, Jess Wilson. Best known for her detailed graphic illustrations including New York and London borough maps and signs, she's produced work for publishers and international clients alongside her print duties at Jealous. "Every artist I work with brings new ideas and ways of working to me, which make me think differently," she says. While each studio member has their own individual practice, their combined efforts are sometimes realized in collaborative works, too. Intern-turned-team member Ben aka Bench Allen has been at Jealous for just over a year, and recently completed a giant mural with Adam, Jess, and Tez. "An organization called Zetland house asked us to create a new piece of artwork to be painted on their courtyard wall that we revelled in creating. Tez created his well known 'maze-like' geometric pattern as a foundation for Adam to come in with his balloons, Jess with her periscopes, text and symbols, and my bugs to finish the 'Escape' procession."
Up on the rooftop, the back wall acts as their own canvas for an ever-changing mural. At the time of our visit, French painter and muralist Florence Blanchard (aka graffiti artist Ema) has just completed a molecular landscape piece in a palette of pinks, yellows, and greys. "Fresh new work allows there to be energy in the studio," explains Adam. "We want to find something new, to present something that people haven't perhaps seen before, a different aspect—and we've always looked to support new emerging artists." One of the ways Dario and Adam do this is through the Jealous Prize, an initiative as old as the gallery itself. Providing winning graduates from fine art masters courses in London the opportunity to create an all-expenses-paid edition with the Jealous print team in the studio. "This has allowed us to work and create with some amazing artists such as Cornelia Baltes, Adam Dix and Charlie Billingham to name but a few," enthuses Adam.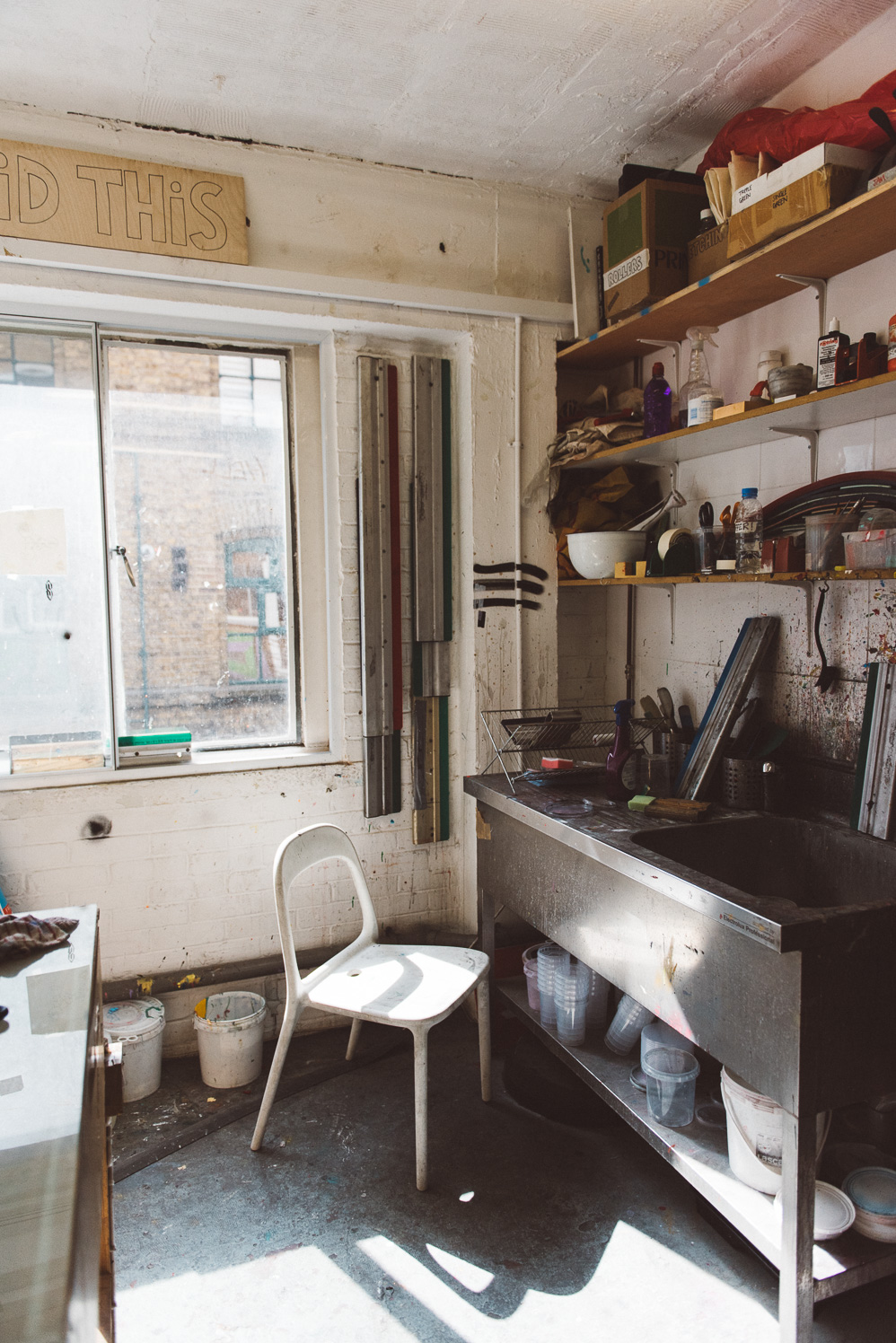 Jess Wilson

Adam Bridgland: "Text has always been important to me. I am a frustrated poet. I used to play in bands and write music. I was and still am an average songwriter but I can knock out an amazing line. I have also tried to convey a story or a feeling within one line. Text is the hook in my artwork to invite the viewer into my world."

Adam Bridgland

TEZ

Bench Allen

Augustine and Bridgland

William Kingett: "I'm passionate about typography and illustrated iconic popular culture, lost images with new understandings and trying to provoke feeling through sometimes seemingly confusing links. I'm a viewer, participant and collector of my own memories. I selectively use these constructs as referencing distillations to create new informed patterns of discourse."
"Collecting is an important human condition and so we want to create and sell works that allow everyone to do this," says Adam.
Downstairs in the ground floor gallery space, director Dario is busy finalizing a show to honor The Big Issue's 200 millionth copy—a rare collaboration with the magazine's founder, John Bird. Featuring three specially commissioned works from artist Ben Eine, all of which will also appear as limited signed covers on the celebratory issue. The exhibition is one of many held at Jealous Gallery, providing a platform for artists to an ever-expanding audience at an achievable price point—and in this particular case, Jealous also ensures all profits go directly to the Big Issue's homeless charity.
In the ever-shifting art market, discerning buyers can find affordable, yet no less desirable art in the editions produced at Jealous. "Collecting is an important human condition and so we want to create and sell works that allow everyone to do this," says Adam. "Art doesn't need to be elitist and there should be art works that you do not need to break the bank to enrich your walls." Adam's own work is a case in point with pieces starting at just £50. And for those pieces that are perhaps too much of a stretch as a one-off splurge, Jealous are members of Own Art, the Arts Council England scheme designed to make contemporary art affordable with interest free monthly payment plans. "Art should always be accessible. At Jealous we like to provide a market for everyone."
Director of Jealous, Dario Illari finalizes a show to honor The Big Issue's 200 millionth copy—a collaboration with the magazine's founder, John Bird.
Thank you, Adam, Bench, Dario, Jess, Tez, and William for showing us the inner workings of Jealous Print Studio and Gallery. For more information on their upcoming gallery shows and to buy limited edition prints, see here. Or, for more behind the scenes, check out their Instagram here. 
Inspired by this energetic studio? See inside more workplaces from around the world here. And be sure to check out our most recent stories from London here. 
Photography:Robert Rieger
Text:Andie Cusick