A three-storey house, crowned by a rooftop terrace, stands tall on a piece of land shaped by the last Ice Age. While most Swedish homes use dynamite to even out the bedrock before construction, Allan Spiegel wanted to keep the foundation in Sollentuna, north of Stockholm, untouched.
"I'm not an architect," says Allan Spiegel, a self taught interior consultant who works with some of the biggest retail brands, restaurants and hotels in Sweden, as he pours himself a cup of coffee in his spacious kitchen. "'I'm just showing this space for my friends' sake, the ones who made the drawings." Yet, he is about to tell the story of how he built his family home, Villa Altona, with his bare hands from the ground up, almost on his own.This portrait is part of Home Stories – a collaboration Freunde von Freunden produces with Siemens Home Appliances. To find out more about Allan's work, see the portrait with him on the Home Stories site.
"The main thing is that if you are a handy person, you can learn everything you want during the process."
Together with his architect friends from the studio The Common Office, he made the first drawings for the land using a 'tetris' approach to collaborate with the natural topography. The irregularly-shaped house is divided into four different levels, sitting into the landscape without disrupting any of the fauna that surrounds it. Inside, there is a certain translucence to the structure, stemming from the large skylight set in the center of the house, above the spine-like spiral staircase. The space has no full interior walls: "The idea was to make a social place," says Allan, "it's a very social house today because it's very open. Sometimes too open. We don't have very much privacy, but the house feels big thanks to the light." There are only three doors in the entire house, those leading to the bathrooms as well as some sliding doors to the bedrooms, when all doors are open, the house becomes one big room. "Guests are usually surprised to hear that the house is 160 square meters" says Allan.
Despite the size, it only took 18 months for the house to become a reality and with the manpower of only two people: Allan together with one of his two construction contractors Kenta and Thomas, who took turns working on the house from start to finish. It was initially intended as a property that they would build and sell. "After we started to build it, we decided quite early on to keep it and live here by ourselves," he admits.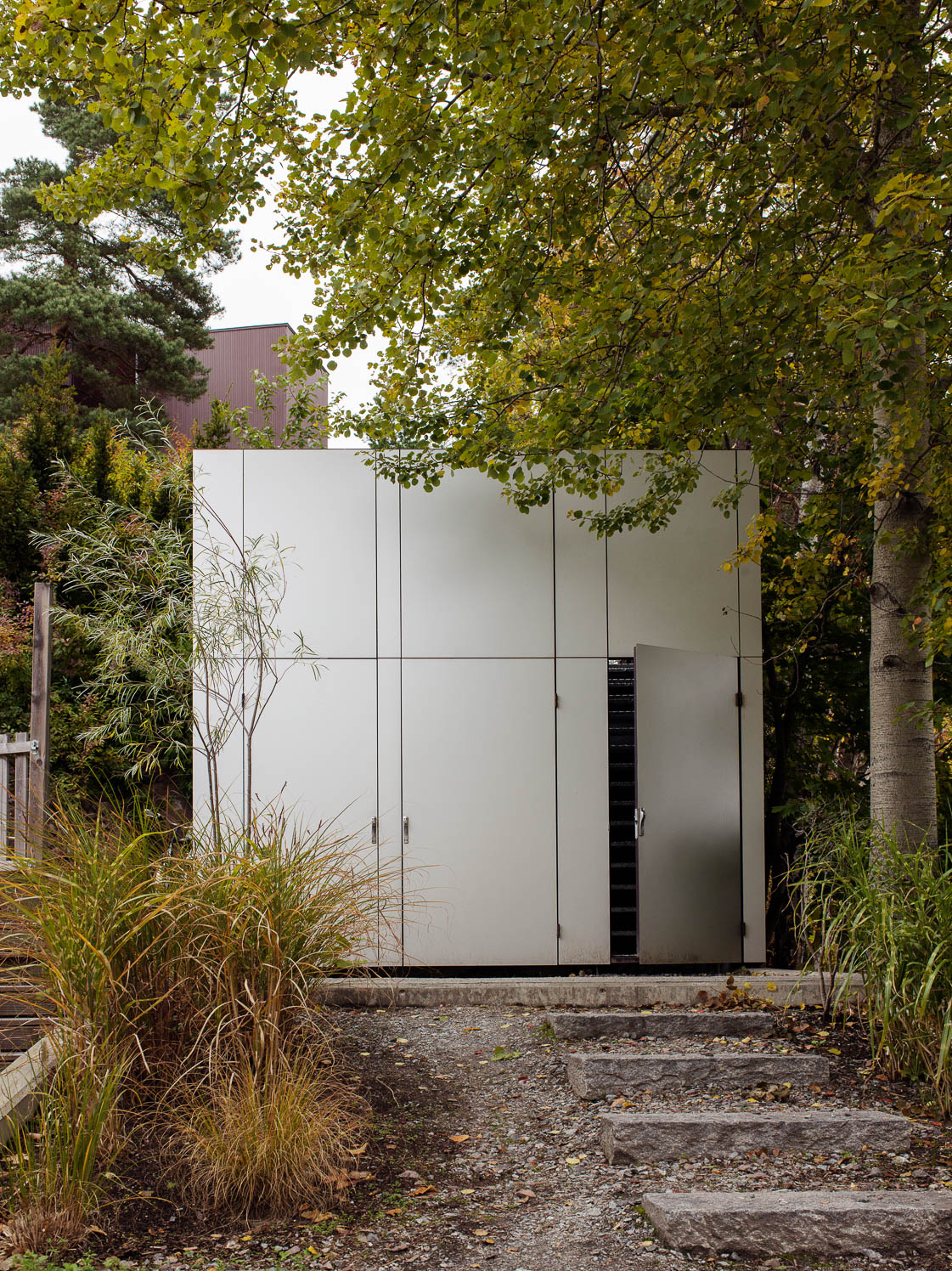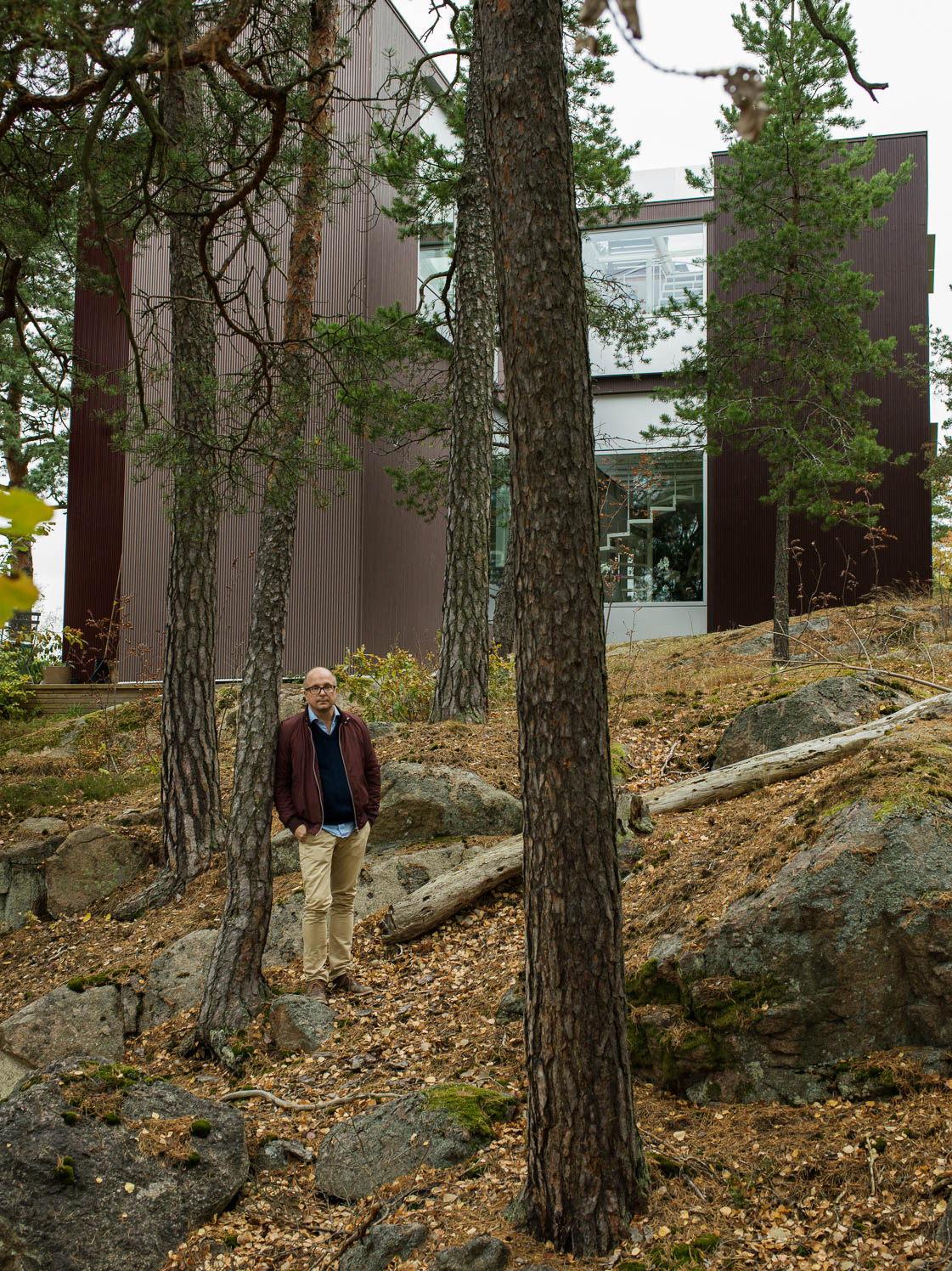 "I enjoy working with my hands and to construct things, even if it's soft, like textiles. I love working with sewing and gardens."
Moving from furniture design to a house-scale construction site, Allan kept a hands-on approach. He lost almost ten kilos carrying the entirety of the house's building materials from the main street in the suburban neighborhood to the nature filled oasis that would host his future home. It's is clear that his attitude has been one of the strongest driving forces to finish such a project. "If you're a cabinet maker, you can build a house. In making a cabinet you need to be more precise, but it's the same logic." He continues,"People will keep on saying, 'Oh, you can never do that' but I did. The main thing is that if you are a handy person, you can learn everything you want during the process, through the Internet or other people. Everything really is possible."
There is something poetic about approaching a piece of land and working together with it instead of fighting against it to fit a cookie-cutter house. In the backyard, seen from the large window by the kitchen counter, lays a fallen tree from the previous year, "We just let it be, we want to keep the backyard natural," Allan explains. The same idealistic approach is seen in his work with interiors. Favorite designers like Patricia Urquiola, Jaime Hayon and the design company BD Barcelona create pieces that are "almost too much for the Swedish market" but that, according to Allan, feature both liveable and poetic values. "Japanese style is of course very poetic, but I think you have to be very ascetic about it when using it. In the Spanish style you can see poetic designs that can also be used in a normal living setting. They don't have to be a part of a still life setting like the Japanese style."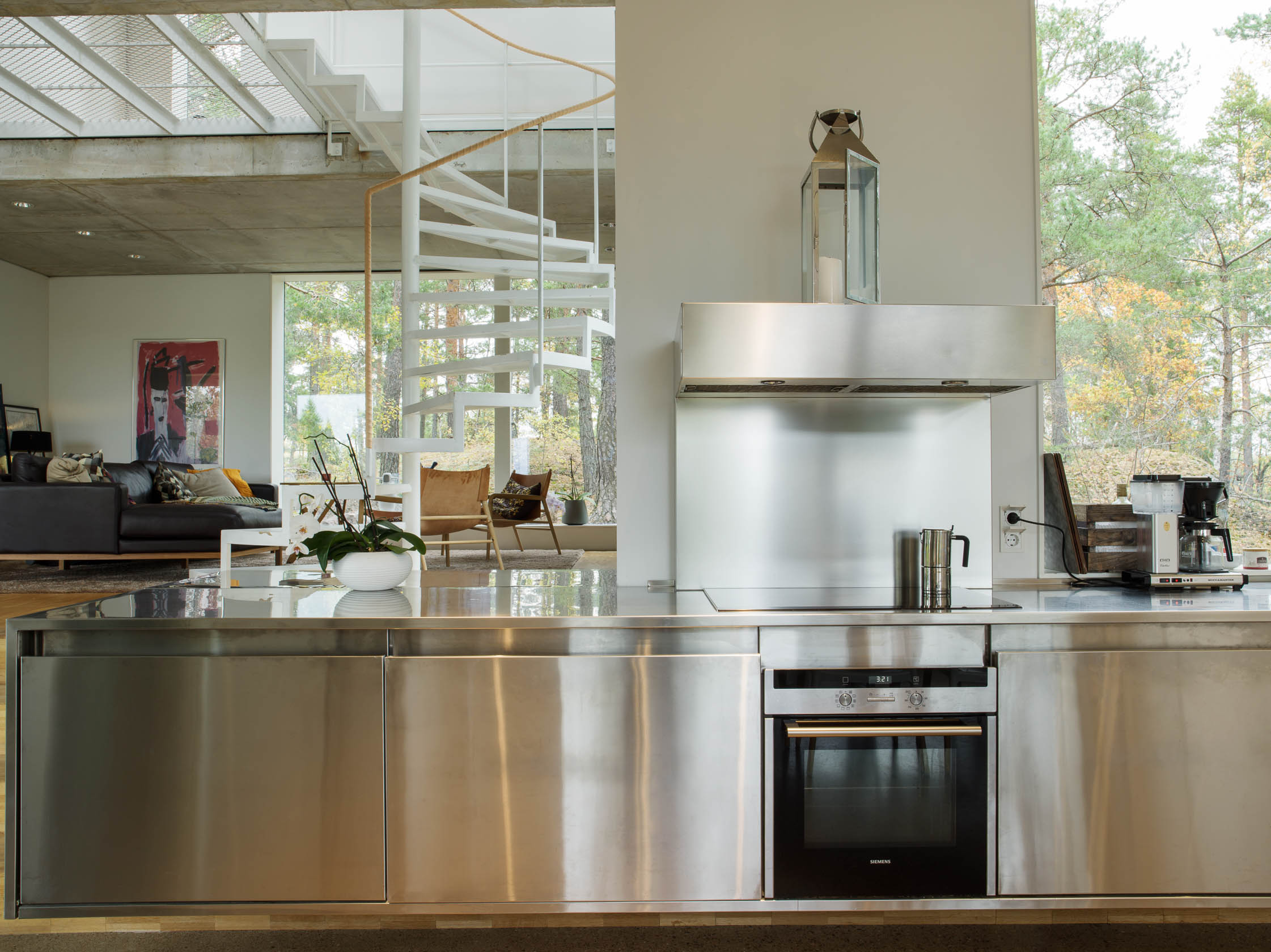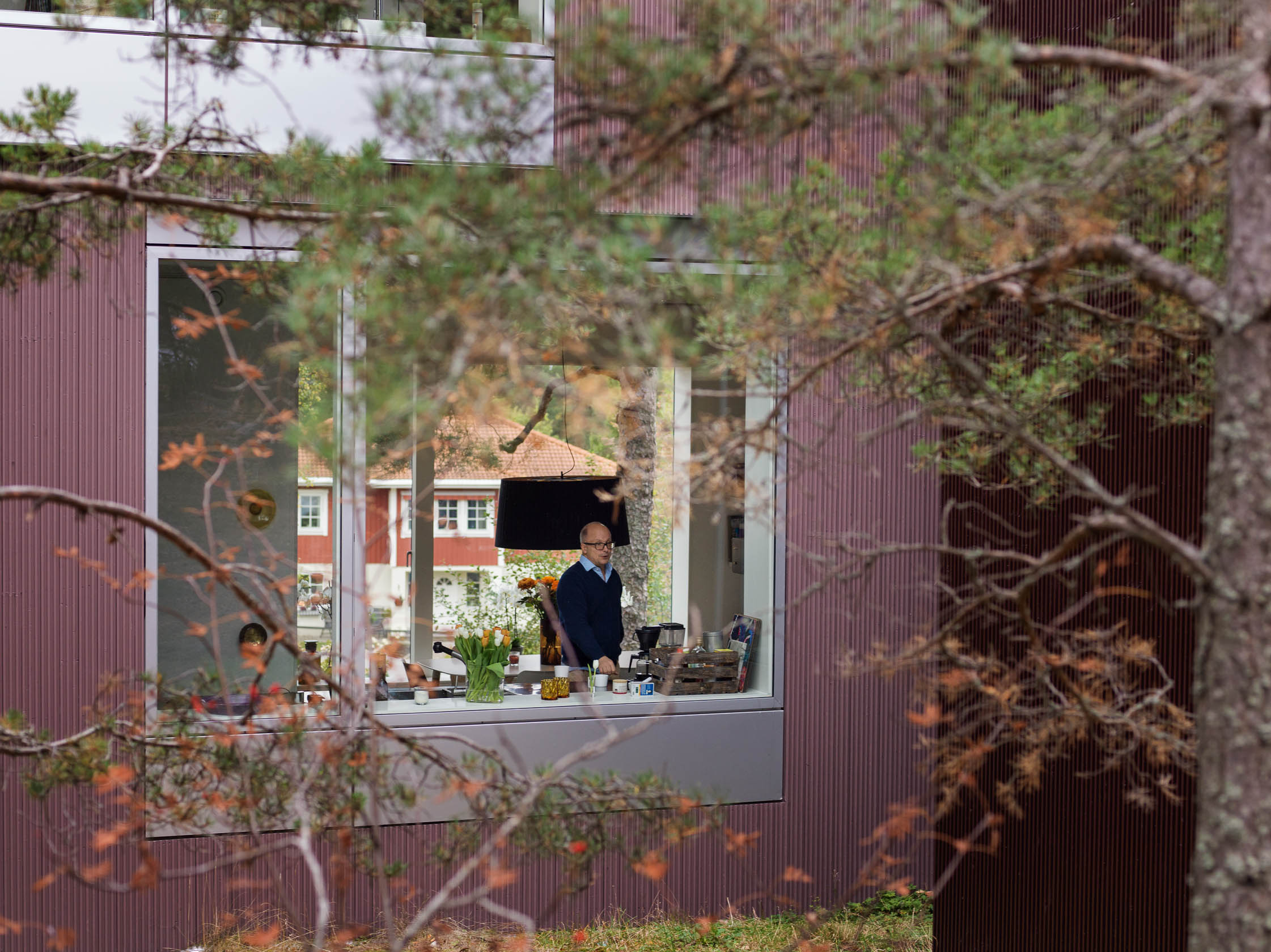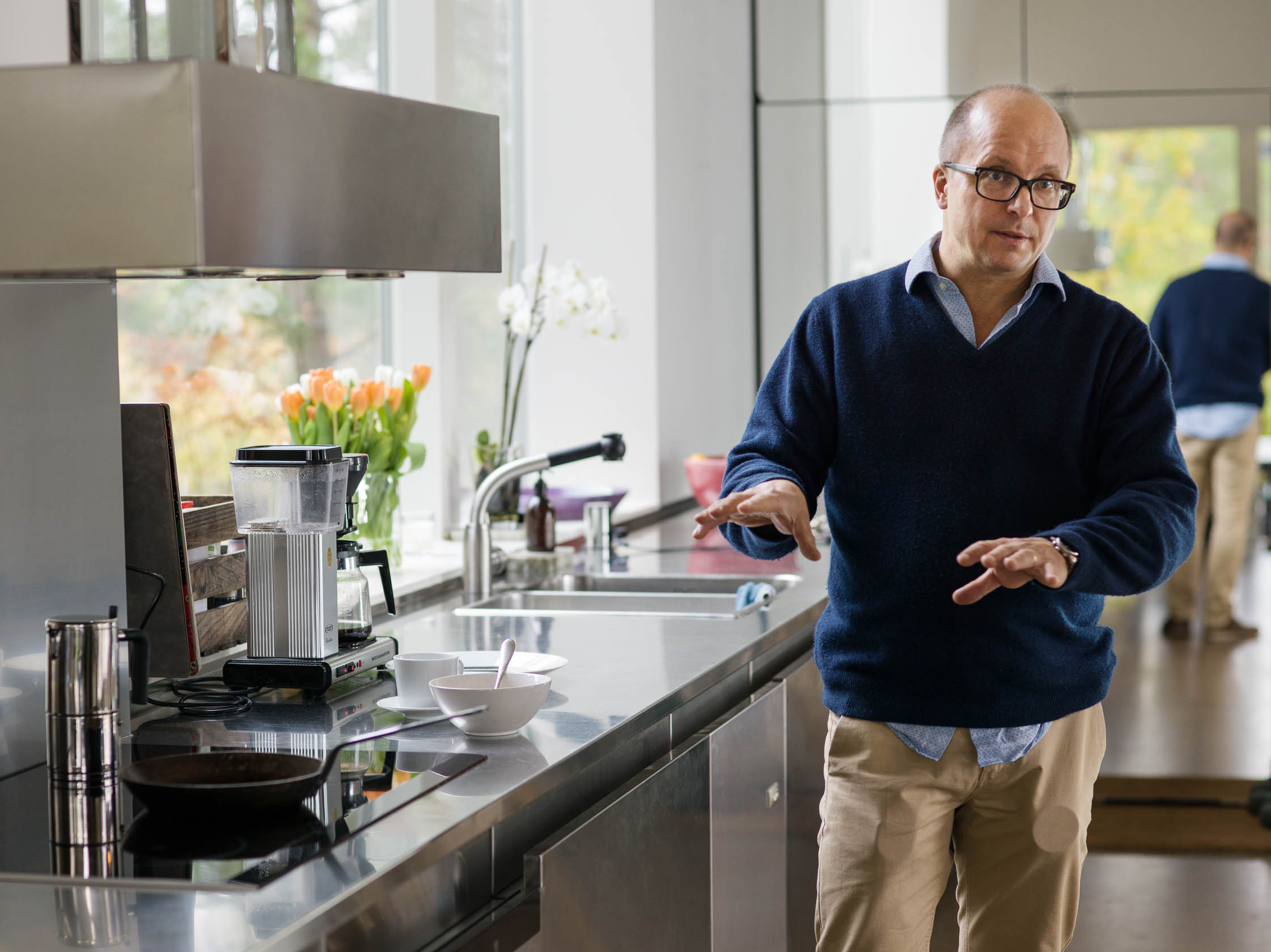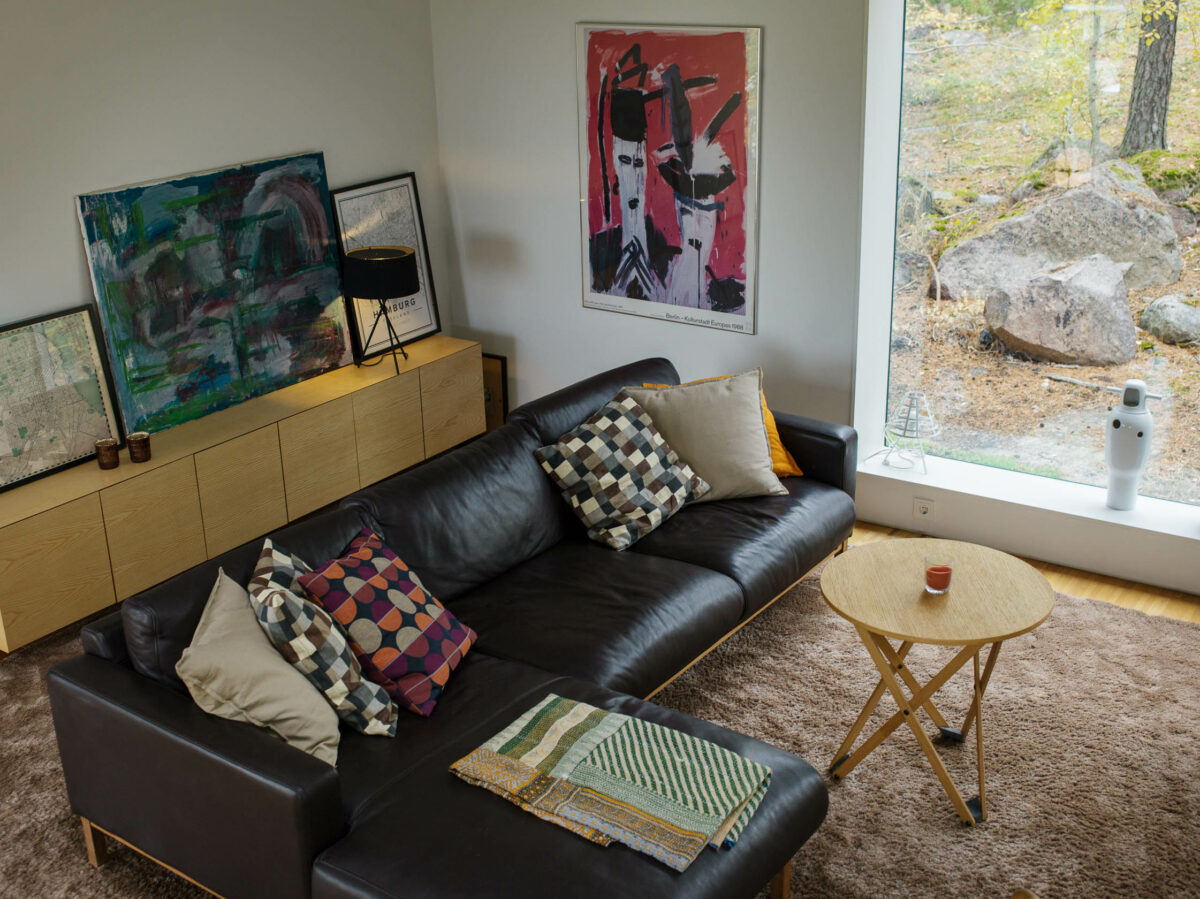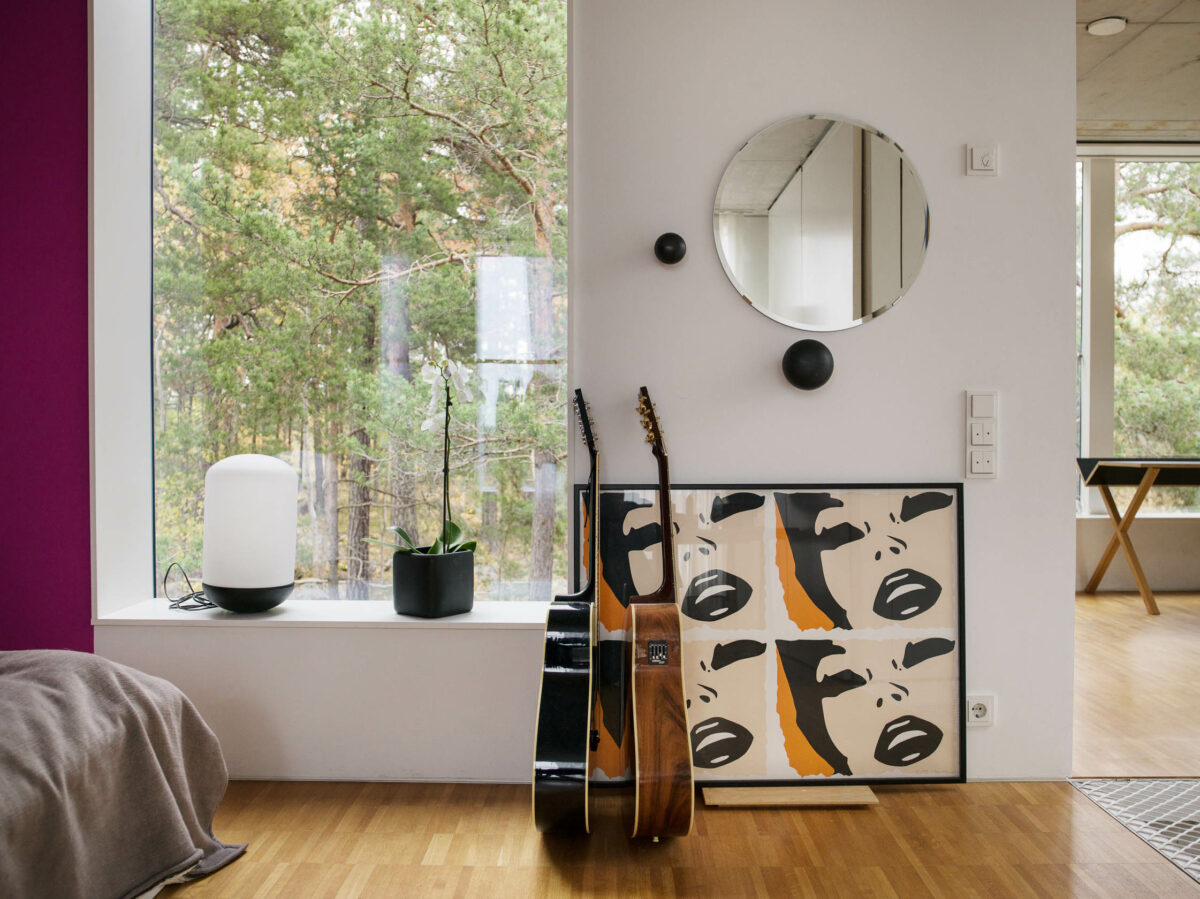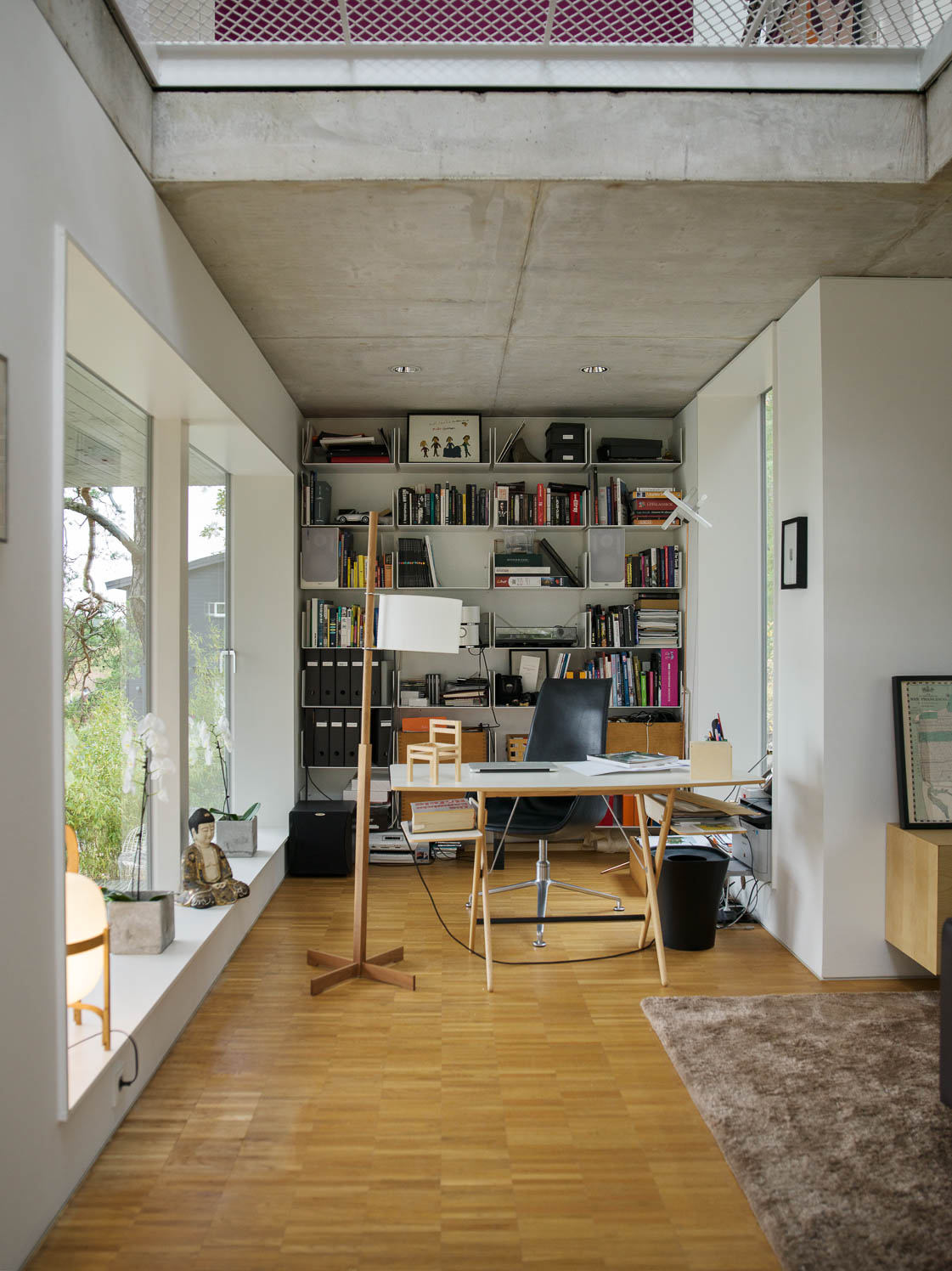 Blueprints of Allan's Sollentuna Home
A manifestation of his quirky approach to interiors is the bookshelf to Allan's left, featuring, among its wares, a pink phallic vase from Barcelona, his much-used cookbook Det Franska Köket ("The French Kitchen"), and an all-white, sleek cuckoo clock that chimes every 15 minutes. Behind him is the long, stainless steel kitchen counter, clean and with minimal clutter. It is an eclectic, yet sleek and practical mix of elements that surround him in favorite space—the kitchen. "When you go to visit someone, you always stay in the kitchen. If you go to a party, everyone's in the kitchen. It's always like that. The living room doesn't need the same space, really. That's a room you usually use when you're alone or with your family. The kitchen is the place where we meet 70 percent of the time," says Allan. His gastronomic inclinations likely play a part in his success within these atmospheres and the ample proportions of his cooking haven. Growing up, his mother owned a restaurant, while his grandmother would start preparing dinner right after breakfast, I'm not kidding!" Allan exclaims, going on to rattle off favourite recipes, books and dishes.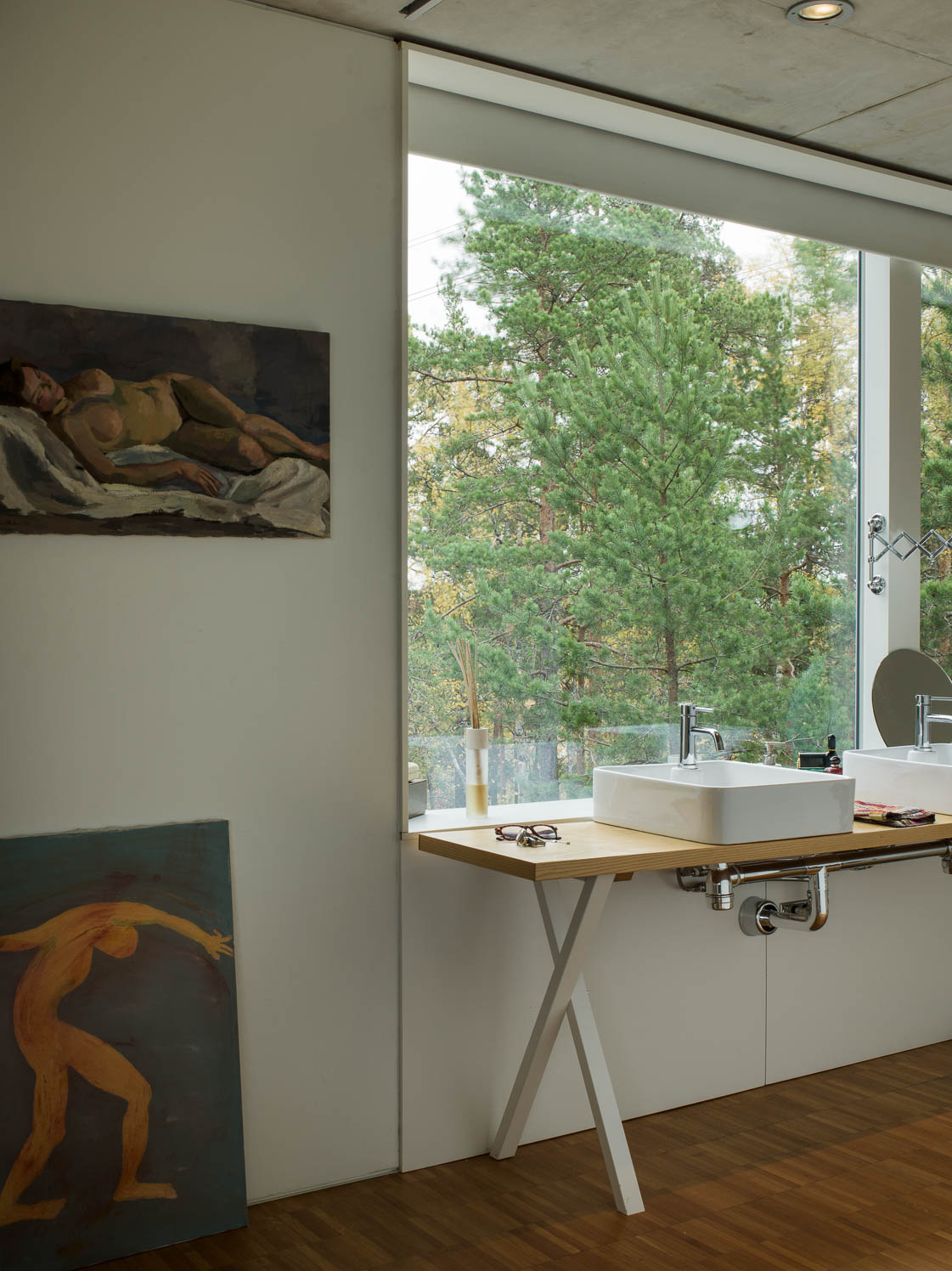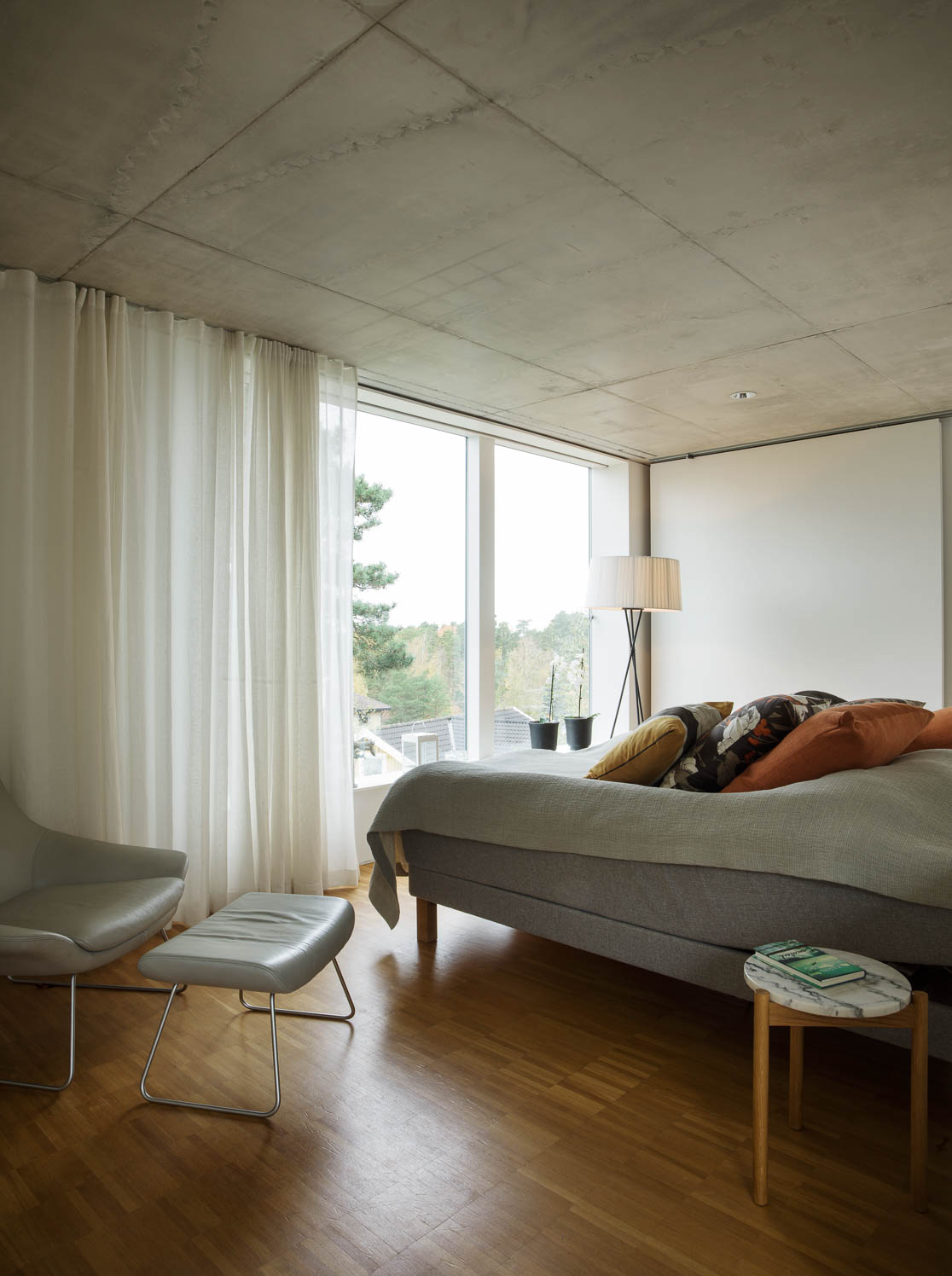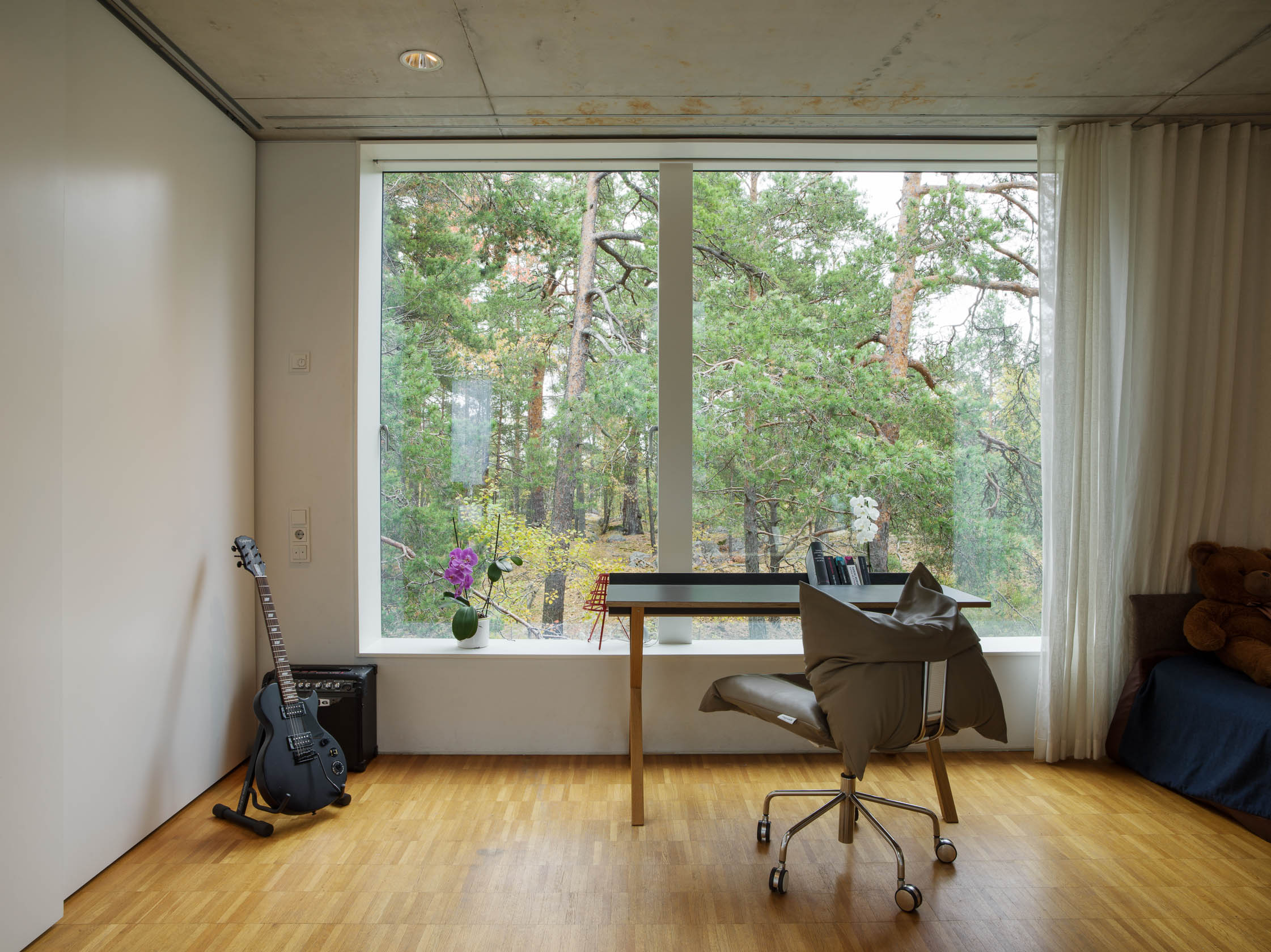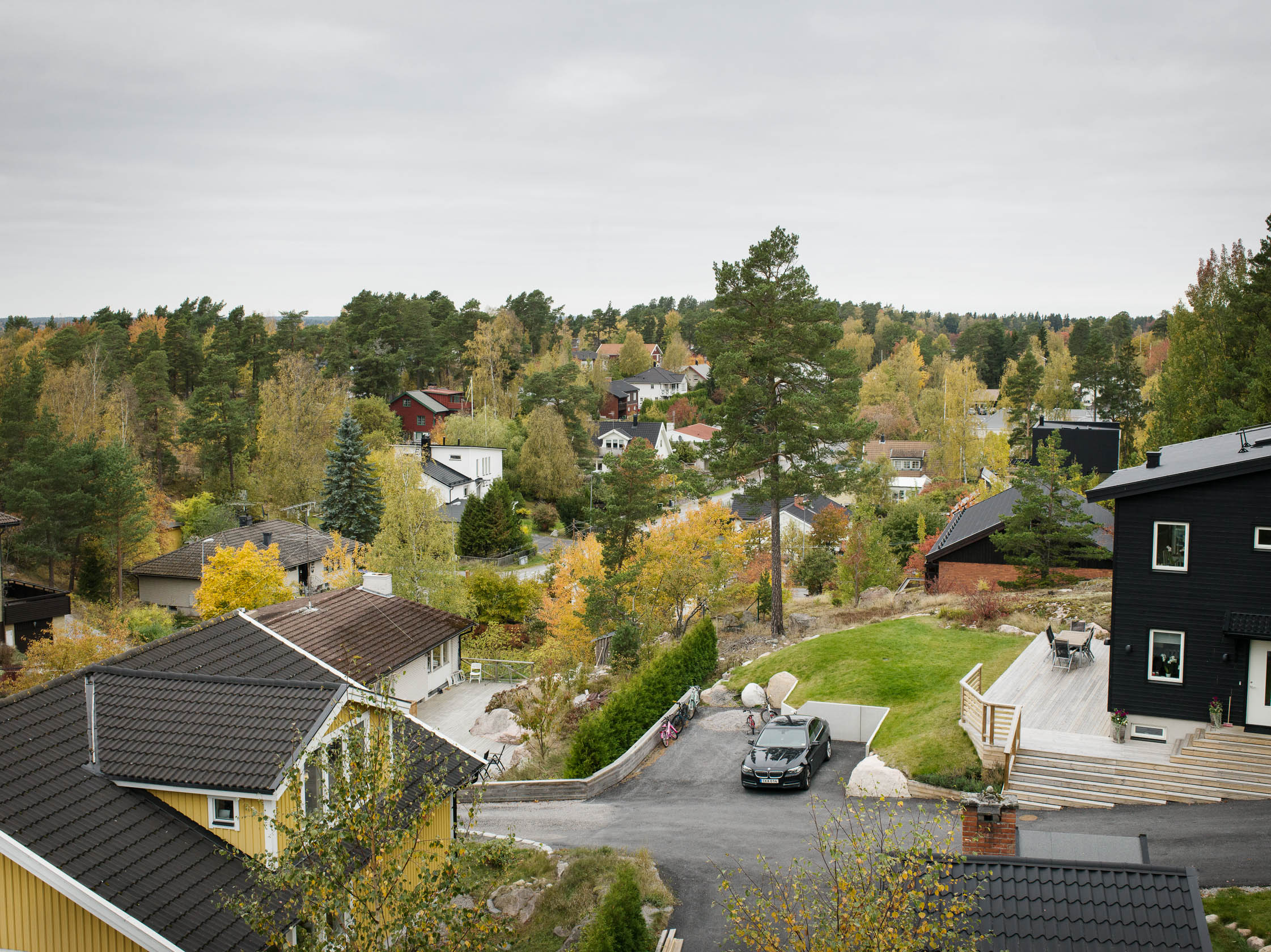 "I cannot pour my heart into all the small projects. I have the heart to produce it, but not to make the drawings."
Processes act as a key source of inspiration in Allan's work and life, more so than art or even other designer's approaches. With an almost childlike sense of interest for how things are made, it is in the factories where Allan's interior creations come to life that ideas for the next project spark to life: "Whenever I go to a new client or manufacturer, I always ask them to show me the facilities. I'm like a kid really. If there is a machine I haven't seen before, I can ask them if I can work with them a full day in order to see how it all comes together. I think that's a lot of fun." This is likely owed to Allan's autodidactic nature. Not only has he taken on the mission to learn all processes on his own from the very start of his career—he is committed to working alongside his clients and architects' visions first and foremost. "I never question the aesthetics of the architects. But if there is a problem with the quality or function, I always go to the architect first. Of course, I can do projects on my own. But I like the process better, because I cannot pour my heart into all the small projects. I have the heart to produce it, not to make the drawings."
As the cuckoo clock interrupts Allan for the fourth time, the sun has already started setting through the northwest windows, which reveal the only evidence that Villa Altona is indeed a part of the suburban landscape. Looking back at the time when Allan found the plot on an internet ad, he never thought he would one day build a house almost on his own. "You never know anything about where you're gonna end up when you first start out. The main thing for me now is that I like handcraft. I enjoy working with my hands and to construct things, even if it's soft, like textiles. Actually, if I started now, I might be a gardener, who knows?" Allan says this, only to explain that he would enjoy being a chef if the working hours weren't so irregular, just a few moments later. And then again, coming back to his passion for design, and how he is by no means an architect.