As a city of freeway traffic jams and vast distances, Los Angeles is not, at first glance, a very bike-friendly city.
But product designers Westley Nunn and Diana Wu are trying to draw the people of this bustling metropolis out of their cars and onto their bikes. We met up with the couple, founders of 1.61 Soft Goods, to discuss their history, designs and LA's changing commuter culture.
What started with a backpack has now grown into a full-fledged business that spans a range of products, all adhering to the importance of utility. Their designs, while always attractive in their own right, refuse to forfeit function in favour of unnecessary aesthetics. 1.61 Soft Goods pieces continuously consider the person who will put them to use. They're products that are intended to be loved.
FvF has had a close relationship with 1.61 Soft Goods for a while now, selling their products in our shop, so it was a joy it sit down and talk with these two friends.
This portrait is part of our ongoing collaboration with ZEIT Online who present a special curation of our pictures on ZEIT Magazine Online. 
Maybe you can start by saying a bit about your background. Where are you from and how did you end up in downtown LA working together?

Diana: I grew up in Tokyo, Japan, and I came over to the States when I was 17. I was in Texas for two years but it was just too small-town for me, so I moved to LA. I came here with a general idea of doing something related to art. I was introduced to product design and went to Cal State Long Beach and Art Center College of Design, where I graduated.

Westley: I grew up in Northern California and went to college at Long Beach State. That's where I met Diana. After I graduated from college I lived in Long Beach for a while, then moved to downtown LA because of work. That's where I started making bags. After Diana graduated she joined me. Our business began with the backpack. It was our first major product. We designed it for commuting by bicycle, so we wanted something that was durable.

Diana: And something that was for the city, an urban style.

Westley: Something more minimal. There's more of a biking culture in downtown LA, but, as far as the rest of LA is concerned, cycling is much more of a minority sport than in other countries.

Diana: I used to cycle a lot in Tokyo but not so much in LA because the cars are pretty aggressive here. It's not a very bike friendly city.

Westley: A lot of drivers in LA still don't know the law on cycling – such as how cyclists can share the lane with cars. Drivers around here still aren't used to cyclists. But there's more of a cycling culture now; they shut down roads a couple times a year so that cyclists can pretty much take them over.

But, right now, I'm more into riding my motorcycle more than my bike. I used to cycle to make deliveries or pick up stuff downtown because the parking is horrible. Because we don't cycle as much anymore we have evolved our designs to be commuter or motorcycle friendly as well.

What kind of motorcycle do you have?

Westley: I have an old Honda CX500, 1978. I've had it for around two years.

Diana: We also have four bicycles. Four bicycles and one motorcycle.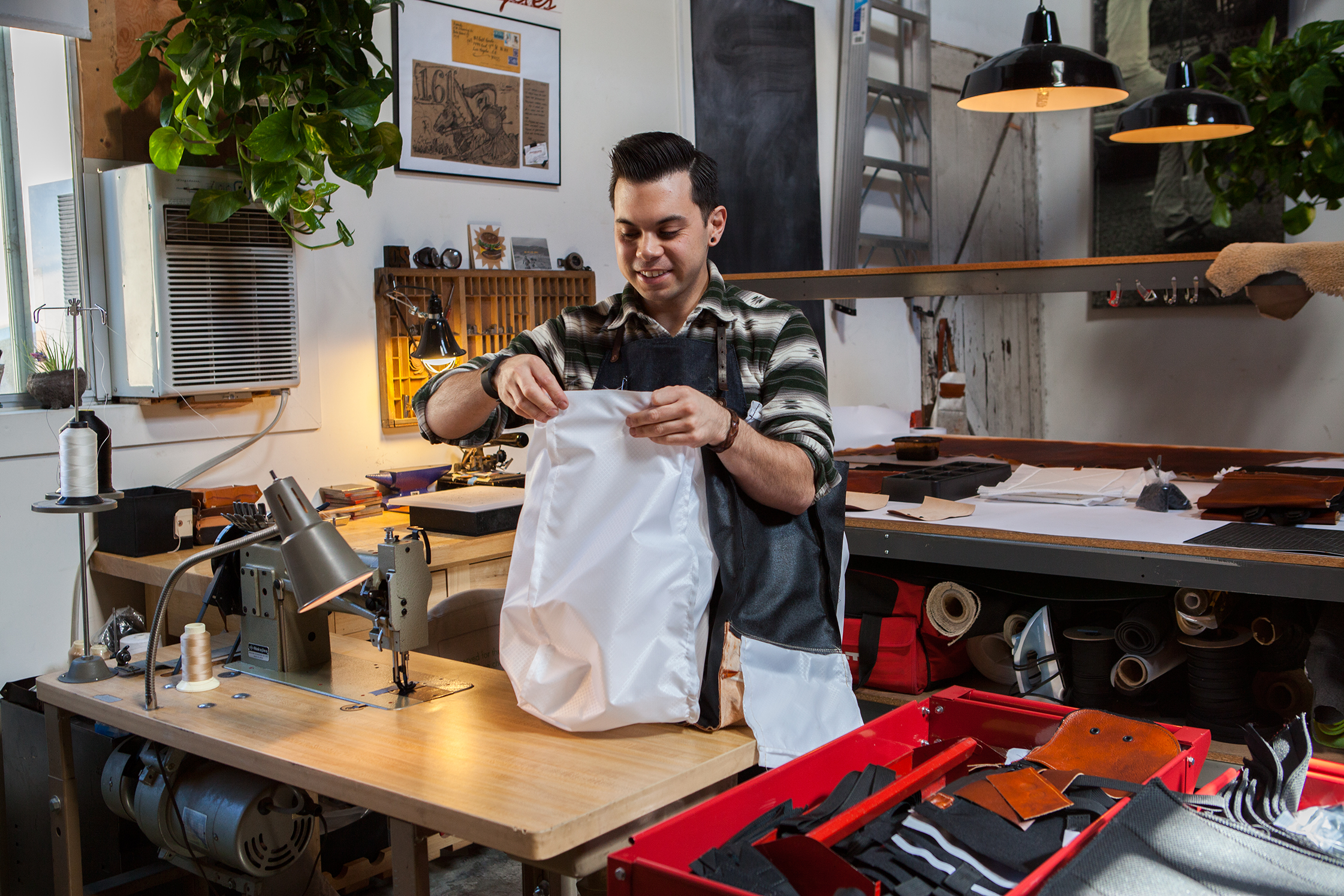 As product designers does developing your bags come relatively easily?

Diana: No. We make at least three rounds of prototypes.

Westley: After three rounds of prototypes, we have a sequence we go through to develop a product. It's a learning process every time we design a new product. To test a bag, we'll make it and then figure out what we like about it. We draw inspiration from other brands; we look at what they're doing right and what they're doing wrong.

Do you focus on function first and then on the design? Or do the two go hand in hand?

Diana: I think, because of our background, we enjoy problem solving. A lot of our inspiration comes from problems. Our products are heavily based on the "form for function philosophy," so we try to not have a lot of trendy parts. We want to focus on function and the golden ratio: the proportions of the bag.

How do you go about sourcing the materials?

Diana: When we get hold of some materials that we think are fantastic, we design around them. But for backpacks it is more about the function. We wanted to make it waterproof, so we started looking for high quality materials, like a durable water print. That's why we started doing leathered stuff as well, because we like how it ages and withstands the test of time.

Westley: There's a certain standard required of military-supplied hardware or fabric. We know the standards of quality and quality control that our products demand. We stick with materials that will last a long time.

For the leather used for the FvF edition, did you already have that in mind or was that a new source for you?

Westley: We chose that leather because it's a vegetable-tanned leather so it doesn't disintegrate as it gets older. Some leather gets softer over time but this holds its shape. Even if the process takes longer, it's more sustainable and it's better for the environment as well.

We dye around 90% of our products ourselves, so that we can get specific colors and consistency. We buy some leather that's already dyed but there's always some variation; we get a more consistent result if we hand dye it.

Diana: We enjoy the dyeing process. We both come from a background of making stuff with our hands. So, just having the dyeing process under our control makes us more comfortable.
"1.61 is the golden ratio. … It represents our products because they are concerned with beauty and proportion rather than just beauty."
Are you both involved in every part of the production process?

Diana: We are pretty much are involved an equal amount. For the backpacks, coming up with ideas, we will go through critiques, even though it's just the two of us. We'll discuss the good and bad aspects. And then we refine it, where we go through at least three stages of prototyping. Then we finalize it and test it out. It's pretty much collaborative work.

Westley: We still have products and projects that we will work on individually. But usually, for ongoing projects, if only one person knows how to do something then they'll teach the other person. This means that if the other person needs to take over the project, then it's no problem. The learning process doesn't really stop, even when we're producing and manufacturing the bag. We always come up with new processes and new ways to put the bags together.

Do you have a close-knit group of retailers or do you also sell in various shops around the country?

Diana: Yeah. We're slowly trying to expand our retailers. We haven't really done anything that big yet. We don't have the capacity at this point. Mainly, we do the online business ourselves and also have several selected retailers we work with. Working with those retailers is like a close friendship. With these collaborations, we continue to have control over our products.

Where did the name 1.61 Soft Goods come from?

Westley: 1.61 is the golden ratio. It is a ratio found in nature, art and even product design. Our products are loosely based on this ratio. It represents our products because they are concerned with beauty and proportion rather than just beauty.

So what exactly does that ratio refer to?

Westley: In our products, such as the backpack, it is the ratio of the original backpack. The ratio of the black tarp on the bottom to the main body or, in our leather products, how it is folded. For instance, the ratio of the flap to the body.

Diana: I feel like these details are the most important thing, they make products shine. We care about how the corner is rounded and how we finish the edges. These little things probably aren't noticed by the customers; they're just for us, it's what we take pride in.
How long have you been your current space? How did you find it?

Westley: We've been here for about three years. Before this space, we were making everything out of my apartment.

Diana: We wanted to stick around downtown LA. I like the energy of the place, and how it reflects our products. We want our products to be used by urban dwellers. It's a long process but we're slowly making it our nest.

Does the cat keep you company while you're working?

Diana: Most of the time he'll just sleep, but he does keep us company. It's nice to have him around. Even though our background is in our bags that are heavily based on outdoor experience and activities, we really don't get time to go out these days. At the rate that the business is growing, and with only two of us, it's difficult. So, we try to have more greenery and more interaction with animals.
When did you launch the brand itself?

Westley: It was at the end of 2011,so it's been about four years.

The new creative scene in South LA contends with New York these days. Since you've been in LA for over a decade, what do you guys make of all the changes?

Westley: It started just as we first moved here. LA felt like a city without an identity. It was a bunch of different cultures and identities. Now, it's more of a creative space for people; I feel like people are really motivated both to work and to do their own thing.

Diana: LA has many different communities, really distinctive ones. I think it's what makes the city so exciting. At the same time, the different communities didn't really have connections to each other. When I first moved here, the art scene was just in its beginnings and now it's really established. They're building new museums in downtown too. I didn't see this coming.

Do you also find that it's easier to do business there? Is there a support network of creatives?

Westley: Yes, because we see who is working on their own business and making their own products. It's a big support network and there are different outlets to sell your items. Especially with online access, marketing your products is a lot easier now.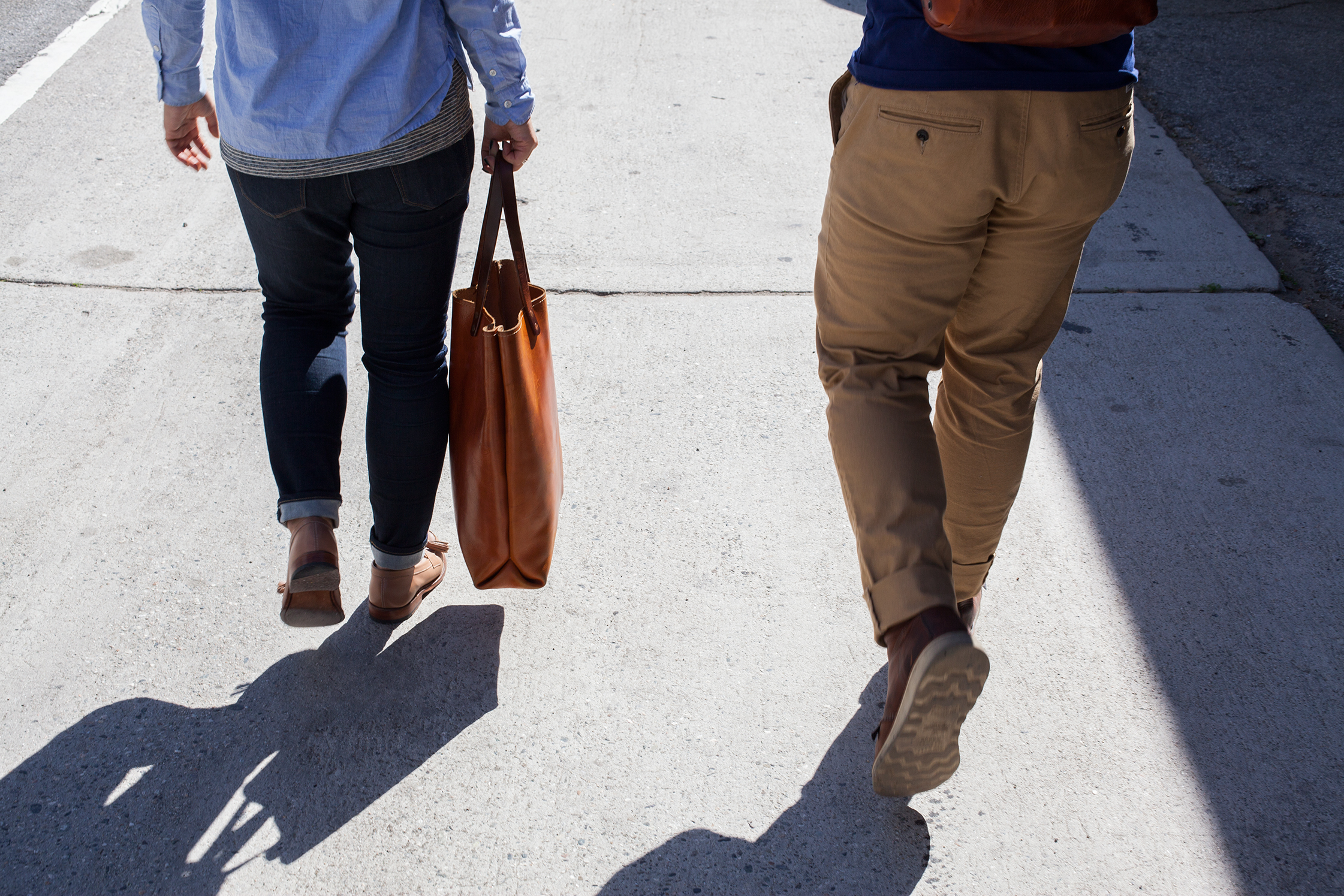 Do you find it's difficult to grow your business online without having a storefront or is right now like the Wild West of online e-commerce?

Diana: Having a storefront in LA is not exactly easy. There's a lot you have to deal with.

Westley: We were looking into a retail space but we decided against it because it would have just been like having a whole other business to manage. We're able to do all this online. Supplying directly to the customer is a lot easier and, actually, more profitable as well.

Diana: Truthfully, we want to spend our time and energy on designing new products, not on managing retail space.

Westley: We showcase at events such as West Coast Craft. At those shows, people buy our backpacks who don't normally buy online. When they see it in person they can feel it and touch it and see how it works. So it's a lot easier to sell to them. That's our biggest challenge really, to convey how our craft works and the philosophy behind it. I think we are still in that age of trying to connect the brick and mortar and online business together.

So with you guys focusing a bit more on travel and different ways of commuting, what kind of products do you want to expand into. Where do you see your business going?

Diana: I don't know. I think Wes is more into motorcycles, but I want to expand into metalworking, home goods and furniture.

Westley: Yeah. We would like to use more brass, hardware brass, link metal, and bent rod. And then, as far as the backpacks are concerned, the products would be a lot urban. As a backpack for the urban dweller it will still focus on this quality and make a lot of the material used and its intended function.
Thank you Diana and Westley for inviting us into your studio and sharing the secrets of your craft.We wish you the best of luck for your growing business!
If this interview has sparked your interest, we stock 1.61 Soft Good designs in the FvF Shop. 
Check out other FvF guests from Los Angeles, including Tracy Wilkinson who introduced us to Diana and Westley.
Photography: Kenny Hurtado