"Reception tends to come and go out here, so just in case you can't get hold of me, I'm in the portable with the whale over the door." Ryan Dodgson's directions to his Toronto Island studio are just as charming as the space itself.
Working as a visual artist and illustrator, Ryan is an artist-in-residence at the Artscape Gibraltar Point – a former school that was spared demolition and in turn converted to studios for artists and writers of all types. "I'm pretty tidy, as you may have noticed," speaks volumes for not only his studio space, but also his artistic practice. Clean lines, outfitted by black thin-tipped pens, with a penchant for architecture, form, pattern, often literary-inspired – think Richard Brautigan. Ryan's aesthetic is a poised and precise one. Ryan is also an editor with Toronto-based Perish Publishing, which produces art books and the like, including a collective of his own drawings in Buildings and Bodies, hybrids of architecture and the human form.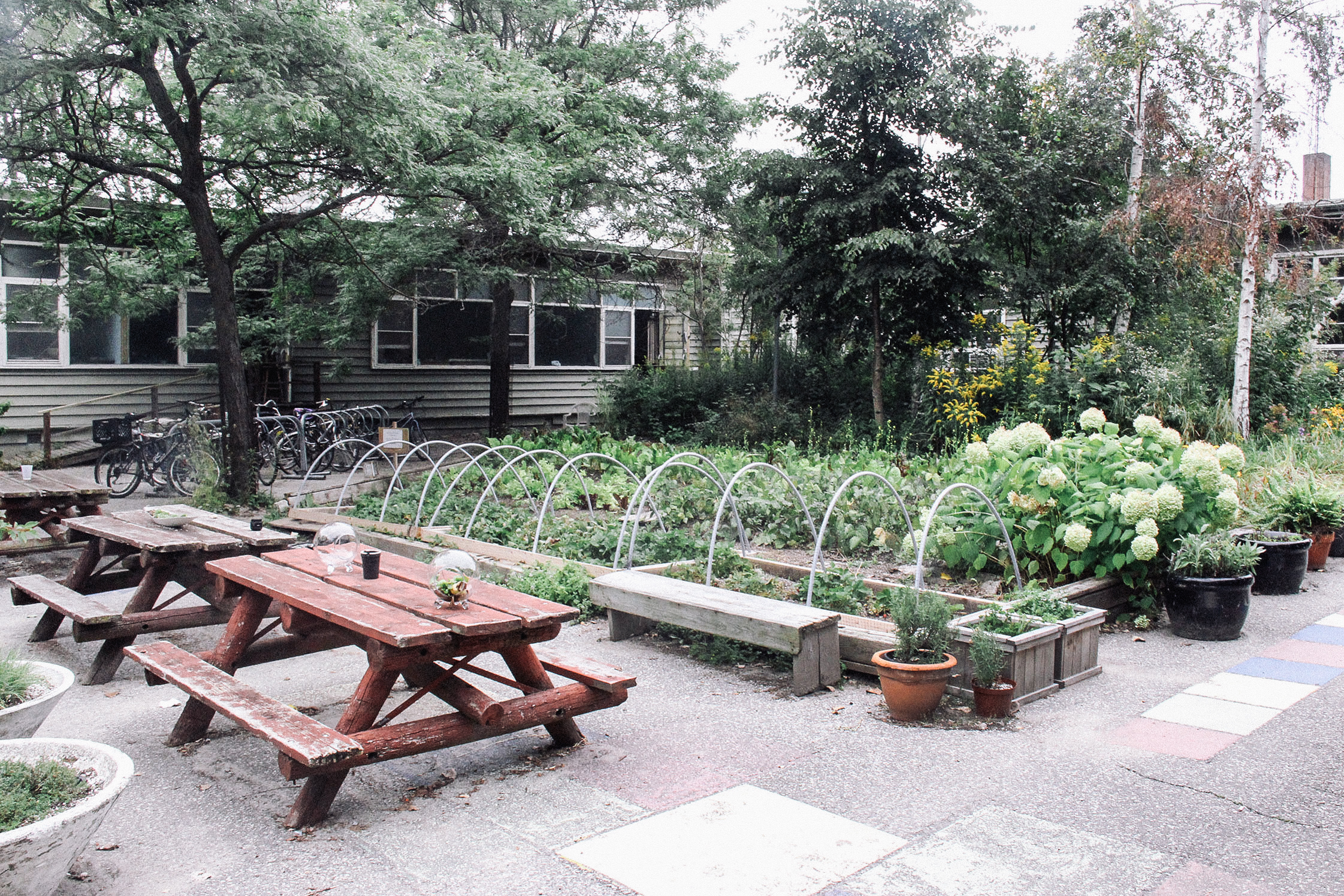 His serene sun-drenched studio is set to the soundtrack of Lake Ontario's waves adding sweetness to the mix. It is an absolute escape, and only a mere ferry ride away. With Portuguese custard tarts, blueberries and coffee at hand, Ryan speaks through smiles about his time on the Isle.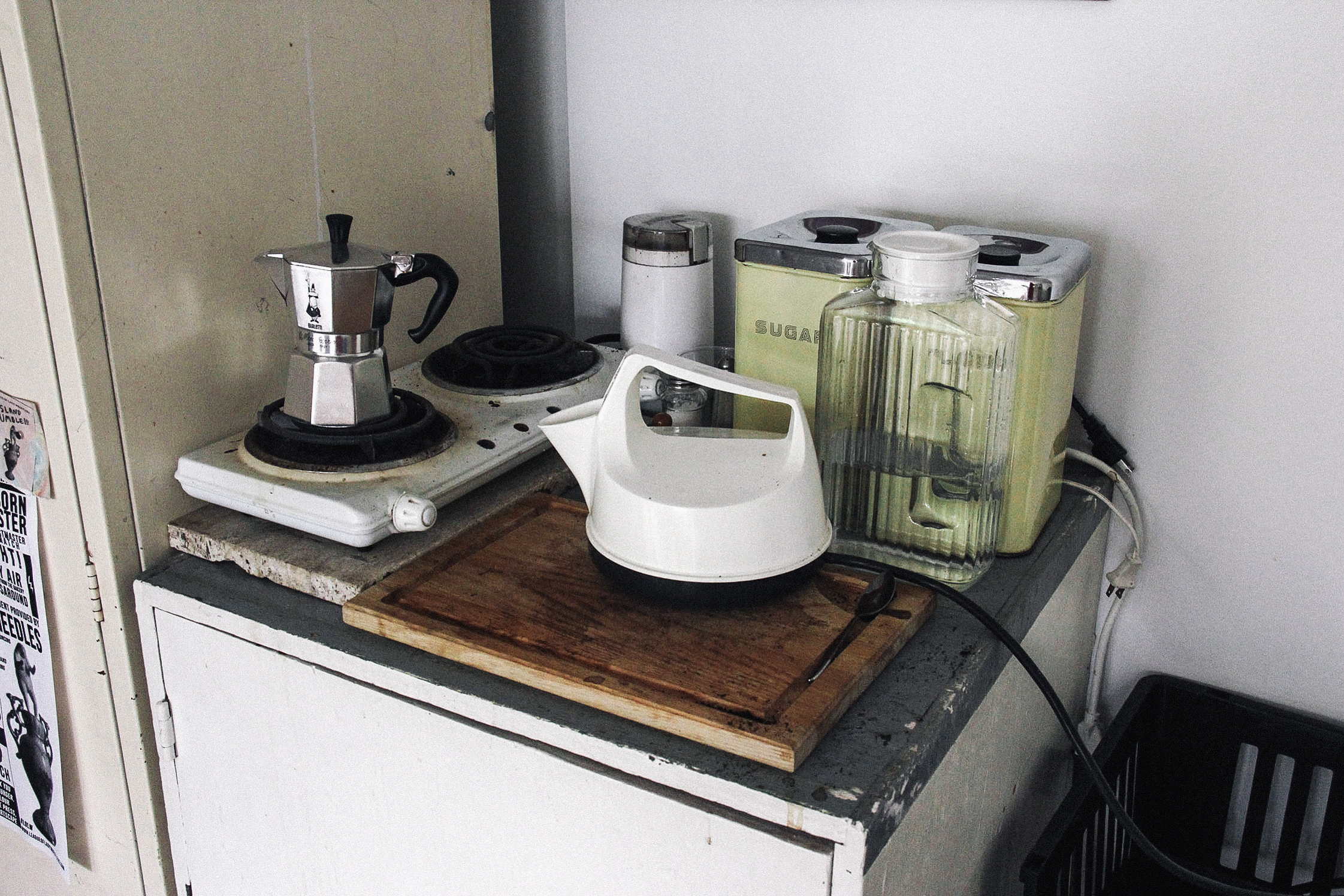 What led you to this space? Do you share it with someone else?

I do. Her name is Melissa Fisher. She does a lot of sculpture and installation work, and I'm a big fan of hers. She had been at the center for a couple of years and she invited me to come and join her space. So that's how I got in here – through her. This textile stuff and the loom, that's all hers.

How long have you occupied this studio?

I've been here since last October. I was in the principal's office previously, we had the button to ring the bell for recess on the wall! It was kind of a "Oh, see how this works" and if I'm into it then I'll stay, and it's been amazing so I decided to hunker in for a while. We have a lot of beach gear, the water is really beautiful too, it's been warmer this last little while. This space belonged to a life sculptor who was here for ten years. He didn't do much to the original building, it was very much a classroom. There were chalkboards and bulletin boards in here and it was almost untouched. We tore it all out and put this wall up and dry walled – we've done a lot of work.

Have you always lived in Toronto? How do you feel about it as a city?

I was born in Hong Kong and I moved to Toronto when I was quite young. I actually grew up just outside of Toronto. For a long time I felt as though I wanted to live elsewhere, but then, since travelling as much as I have and getting to know artists in other cities, and kind of having a sense of what's happening in other cities – in North America anyway – I've really come to appreciate what's happening here. The art scene that we have access to in Toronto is really active and vibrant.
Spaces like these, for example.

Especially since moving into this space, which I feel very lucky to have. I'm so happy to be where I am and I wouldn't want to live elsewhere. But I think for a long time I thought, "I want to move to New York, I want to live here, I want to live there," and now I think, "No, I want to visit those places a lot, but I want to come home to here." You don't appreciate it when you're only in the one place, but when you leave you reflect upon all the good things happening. It's so multicultural and pretty inclusive – it's a good place.

What are you currently working on, in regards to publishing with Perish?

I was just talking to Alex Durlak, the editor. We're working on a couple books for the NY Art Book Fair. I just finished another book for Perish, the second one of the Perish Plains series, that will be myself and Phil Woollam. We're doing a big screen print for our book launch in Toronto. Phil and I have been drawing together for a long time, so it's nice to do a good finished work. We kind of push each other. I set out the parameters for the series, but the way that we draw, one of us just kind of starts something and we pass it back and forth. We have somewhat of an antagonistic relationship, which I really enjoy. We pass things back and forth and he sometimes blocks something out that I did, or erases it, then I put something in that I knows bothers him – it's like an argument but there are no words involved.

Have you always been interested in illustration?

I was always very drawn to art, I always took as many art classes as I could throughout school. I was always pretty drawing-focused. Not really realizing what it entailed to be an illustrator I went into illustration, because I thought, "I like drawing." I went to school for illustration at OCAD (Ontario College of Art and Design) and that's where I was driven toward it. It was like, "ok, now you're going to be a professional illustrator because that's what you studied." And I did for a bit.
Were you keen on being a professional illustrator?

I did some great jobs that I was really proud of, an op-ed for the New York Times, stuff for McSweeney's and Believer, great publications that I was really proud to be a part of, but it was never a reliable source of income and it was a very frustrating pursuit. Thinking of it as a career really got me down. There were situations where I hadn't worked in six months and was doing things I didn't even really like. So I decided after a few years that it's not my focus, and I've since been making more or less what I want to be making and I started working with Alex on his books.

Still if people ask me to do freelance work for them and if the money is good and it's something I want to do, I'm happy to do it. But I no longer think of it as a job, which has been really liberating. I've been making much better work after making that decision where I no longer think of what needs to be commercially viable, maintain any kind of recognizable style, appeal to art directors or think about if something needs to go in my portfolio, etc. I don't think about those things anymore. Now I work a couple days a week installing and handling art. I was working as a framer beforehand, and I still work in the same industry. Now I hang the frames up that I used to make. It feels so much better to separate income and art.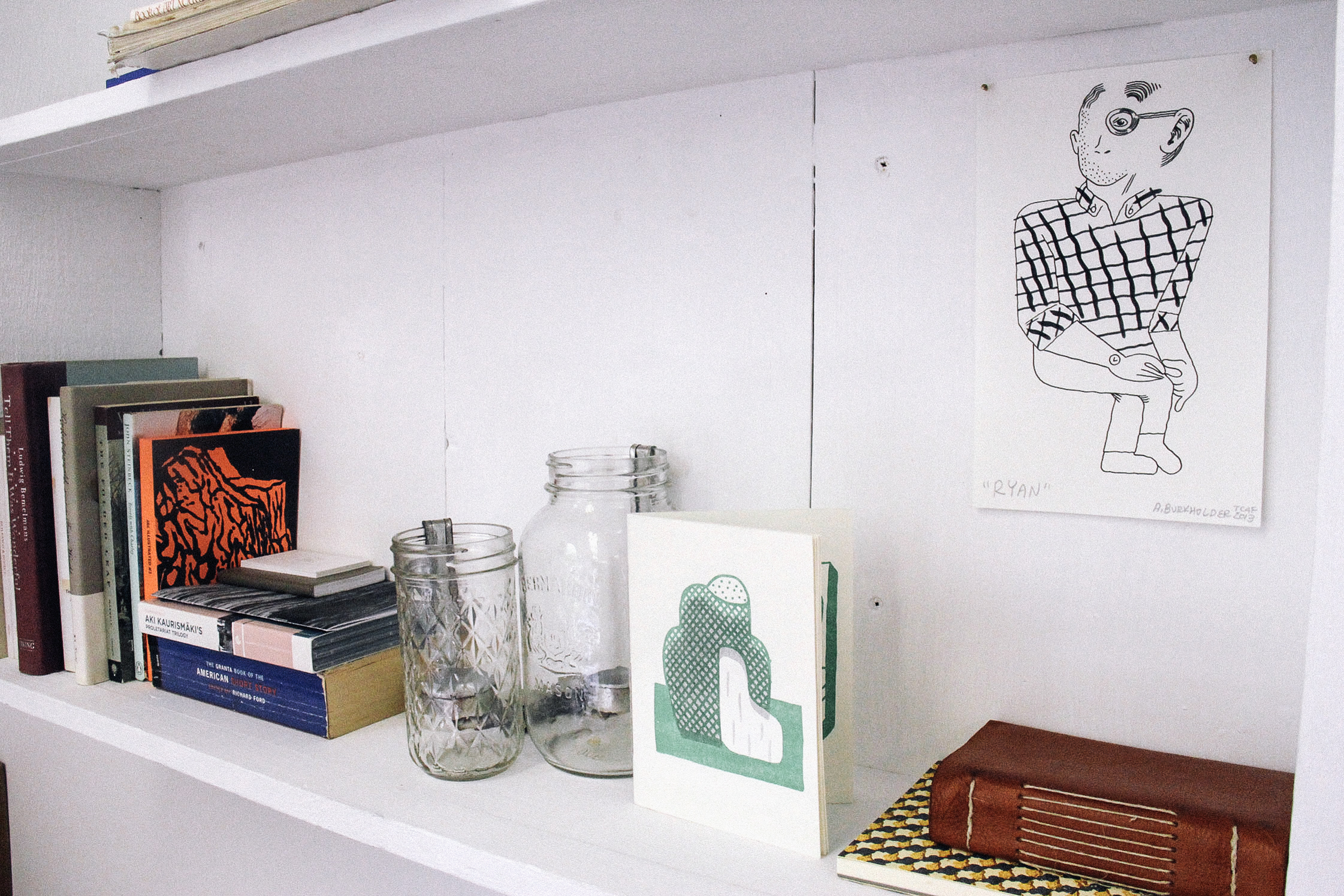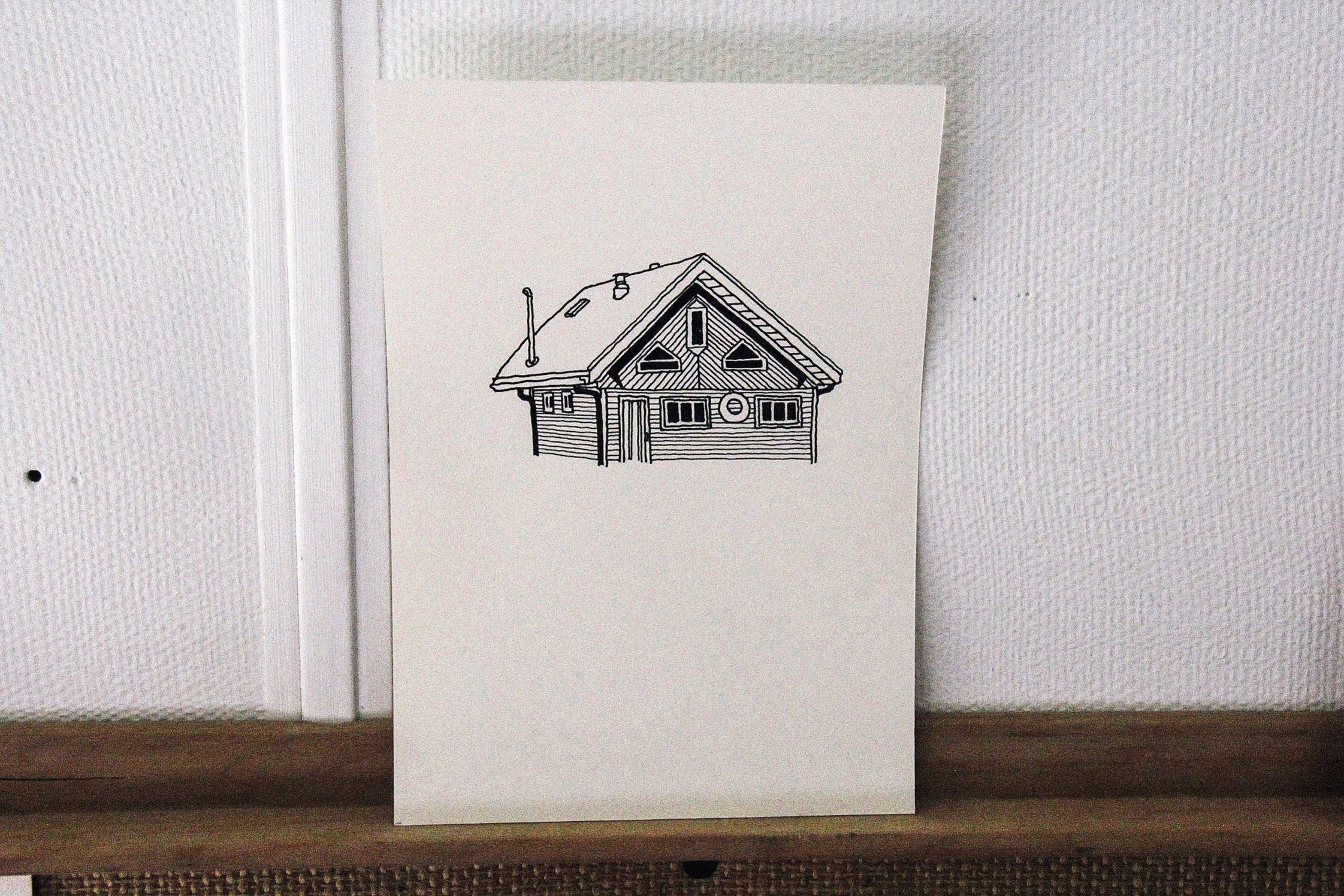 You're also fond of lettering.

Lettering has always been a thing that I've been drawn to. I have always been fond of that kind of work. The nameplate on my desk was for a wedding, they were place cards that were given to guests. There are a lot of weddings on the Island. Melissa's been doing a lot of that kind of work as well. I was looking at an old bike magazine that my roommate got from Manitoulin Island, and there were these beautiful ads for oil companies – which is awful – but they're super designed and really well thought out. It's all brushwork from the early 60s. In my opinion it looks way better than the graphic design now, but it's these simple brushwork patterns that I love. I really love that era of graphic design.
What are some of your favorite items in this space?

My desk, for sure. I got it from an estate sale a number of years ago. It's from the 30s. I like how it's super rough and I don't feel precious about it, I can mess it up and drill into it and it doesn't matter. It feels like a work table, it's nice and big and high and is exactly what I need.

I found the chair from the Roncesvalles and Queen antique zone. I was looking for something that fit the desk height and I spent more on the chair than I did the desk in the end! Melissa's making me a little cushion for it, a butt-sized one. Really my treasured possessions here are the things that I use constantly. The simplest tools that I use the most often. They are actually the things that I've been looking for for about ten years: a perfect desk, ruler and chair.

I also have this watercolor painting that depicts the view from out my window at my home, which I'm not all that fond of but I thought it would be funny to have my dirty city view here. I framed it at my old work.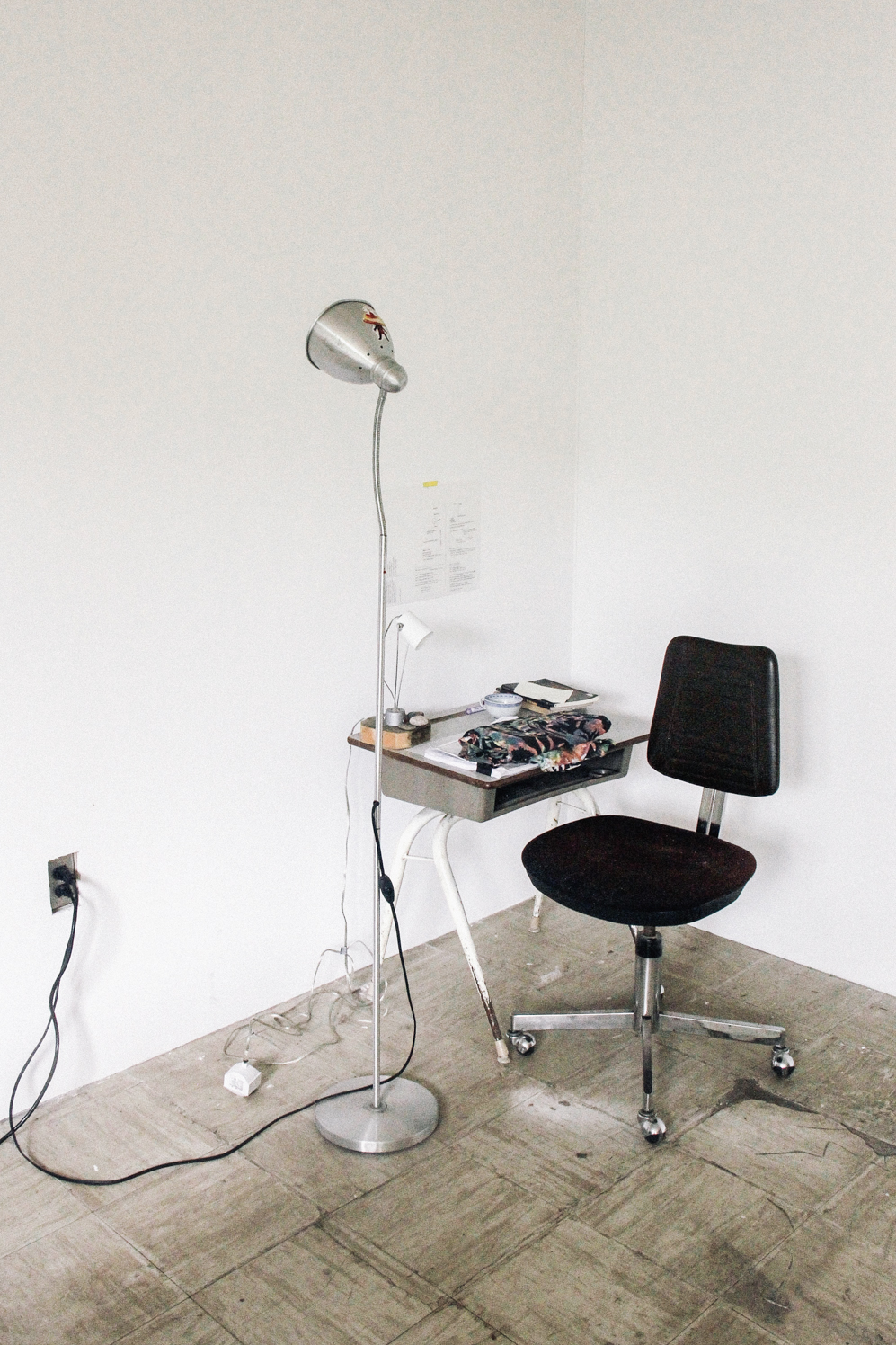 When you leave the studio where are you favorite places in the city?

Without a doubt, the Island is my favorite place in the city. Outside of that I really like going to High Park, which I don't live too far from. It is like my home alternative when I need to find some nature. I also really like Allan Gardens it's amazing how quiet it can be there.

Do you always ride your bike to get around?

Always, always. Unless I absolutely have to take transit, I am always on the bicycle. I've been doored before, that was unpleasant, in Little Italy. I feel like I'm much more selective with my routes these days. That was a few years ago, but now I'm very careful, I try not to take major roads and I always choose backstreets and streets with bike lanes. I love biking in the city. My bike is maybe my most most prized possession. I would be so heartbroken if it was stolen. I've had it for about nine years and I've done so much work on it.

Where do you fancy travelling to for the weekend?

Manitoulin Island. It's beautiful. I've only been a couple times, I wish I could go more often. It's a trek, but it doesn't feels like Ontario. It is so sparsely populated and there's very little to spend money on there or to do; it's just beautiful. Last time I was there I was camping alone for a week, it was wonderful. I had a drawing project that I was doing, just like reading and swimming and drawing, it was so nice.
How does the Island fare in the winter?

It's beautiful. It's a bit more work, the ferries don't run as regularly and it's harder to get here, but once you're here you feel so isolated and it's really quiet. It becomes this nice, kind of eerie place that is usually packed with people and meant to be a tourist spot, but is just abandoned.

 

What other upcoming projects are you working on?

I did the titles for a feature film. It's an experimental film that was shot in Iceland, Italy and Toronto. I am not sure when it'll be coming out, but it should be incredible – it's called Two Cares Due None and the Toronto band Absolutely Free is doing the score. Melissa is co-directing it with another artist, which is how I got involved.