The front door is all that divides artist Ramon Martins' studio from the street in São Paulo. When it's ajar, the exterior vista is a real showcase of the diversity that characterizes the Paulista capital, with its stunning mix of colors, shapes and sounds.
Ramon enjoys working with paint, clay, wood, photography and video. This active character loves to observe everything up close, almost in motion. In between brush strokes, he watches Japanese pass by in unison whilst Bolivians hurriedly scurry past clutching at their crafts, which they will sell on the streets downtown. A minute later he sees Haitians, Koreans, Italians and a whole host of other ethnicities. That's São Paulo: a meeting place for people and cultures. As he describes it, it is "cruel and real and beautiful the way it is." When Ramon arrived in the metropolis he proclaimed himself instantly in love with the central region, Glicério, and thus chose this neighborhood to live in.
It's here, in his generously sized studio that oozes with his personality, that we meet Ramon and find out about his inspirations and sentimental mementos – that include some specially gifted Christmas lights. We also gain a first hand understanding on how he translates his melting pot of influences into vibrant works of art.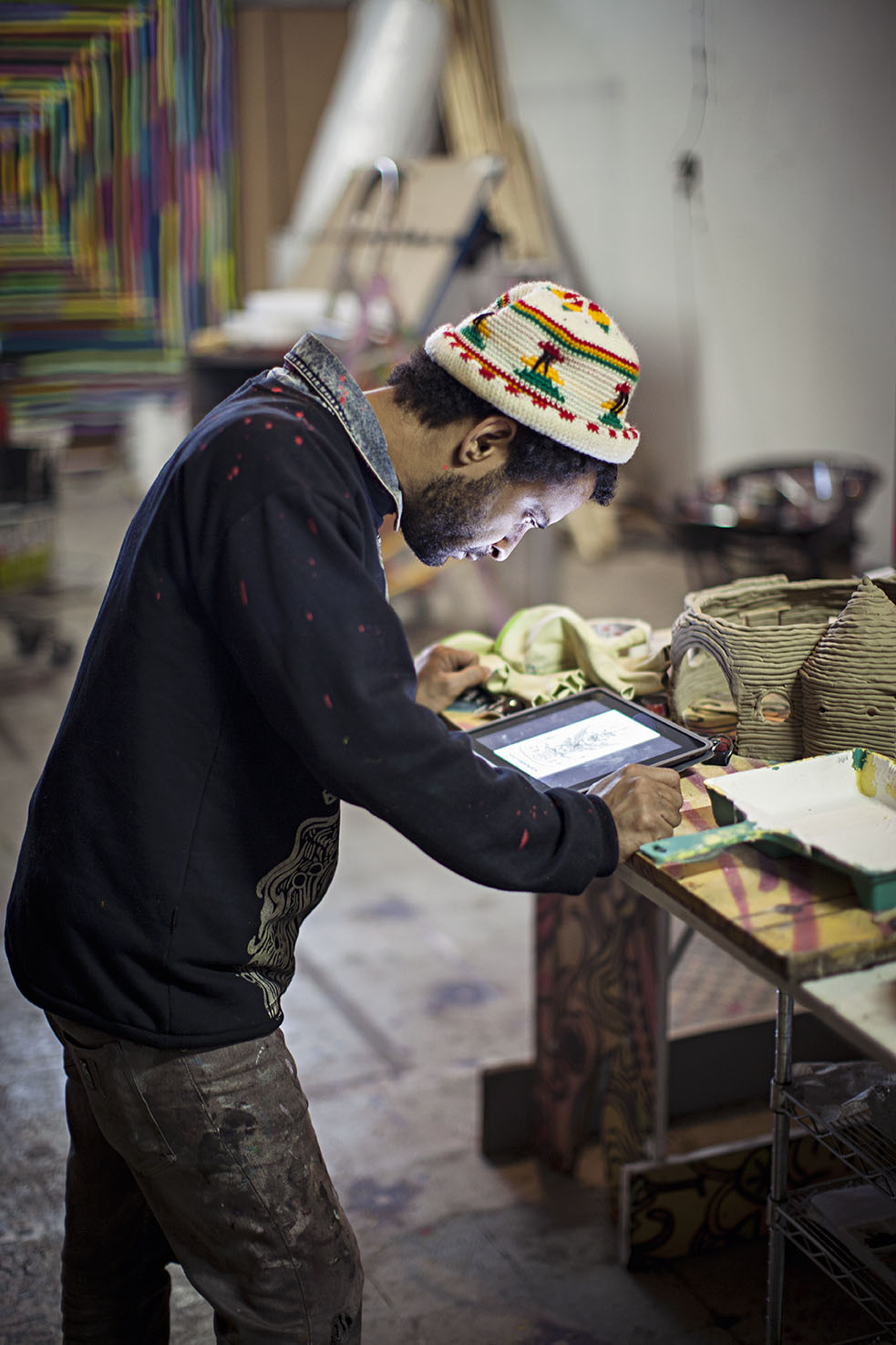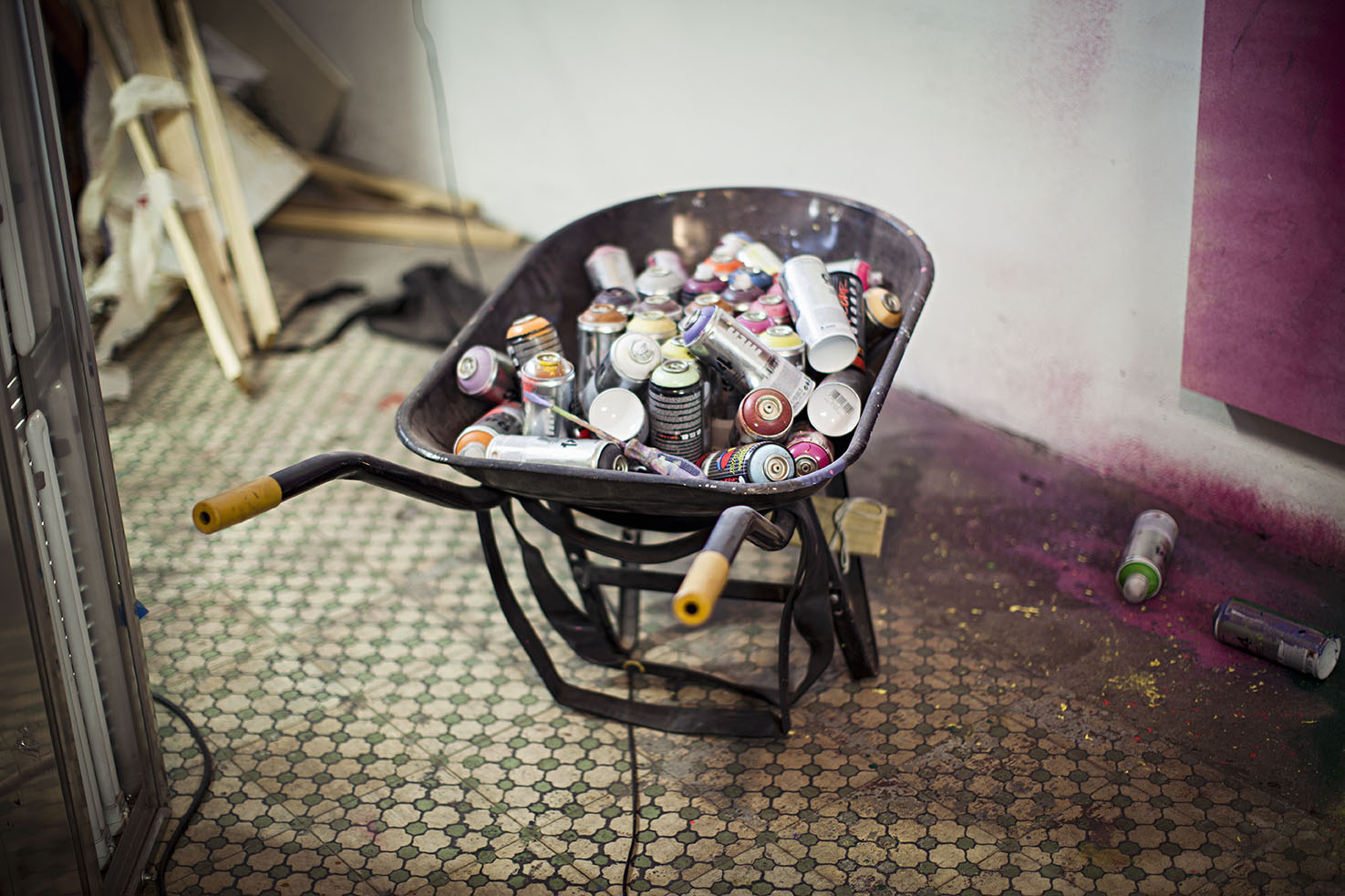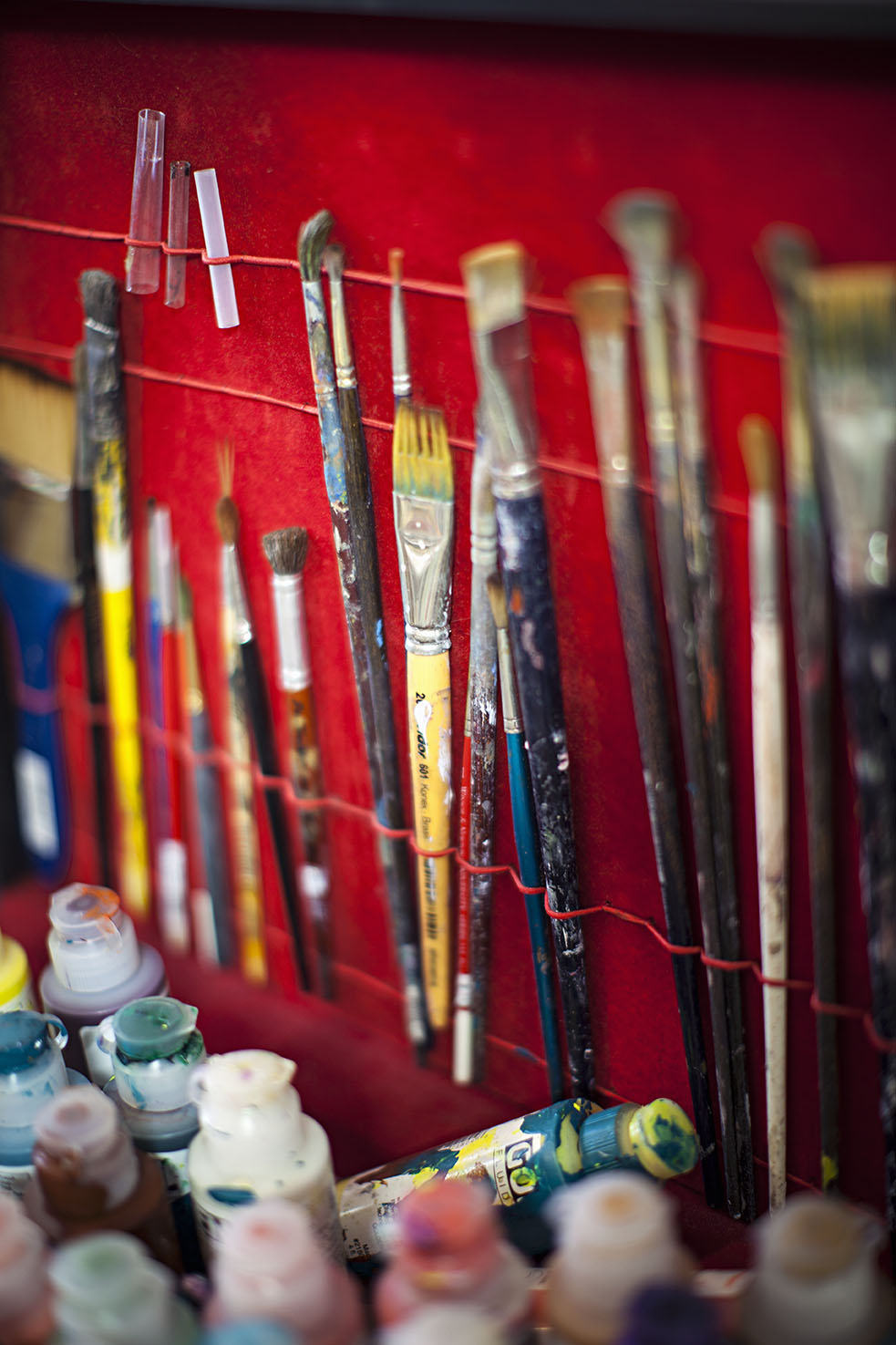 Do you work and live in the same space?
I live in the same building as I work. For the last three years, I have shared the apartment on the second floor of the building with some friends. The studio is on the ground floor and is around 280 square meters. It's very convenient for me as it means I don't have to face the terrible traffic of São Paulo. All I have to do is go down a couple of flights of stairs and there is a door that allows me direct access to the studio, without ever having to go outside. In this respect, you could say the apartment and the studio merge into the same space. There is no better place to think and create when I am in the city. My personality, anxieties and creative phases can all be seen in this space, you just need to look around.
What is the importance of home in the creative process of an artist?
Home is a very important part of my creative process because I am an especially homely person. Home to me, is where I feel safe to be myself. Feeling that way in a space is vital so that I can create, reflect on my pieces and review my influences. I'm comfortable here. I enjoy the silence and my hours of rest where I can travel without moving.
How did you find this space and what do you like most about it?
I found the studio four years ago on the internet. I had just arrived from Europe
to do an exhibition at the São Paulo Museum of Art (MASP). I decided to settle here as I felt the need to focus on my work. São Paulo is hugely influential when it comes to art.
Gradually, I started to feel more and more at home, collecting sentimental objects which reminded me of past places or of friends. I like everything in here but I especially like the Christmas lights crossing the studio from corner to corner. They were a gift from a close friend. It may seem corny, but I think details like that are what give the space a special feel. Another feature that I really like is the shopping cart. It has several functions – as does the wheelbarrow – and both of which I acquired in the neighborhood. The large, mobile furniture is fun too, as it can be moved whenever necessary and is so functional. There is no special reason for it, but I also really like my circular saw.
The building looks like a warehouse of some sort. Do you know what was here before you moved in?
In the 1940s it belonged to a tailor. Then in the early 2000s, the site was transformed into a bottle bank. When I signed the lease and got the keys, the property was a total mess. There were rats and cockroaches everywhere. It was filthy and didn't even have plumbing. Over time, I have been able to fix it up and add my personality to the space.
What does your work space represent for you?
It is the continuation of my self, it is "my skin" as the Austrian artist Friedensreich Hundertwasser said. I am reflected in the space I occupy, the environments are organic and are in constant transformation. My studio space represents a true sense of freedom. Whenever I have contact with it, there is the possibility to transform a unique and immaterial universe into the physical world.
Do you like living in São Paulo?
I don't know if I would say that I like it. If I did I wouldn't think of moving. But I have plans to move to the countryside soon, to a place 300km away from the Paulista capital. My plan is to immerse myself in the creative process there and to develop three dimensional projects for three years.
The change is related to the desire I have had for some time now to be in constant contact with nature and produce art within nature. That doesn't mean I am shutting myself off from São Paulo completely. Quite the contrary. The studio will remain active and the apartment will be an important base for me whenever I am in the city. Let's just say I hope to broaden the spaces where I spend time.
So, São Paulo doesn't inspire you?
Of course it does, and a lot! São Paulo is frantic, it doesn't sleep, it is a meeting place for many different cultures. I identify with its pace and accessibility compared to other cities I have lived in and felt restless in. There is no doubt that the city is far more advanced than the rest of the country. But there is also a pain here that I can feel in my skin. There are those things I don't identify with and maybe making art here is my attempt to paint over or to soften those aspects.
If you could paint a city, what colors would São Paulo be?
With my magic paints I would paint every building and street green, to bring the color of nature to the grey cityscape. Then all the shutters would be different colors, just as we as humans are by nature.
It would be an interesting way to manifest urban art. What do you think about the urban art movement in the capital?
I definitely feel a part of the current urban art movement in São Paulo. I can't nor do I want to define what I do, but I sympathize with the word 'multi'. Producing work on the street and being in direct contact with the honest reply of the public, which in turn gives the piece a certain honesty, is tough but it's a great experience. One where the people become the collectors. The challenge is never the same – each work has a unique place and value on that part of the city. It is like a tattoo on the body of the metropolis, it can fade with the passing of time but the memory remains.
When did you decide to become an artist?
It is hard to say, but I think it was right after college. I quit my job as an art teacher and focused all of my energy on producing pieces and sending them to a gallery from whom I worked at the time. That transition was very spontaneous. I have drawn since I can remember but at a certain point, the trajectory of my life became funnelled toward the arts.
Can you list some of your influences?
Asian and African cultures, and ethnicity as a topic in general. The streets, nature, the immaterial universe, some Asian movements, as well as a variety of writers – all these things stimulate my desire to create.
What materials do you like to work with most?
Paint, clay, wood, soundscape, photography and video. I go more for simple, old materials like paint than video and digital photography. I like that. The extensive list of possibilities charms me and invites me to get to know different worlds, cultures, times and eras.
Would you say that you work in constant change?
Yes and no. Some things change and others transform. The changes are constant, but the artistic transformation is different. It bothers me when I realize I am becoming repetitive and after that realization, a swift change occurs. When I am painting, for example, my paintings often have many layers before I feel that I am finished.
You have lived in Belo Horizonte and Brasilia. What do those cities mean to you in relation to your carrier and line of work?
Belo Horizonte and Brasilia represent the moment in which my art was starting to take off. When I went to live in Belo Horizonte, I had just finished art college and I was working at a contemporary art gallery. Two years later I went to live in Brasilia, but at the time I was producing and selling a lot of my work to The Basque Country.
If you could choose one place to live in at the moment, where would it be?
In Chapada dos Veadeiros, Goias. It is warm and natural, far from everything in the middle of Brazil. Nature attracts me and Brazil has many green and stunning areas.
Ramon thank you so much for giving us such an intimate view of your studio. To find out more about Ramon's work you can visit his website here or the Oscar Cruz Gallery website here.
Photography: Gui Morelli
Production: Camila Soares – Mila Productions
Interview & Text : Juliana Duarte
Translation: Katie Hill