Przemek Krupski has a penchant for Polish design from the 60s and 70s. Nine years ago he opened his store, Miejsce Sklep with his partner Bartek Kiezun. The duo aim to engage with the creative revival of vintage Polish furniture and interior design. They lovingly restore interior objects and pieces of furniture to their former glory. By finding a niche within the Polish market, Przemek and Bartek created their own professions outside prescribed career paths, and over time, have enjoyed a change in the local market's attitude towards 60s design.
In the beginning however, it wasn't smooth sailing. After completing his studies, Przemek worked in a bar in Kraków, Poland, while originally planning to open an antique shop with Bartek. Their shared passion for design and an acute observation of trends in Western home décor magazines led them to investigate design specifically from the 60s. Initially, in order to attract customers, they upholstered furniture with 'Almodovarian' designs and colorful peacock eyes. Over time the sale of well-designed Polish furniture – as opposed to the sale of Danish or German counterparts – rose in popularity. Spreading their wings further, they opened a bar decked out with their fittings and caught the attention of young Polish creatives and adventurous collectors.
While being served delicious chocolate and lavender cake served with honey and tea at home with Przemek, we hear about the success of his brand and love of furniture while making a visit to his store and bar.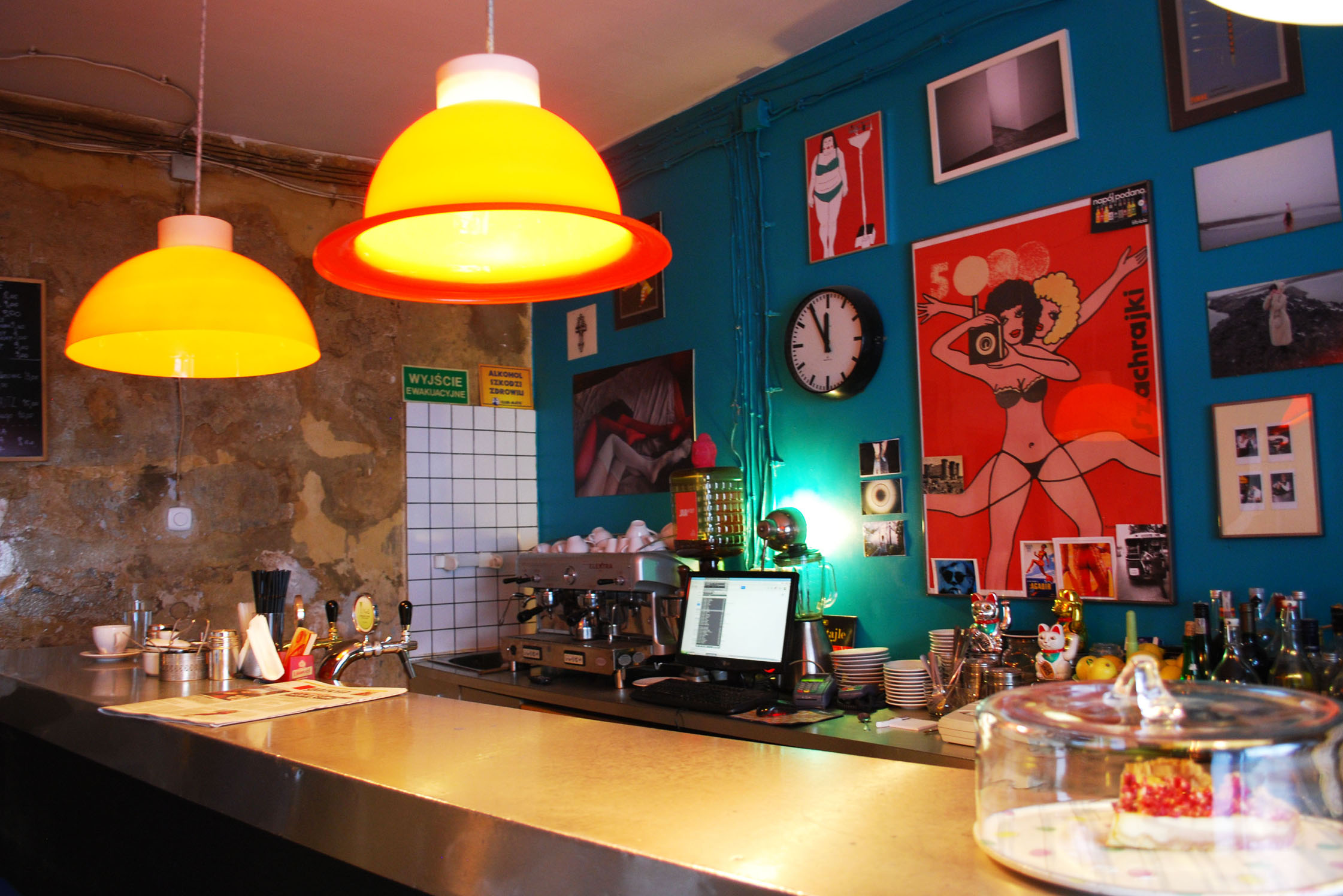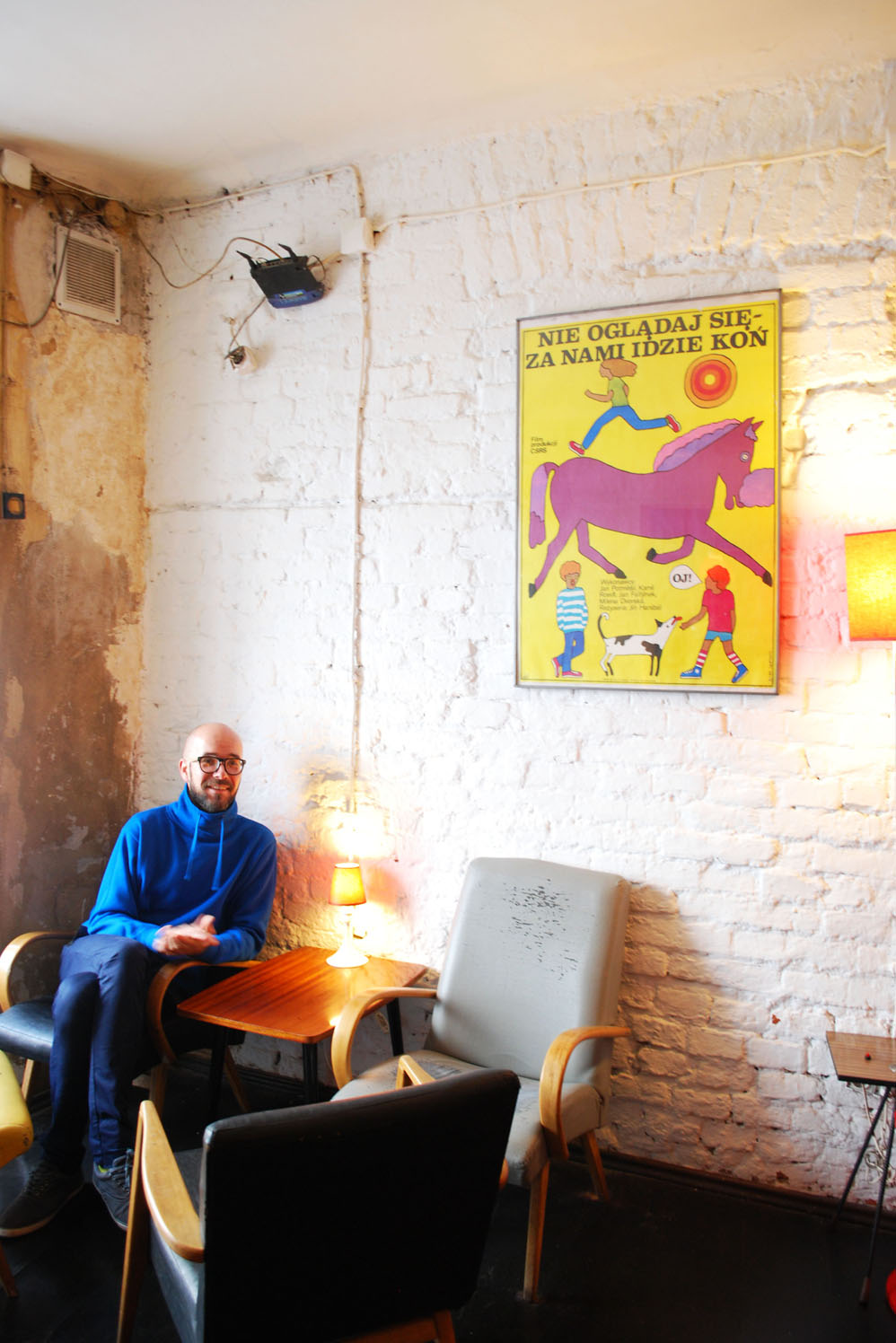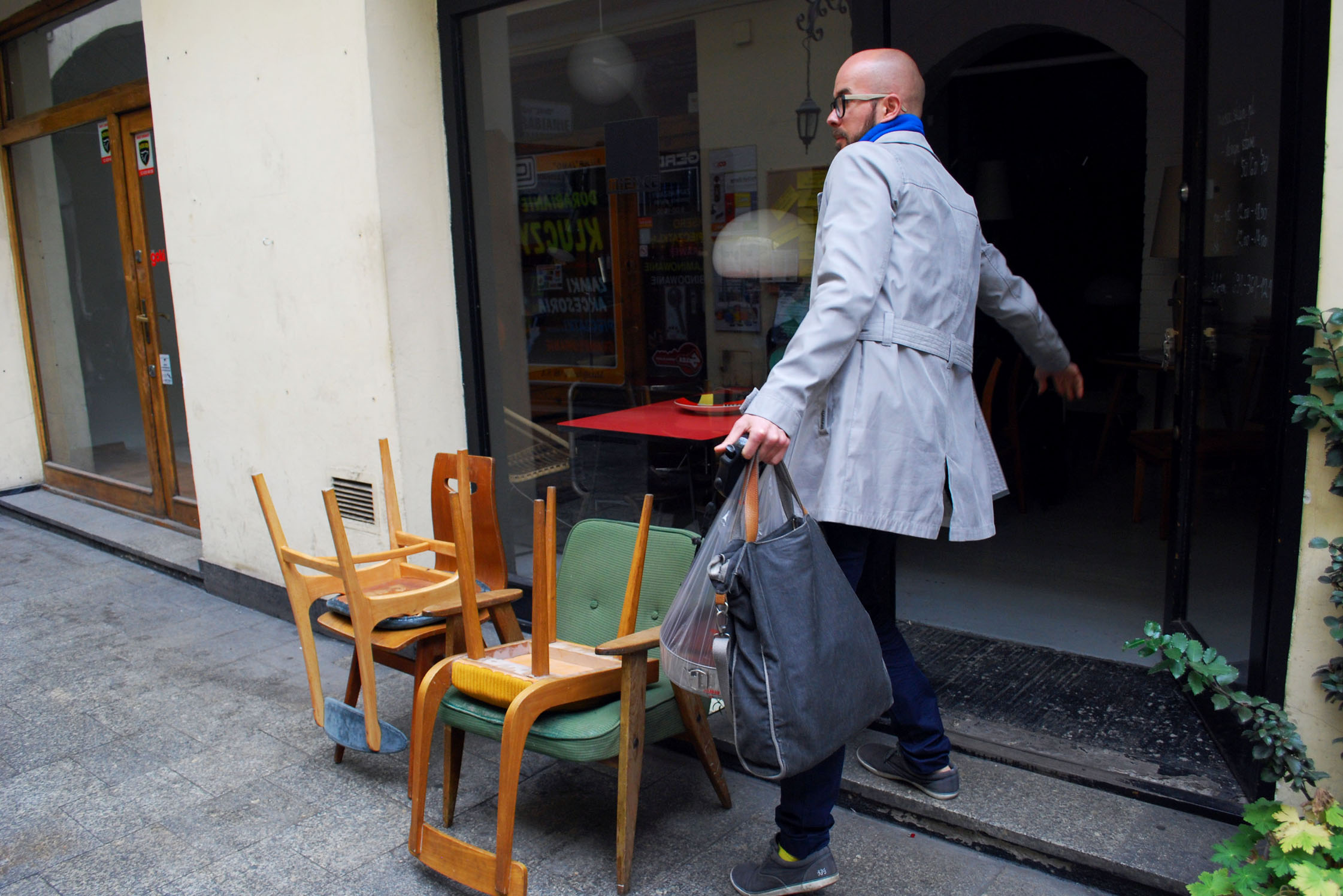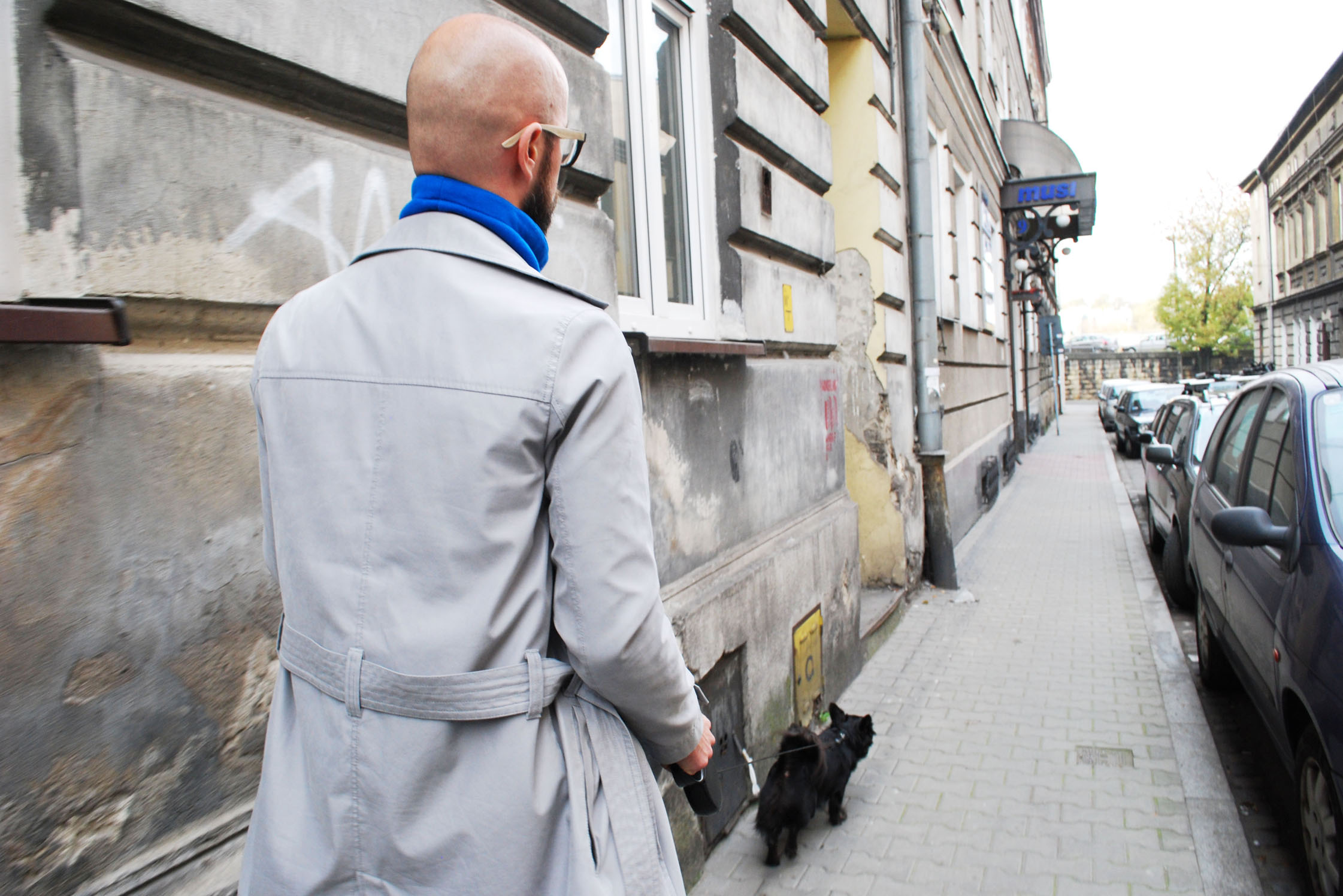 Where did you grow up?
I'm from Poznań and I have spent most of my life there. Twelve years ago I met Bartek and we decided to move to Kraków.
Where does your interest in Polish design come from?
There is always a critical moment at the end of your university studies when you have to decide what comes next. In the beginning I worked behind a bar. I mean, what else is there to do in Kraków (laughs)? I had become interested in design during my studies. In Poznań I tried to get into the Academy of Fine Arts, which didn't work out. So in the end I finished a degree in Cultural Studies. I had the idea of opening an antiques store with Bartek, but it fell through pretty quickly. In fact, I can't remember how the idea of occupying ourselves with Polish design came about. Maybe it was through looking at Western interior magazines where the vintage style started to crop up. But to think about a Polish equivalent of this aesthetic and single out authentic design from the 60s in our work was a longer process.
How did you adapt the knowledge from your studies to your business?
In Poznań Cultural Studies is a very general course which includes a lot of disciplines. I often say that they were great studies to enable you to talk about everything for about five minutes (laughs). However, I think it gave me the foundations to be able to do things at a certain intellectual level later on. On the other hand, Bartek studied Ethnology in Kraków. Now we have a separation of roles: I take care of the shop, and he manages the bar, as well as writing as a culinary journalist for Kukbuk.
What were the first steps in setting up the business?
We decided to get the business started in small steps, rather than with a massive investment right at the beginning. In order to minimise costs we opened the shop with our friends and shared the space for a year. When we started to grow we moved to a bigger place on Zegadłowicza street. Nine years ago it was very difficult to support ourselves in the market because the style we were pushing had not been fully embraced. In order to attract customers at the start, we had to upholster furniture with 'Almodovarian' designs and colorful peacock eyes. Now that has changed. People appreciate furniture from the 60s for the design alone. The furniture was designed well enough without colorful embellishments.
At that point were you mainly selling Polish designed furniture?
It changed. Up until a few years ago we were still bringing stuff back from Berlin and we would also get our hands on Danish furniture. We quickly observed that it was in fact harder to sell a Danish table than a well-designed Polish one, because foreign furniture was easy to come by online. These experiences made us shift our approach towards Polish design. It turned out that in Poland, Polish furniture sells best. People like what they know.
Do you think this response was dictated by price?
No. If we manage to identify the designer behind a piece of furniture in addition to where it was produced, then we are able to sell it for much more than Western imports.
What prompted your decision to work within the Polish design market? It seems like a bold move when many reject this style due to automatic associations with communism.
When I remind myself of the decision nine years ago, it was a time which marked the beginning of Polish capitalism. There weren't many initiatives at that time that were not solely geared towards making money. Everyone was placing their money on big brands like McDonald's, but it was also the moment when independent initiatives were taking off. Our friends who were five years older than us started taking up managerial positions in large corporations and were making big bucks. We were the first generation to miss out on the changes in the market. We had to make up our own professions. There was 'Przetwórnia' and 'Punkt', as well as a few other initiatives cropping up in Kraków – although unfortunately a lot of them didn't survive. We had our sights set on Berlin. So much was going on there. It was fashionable. This energetic feeling got us thinking about why it wasn't the same here. We only managed to go to Berlin for the first time two years after opening the shop, and we saw that the place was full of shops similar to ours. That was very inspiring and cool.
Do you remember the initial the process of combining your creative ideas with your business ideas?
For a long time after we opened the shop we managed to join our passion by working in a restaurant. Despite appearances, the shop was not a money earner straight away. We didn't have to pump more money into the business, but we couldn't live from it. Because of this we opened a bar to earn some income. The shop is a strange business because we don't just sell pre-existing things, but also make them to order. Someone comes in and sees a chair, but would like to have it in another color, or a different wood stain. We then choose a fabric together with the client, or place order online – as our clients are very often located outside Kraków. Then the piece of furniture is sent off with the fabric to an upholsterer, who then sends it back to us and we pass it on. It's a drawn-out process. Early on, when we had fewer orders, we didn't have a regular cash flow like you get when you run a bar.
Did you have any external financing?
We got a very small amount of money from our families, but it wasn't enough to rent a place. In the beginning we spent half a year collecting interesting items. For a period of time one of our two rooms was a kind of storage room where we housed every piece of furniture we liked and thought had potential to be sold in the shop.
How do you source your pieces?
Nine years ago people didn't sell this type of furniture because they thought that it didn't hold any value. Because of this it was really hard to find. We tried so many different methods. We even ran after a truck full of furniture that was on its way to the rubbish tip! Of course sometimes people would come to the shop and want to sell what they had. We would also go to the Hala Targowa market – a flea market in Kraków – as well as other antique markets and second-hand furniture shops. There used to be many more of these shops and markets in Kraków back then. They were goldmines for us. Today Internet auctions have taken their place.
Who was interested in this type of design in the beginning? How would you describe your clients?
When we were starting out nine years ago our customers were mainly creative types, young people who worked in advertising agencies in Warsaw and people with an unconventional aesthetic tastes. As the mentality towards vintage Polish design changes, people value this type of furniture. Now we have clients who are very young, middle-aged and even over 60. For some, the furniture is still associated with communist Poland – PRL – although we don't use that term anywhere on our website. People who are able to disassociate with the PRL label have a little more money, they've seen examples of similar design production in the West and view it as good design.
Can you list some Polish designers that you admire the most? Do you have a favorite piece?
I love projects by Roman Modzelewski because in Poland no-one in the 60s was using plastic in furniture production – only metal, wood or plywood. I have a soft spot for Modzewelski. Also, Teresa Kruszewska and Maria Chomentowska – these names represent a global standard in terms of innovation and quality in design. Recently I found a table by Czesław Knothe. He also crafted beautiful designs in the 60s. Contrary to popular belief, there are still a large number of unknown designers who were active within a range of design institutes, yet their work never made it into mass production.
Do you have your own personal collection?
I get a lot of satisfaction when I can sell a great piece of furniture. Lately we had some chairs in the shop designed by Prof. Marian Sigmund, which are very hard to come by in Poland. I love having marvels like this in the shop. People are amazed by them and they sell quickly. On the other hand, Bartek says that as a designer I should have examples of Polish design in the apartment. That's why we have a table produced by Spółdzielnia Ład, which was in operation before World War II and carried on afterwards. We have a porcelain sculpture of a camel, designed by Lubomir Tomaszewski, as well as a very rare wicker chair by Gyurkovich. These are things I could never be separated from.
What do you think was the key to your success?
I think it was patience and perseverance. We could have quit after four years and decided to work for somebody else to earn better money. The second aspect of our success is that Bartek is good at marketing. Starting a business with an unusual profile made it easier for us to gain coverage in interior design magazines. Journalists were happy to write about us. This really helped to build the brand. It was all about promoting 60s design as something valuable and attempting to get people interested in good Polish design. Now we are reaping the rewards of our years of hard work.
Do you also listen to music from the 60s?
Actually, I really like disco from the 70s, but not the hits. I like energetic music. I love listening to music, but I usually don't have a clue who the artist is. Bartek is good at remembering all the names, all the bands, actors and I'm the complete opposite – I can't remember a thing!
What are you reading at the moment?
At the moment I'm reading a book I got for my birthday relating to my profession 'Ludowość na sprzedaż' (Folkism for sale), which is about design in Cepelia in the 60s. However, unfortunately I have a great weakness for crime novels. At the moment I'm waiting for the next installment by American writer Donna Leon. The stories always take place in Venice, with Commissario Guido Brunetti as the lead role. I also love Camilleri's Sicilian crime novels with Inspector Montalbano. Sometimes I'll dig up an oldie from the literary canon.
Do you have any favorite places to visit?
We were recently coming back from Hamburg and we stopped for lunch in Berlin. We went to Prenzlauer Berg and the sun came out. During our time in Hamburg it poured for two days and I don't know whether it is was the weather that did it, but I felt at home there and I would recommend it to everyone. There are so many beautiful tree-lined streets with parks and great cafes on every corner.
And do you speak German?
Nein (laughs). Bartek's learning and speaks it, but I don't.
Where do you search for inspiration for your work?
Recently we have been taking some foodie trips to Italy because of Bartek's work writing on Italian cuisine as a culinary journalist. For my work, I really like reading the Italian edition of Elle Deco and AD magazine. I think that one of the best magazines for getting personal inspiration is the Spanish edition of AD Magazine.
Thanks so much Przemek for showing us inside your home, store and bar – and for the delicious cake and tea. For more information on Przemek's work visit the Miejsce Sklep shop website here.
Photography: Magdalena Beauchamp
Interview & Text: Magdalena Beauchamp